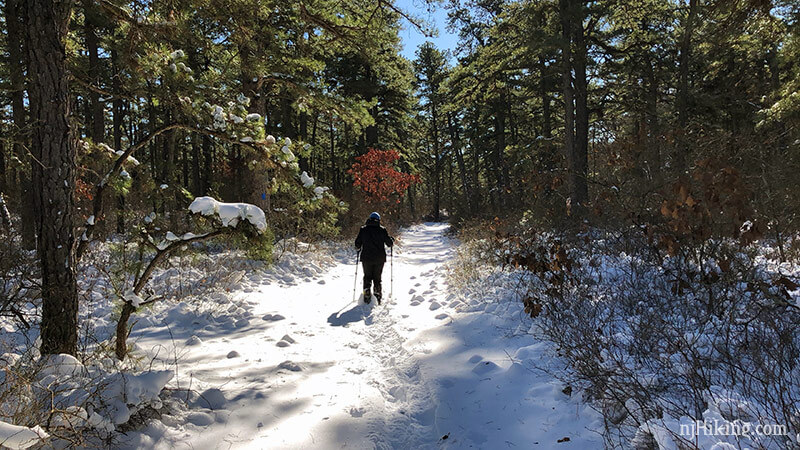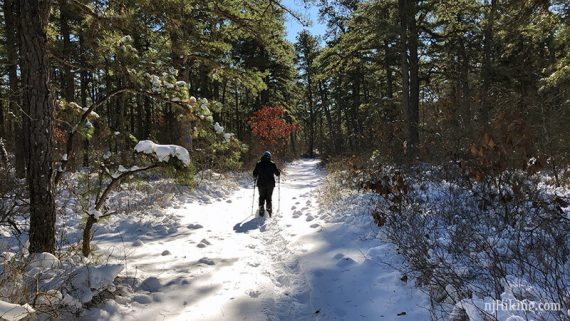 We almost didn't venture out due to the dire forecast but ended up with one of the best snowshoeing days we've ever had.
There were low temps and frigid wind chill warnings again, but we figured oh let's give it a whirl – we can always bail. Instead, we ended up with one of the best snowshoeing days we've ever had.
Using snow depth maps from our snow resource page, a list of county totals from nj.com (also posted to that page), and our Hike Finder Map, I determined that Jakes Branch had around 15″-ish.
For complete hike info visit our main "Jakes Branch" page.
It's mostly flat, has a network of trails to cut the loop short if needed, is very well blazed, and gets bonus points for all the evergreen of the Pine Barrens instead of the drab brown of everywhere else. Ding – we had a winner.
(Yes, we actually use our own site to help choose hikes).
First, we went up the observation deck but the outside walkway was closed so we had to snap a shot through the glass: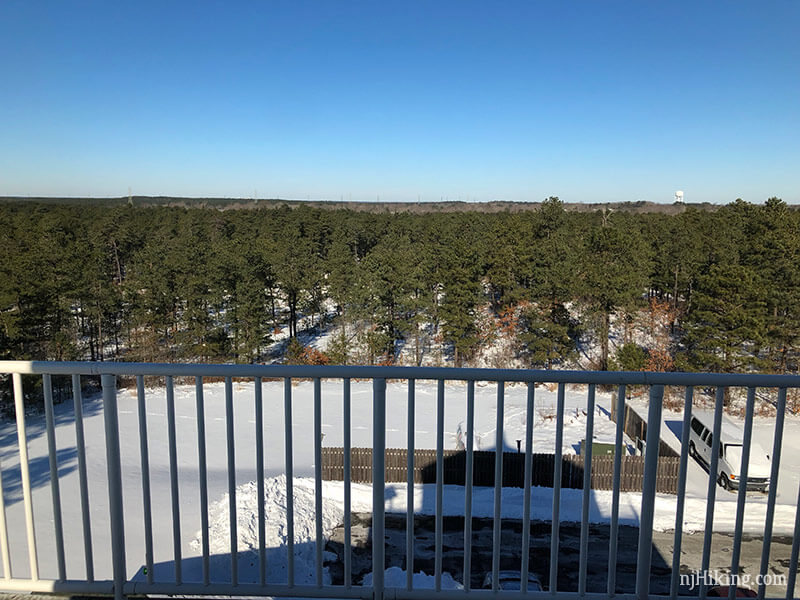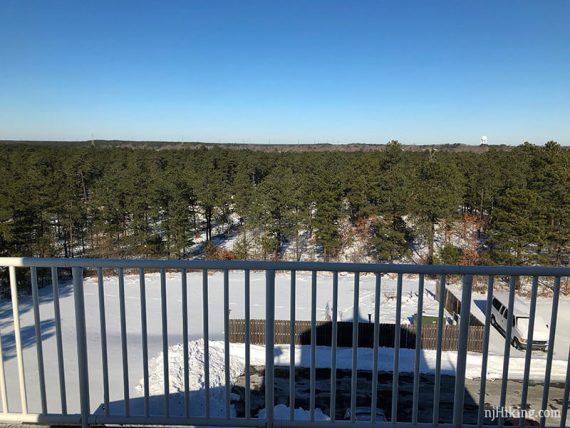 We started later than usual, waiting till after the "wind chill warning" ended at 10 am.
Related: Snowshoeing in New Jersey – locations and rentals.
And while it was cold – single digit temps – we layered up and were fine, especially once we got moving.
Not long on the Tindley Trail, the footsteps turned right off onto Yellow, leaving us a trail of unbroken powder.
This never happens.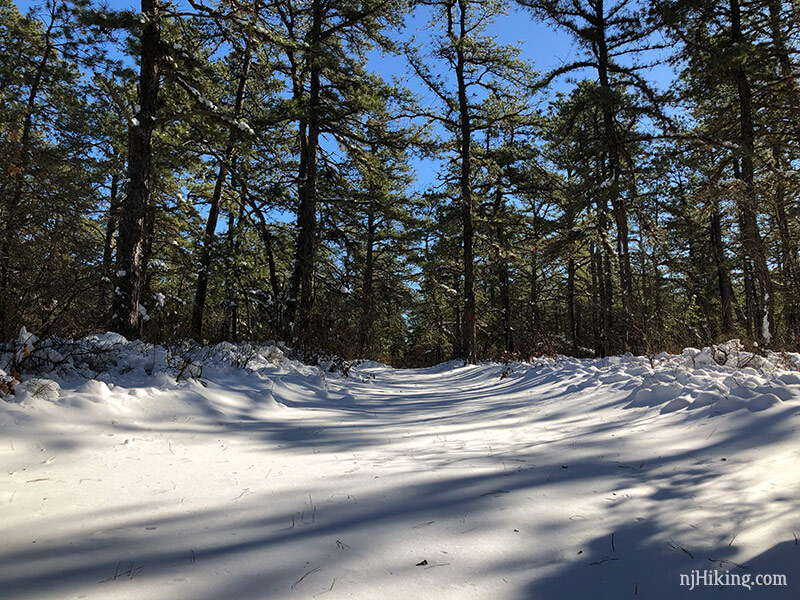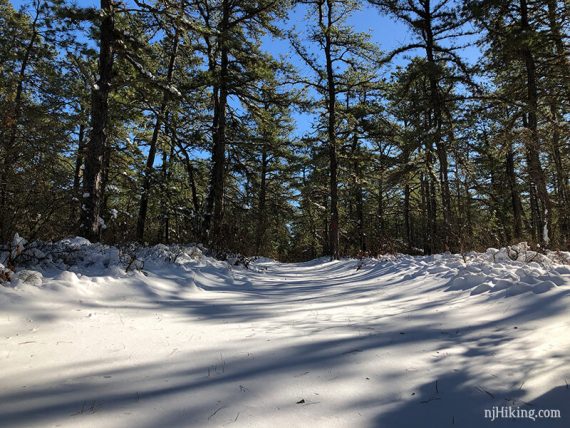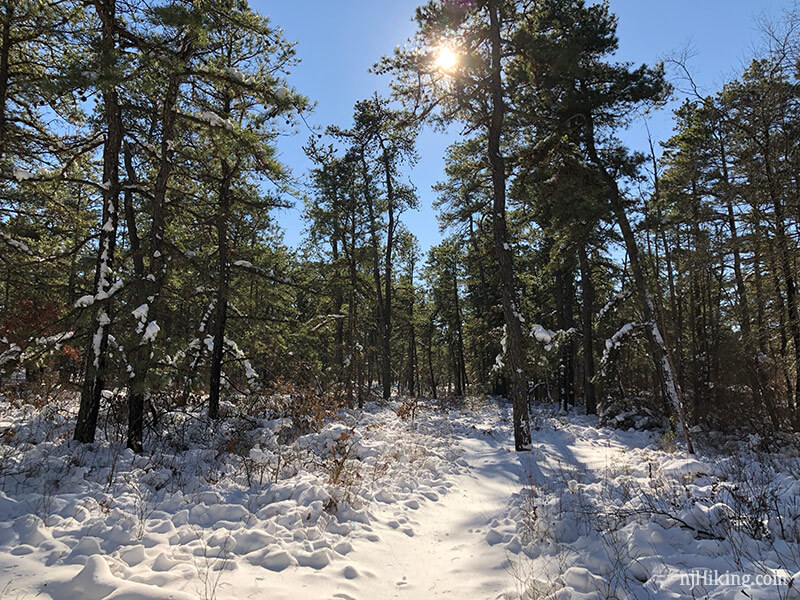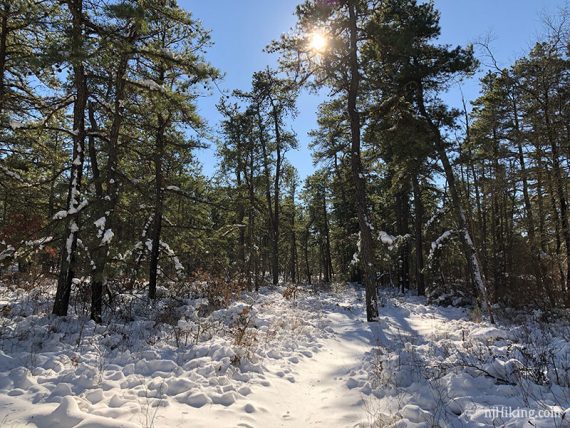 Usually, by the time we shovel out or the weekend rolls around, at least someone has gotten to the trail first.
Related: Winter Hiking Tips | Traction Devices | Klash Soft Shell Pant
Even though it had snowed several days before, the freakishly cold temps had kept everyone away.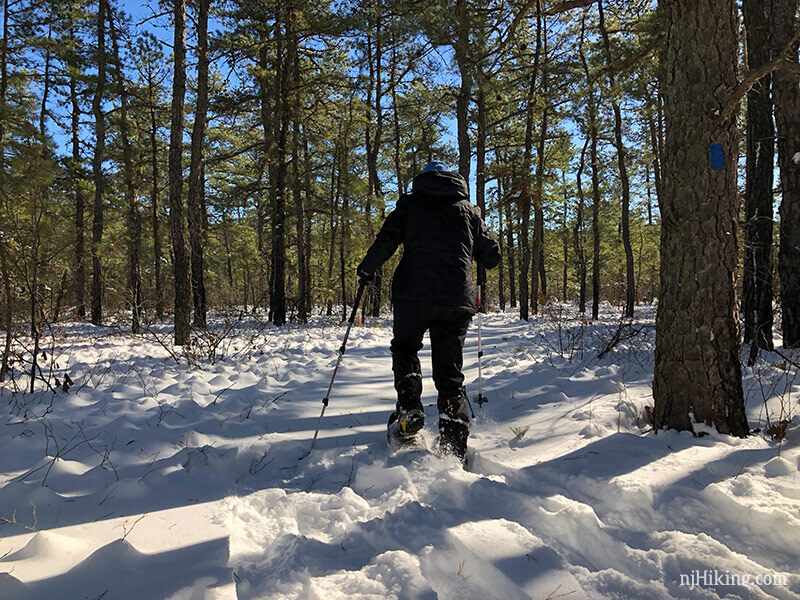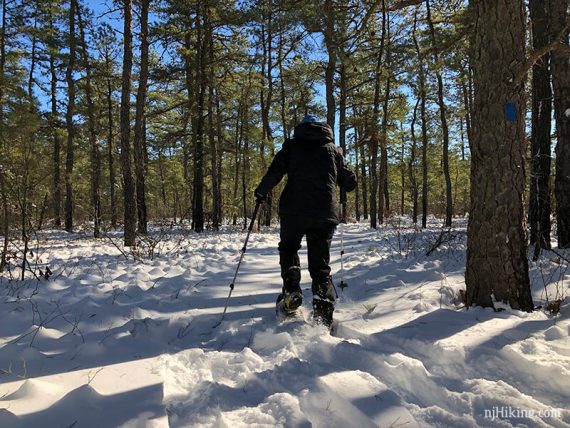 The snowshoes we bought a few years ago worked flawlessly and were so enjoyable compared to the original ones we had.
Even though the trail is mostly flat, the flip-up heel bar on ours is nice to have even with a slight incline. (Sort of like Barbie feet… on snowshoes…).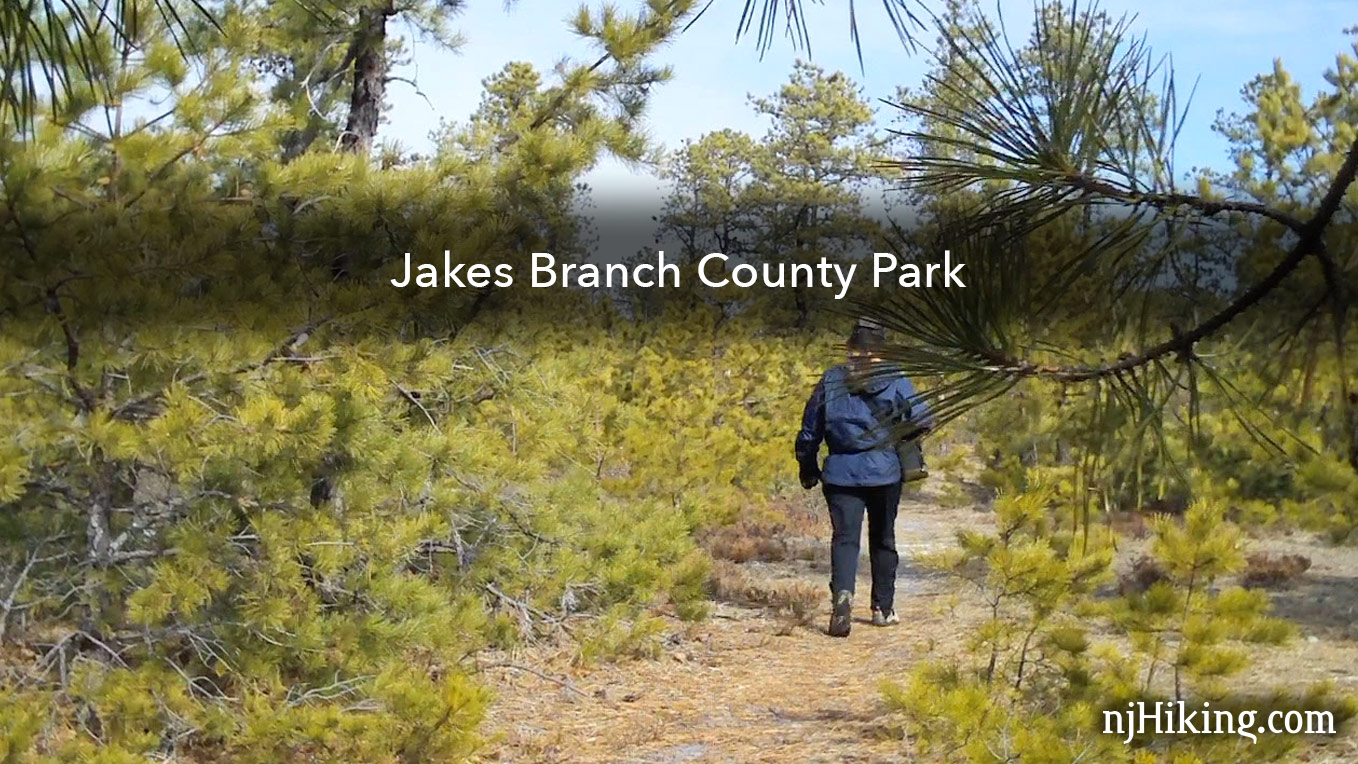 We enjoyed sunny skies, green pine, and nearly 4 miles of powder unmarked by anything but a lot of critter tracks.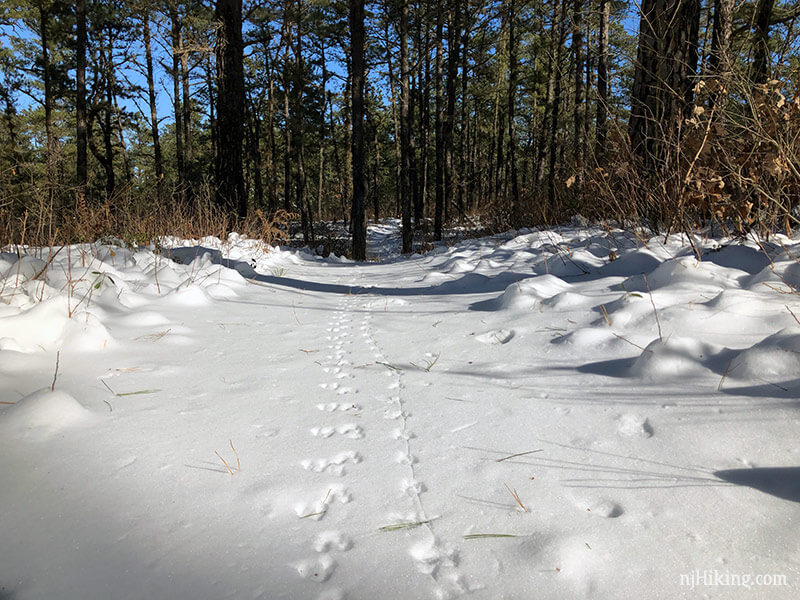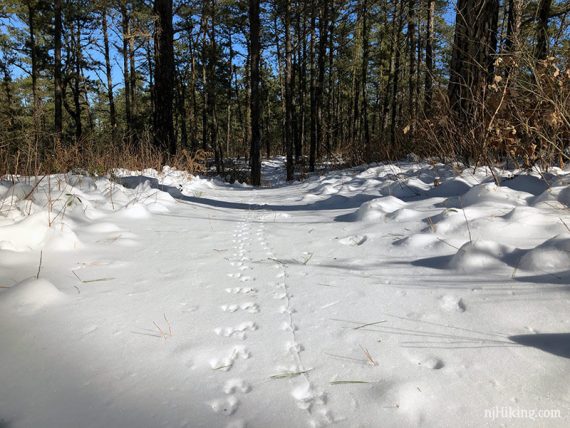 And saw no one.
Followed by a post-snowshoe caramel macchiato. So glad we didn't stay inside.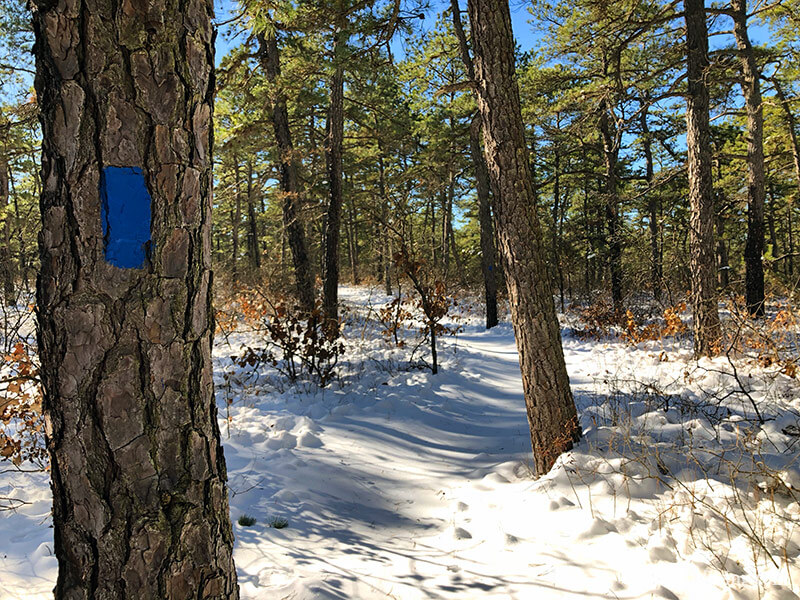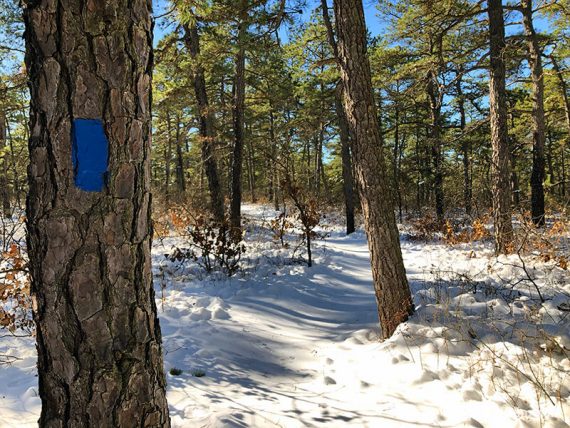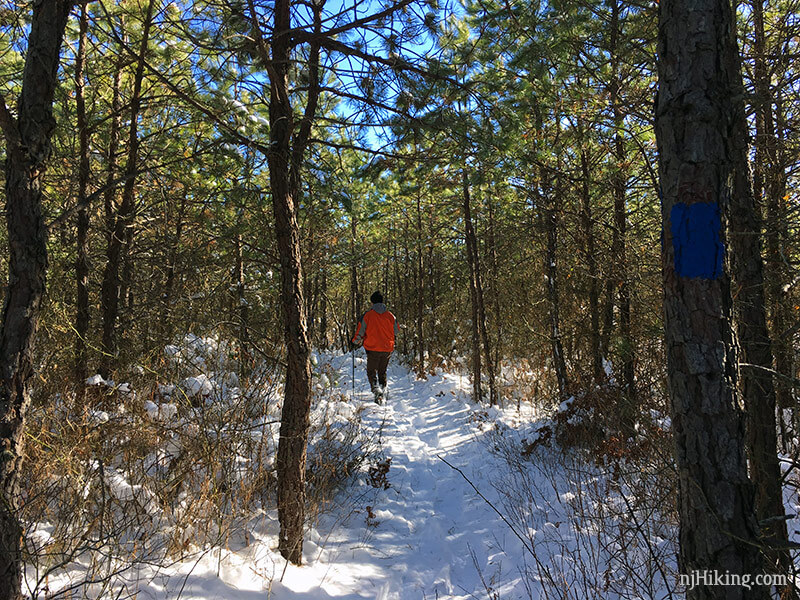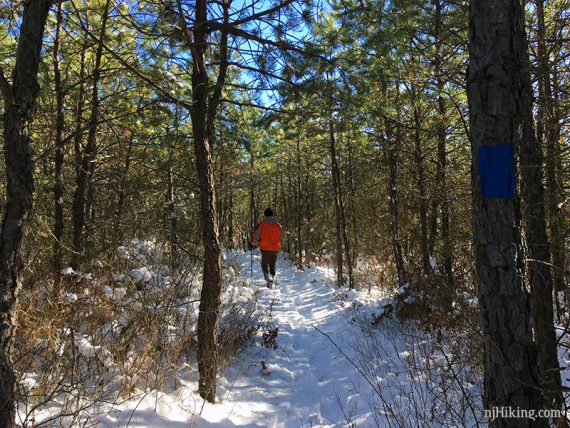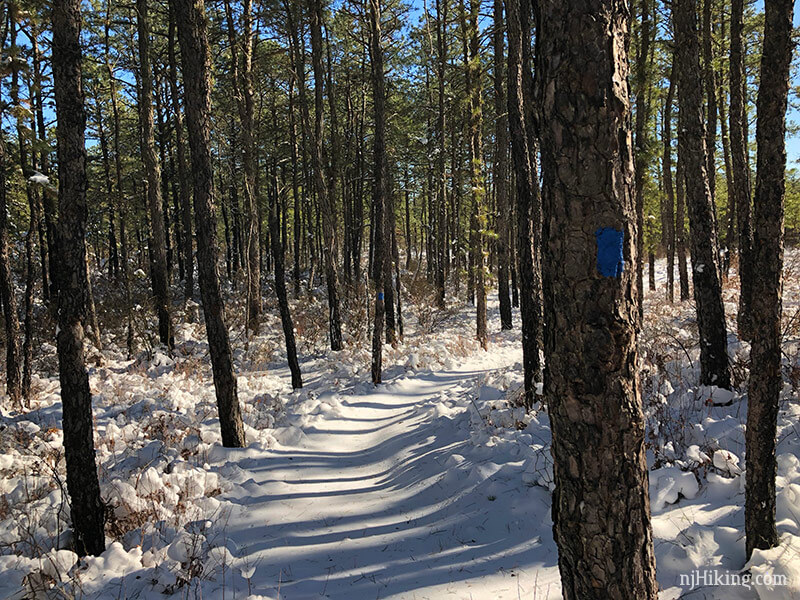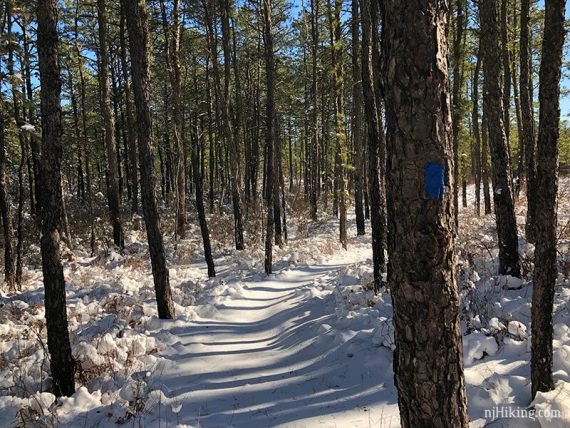 Evergreens paired with blue skies and bright white snow is not only visually striking but does wonders for the winter blahs.