Snowshoeing along a gorge and a brook to the Deserted Village of Feltville.
Deep snow had been on the ground continuously for nearly three weeks in a much larger portion of NJ that normally sees that much snow, so we got in yet another snowshoe.
This would be our 5th of this winter season. We'd started out snowshoeing at Wawayanda in December 2020 then this was #4 this month.
By comparison, the last time we'd gotten to go was in January of 2018 when we snowshoed at Jakes Branch.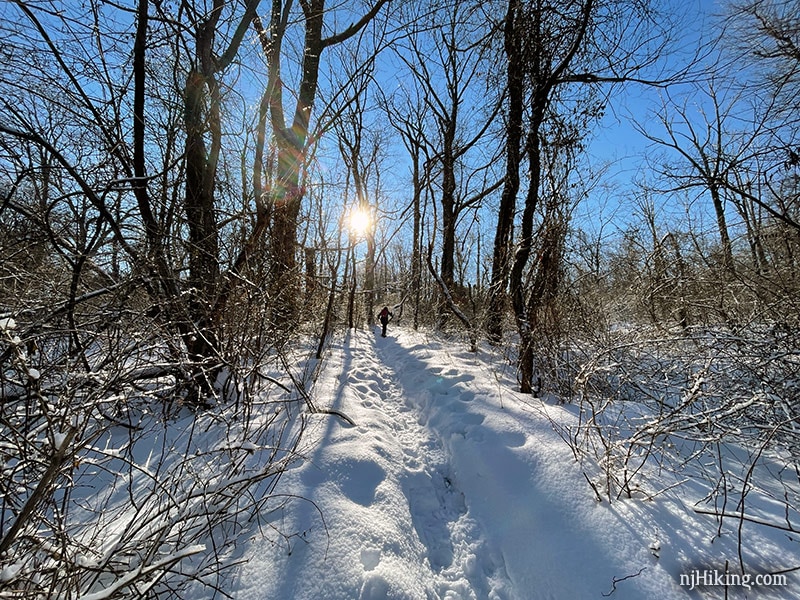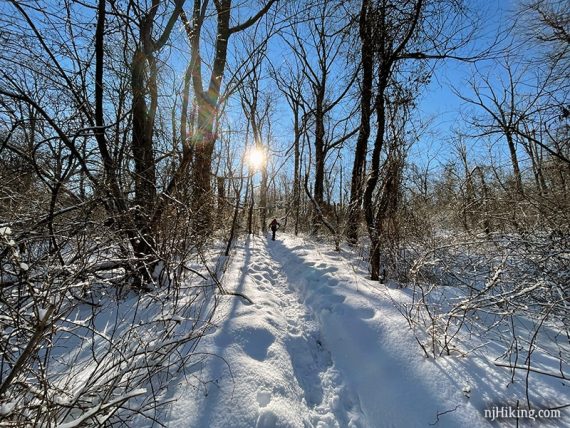 We opted for Watchung because I figured the large trail network would allow us to piece together a route on the fly as conditions dictated.
For park info visit our main Watchung Reservation page.
We started at the main parking area by the Trailside Nature Center.
I assumed we wouldn't find any unbroken trails at this point but we might be able to find lesser used.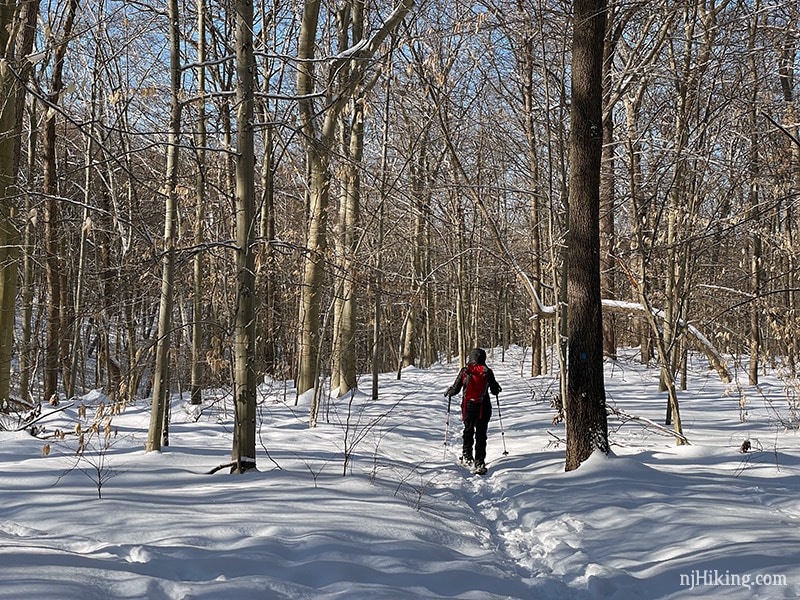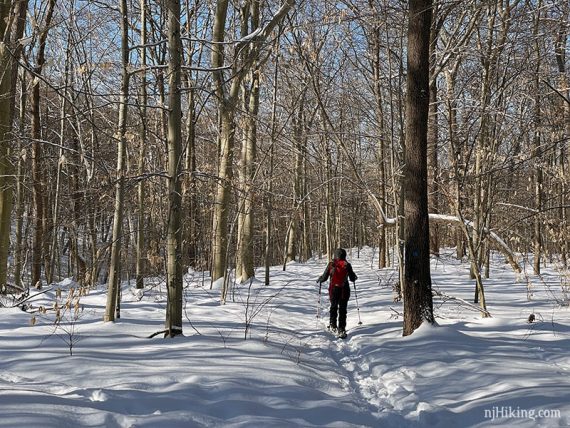 We'd started out like usual on the Sierra Trail (WHITE) that circuits the entire park but wanted to do interior trails that we never do.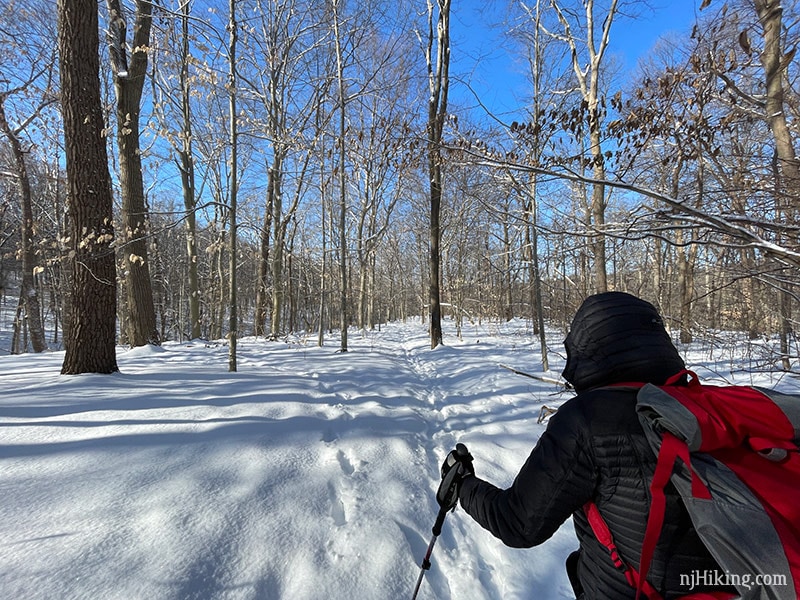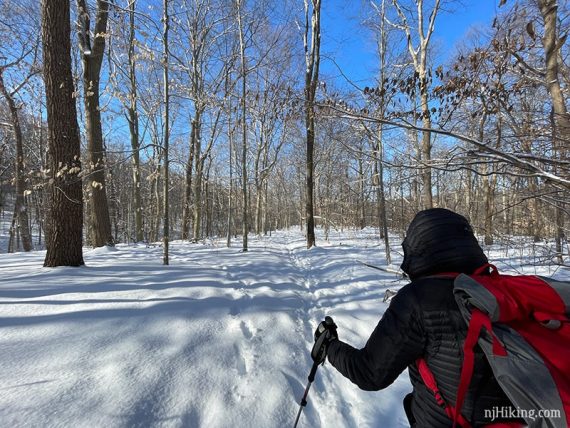 So we headed over to ORANGE and BLUE which skirt a scenic stream and gorge.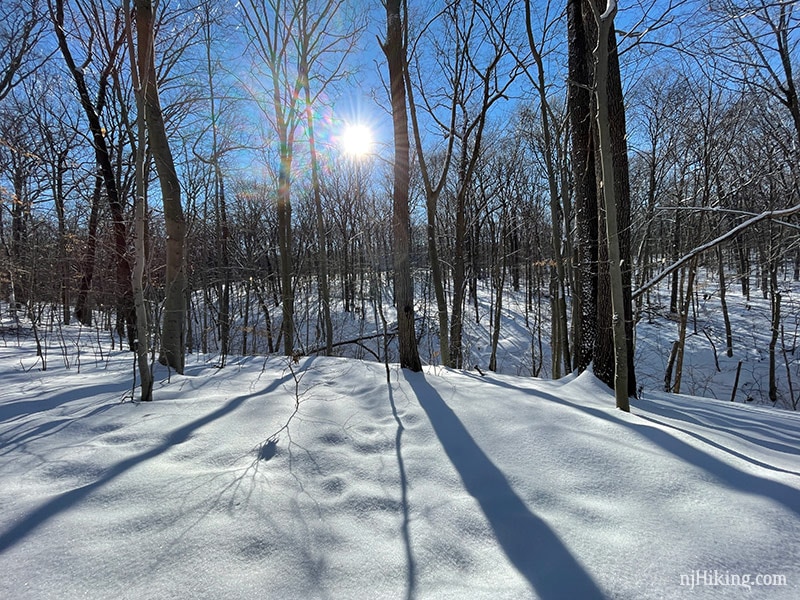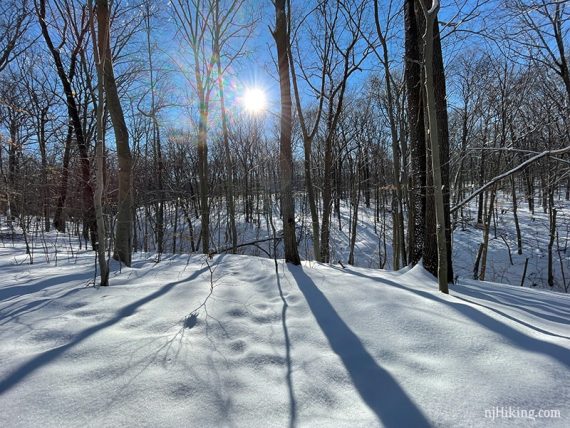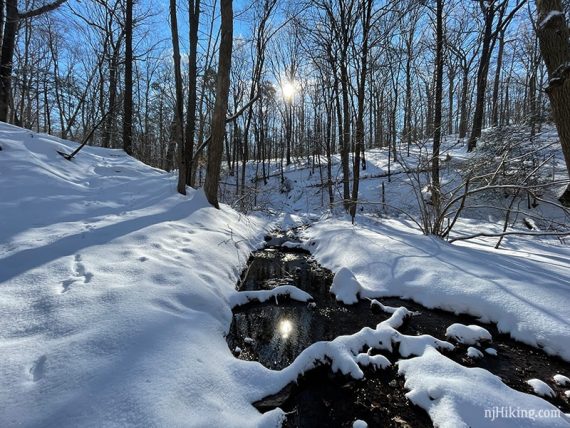 I knew we'd have to cross the Blue Brook heading this way and the map didn't indicate a bridge… but oh let's just go see.
The crossing had stepping stones – great for boots, not so much for snowshoes – and was a few inches deep. Soooo maybe this wasn't ideal but hey we rolled with it and carefully walked across the brook, avoiding the largest rocks.
Looking back after crossing the brook: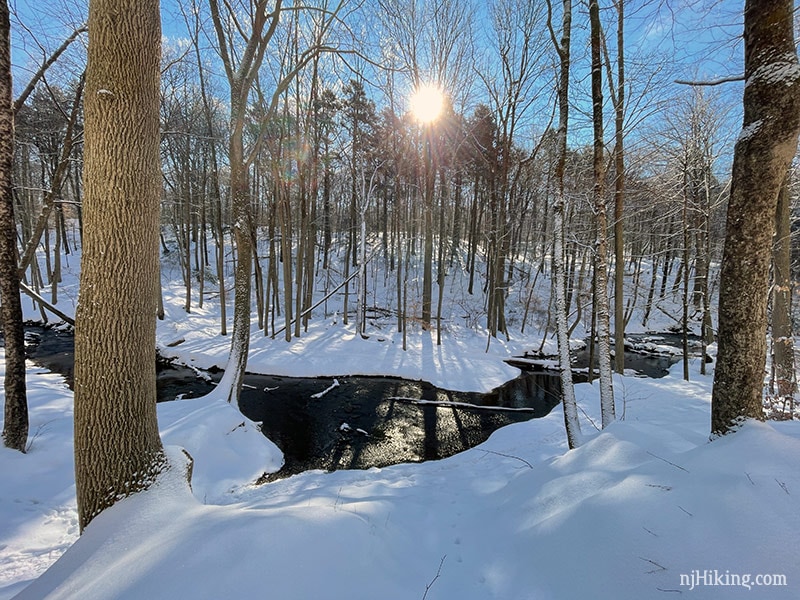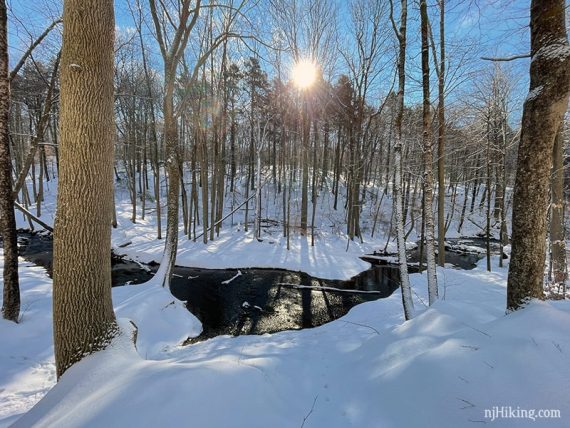 From here we headed left (with our back to the brook) and followed a narrow unmarked trail along the water.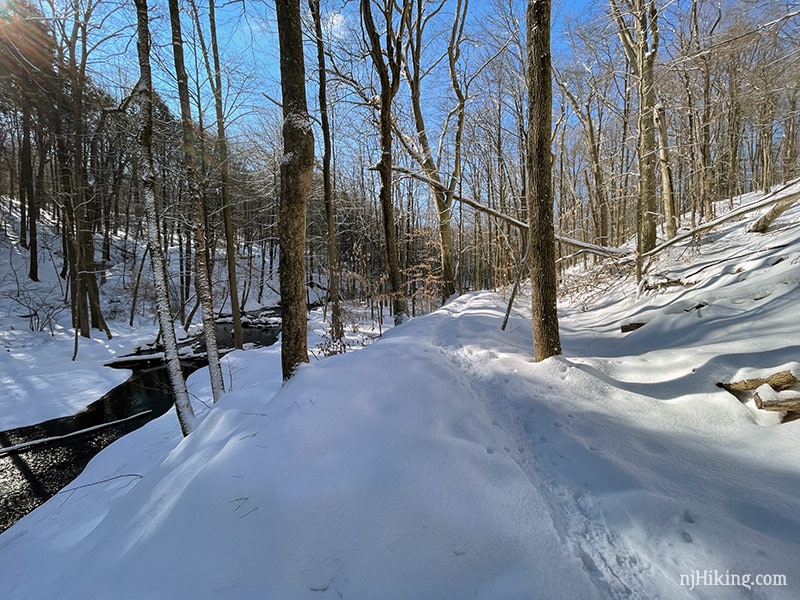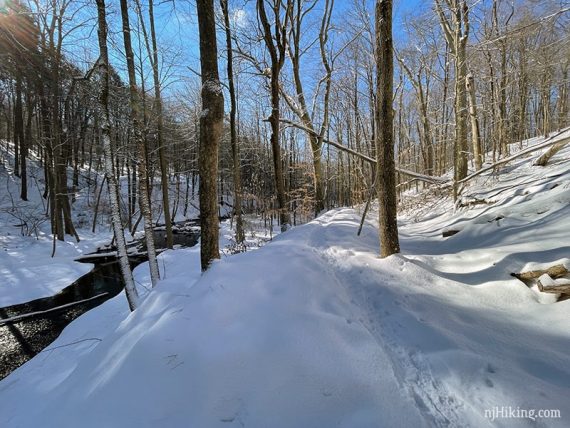 From this trail we could start to see some buildings from the Deserted Village of Feltville above us on a hill.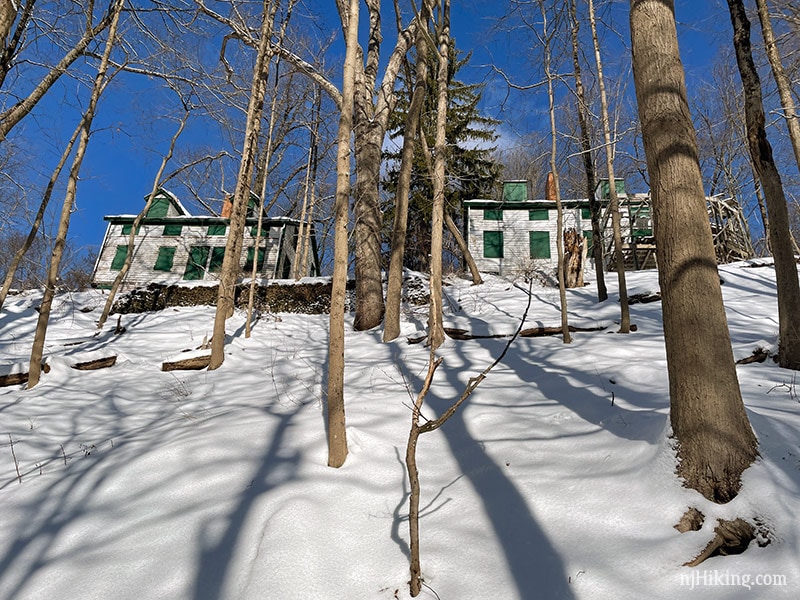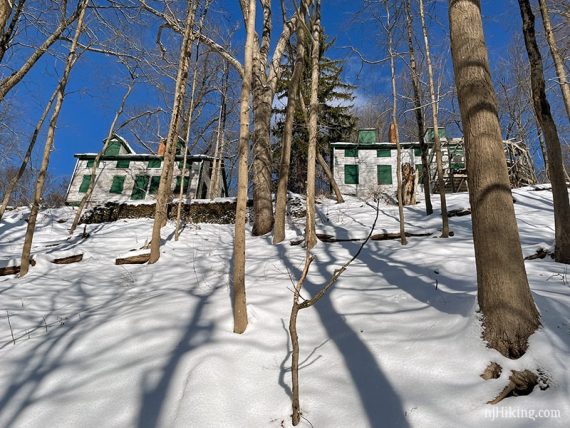 The path eventually curved to the right and headed uphill on an unmarked bridle path (the trail map notes dashed for trail, dashed for bridle (horse) paths).
While this park isn't too challenging for hiking, a lot of the trails are not quite suitable for beginner snowshoers. Some ups and downs, narrow twisty trails, that sort of thing.
This was one of several instances we used the heel lifts on our MSR snowshoes to help climb uphill. Our snowshoes also have aggressive traction along the edges which makes it easier to get downhill too.
At the top of the hill we hit the Sierra Trail (WHITE) which is a paved road through the village, so we snowshoed along the shoulder.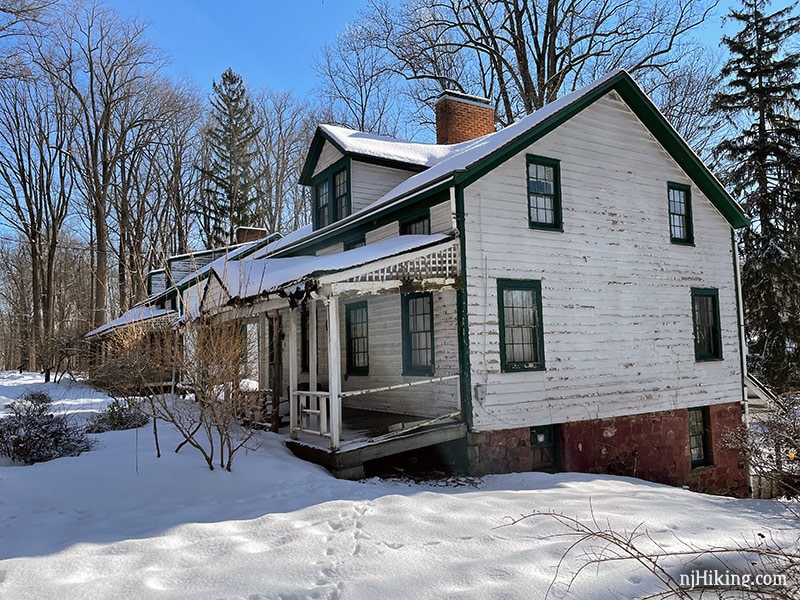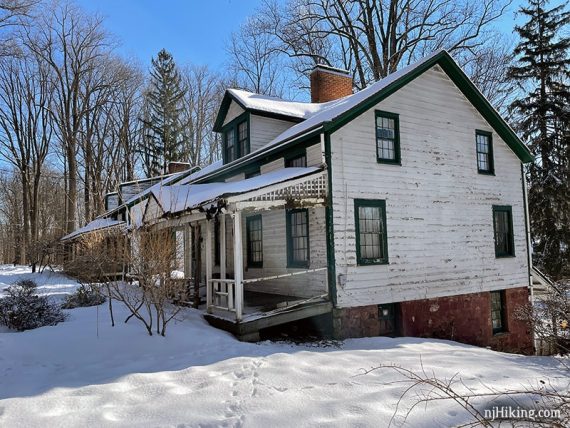 These are the two buildings we'd just seen from below: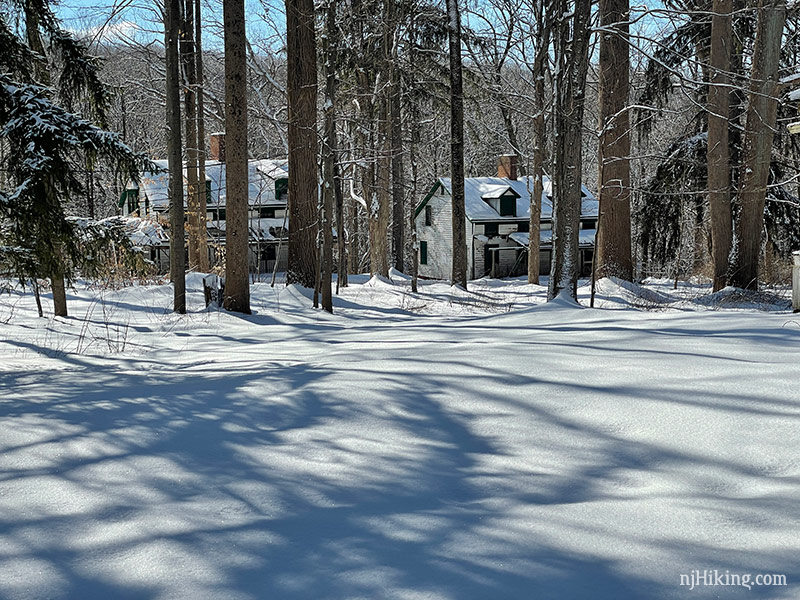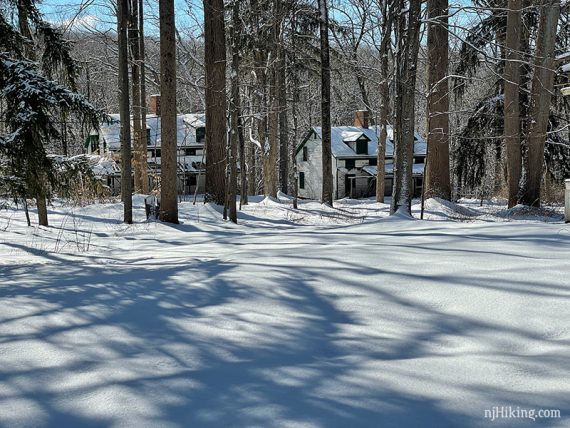 We headed around behind the main building in the Village to head towards the cemetery. The bathrooms at the back of this building were open (always a plus ).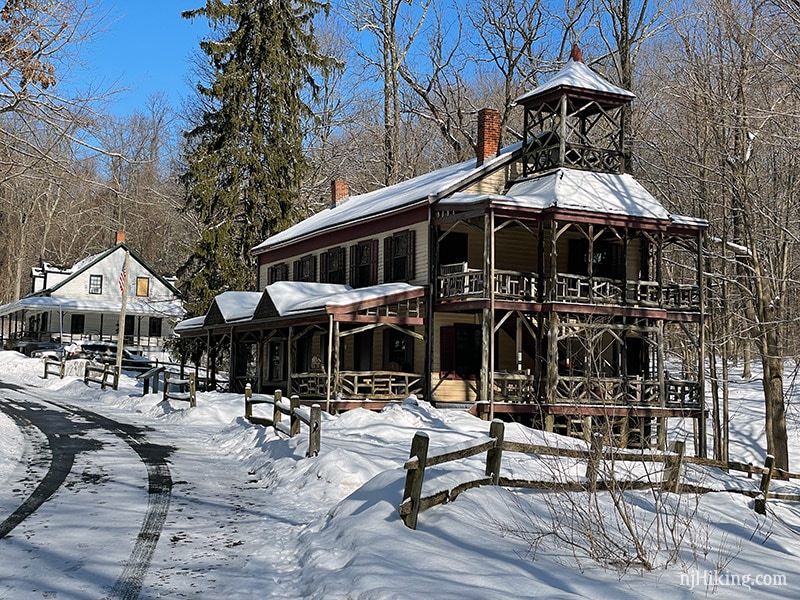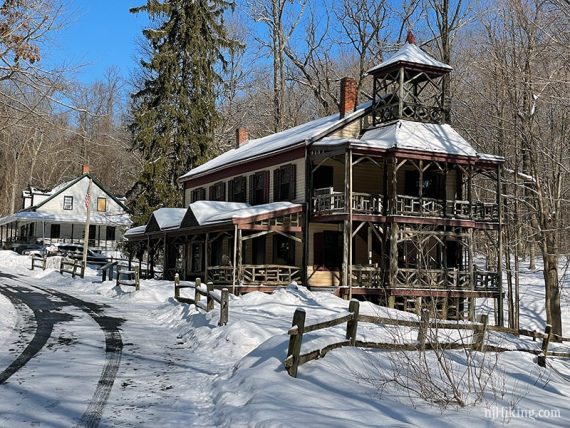 Made our way over to the cemetery to pay a visit to the Willcocks and Badgley's.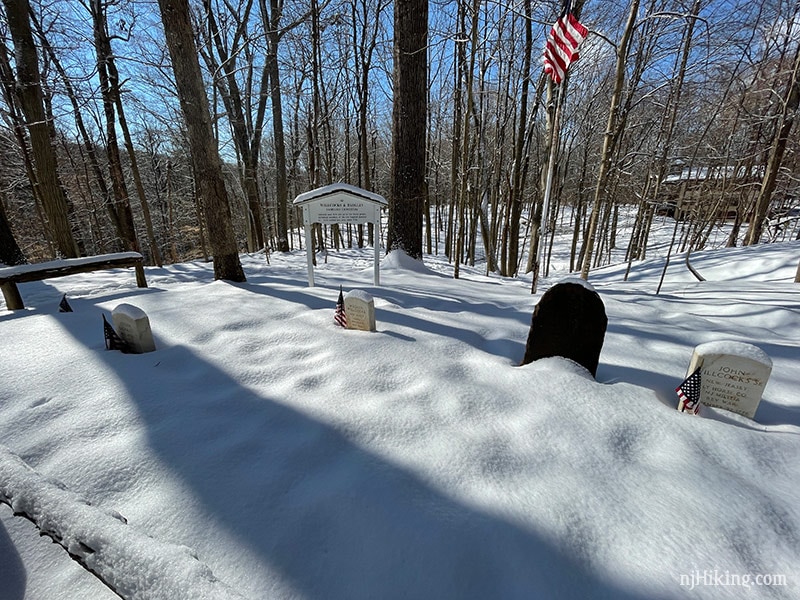 There are two families interred here and up to two dozen people but just a few headstones.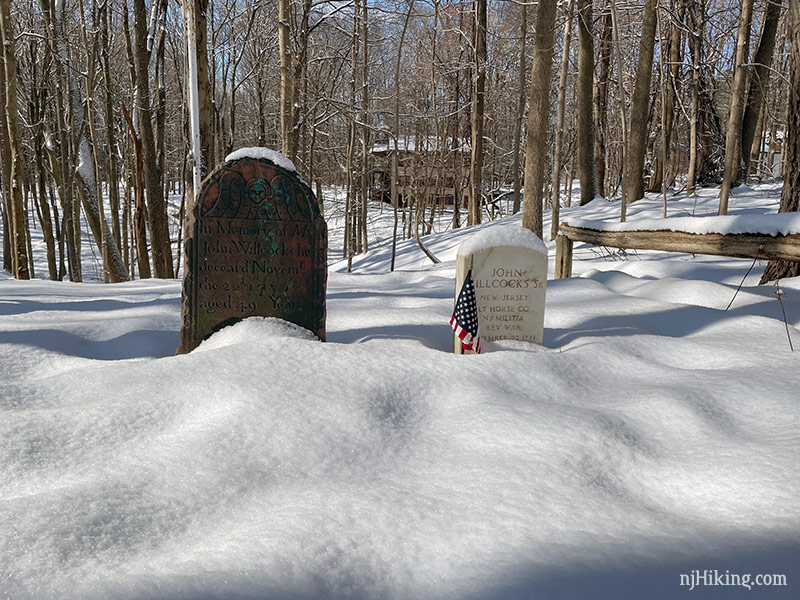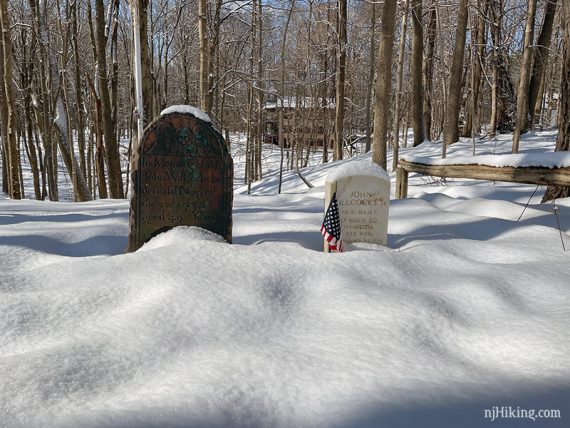 The graves date back to the late 1700s.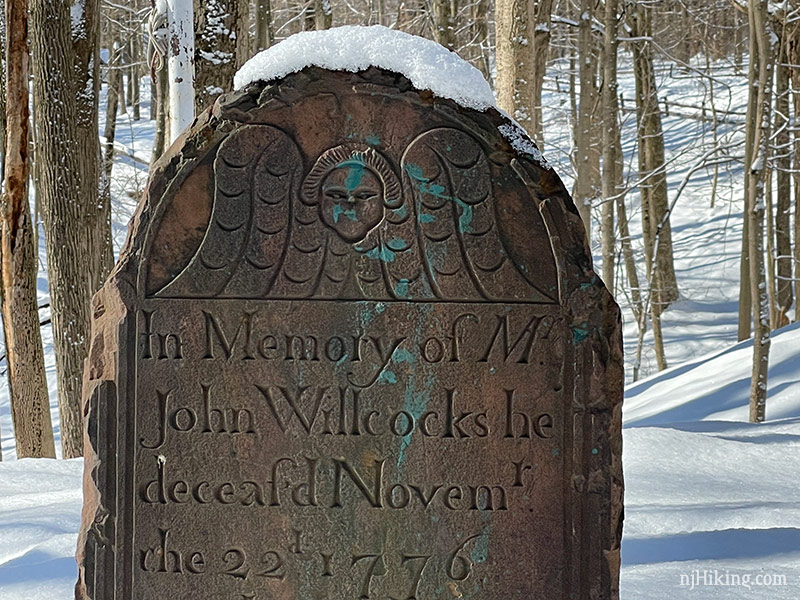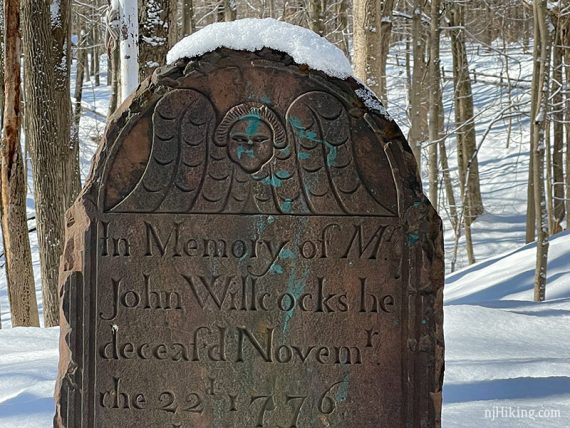 Complete with time period appropriate flag.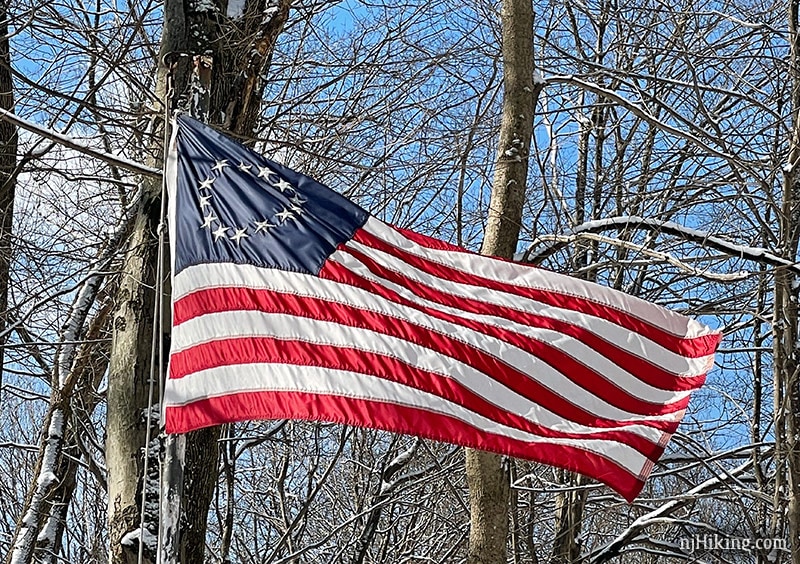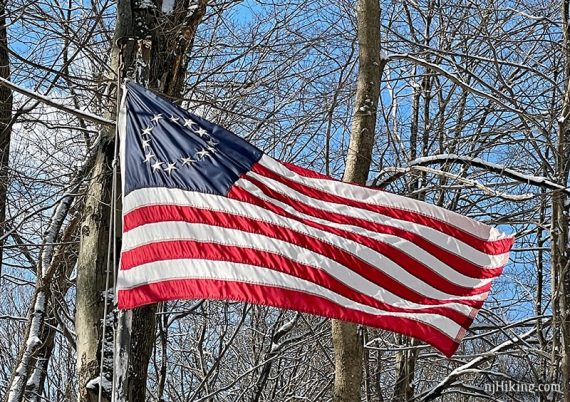 We made our way towards the lake where we met up with a wider and more trampled path.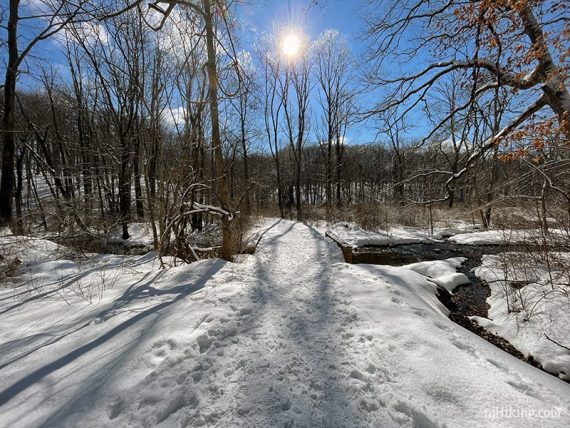 The dam at the end of Lake Surprise.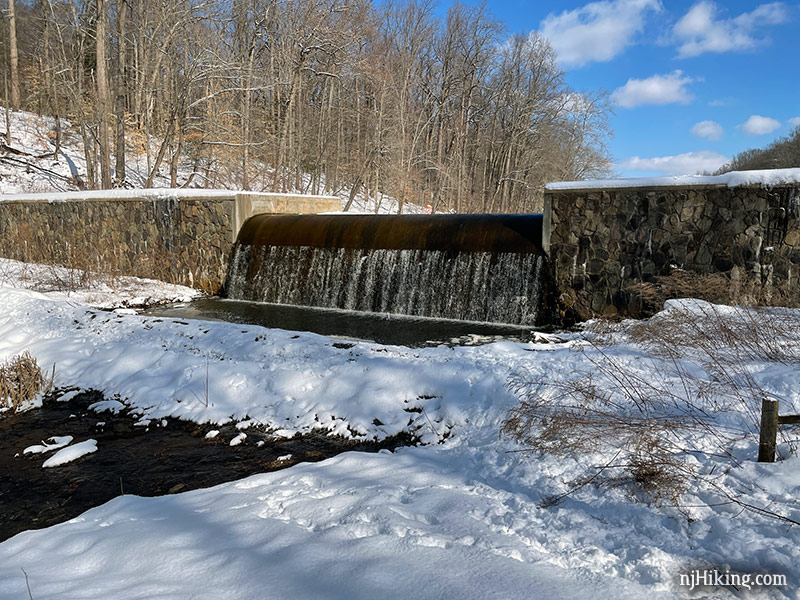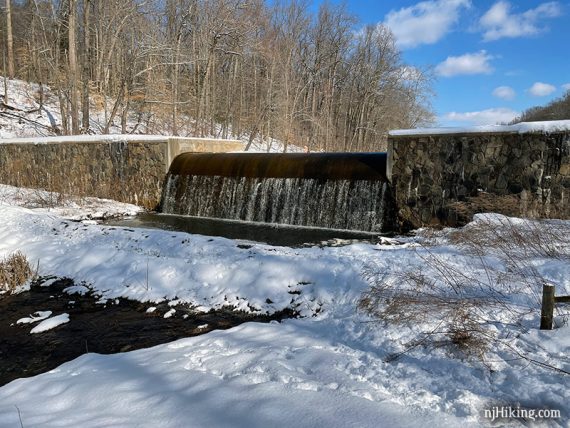 Frozen and snow covered Lake Surprise.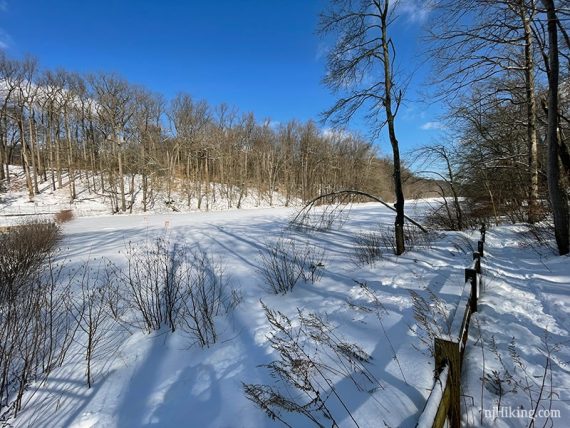 The sun was softening up the snow and we'd had a nice somewhat technical morning out (and the park was getting busier) so we used PINK (History) to head back.
Overall, an enjoyable snowshoe under some brilliant sun.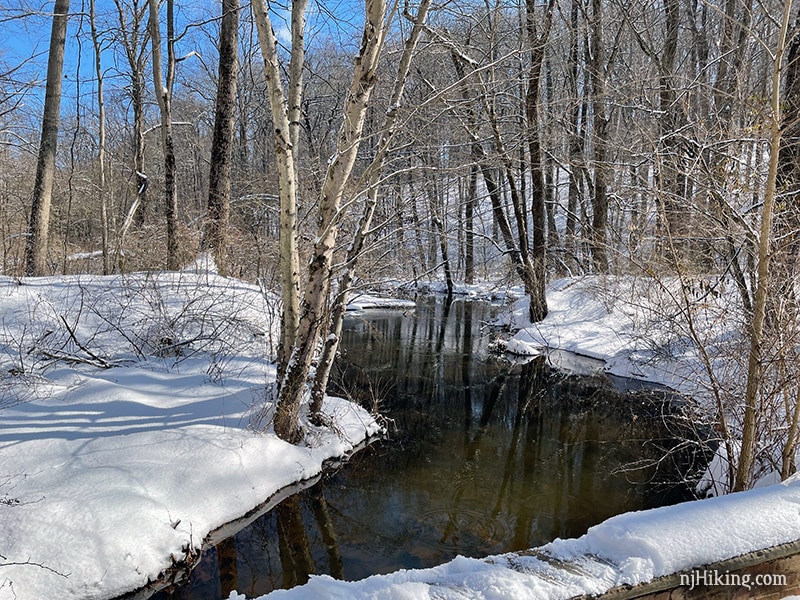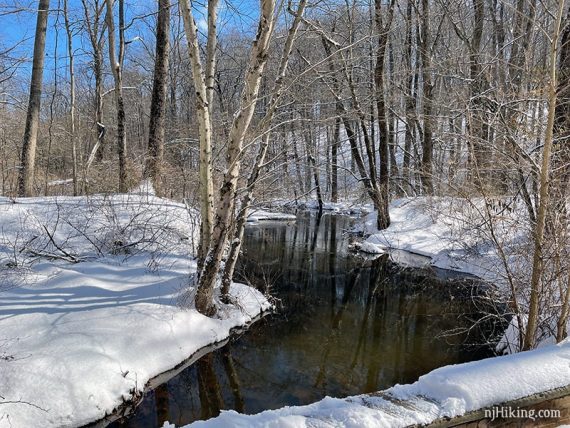 Related: Snowshoeing in New Jersey – locations and rentals.
Miles: 2.8
Route: Since we were choosing as we went and there is such a large web of trails here, many unmarked – it's too convoluted to post directions or an interactive map. But this can give an idea of what 2.8 miles looks like:
WHITE/GRN/YEL – YEL/GRN – ORANGE – BLUE – unmarked – cross Blue Brook – L on unmarked– uphill on bridle trail to Village – side of paved road thru Village (WHITE) – veer R after last building – down to cemetery…
From cemetery… WHITE (Sierra Trail) towards the lake and not back to the village (hard to tell) – Veer R down to bridle trail and bridge – Bridle trail to dam at end of Lake Surprise – back track on bridle to PINK (History) – past scout camping and other buildings back to lot.
Post Hike: Caramel Macchiatos with an extra shot ("let's get triple machs!!"). Because we're worth it.