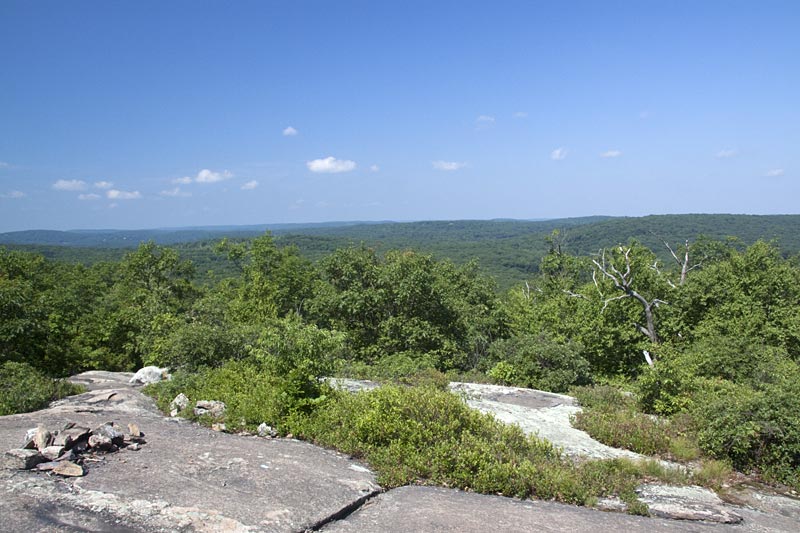 Summary: Climb Torne Mountain and hike along the ridge for view after view after view, then it's up Osio Rock for a 360 degree view of the Wanaque Reservoir, the Ramapos and the NYC skyline if it's a clear day.
*Lots of sun exposure on this hike; plan accordingly if it's hot and sunny.
Moderate. A bit steep right from the start, and rugged with larger rocks to walk over. There is a bit of a rock scramble-down before approaching Osio Rock; another minor one coming back up Osio, and getting onto the Torne trail on the way back.
Hike Info:
2.7 miles - Most people will do this short loop. In the directions below, turn around after Osio rock instead of heading to Camp Vacamas.
6.4 miles – We continued on, climbed down the side of Osio Rock, into a pleasant forested area to end up at Lake Larriwien at Camp Vacamas (private).
Longer – Cross Otter Hole (on the side on the road the parking is on) and link up with the extensive trail system in the main part of the park.
Update 6/24/14: There is a small change since this was hiked. At the steep downhill scramble right before you reach the RED trail for the 2nd time there is a new section of trail (before 1.0 in the description below). The old section of the BLUE has been re-blazed BLUE with BLACK DOT; there is a new BLUE blaze for an easier way around the scramble, likely not more than .1 mile long. [Thanks to Michael P. for the update.]
Map: Paper maps available at the trail kiosk or get it online. It's the same version found in North Jersey Trails
Books: A shorter version of this hike is in Hiking the Jersey Highlands. A 3.7 mile variation that combines Osio with Buck Mountain across Otter Hole in Norvin can be found in 50 Hikes in New Jersey. Detailed trail descriptions can be found in the The New Jersey Walk Book.
Parking: This route starts from the "Otter Hole" parking area of Norvin, not the main at the Weis Center. Rt 287 to exit 53, bottom of the ramp turn left onto Hamburg Turnpike, right onto Glenwild Ave.
Pass a hiker parking area for Wyanokie Crest on the right, shortly after that is limited parking for Otter Hole (8-10 cars or so, the map notes a 2nd parking area a little further down the road). The trailhead is across the road.
Restrooms: None. There was a gas station in town on the way there.
Hike Directions: Overview: BLUE (Hewitt-Butler) to end at Camp Vacamas and turn around, pick up RED Torne trail after Osio on the return trip.
0.0 – The trail is a bit steep right from the start. BLUE parallels the road a bit, then pass RED on your left. Climb up to a limited viewpoint, then the trail comes up and around for a larger view. After this… it's almost all views.
At one of the larger wide-open viewpoint is a "couch" made out of stone. The trail is a bit hard to see where it goes here… not straight, not left, but inbetween that.
Head downhill over some steep rock slabs – a bit of a scramble. If it's wet, it may be a bit of an issue.
1.0 - Pass the start of RED (Torne) Trail as BLUE turns to the RIGHT. There are 3 red blazes on a tree but it's easy to miss. You'll take this on the route back.
1.4 – Osio Rock – 360 degree views of Wanaque Reservor, the Ramapo Mountains and if it's clear enough – the NYC skyline.
Scramble down the rock and follow rocky, switchbacks down Osio Rock before ducking into shady forest for mostly level hiking.
2.8 – A sign with "VACAMAS" pointing right, and that trail is marked orange and wasn't on our map. Keep going straight on BLUE, though it's a bit unclear – the trail looked less traveled than orange.
3.3 – Camp Vacamas and Lake Larriwien. BLUE ends. Turn around at this point and retrace your route.
5.6 – Turn RIGHT onto the start of RED (Torne). RED is shady, level, and shorter… or you can also continue backtracking on BLUE if you would like a tougher route.
Almost at the road, the RED ends, and you turn RIGHT back onto BLUE and follow to the lot.
—
Hiked: 6/19/10. Trail Blog: "Norvin Green – Torne Mountain and Osio Rock"