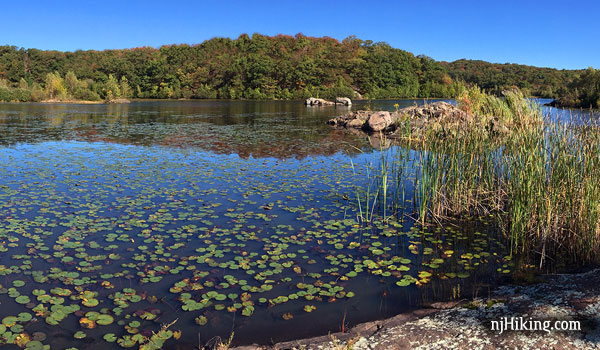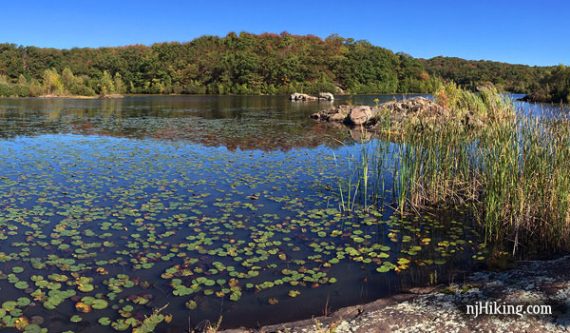 Scenic hike around Butler Reservoir that includes a waterfall, dam, and ruins.
5.3 or 2.2 miles. Roots and rocks, steep sections (especially coming down GREEN), some seasonal rock hops over wet areas or streams.
Shorter – 2.2 miles. To the reservoir viewpoint and back. Noted below.
Variation – 3.2 miles. Direct to dam, ruins, waterfall, see "Apshawa Waterfall".
Our two cents:
This hike packs a lot of interest in under 6 miles: a large portion of this hike has a water view, plus some waterfalls, water tank ruins from the early 1900's, a dam, and a couple of viewpoints.
A longer route can't really be done in this park unless YELLOW opens up. That trail has been closed for years due to busy beavers flooding the trail which then became too overgrown to hike.
Some traffic and yard work noise. Bonus: This is a no-hunting park.
Updates: 10/2019 – Re-hiked, description tweaks, new photos/video. 4/6/14 – New description to include major changes to the trail colors, new photos.
---
Trail Map:
Park map linked above and it also appears on Jersey Highlands Trails. The park's map lists distances of each segment in order to put other loops together.
Books:
This area isn't covered in any of the hiking books we own. For information on the deer fence and other tidbits, check out NJ Urban Forest's blog post.
---
4 Northwood Drive West Milford, NJ 07480. Route 287 to Exit 53 for Hamburg Turnpike. Bear R on Macopin Road. L on Northwood Dr. Large dirt lot.
Restrooms:
None. There are gas stations on Hamburg Turnpike, or along Rt 23 if approaching via Exit 52B off of Rt 287.
---
Hike Directions:
Overview – BLUE – WHITE – RED – GREEN – ORANGE – BLUE
0.0 – Walk through the gate in the deer fence and start following BLUE. It's the only trail from the lot.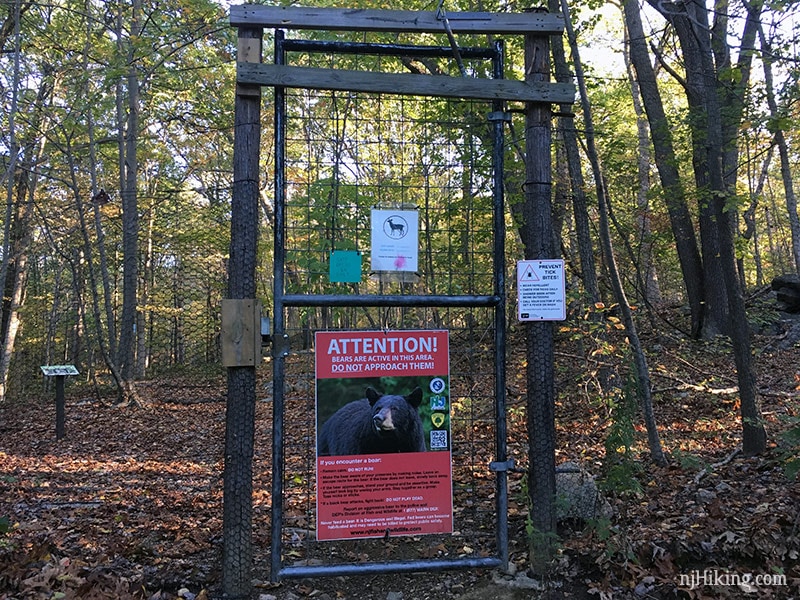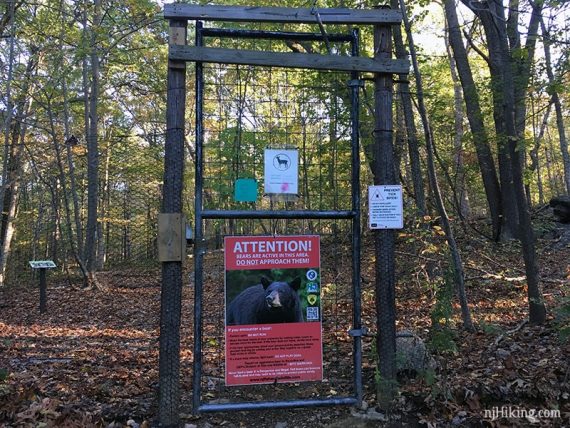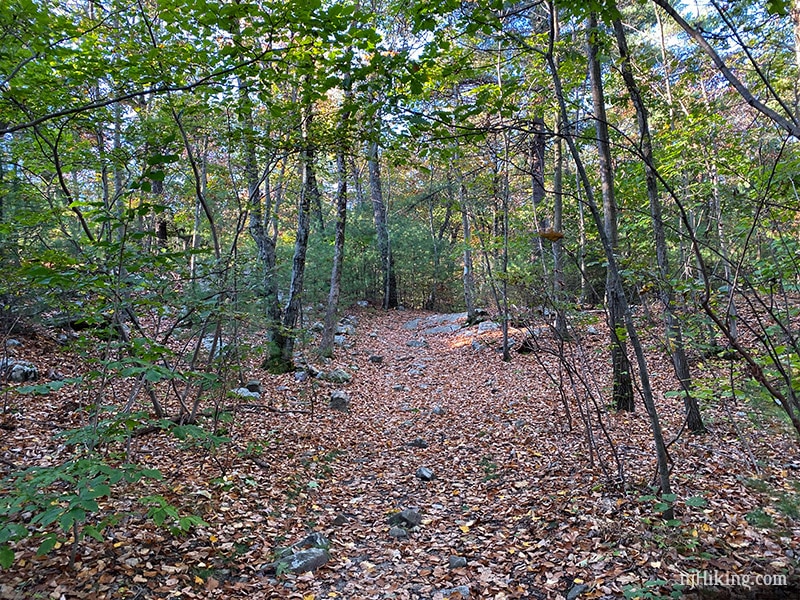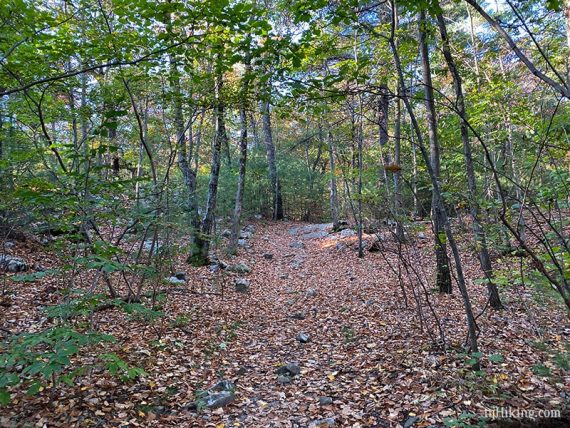 Continue on BLUE as it heads downhill.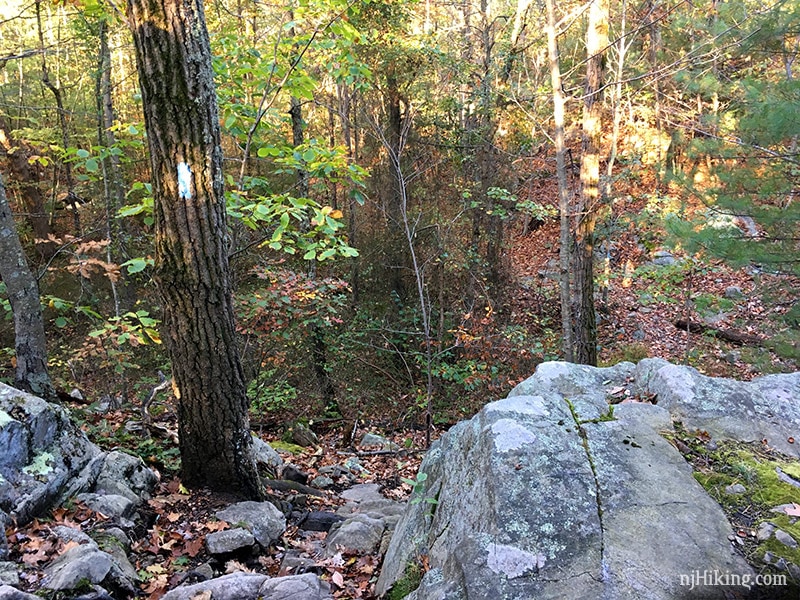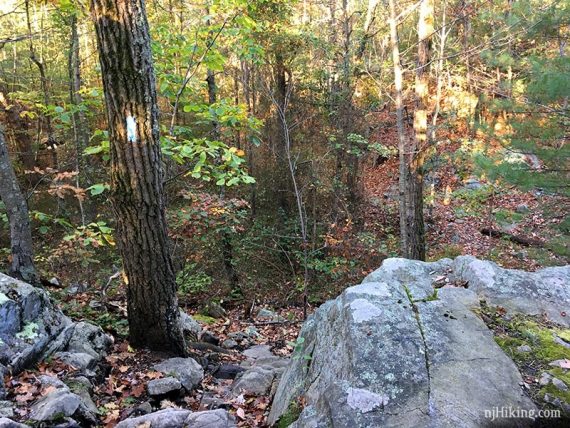 0.5 – Turn RIGHT, now following WHITE. The blazes are painted on a rock. [BLUE continues straight]
0.8 – Very limited view of Butler Reservoir in the distance.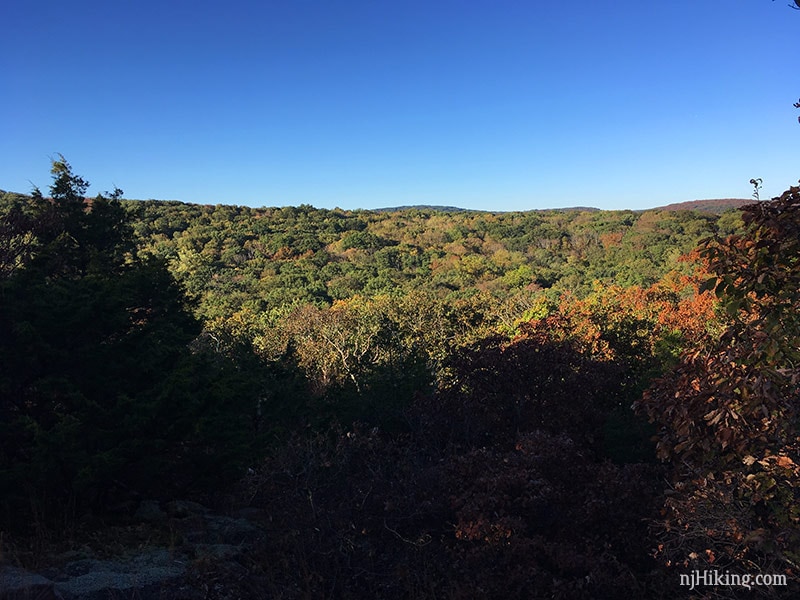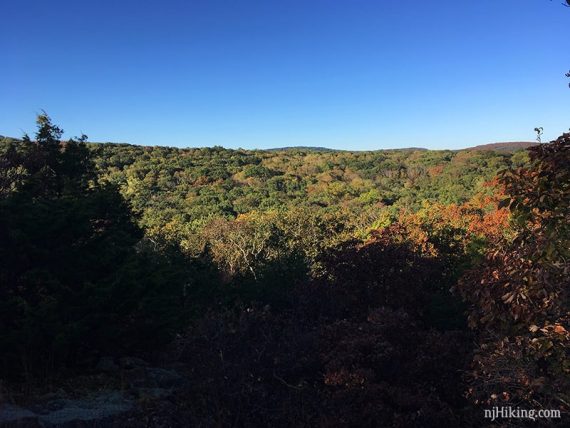 0.9 – Go through the gate in the deer fence and turn RIGHT, now following RED. [WHITE ends. RED also goes to the LEFT]
// Shorter Option, 2.2 miles: Turn LEFT on RED instead, to not go around the entire reservoir. Follow RED to the overlook near the dam. Retrace the route, or choose another trail back. //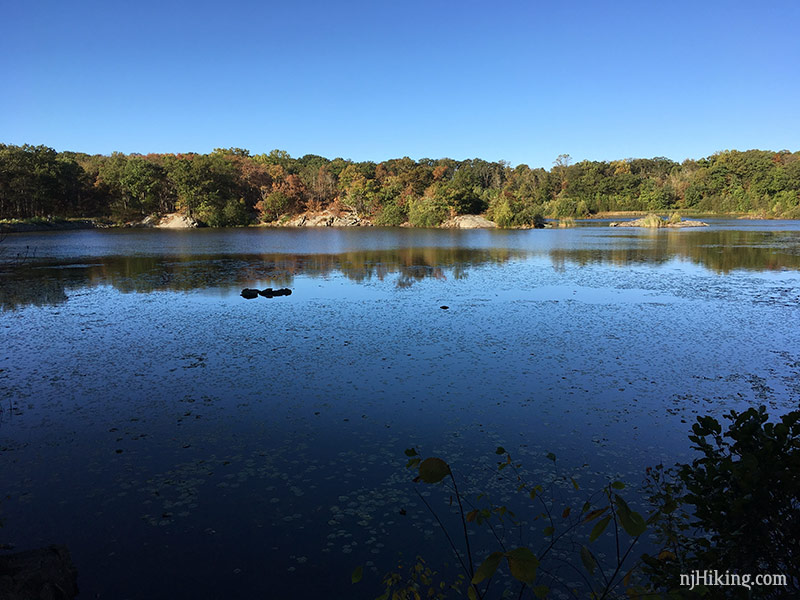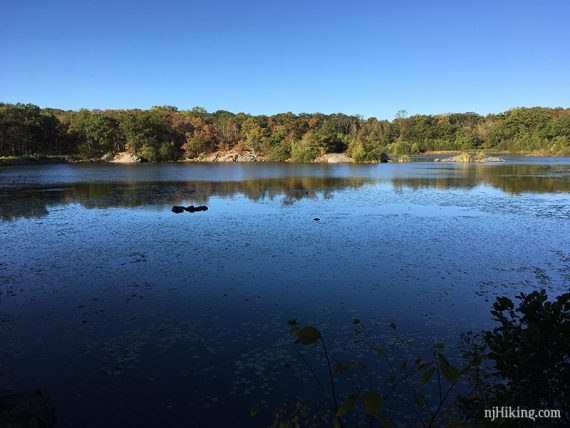 1.2 – Intersection with the start of the YELLOW trail, which is closed due to beaver activity. A large beaver lodge can be seen across the water.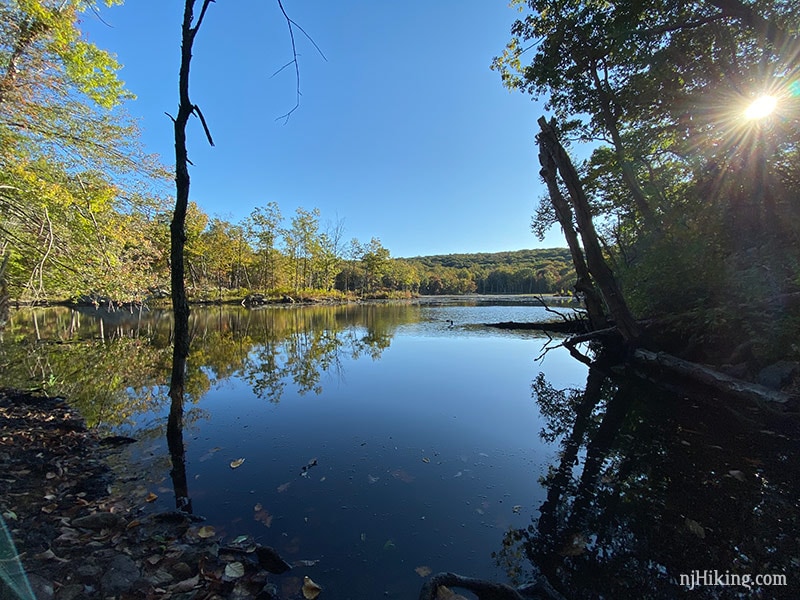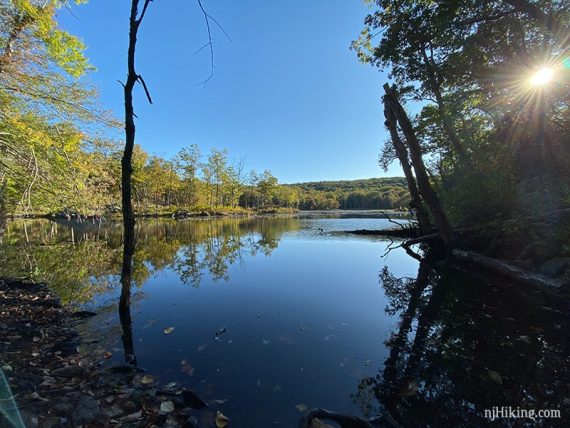 Turn LEFT, still following RED, across a short narrow strip of ground with water on one side.
When we last hiked (10/2019) it was overgrown with a wet area to cross on sticks – you may need to briefly veer left off trail to better get around.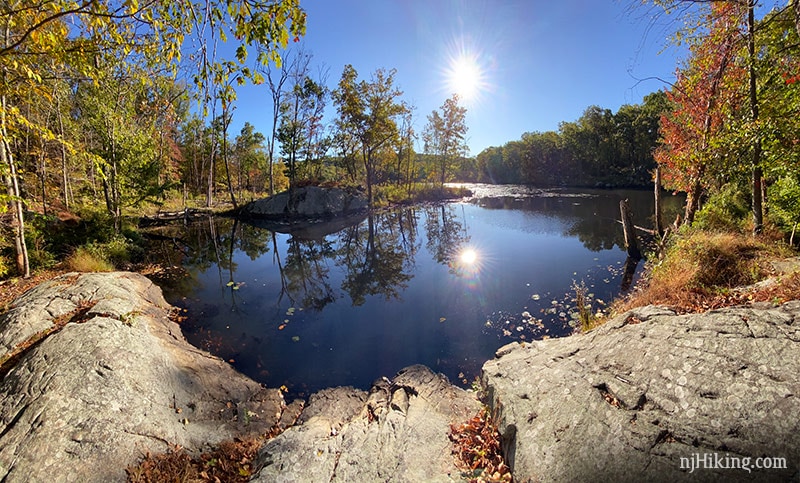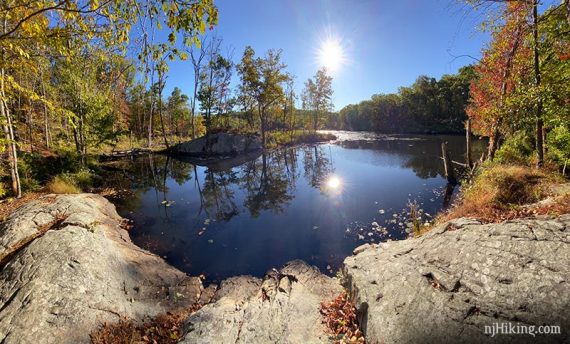 At the end of that, turn LEFT, still following RED. [The other end of YELLOW meets here but we didn't notice a blaze.]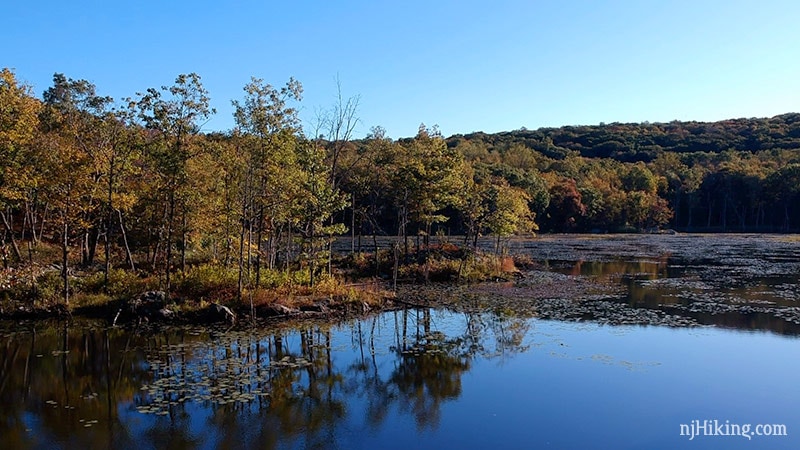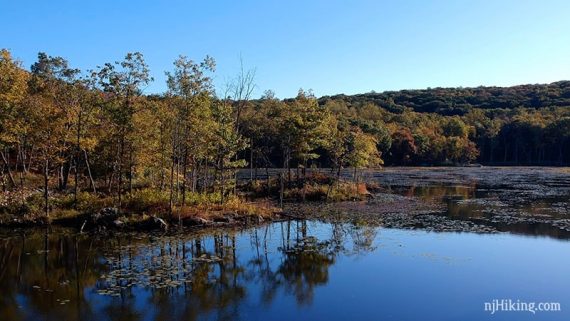 Start moving away from the reservoir.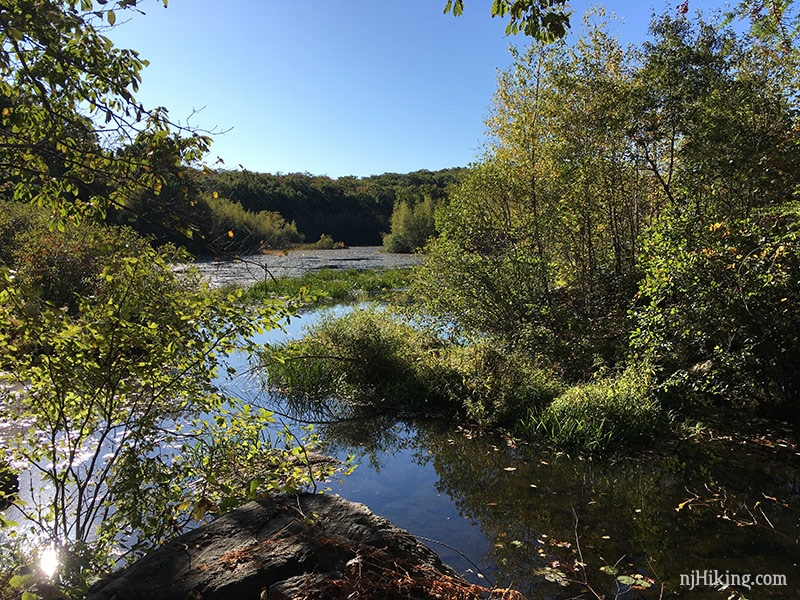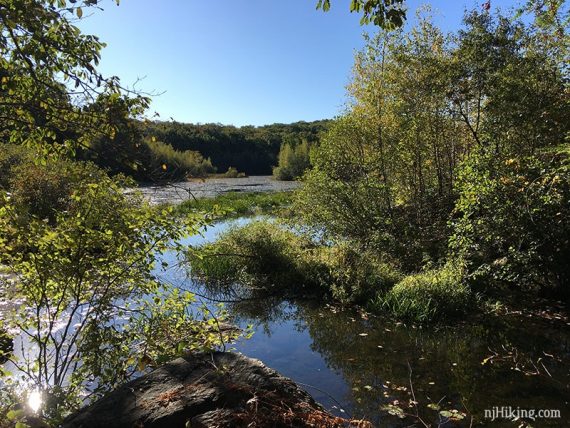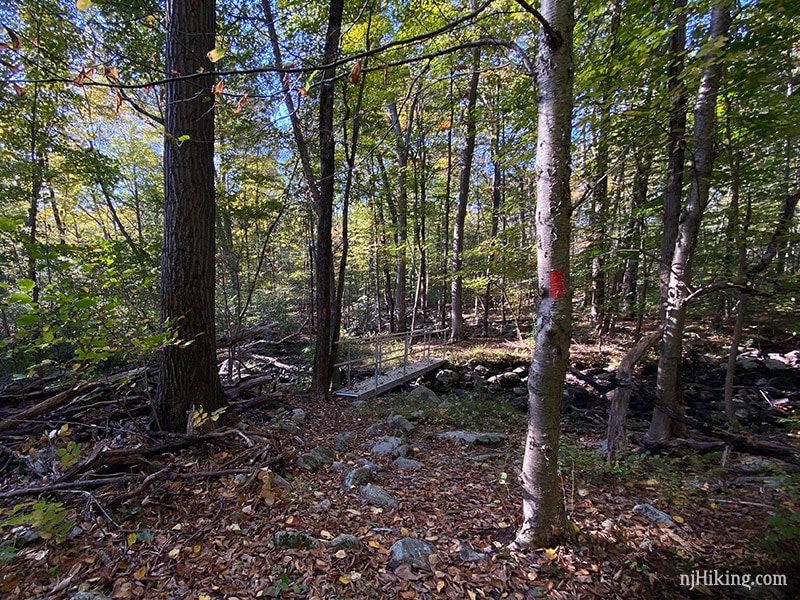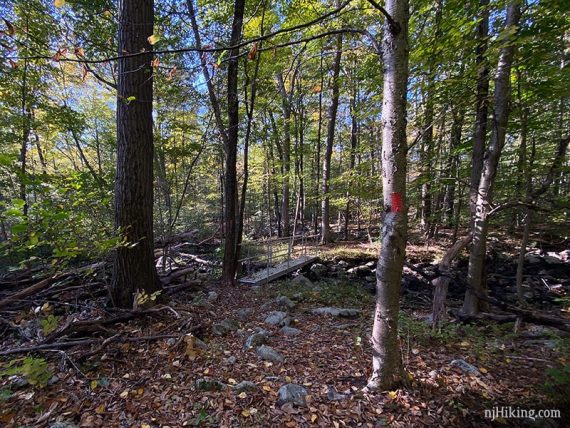 1.5 – Cross a stream on a metal bridge, continuing on RED as it hugs the stream.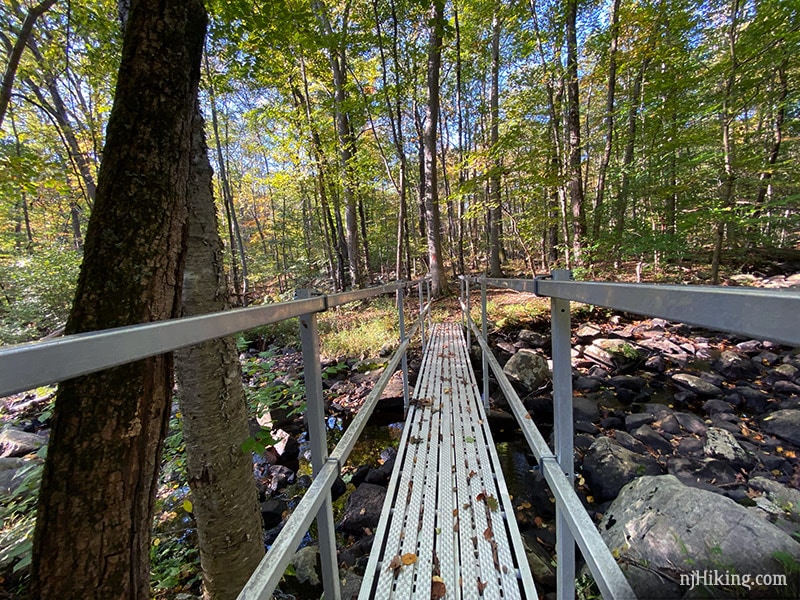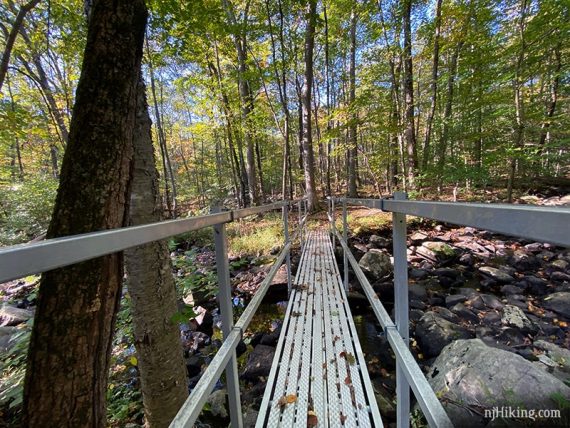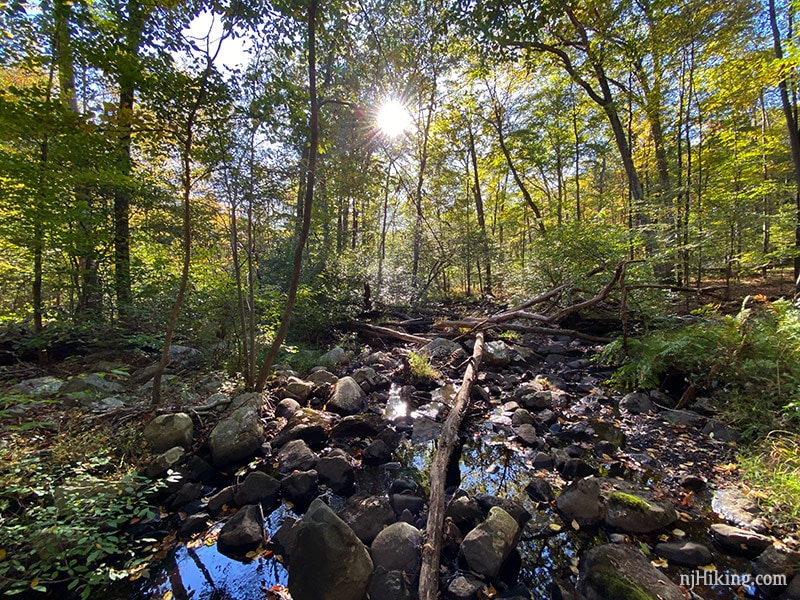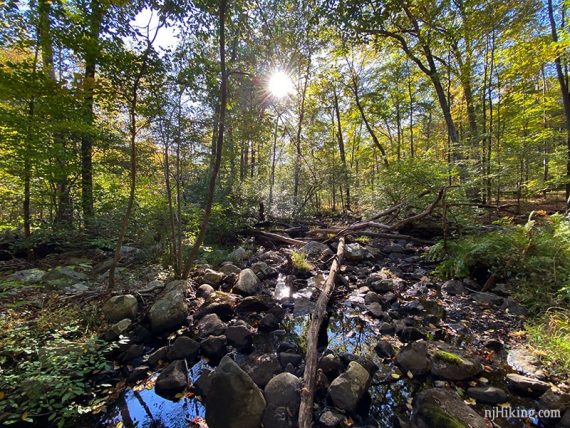 RED returns to the shore of the reservoir, with several rocks to take a break on, and plenty of views of the water.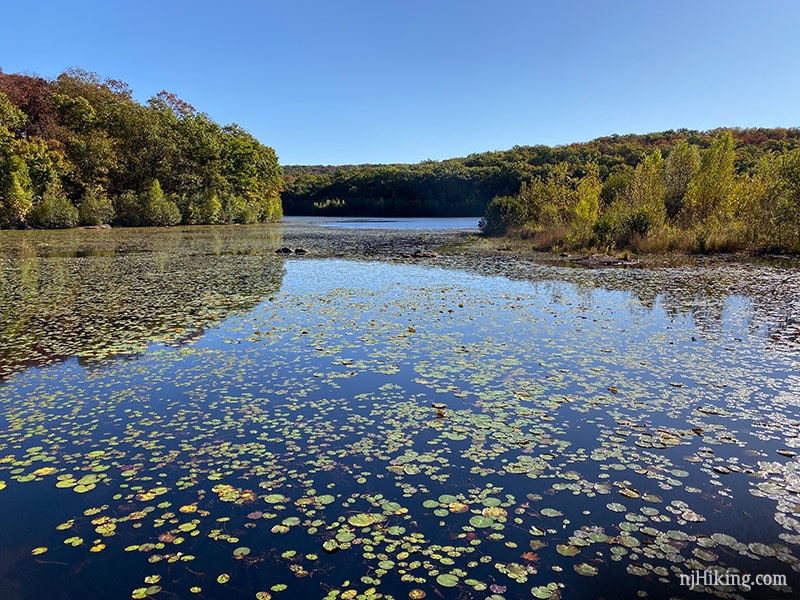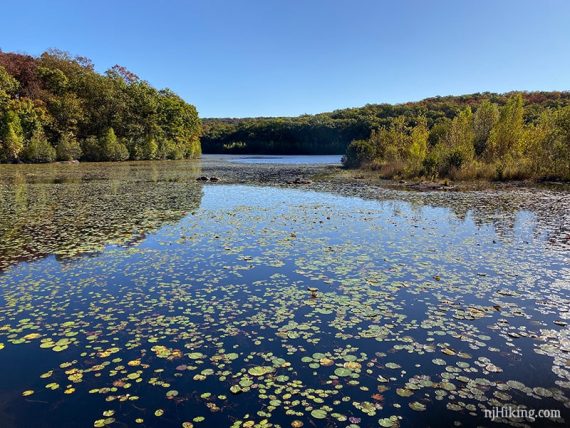 A beaver dam may be visible on the reservoir.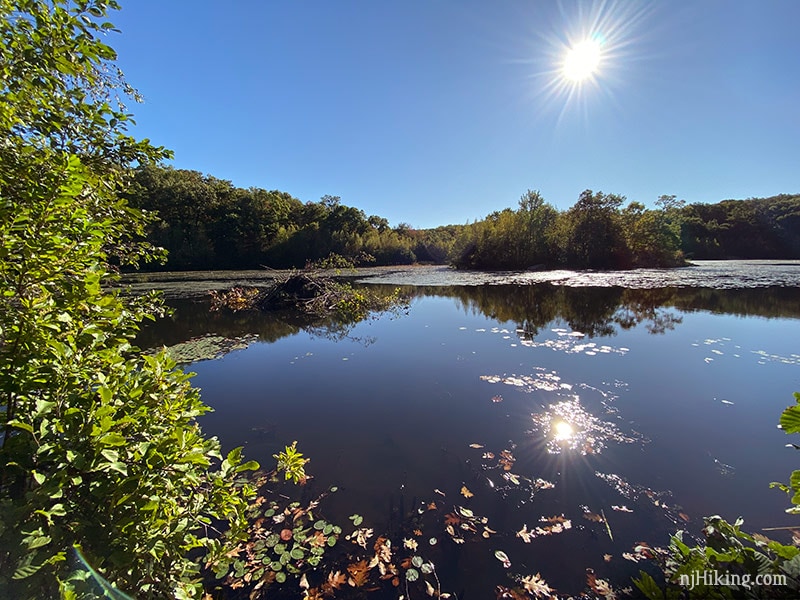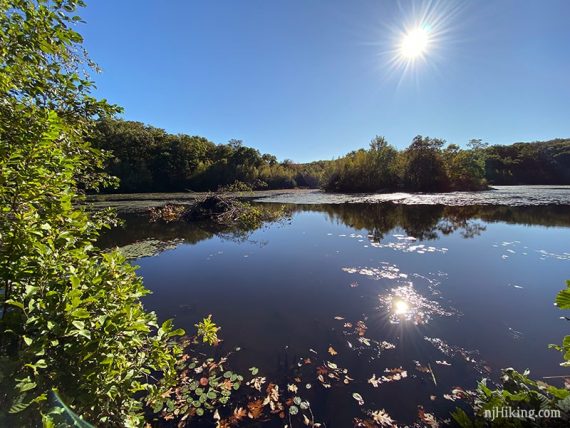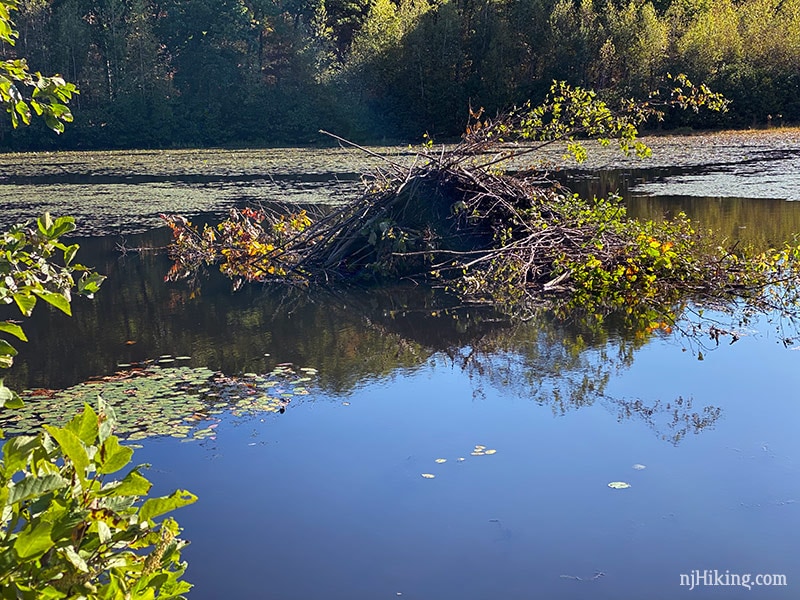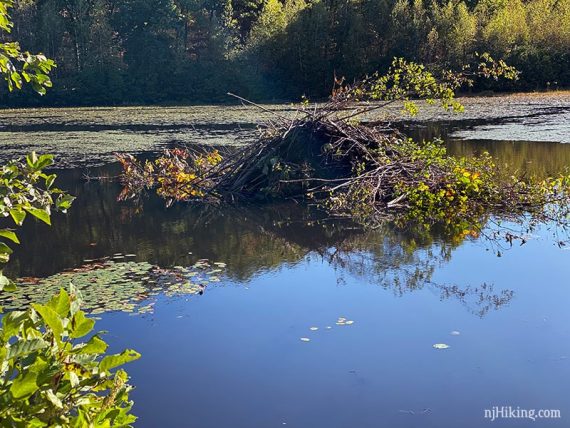 Continue following RED.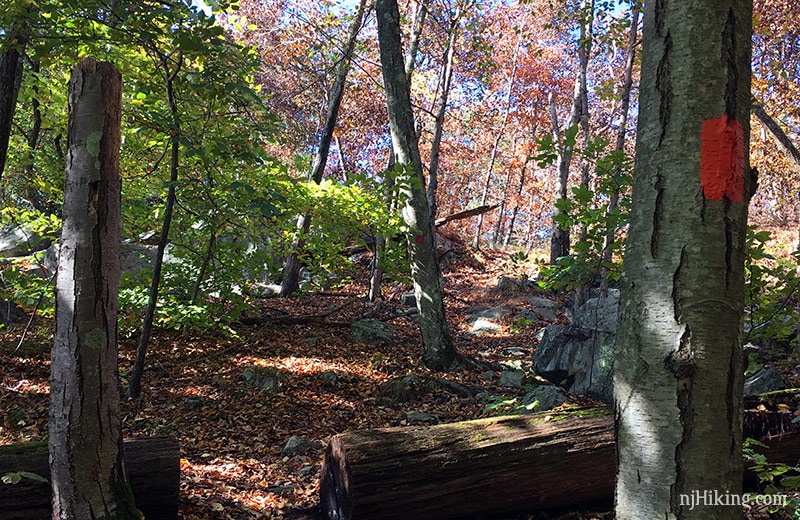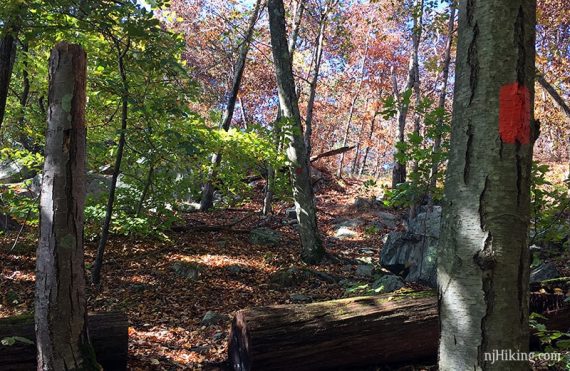 There is a large flat rocky area to take a break or wait for the next one.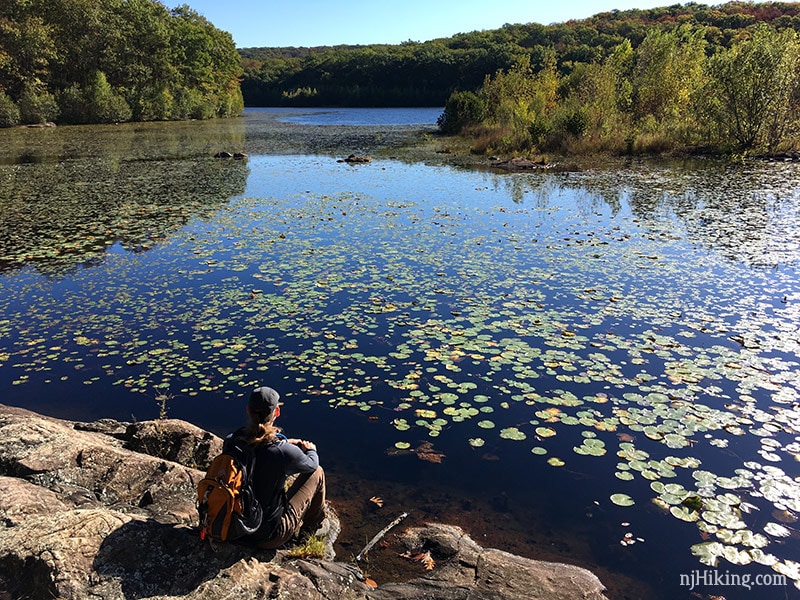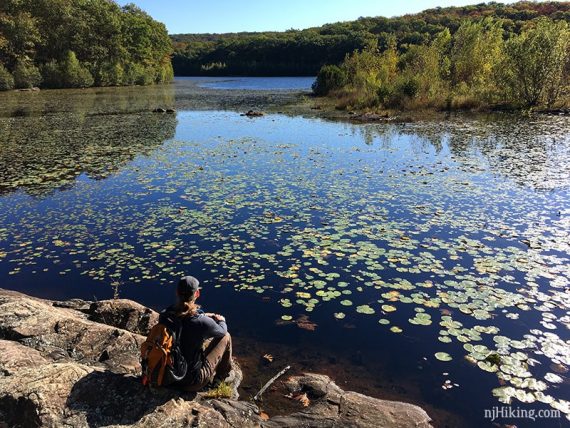 2.3 – Arrive at a woods road, and turn LEFT, still following RED.
Pass a short trail to the water on the left, and then the GREEN trail gate on the right (for now, you'll be back in a bit).
Follow RED when it turns LEFT off of the woods road, near the dam. There are multiple trails, keep along the water basically.
Follow this out to a wide area of flat rock jutting into the reservoir for another vantage point and break spot.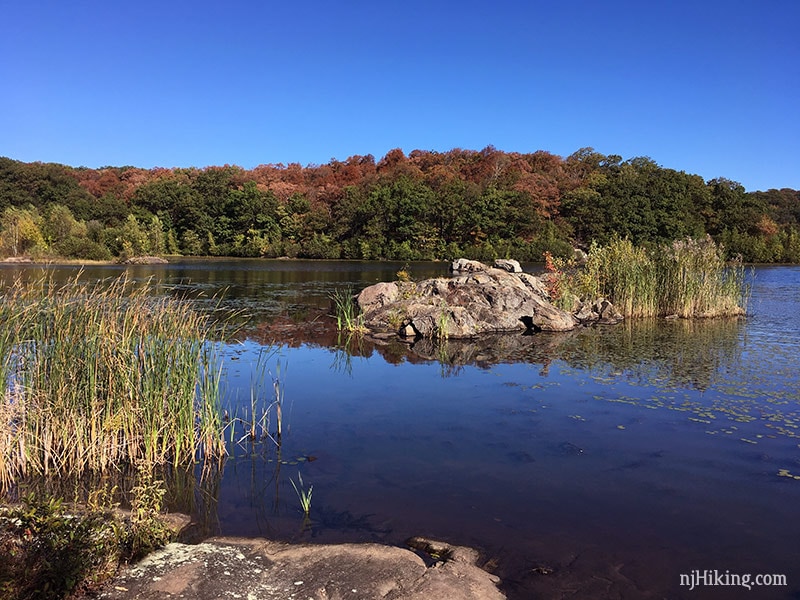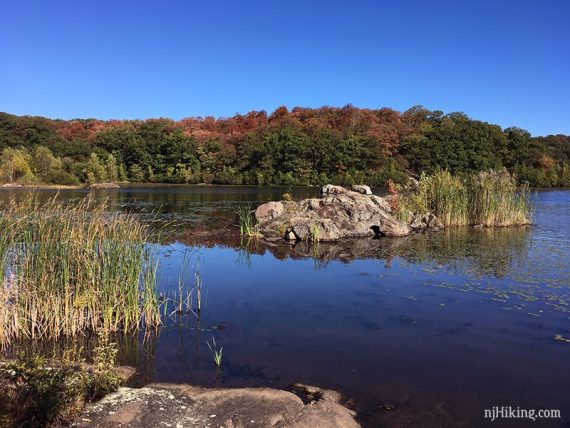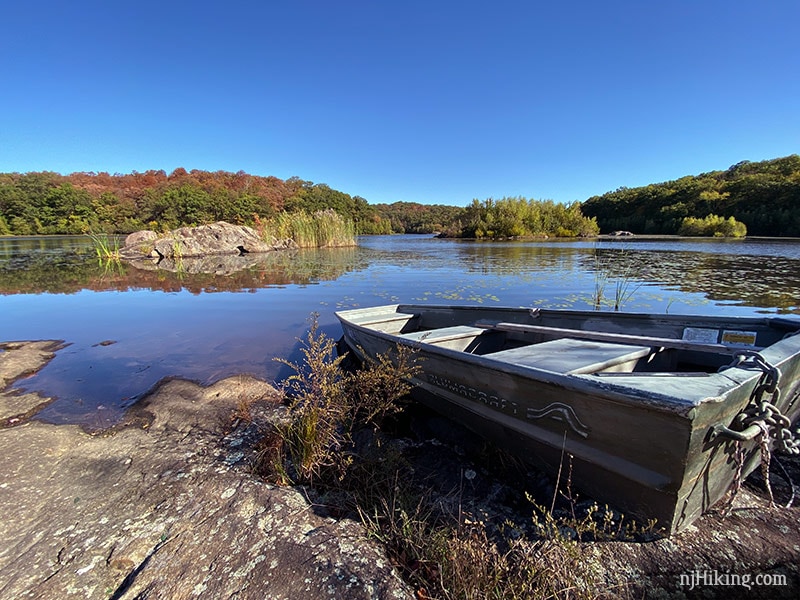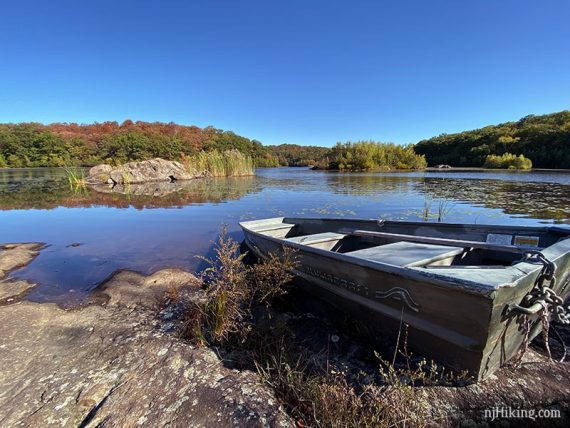 Retrace RED back to the gate.
2.8 – Turn LEFT through the gate to start following GREEN. [RED continues straight, in the direction you came from].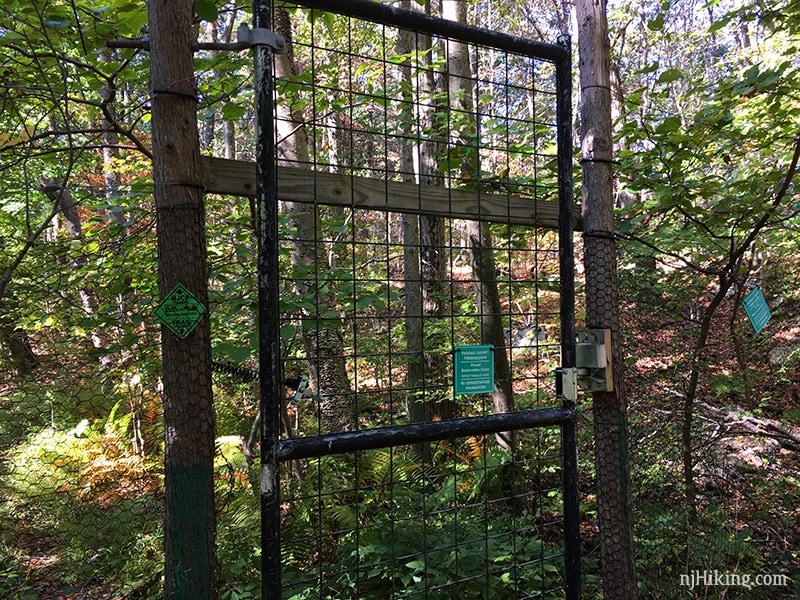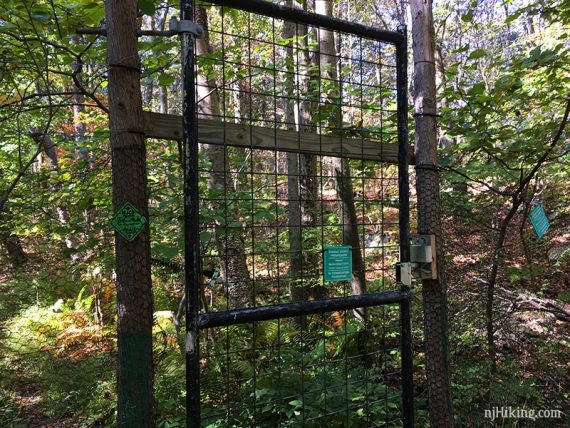 The trail surface is not great for a short bit as it follows a rocky drainage that was overgrown when we last hiked it.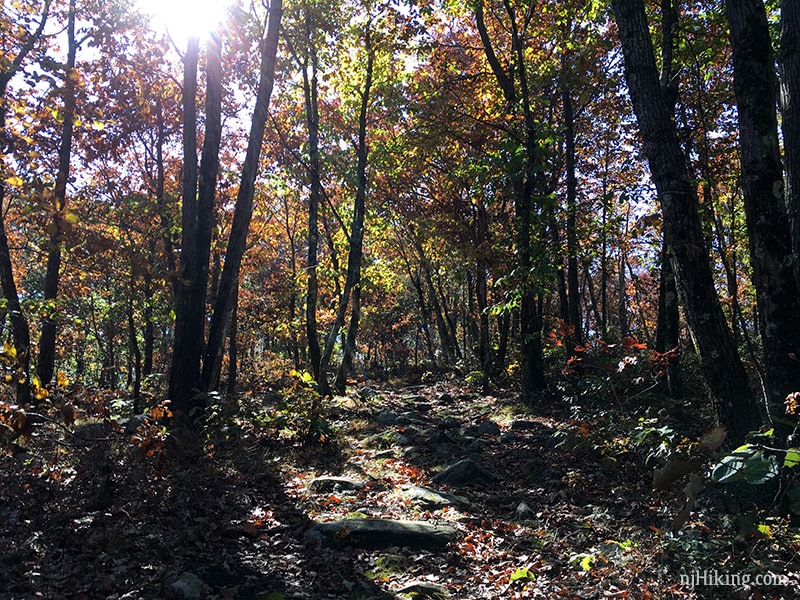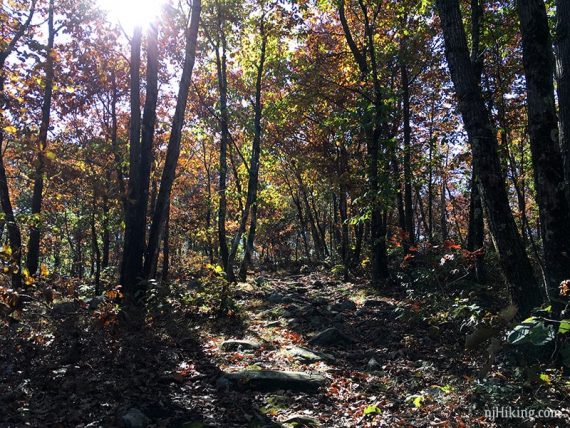 3.1 – Pass a casual path on the right that leads to a view that wasn't really there anymore, though with leaves down it might be a limited view.
3.2 – This view is partially obstructed by trees but still makes for a nice break spot.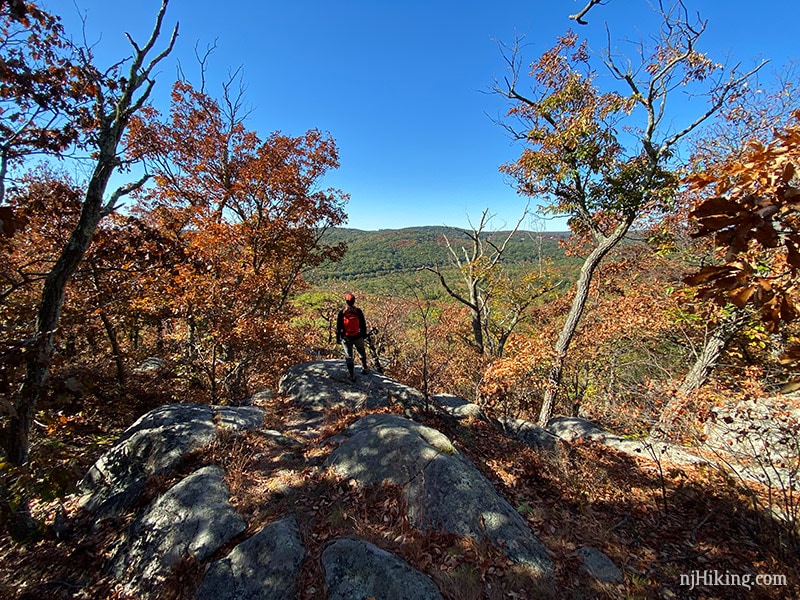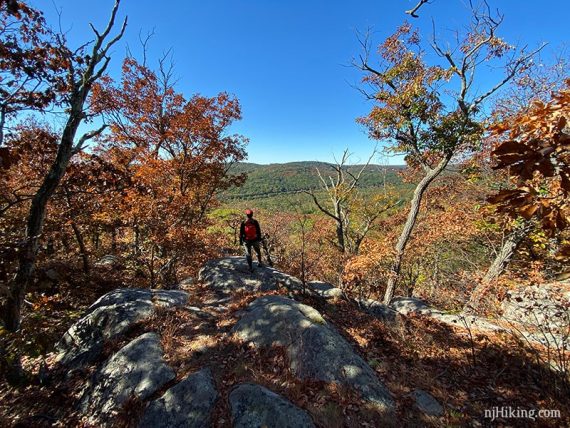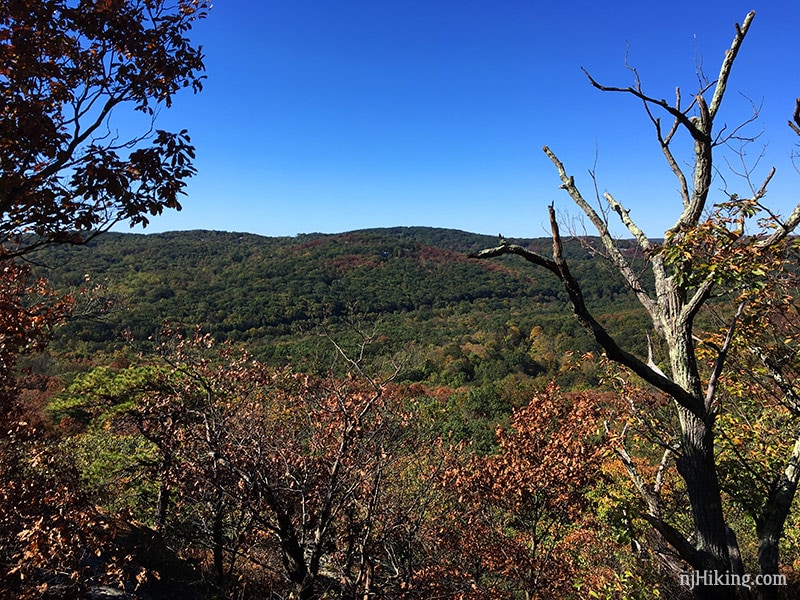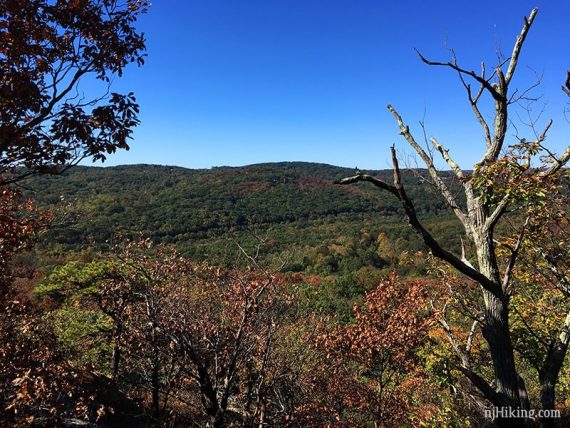 Continue on GREEN, heading steeply downhill on switchbacks.
[There was a spot where the NYC skyline could be seen in the distance, this may be the case when the leaves are down or it's just grown over].
3.7 – Arrive at a woods road near Apshawa Brook, turn LEFT and follow the brook, still on GREEN.
Check out the waterfall before continuing on GREEN up the woods road.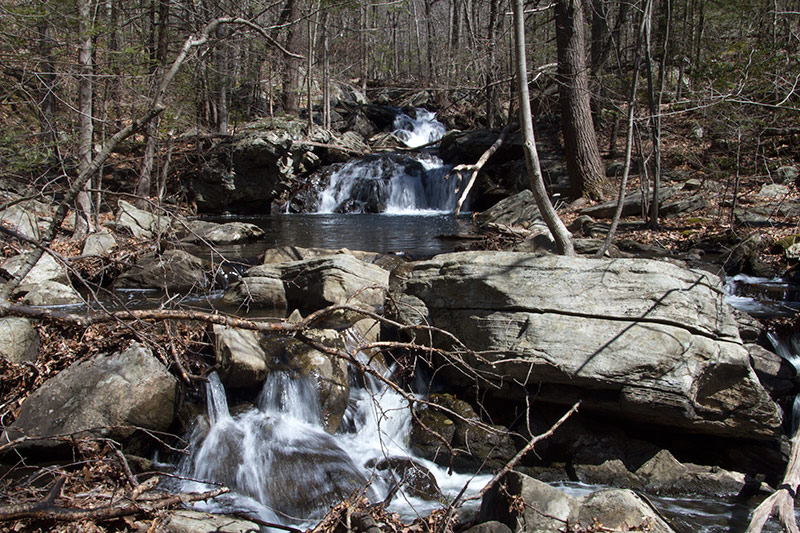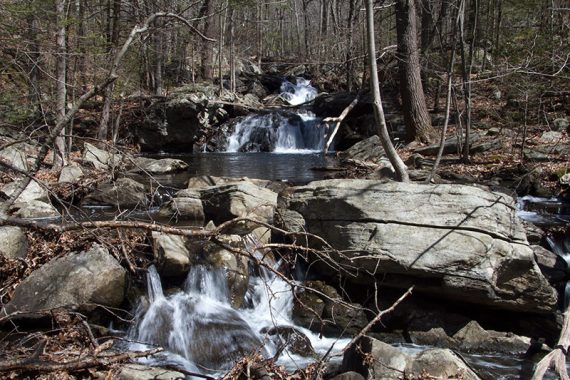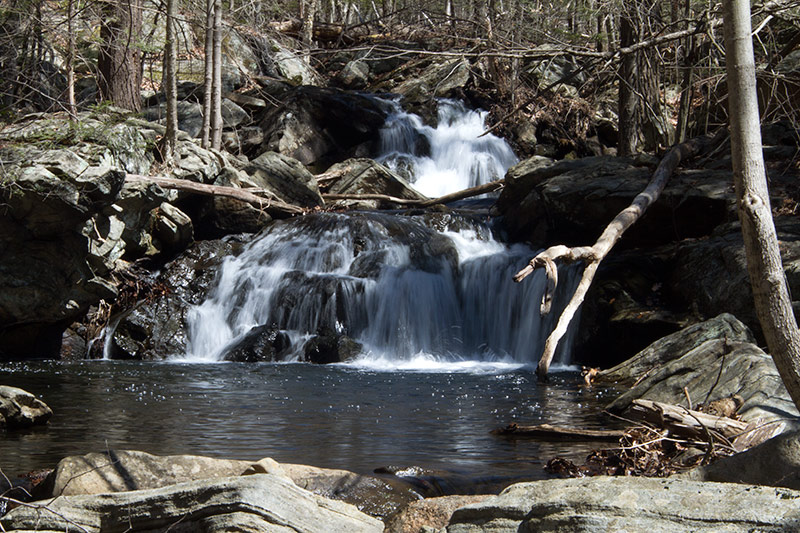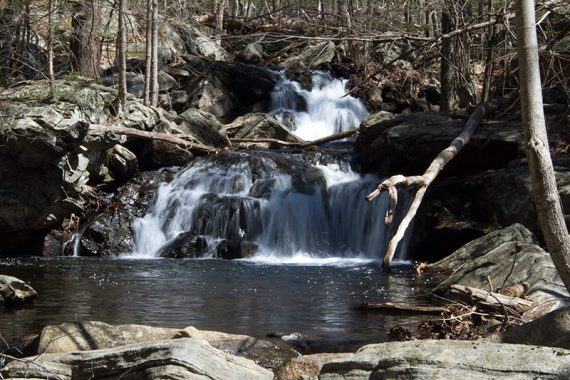 In periods of little rain the waterfall may have low flow or be dry: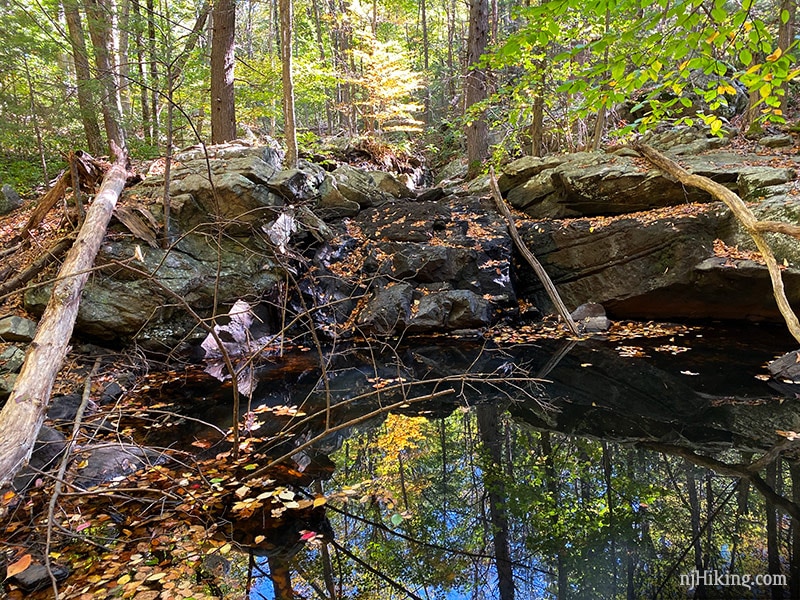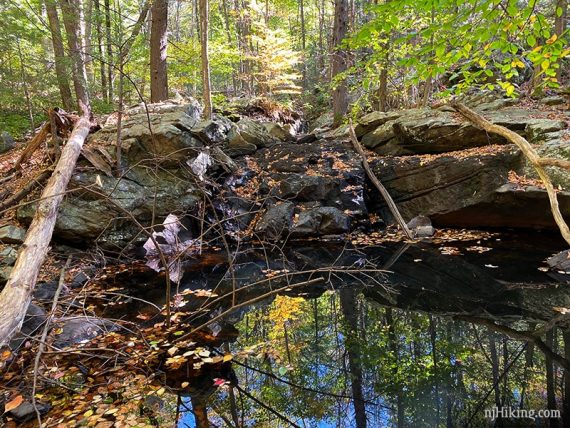 3.8 – GREEN turns RIGHT to cross Apshawa Brook. Seasonally this can be potentially tricky rock hop.
The are several very large water tanks and a stone building.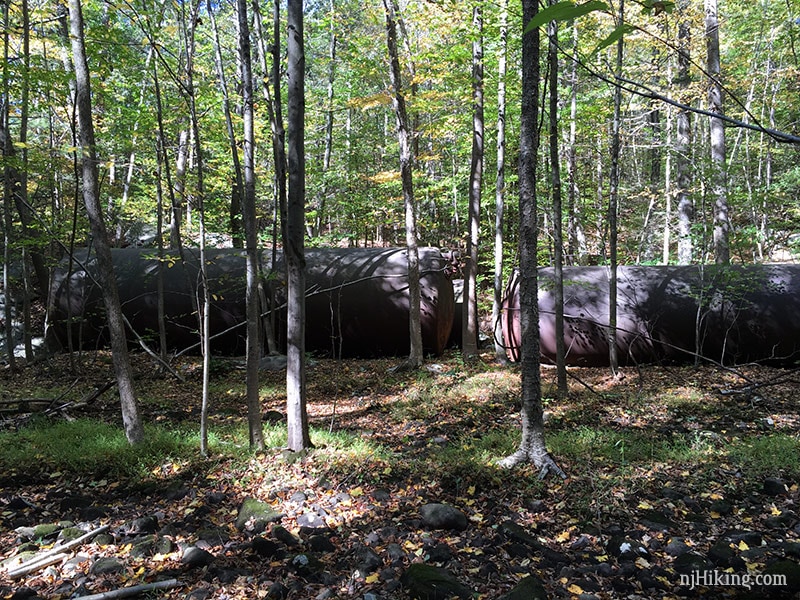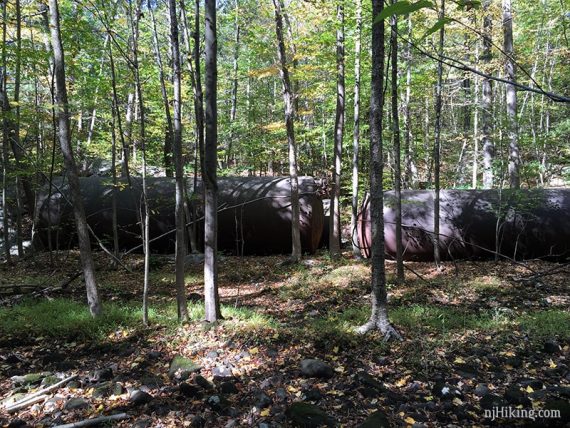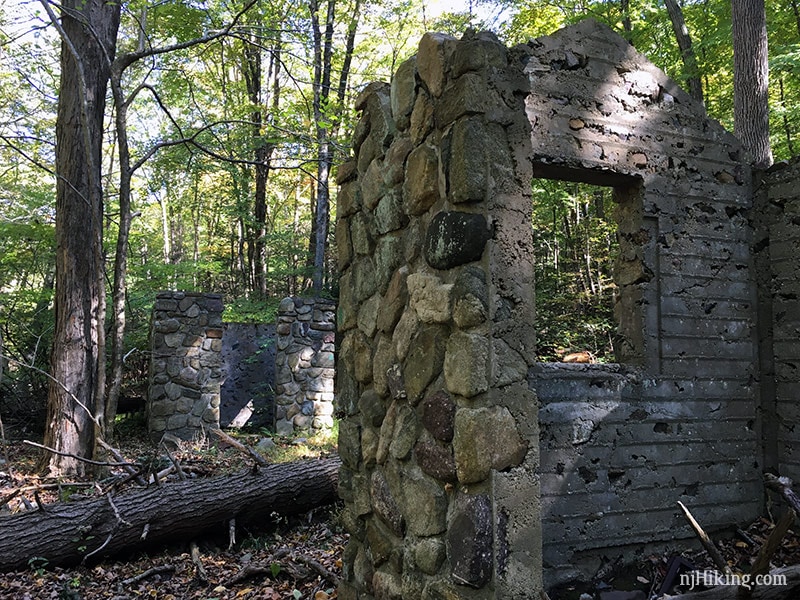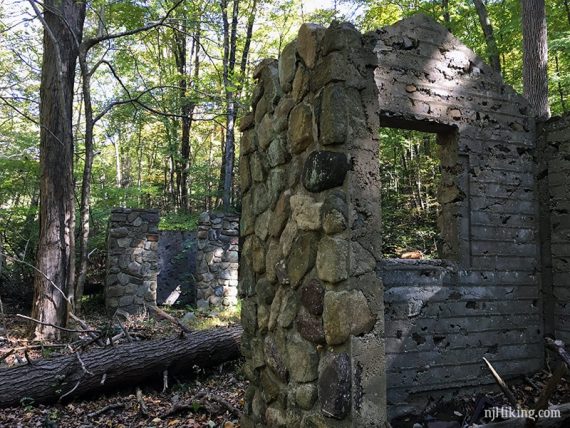 These are remnants of a water purification system built in the early 1900's.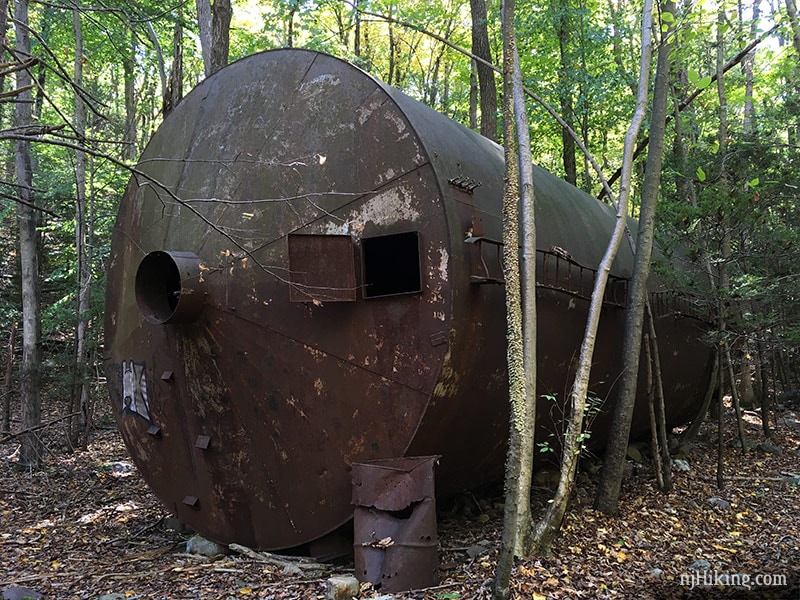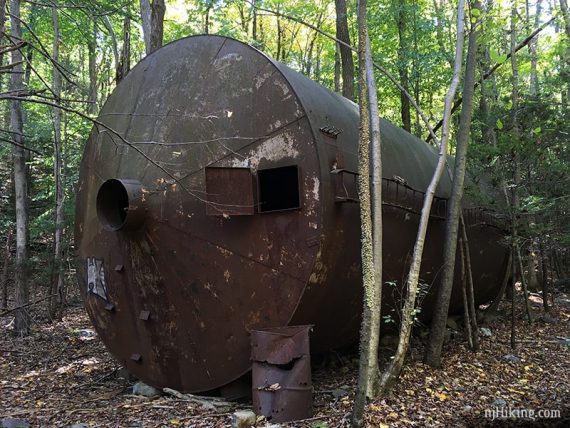 These are quite large – hiker next to one for scale: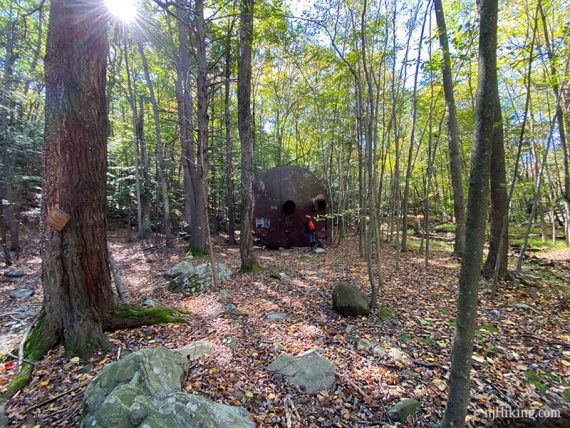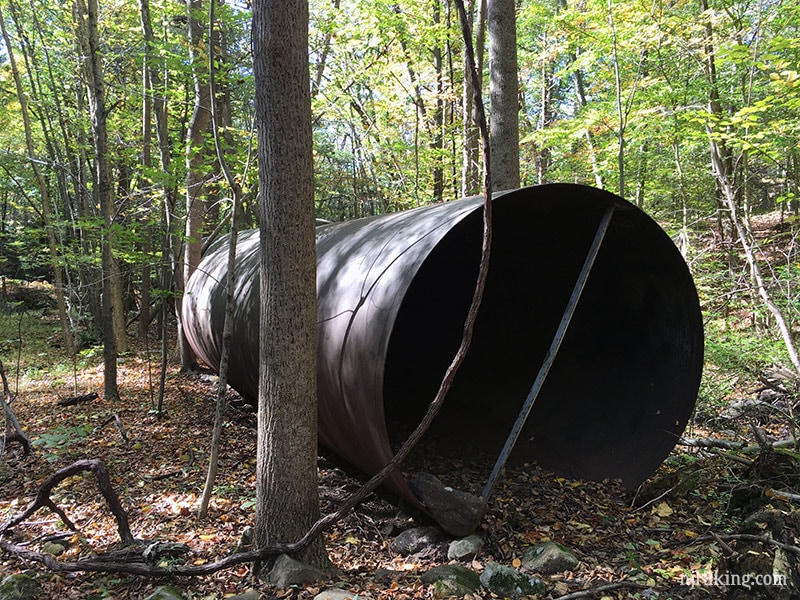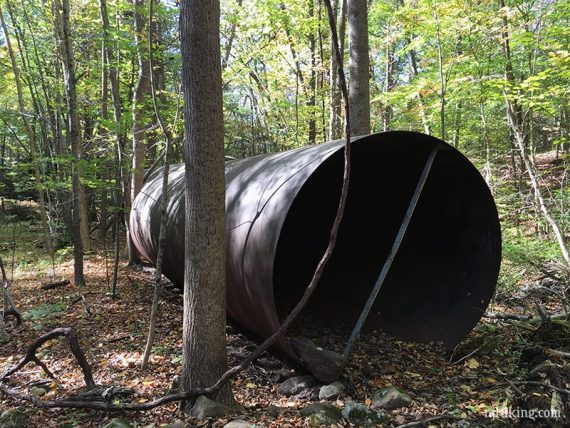 Looking inside one of the tanks: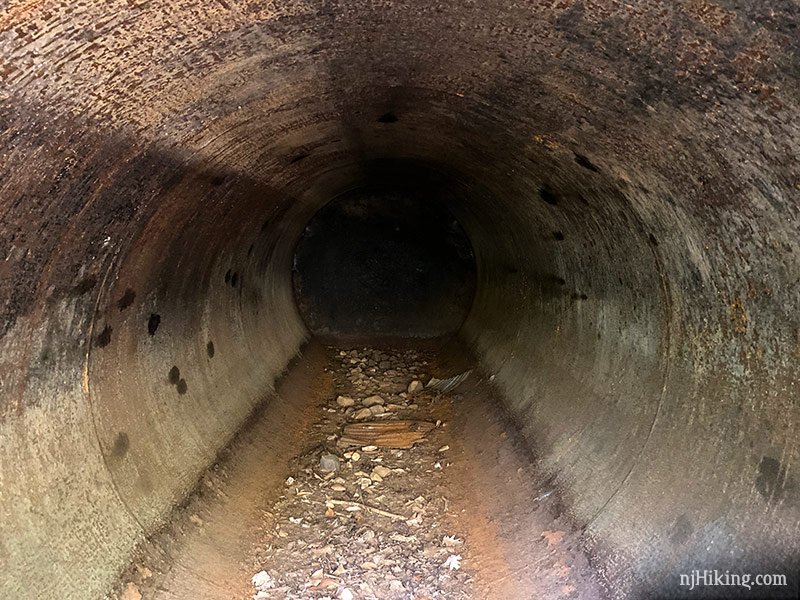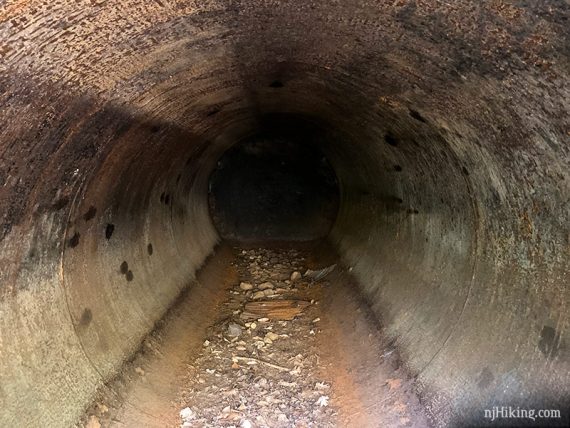 3.9 – Continue on GREEN as it climbs up along the right side of a dam, also built in the early 1900s.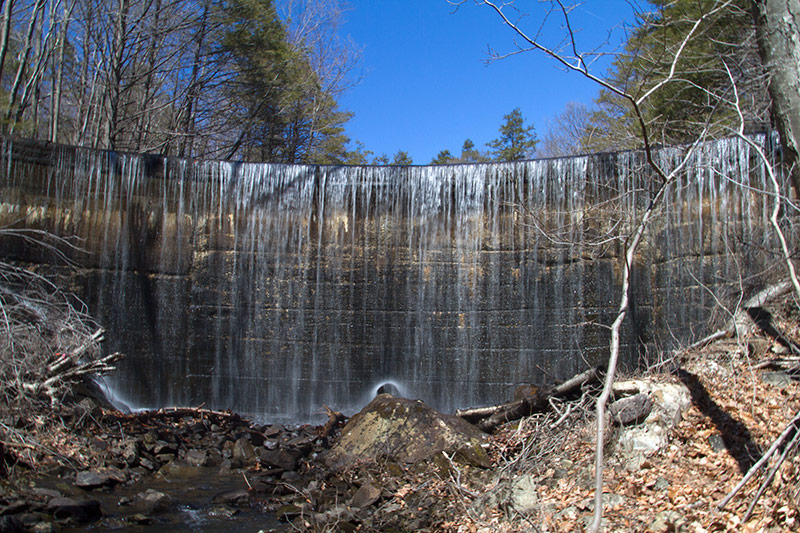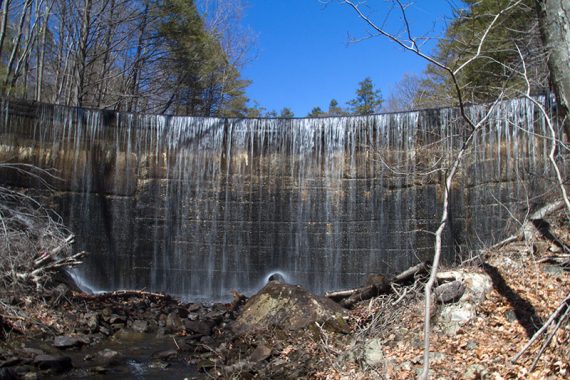 The dam was dry the last time we hiked this: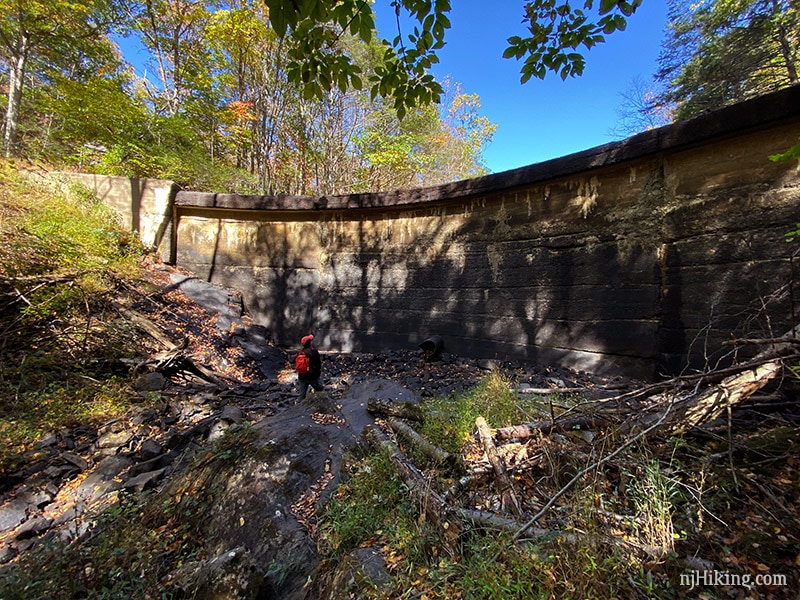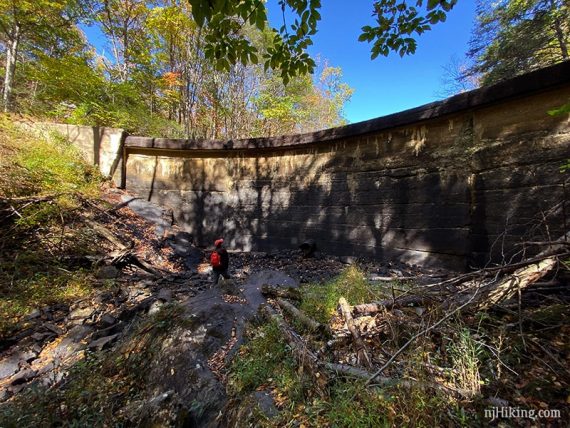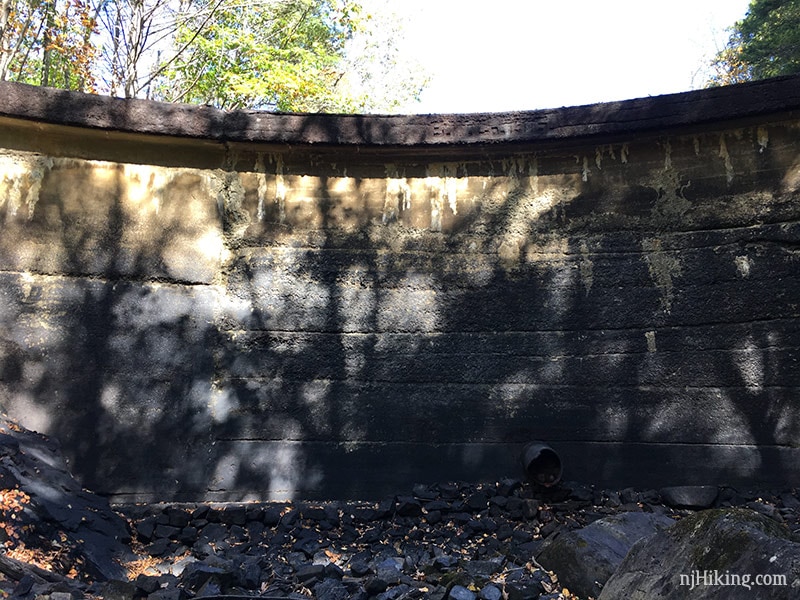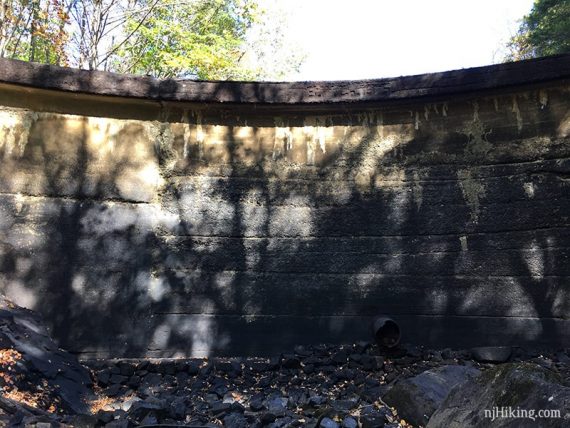 End up above the dam. This canoe whoopsie is from 2014: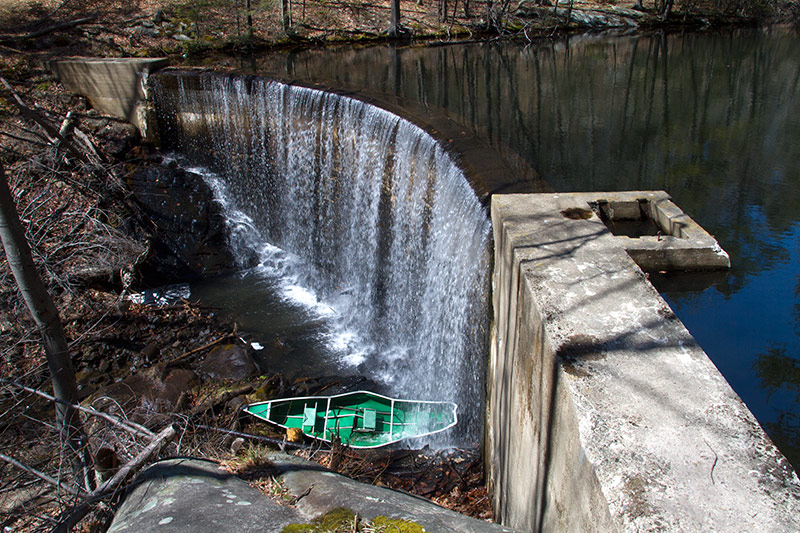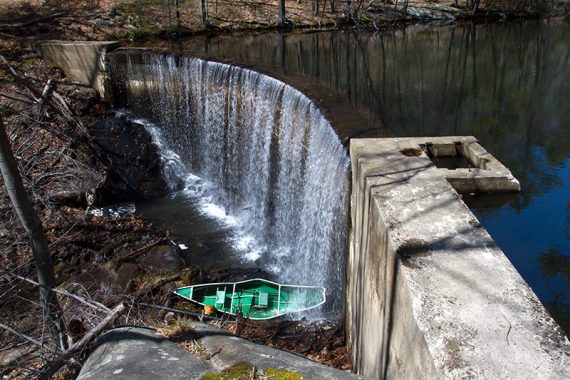 4.2 – Bear RIGHT to now follow ORANGE.  [GREEN continues to the LEFT]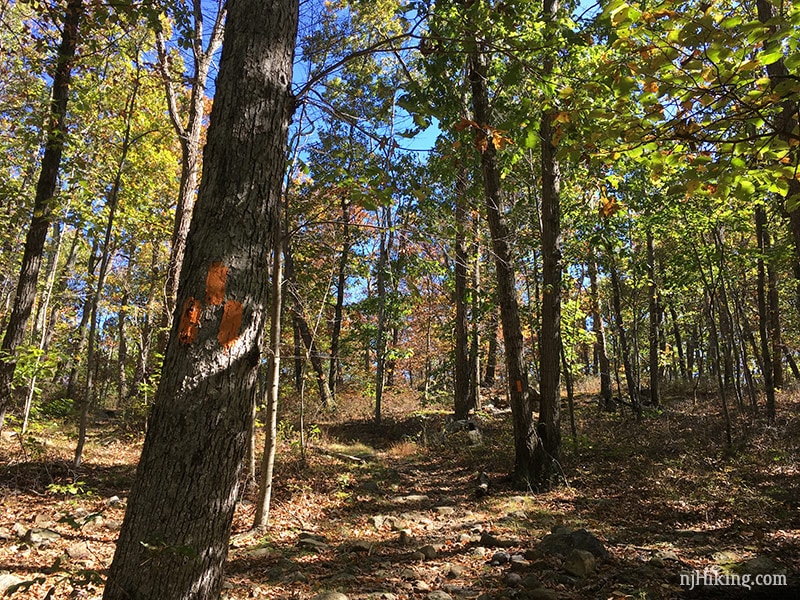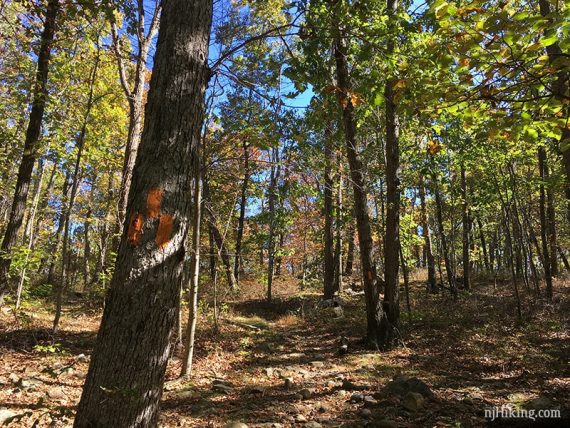 4.4 – Turn RIGHT to now follow BLUE. [ORANGE ends. BLUE also goes to the LEFT]
4.8 – Pass WHITE on the left. Continue on BLUE back to the lot.

——-
Hiked: 10/5/19. Trail Blog: "Hiking around Butler Reservoir at Apshawa Preserve"
Hiked: 4/6/14. Trail Blog: "Apshawa Preserve – Butler Reservoir, Waterfalls, Ruins"
Hiked: 11/06/10. Trail Blog: "Apshawa Preserve"