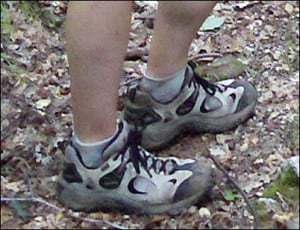 Footwear is the most important hiking purchase you will make – if your feet are miserable, you will be too.
We've gone through our fair share of hiking shoes over the years. Well…Ok… I might be the Carrie Bradshaw of hiking shoes. Some gals swoon over expensive heels or strappy sandals, but I get giddy over the latest Merrells or Keens. I have more footwear than I have time to hike at this point. Open our gear closet and a cascade of hiking shoes tumbles out.
I figured I could put my footwear obsession to good use and offer up what has worked for us. Info and tips about hiking footwear are below the recommendations. Keep in mind that styles change constantly, and something may no longer be available or works/fits as we described. In fact, I've removed the links to their product pages because it's tough to keep up with the item changes.
See Also: Hiking Pants and Shorts | Hiking Shirts
Info and tips about hiking shirts are below the recommendations.

---
Merrell Women's Chameleon Arc GORE-TEX XCR Hiking Shoe
I've been been wearing Chameleons for years – on my third pair.
Pro: Comfy, quick break-in, waterproof. Good all around hiker. Grippy sole is great for rock scrambles.
For a non-waterproof shoe, consider Merrell Women's Moab Ventilator or the Merrell Men's Moab Ventilator.
---
Garmont Men's Flash lll GTX Hiking Shoe Good all around hiker for guys that won't cram your toes. Tom's been using these for years, on pair #2 and almost ready to get another pair.
Pro: Comfy, decent protection, waterproof, ample toe box – especially good for wide or high volume feet.
They've also been offering the same style for years, which is hard to find – normally once you find a good shoe, they change the model.
---
Salomon Women's GTX Trail Running Shoes
For moderate hiking, or for trail running. I don't consider myself a runner, but these shoes make me feel like one, and let me confidently chug down the trail.
Pro: Solid, stable, supportive on the trail; slosh thru puddles.
Con: Not great for very rocky hikes. Tested them on a hike in Harriman – felt it wasn't enough protection on the bottom.
---
Keen Women's Voyageur and Keen Men's Voyageur
We've used these on trips where we needed a single pair of shoes to handle city walking, exploring ruins, and a few rocky hikes – this shoe was PERFECT.
Pro: Super comfy, the Keen footbed is outstanding.
Con: Slightly longer break-in period than our other Keens
Tip: Tug on the heel strapping if they feel loose in the heel – almost sent them back until I discovered that.
---
Keen Men's Newport H2 Sandal. We bought these for a tropical trip years ago and have been wearing them ever since (…2006 and they are still holding up). Great for use for paddling, short hikes, general kicking around.
Pro: Comfy out of the box, fit cradles your feet, breathable
Con: Could dry quicker, but we have the original models and they've gone through several style changes at this point.
---
Vibram Fivefingers
Update: After around 6-9 months, I stopped using these. I loved them– but one foot did not feel the love back. I only wore them around the house and yard but I kept getting a random odd pulling sensation under one toe. So, as I mention below – these aren't going to work for everyone.
I enjoy being barefoot around the house and yard, and these add just the right amount of protection. I don't hike in these and I am not sure if I ever would (especially here in rocky NJ) but most of the Vibrams are made for hiking (as well as running, watersports etc).
Important: You MUST work up to walking around in Vibrams, as being "barefoot" uses different muscles. Check out vibramfivefingers.com for more info. Barefoot footwear has exploded in popularity in the last few years but it is not suitable for everyone.
Pro: Offers just enough protection, but still feels like being barefoot. Foot strength and flexability improved after only a few weeks of wearing them.
Con: Can be difficult to put on since toes fit snugly into individual pockets, and having spread toes is… different. Your shins may complain at first. If your second toe is longer than the big toe (common), Vibrams probably won't work for you.
Sizing: Follow the instructions for finding your size. But even after double-checking, I had to go a size up than my measurements indicated. Wear these indoors for a bit before deciding to keep them, it's hard to tell just in a store if you'll like them.
Styles: I intended on getting the Classics but there is a stiff tab at the heel that my Achilles simply hated. The Jaya has a cushion at the heel, and a loser fit there [update: Jaya doesn't seem to be available anymore]. Most of the other styles have a strap over the foot to keep it on while running or for water sports. There are other companies that make barefoot styles without individual toes, such as Merrell's Trail Glove.
---
The Keen Women's Presidio and the Keen Men's Austin are not for hiking, but we love them so much they needed including.
These are great all around travel shoes and are especially good for trips that are mostly city but also have a few rugged spots thrown in – like the ruins in Italy and Greece for example.
Pro: Super duper comfy… wear them all day long with no problems. They take a beating and still look good – my first pair is from 2007 and is still going.
---
Low-cut, high-cut, shoe or boot?
It comes down to personal preference and what fits, really.
For most dayhikers, a low-cut hiking shoe or even a trail running shoe will work fine. There are mid-cut styles for more ankle protection.
For backpacking and carrying a heavy pack, you'll probably want a sturdier boot than what we show here.
Waterproof or not?
Waterproof styles can be warm in the summer. If that's when you mostly hike then consider a more breathable shoe, as they can dry out pretty quickly in summer. We lean toward Gore-Tex because we tend to use the same pair year-round.
Tips:
It's best to try on shoes at the end of the day when feet are swollen.
It pays to be picky and informed with something you will be hiking for hours in: I've tried on a crazy amount of shoes before deciding to make a purchase, have walked around indoors in pair for days before deciding to keep it, and when ordering online I usually try two sizes of the same shoe.
Expect to pay $85-$150 for a good pair of hiking shoes. Gore-Tex or waterproof styles usually average $120.
Work those end-of-season sales: getting "last year's" colors or style can save you big bucks. If you have an uncommon size, clearance racks can be your friend.