Complete hike details, photos, and video on our Merrill Creek Reservoir page.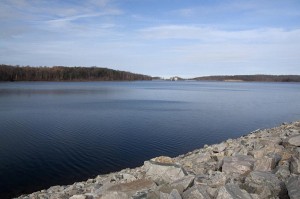 We didn't have time for a long or far away hike this weekend so we decided to try out Merrill Creek Reservoir in Washington, NJ. It's about 50-60 minutes from central NJ (New Brunswick-ish area). It's a nice park with easy hiking, well marked trails, and a very nice visitor center. There are some ruins of farm buildings along the trails near the visitor center.
Directions: 287 to 78W to exit 4, then meander through back roads… Get the detailed directions on the Merrill Creek site. Also, there is a trail map there.
6.7 miles. Trail surface is mostly easy, with some rocks/roots in areas. The end of the loop we did was very flat – mostly level dirt or gravel.
You could make the hike .9 miles longer if you added on the orange trail loop, and perhaps added a bit more if you overlapped some trail portions around the visitor center… but otherwise, that's all the trail here.
ROUTE: RED – BLUE – YELLOW – BLACK.  We started from behind the visitor center and took trails that hugged the reservoir, then picked up the Perimeter Trail (BLACK). The trails are very well marked, and at intersections there were plaques with "you are here" maps.
Bathrooms are in the visitor center which opens at 10am… if you arrive early, try the boat launch area next to the visitor center which has a porta-john. There is also a porta-john by the NW1 Dike parking area (marked on the trail map).
Note: Once you exit off 78 we didn't notice too many businesses like gas stations or food… on the way back we kept going on 678 and headed into Philipsburg and Rt22 (you'll get back on 78 at exit 3)… because a peppermint mocha tastes mighty fine after hiking in the chilly fall air.
Wildlife spotted: a deer and a heron took off at the same time as we neared the bridge just as we got onto the Perimeter trail.