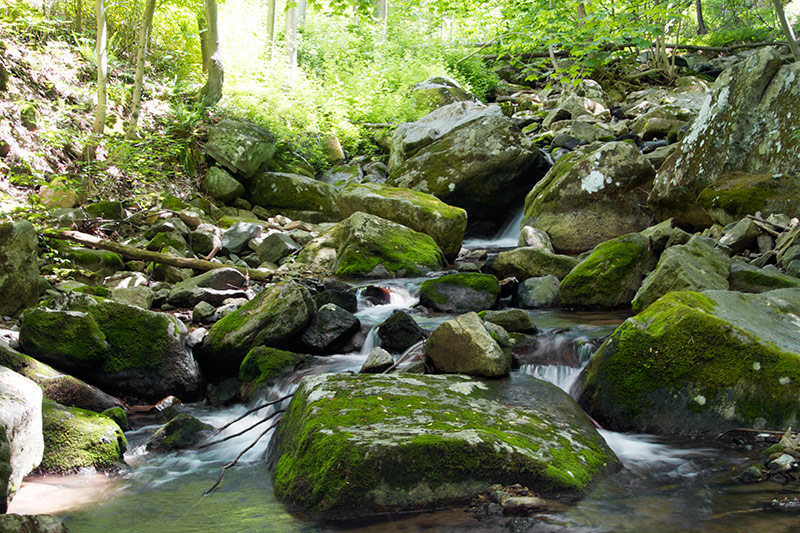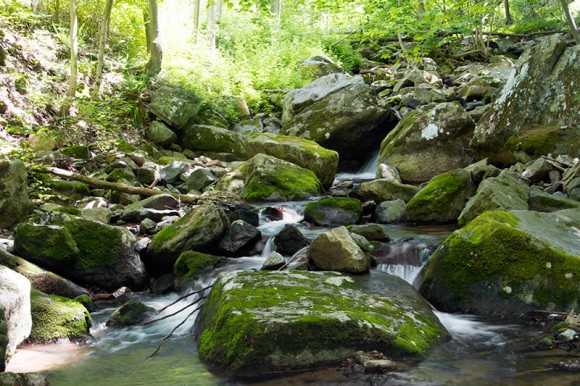 Plenty of waterfalls and cascades along a stream running through a scenic gorge, plus a section of the Highlands Trail.
4.1 miles, rocky trail along a ridge (no views), a few steep sections. Easy to moderate depending on route length. Decent amount of poison ivy along its edges, especially along Pine Run.
Shorter – 1.5 miles – Turn LEFT at Scout Run and take the BLUE trail over to the gorge; noted below
Shorter – 3.1 miles – turn LEFT onto the Switchback Trail, noted below
Longer – 5.6 – Option to Staats Rd., noted below
Nearby: Merrill Creek Reservoir.
Hike Info:
Updated: 5/28/14 – Changed route and description, new photos, new GPX.
Map:
The trail kiosk had maps the day we were there, or you can print from their site just to make sure you have one.
Rt 287 to 78 W exit 7. Parking is along the gravel road, by the park sign.
Restrooms:
None. There is a rest stop after exiting Rt. 78, on Route 173 West.
Note: Be sure to have a trail map, but matching the map to the trail markings can be confusing in some areas – especially around the main gorge – and for this reason we've chosen not to give step-by-step directions in that area.
Just wander around and explore the cascades, then pick up a trail back. Also:
A trail may also be blazed WHITE but is not indicated on the map.
Where Ridge/Highlands meets Pine Run, the trail map doesn't indicate that there is a trail that follows Pine Run down to the abandoned rail line, marked WHITE.
RED (Railroad) and ORANGE (Waterfall) blazes are close in color. Maybe it's just us, but the blazes didn't match up with the trail map. There also seemed to be orange and blue markers in the gorge area every which way.
Hike Directions:
Overview:YELLOW (Ridge) / Highlands (Teal)/ WHITE – WHITE along Pine Run – Rail Line – RED (Railway) – ORANGE (Waterfall) / BLUE (Nature)
0.0 – Start following YELLOW (Ridge) / Highlands (Teal) at the end of the parking lot.
[The trail is also blazed with WHITE, which is not indicated on the map. A different trail starts by the large park sign.]
0.6 – Rock hop a stream, Scout Run.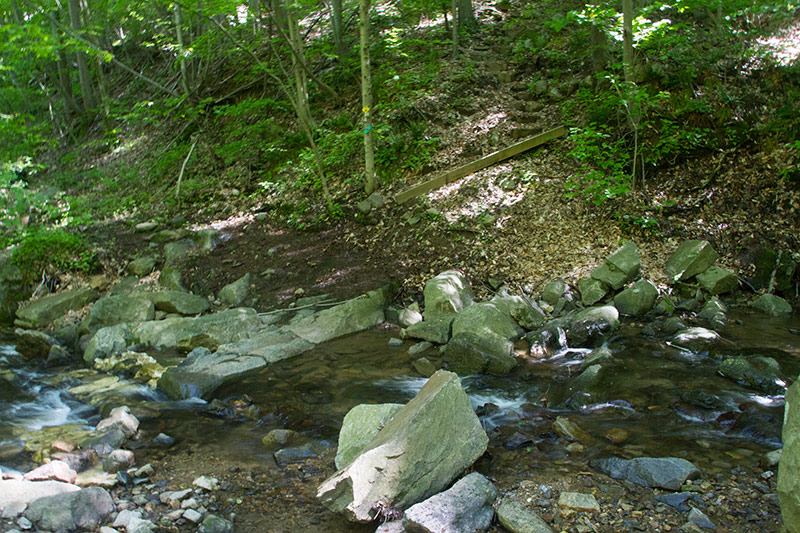 Steeply climb wooden steps and continue on YELLOW (Ridge) / Highlands (Teal) / WHITE [BLUE (Nature) goes to the left]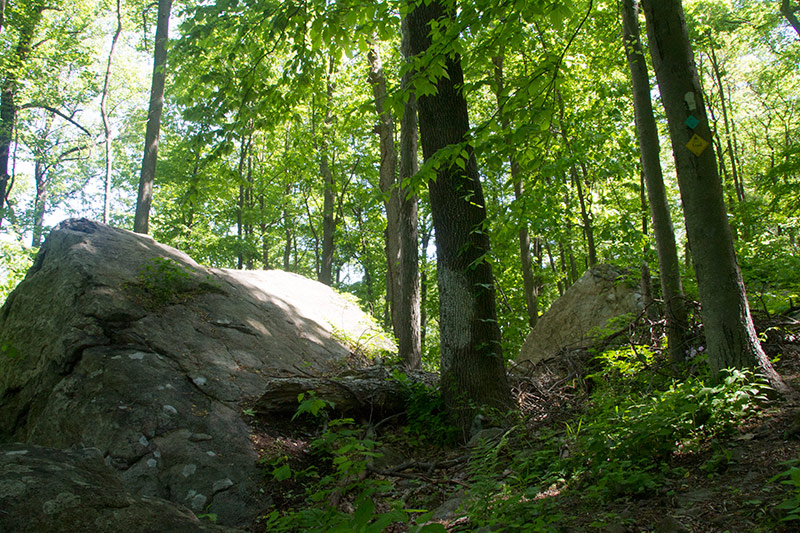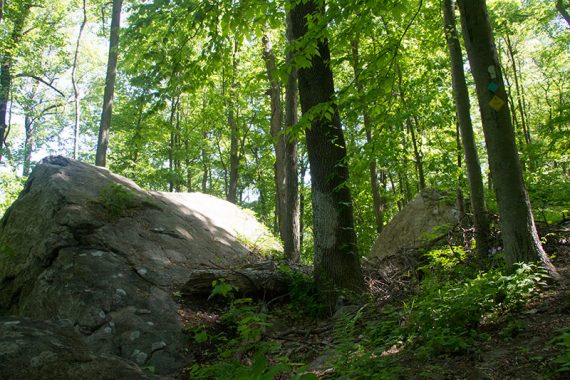 ————————————
Shorter Option: After crossing Scout Run, turn LEFT onto BLUE (Nature), taking that to the gorge area and pick up the description as noted below.
————————————
1.2 – Continue straight, following YELLOW (Ridge) / Highlands (Teal).
[WHITE (Switchback) leaves to the LEFT – take this instead to shorten the loop to 3.1].
1.9 – At a stream, Pine Run, turn LEFT, not crossing the stream. Now following just WHITE.
This trail is not marked on the trail map.
[YELLOW (Ridge) / Highlands (Teal) continue straight, after crossing the stream]
————————————
Longer Option: Continue straight, rock hopping over the stream and continue on YELLOW (Ridge) / Highlands (Teal).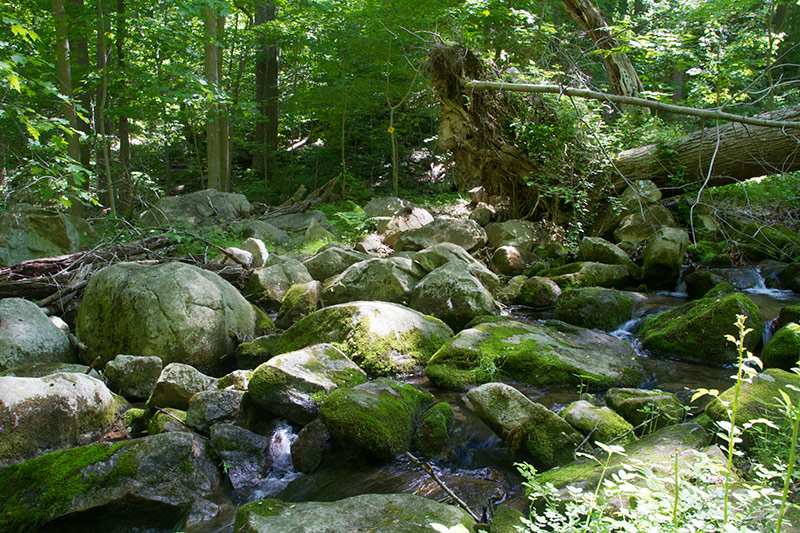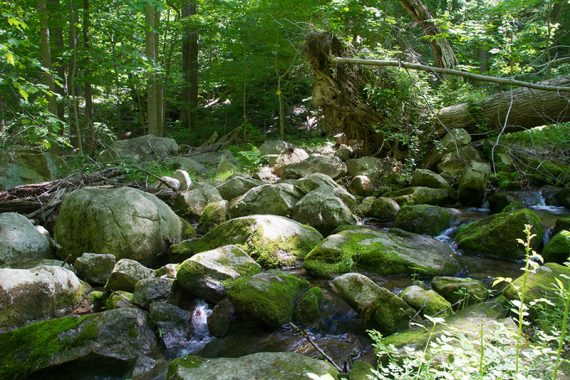 This out-and-back section will add 1.2 miles to the route. There is nothing overly thrilling between here and Staats Road so just do it to make a longer hike.
The trail heads uphill after crossing the stream, and then opens up some. It was newly trimmed but some areas could turn into long grass if this area isn't often maintained.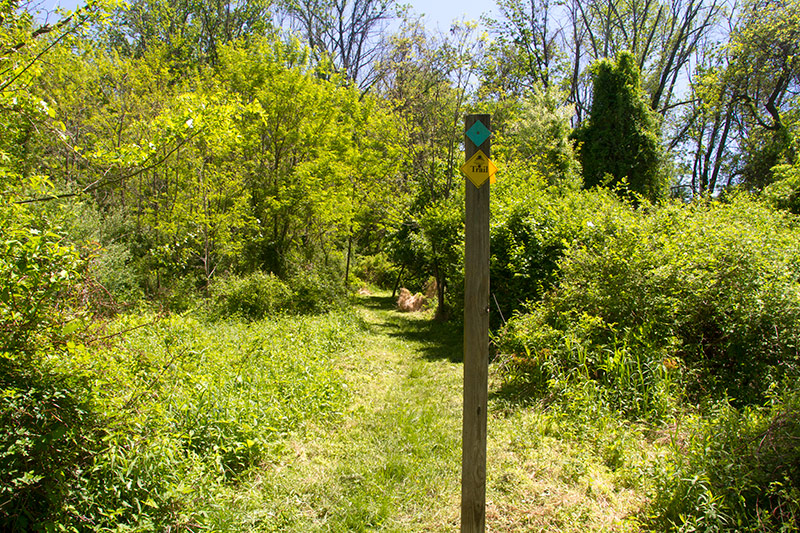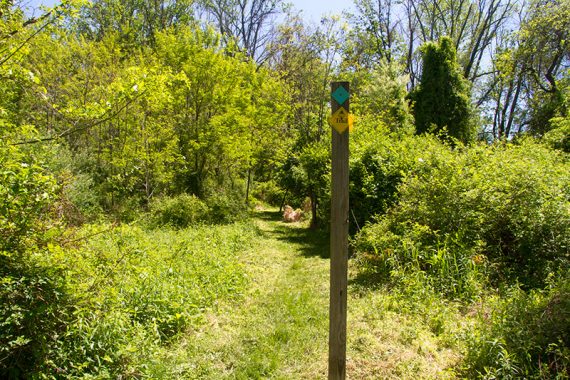 The trail ends at Staats Rd at a few mailboxes (after some road walking, the Highlands Trail does continue if you are so inclined.)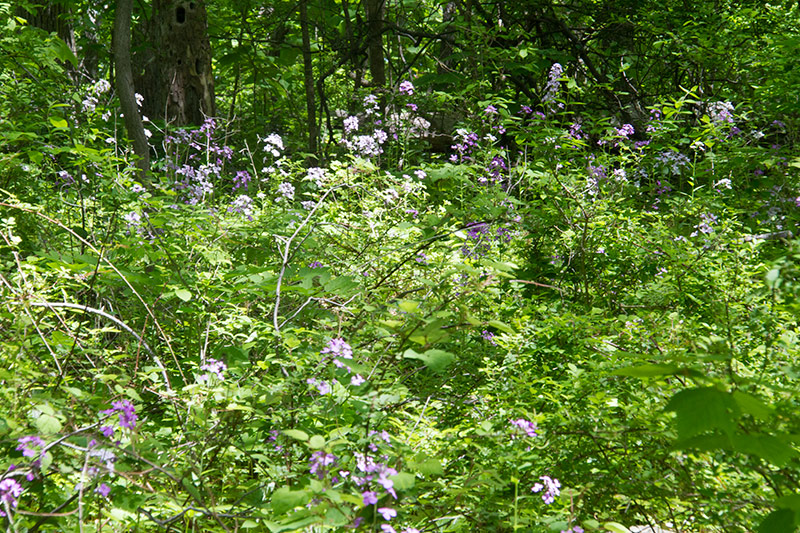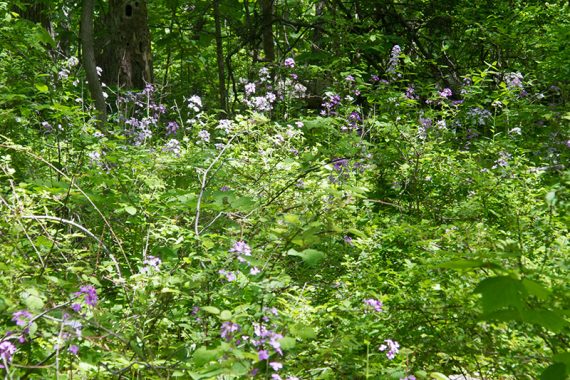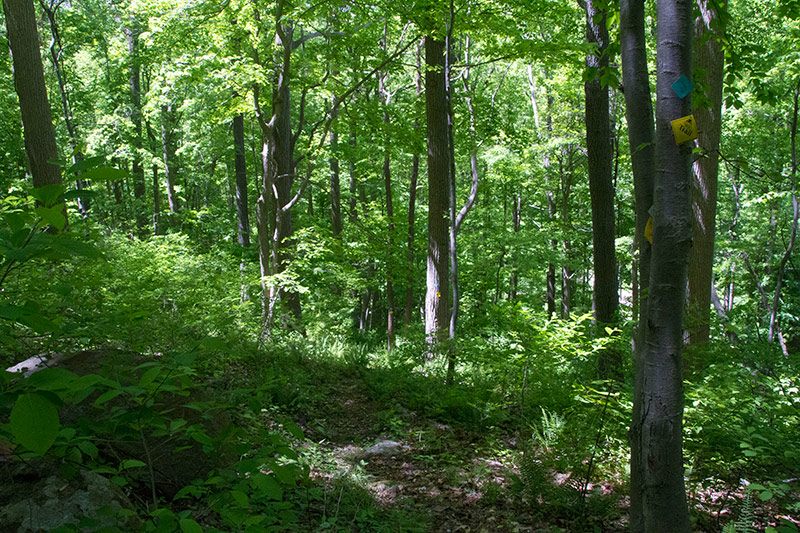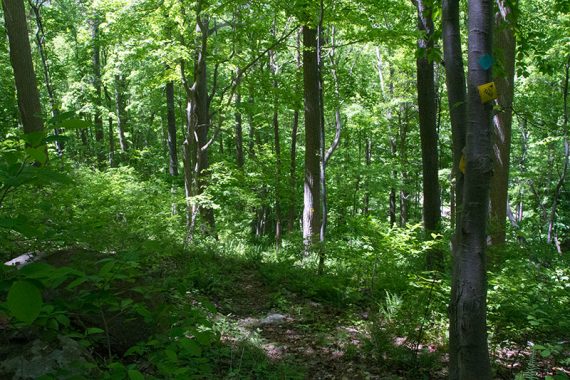 At Staats Rd., turn around and return to Pine Run. At Pine Run, turn RIGHT onto WHITE.
————————————
The WHITE trail follows the stream steeply downhill over large rocks.
A very pretty trail that is moderate to challenging depending on your hike experience… and may be filled with poison ivy.
2.1 – The trail meets a black gravel path, an abandoned rail line.
Turn LEFT and start following the abandoned rail line BUT FIRST look to the right for a very nice, large waterfall/cascade. [The rail line also continues to the right]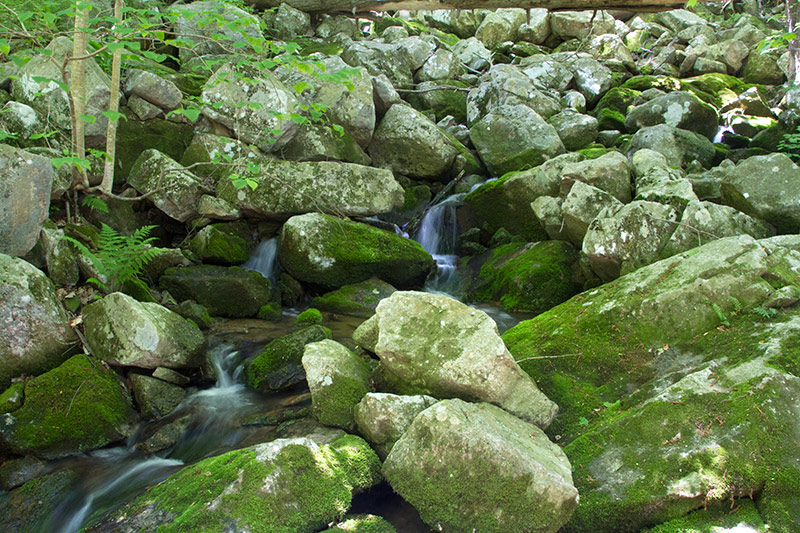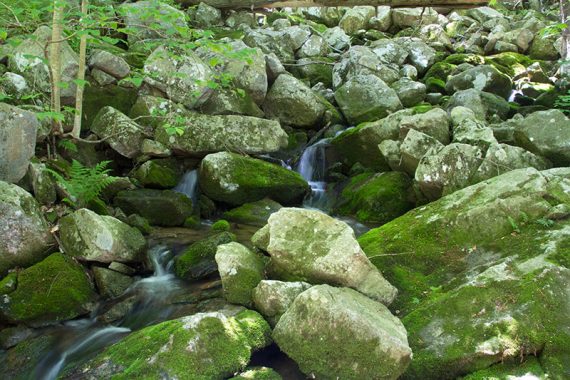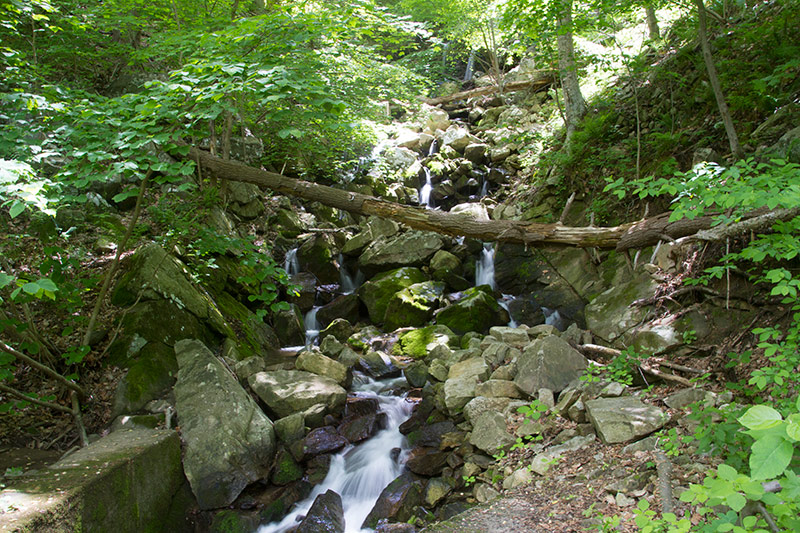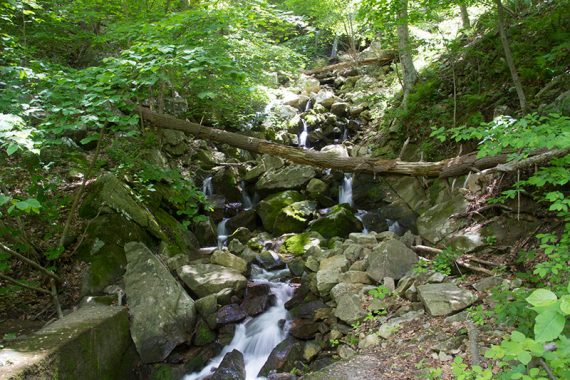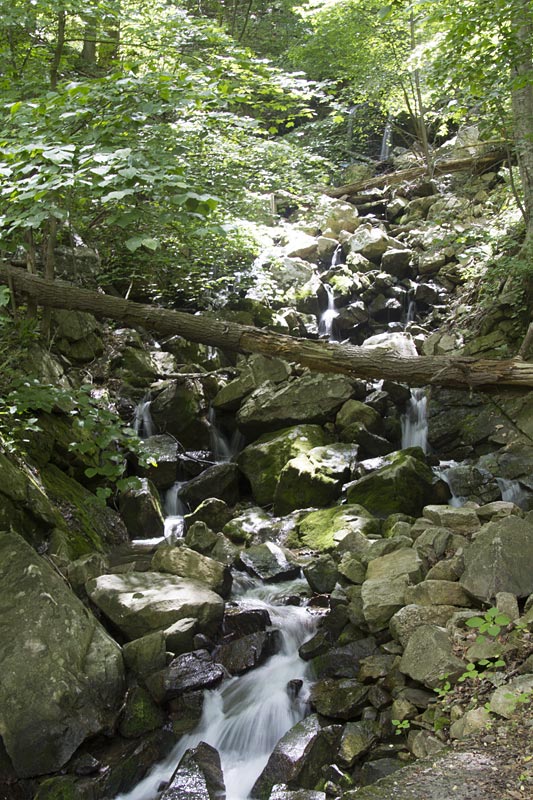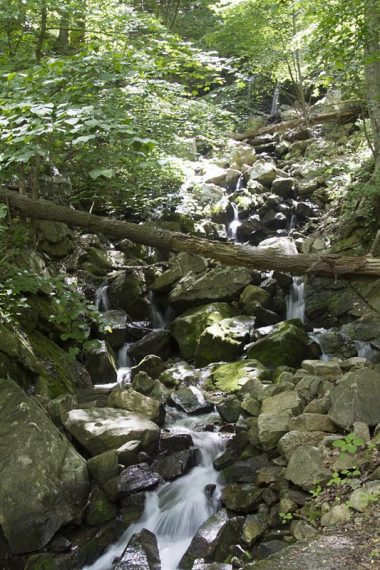 Follow the rail line. There are limited views of the Musconetcong River, and unmarked side trails down to it.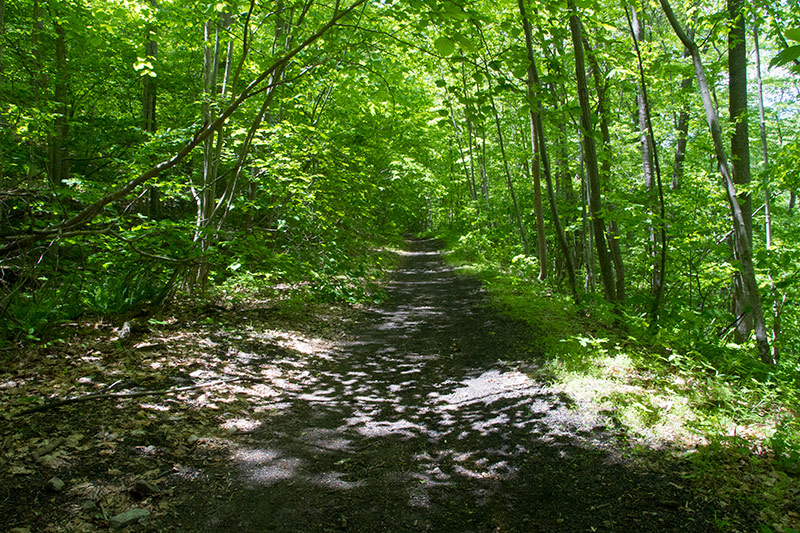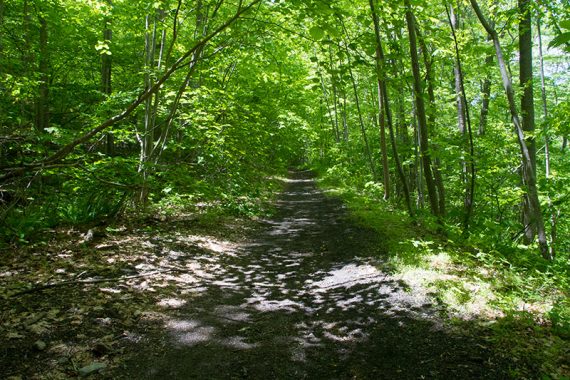 2.9 – Continue on the rail line, passing the end of WHITE (Switchback) on the left. In just a bit, veer LEFT onto the RED (Railroad).
[The marker looks almost orange. The trail is also marked with WHITE but not indicated as such on the map.
If you miss the turn onto RED (Railroad), rail line will end up at the same place.]
RED (Railroad) parallels the rail line for quite a bit before veering away.
3.4 – Intersection of several trails. [The shorter option above brings you to this point, but facing a different direction.]
Looking from extreme left all the way to extreme right: BLUE, two RED blazes (that look orange), ORANGE and BLUE, the end of WHITE, a gate that the rail line trail ends up at.
It's confusing in this area – basically, head towards the sound of rushing water and then wander around.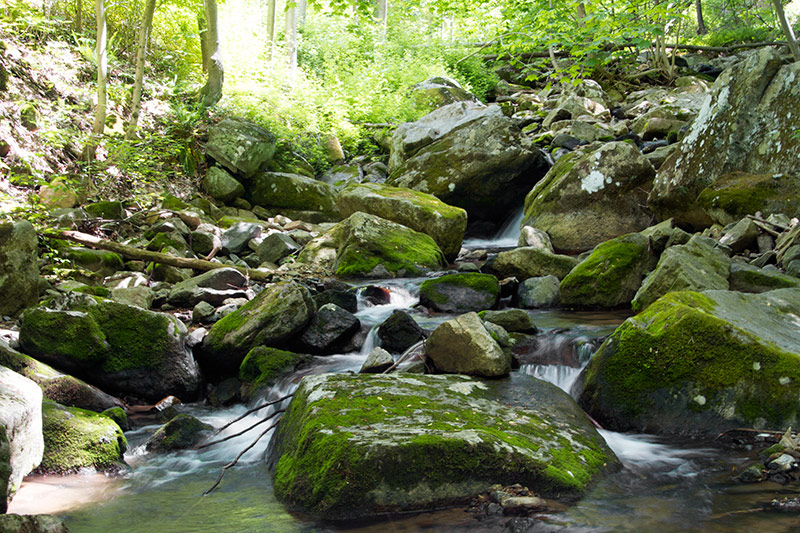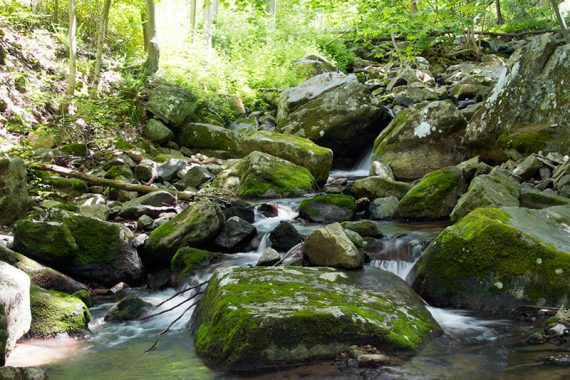 Our route, loosely: ORANGE and BLUE, then in a few steps we turned LEFT onto ORANGE.
This leads to waterfalls and cascades. We crossed the water on rocks and the immediately crossed a bridge, then wandered around for photos.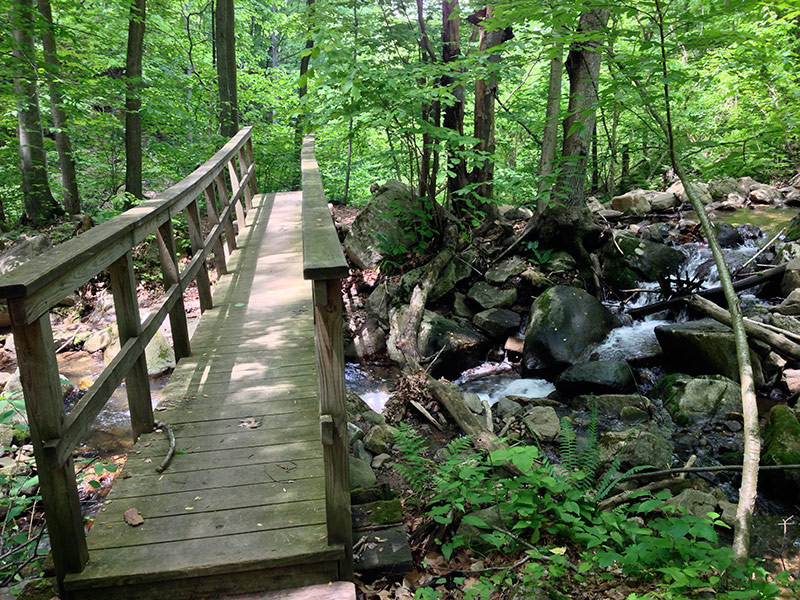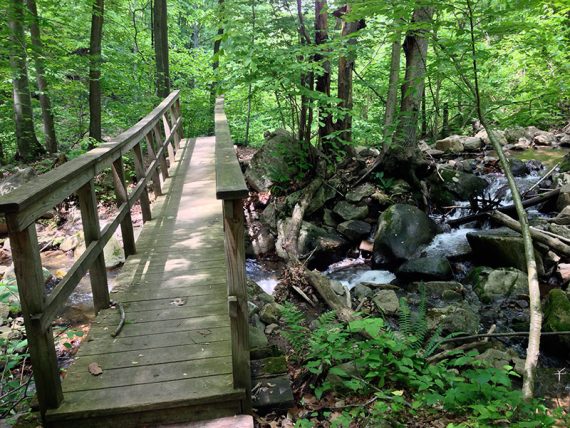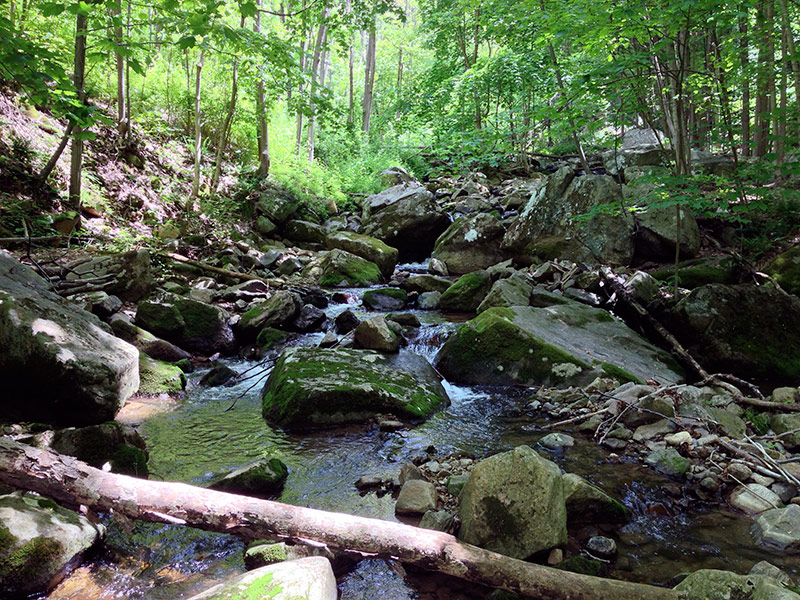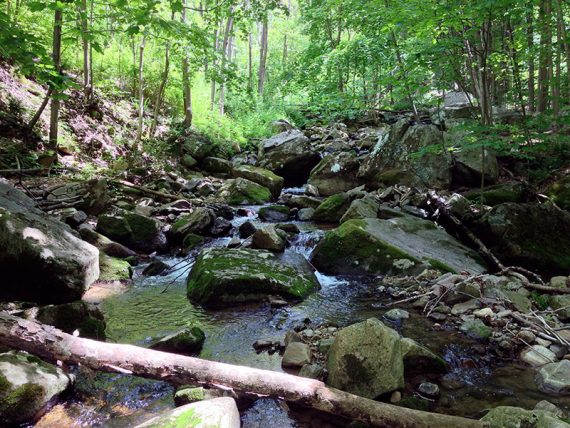 To leave, we crossed the stream and went steeply uphill, following BLUE and ORANGE blazes as the trail climbed back out of the gorge on the BLUE nature trail.
3.9 – BLUE splits, we veered LEFT. (It loops around so you can take either).
4.0 – At a T, turn LEFT, following the trail back up to a large sign for the nature trail, at the edge of the parking lot.
——
Hiked 5/25/14. Trail Blog: "Musconetcong Gorge – Pine Run Waterfall Loop"
Hiked: 6/14/09. Trail Blog: "Musconetcong Gorge Preserve – White and Yellow"