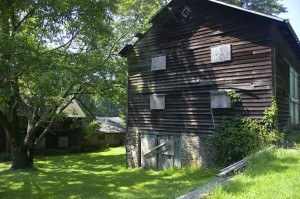 Moderate hike that includes a view of the Delaware River and passes old farm buildings and the Kuser Estate House.
[5/26/12 update – since this hike was originally written there is a newer and more detailed map available, so you may encounter differences. Also, a new trail and parking area was added (YELLOW – switchback trail). In general, the trails are blazed better now.]
8.6 miles. Easy to moderate trail surface; minor elevation change. Some muddy/rutted trail sections due to use by bikes/horses. The trail was mostly hard packed earth, like clay almost, and it has to get quite muddy when wet. Few rocks. There are about 10 miles of trails total.
This park is more suited for shorter loops from one of the many parking areas; we stitched a bunch of trails together in order to see most of the park
Map: Print out the trail map before you head out. Not sure if the visitor center has maps; wasn't open.
Books: Different routes are in 60 Hikes Within 60 Miles: New York City and Best Day Hikes Near Philadelphia. Some info and history of the area can be found on njskylands.com. (scroll down a bit for Baldpate).
Parking: N40 19.094 W74 53.425
There are 5 access points listed on the map, but are no longer described on the park page. 95S to Exit 1 for 29N/River Road. This route uses the first lot on Fiddlers Creek Road off of Rt 29. There is signage for the lot to its easy to spot, but there is the main driveway to the park right before it you need to ignore.
Restrooms: None in parking lot. The trail kiosk map showed restrooms at the visitor center and lodge, which is 1.3 miles up the blue trail. Unsure of their availability.
A somewhat nearby alternative is to use the restroom at Washington Crossing Park: N40 17.915 W74 52.127 This is passed on Route 29N/River Rd. on the way. At the intersection of Route 29N/River Rd. and Washington Crossing Pennington Rd, turn LEFT onto Washington Crossing Pennington Rd. Then a very quick RIGHT onto River Dr. Another RIGHT into the parking area, there is a restroom building and soda machine at the end of the lot.
Hike Directions: Look for the BLUE square marker (Summit Trail) on a tree by the trail kiosk.
Trail is immediately very pleasant, level at first and then heads up. The forest in this park was very dense, and with very tall trees… like it was old growth and hadn't been clear cut in the past.
.4 miles – climb steeply up stone "steps".
.8 miles – cross the park road and continue straight along a mowed path. The park buildings are ahead on the left. The path continues along the mowed path to your RIGHT. We did not notice any trail markings at this point.
1.0 miles – Several picnic tables in a mowed grassy area, overlooking the Kuser Mansion and orchard. The Delaware River can be seen on a clear day.
BLUE ends here, now start following WHITE which is a black arrow on white here. Follow the mowed path then make a LEFT where indicated, going downhill to the Orchard and Kuser Mansion and buildings. There are restrooms here that were not open the day we hiked.
At the road, turn RIGHT and go a short ways. Look to your right again to find the trail marker.
1.5 miles – Start following RED (NW Loop). [The Ridge Trail (WHITE) goes to the right here, you will join this again later, so turn right if you want to skip the NW Loop.]
Pass a YELLOW marker for the Switchback Trail, on the left.
1.6 miles – At this unmarked junction, you need to turn RIGHT. After turning RIGHT, you will eventually see RED markers again, but they are not there until you start walking.
The trail goes straight also, but there are "no trespassing" signs posted.
2.6 miles – turn RIGHT and follow RED. [To the left is WHITE (Pleasant Valley) which leads to another parking area.]
2.8 miles – RED ends at the Ridge Trail (WHITE). Turn LEFT and follow WHITE towards old farm buildings. [If you'd like to cut it short… turn RIGHT instead and take the Ridge Trail back to the visitor center and BLUE trail.]
2.9 miles – old farm buildings, nice place for a break and snack. You can walk around and look at the outside of them, they are of course boarded up. Great if you like to take photos. There is a little pond that is not really visible until you walk over to it, it's by the old well and a little building. Behind the little building is a small wooden bench.
When done with the buildings, continue on the WHITE Ridge trail. This trail is mostly easy and level with some wide muddy ruddy spots.
4.1 miles – Turn RIGHT onto the ORANGE Copper Hill trail. The WHITE trail continues straight. The ORANGE trail heads steeply downhill over some loose rocks, then levels off and is muddy is sections.
4.5 miles – ORANGE veers to the left, and the remains of a house's stone chimney are off to the right.
Shortly after that is a junction with BLUE (Creek Spur) trail which leads to another parking area. Continue on ORANGE.
4.8 miles – Entering the "Honey Hollow" area. There are several trails that criss-cross the area, and this can be somewhat confusing.
At the junction of RED and ORANGE, turn RIGHT onto RED (Honey Hollow Trail)
4.9 miles – Continue following RED, while BLUE (Kuser Trail) goes both left and right.
5.1 miles – Continue on RED past an unmarked trail and the overgrown ORANGE (Cedar Grove) trail. RED continues along a small stream area and loops around.
5.4 miles – turn RIGHT and follow ORANGE (Cedar Grove) now. There may not be a marker here – make the RIGHT onto the trail just before the bridge. [If you continue on RED, the trail goes over the stream on a bridge, and you will head to another parking area.]
Shortly after, pass an unmarked trail that veers off on the right. Continue LEFT, still on ORANGE.
5.6 miles – Start following BLUE (Kuser) straight. [Orange (Cedar Grove) is to the right and overgrown.]
Turn left onto RED (Honey Hollow) and start retracing your steps. Turn LEFT on ORANGE and follow back uphill to the WHITE Ridge Trail.
6.5 miles – Make a left on the WHITE Ridge Trail.
7.8 miles – Past a field area, turn LEFT onto the gravel road. Up a bit further, turn LEFT onto BLUE and take this down to your car.
—
Hiked: 5/26/12. Trail Blog: "Baldpate Mountain – Ted Stiles Preserve"
Hiked: 8/16/09. Trail Blog: "Baldpate Mountain – Ted Stiles Preserve"