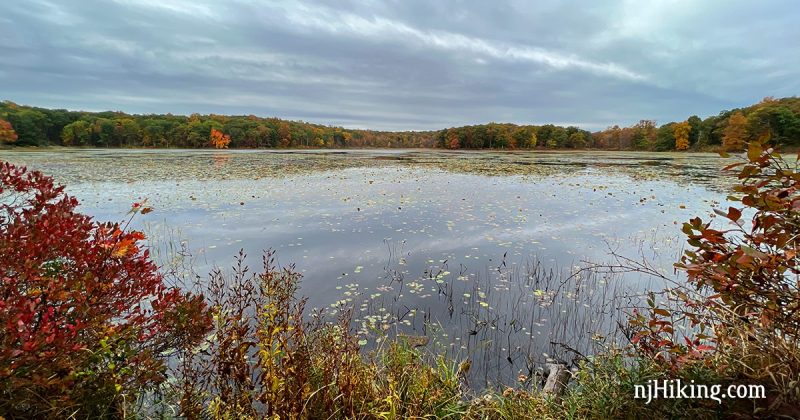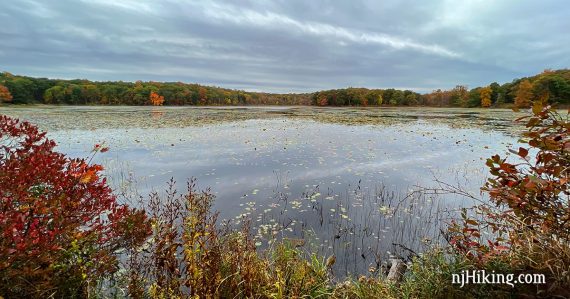 Shady hike around Deer Park Pond in the Allamuchy Natural Area.
Miles: 7.0 or 5.7 total, round trip. Trail surface is dirt woods roads and trails, with few rocks, minor elevation changes, and generally not overgrown. Overall, an easy trail surface that is well maintained. Multi-use and a favorite area of mountain bikers.
Shorter, 5.7: Use Barberry (RED) to get to the pond quicker, noted below.
Hike Info:
Our two cents:
Pleasant hike with nice lake views. The trail surface is mild compared to most north Jersey trails.
An option if you are looking to test upping your hike mileage – if you've been doing like 4 or 5 mile rocky hilly hikes then you probably could swing this 7.
Bonus: Into craft beer? Nearby Hackettstown has three breweries.
Updated: 11/2021 – Re-hiked, route changed, new photos, revised Interactive Map. 4/2020 – Page refreshed, not re-hiked.
---
Map:
Jersey Highlands Trails is recommended to negotiate the network of both marked and unmarked trails in this area.
---
Books:
A variation is in 60 Hikes Within 60 Miles: New York City. Out of print books that also contain routes: Hiking the Jersey Highlands and the 1998 version of 50 Hikes in New Jersey.
---
Rt. 80 W to exit 19. Take 517 South. Left on Deer Park Road – there were no signs for the park at the turn. Easy to miss, almost looks like the driveway for a brick house.
Continue on Deer Park Road (narrow, pot holes) through a residential area until arriving at the end where there is a small dirt lot with a small old shack of unknown purpose and a composting toilet.
125 Deer Park Rd, Hackettstown, NJ 07840 – This is the closest address but may not lead to the end of Deer Park Road where the lot is.
Parking Notes:
Parking Lots: There are two parking areas shown on trail maps. This first one is at the end of Deer Park Road and is the main lot where this hike now starts.
We used to start at parking Lot #2. This is reached by continuing on the "seasonally unmaintained" park road past Lot #1 – but it was gated the last time (10/2021). The section of park road and lot seems to have been unused for some time, with at least one iffy rutted area.
So the hike route has been changed to start from Lot #1. The original route starting from Lot #2 has been archived here: Hiking Deer Park Pond.
Google Maps: Shows a point for "Allamuchy Mountain State Park, Deer Park" that is not the parking lot – keep going.
---
Restrooms:
Composting toilet at Lot #1 (10/2021 not great). Approaching via 517 S passes a section of stores and a gas station.
---
Hike Directions:
Overview: WHITE (Deer Path) – BLUE (Lake View) – Dirt Park Road
0.0 – From the parking lot, walk back out the entrance road to a grassy area with a trail sign for WHITE (Deer Path). (Not the unmarked trail off to the left of the toilet, or the continuation of the park road).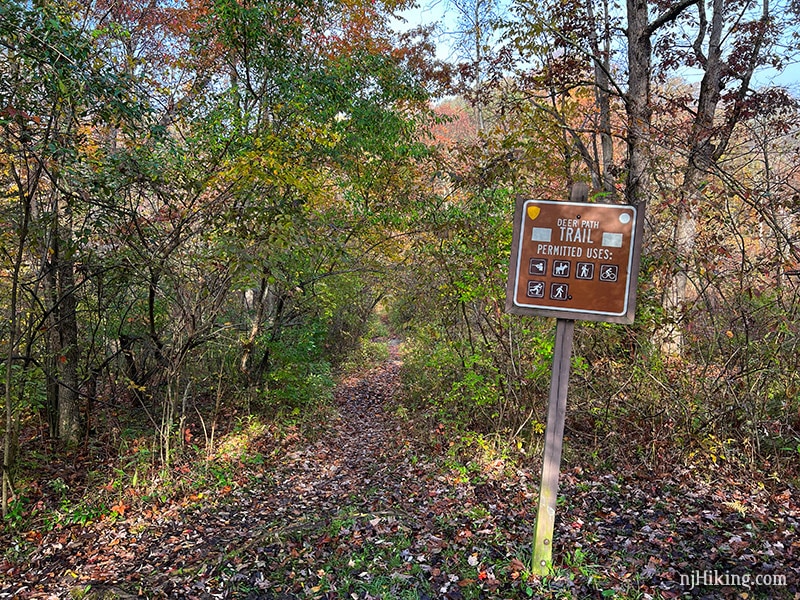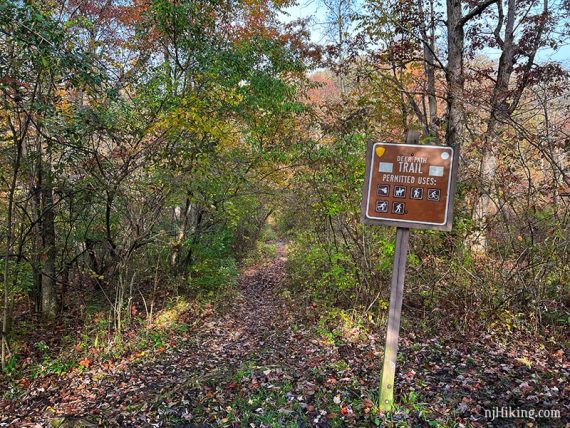 0.9 – Continue on WHITE (Deer Path). [Pass Birch (YELLOW) on the right]. Some areas of the forest have an open feel while in other areas invasive barberry bushes line the trail.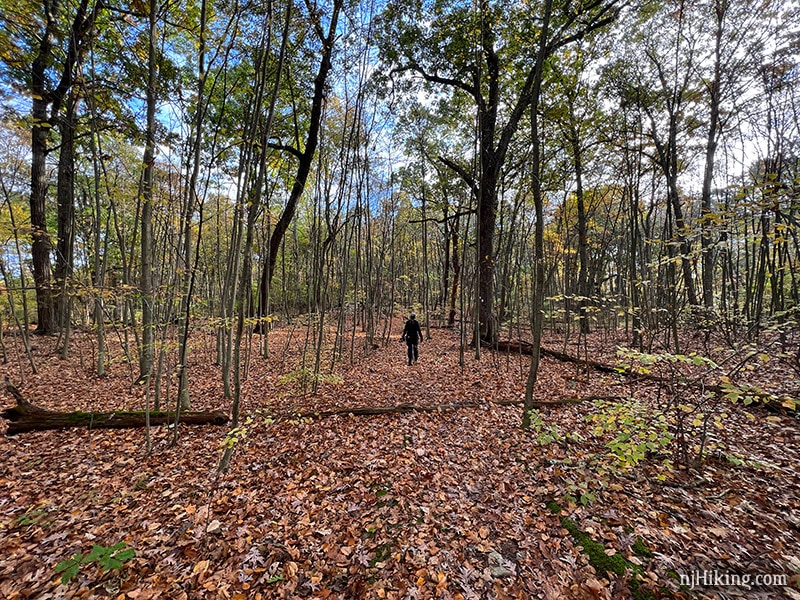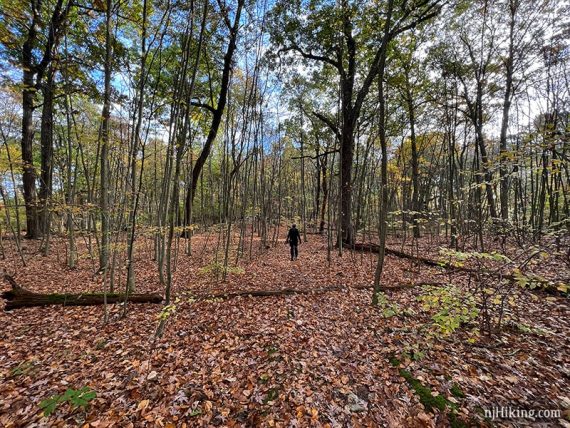 1.3 – After switchbacking down, continue on WHITE (Deer Path) as it turns right. [Unmarked connector trail to the left leads to Allamuchy Pond Trail.]
1.9 – Continue on WHITE (Deer Path). [Pass Barberry (RED) on the right].
Shorter, 5.7 miles total: Instead turn RIGHT and follow Barberry (RED). Then STRAIGHT onto BLUE (Lake View). [BLUE also goes to the left]. Pick up description at 4.0 below. Minus 1.3 from the rest of the mileages.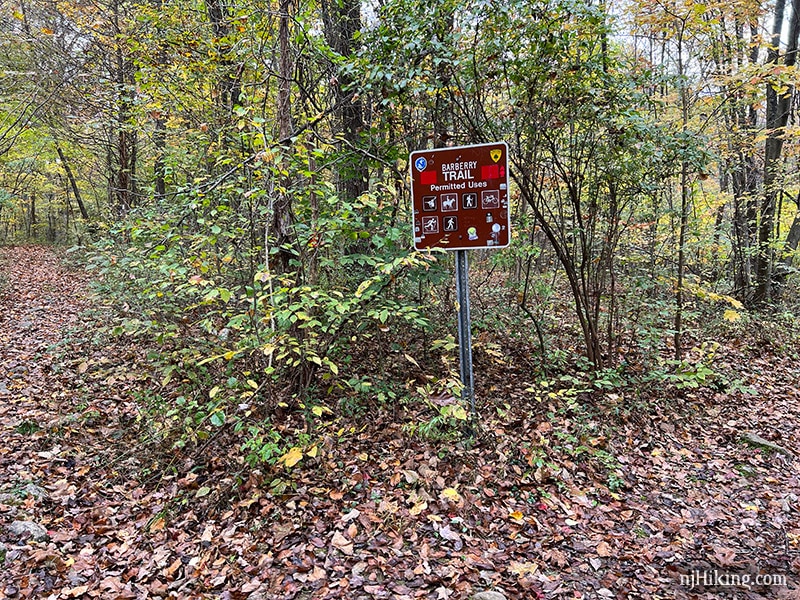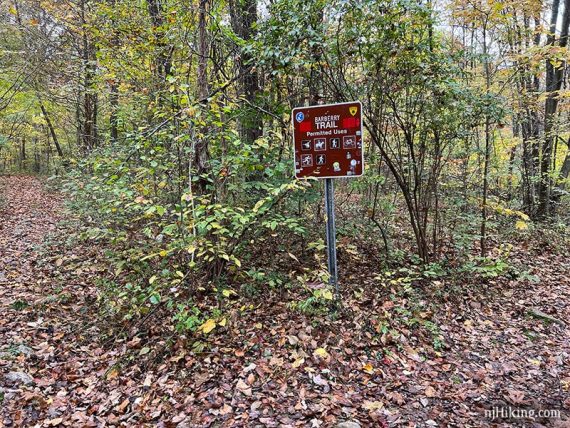 2.8 – Pass an unmarked trail on the left that most likely won't be noticeable. It's just past a large rock against a tree on the right. The trail leads to the scenic overlook area on Rt. 80.
See the "Side Trail to Scenic Overlook on Rt. 80" note at the bottom of the page for info.
3.1 – At a T-intersection, turn RIGHT to continue following WHITE (Deer Path).
[LEFT is an unmarked trail that also leads to the scenic overlook on Rt 80. Also see note at page bottom].
3.6 – Turn RIGHT to now follow BLUE (Lake View). [WHITE (Deer Path) leaves to the left].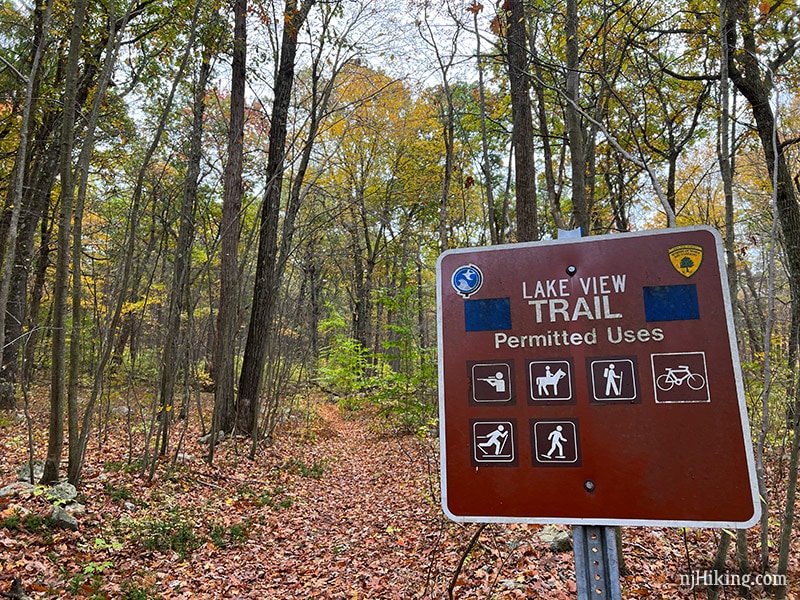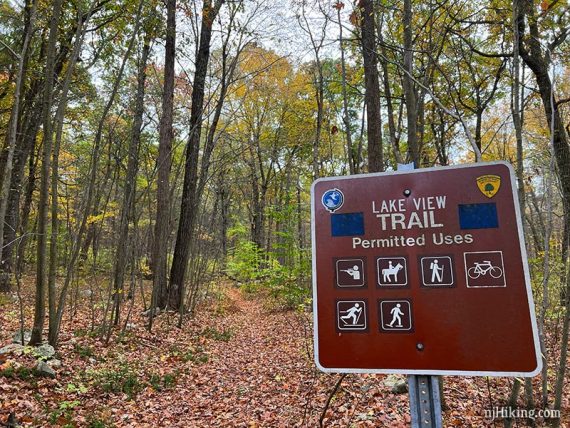 4.0 – Follow BLUE (Lake View) as it turns LEFT. [Barberry (RED) is on the right].
Deer Park Pond comes into view through large trees.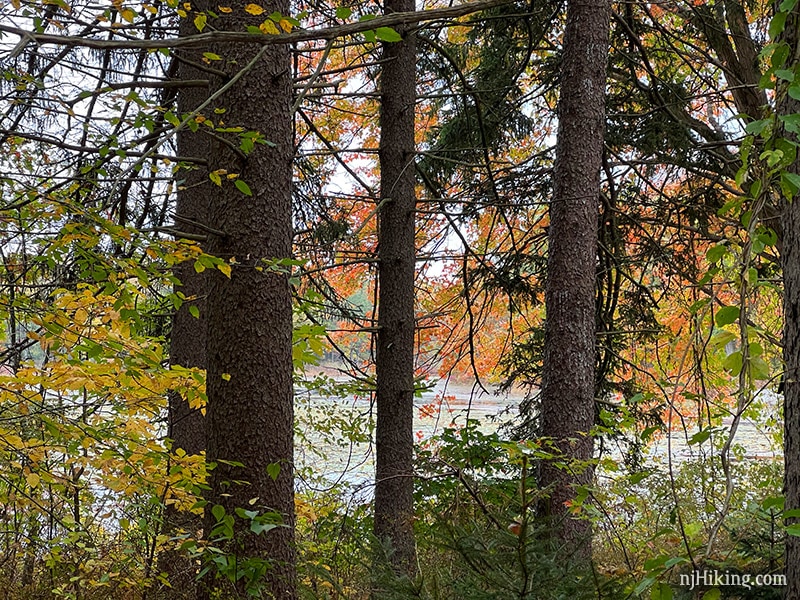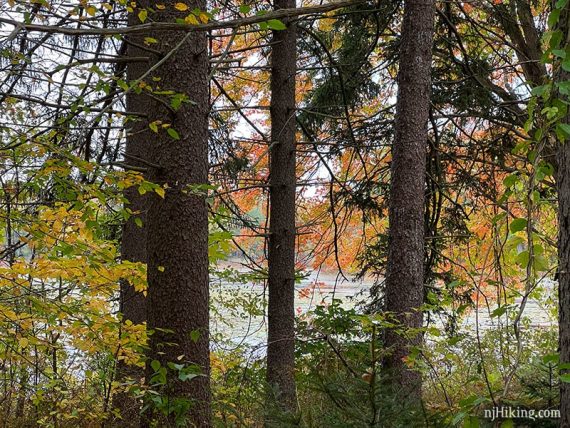 4.1 – Watch for a casual trail in a somewhat open area on the right that leads to wide viewpoint over Deer Park Pond. There was a long log to sit on for a break.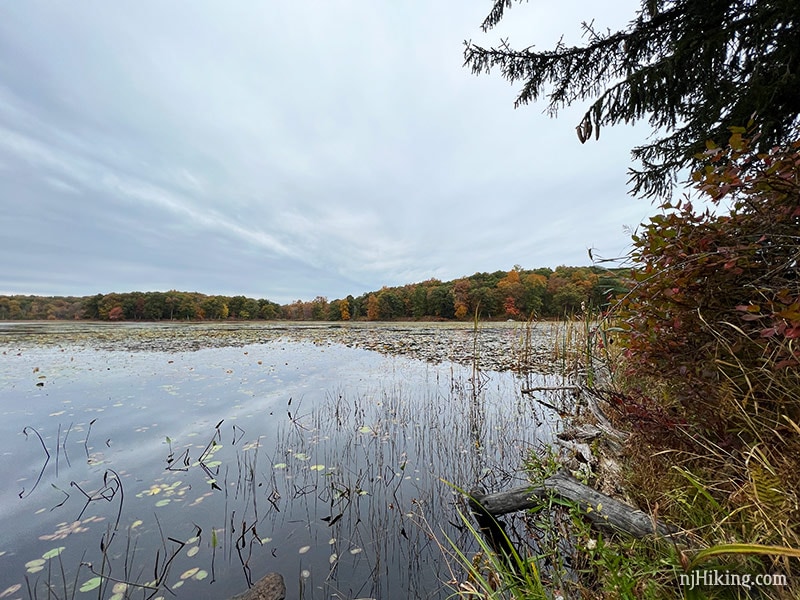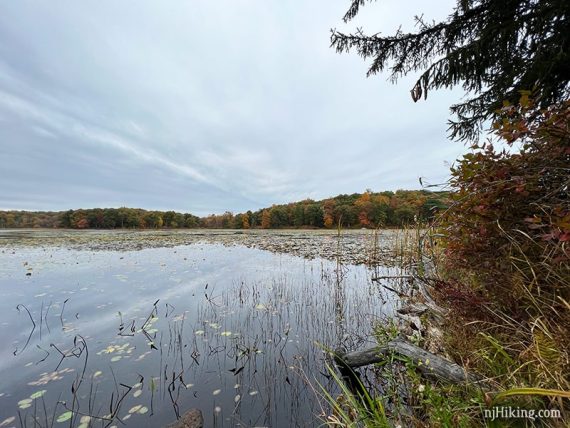 The fall foliage around the pond was nearing peak so some oranges and deep reds were popping even with overcast conditions.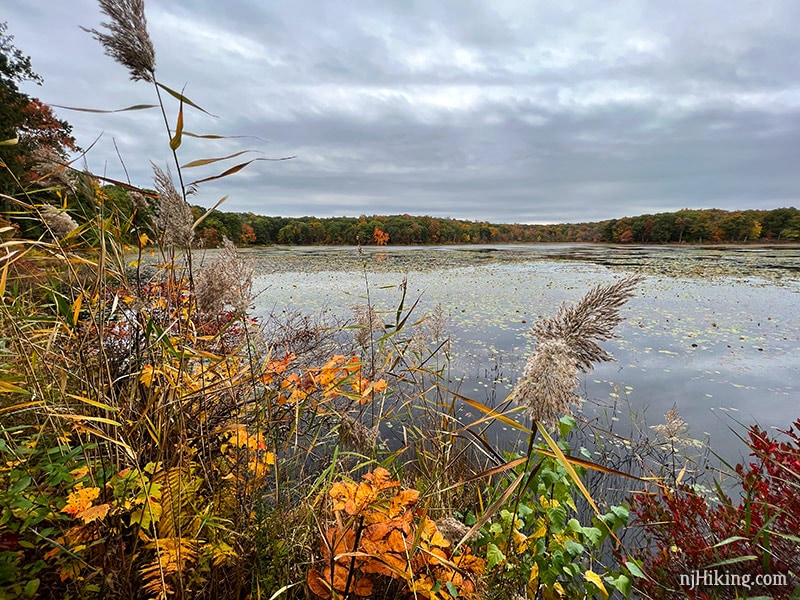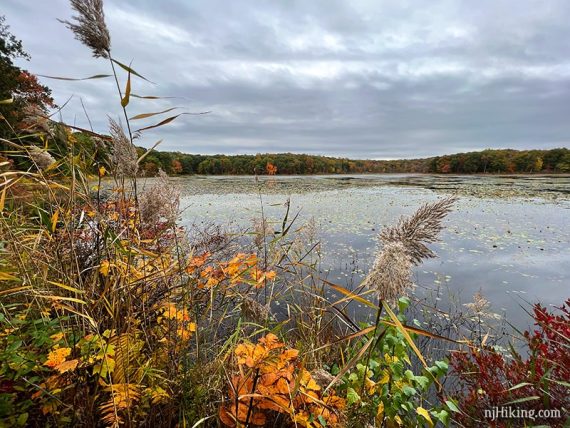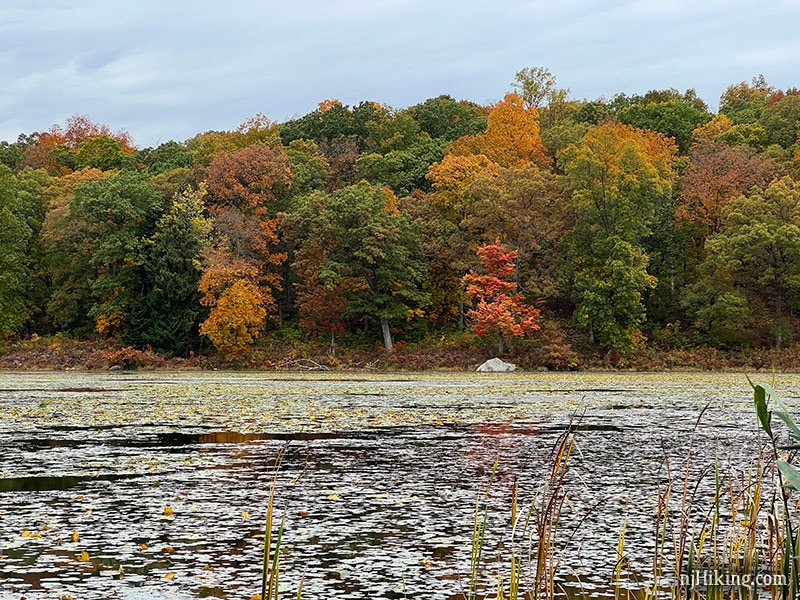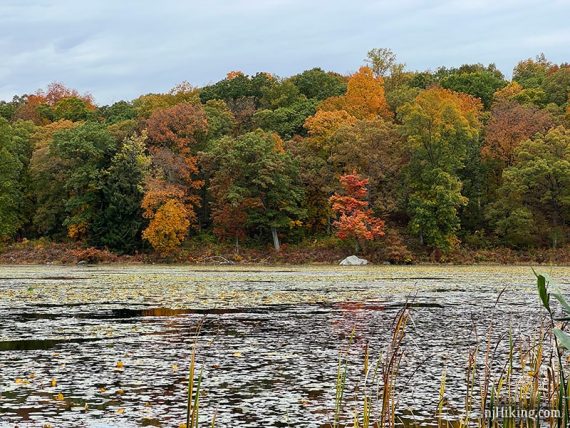 4.4 – Continue following Follow BLUE (Lake View) as WHITE (Deer Path) comes in and is co-joined for a bit. Not long after, there is a shady spot under a tree with views of the pond.
All along this section of BLUE (Lake View) are panoramic views of Deer Park Pond.

It's also nice when it's green and sunny in Spring.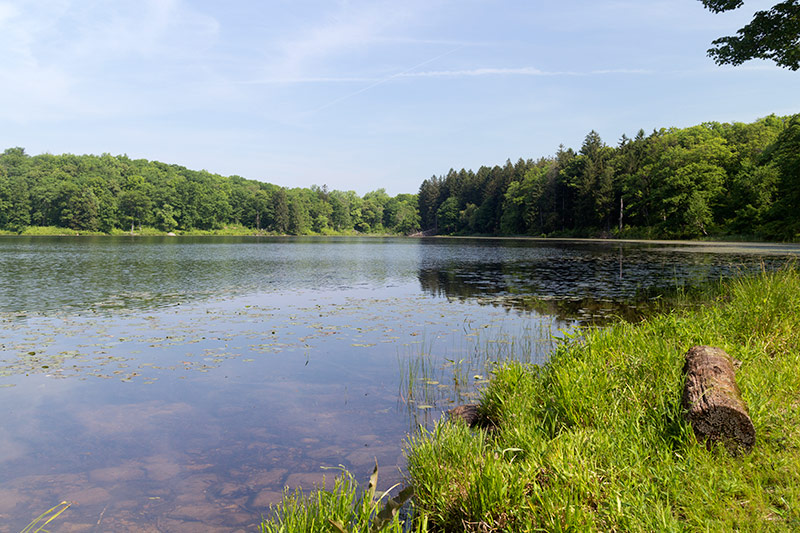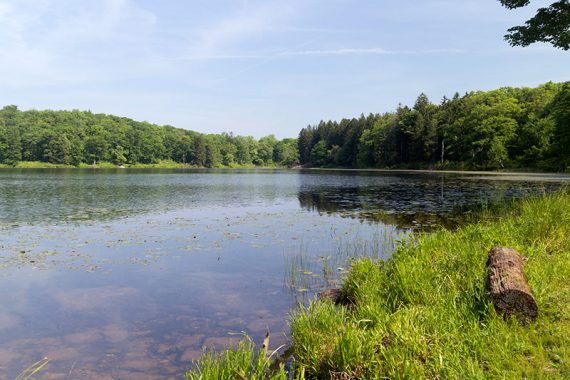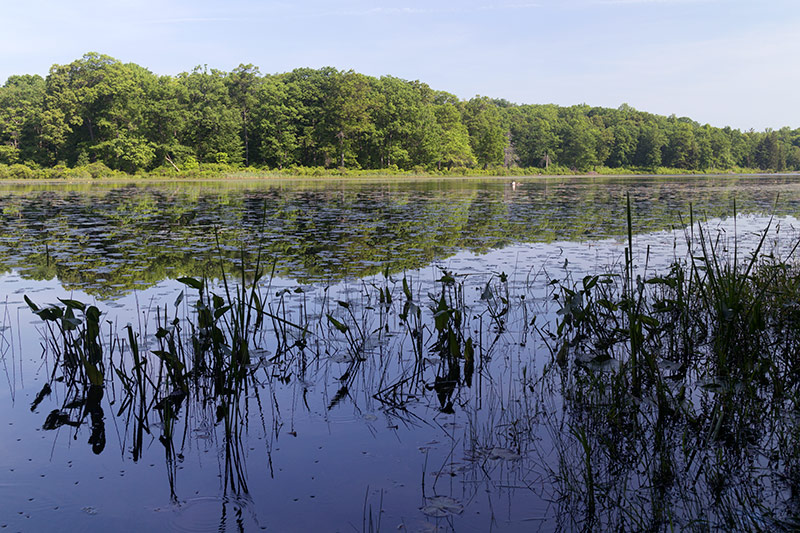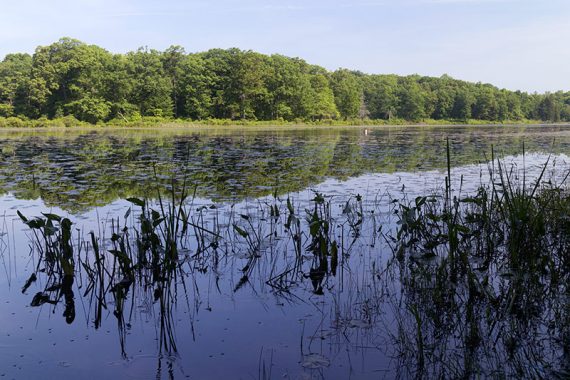 Continue over a bridge and spillway.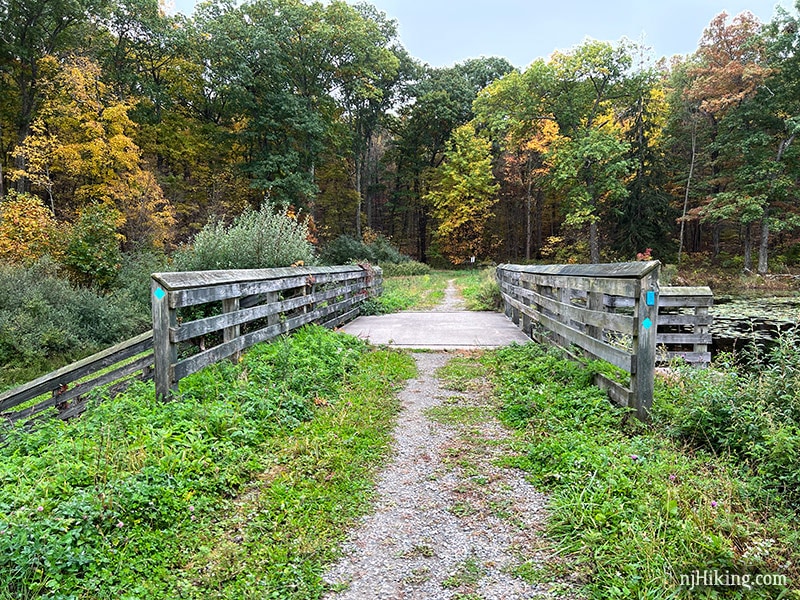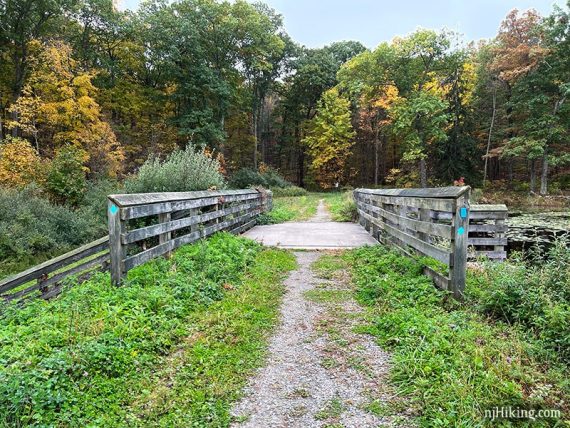 There was one striking orange tree that stood out from all the rest. The cheese stands alone! We'd spotted it from the first viewpoint over the pond.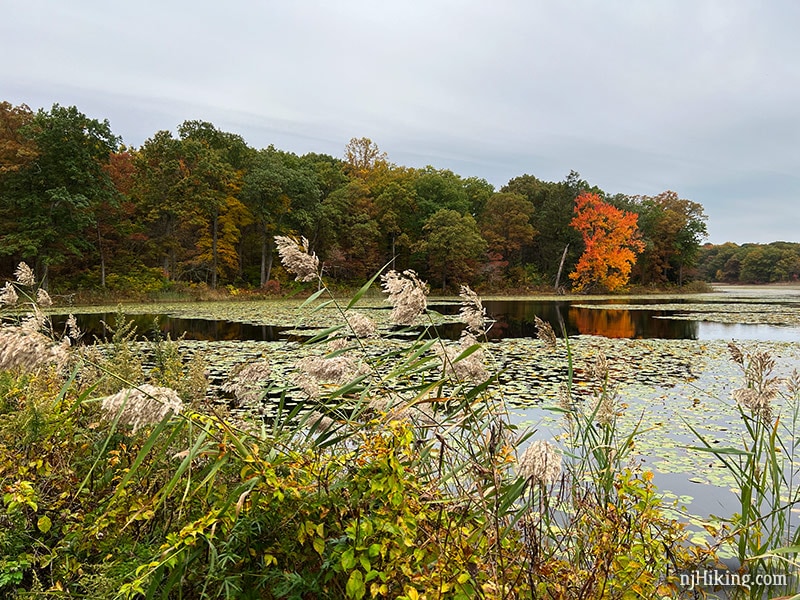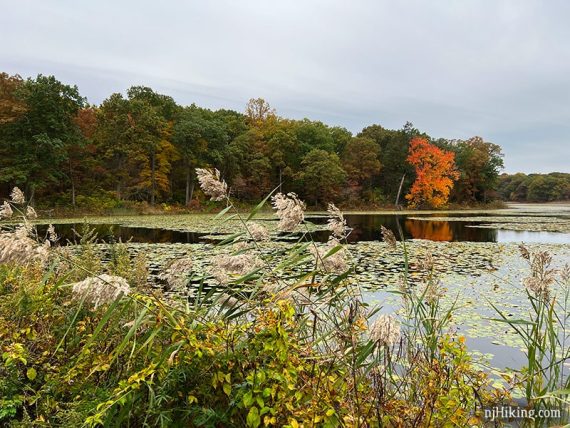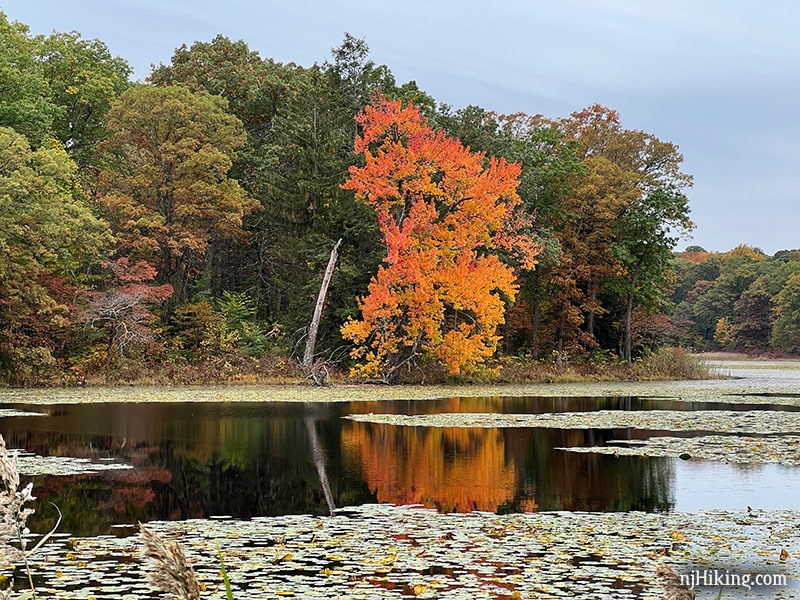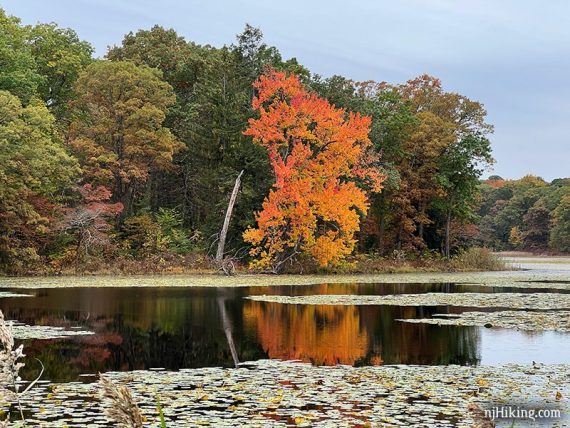 4.5 – After the bridge and spillway, BLUE (Lake View) curves to the right.
[WHITE (Deer Path) leaves ahead, along with TEAL DIAMOND (Highlands) which at some point also became co-joined though not marked as such on maps].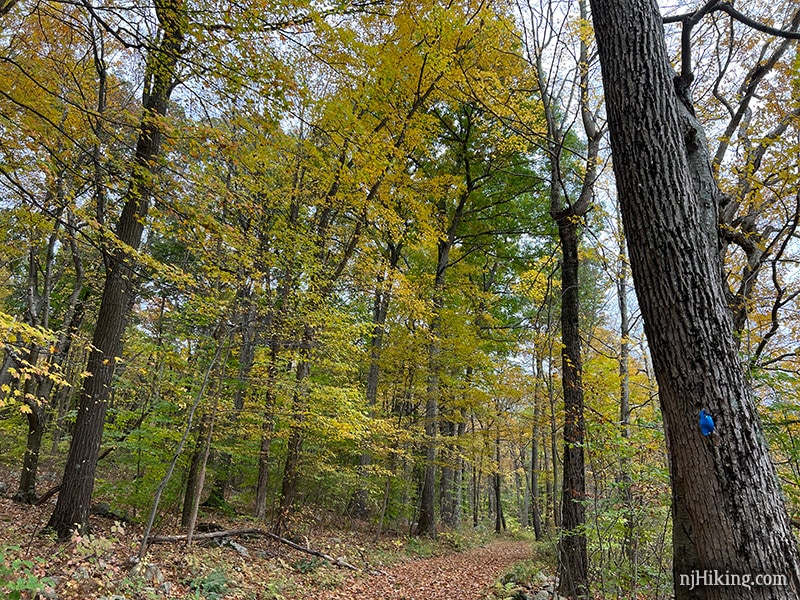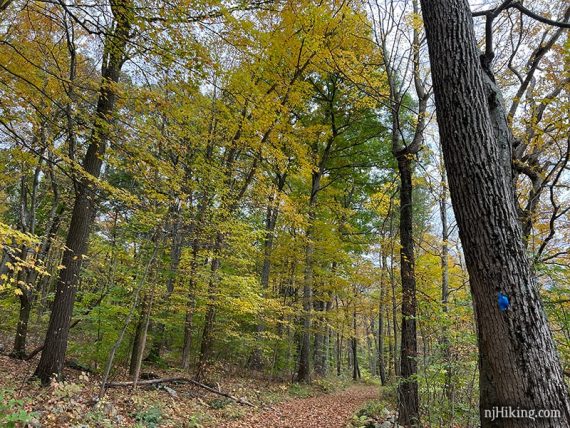 After hiking down BLUE (Lake View) a bit, a beaver lodge comes into view near the shore. Tracks through the pond vegetation could be seen leading away from the lodge.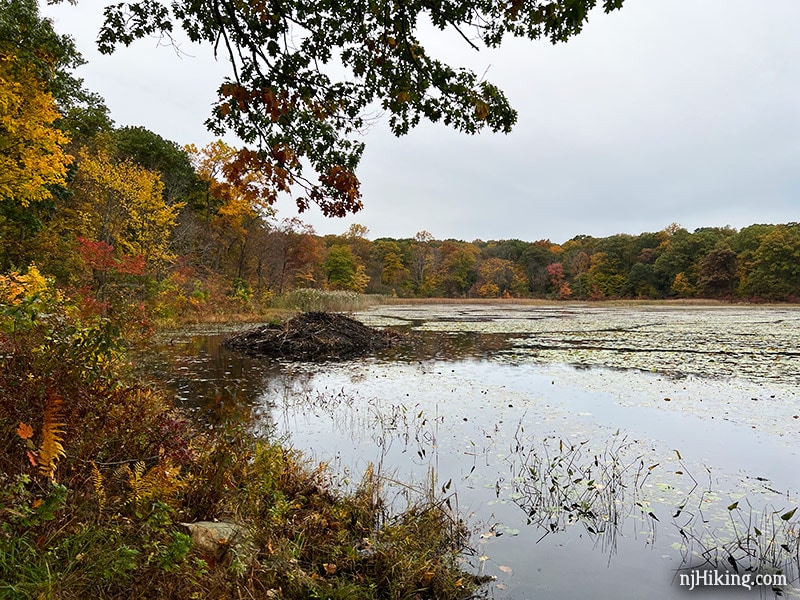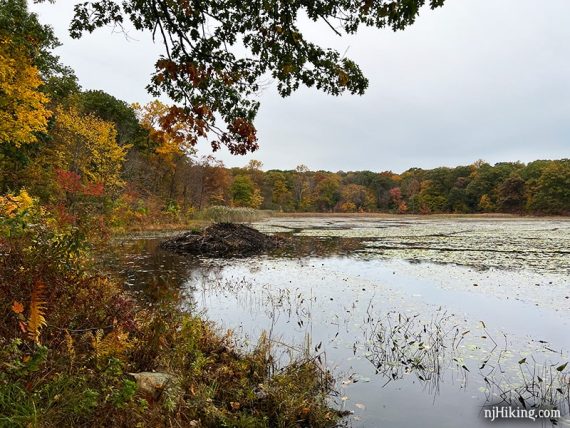 Waaay off across the pond, on a little tuft of ground surrounded by water, I spotted a dark lump. Using my ever trusty monocular I could just barely see a little furry face… staring right back at me.
Fun fact: Beavers were introduced here at some point and have made themselves at home. [Source: 50 Hikes in New Jersey, 1998 version that still had Allamuchy in it.]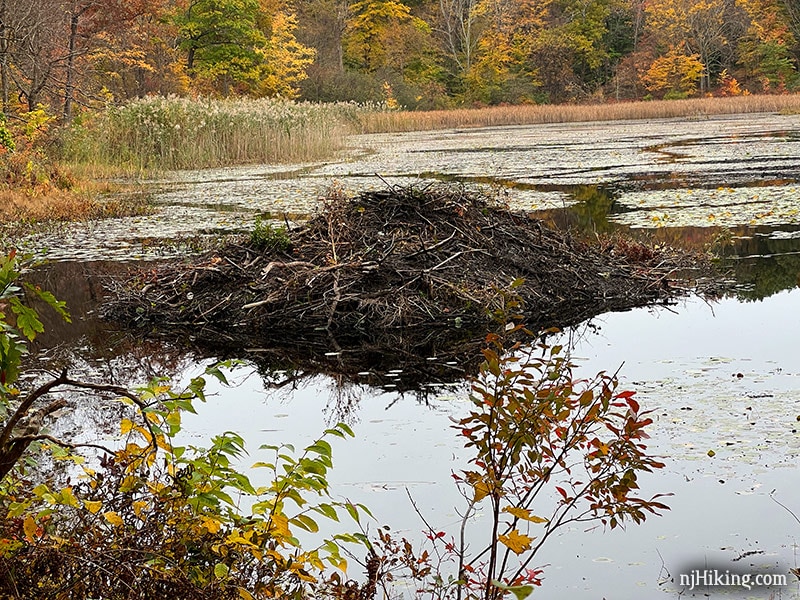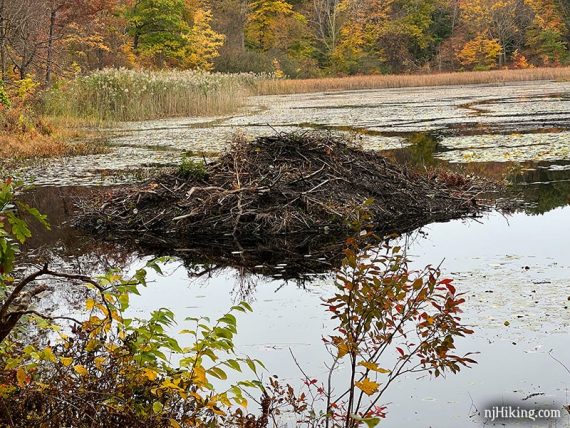 5.4 – Follow BLUE (Lake View) as it turns LEFT. Pass an old parking area off on the right, might not notice it.
5.6 – A trail without markings crosses BLUE (Lake View) that should be where WHITE meets it again.
5.8 – Pass an old mine entrance on the right. We didn't notice the entrance this time even though we knew it was coming up (this photo is from 2016).
There might be a short spur trail to it or it could be overgrown and hard to see (…or by this point we were distracted discussing which brewery to hit post hike).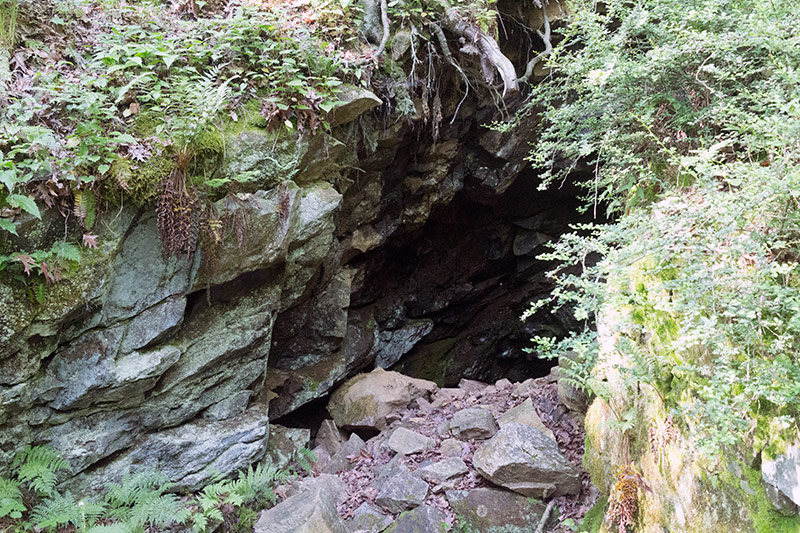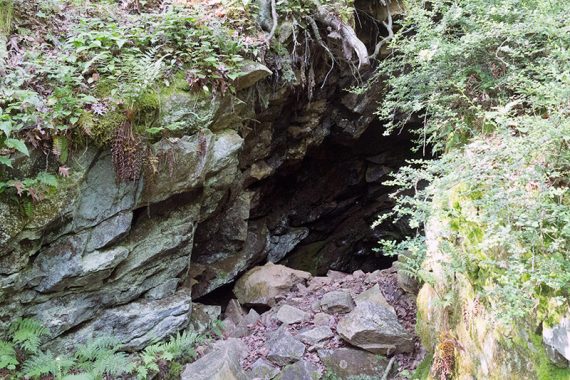 6.0 – Pass the area for parking lot 2 on the left. This is where we used to start at but it seemed pretty unused at this point. Now start following the dirt park road back to the main lot.
6.1 – Pass YELLOW (Birch) on the right. Continue following the park road. On the left, pass an old house being reclaimed by the forest.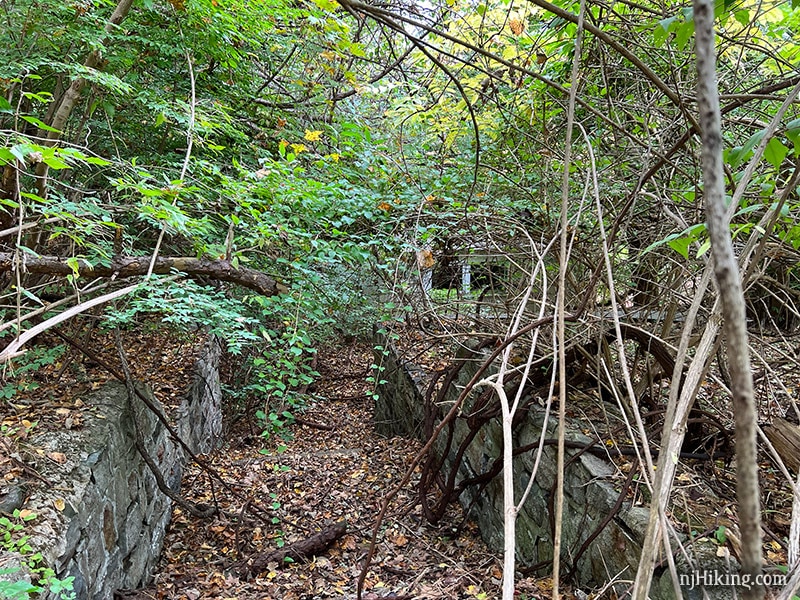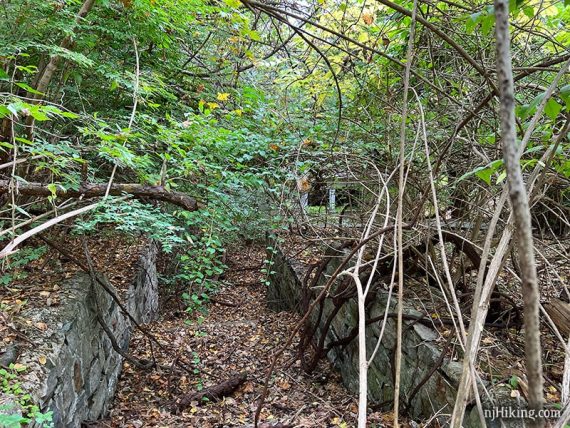 Continue following the park road back to the parking lot.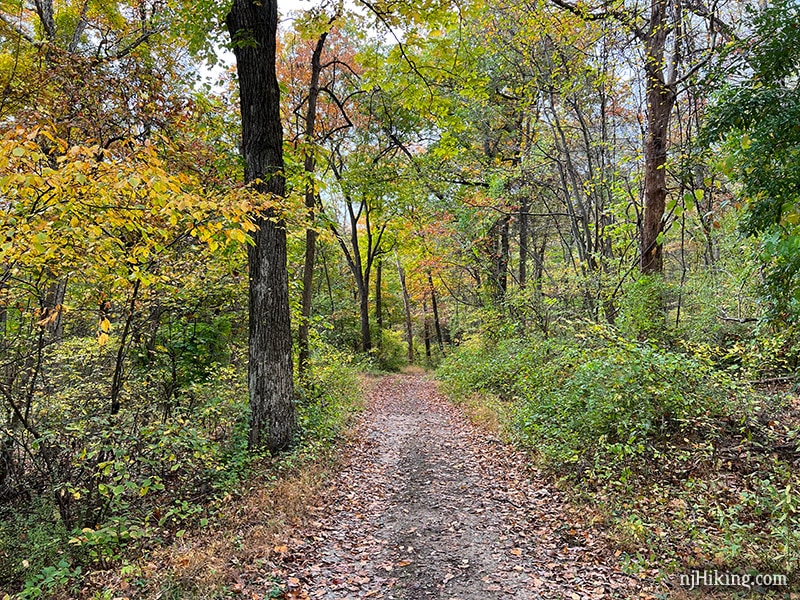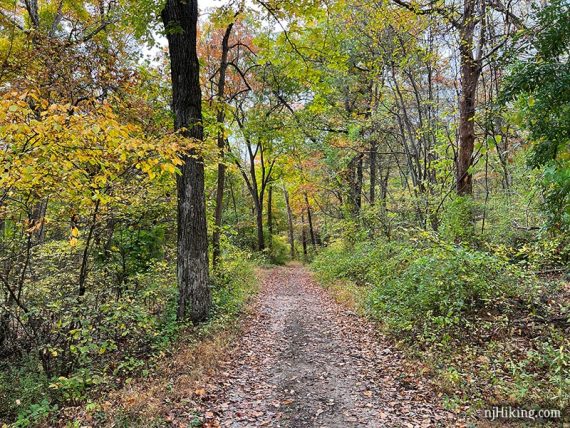 ---
Side Trail to Scenic Overlook on Rt. 80
First off, it's important to note that the scenic overlook is reachable by car on Rt 80 Eastbound – we've just always enjoyed taking this little side trip as our break spot.
Round trip adds about 0.4 mile to the hike and was worth it for the view of the Delaware Water Gap in the far distance.

Just visible are Pennsylvania's Mt. Minsi on the left side of the "gap" and New Jersey's Mt. Tammany on the right.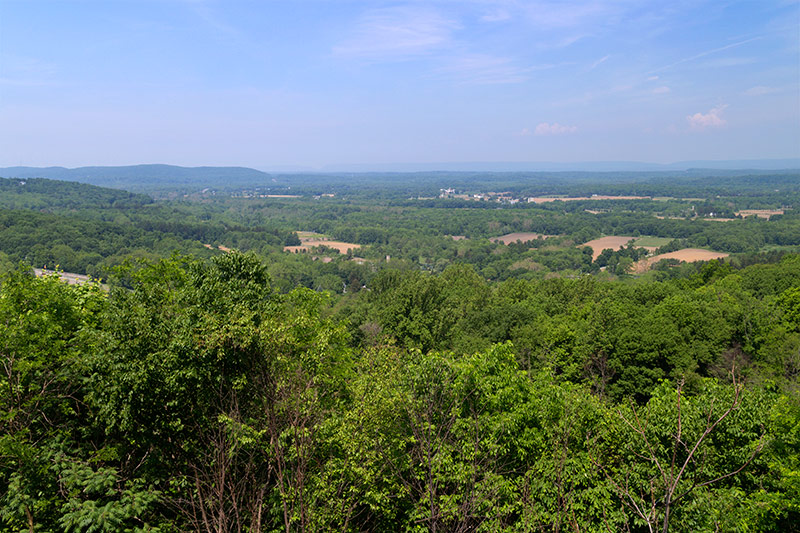 However, this last time (10/2021) the trail was too faint and overgrown with prickly bushes for even us to bother but we've left the info here in case that changes – or you are up for a wee bit of adventure.
This unmarked trail is only shown on the Trail Conference Jersey Highlands Trails, it's not on the park map (though that map does show a viewpoint icon). The trail location is also marked on our Interactive Map.
It's is on the left just after a decent size rock against a tree on the right – but the trail was no longer obvious and we used our GPS waypoint to find it – after blowing right by it first.
A few steps in you'd continue through a break in a fence (still there – that's as far as we checked), and downhill to the overlook where we used one of the picnic tables for our break (in 2016 – unsure if there are still tables there).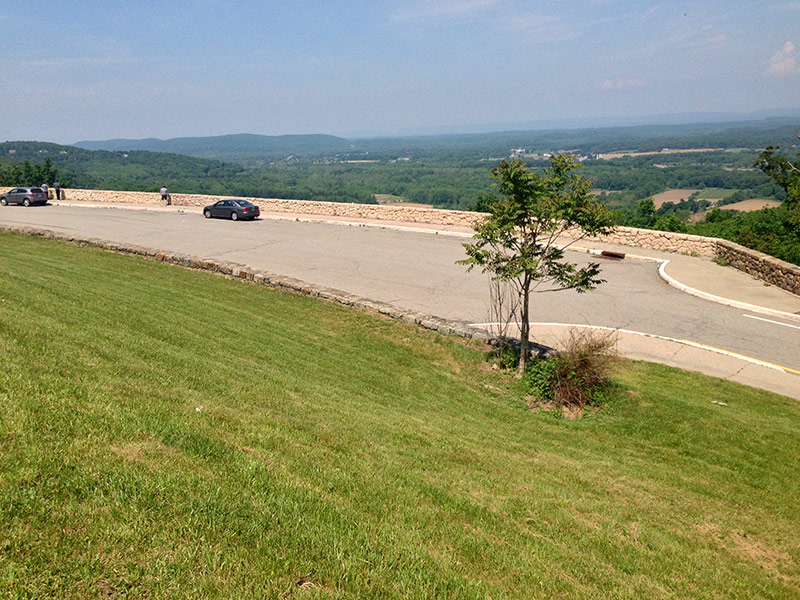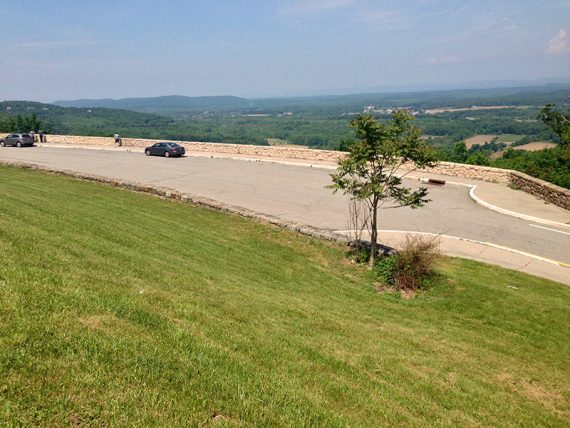 Just keep track of where you come out of the woods as the path isn't obvious once at the overlook. With it being faint (or not there) now it would probably be hard to follow it back as well.
Unmarked trail intersection at 3.1 miles: A little further on, where WHITE (Deer Path) turns to the right, is an unmarked trail to the left that on the TC map also leads to the overlook. Out of curiosity we took that just to check to make sure it wasn't an option… it wasn't.
There is one faint yellow mark of unknown purpose, then soon the trail splits in a Y. Taking the left fork led gradually down an increasingly unused trail… under branches, climb over a fallen tree… duck under a break in a fence.
But this puts you all the way down near the end of the exit road and not at the overlook like the other end of the trail. The overlook is back up that road: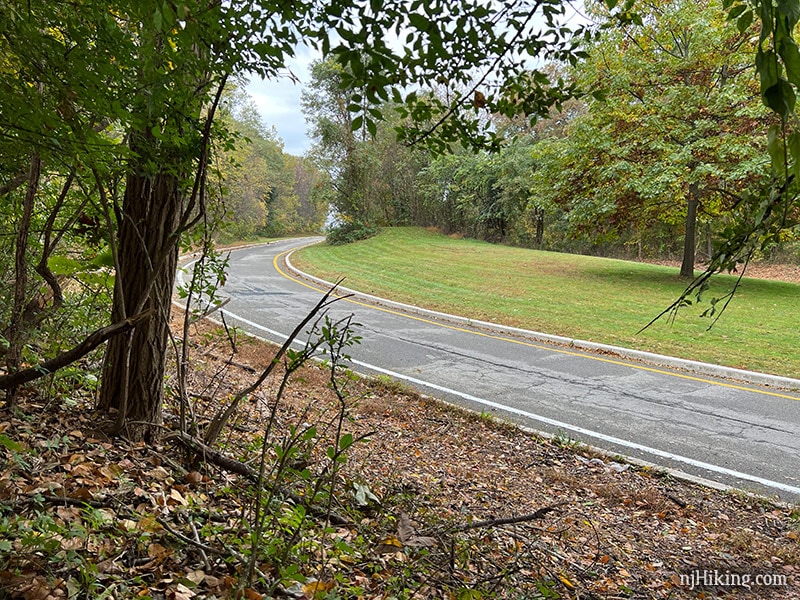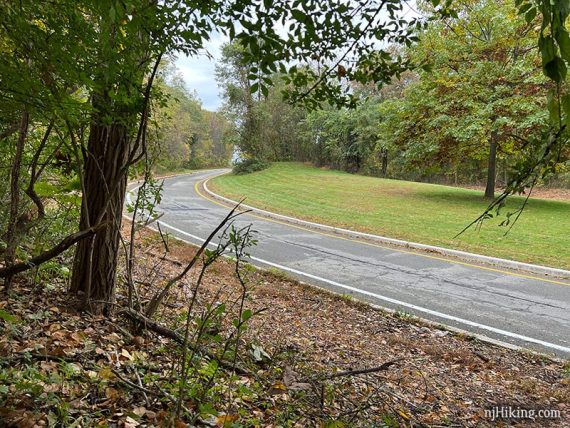 It wasn't worth walking to the left a decent distance more to the overlook especially since we could kinda tell the view was fogged in some.
From the turn to this point and back added 0.5 useless miles total… njHiking.com: We waste our time so you don't have to!™
—
Hiked: 10/24/21. Revised route.
Hiked: 5/29/16. Original route; archived: Hiking Deer Park Pond.
Hiked: 10/30/04. Original route.