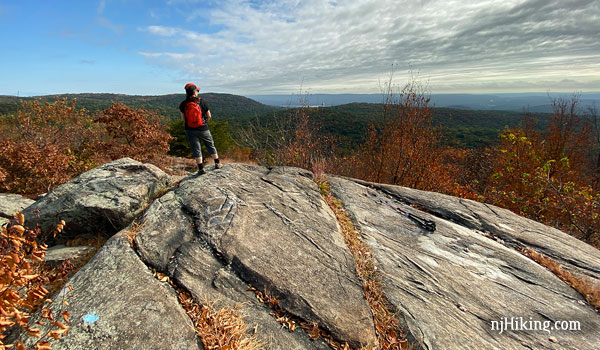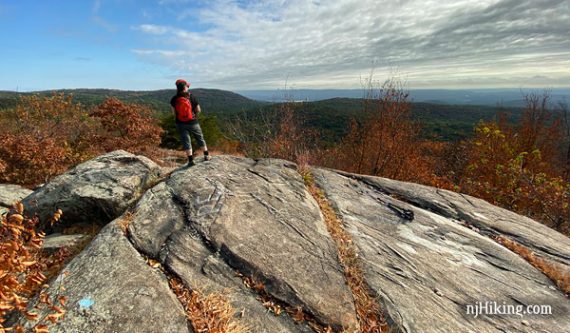 Climb Torne Mountain and enjoy view after view before reaching Osio Rock for a 360° panorama.
2.7 miles, or 1.6 miles. Rugged with larger rocks to walk over, minor scrambling, steep sections.
Shorter: 1.6 or 2.3 miles, noted below.
Longer: Take the trail next to the parking lot to link up with the extensive trail system in the main part of the park.
Hike Info:
Our two cents:
Views that don't quit, a 360° pano from Osio Rock, a chance to spot the NYC skyline, plus a side trail to a funky stone living room all in under 3 miles — the reward-to-effort ratio on this route is really in your favor.
Short but rugged-n-rocky so it is not an easy trail. There is a bail-out point to cut it short if needed.
Avid hikers looking for a longer hike will need to add in something from the main part of Norvin.
Lots of sun exposure. Many expansive views for fall foliage.
Updated: 10/2020 – Page refreshed, not re-hiked. 10/2019 – Re-hiked, route and description updated to reflect trail changes. Old info archived on the 2010 trail blog page.
Map:
The North Jersey Trails has all of Norvin Green but most of this hike also appears on Jersey Highlands Trails.
Note: Older maps show BLUE (Hewitt Butler) going to Lake Larriwien, it no longer does.
Books:
A 3.7 mile variation that combines Osio with Buck Mountain across Otter Hole in Norvin can be found in 50 Hikes in New Jersey.
Shorter routes to only Torne Mountain are in Hike of the Week and Hiking the Jersey Highlands. Detailed trail descriptions can be found in the The New Jersey Walk Book.
Parking:
582 Glenwild Ave, Bloomingdale, NJ 07403. Rt 287 to exit 53, bottom of the ramp turn left onto Hamburg Turnpike, right onto Glenwild Avenue.
Pass a small hiker parking area for Wyanokie Crest on the right. Shortly, after a curve, is a small dirt lot on the right.
A sign states it is open from 8am to 8pm. This is often filled; there is a 2nd parking area a little further down the road.
This hike starts at the trailhead on the other side of Glenwild Ave.
The trail next to the parking area is to access to the rest of Norvin Green (i.e. Otter Hole, Chikahoki Falls, Wyanokie High Point, Buck Mountain).
Restrooms:
None. There was a gas station in town on the way there; and a porta-john in a small park at the corner of Glenwild Avenue and Bogue Dr.
Note: The video includes the section to Lake Larriwien that can no longer be hiked.
Hike Directions:
Overview: BLUE (Hewitt-Butler) – RED (Torne)
0.0 – From the parking lot, cross the road to the trailhead near a road marker, "Begin 700 Passaic County".
Start following BLUE (Hewitt-Butler). It heads up right from the start and parallels the road for a bit.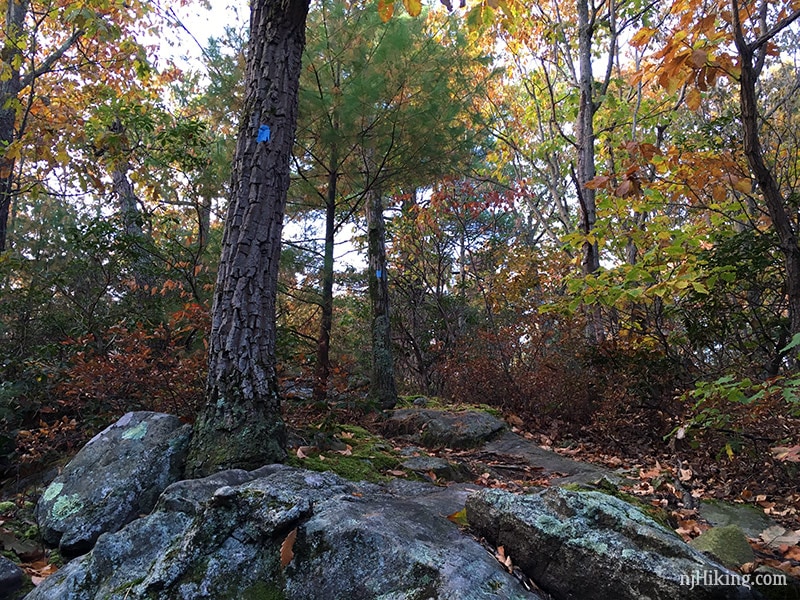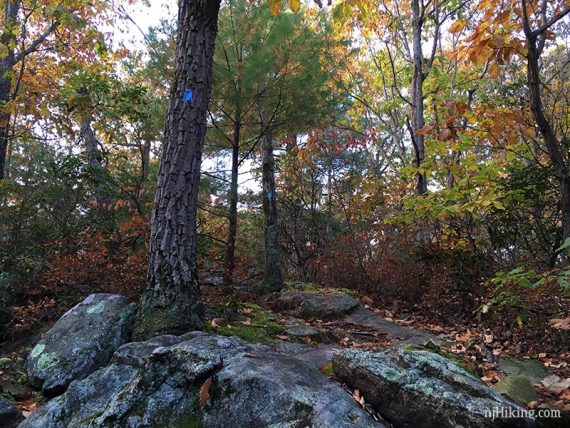 0.2 – Continue following BLUE (Hewitt-Butler) over a rocky trail surface.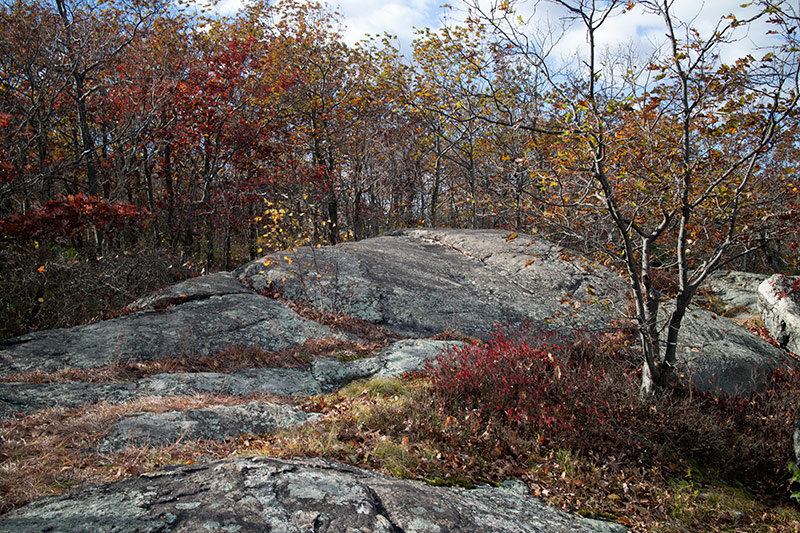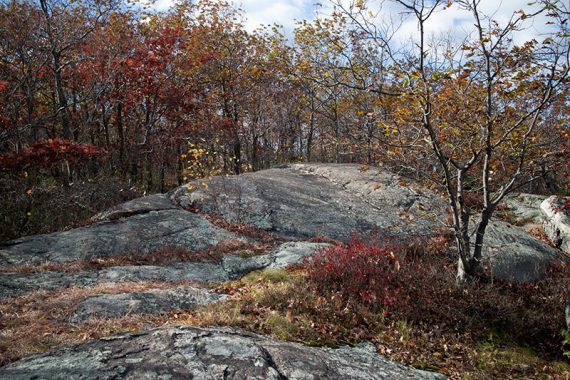 [RED (Torne) goes left and right. Left will be the return route, while the road is visible off to the right.]
Climb up to a limited viewpoint, then the trail comes up and around for a larger view.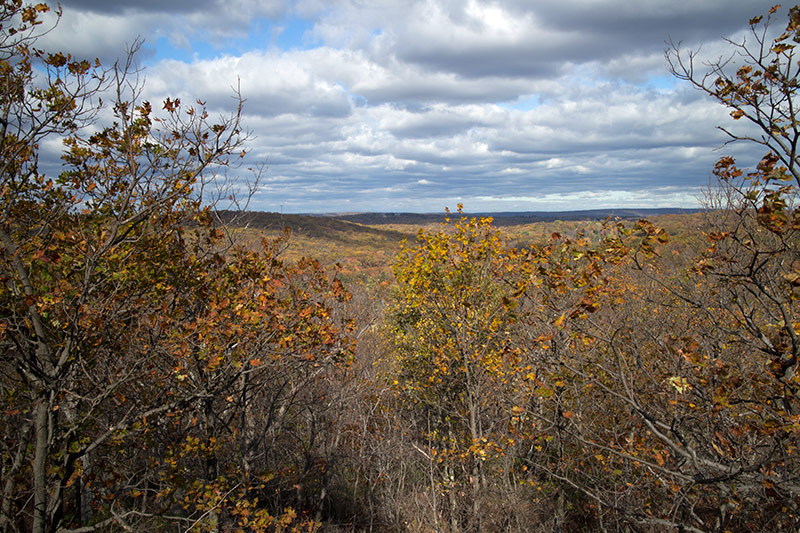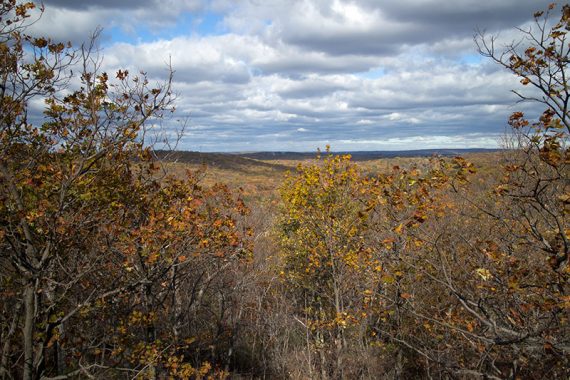 After this… it's almost all views in this section.
0.5 – In an open area with several rock cairns, look for a faint side path leading to the "Stone Living Room". This is an area of chairs made of stacked stones with a nice view.
It's easier to spot the living room if the trees aren't full of leaves.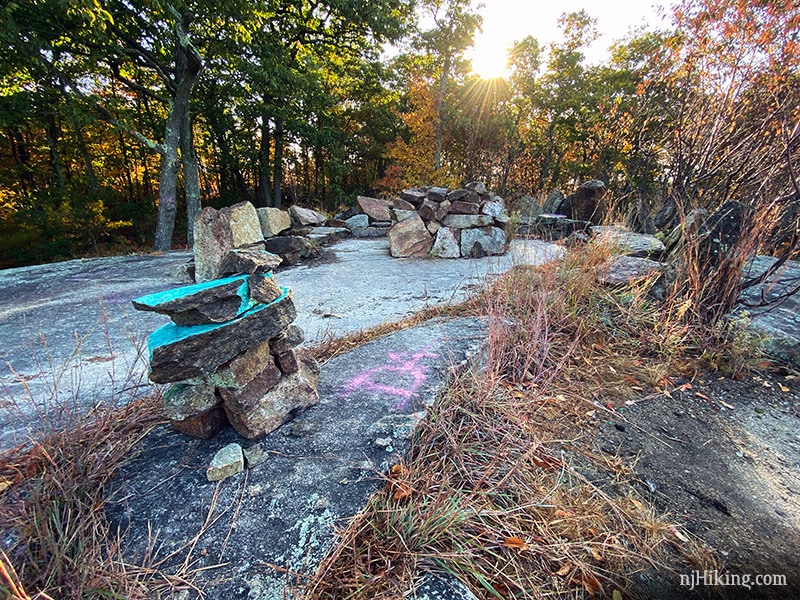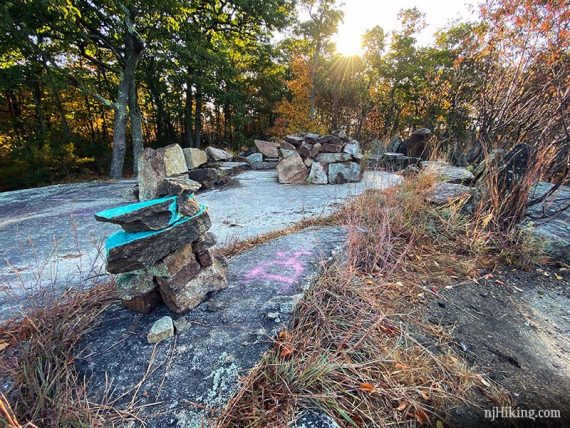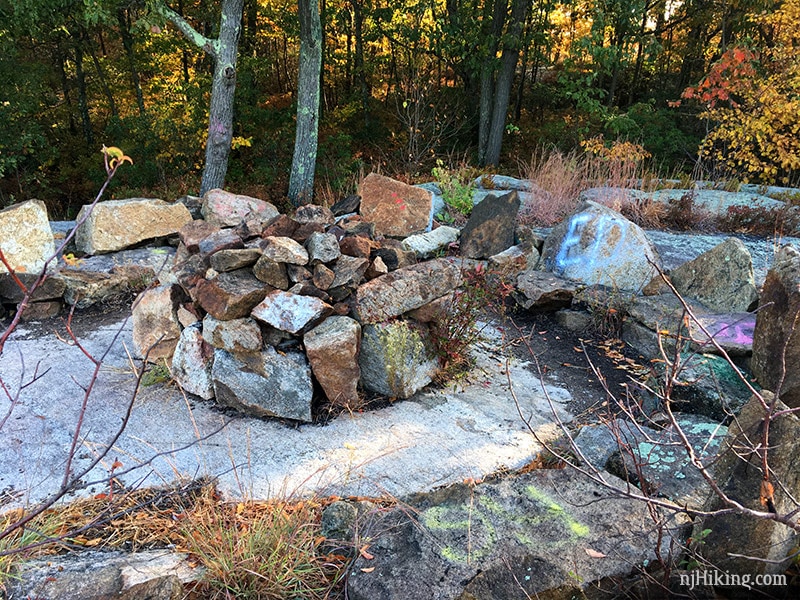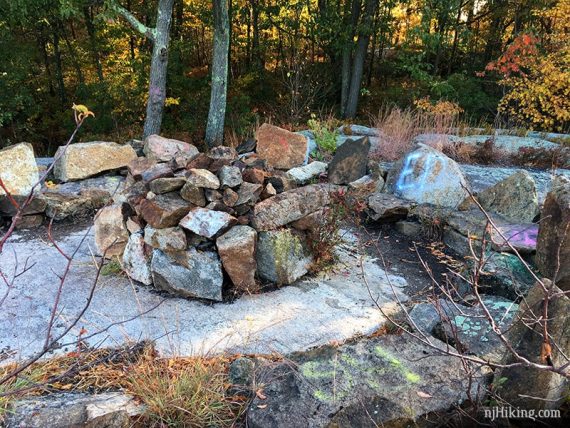 The living room has changed configurations over the years. In 2014 it looked like this: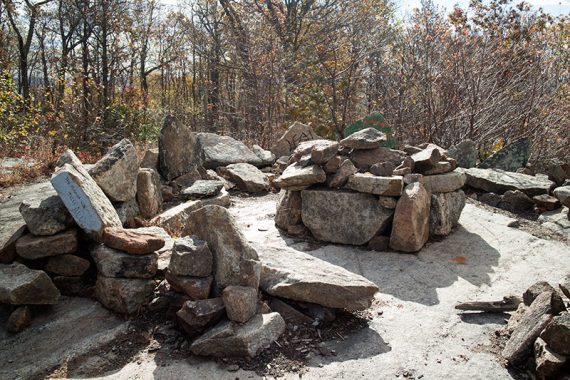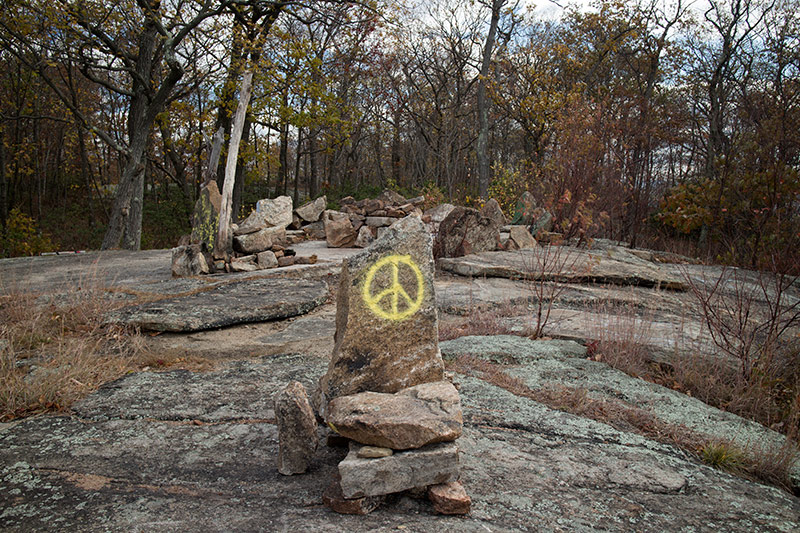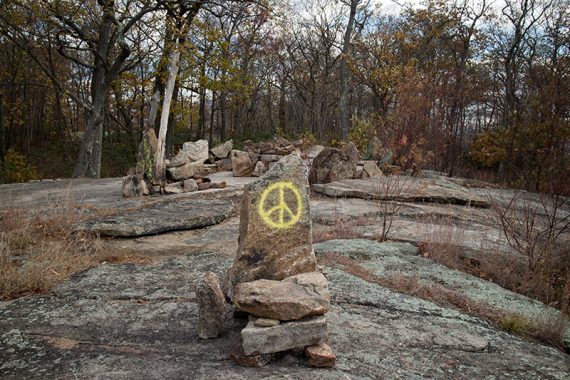 After checking the Stone Living Room out, retrace and continue following BLUE (Hewitt-Butler).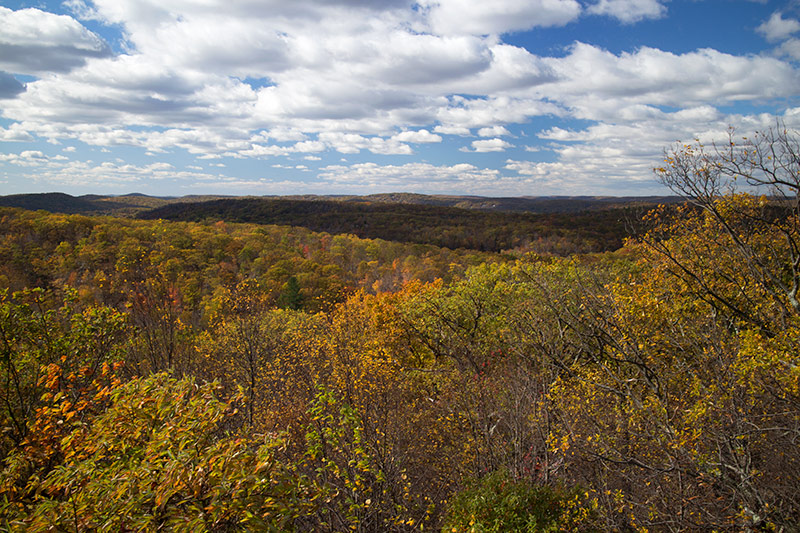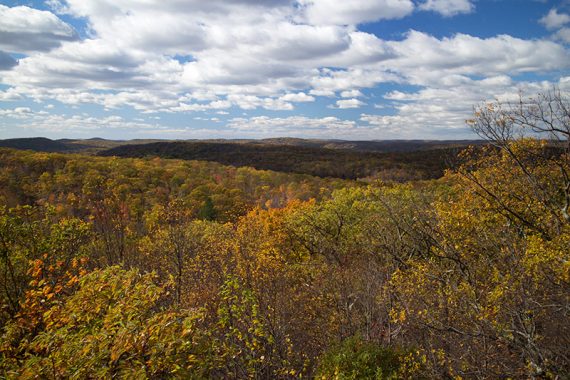 0.7 – At one of the larger wide-open viewpoints is a stone bench. On a clear day the NYC skyline might be visible.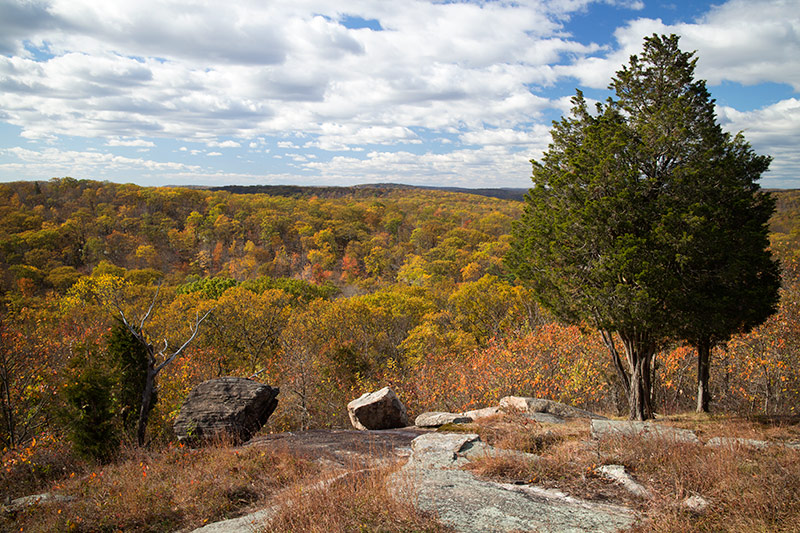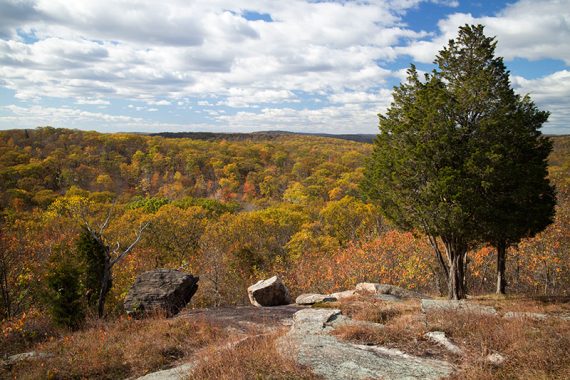 Scrambling up the large rock off to the side gives a better view of the skyline.
0.8 – Turn LEFT to follow BLUE (Hewitt-Butler) down switchbacks on the "Alternate & Easier Route".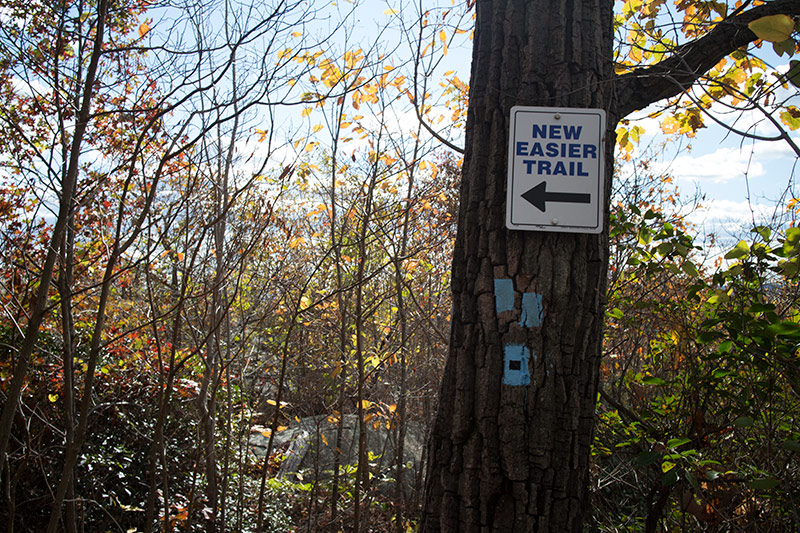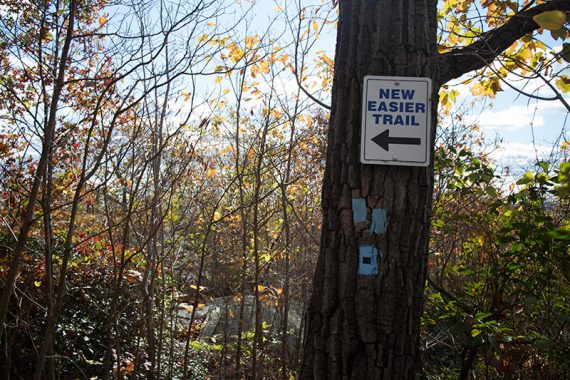 It's still steep in spots but not a straight shot over rock slabs like the original route, now blazed BLACK DOT on BLUE (can still take this, it meets up with the main trail).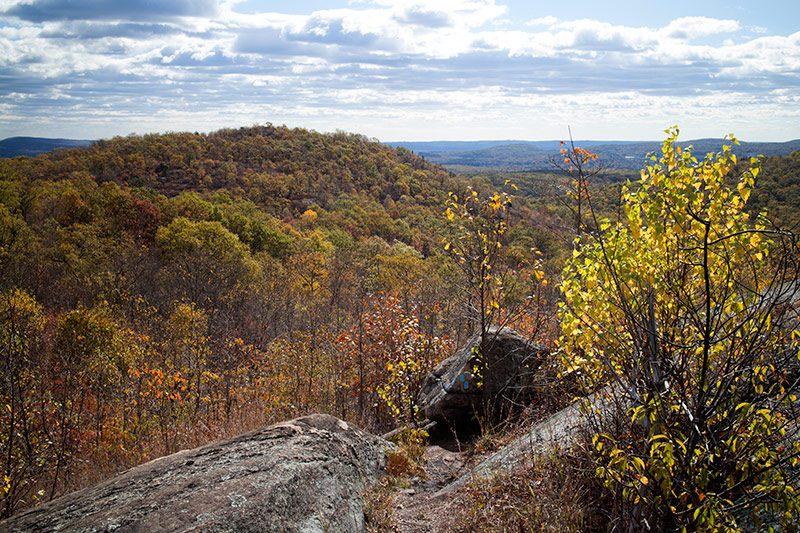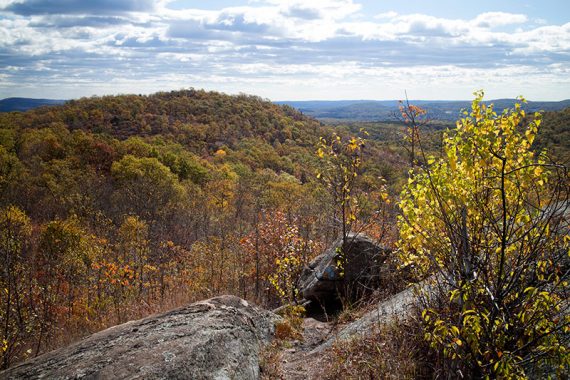 Part-way down there sharp turn to the right that is easy to miss.
Pass the other end of the BLACK DOT on BLUE trail.
1.0 – Just after passing RED (Torne) on the right (might not notice it), arrive at a large rock marked with RED and BLUE blazes.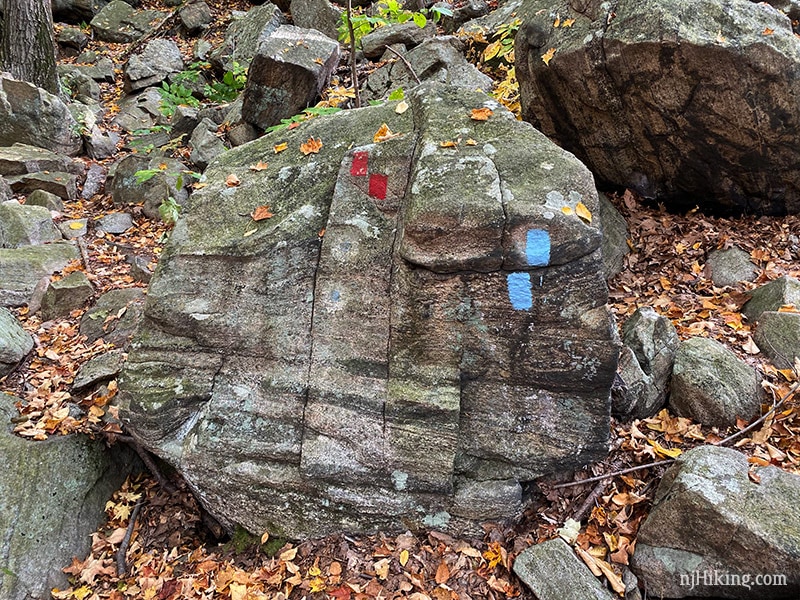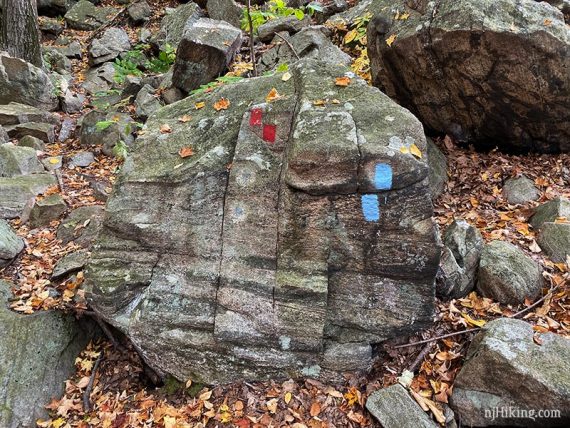 Turn RIGHT to continue following BLUE (Hewitt-Butler). [RED (Torne) goes left and is the return route].
/// Shorter option, 1.6 miles: Had enough? Turn left on RED (Torne) to go directly back, skipping Osio Rock. ///
1.4 – Climb up to "Osio Rock" for a 360-degree view over the surrounding mountains with Wanaque Reservoir visible in the distance.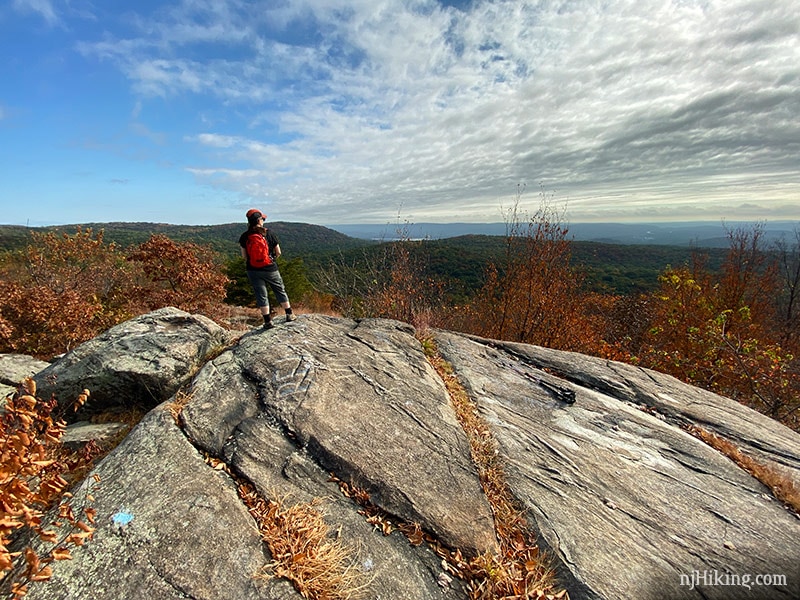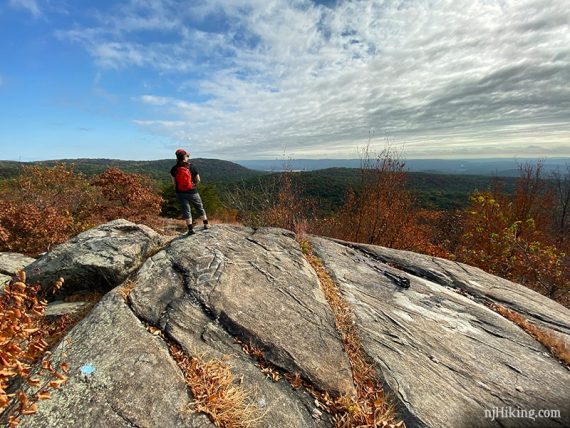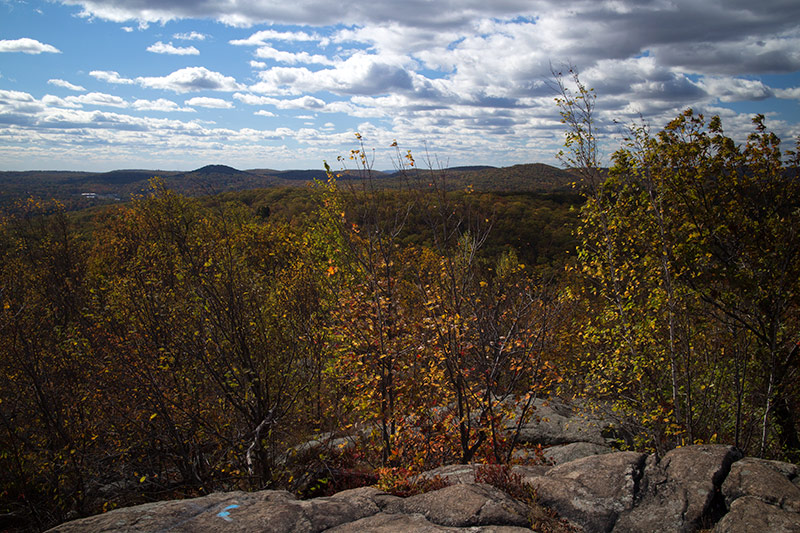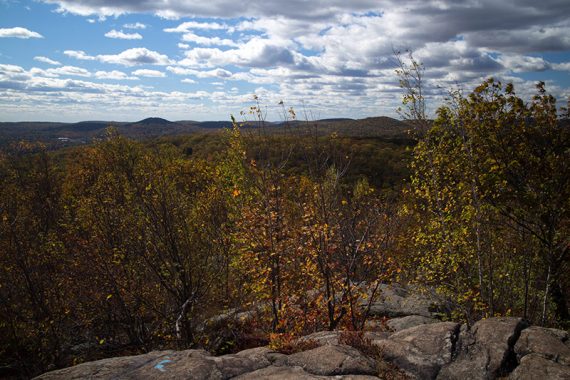 If it's clear enough, the NYC skyline is also visible (photo below, just barely).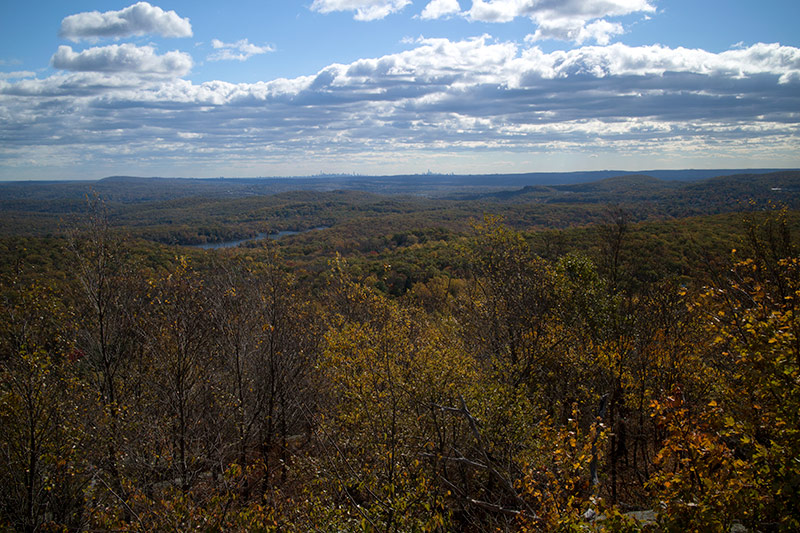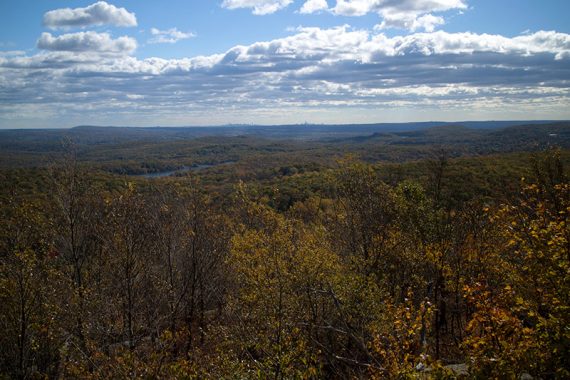 /// Shorter option, 2.3 miles: Retrace BLUE (Hewitt-Butler) back down off of Osio Rock to the intersection with RED (Torne) and take RED back. ///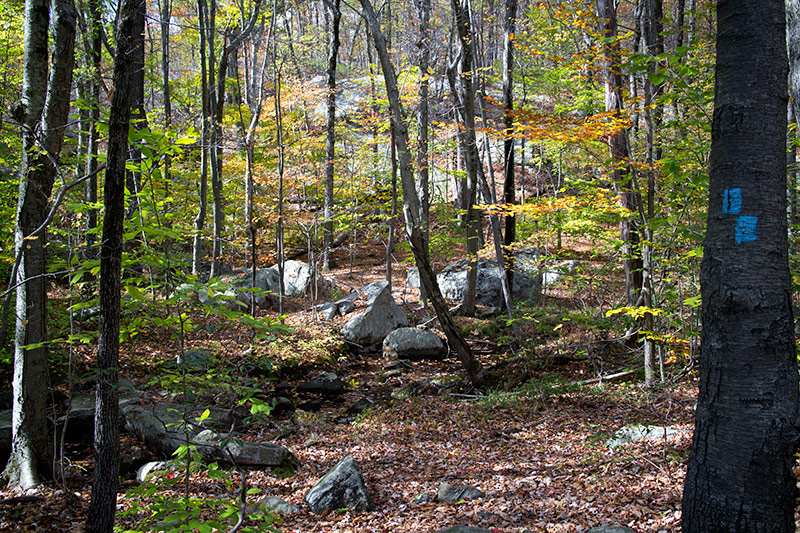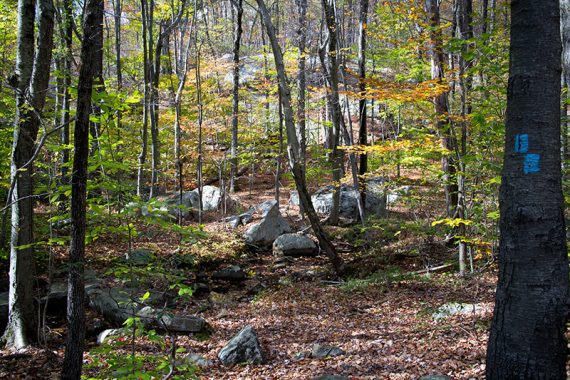 Continue following BLUE (Hewitt-Butler) by scrambling down the other side of Osio Rock. There are more views as the trail heads downhill.
1.8 – Near a small stream, turn RIGHT to now follow RED (Torne). BLUE (Hewitt-Butler) ends.
[To the left is a sign that the trail in that direction is closed.]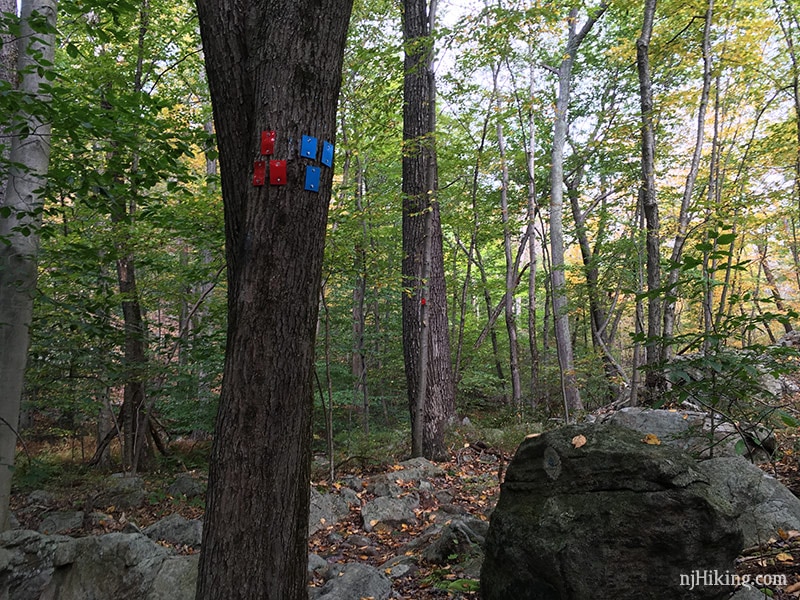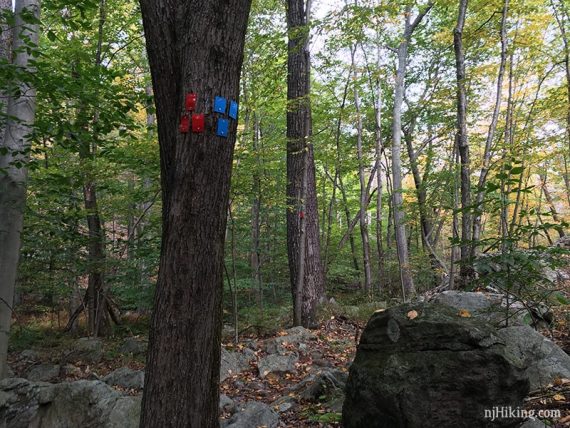 2.1 – Intersection of BLUE (Hewitt-Butler) and RED (Torne) from earlier, at the large rock with RED and BLUE markings.
Continue on RED (Torne) by scrambling up through some large rocks.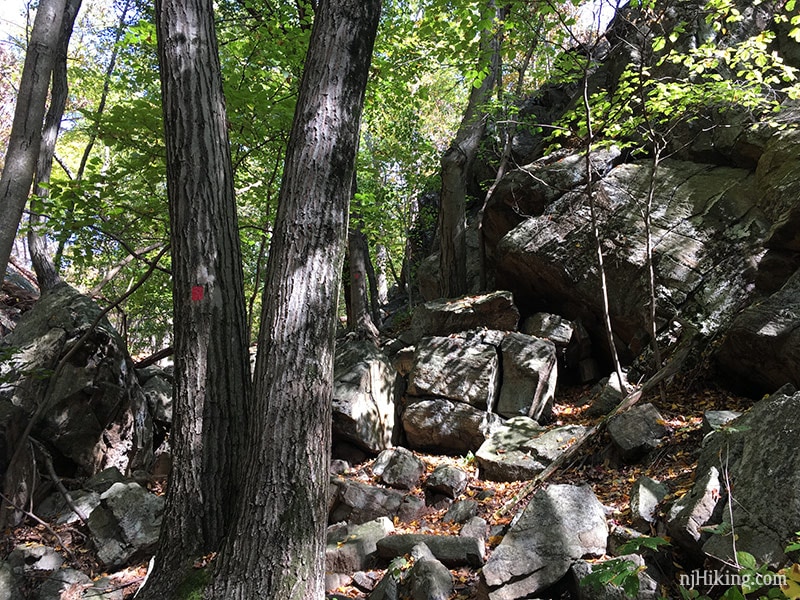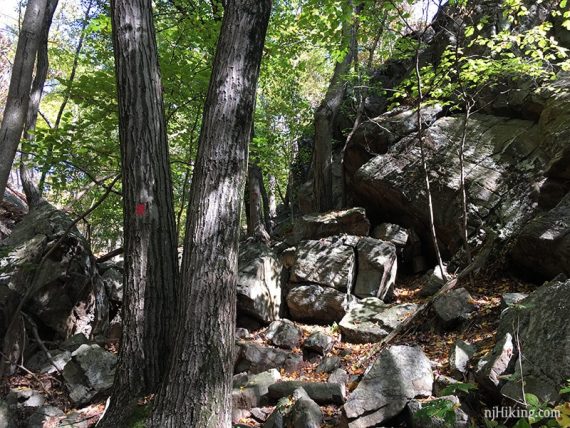 The rest of RED (Torne) is shady and level.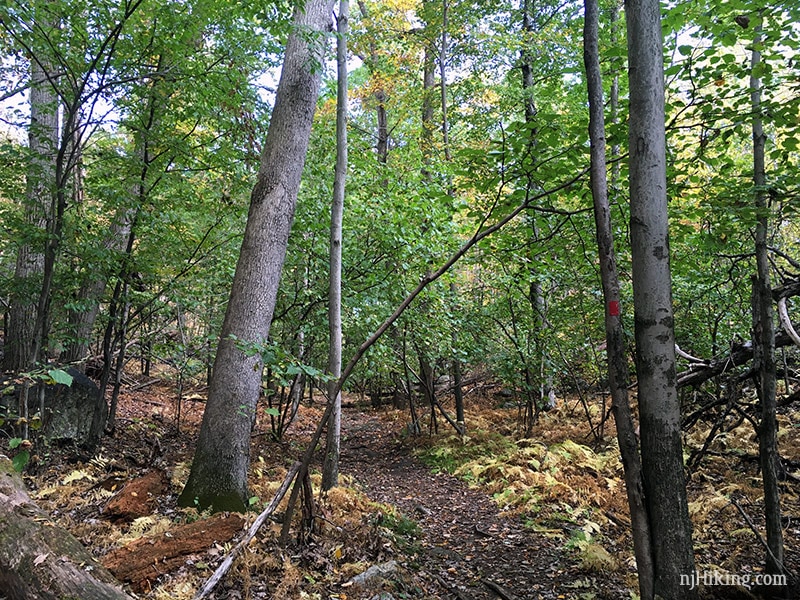 2.5 – When almost back at the road, turn RIGHT and follow BLUE (Hewitt-Butler) to the lot.
/// Option: Had enough of hiking on trails for the day? Instead, continue straight on RED (Torne) to the road, turn right, and walk along the road to the lot. ///
—
Hiked: 9/28/19. Trail Blog: "Hiking to Osio Rock and the Stone Living Room"
Hiked: 10/26/14.
Hiked: 6/19/10. Trail Blog: "Norvin Green – Torne Mountain and Osio Rock"