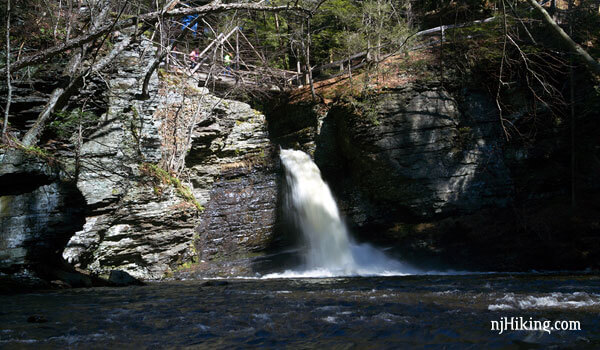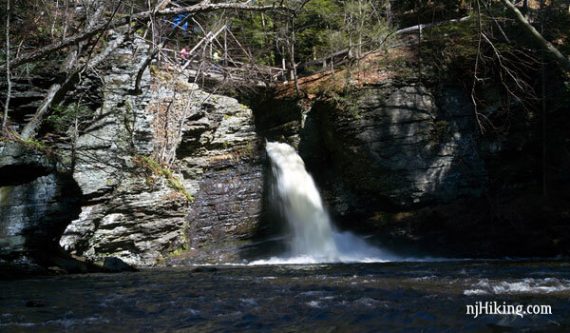 Hike to three waterfalls – Factory, Fulmer, and Deer Leap – in a shady ravine.
Trail is currently closed. For updated info check the NPS list of OPEN/CLOSED trails.
1.4 miles. Easy. Surface is boardwalk walkways, steps, gravel, and dirt/rooty trail. Accessible up until the first falls.
Shorter: Crossing one of the two bridges in the middle cuts the route down.
Longer: Drive to nearby Dingmans Falls for another short hike.
Option: Books show a connecting trail to Dingmans Falls, see below.
Our two cents:
Three decent sized waterfalls in a short, shady loop that most everyone can enjoy. For avid hikers, this is a worthwhile easy add-on to other hikes in the area.
Updated: 4/2020: Page refreshed, not re-hiked.
Map:
Kittatinny Trails and we've included a photo of the map at the trail kiosk: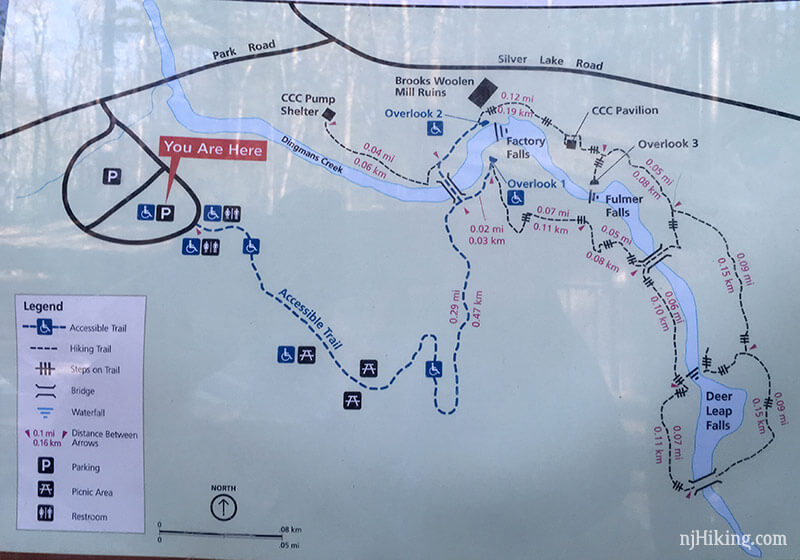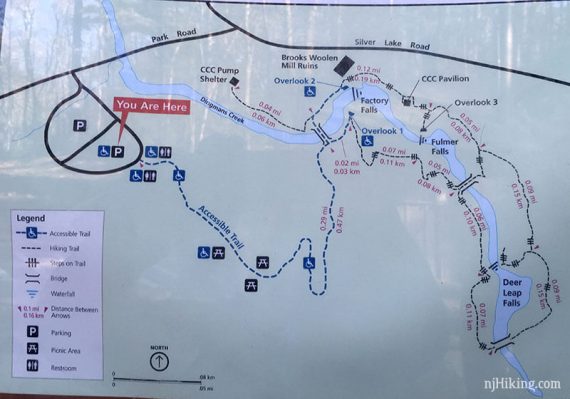 Books:
Longer version in Hiking Pennsylvania and Hiking the Poconos that connects to Childs Park.
No connecting trail is shown on Kittatinny Trails, plus we generally avoid hiking to areas that can be driven to so we haven't tried this route.
Restrooms:
Composting toilet in the parking lot.
Hike Directions:
There is just one trail so it's not blazed with markers.
From the lot, the accessible trail leads to a bridge where the trail splits into a loop.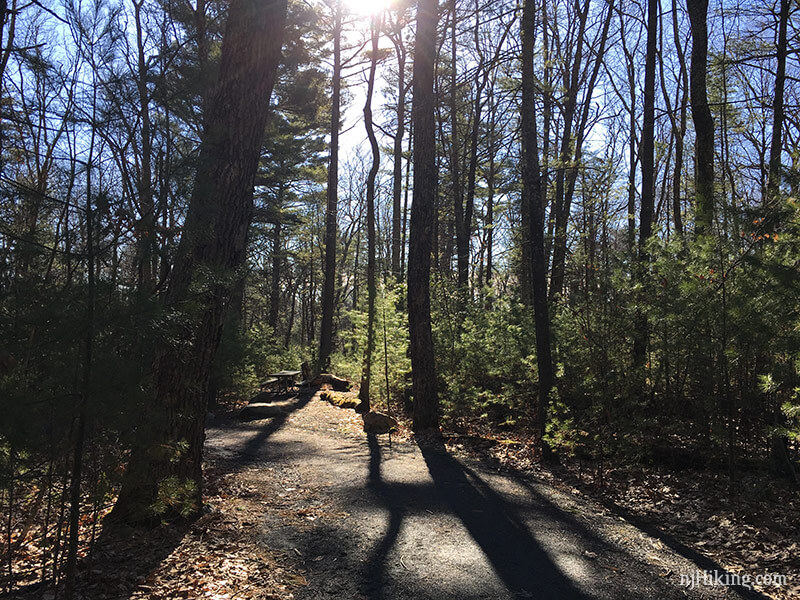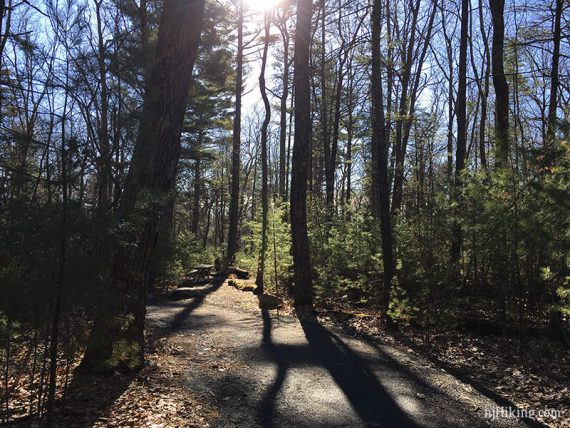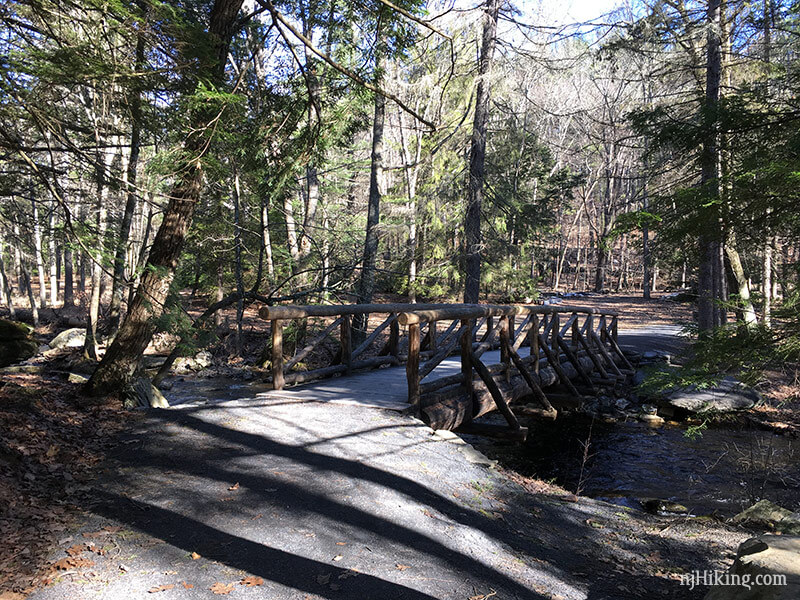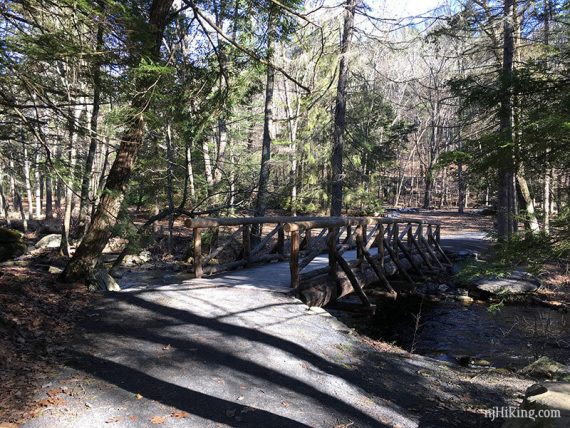 We went to the right to an overlook over Factory Falls (this is the end of the accessible portion of the trail) and then backtracked to cross the bridge.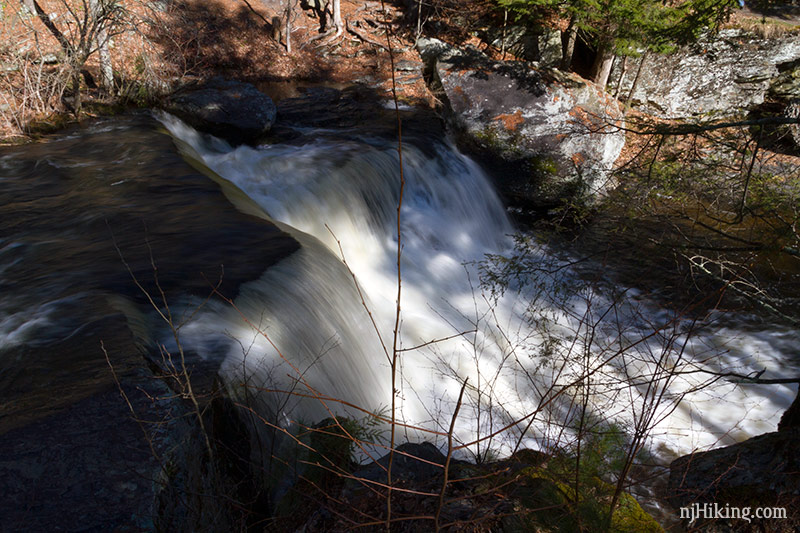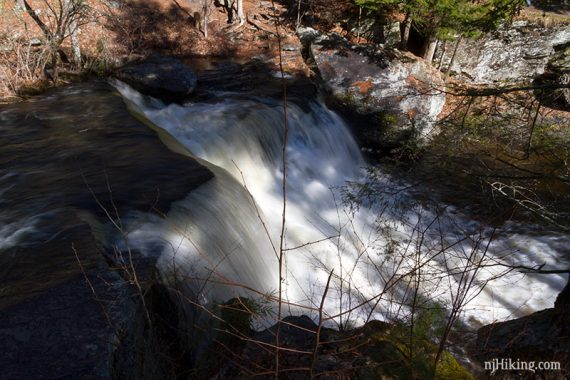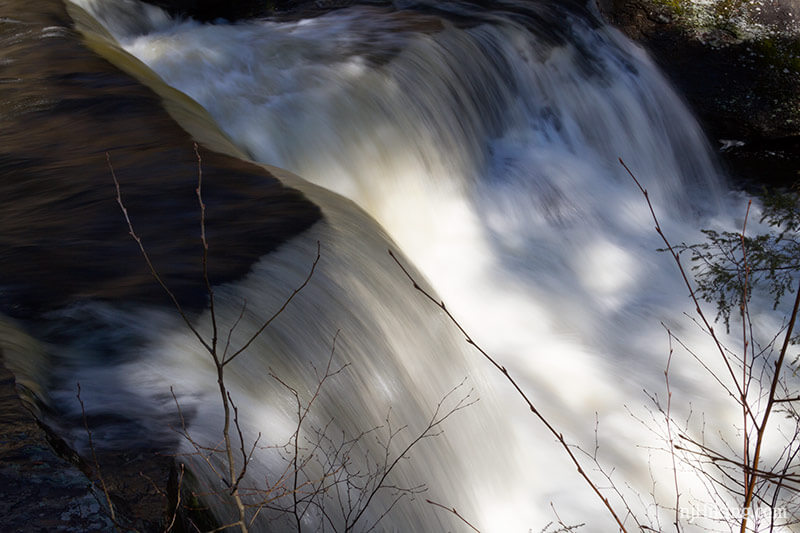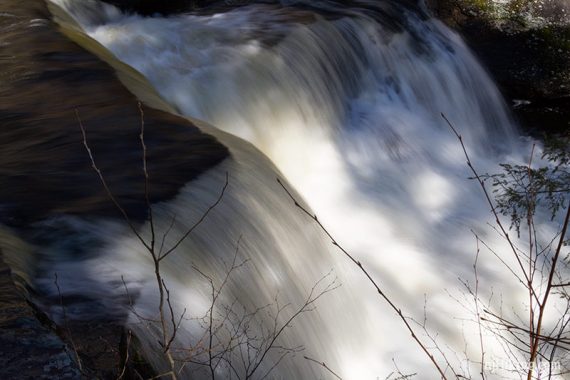 Continue downhill to Factory Falls and the ruins of a woolen mill.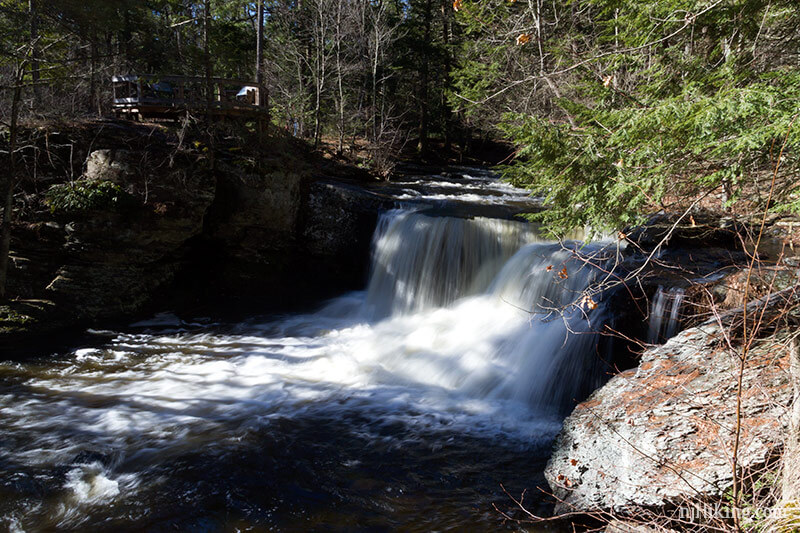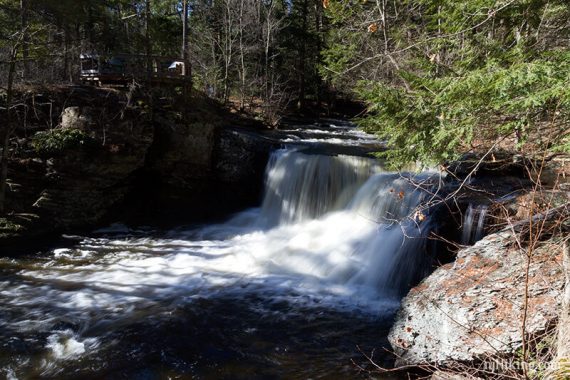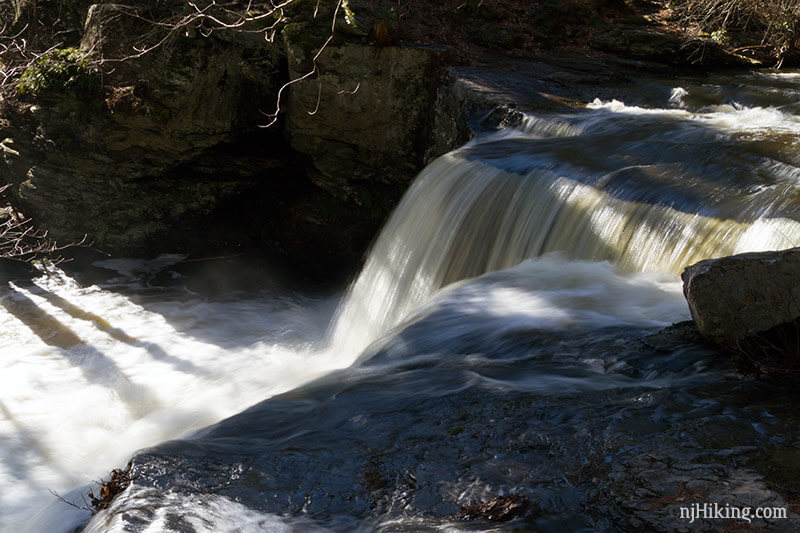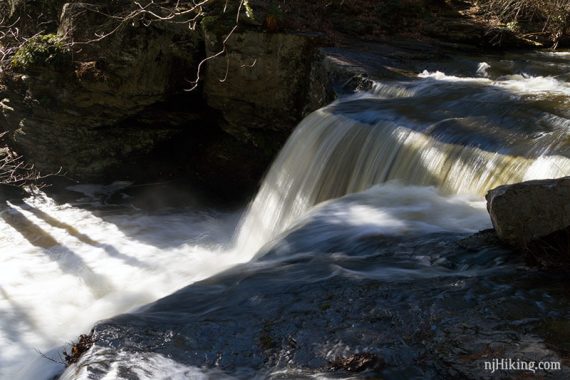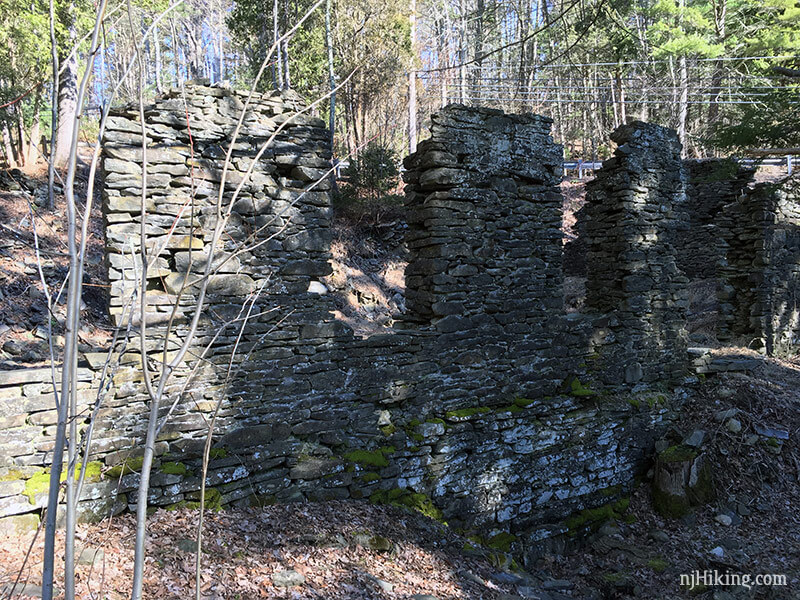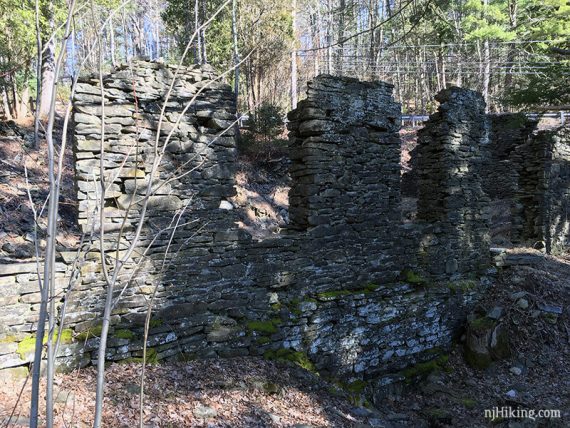 The trail runs along the water so there are many opportunities to view Factory Falls.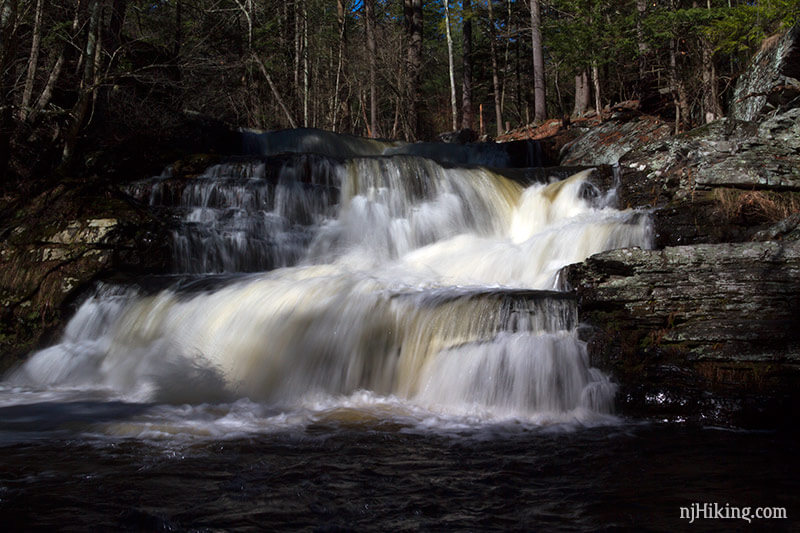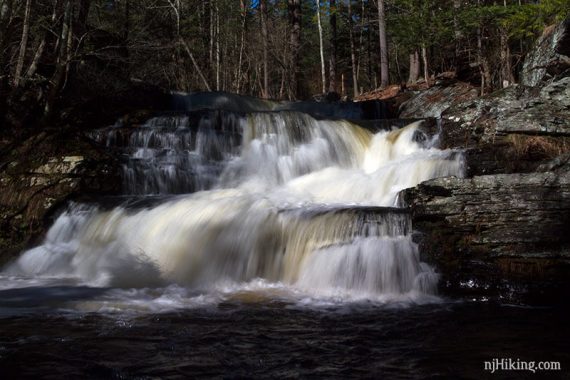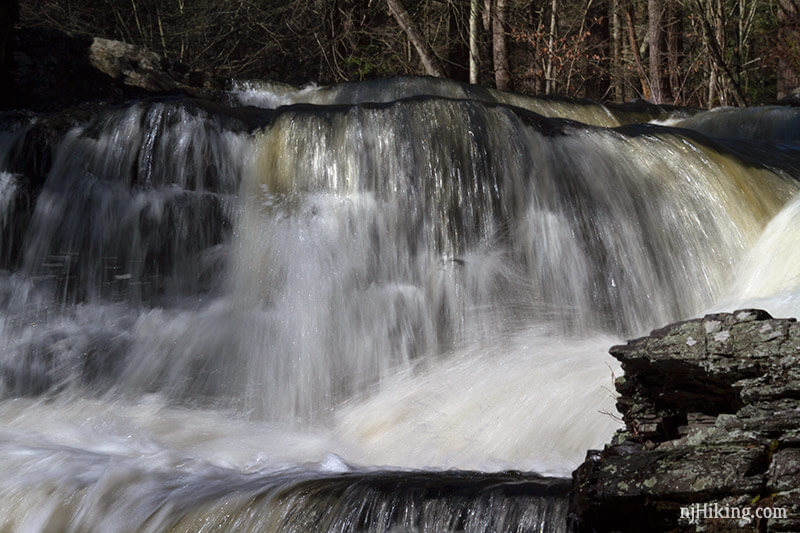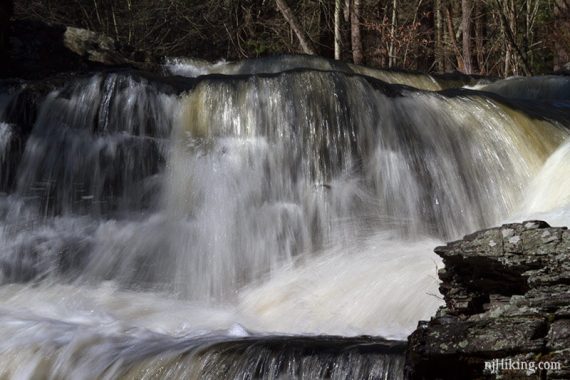 The trail curves around and runs along Dingmans Creek, and passes an old pavilion.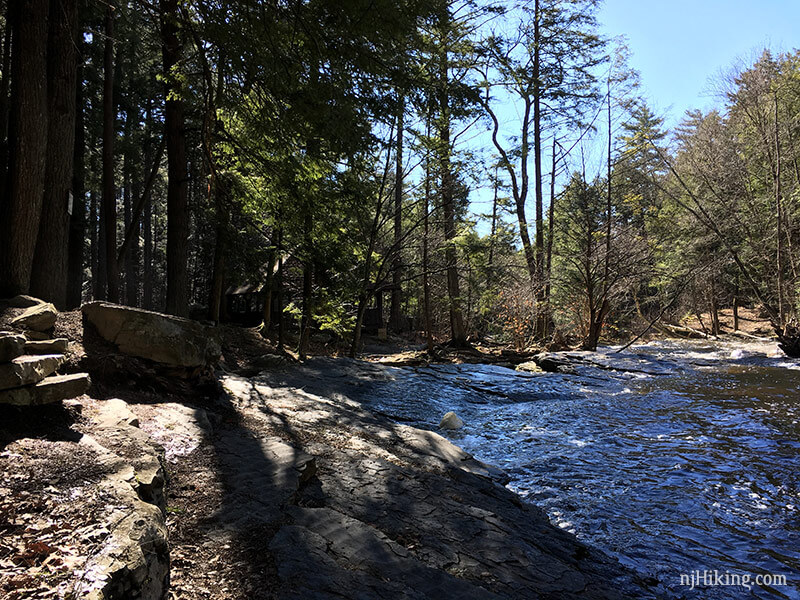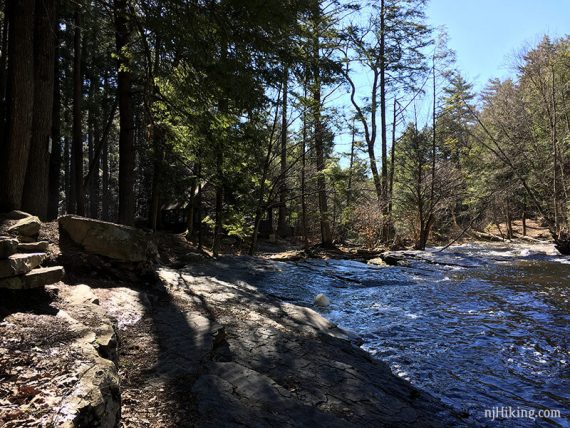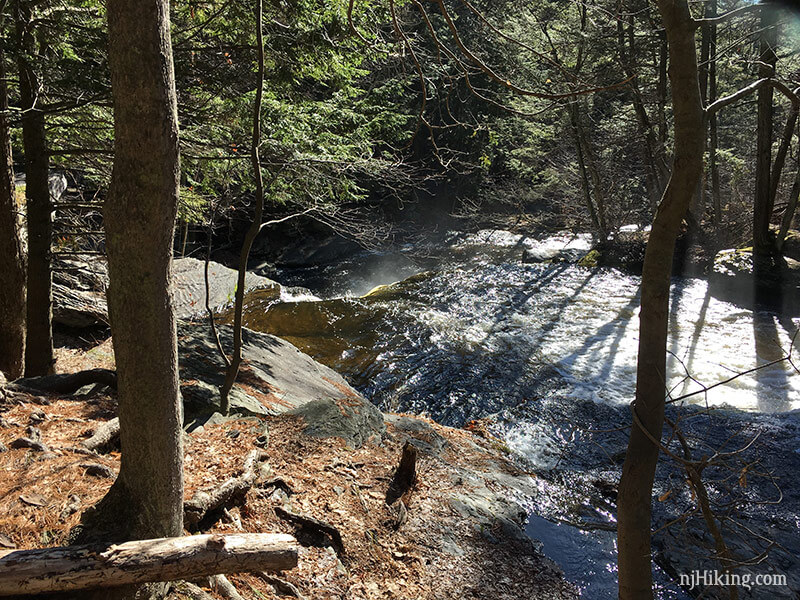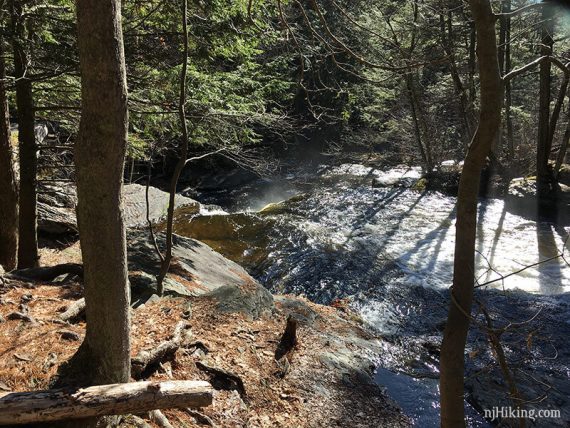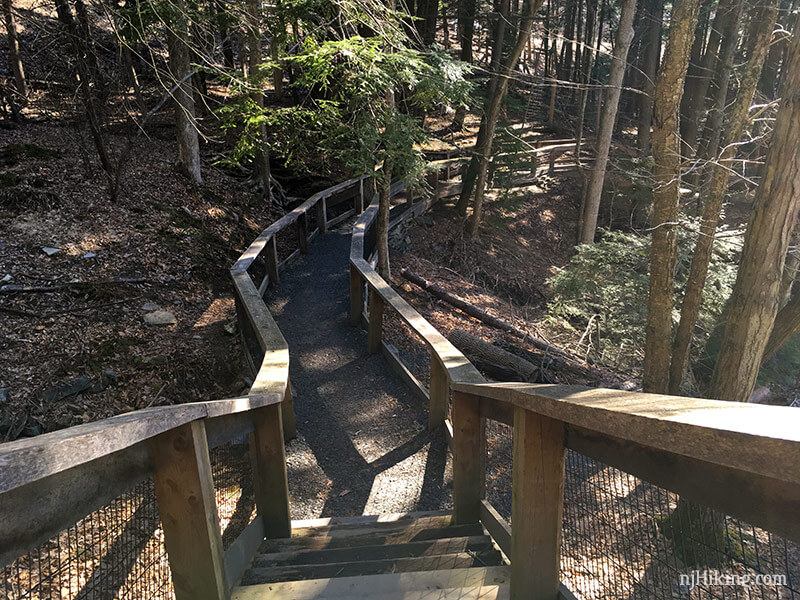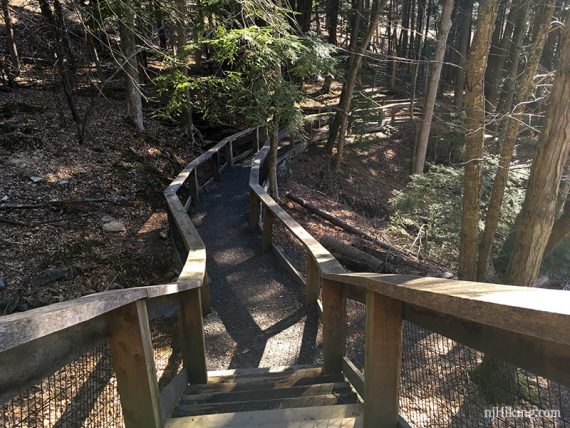 Walk out to a viewing platform to see Fulmer Falls.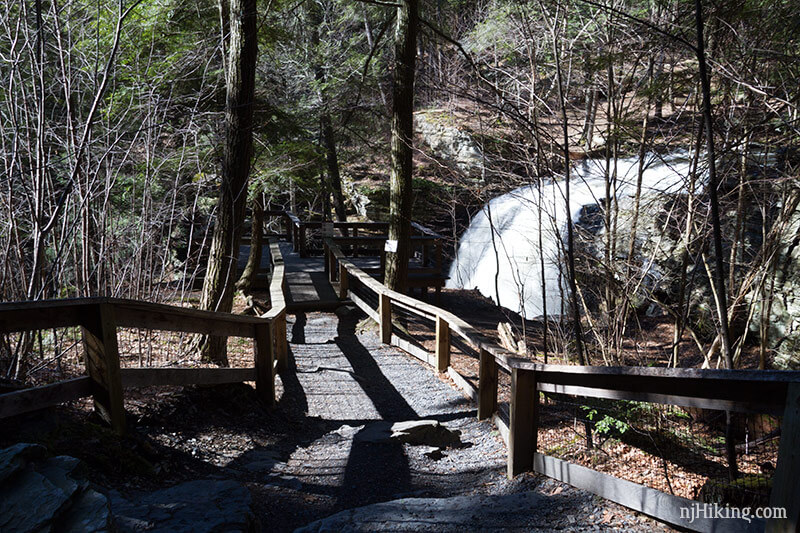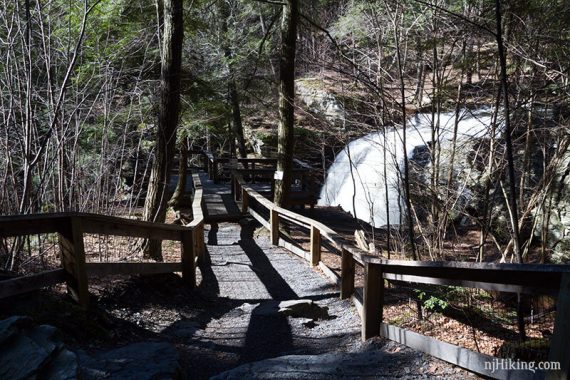 Pass a side trail on the right that leads to a bridge over Dingmans Creek. Further along, pass another side trail to a bridge over the top of Deer Leap Falls.
/// Shorter: These bridges can be crossed to shorten the route.
Head downhill to the base of Deer Leap Falls, which cascades out from under the bridge into a large pool of water.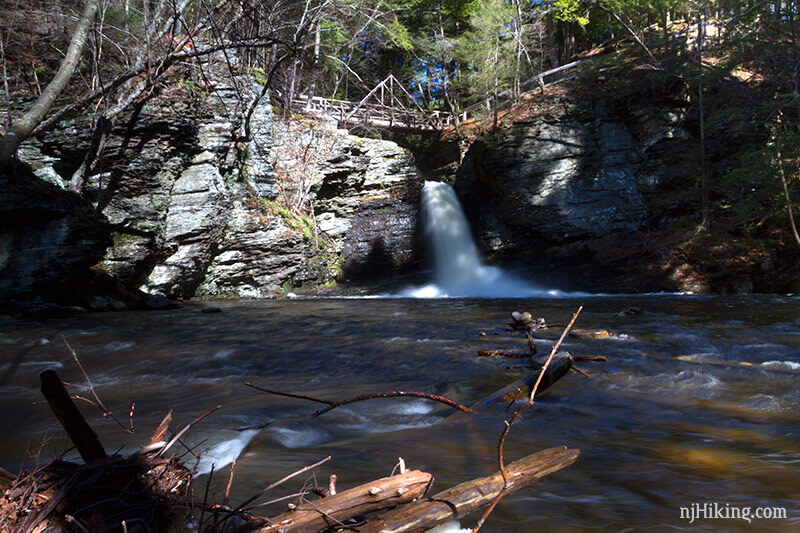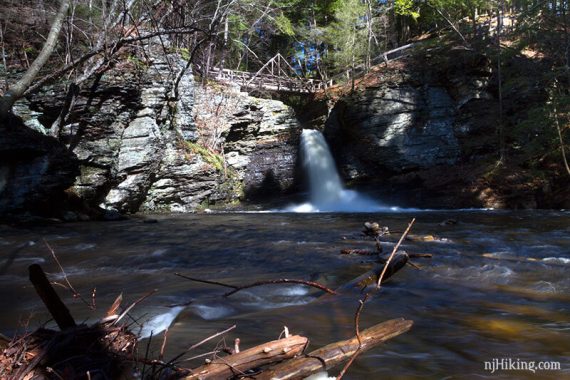 People crossing the bridge above shows the scale of the falls.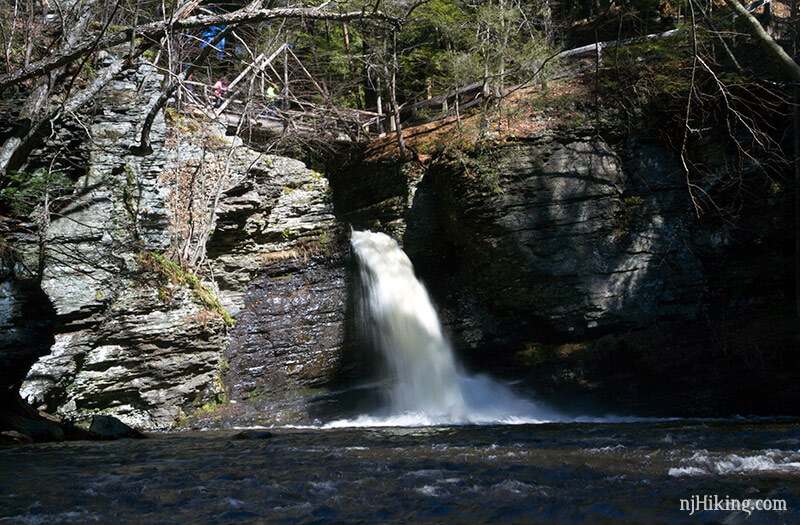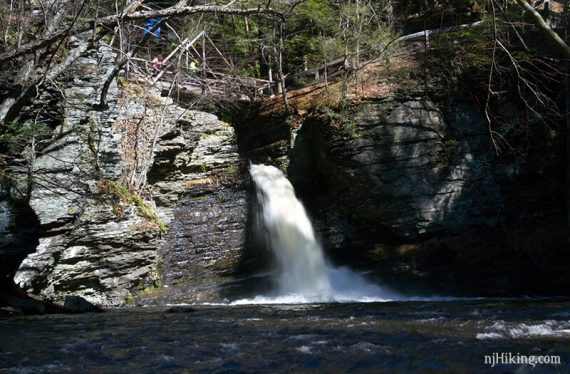 At the bottom of Deer Leap Falls, the trail continues over a bridge to head back up – but this was closed the day we hiked so we had to backtrack and cross over the top of Deer Leap Falls.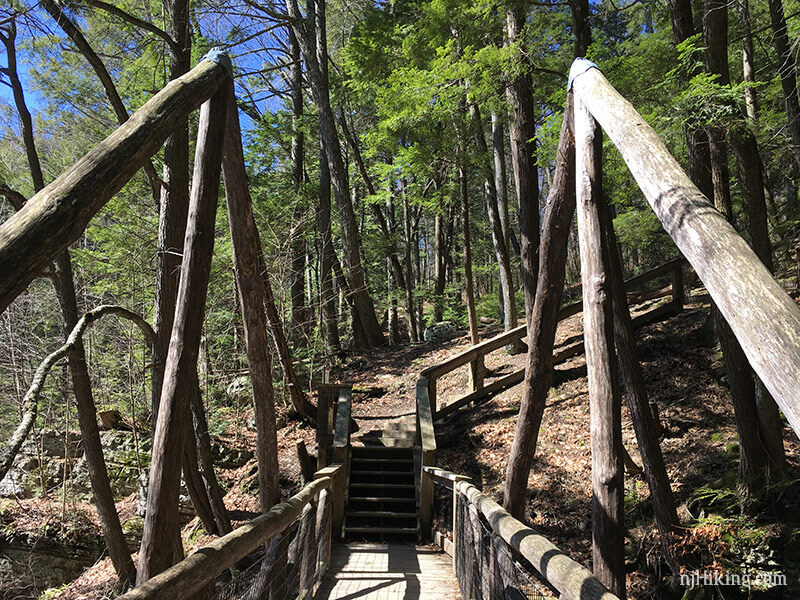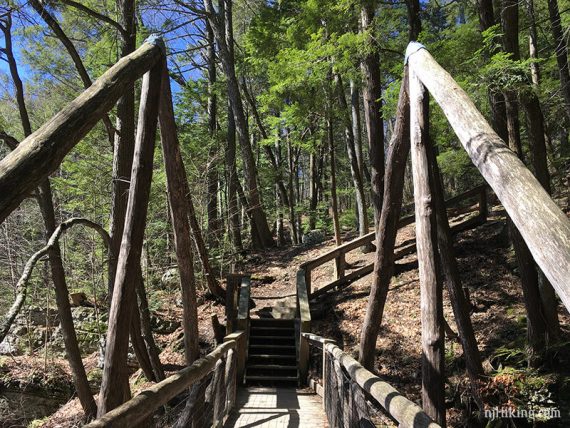 Looking down from the bridge over Deer Leap Falls to the pool below: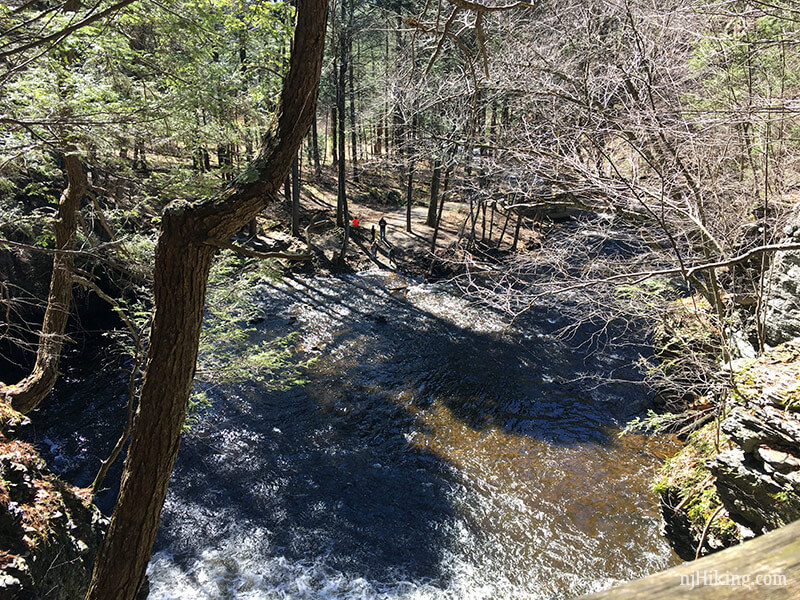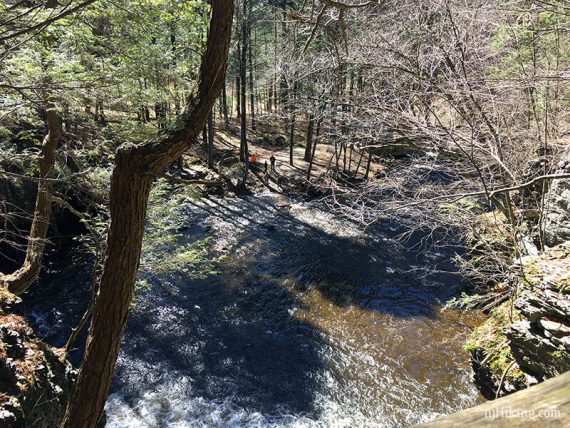 Now on the other side of Dingmans Creek, continue on the trail.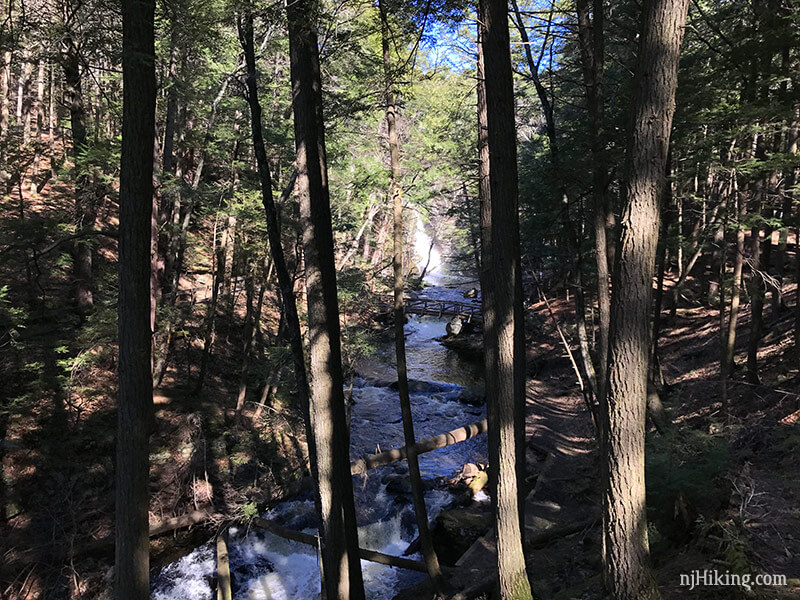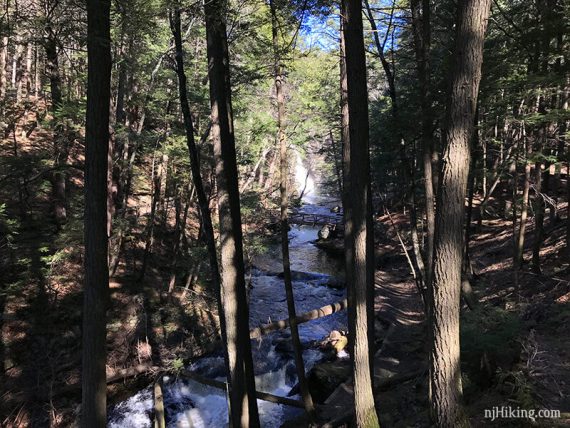 We took a side trip to the right and walked out onto the bridge and back near Fulmer Falls.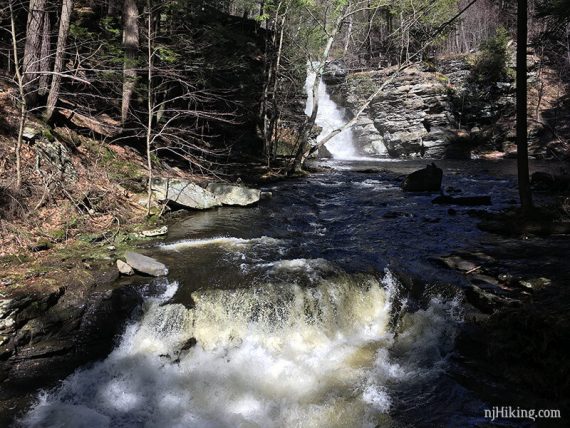 Continue on the trail, arriving back to the overlook over Factory Falls and the bridge in the very beginning where the trail split.
Veer LEFT to return to the lot (don't turn cross the bridge).
—
Hiked: 4/9/17