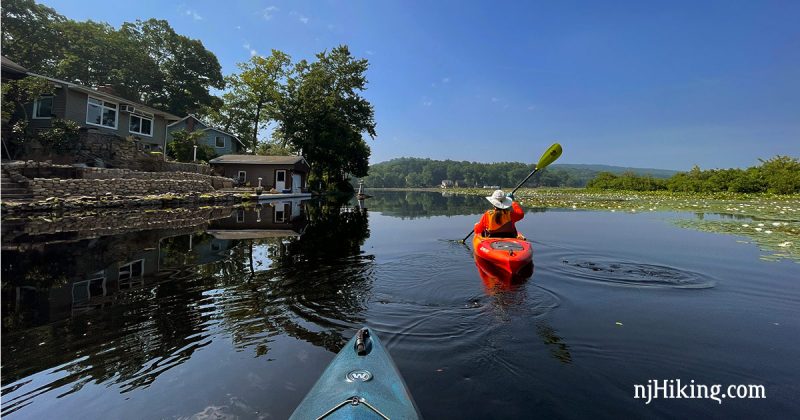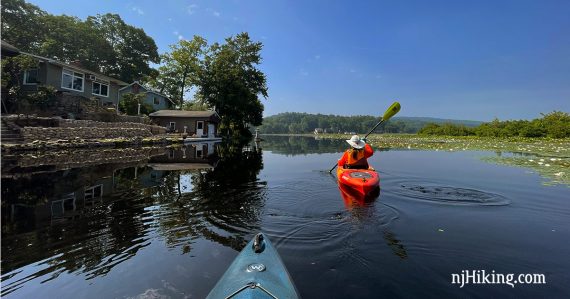 Enjoy kayaking around coves with lakeside cottages surrounded by the Allamuchy Mountains.
Paddle past a variety of interesting lake-hugging houses, with irregular shorelines and coves to wind around, to the undeveloped southwestern end of the lake.
Miles: 3.9. Perimeter of the lake; could get more if the southern end is clearer of vegetation. Lake Size: 180 acres. Average Depth: 8′
Our two cents:
While not exactly a wilderness experience it is a worthwhile and interesting paddle. There are a few small islands, but ones that possibly could be landed on had club-only signs. The far southern end can become clogged with aquatic vegetation.
Some loud traffic noise on the part of the lake near Rt. 206. Motor boats can run in the center, adding noise and a wake (appeared to start after 8 am).
---
Cranberry Lake Public Dock. S. Shore Rd, Byram Township, NJ 07821. If approaching via 206 N, veer L on S. Shore Rd (easy to miss; just past a transmission shop). Follow Shore as it turns left, then watch for a sharp tight right turn to the launch area.
There are a few spots and a sign for overflow parking. The launch area is down the single lane drive and only fits a few vehicles for unloading/loading only – so you may need to wait if it's busy. Drop the boat then go back to park.
Fun fact: The Sussex Branch Rail Trail (seen below) goes right past the launch.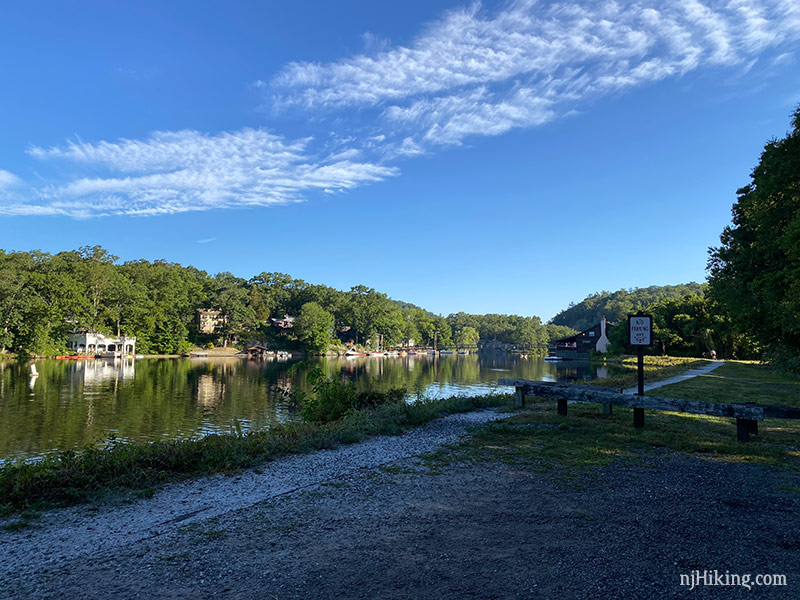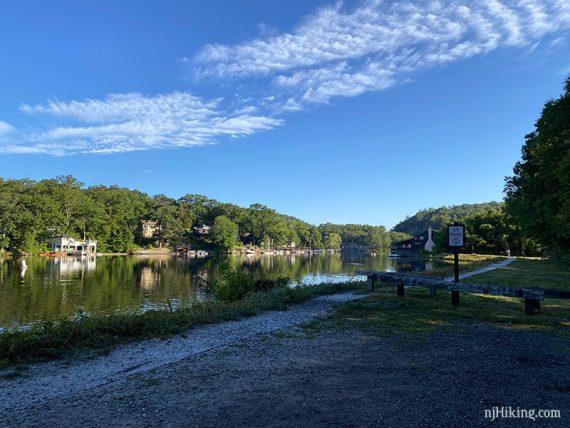 ---
Restrooms:
None. There is a QuikChek and other stores a few minutes south of the launch on Rt. 206.
---
Book:
Appears in Quiet Water New Jersey (2010).
Note: Our go-to kayaking book is Quiet Water New Jersey (2010), available as an e-book or a used printed book.
The newer version is "Quiet Water Mid-Atlantic (2018)". This contains 13 of the 52 locations in the New Jersey-only book and is available both in printed and online formats.
---
Related: Kayaking NJ overview page.
Launch:
There is a floating dock and a wide cement boat ramp. Boat trailers load/unload from here too so you may have to wait while they are backing in.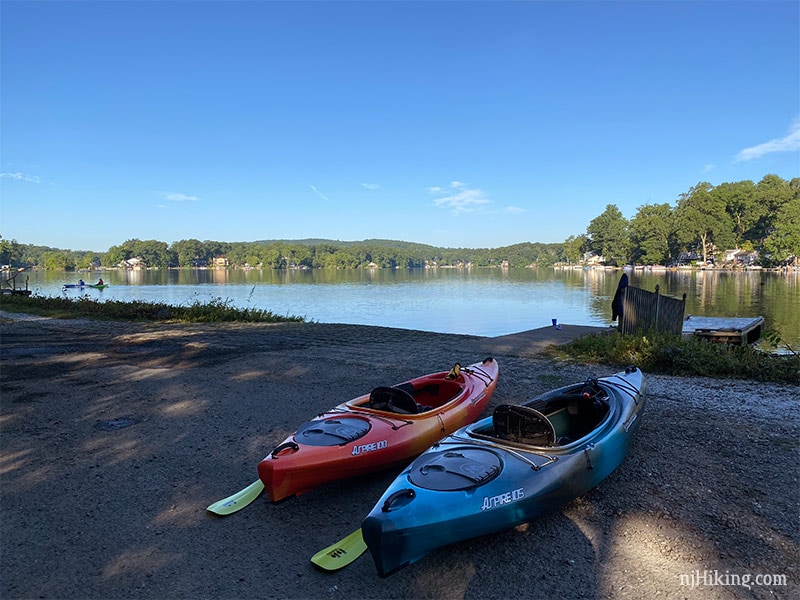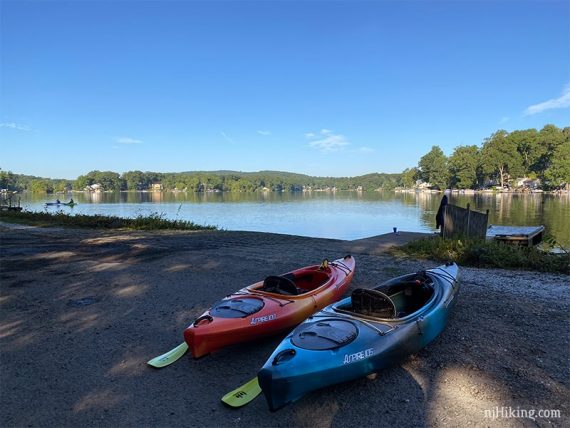 The large cement ramp has waffle-like sections (mmm waffles…) with depressions that are more pronounced at the water's edge – watch your step to not roll an ankle.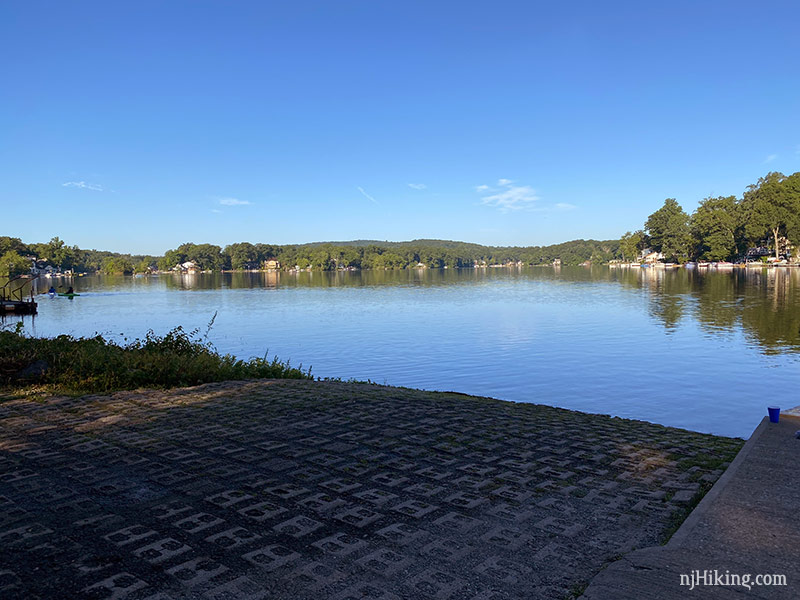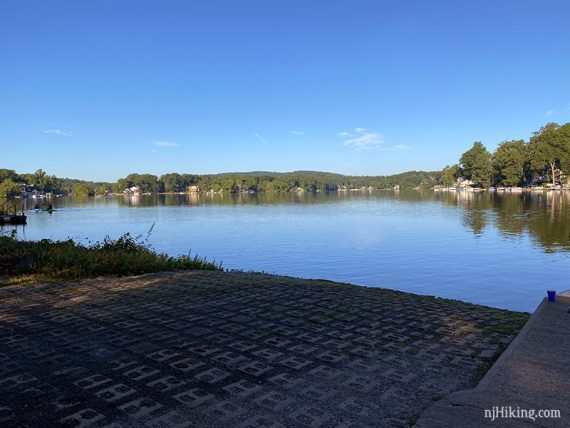 We've paddled the lake both clockwise and counter-clockwise and one isn't better than the other. There is a small section to the right of the launch that goes under a footbridge.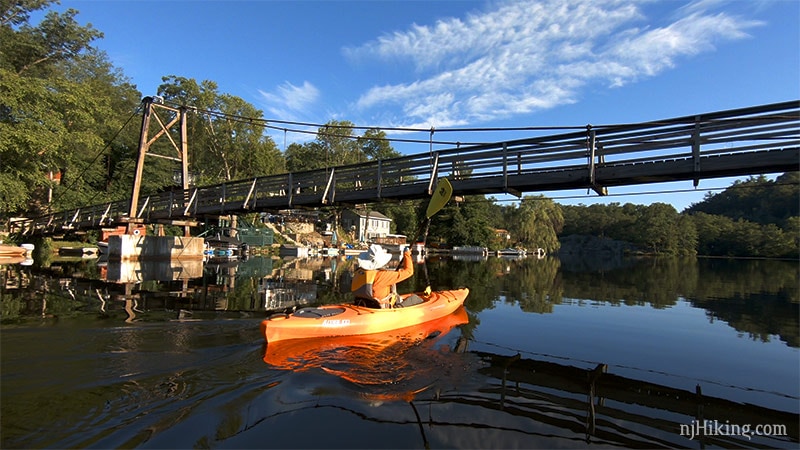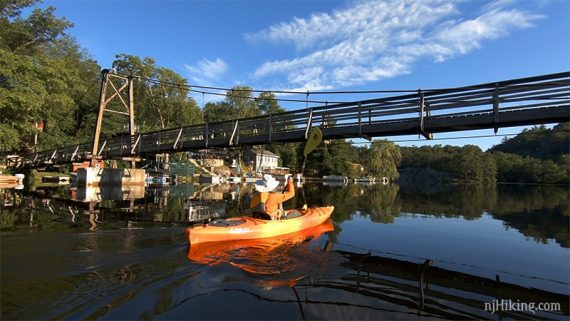 Loop around a small area with a large cliff and a rocky island. This is where the worst traffic noise is.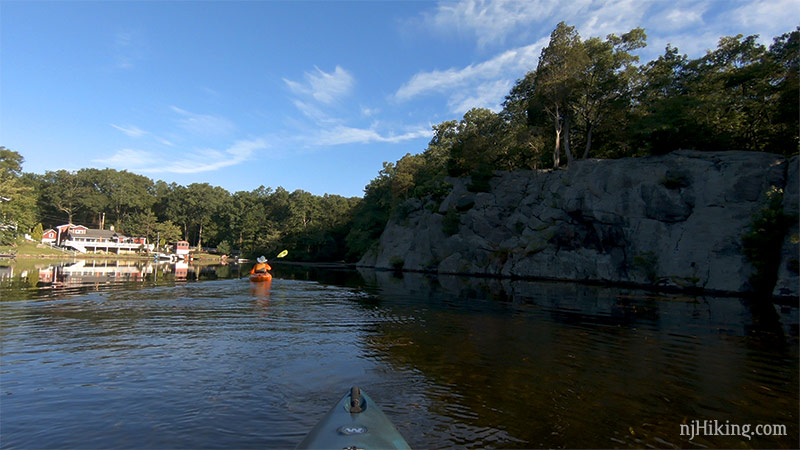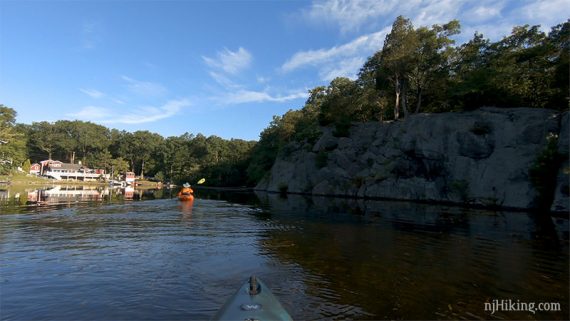 After passing back under the bridge we hugged the lake.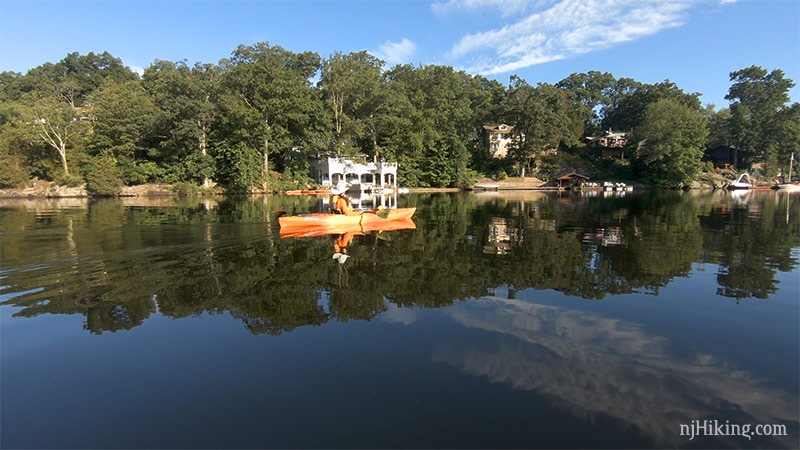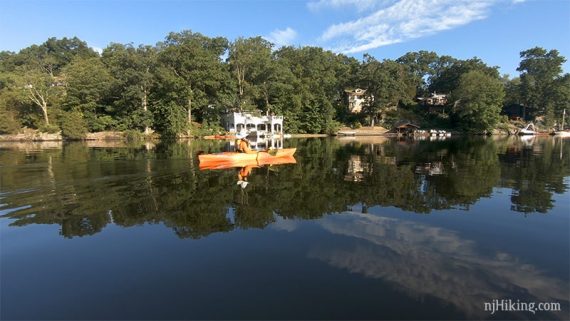 It's a mostly calm paddle next to lakeside cottages with docks. Most house are small but there are a few newer larger ones.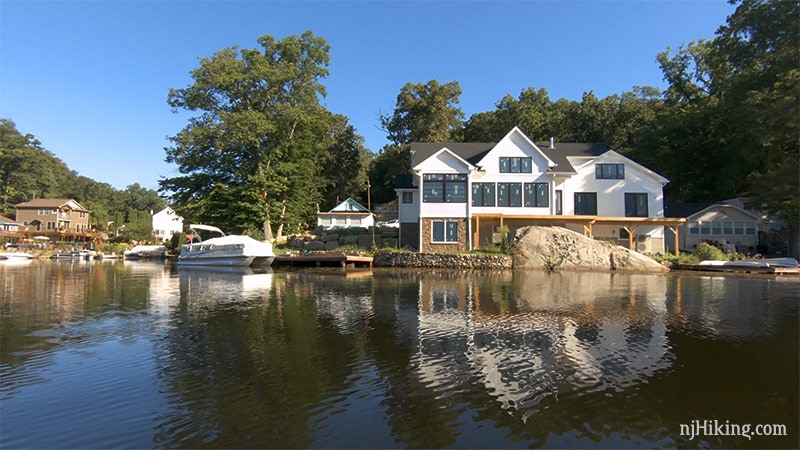 There are a few small rocky islands, including one with a house actually on it, as well as a swimming beach for the lake club.
We kept meandering around the perimeter, into coves and around a long peninsula that almost cuts the lake in half. Interesting houses and docks were along most of the lake.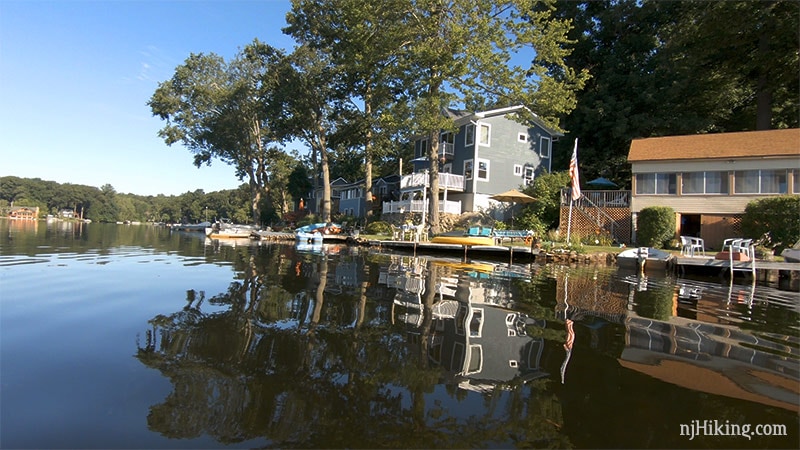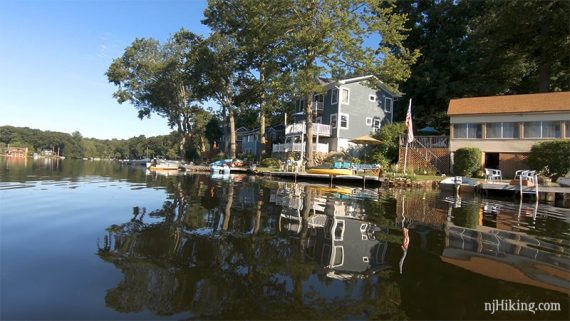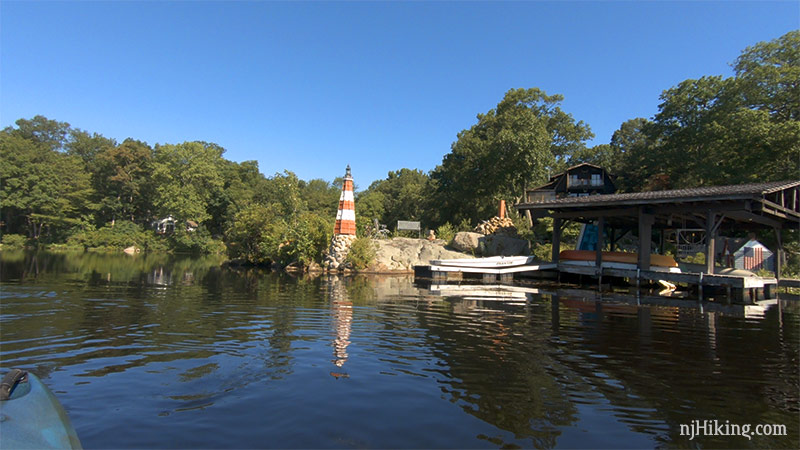 Houses disappear at the southern end and the forested mountains of Allamuchy State Park become more prominent.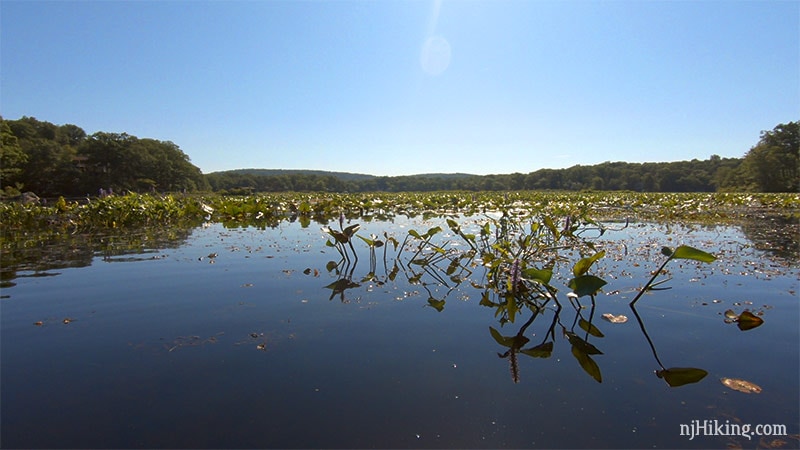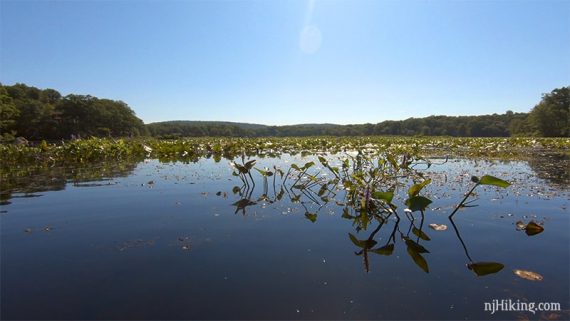 This far end of the lake can get choked with lily pads and prevents getting close to the southern shoreline or venturing up a creek. This may be less of an issue in spring and fall.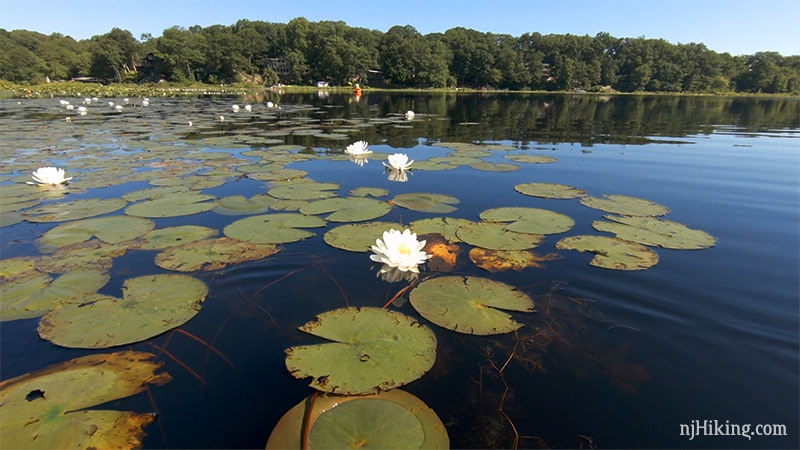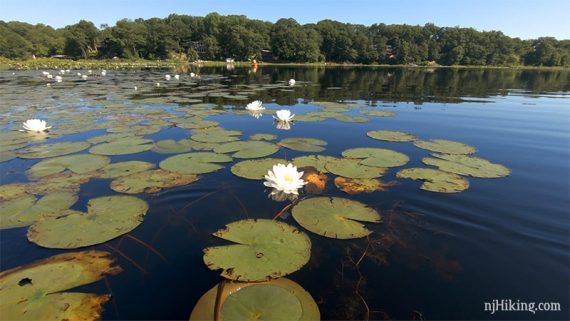 —
Kayaked 7/05/21.
Kayaked 7/18/20.