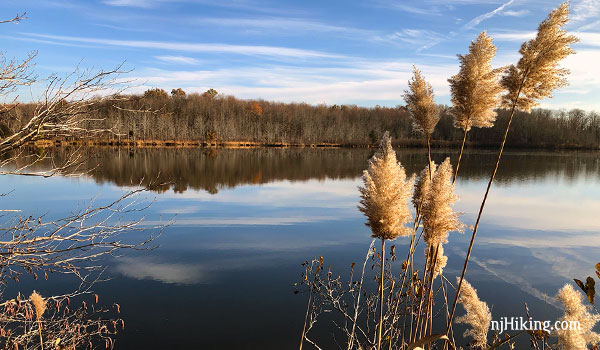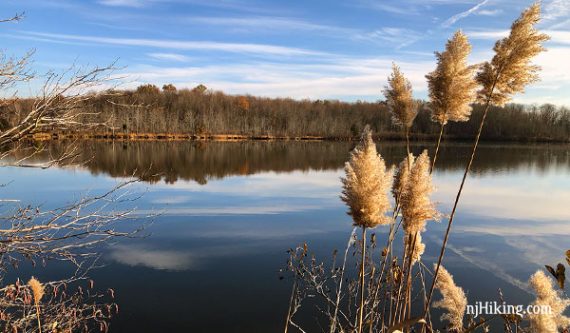 Small park with easy trails featuring Lake McCormack in the center.
4.6 miles. Surface is gravel or dirt. Little elevation change. No dogs.
Shorter: 2.9 – WHITE – Maggie's – WHITE – YEL – RED – PURPLE
Shorter: 3.7 – WHITE – Maggie's – BLUE – WHITE
Longer: 5.5 – Add in ORANGE for a view of the lake from a different angle
Hike Info:
Our two cents:
More of a casual hike destination but a good central Jersey option to get some miles in.
Maggie's trail is probably the most interesting, as it extends into the lake on a skinny strip of land.
Nice nature center with many displays. Train noise in much of the park.
Updated: 4/2020: Page refreshed, not re-hiked. 11/2019 – Noticed this now allows bow hunting certain days; closes entirely for firearm. Check park site for latest details. No-hunting park year-round.
Map:
Print ahead or stop by the visitor center. Did not notice any at the trail kiosk. Most intersections have signs denoting color and direction.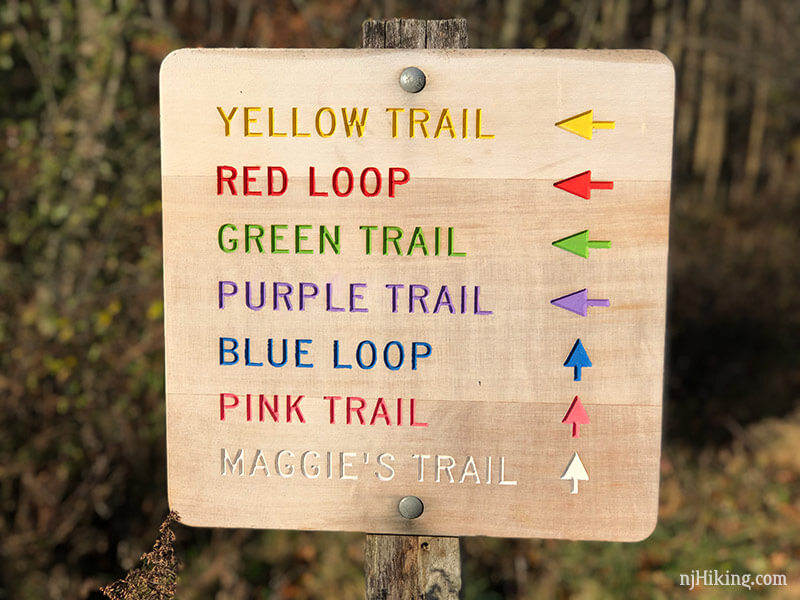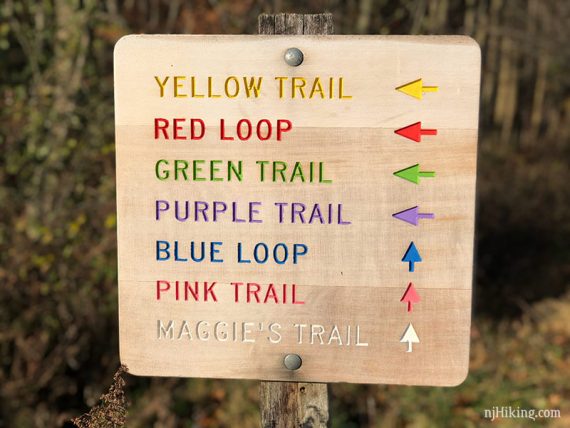 Books:
Similar route now appears in Best Day Hikes in New Jersey.
Via various back roads depending on location, or Turnpike Exit 8a to Cranbury South River Road to 32W to Friendship Rd, R on Broadway, L on Scotts Corner, R into the park.
Restrooms:
Inside the NJ Audobon Center, which is open from 9am Tu-Sa and from 12pm on Sundays – check their site for current times. No porta-john.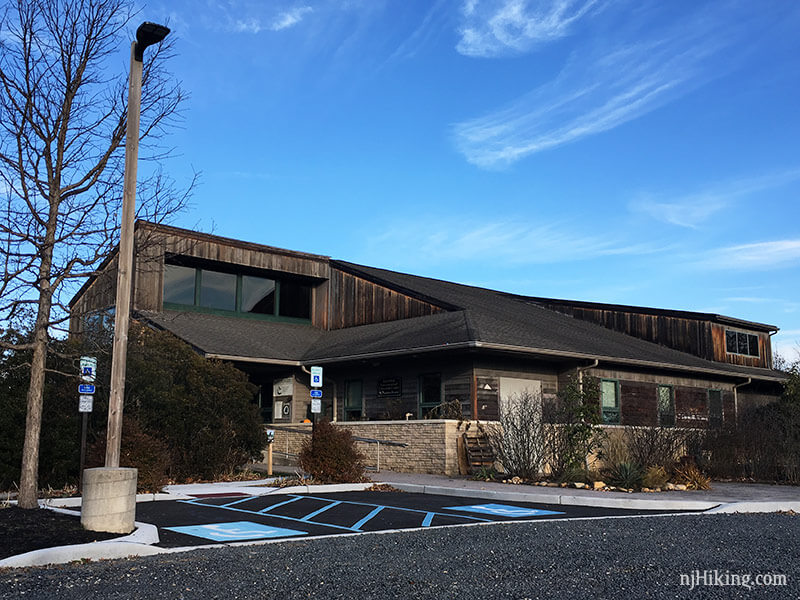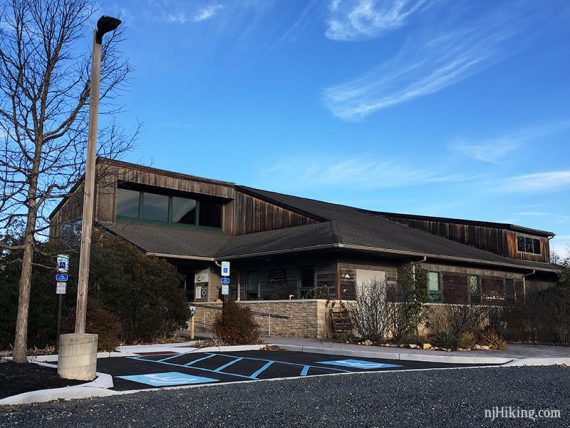 Hike Directions:
Overview: WHITE – Maggie's – BLUE – WHITE – YELLOW – RED – YELLOW – PURPLE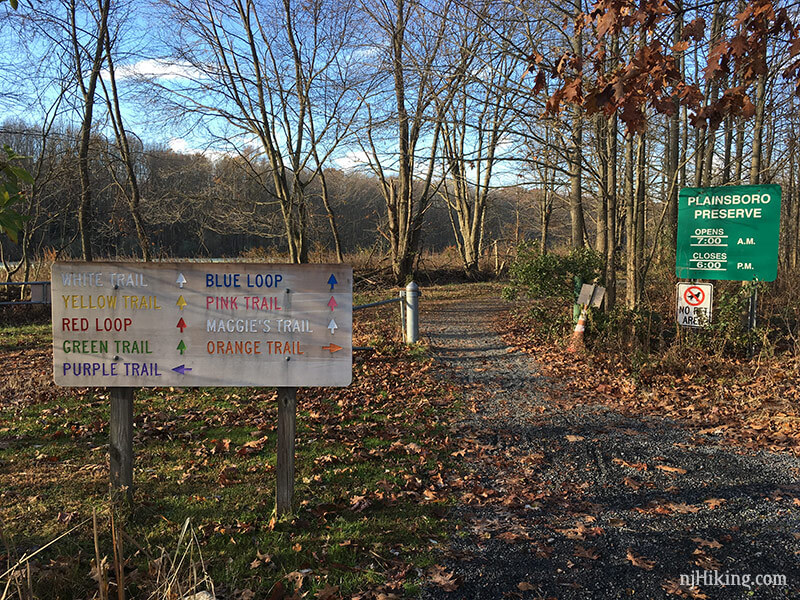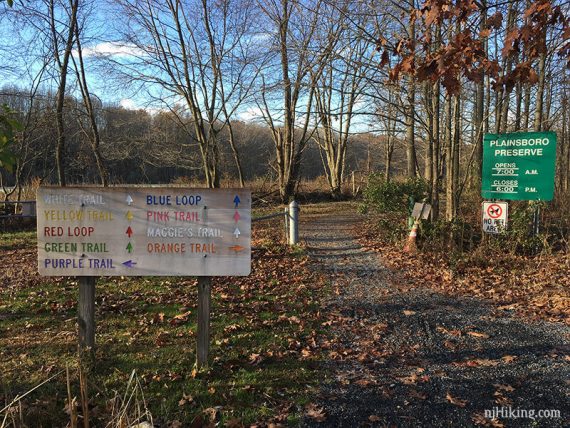 0.0 – Start following WHITE at the trail kiosk at the edge of the parking lot. This is a wide gravel path that runs along the water.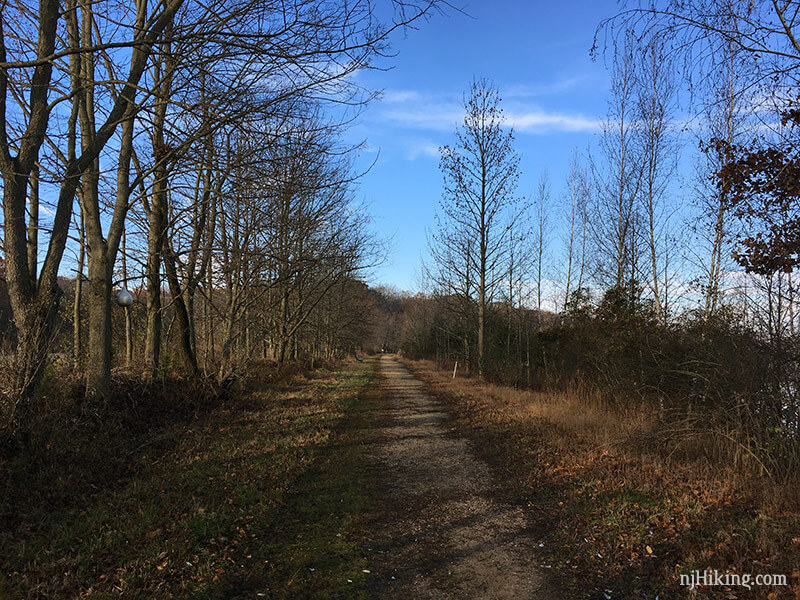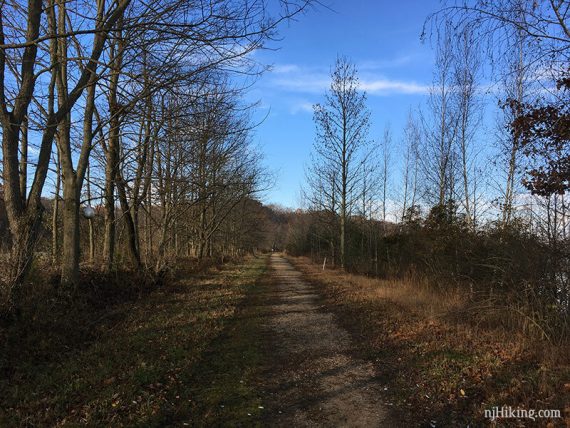 0.2 – Continue on WHITE. [YELLOW goes left. To the right is an opening in the trees to get closer to the water].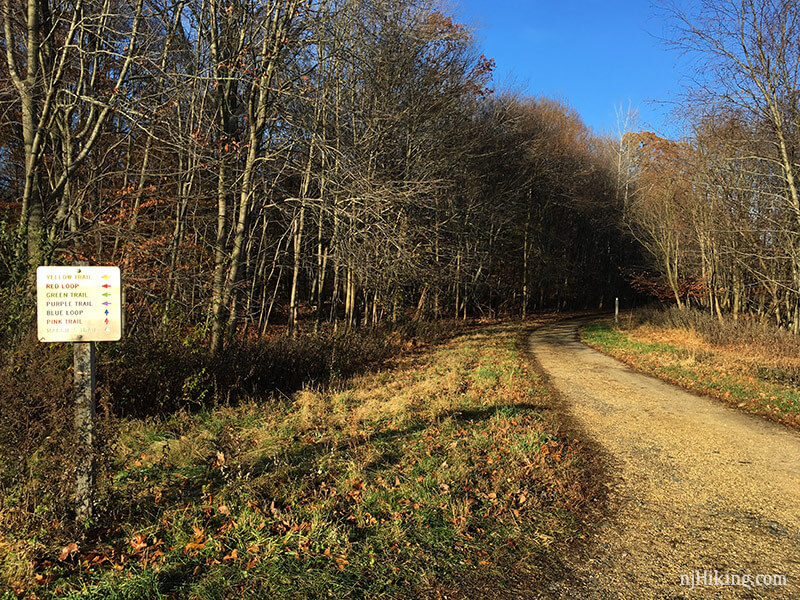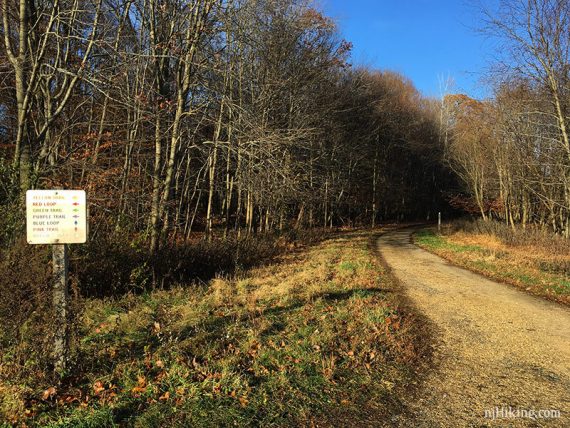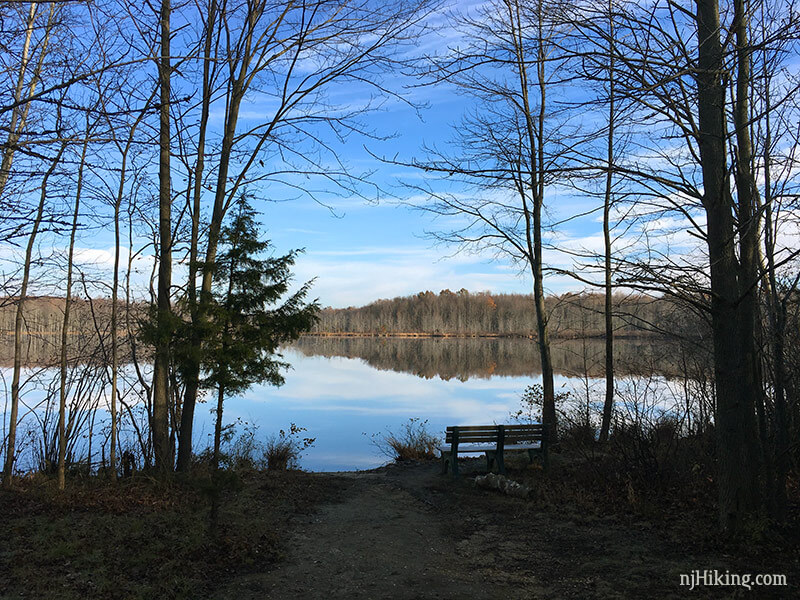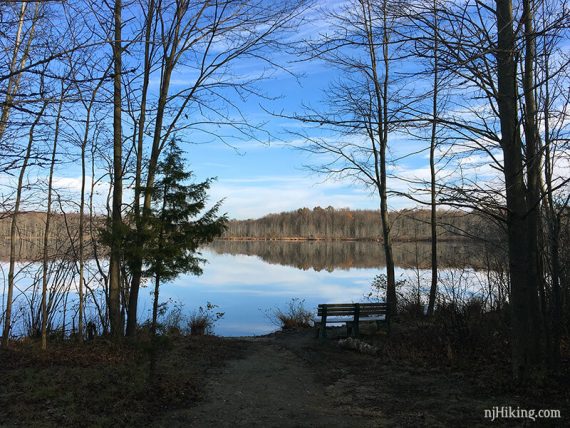 0.4 – Continue on WHITE. [YELLOW goes left].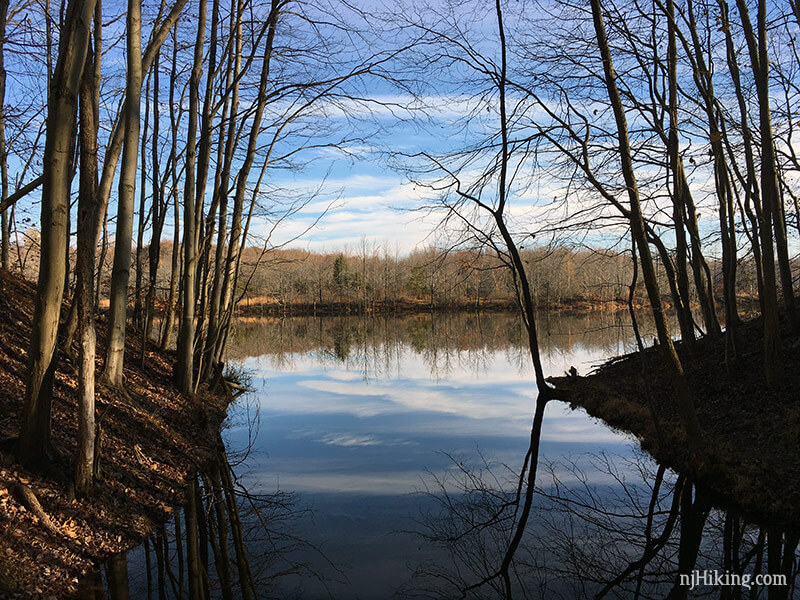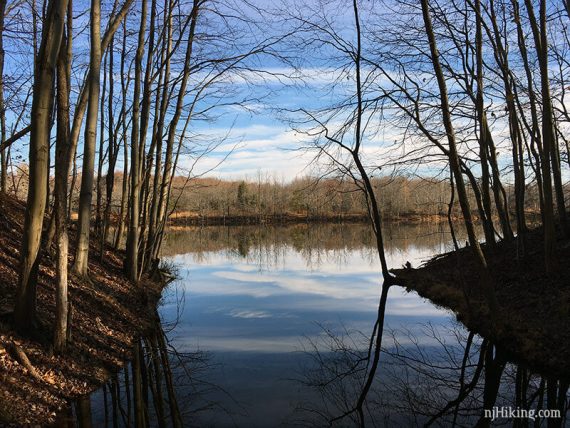 0.7 – Turn RIGHT and continue on WHITE.
Shortly, turn RIGHT and take Maggie's Trail out to the end and back to here.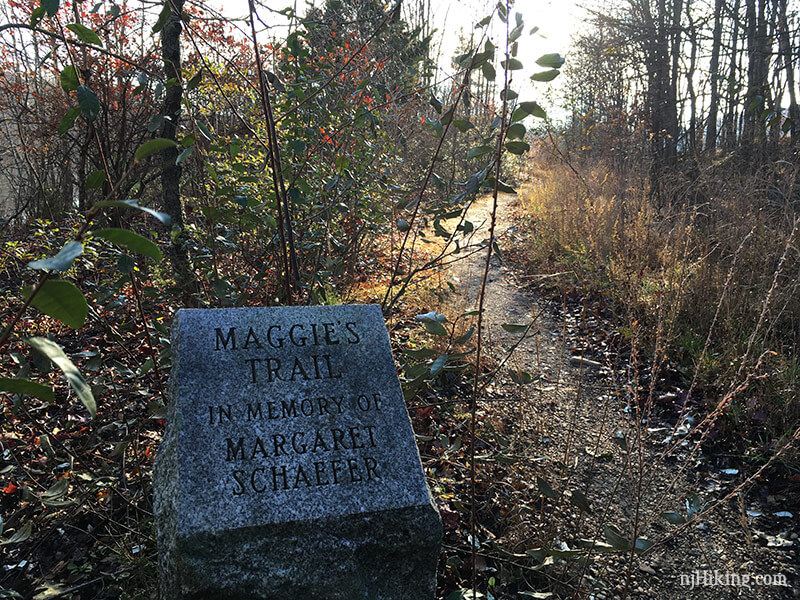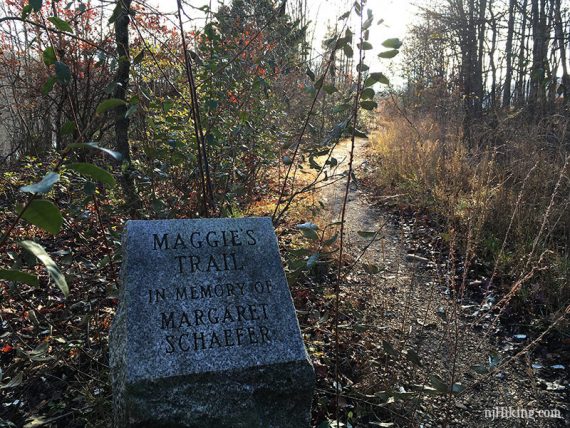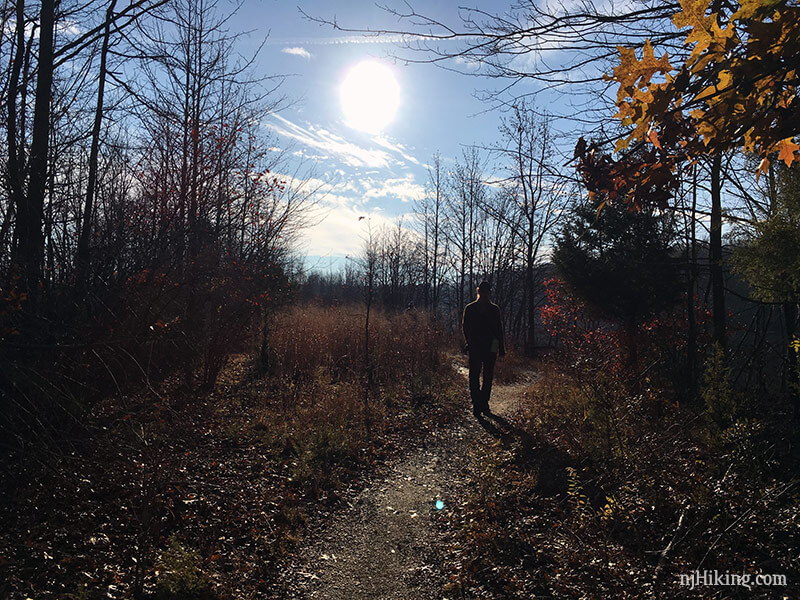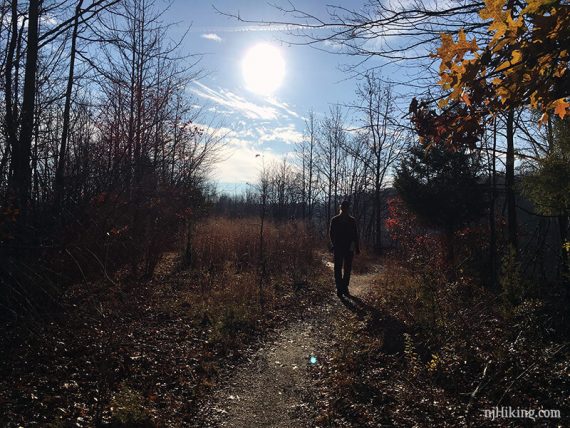 Busy beavers on Maggie's Trail.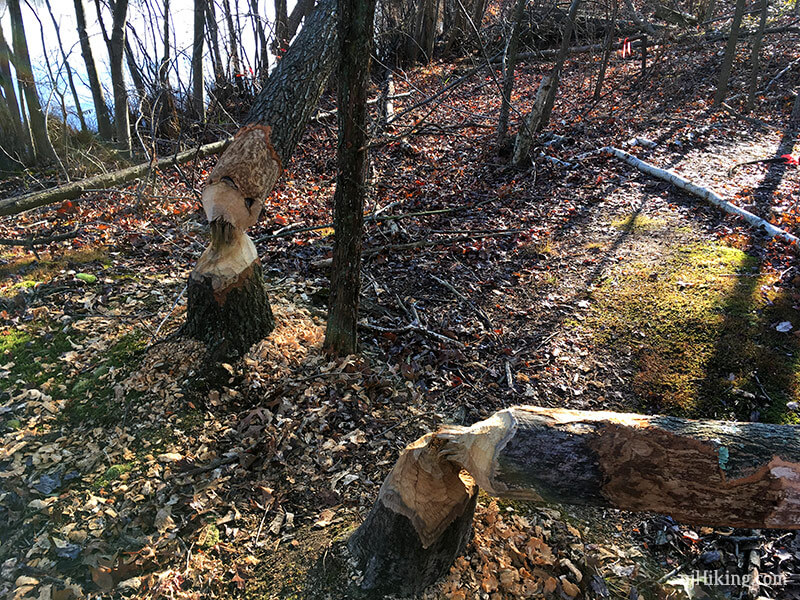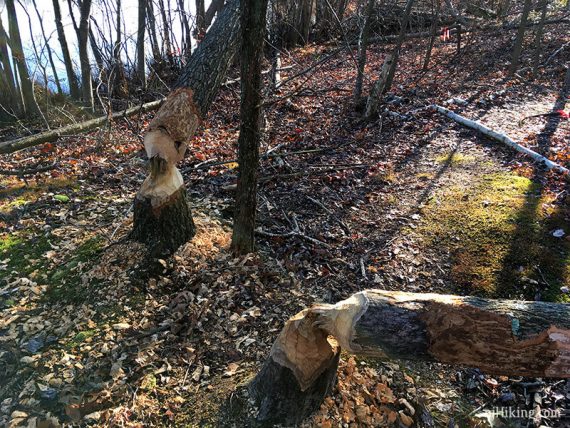 Bench and the view at the end of Maggie's Trail.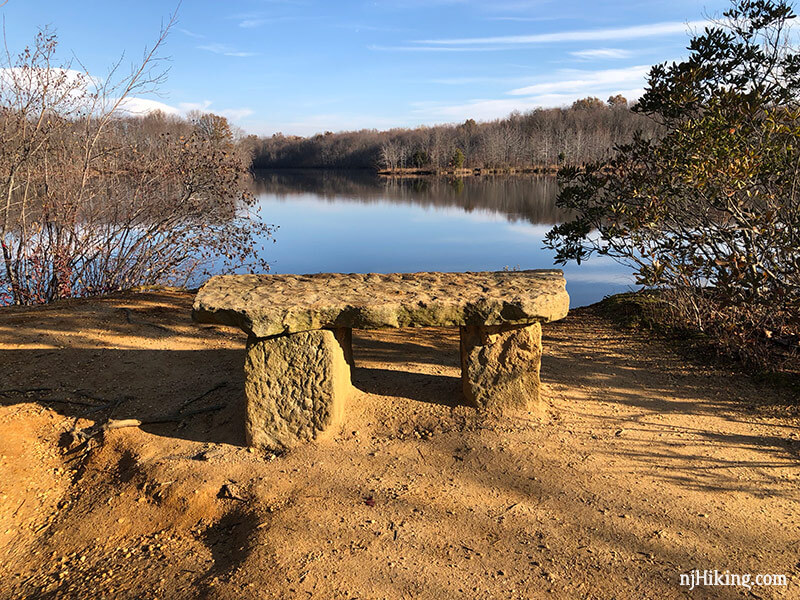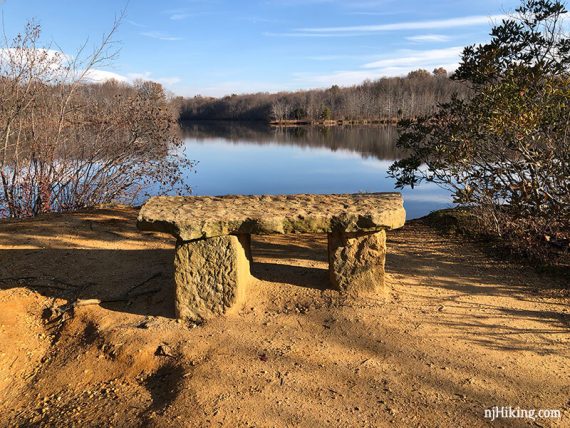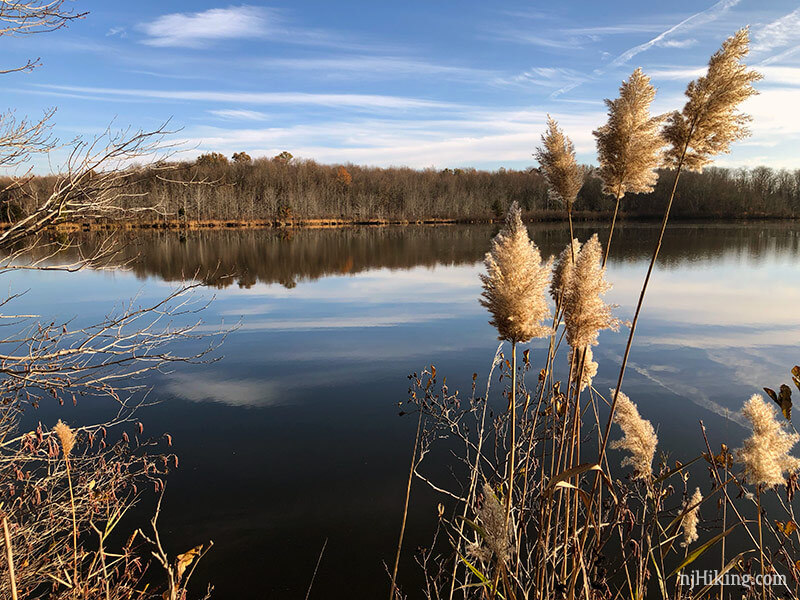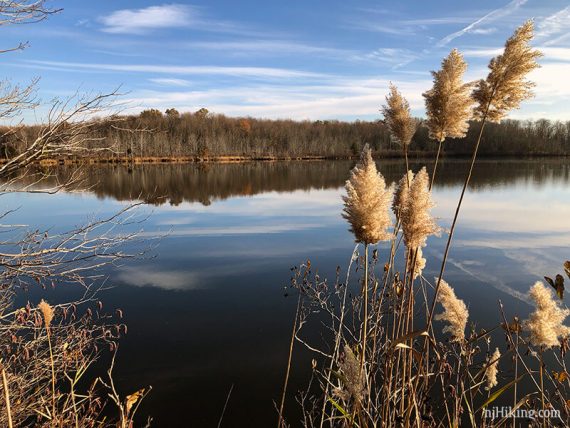 1.3 – Turn RIGHT and start following BLUE. The trail enters the woods and meanders around some small hills before coming out to water's edge.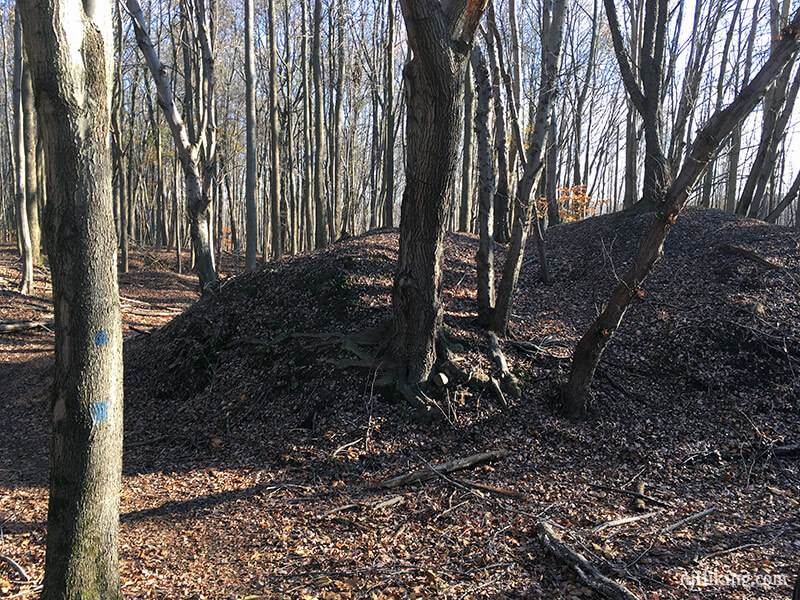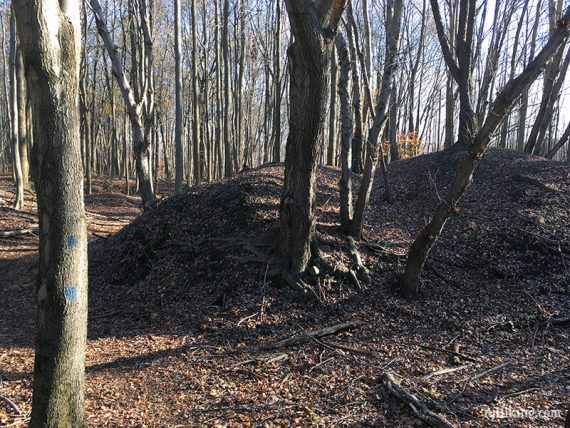 Continue on BLUE as it turns LEFT at the edge of a field.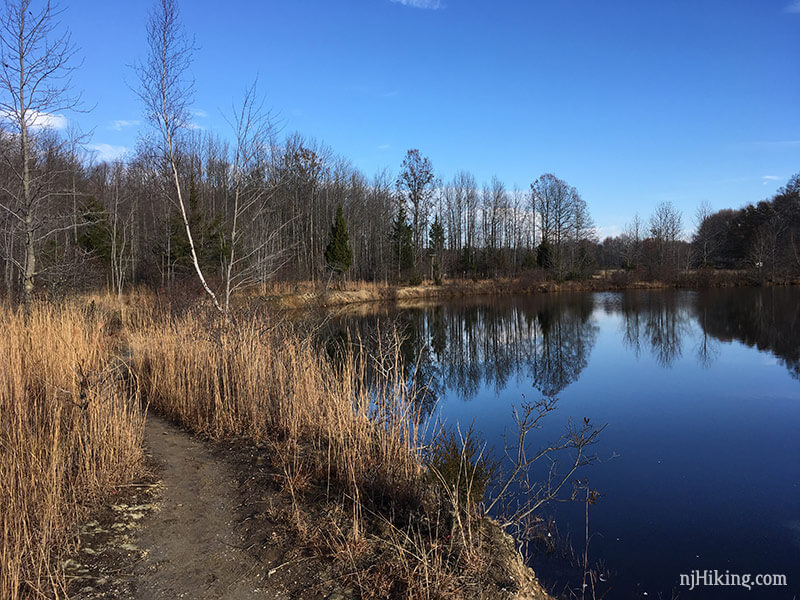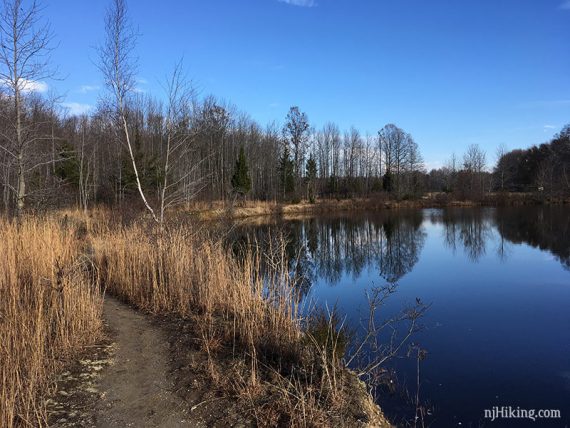 2.1 – BLUE turns LEFT and follows a raised berm.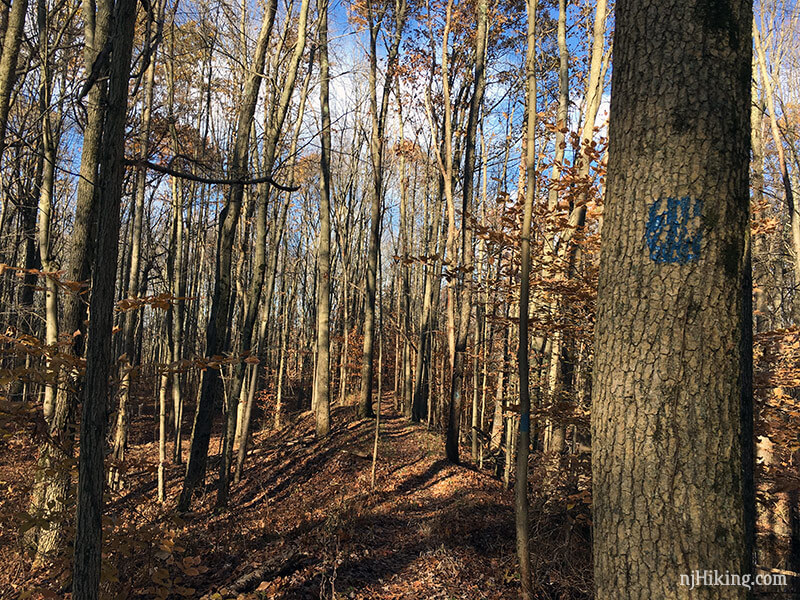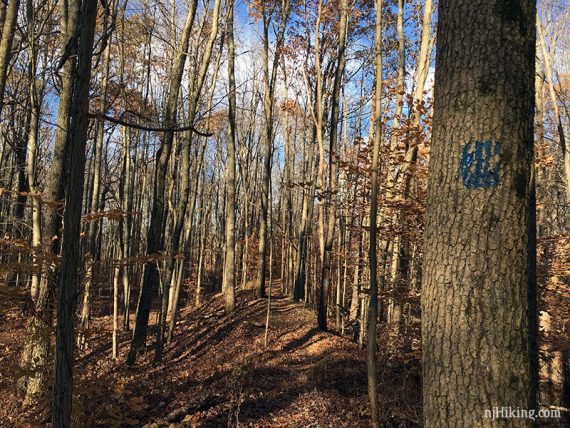 Blue turns LEFT again and runs parallel to train tracks. Trains are fast and frequent but there is a large wooded separation between the trail and tracks.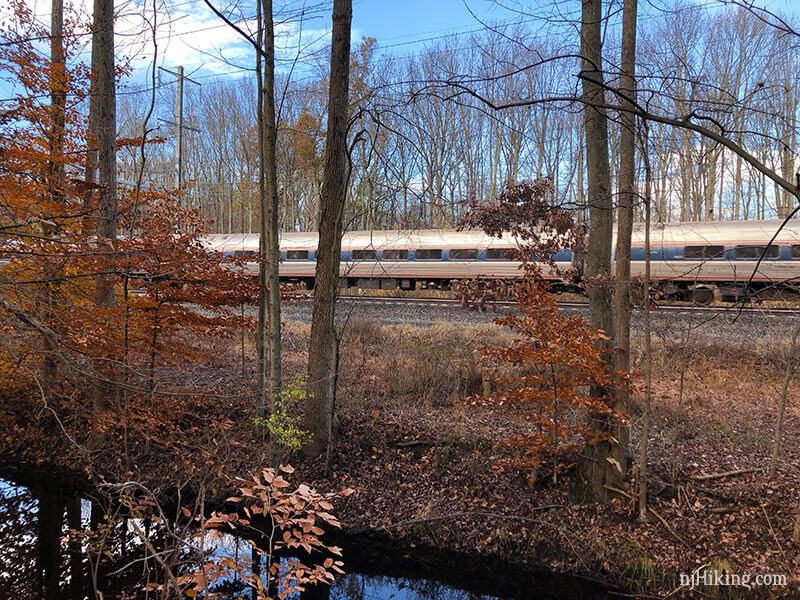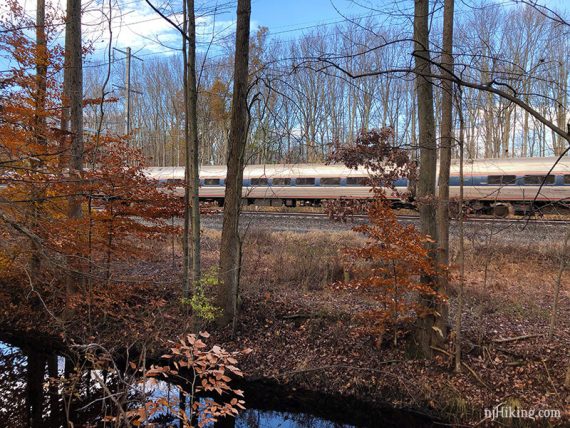 2.6 – Continue on BLUE. [Pass BLUE SHORTCUT on the left which should lead right back to Maggie's Trail].
2.8 – BLUE curves around. We noticed PINK markers on the left that were not on the map.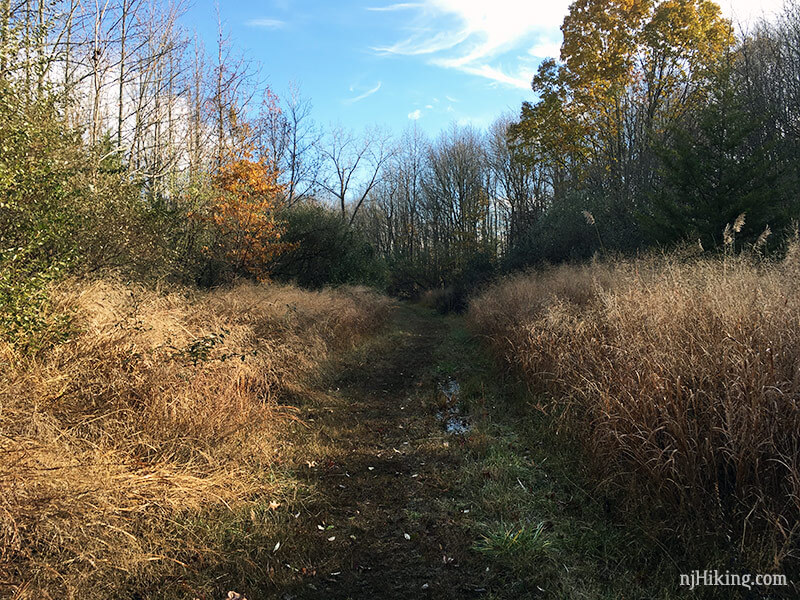 3.1 – Turn RIGHT and follow WHITE again.
3.3 – Turn RIGHT and now follow YELLOW.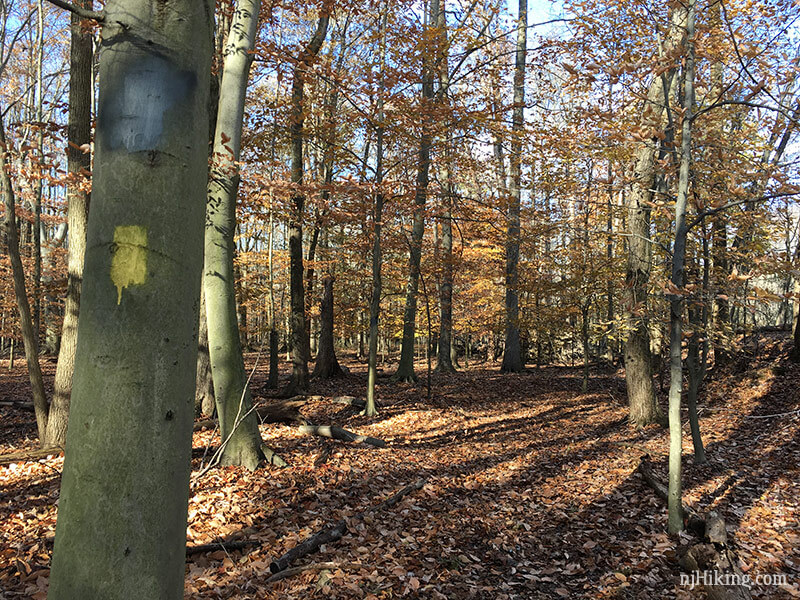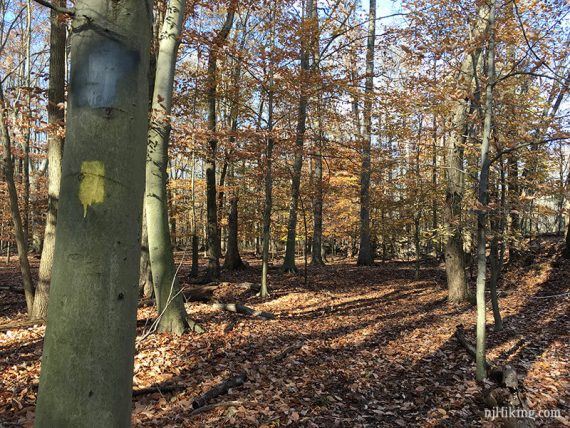 3.5 – At a bench, turn RIGHT to continue on YELLOW. [GREEN starts to the left]
3.7 – The YELLOW trail turns to the left at a sign, then shortly turn RIGHT to start following RED. This loops around and comes back to YELLOW.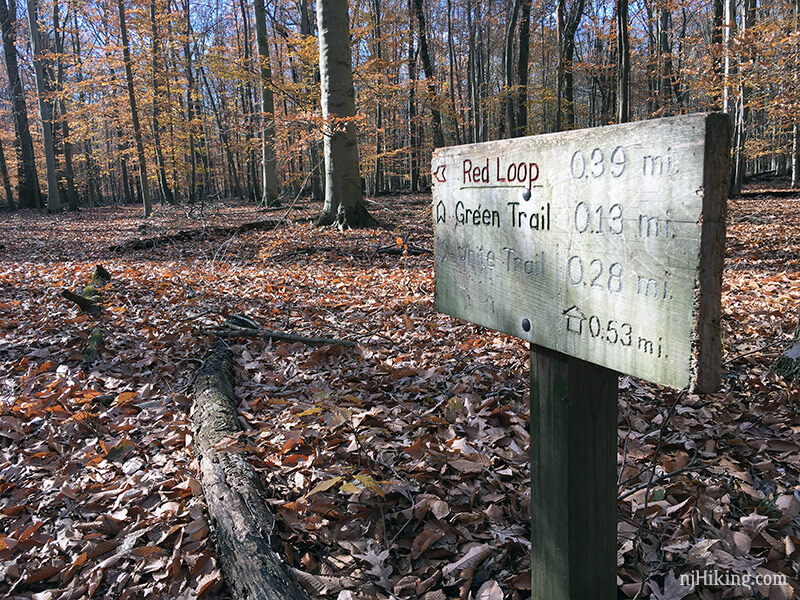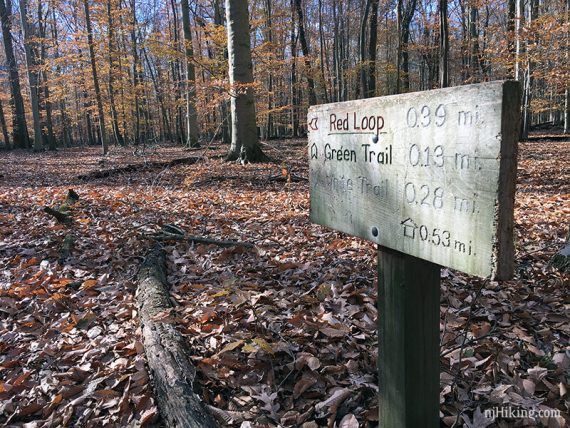 4.1 – Turn RIGHT to follow YELLOW again.
4.3 – Turn RIGHT to now follow PURPLE. [YELLOW continues ahead and will meet up with the WHITE trail from earlier].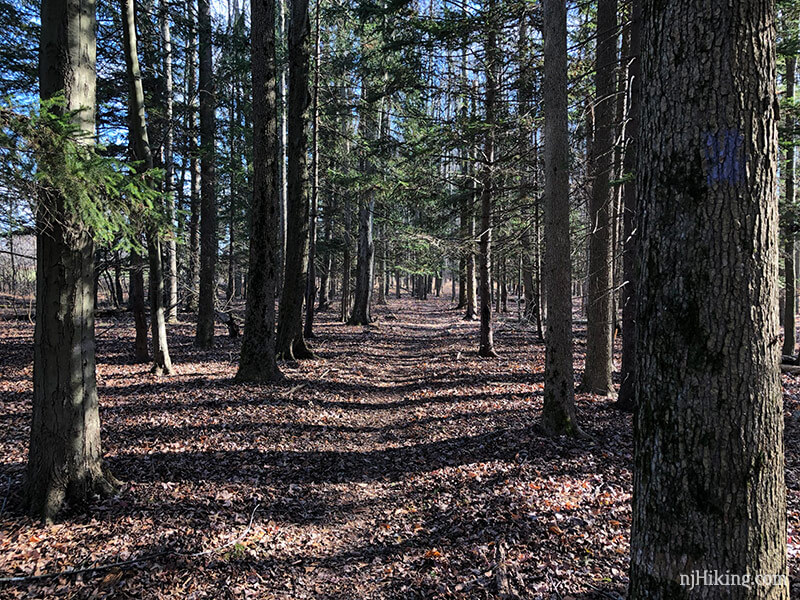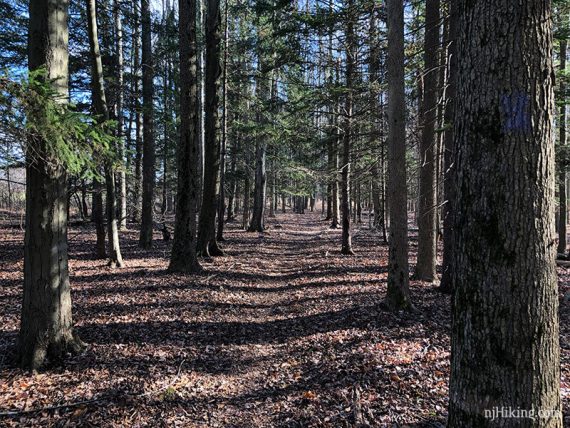 4.5 – PURPLE turns to the left and crosses a field back to the parking lot.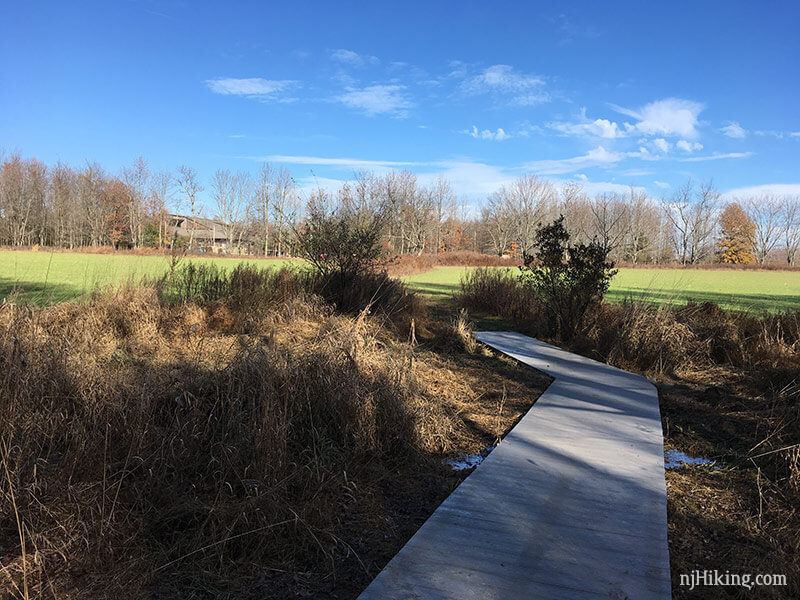 Optional ORANGE add-on:
Go around to the opposite side of Audubon building to pick up the trail at the tree line.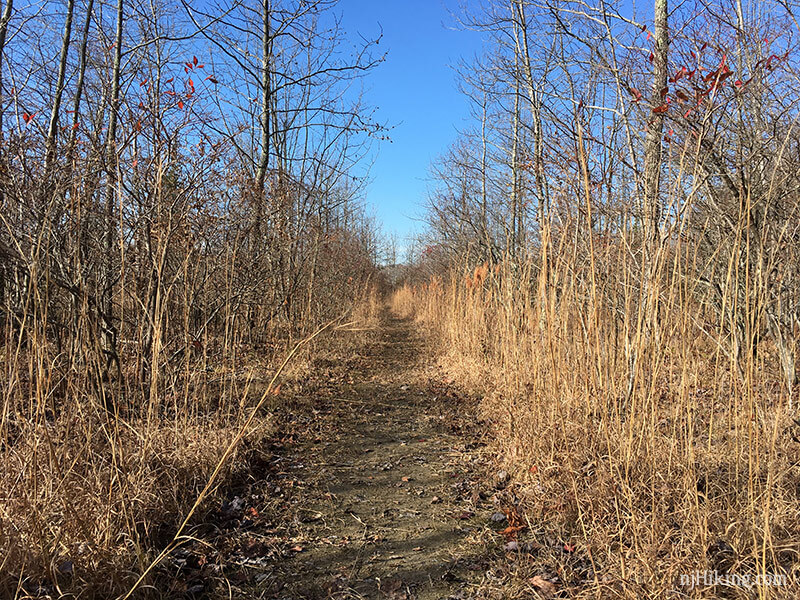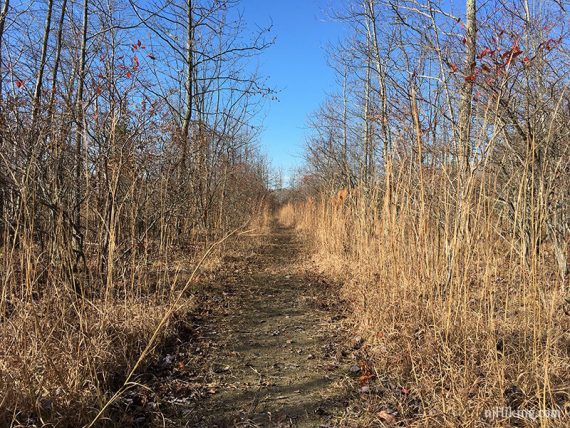 The trail follows the water edge but there are a few casual trails and some end in flooded sections.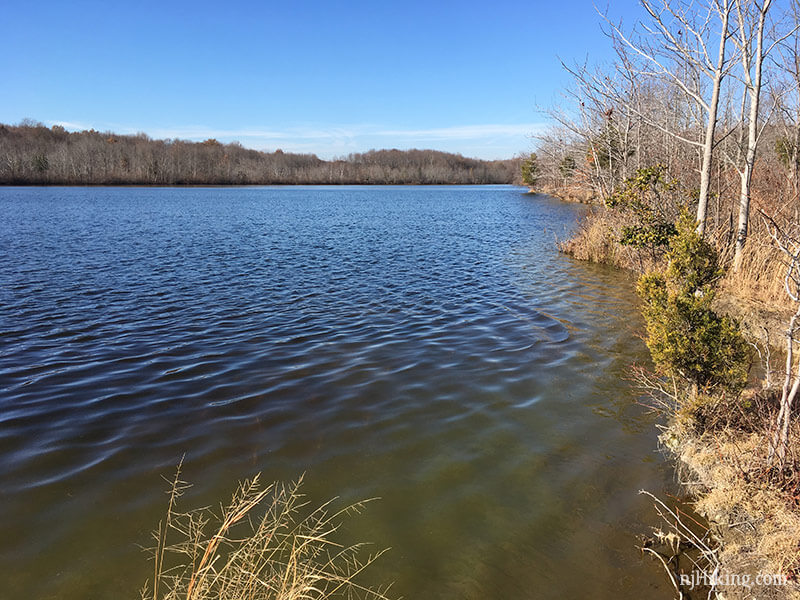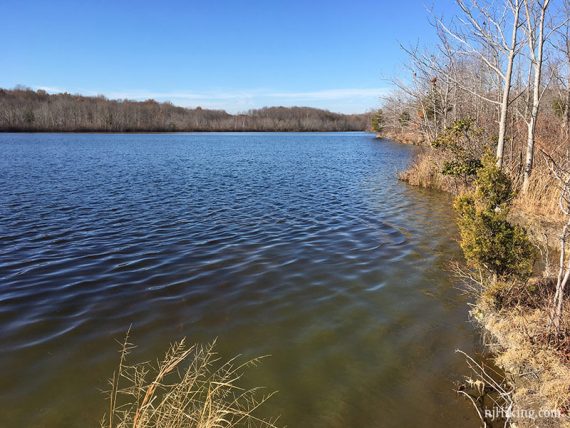 You may pass a metal chime (…of course you'll need to ding it a few times).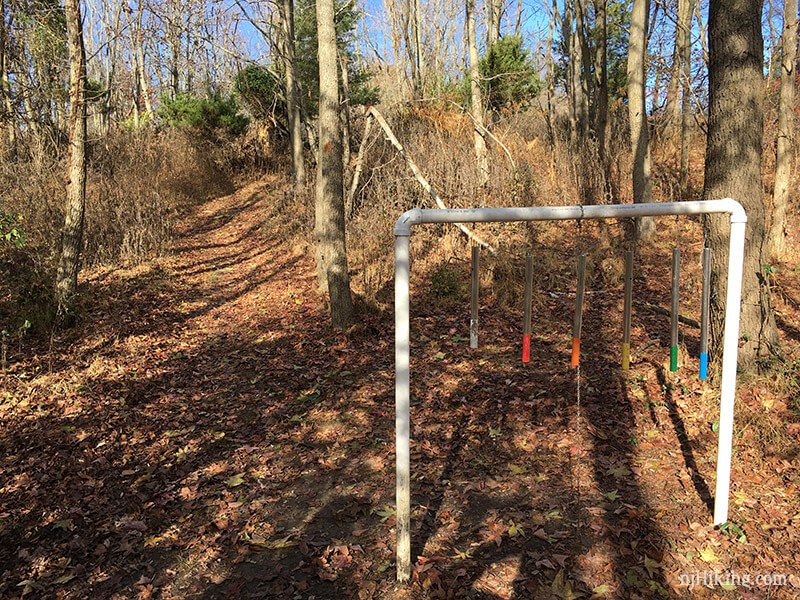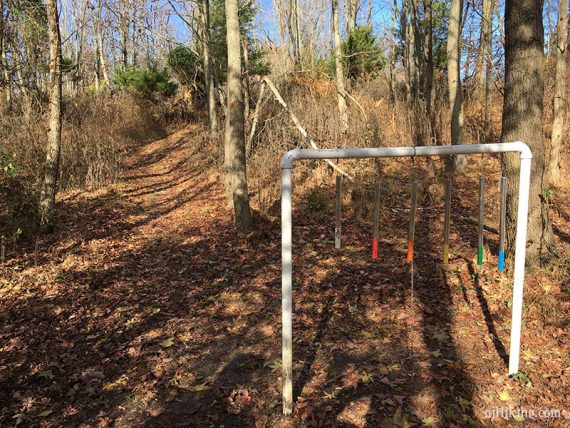 We followed the trail out to one end and then backtracked.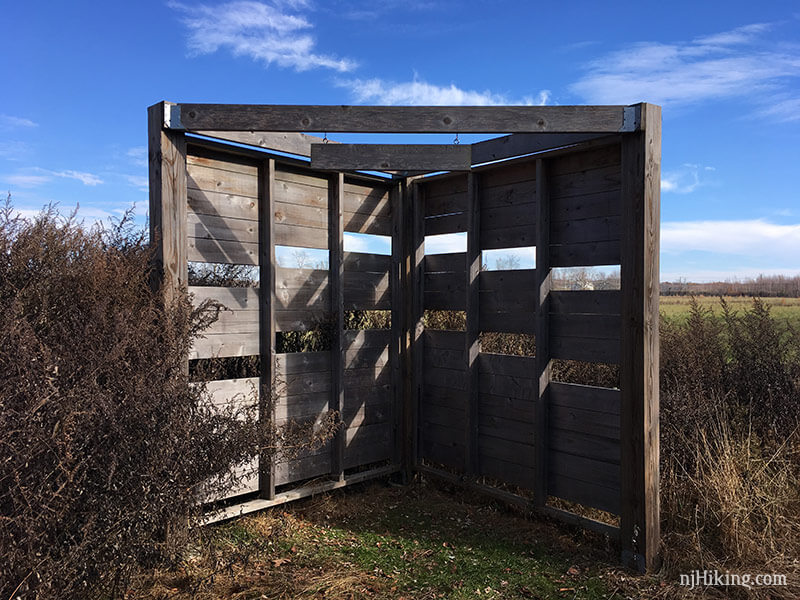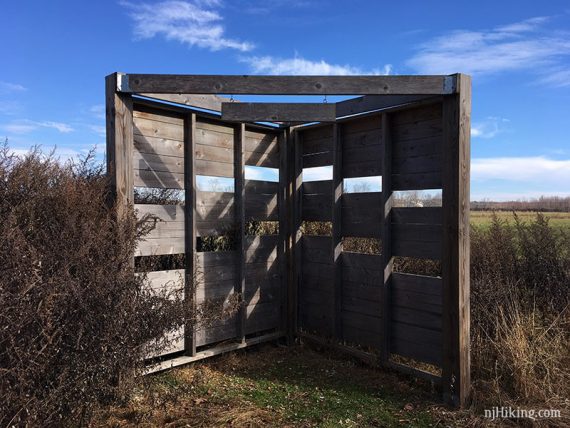 —
Hiked: 11/25/17. With ORANGE.
Hiked: 4/7/13. Trailblog: "Plainsboro Preserve in Spring"