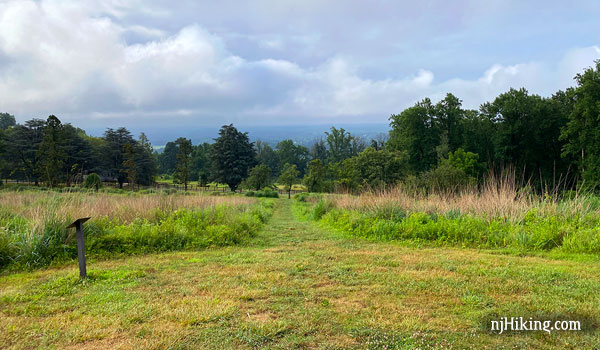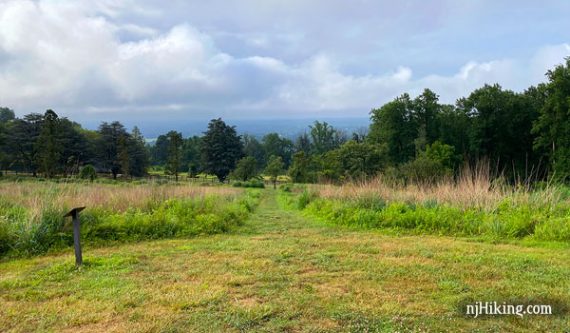 Hike that includes a view towards the Delaware River and passes a few old farm buildings.
6.7 miles. Easy to moderate trail surface; minor elevation change. Some muddy/rutted trail sections due to use by bikes/horses. The trail is mostly hard packed earth, with some rocky areas.
Shorter: Lots of options to cut this shorter by doing small loops in the main part of the park.
Medium: 3.2 mile loop – head back once at the pond; noted in the description below.
Nearby: Fiddlers Creek Preserve is also from this lot and Goat Hill Overlook is 1 mile round trip to a scenic view. (About 10-15 min. away by car).
Our two cents:
This park is more suited for shorter loops from one of the many parking areas; we stitched a bunch of trails together in order to see most of the park.
Baldpate will re-open on 9/16/2021 but several trails are still closed from storm damage. The NW Loop Trail closure affects doing the route posted here. Check park site for current status.
Updated: 7/2020 – Re-hiked; adjusted the route to remove the closed trails in Honey Hollow. Remainder of updates at page bottom.
Note: Most of the farm buildings have been demolished since the video was taken. Check our Trail Blog links at the bottom of the page for photos of the area over the years.
Hunting Season: Entirely CLOSED to hikers during firearm season days in December. Also closed Wed. – Sat. from mid-December to mid-February. See Mercer County deer management for closure dates.
---
Map:
Print out the trail map(s) ahead. Not sure if the visitor center has maps, we've never seen it open.
---
Books:
A similar route is now in Best Day Hikes in New Jersey. Different routes are in 60 Hikes Within 60 Miles: Philadelphia and Best Day Hikes Near Philadelphia. Some info and history of the area can be found on njskylands.com. (scroll down a bit for Baldpate).
---
There are 5 access points listed on the map, which are described on the park page. 95S to Exit 1 for 29N/River Road. This route uses the first lot on Fiddlers Creek Road off of Rt 29.
There is signage for the lot; ignore the main driveway to the park right before it. This lot is also for Fiddlers Creek Preserve.
---
Restrooms:
Portable toilet in the lot and also near the Kuser Estate buildings (7/2020); unsure if it's permanent as that was the first time we've seen one in either location.
The map shows restrooms at the visitor center, which is 1.3 miles up the blue trail or if you park at the main lot instead. Unsure of their availability – we've run into them open only once.
A somewhat nearby alternative is to use the restroom at the end of a large lot near Washington Crossing Park: N40.29823° W74.86829°.
---
Hike Directions:
Overview: BLUE (Summit) – WHITE (Ridge) – RED (NW Loop) – WHITE (Ridge) – Kuser (GREEN) – Kuser (GREEN) connector trail – ORANGE (Copper Hill) – WHITE (Ridge) – BLUE (Summit)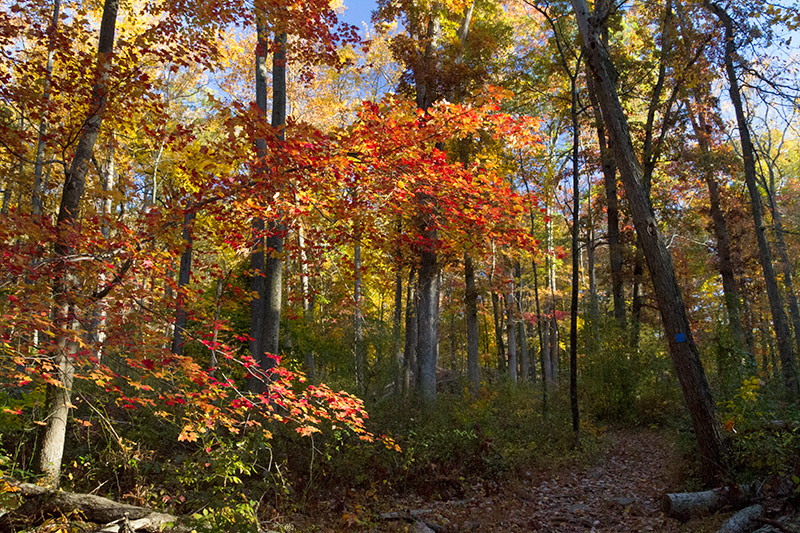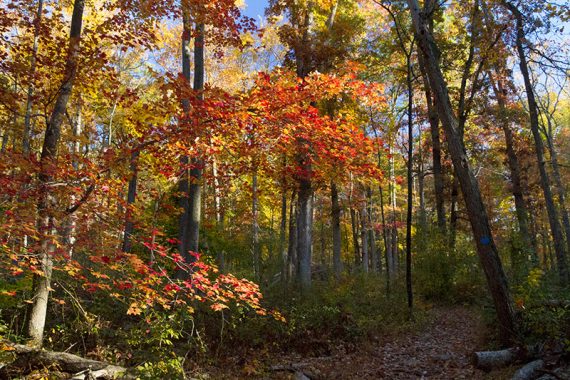 0.0 – Start following BLUE (Summit) just beyond the trail kiosk. Trail is immediately very pleasant, level at first and then heads up through dense forest with very tall trees.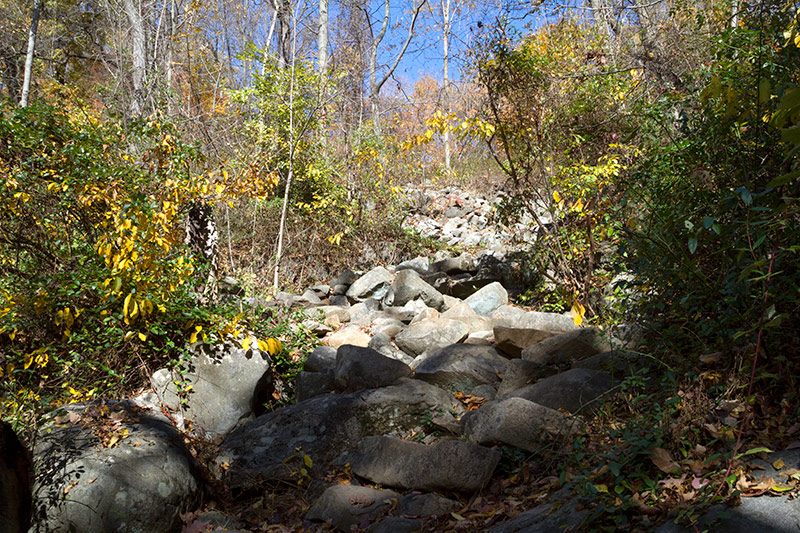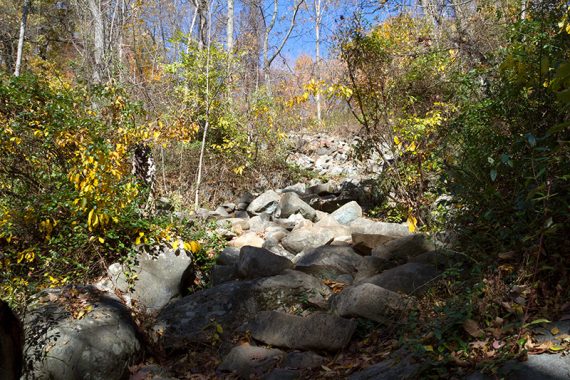 0.4 – Climb steeply up a long series of stone "steps".
Turn LEFT to continue on BLUE (Summit) to the top of the mountain. Straight is a direct route to the ridge trail and farm/pond and is the return route.
0.8 – Come to a T with a gravel path and jog slightly left to continue on BLUE (Summit). The Kuser Estate buildings become visible off towards the left.
/// — Optional: Check out the buildings, and perhaps the visitor center and restrooms will be open. Check the Trail Blogs linked at the bottom for more photos of this area.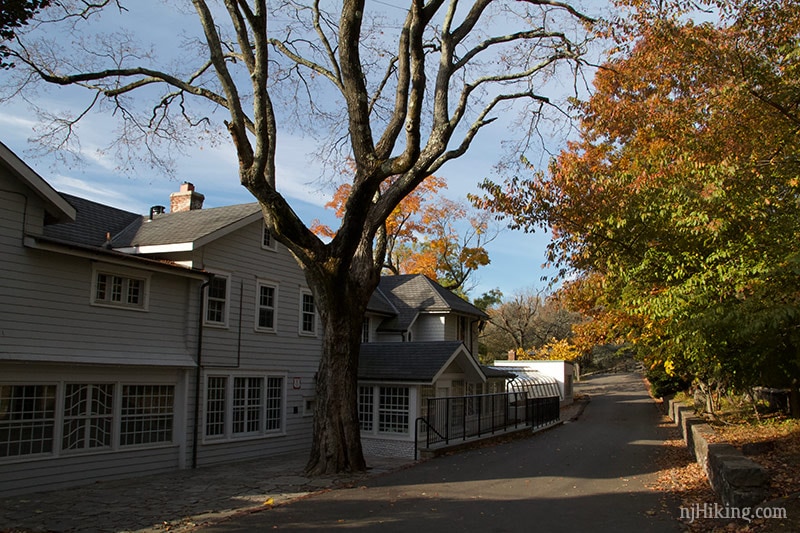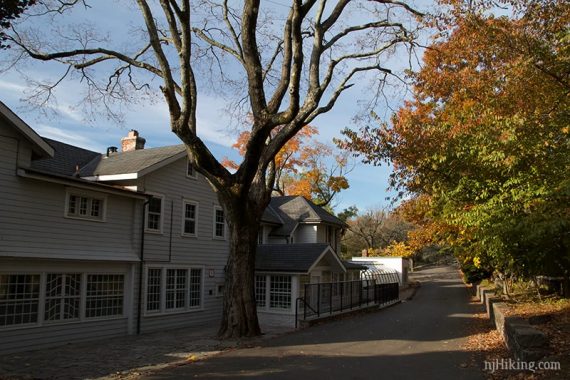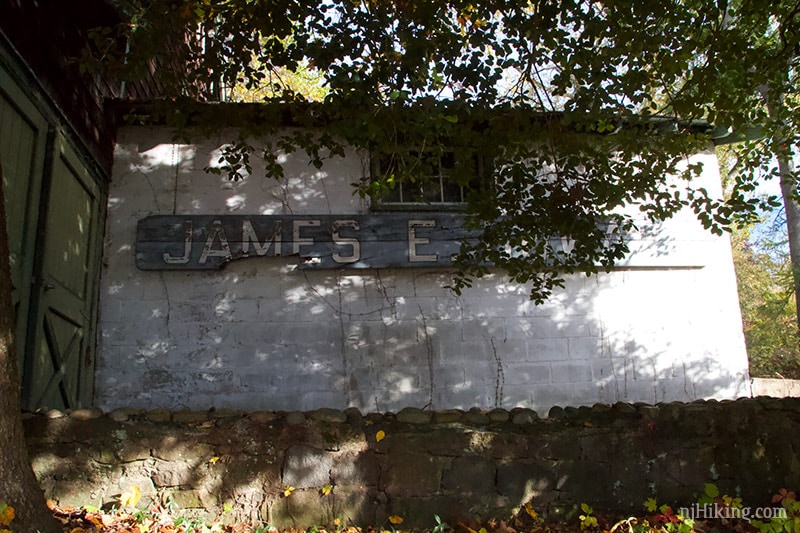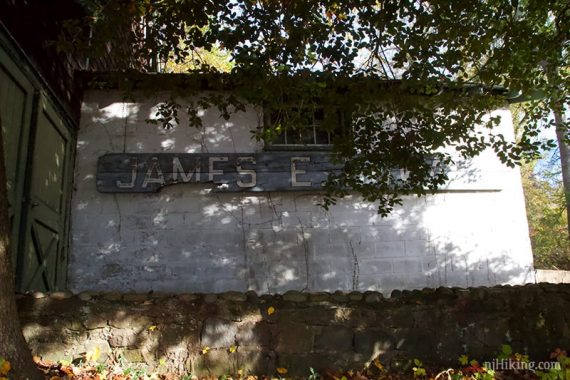 Return to this spot to continue, or from the buildings take the path uphill to the viewing scope and picnic tables and follow from 1.1 below. This will affect the mileage in the description depending on how much you wander around. — ///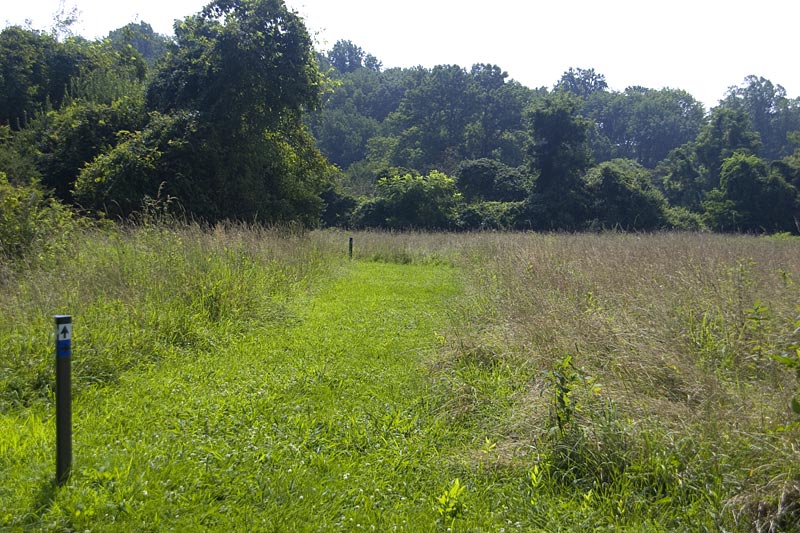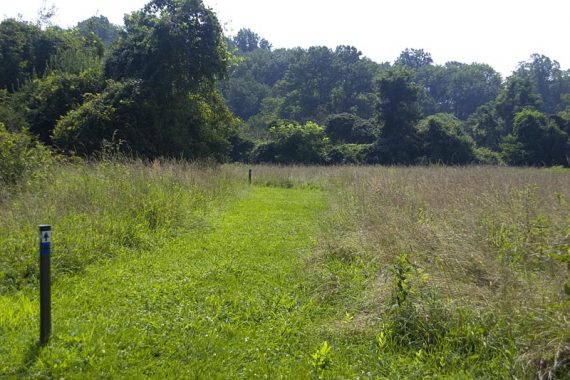 Veer RIGHT to follow BLUE (Summit) along a mowed path.
1.0 – BLUE (Summit) ends. Turn LEFT and start following WHITE (Ridge). [WHITE (Ridge) also goes right].
There are picnic tables and a view towards the Delaware River and a meadow is along the mowed path.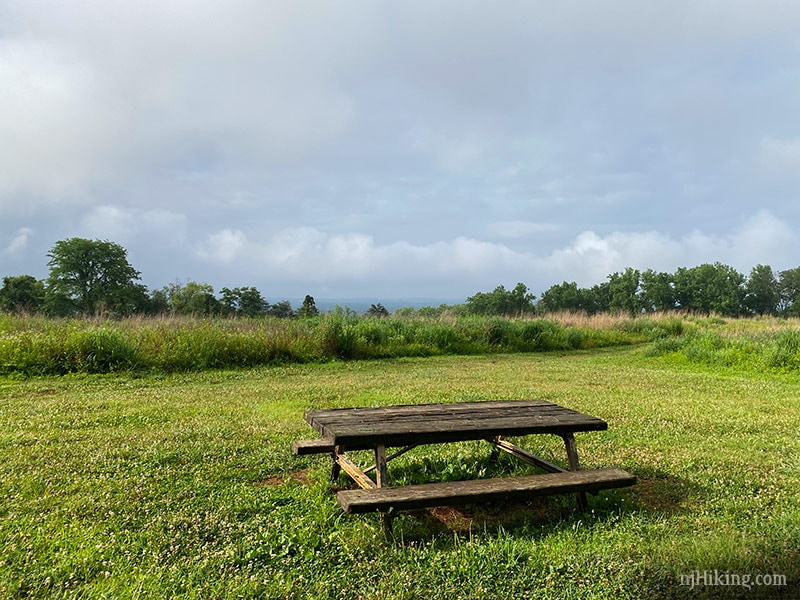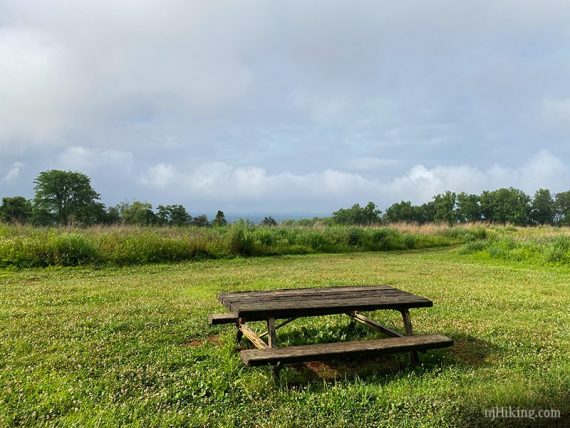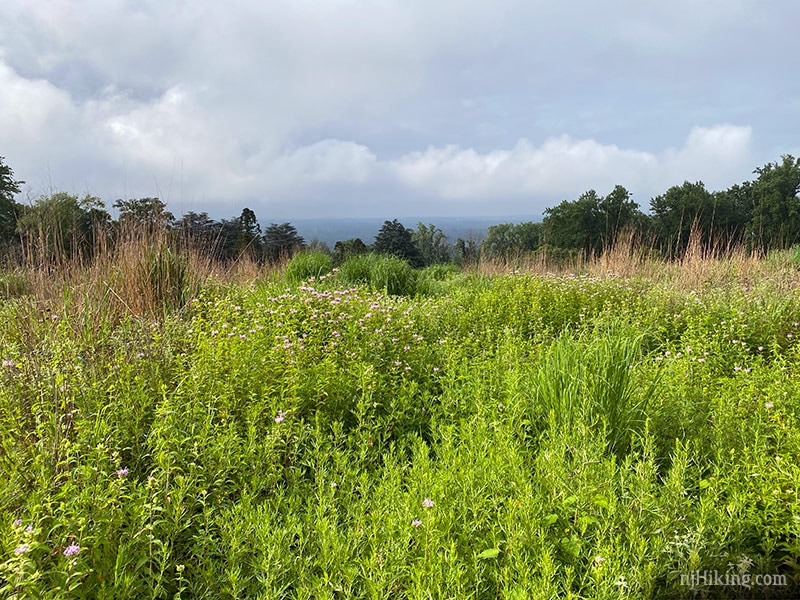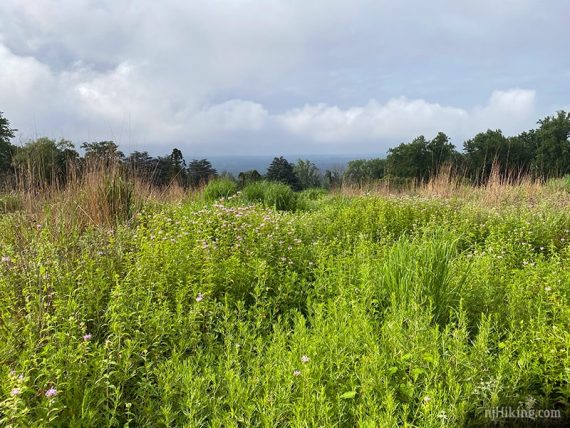 1.1 – More picnic tables and a viewing scope in a mowed grassy area, overlooking the Kuser Mansion and orchard. The Delaware River can be seen on a clear day.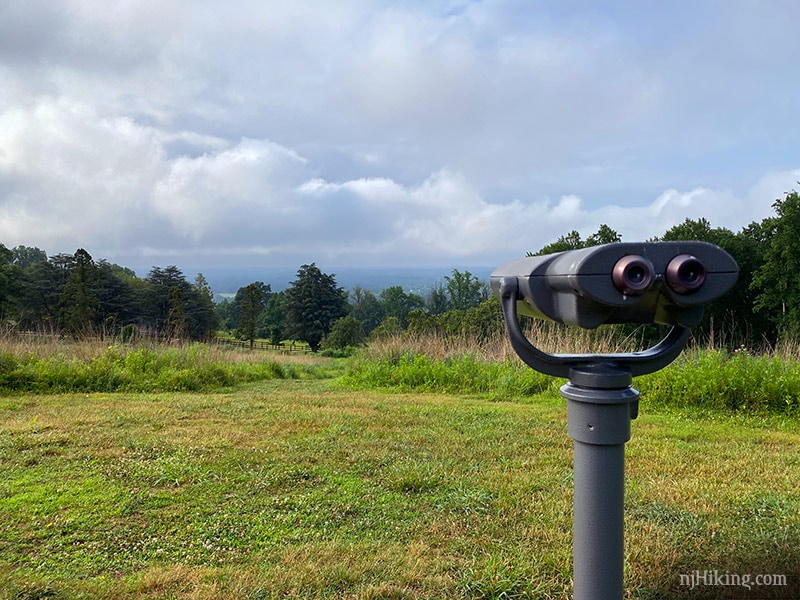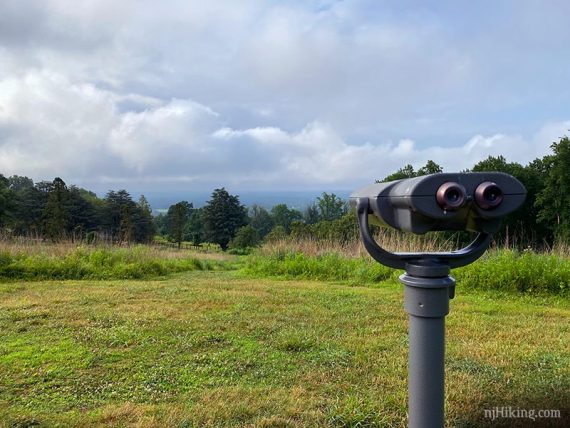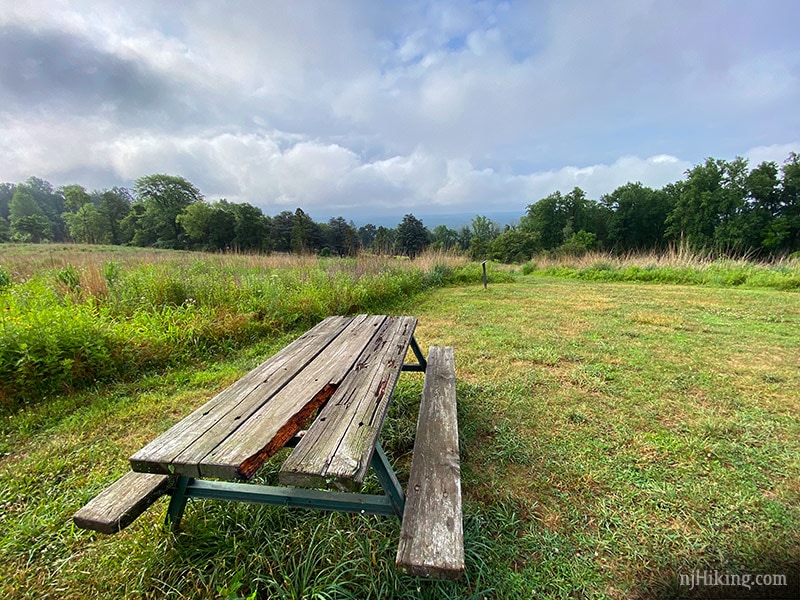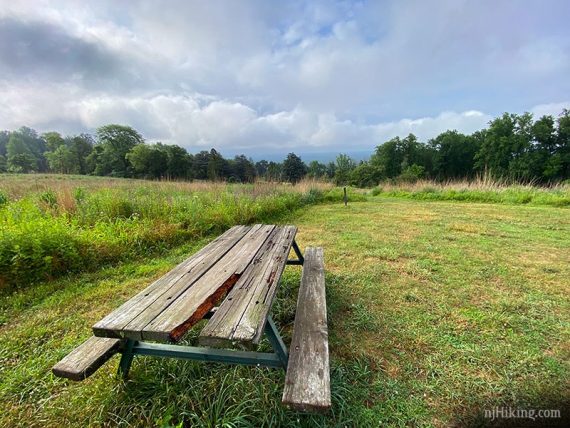 Continue following WHITE (Ridge) across the open grassy area, past a large tree with a white marker, towards the woods. [The path down the hill leads to the Kuser Estate].
1.2 – Turn RIGHT to start following RED (NW Loop) – you might not spot markers until turning.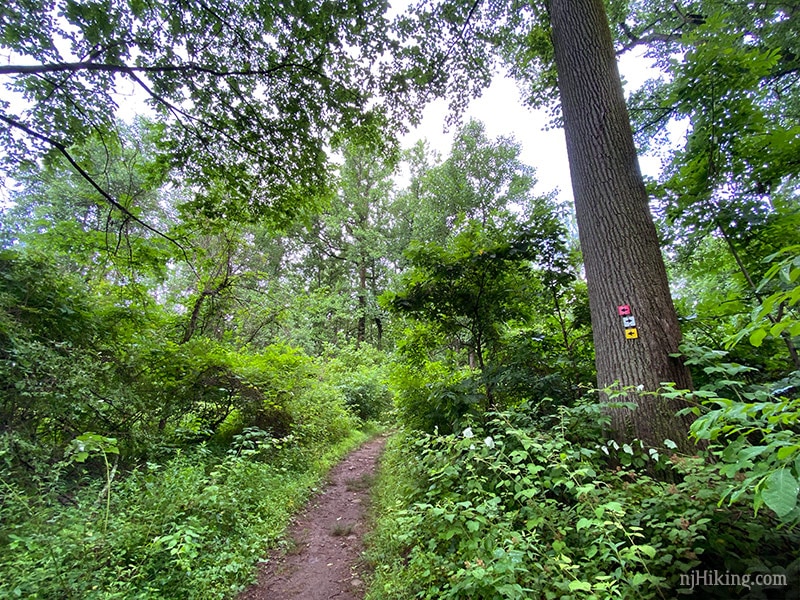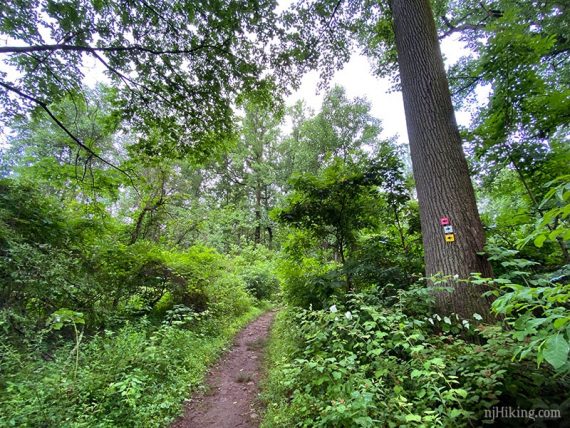 Shortly, Pass YELLOW (Switchback) on the left.
2.2 – Turn RIGHT and continue following RED (NW Loop). [We didn't spot markers here. The map shows the Pleasant Valley trail is straight and leads to another parking area.]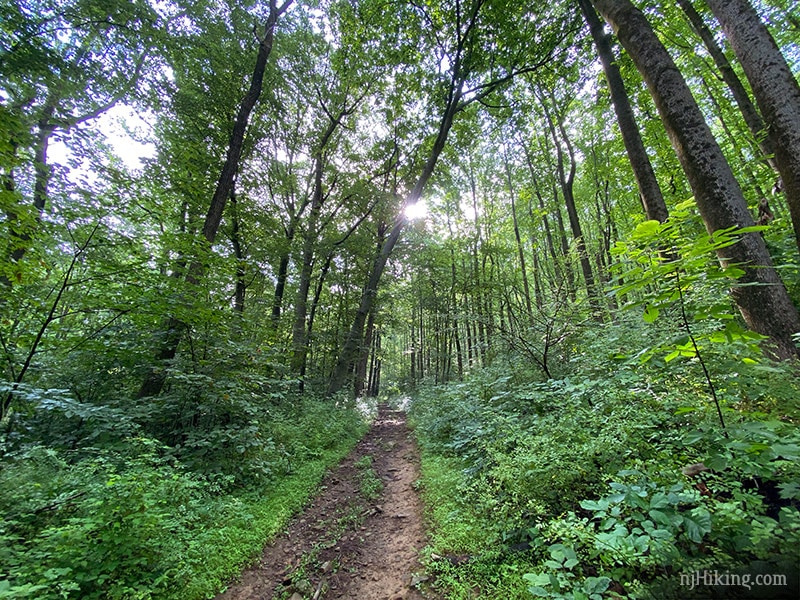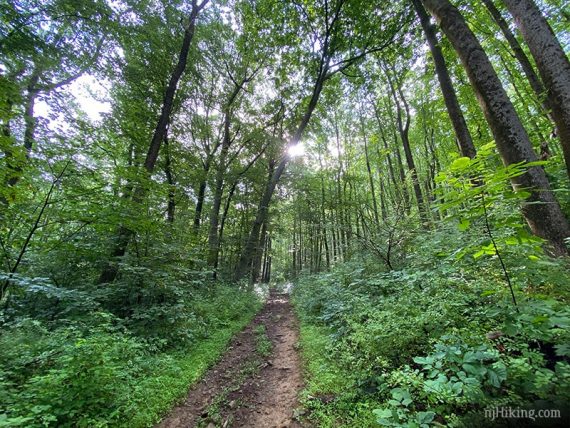 2.4 – Turn LEFT and start following WHITE (Ridge Trail). [RED (NW Loop) ends.]
2.5 – Veer RIGHT off of WHITE (Ridge Trail) on to old pavement into an open grassy area. All but two of the farm buildings in this area have been demolished over the years we've been hiking here.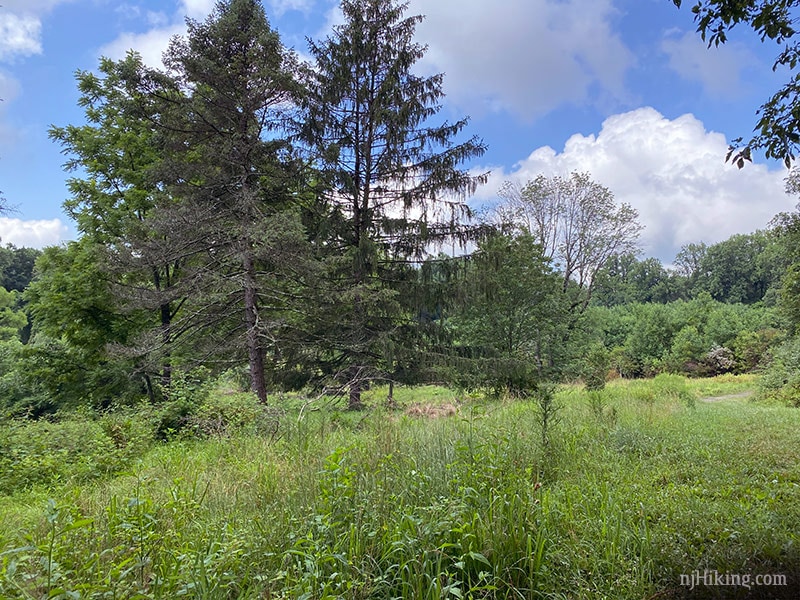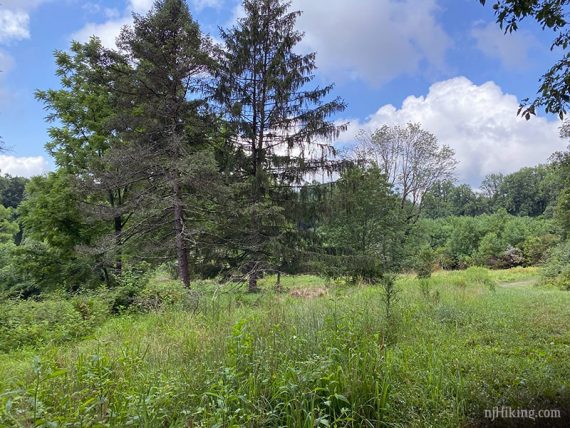 There is a little pond that is not really visible until you walk over to it, it's by a small stone building and old well.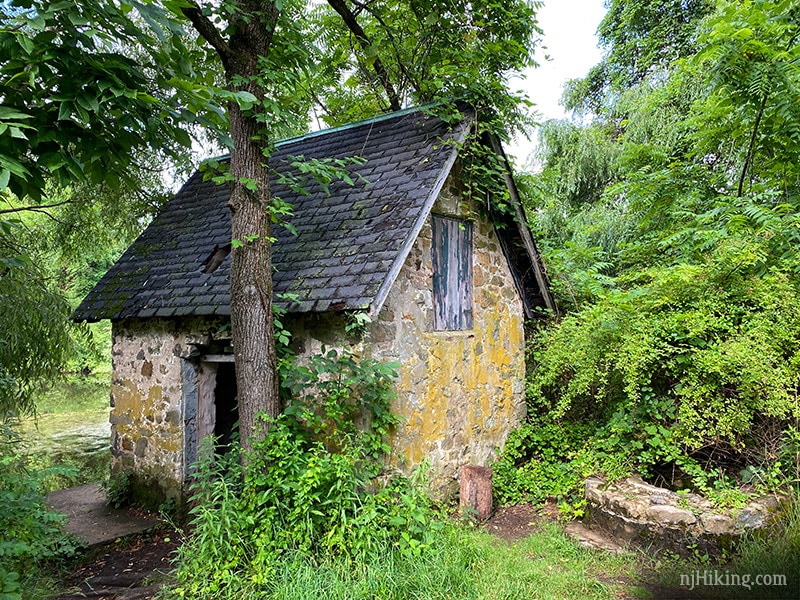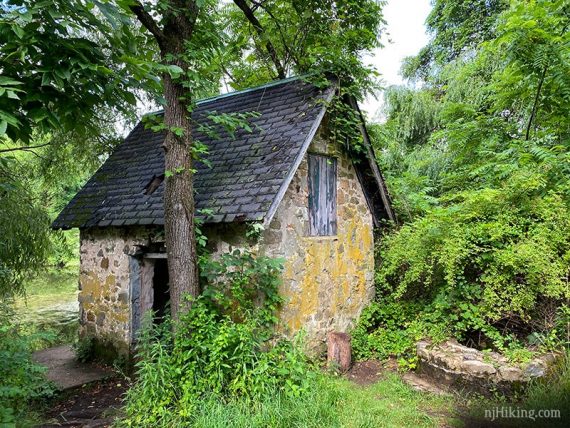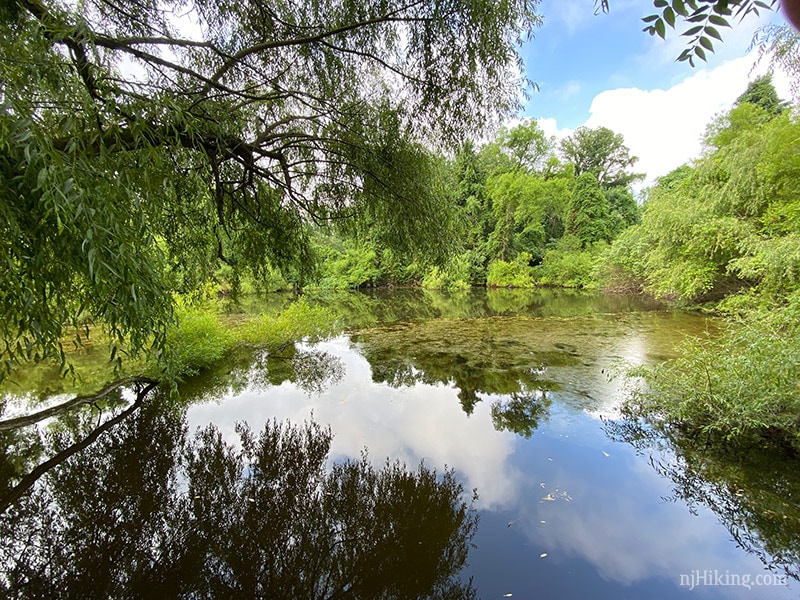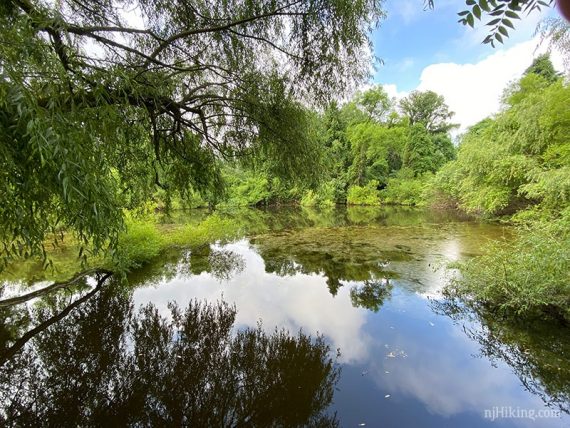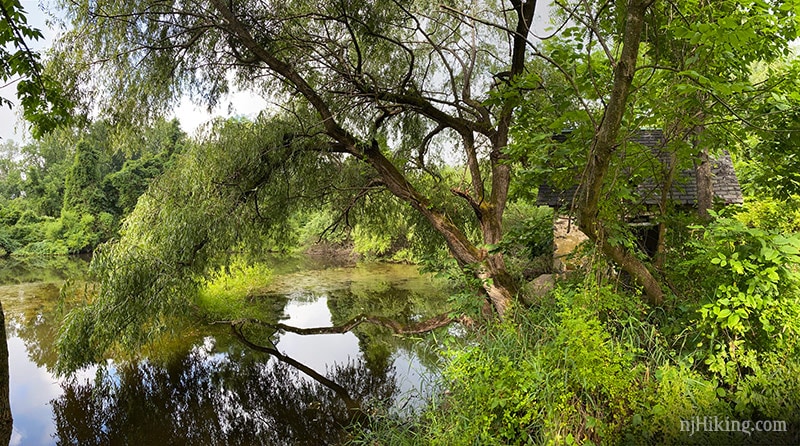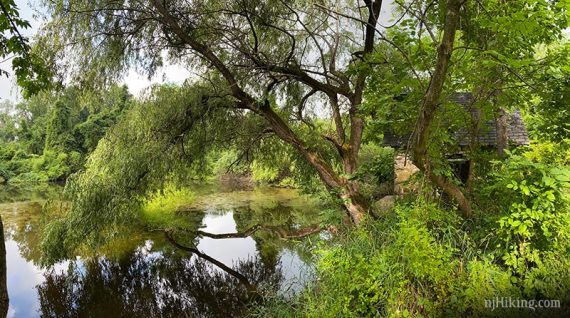 /// Shorter 3.2 mile option: Head back from here, finding the trail around the side of the pond. Pick up the description at the second to last step below. ///
From the pond area return to WHITE (Ridge) at a white farm building. Turn RIGHT to continue on WHITE (Ridge).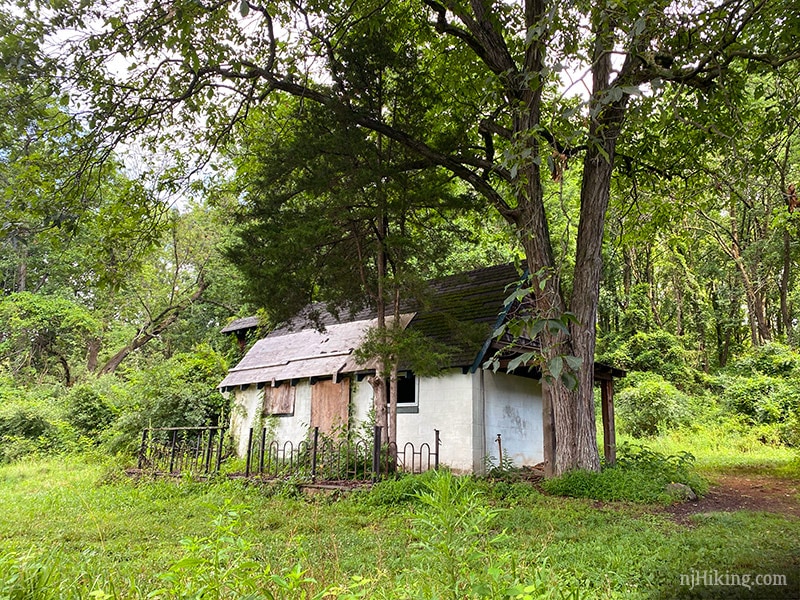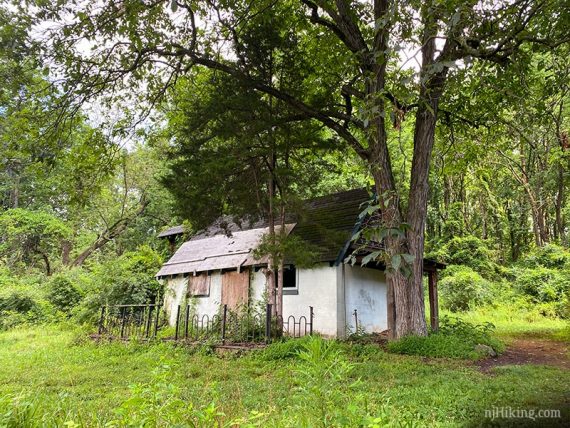 This trail is mostly easy and level with some wide muddy spots if it's rained a lot.
3.6 – Continue on WHITE (Ridge). [Pass ORANGE (Copper Hill) on the right – might not even notice it, but there was a large tree on the ground across from the trail].
3.8 – Continue on WHITE (Ridge) along the edge of a large parking lot towards a large power tower, passing the other end of ORANGE (Copper Hill).
The lot is marked "Vehicle and Horse Trailers Parking" on the trail map.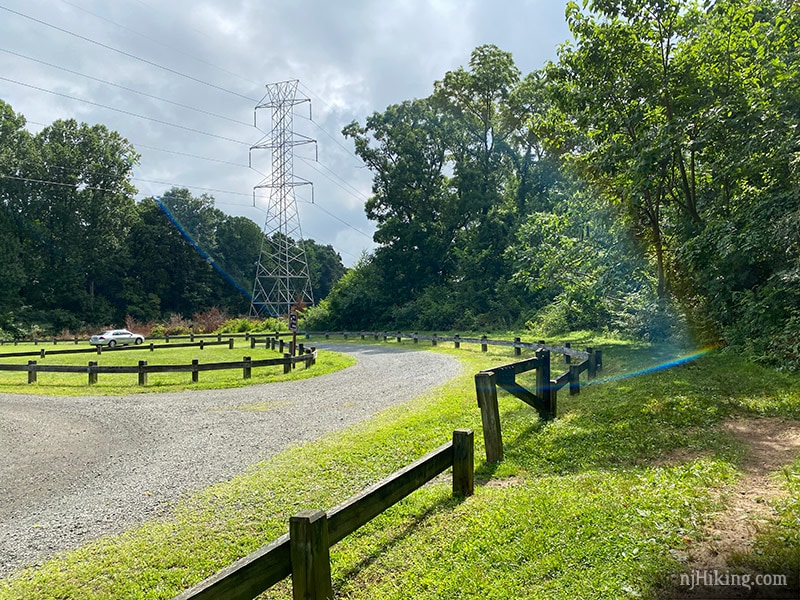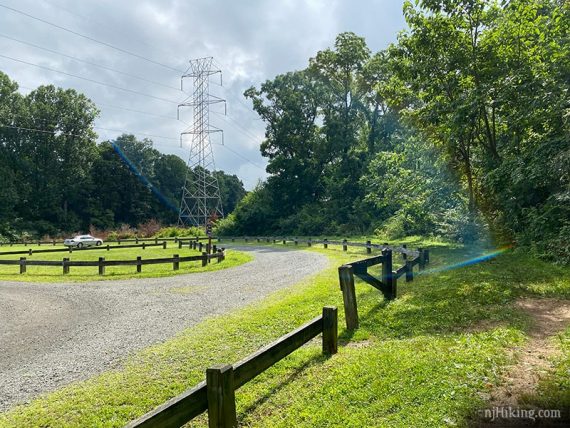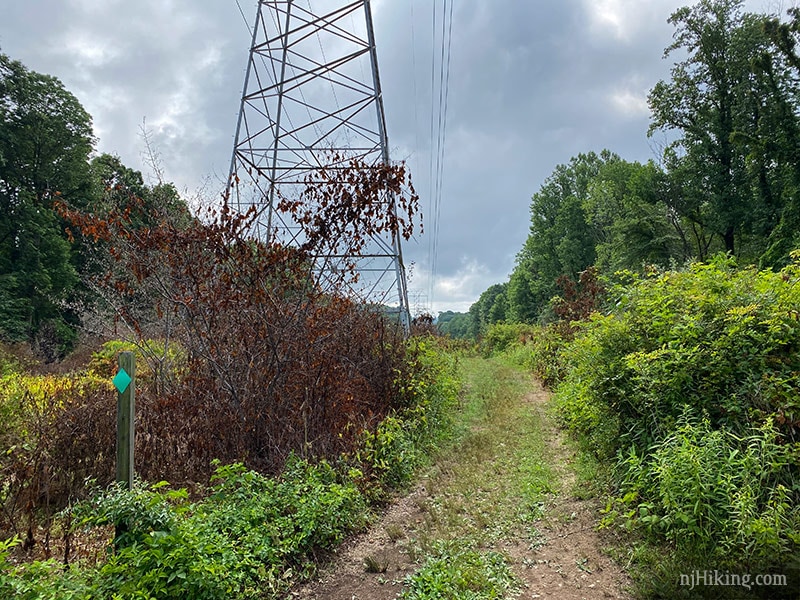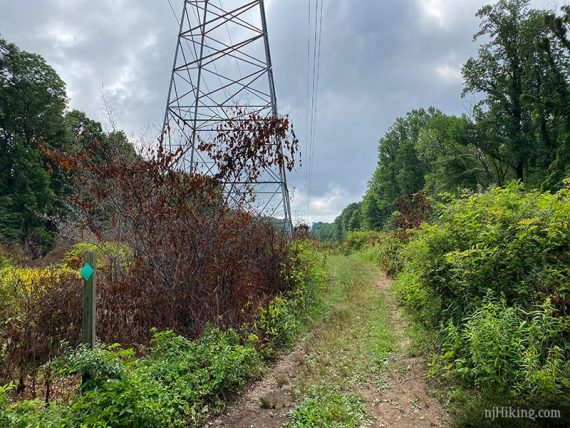 The trail leaves the parking area at the tower and follows the power line cut for a bit.
4.0 – Turn RIGHT over a small footbridge and now follow Kuser (GREEN) as it heads gradually downhill.
The map indicates "ruins" on either side of the trail about halfway down but we didn't spot anything (perhaps when the leaves are down). Pass an unmarked trail on the left.
4.4 – Turn SHARP RIGHT on the Kuser (GREEN) connector trail. [Kuser (GREEN) also continues ahead.]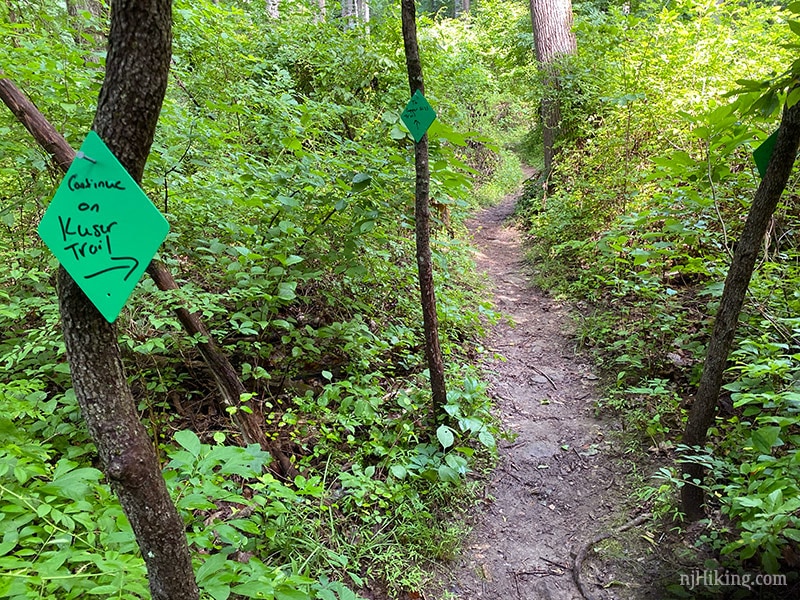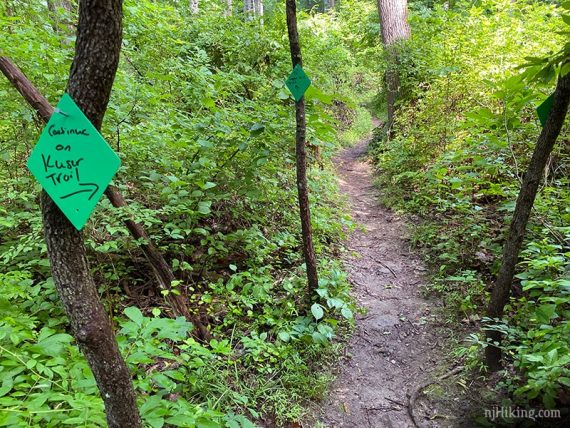 4.5 – Turn LEFT and now follow ORANGE (Copper Hill). [ORANGE (Copper Hill) also goes right.]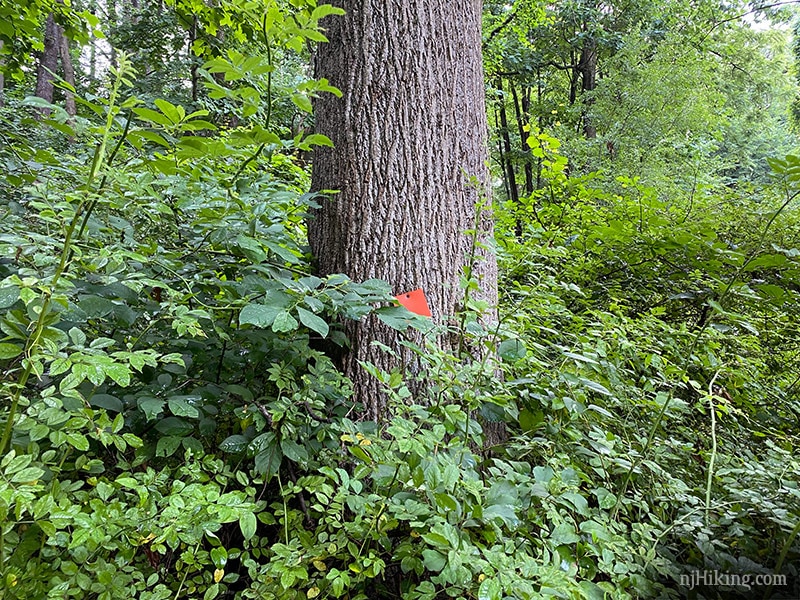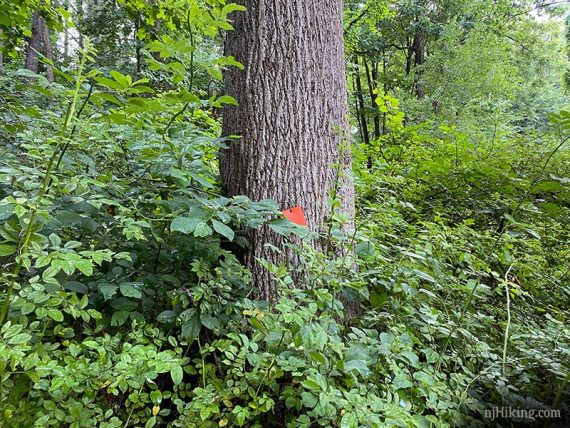 4.8 – At an intersection with BLUE (Creek Spur), turn RIGHT to continue on ORANGE (Copper Hill). [BLUE (Creek Spur) leads to a parking lot on Fiddlers Creek Rd].
Shortly, pass the remains of a house's stone chimney off to the left. Continue uphill on ORANGE (Copper Hill).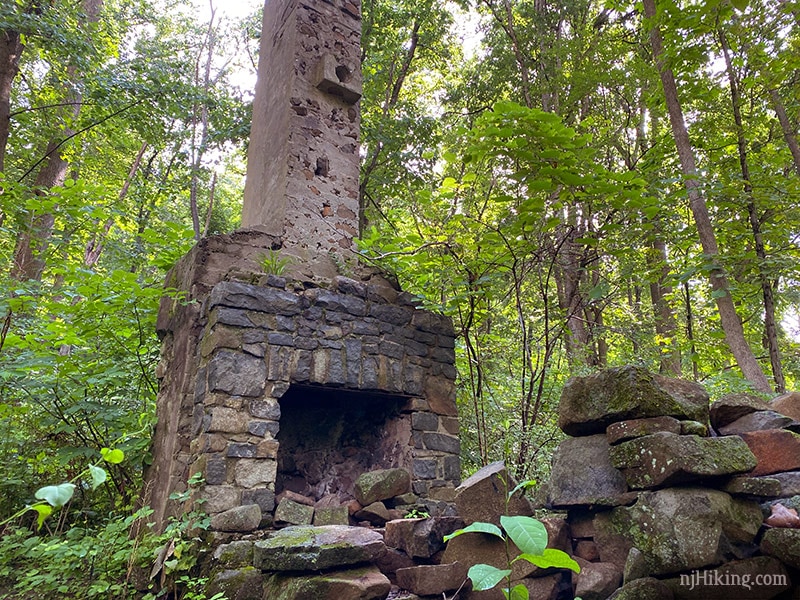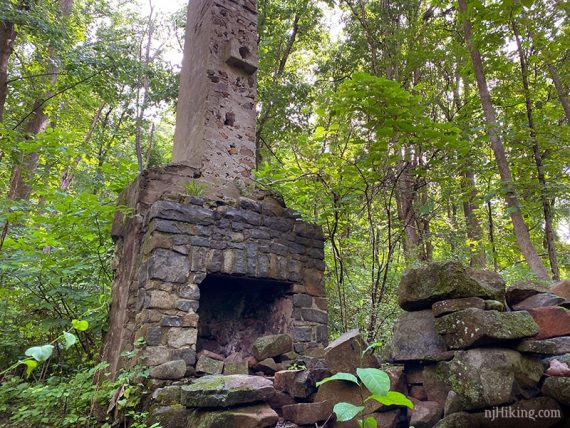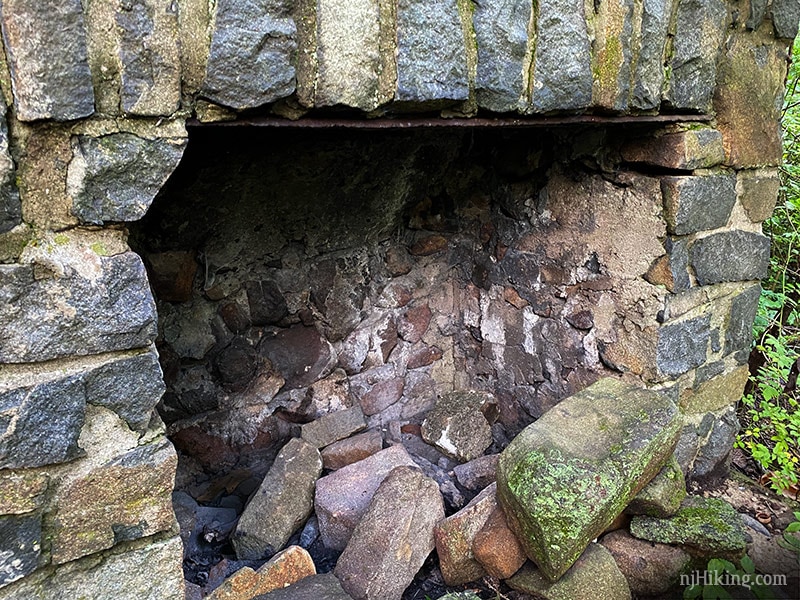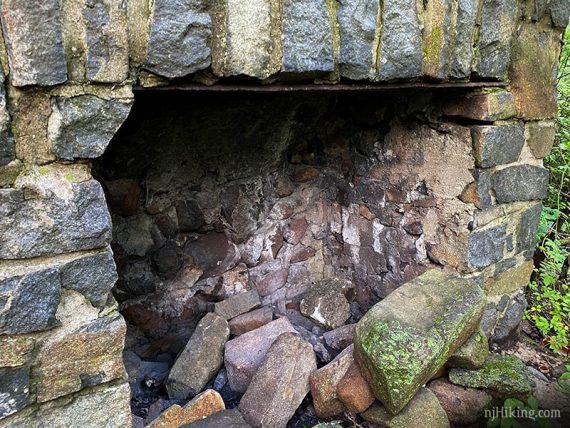 5.1 – Turn LEFT and now follow WHITE (Ridge). [WHITE (Ridge) also goes right. This intersection was passed at 3.6].
6.1 – At the white farm building from earlier, turn LEFT to now follow BLUE (Summit).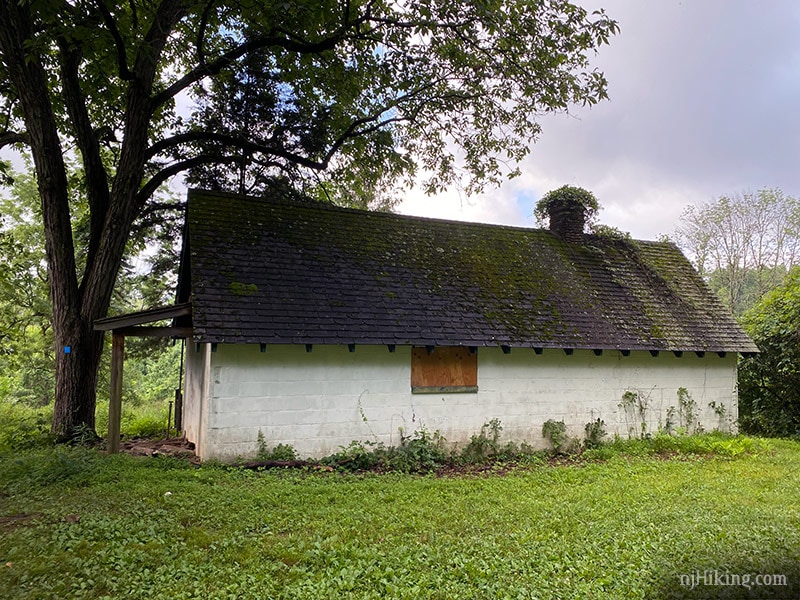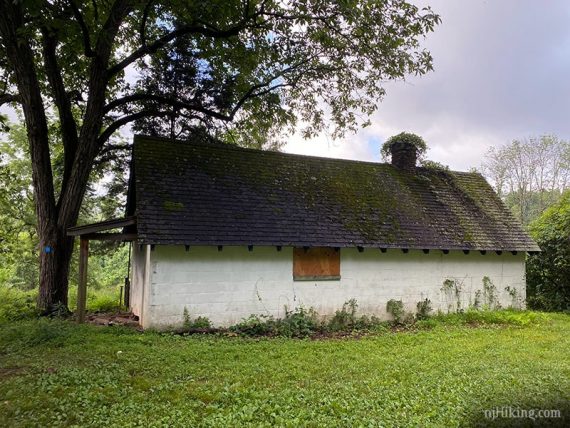 Walk across the open area towards the pond and small building.
Start following the trail that is around the corner from the small building at the edge of the pond. Eventually there will be a BLUE (Summit) marker.
6.3 – At the junction with the main BLUE (Summit) trail, keep to the LEFT and retrace the route back down the stone steps and to the parking lot.
—
Hiked: 7/4/20. Determined new route.
Hiked: 10/31/15. Trail Blog: "Baldpate Mountain on Halloween"
Hiked: 5/26/12. Trail Blog: "Baldpate Mountain – Summit, Ridge, and Honey Hollow"
Hiked: 8/16/09. Trail Blog: "Baldpate Mountain in August"
—
Updated: 7/2020 – Improved route by taking Copper Hill uphill instead of downhill (it's steep and rocky, more enjoyable as an uphill). Also using the path now also marked as Summit direct from the pond. Mileage now 6.7 from 8.1. Removed links to old maps. New photos.
6/2018 – Added link to a map on park site that wasn't there before (Map 1) and updated Map 2 link. These versions show fewer trails in Honey Hollow area than older maps (map 3,4) so the description below may be affected. 11/9/15 – Directions revised and route modified slightly; photos added; revised GPX.