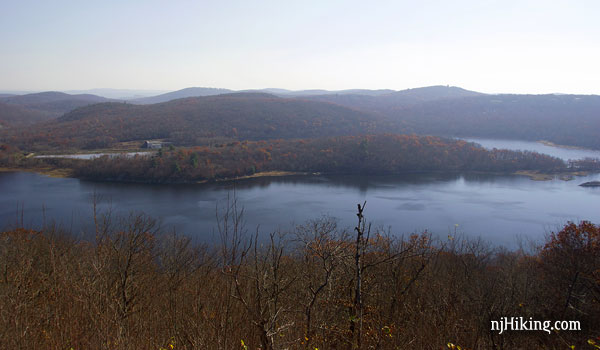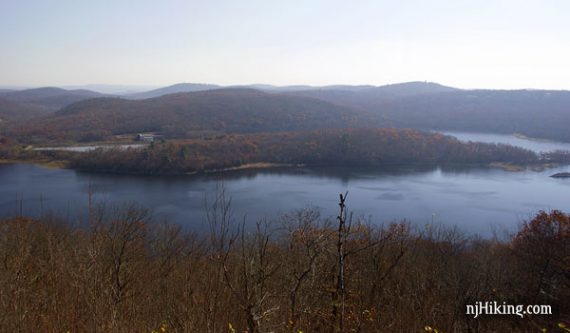 Nice views of Charlotteburg Reservoir early on, then hike through a secluded forest to arrive at Timber Brook Lake.
This route uses a northern section of the 19.4 mile Four Birds trail in the New Jersey Highlands region.
**NOTE: Hiking in this area requires purchasing a Watershed hiking permit.
7.2 miles total, out-and-back, turnaround point for this route is Timber Brook Lake. The first part of this includes some easy woods road, the second half becomes more like rugged highlands terrain, and includes a decent downhill section (uphill on the way back).
Hike Info:
Our two cents
Since this area requires a permit to hike it may be off the beaten path a bit.
Updated: 6/2020 – Page refreshed, not re-hiked.
Map:
This area is covered by the Jersey Highlands Trails map set. This route uses the marked parking lot second from the top, then goes south (down) the page.
Books:
The entire Four Birds Trail is described in detail in the The New Jersey Walk Book.
Rt 80 to exit 37 (Hibernia/Rockaway), turn left onto 513 North (Green Pond Rd) for 7 or 8 miles. After passing the Craigmeur Ski area, look for a gravel turnout on the left.
Restrooms:
None. Just as you turn onto 513, there are gas stations on either side that have restrooms.
Hike Directions:
The trail is south of the parking area, on the other side of the road (trail also goes in the other direction, on the same side of the road as the lot).
There is a trail kiosk that is somewhat visible from the road. The trail is well marked with WHITE blazes the entire way.
We did this in the fall after most of the leaves were just down and it was very tough to see the trail; we had to rely heavily on the blazes.
Pay close attention as there are some unmarked woods roads and trails to trip you up. Trail starts out on a gentle uphill, getting a steeper toward the viewpoint.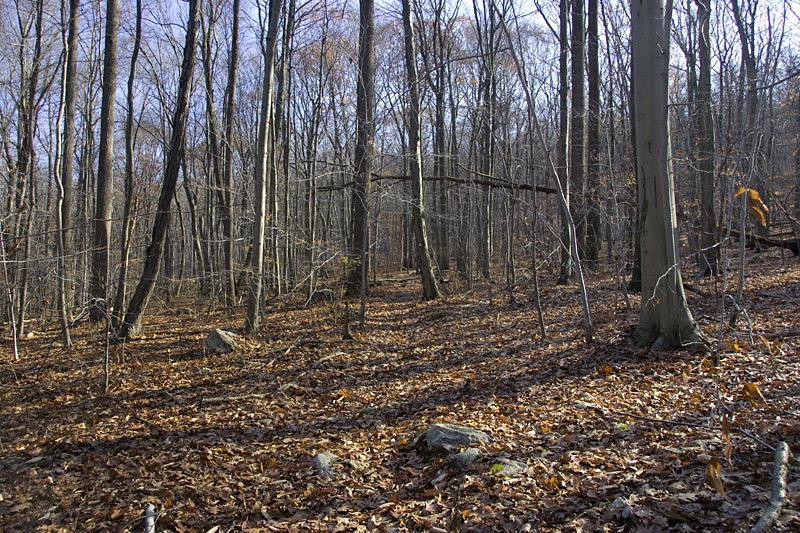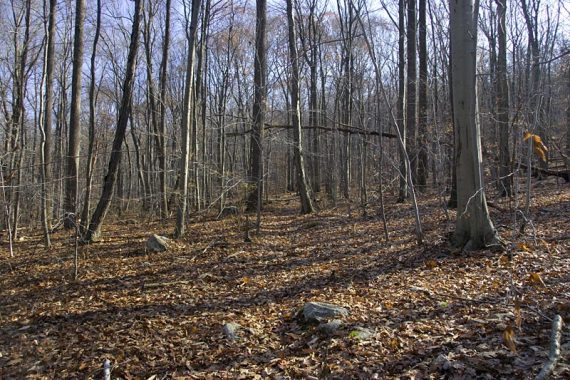 1.0 – Arrive at a T-intersection, the trail goes right and left (unmarked). There is a rock cairn (pile-o-rocks) in front of you. Turn RIGHT and continue following WHITE along the ridge.
There is a view of Charlotteburg Reservoir, but a much better one just down the trail a bit. Continue following the WHITE blazed woods road, with views to your left.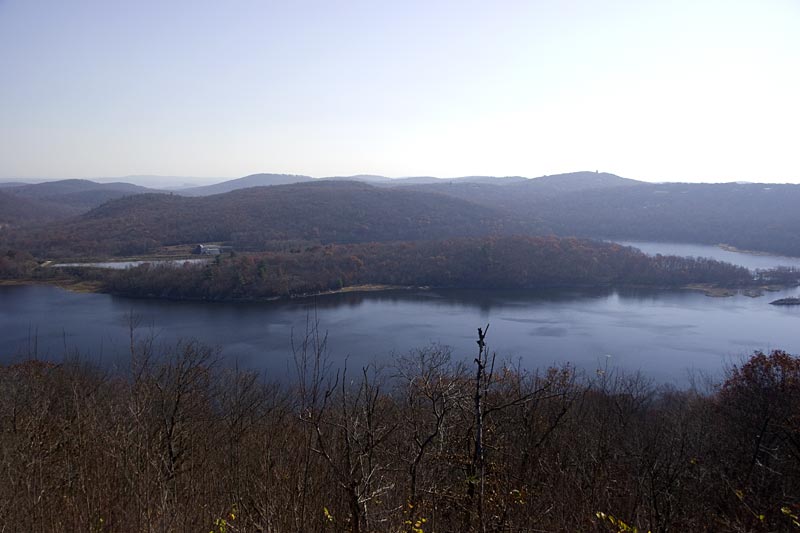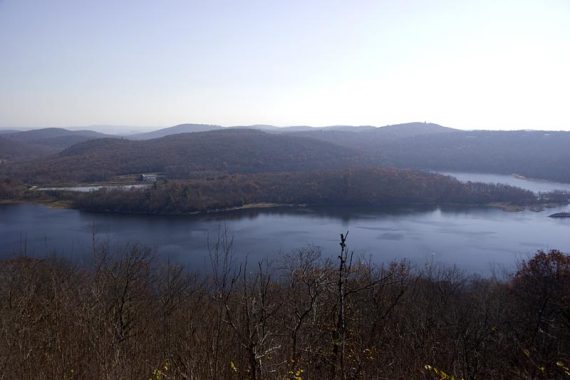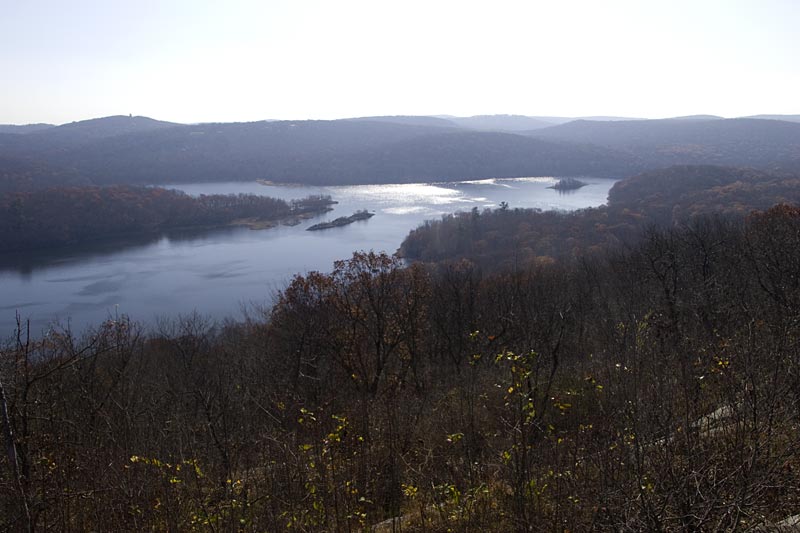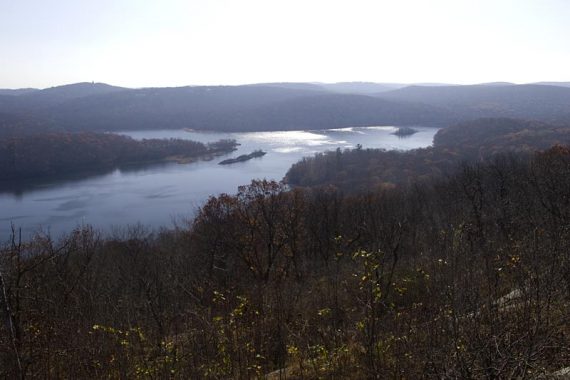 Four Birds is an easy woods road in this section.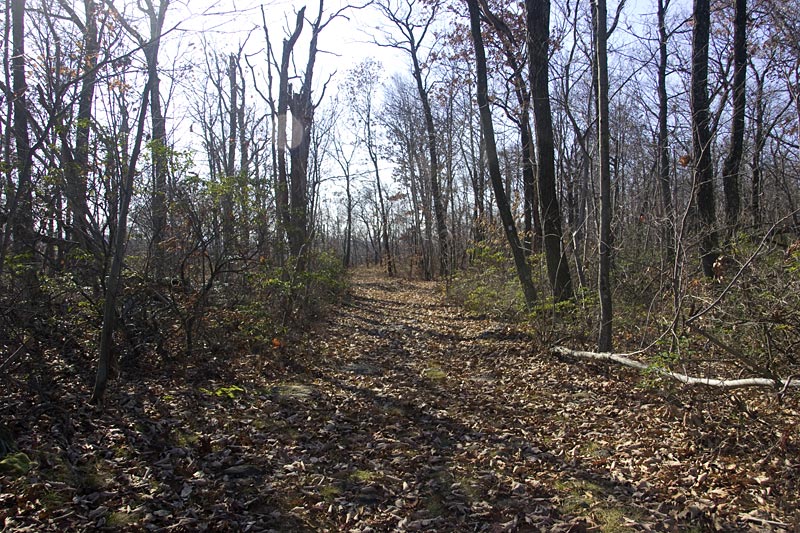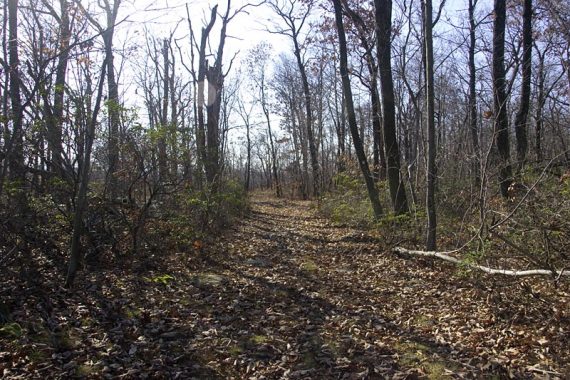 1.7 – White blazes indicate to stay to the left; to the right is an unmarked woods road.
Now just past this, watch for a left turn off of the woods road – it's marked by a rock cairn and was really, really easy to miss.
There is a faint white mark and cloth on a tree that is not easy to see.
The trail is overgrown here… afterwards we realized that if you miss that left turn and continue on the road, you come up to a small path on your left that look like it goes to a viewpoint, when in fact it meets up with the Four Birds trail, bypassing the overgrown area.
The trail becomes more rugged and secluded, including a brief downhill section that was super slippery with leaves.
Not only is it downhill, but it leans down to your left with a nice drop off, so take care on this short section when there is considerable leaf fall.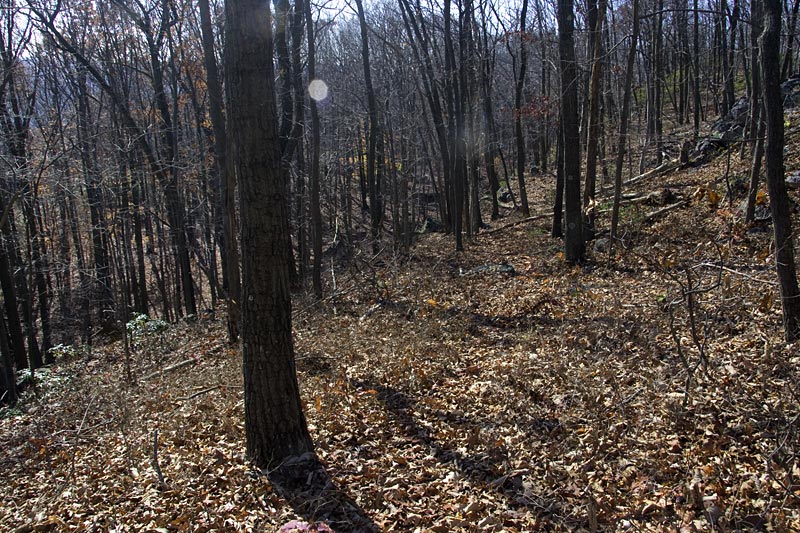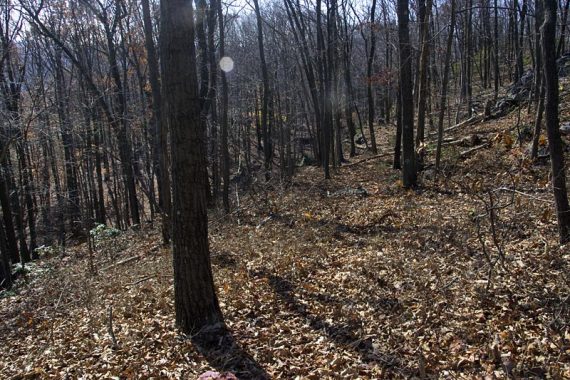 2.5 – Pass a trail on your right marked with red diamonds… this is the Marty Donofrio trail.
After that you will come to an intersection with some woods roads… just look for the WHITE marks to get the right trail.
Into a more secluded section of forest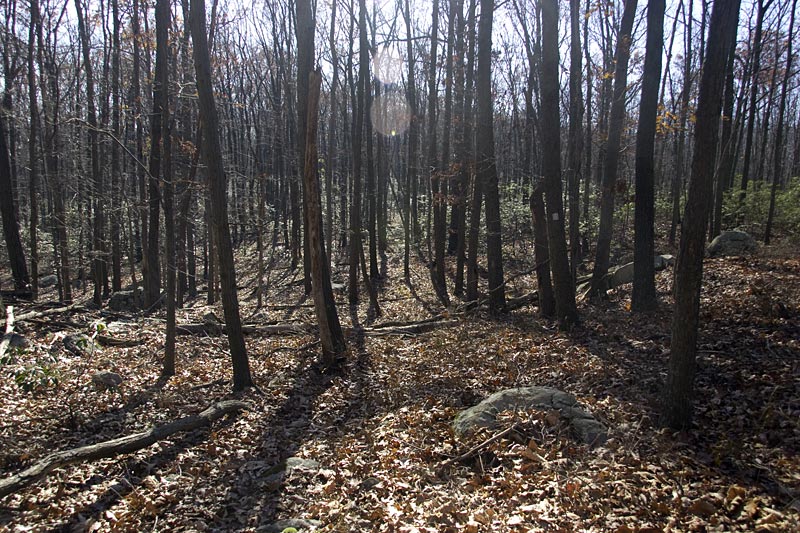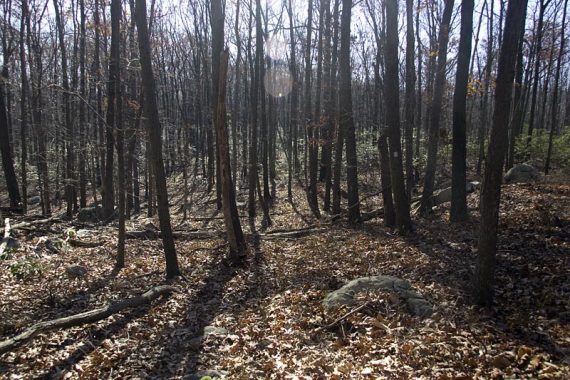 2.9 – Arrive at Timber Brook Lake. The path hugs the lake and you have to walk around a sort of a dam. There is a high water crossing marked if you need it.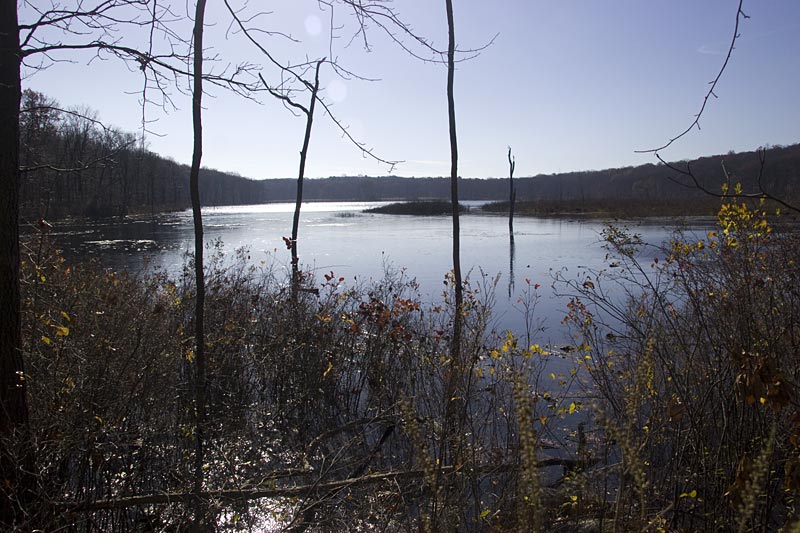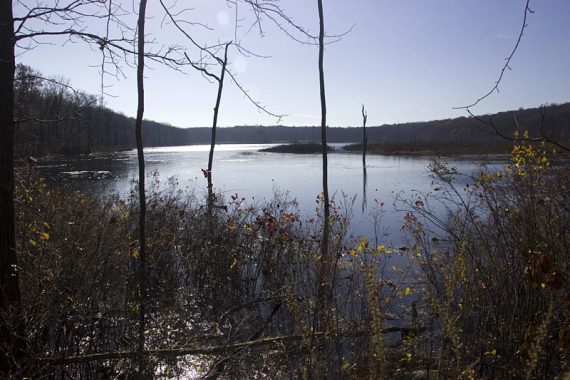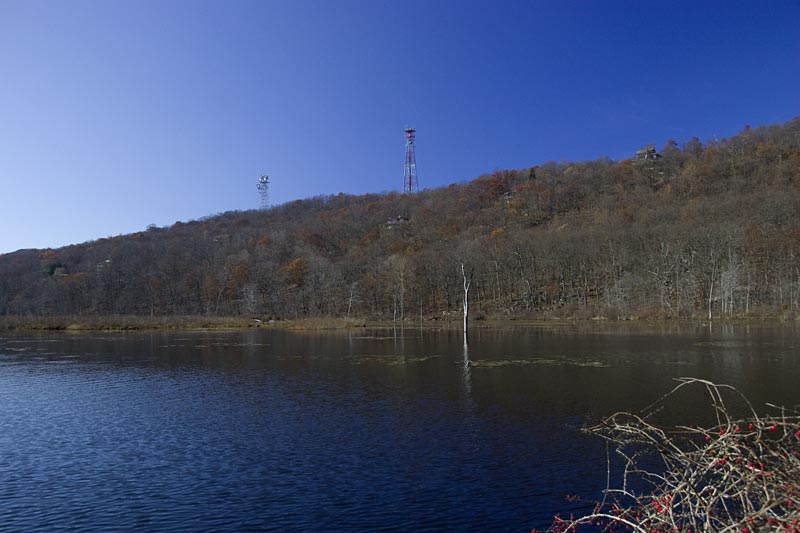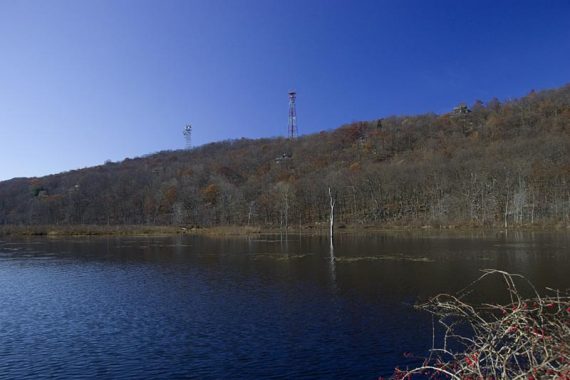 3.0 – A water crossing… follow the blazes around, and there are several logs to choose from. However, just past the 3 main logs I found some easy rocks to hop across on.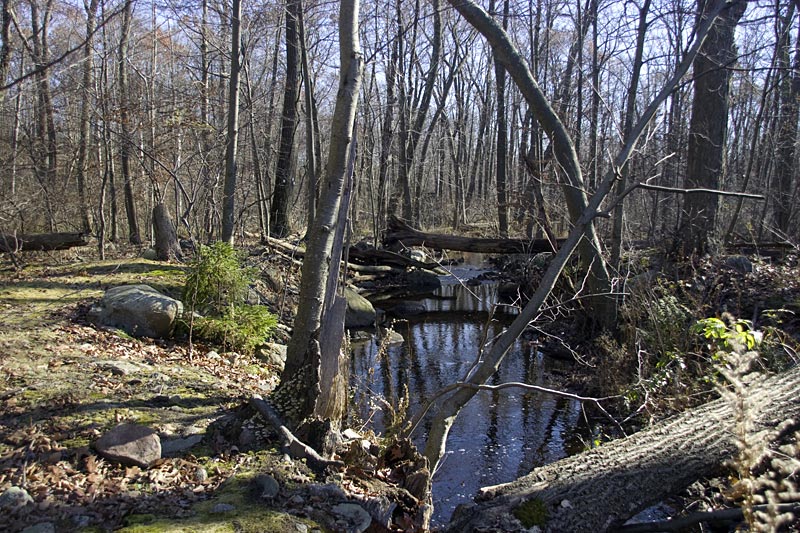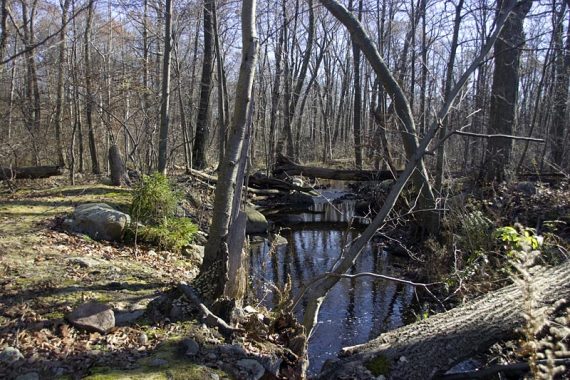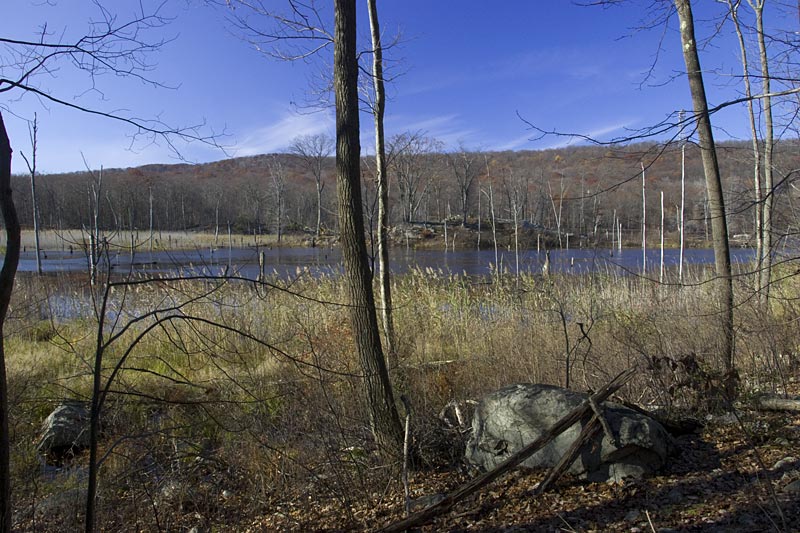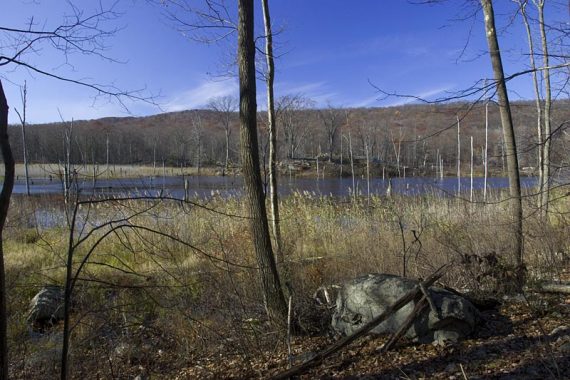 They might not work for high water but are a good option if you aren't a big fan of crossing streams on logs (they were easy enough but my thought is, why risk slipping off a log several feet up if you don't have to?)
Depending on where you cross, the blazes may not be obvious… look toward the lake and you will find them again. The trail continues to hug the lake and there are some good spots for a snack break.
End of Timber Brook Lake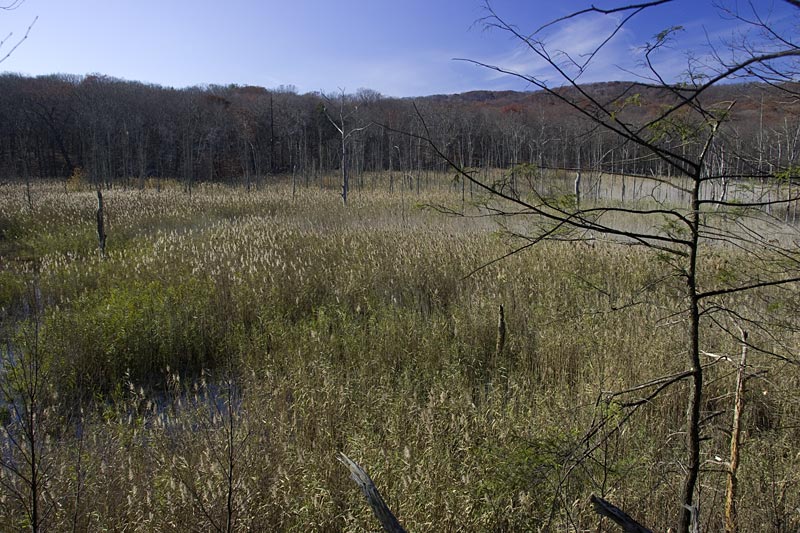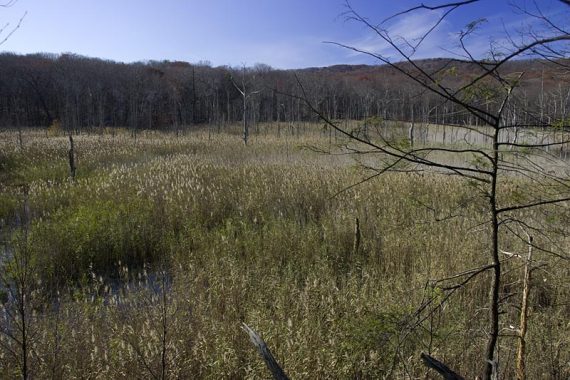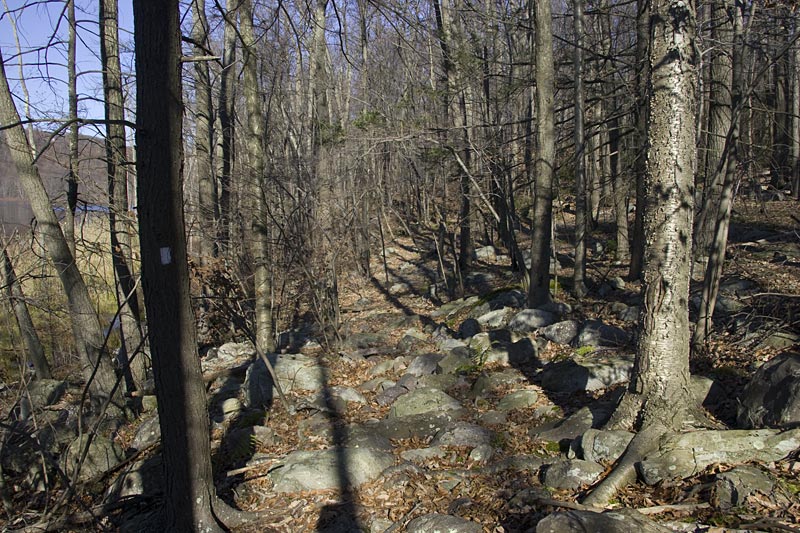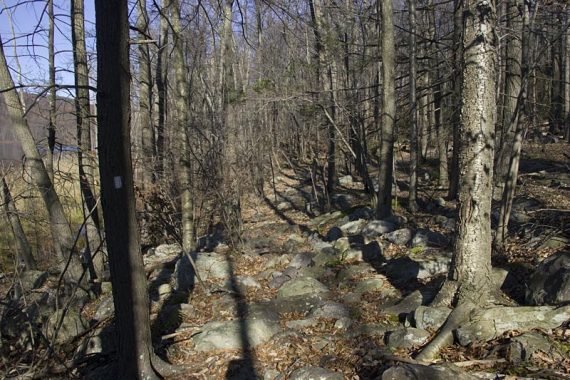 3.7 – Continue to the end of the lake then turnaround and retrace your steps back… or you can continue on for a longer hike.
—
Hiked: 11/11/09. Trail Blog: "Four Birds Trail – North Section"