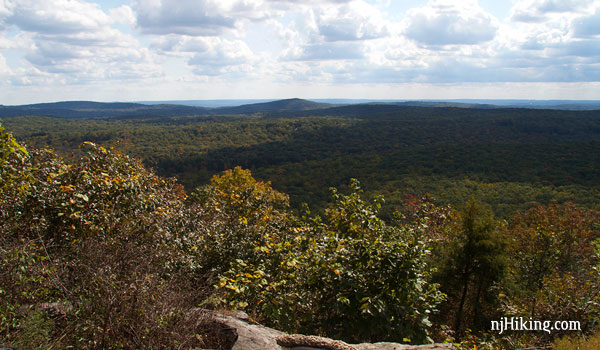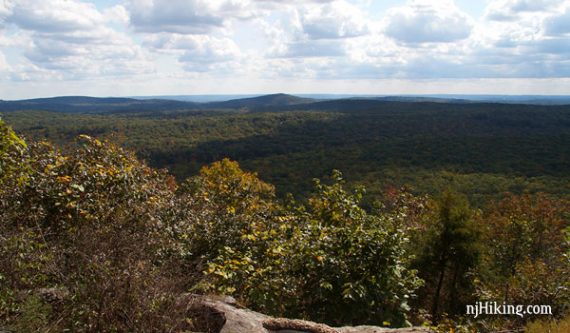 A rugged trail through a very pretty area, with several stream hops and views from a hawk watch.
12 or 5.2 or 1.4 miles. Moderate to strenuous with lots of minor elevation change.
1.4 miles – Bat cave and cemetery, noted below.
5.2 miles – Bat cave, cemetery, hawk watch, noted below.
Alternate: 3.7 miles – loop starting from Split Rock Reservoir boat launch parking [N40 57.751 W74 27.480], to Split Rock Loop south, and taking Four Birds back to Split Rock Rd.
Alternate: 2.6 miles – loop to the Hawk Watch Overlook using FlyAway – Four Birds – Beaver Pond. Start at either Upper Hibernia Road [N40 57.264 W74 28.763] parking or Beaver Pond parking [N40 57.396 W74 28.619 and use Wildcat Ridge to complete the loop between lots.
Our two cents:
The 5.2 mile version includes the highlights and is what most hikers will want to do. The full hike is a challenging "lollipop" loop that starts at the southern terminus of the Four Birds trail.
The Four Birds trail runs for 19.4 miles in the New Jersey Highlands region, through Wildcat Ridge WMA and Farny State Park.
There are multiple trails and parking access points in this area in order to create shorter loops or longer and more challenging hikes.
Updated: 10/2020 Added directions for shorter versions. 7/2020 – Page refreshed, not re-hiked. Added photos.
---
Maps:
This area is now covered on the Jersey Highlands Trails map set.
Books:
A 8.4 mile variation can be found in 60 Hikes Within 60 Miles: New York City. Two short and one long hike in the Farny Highlands are found in Hiking the Jersey Highlands.
Detailed trail description of the 19.4 mile long Four Bird Trail as well as others in Farny/Wildcat can be found in The New Jersey Walk Book.
---
Rt 80 to exit 37 (Hibernia/Rockaway), turn left onto 513 North (Green Pond Rd) for about 2.5 miles. Turn right onto Roundhill Drive
Note: hard to spot. Interactive Maps has it as Roundhill Dr, our GPS had it as Sunnyside). The small dirt parking lot is on the immediate left and has a wooden trail sign (not much on it).
---
Restrooms:
None. Best bet are the two gas stations immediately after turning left onto 513, both have restrooms.
There may be a portable toilet at the Splitrock Reservoir boat launch parking area about halfway through the hike.
---
Hike Directions:
Overview: WHITE (Four Birds) – ORANGE (Hawk Watch) – WHITE (Four Birds)
0.0 – Start following WHITE (Four Birds) at the end of the lot.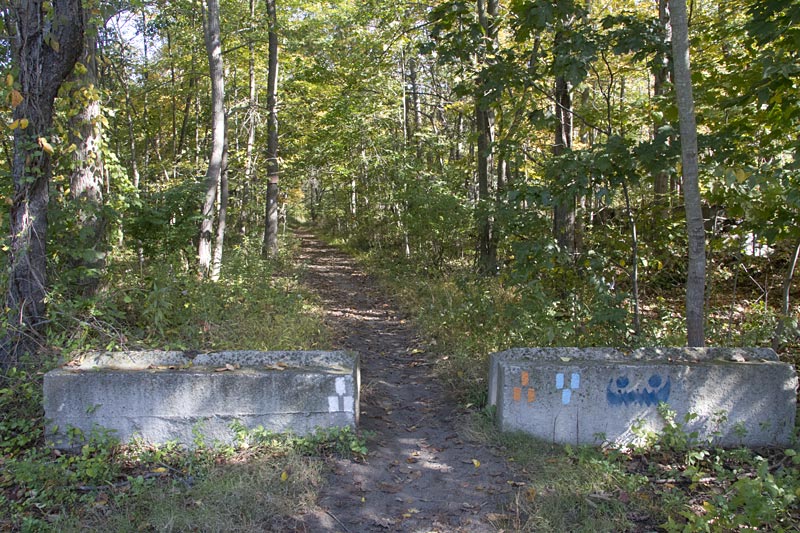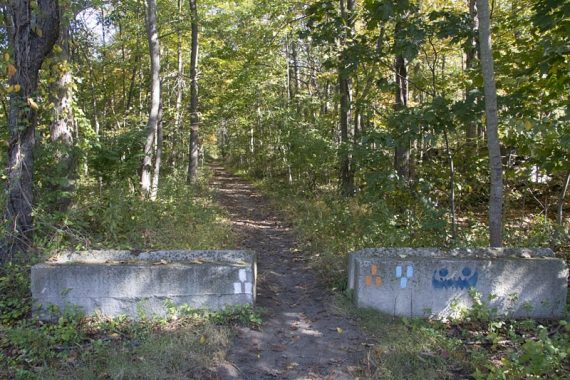 0.1 – The trail splits. Follow the brown sign with binoculars to the right to check out the bat-viewing platform and Hibernia Mine.
[WHITE continues left, and you'll rejoin that after the mine]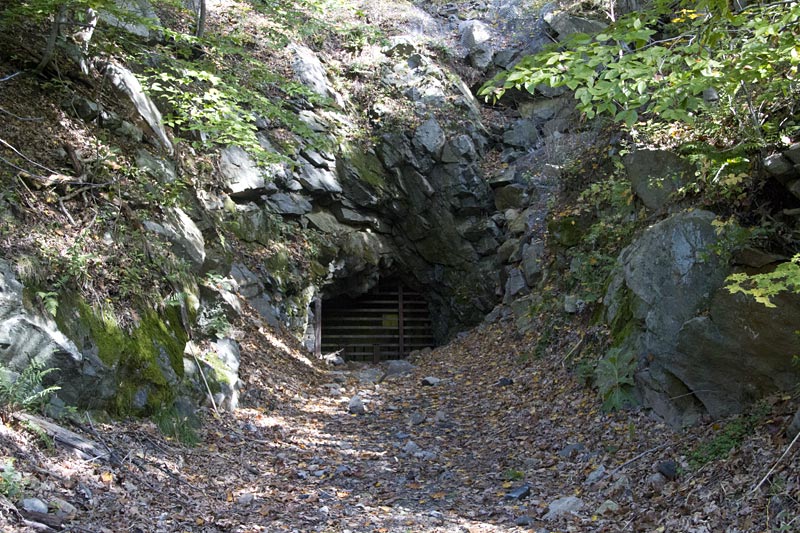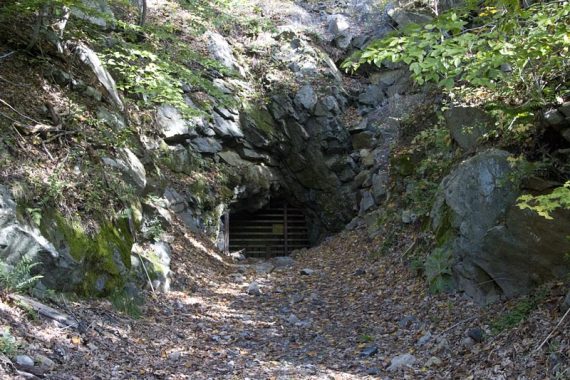 On the platform there is a placard explaining the mine and the bats.
Check out the mine and then return to the WHITE by turning LEFT while facing the mine and following a brief unmarked trail back to the main WHITE trail.
Turn RIGHT onto WHITE.
The first little bit of this trail isn't particularly scenic, the road is visible and there is road noise but after you climb up a steep hill it starts to feel like you are in a remote area.
0.3 – Pass the ORANGE trail.
0.4 – The trail levels off – watch for the WHITE blazes here, they are not completely obvious. (Be alert for blazes throughout the route as there are many unmarked trails and woods roads to cross)
The trail now follows a mining berm (mounded earth next to a ditch).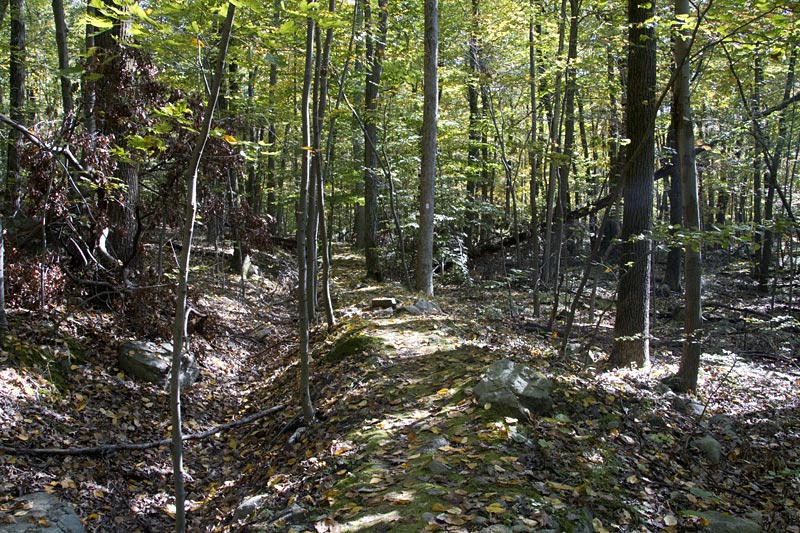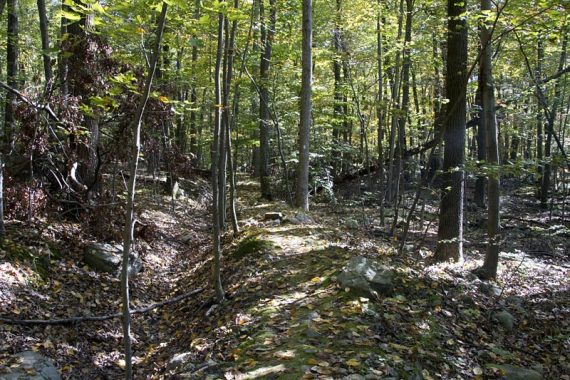 0.6 – Look on your right for the Hibernia Cemetery off slightly in the distance if the leaves are down.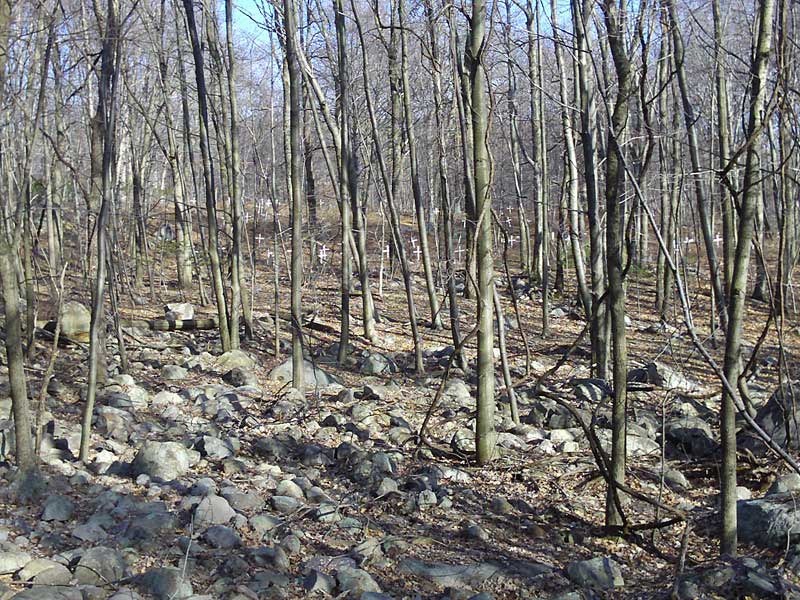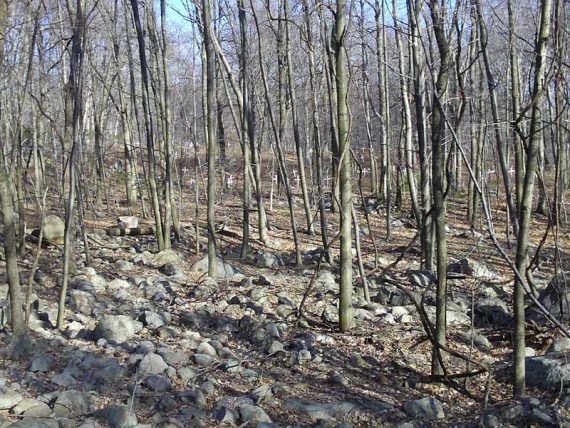 Follow a short unmarked path to check out the cemetery and then return to WHITE (Four Birds).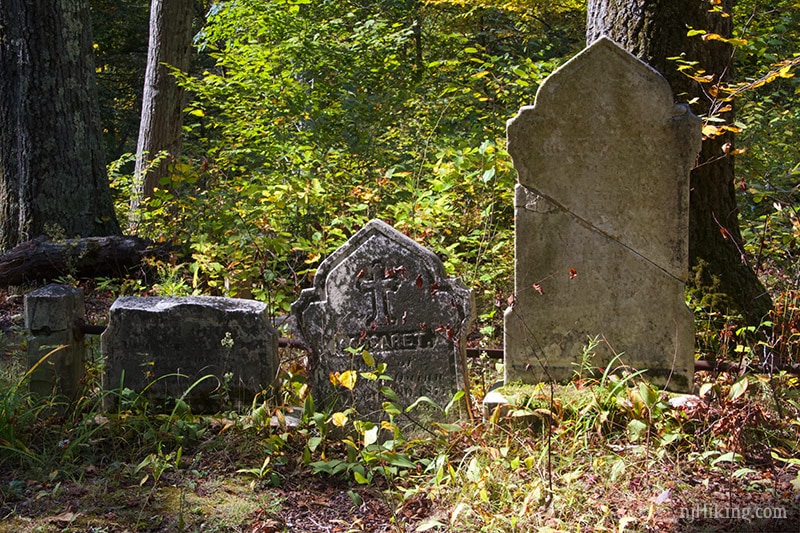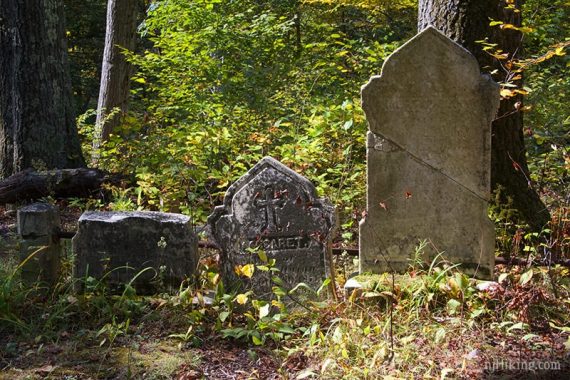 // 1.4 mile hike: Retrace the route from here. //
1.0 – Cross an unmarked woods road, continuing straight on WHITE.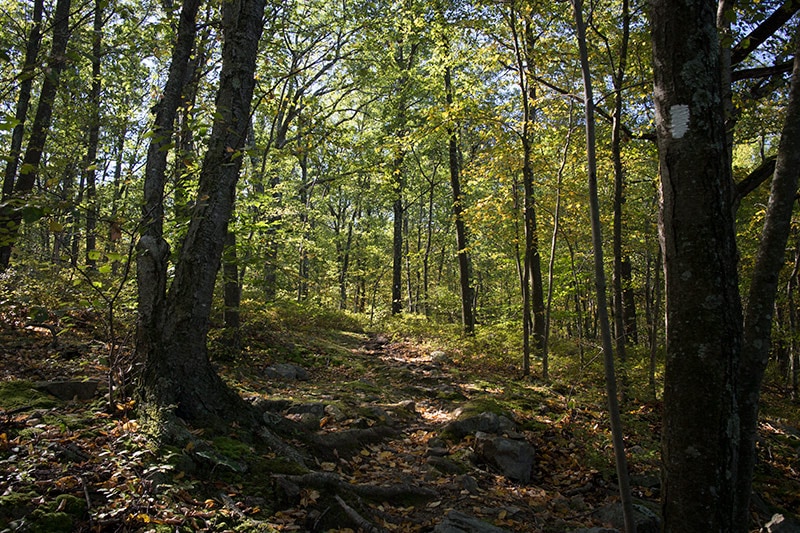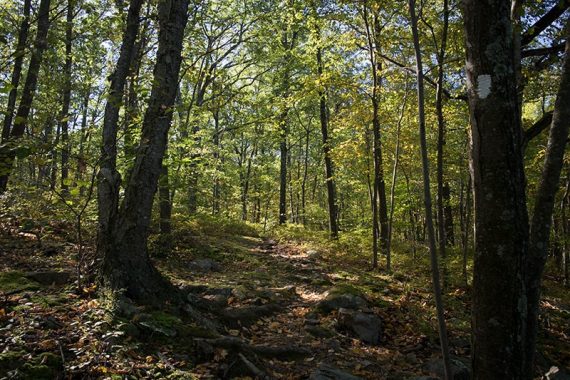 1.4 – Cross another woods road. After heavy rains, pass a water runoff/cascade on the right.
1.6 – Cross a small stream.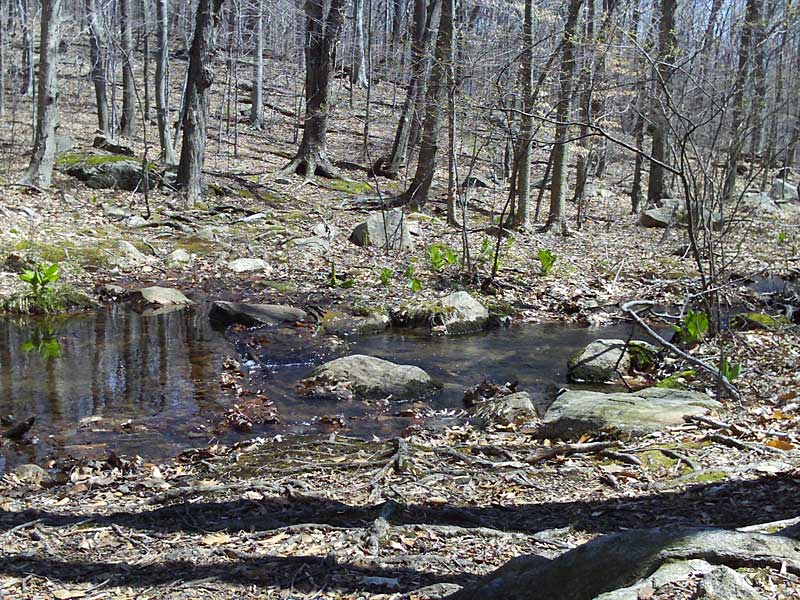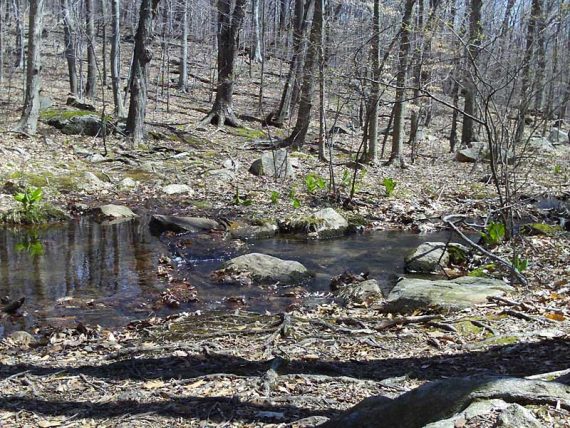 1.8 – Turn LEFT, continuing on WHITE.
[To the right is a now unmarked trail. It used to be marked YELLOW and go to "Graffiti Rocks". An old yellow blaze can be seen down the trail]
1.9 – Cross an unmarked woods road, continuing straight on WHITE.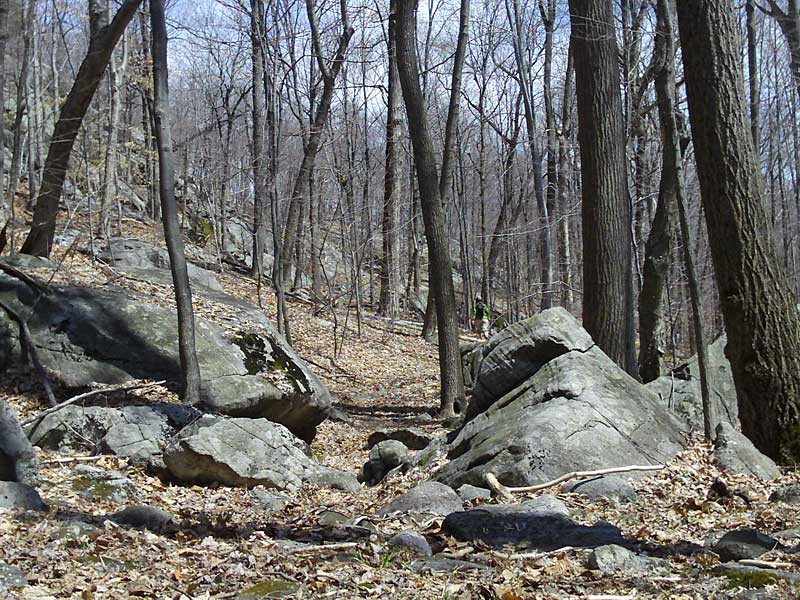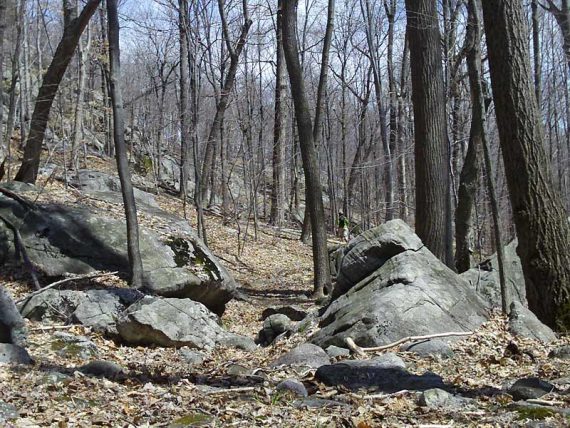 2.3 – At a junction with a woods road, the trail makes a LEFT. Markers are faint. The trail turns to the right not long after.
2.5 – Junction with Tower Road, Four Birds Trail, and the spur to the Hawk Watch (ORANGE). There is a large signpost.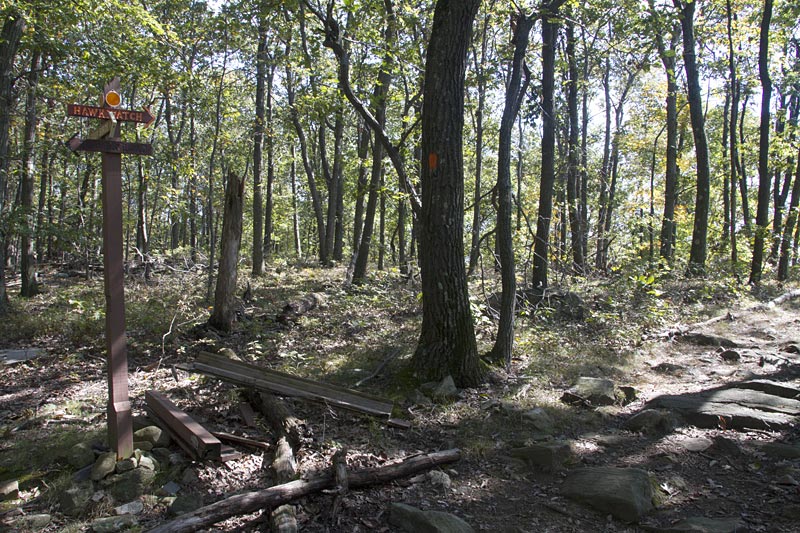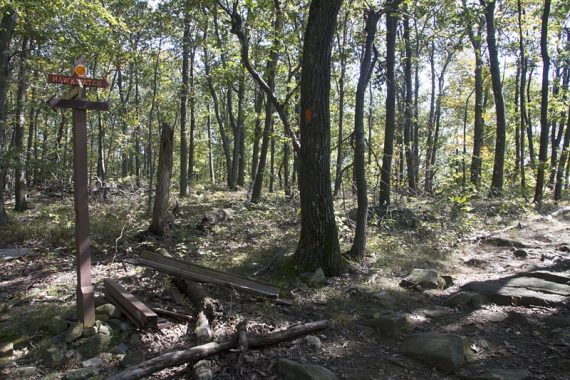 Turn RIGHT, following the ORANGE trail to the hawk-viewing area. With clear enough conditions the NYC skyline may be visible.
This is a nice spot to have a snack and watch hawks glide around.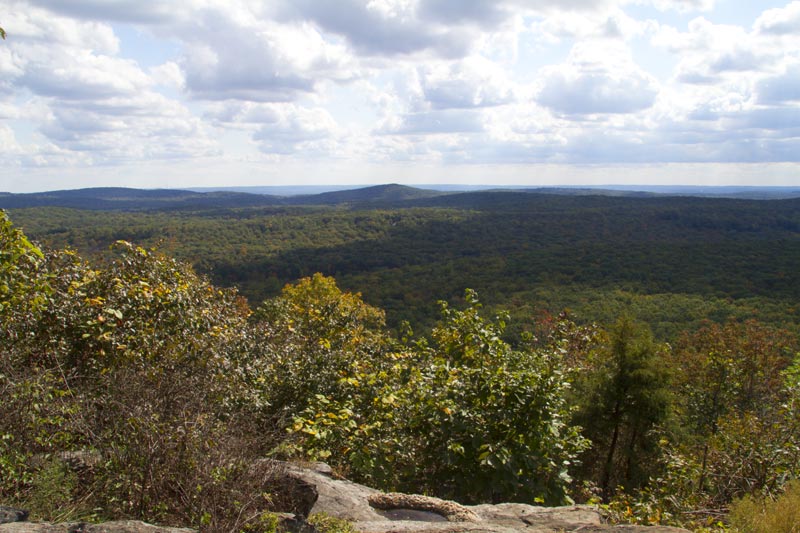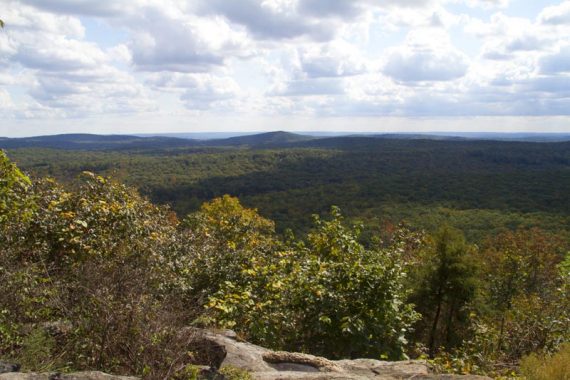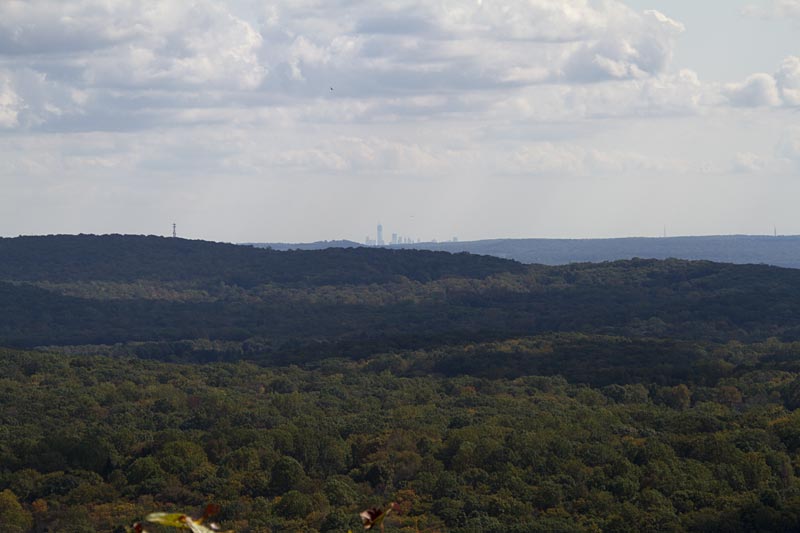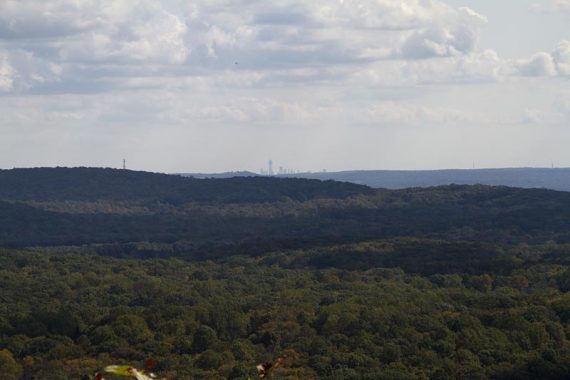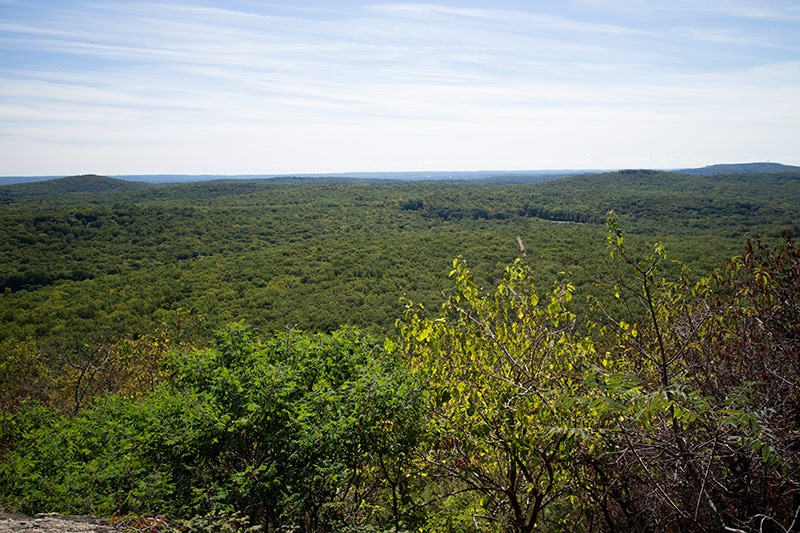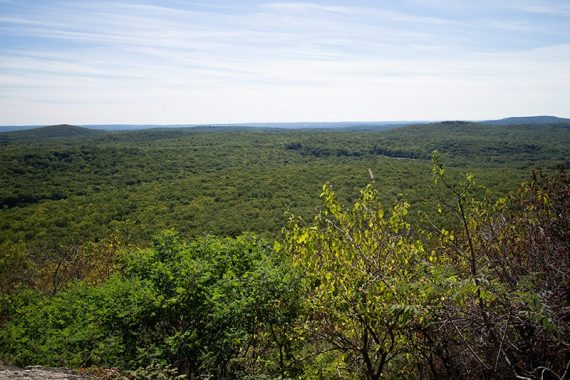 // 5.2 mile hike: Retrace the route from here. //
Retrace your steps back on ORANGE and rejoin WHITE. Turn RIGHT back onto WHITE.
2.8 – Cross the large gravel road (Tower Rd.) and continue on WHITE. Trail descends through a rocky area.
3.3 – Rock-hop over a small stream.
3.5 – Continue straight on WHITE at the junction with Beaver Pond Trail. [Beaver Pond (RED) goes to the LEFT]
3.8 – Another small hop over a stream. There are several unmarked trails in this area, pay attention to the WHITE blazes. Trail goes steeply up a hill now.
4.2 – Continue straight on WHITE as the Split Rock Loop Trail (BLUE) comes in from the right. Trail descends over a rocky area and crosses another small stream.
4.5 – Cross a power line cut.
4.7 – Drops down to Split Rock Road.
[At this point, The Four Birds trail continues across the road on WHITE for about another 15 miles – save that route for another day]
Turn RIGHT and follow the gravel road, over a bridge and past the ruins of the Split Rock Furnace. After the bridge there is a parking lot on your left that may have a composting toilet.
There is a trail sign with a map of the trails in the area. There are nice views of the reservoir in this section.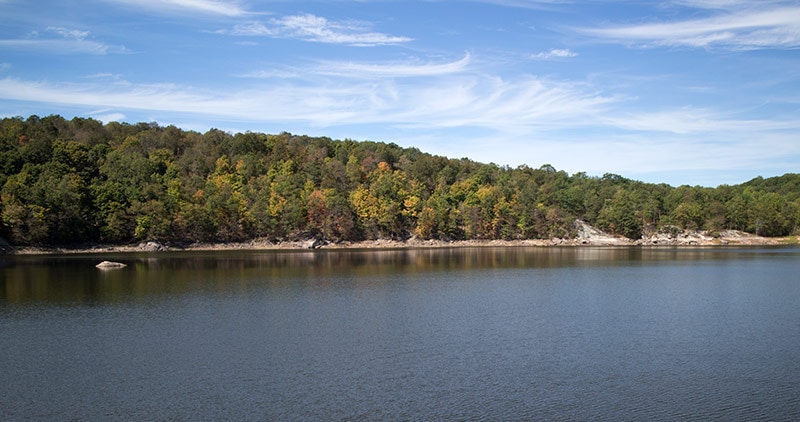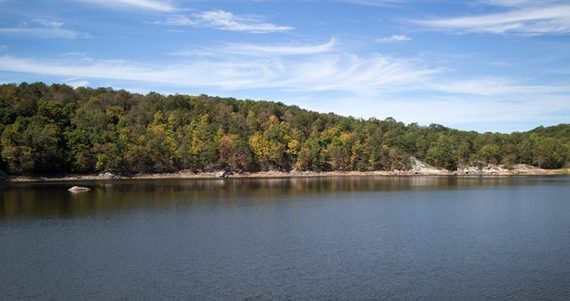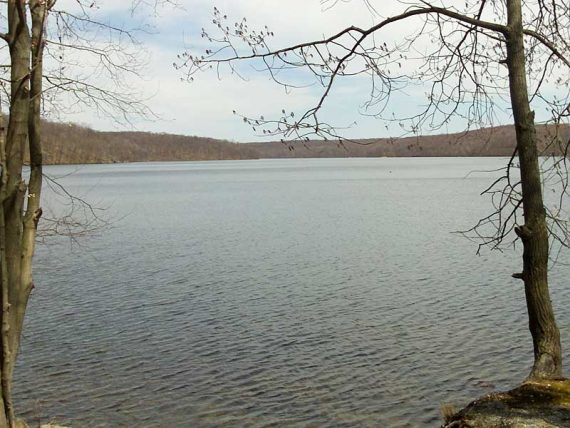 Continue past the parking lot on the gravel road for what seems like too long. (Total gravel road walking is 1.0 mile)
Watch for BLUE markers on some rocks on the right at a power line clearing, just past a large tower.
Turn RIGHT and now follow BLUE (Split Rock Loop). [The trail also continues left, going north along the reservoir – but save that for another day]
Trail goes around and then descends a rocky hill, with views over the valley.
6.1 – An overview where the tower that is near the hawk watch is visible. There are several rocks to sit on and a good spot for a snack break.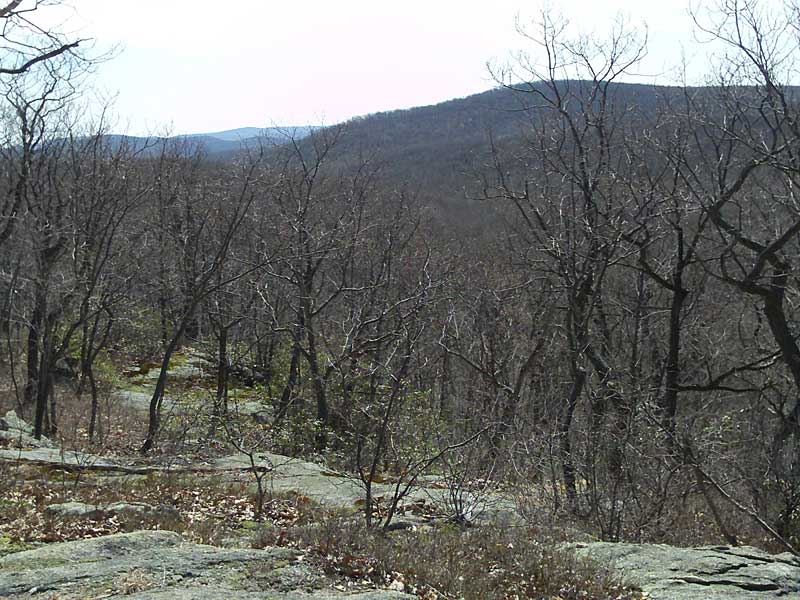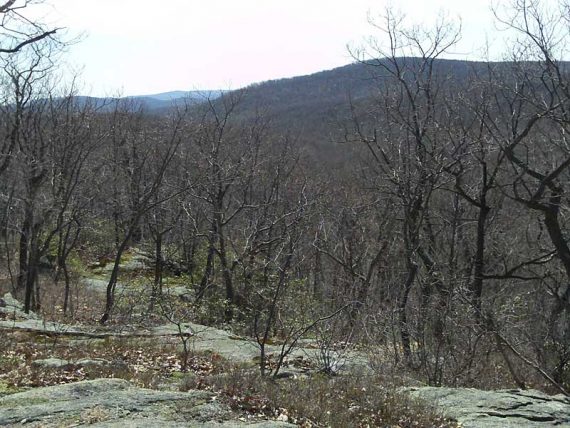 7.0 – Cross a large woods road, and approach a wide water crossing in a very pretty area, lots of mossy rocks and sunlight steaming in. There are two main crossings to make.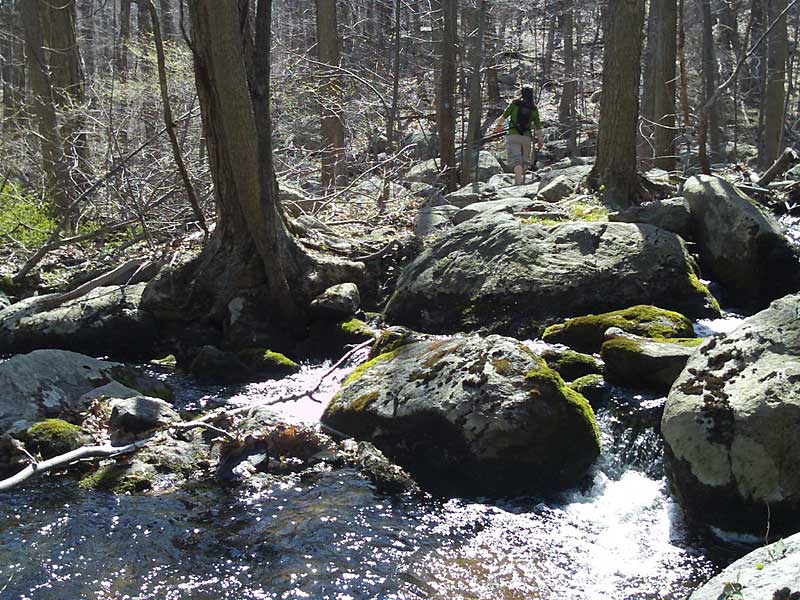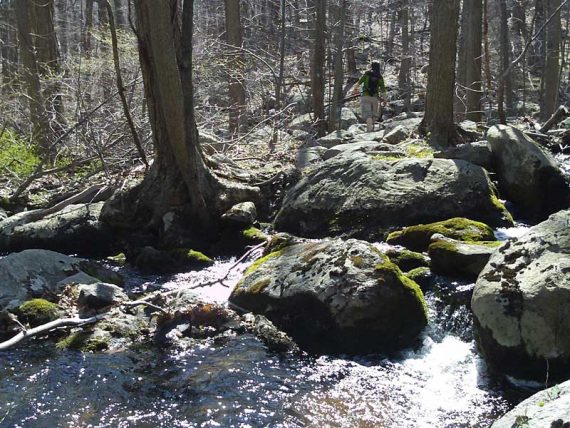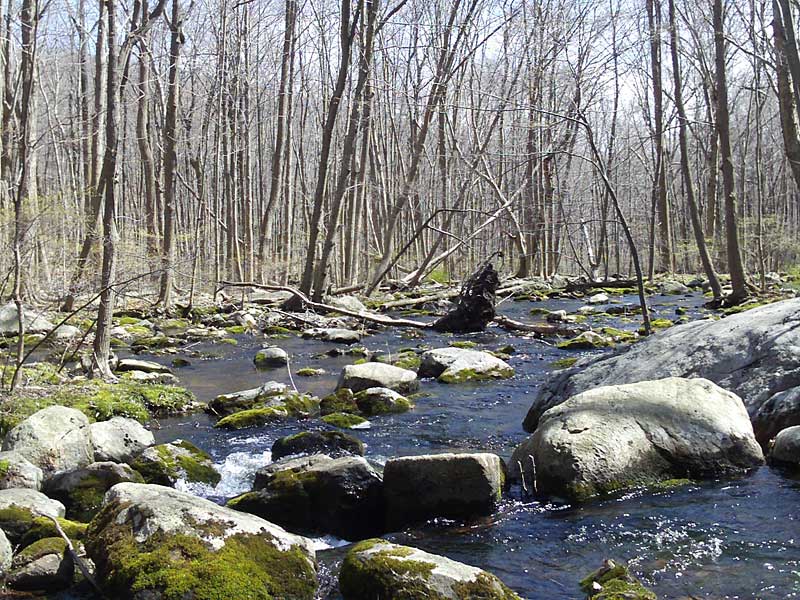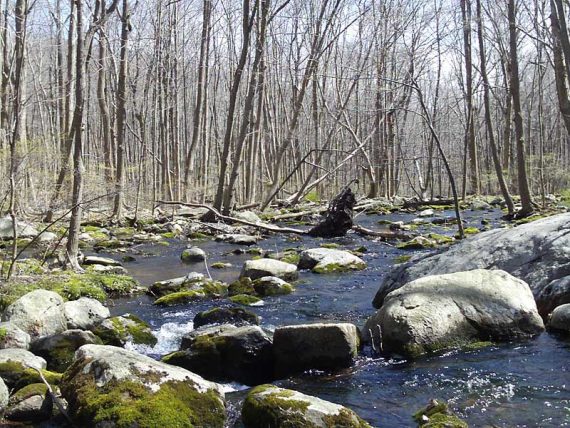 The water is moving quickly here and if it's too high to hop across at the markers, you may need to look upstream a bit.
7.1 – Arrive at Y-intersection, follow BLUE to the left (a trail on the right looks like it used to be blazed blue).
Continue through a very rocky area with large glacial erratics called "The Maze".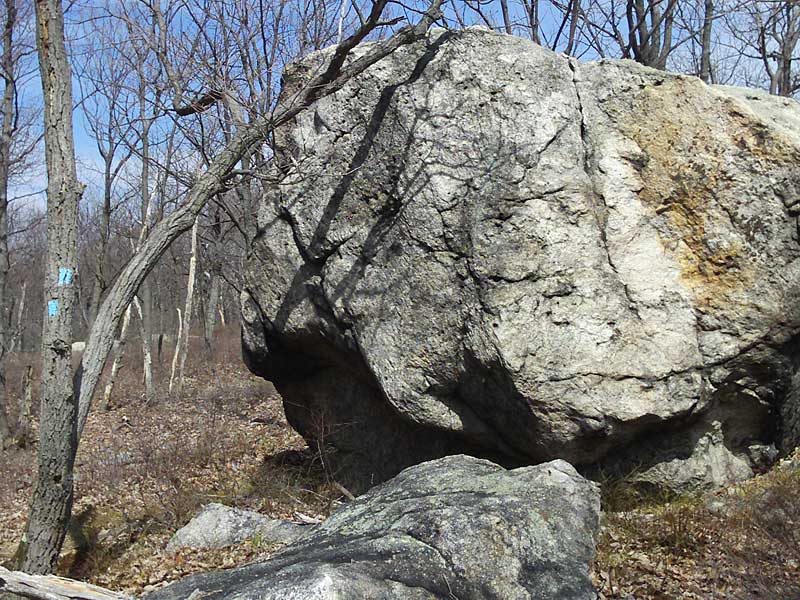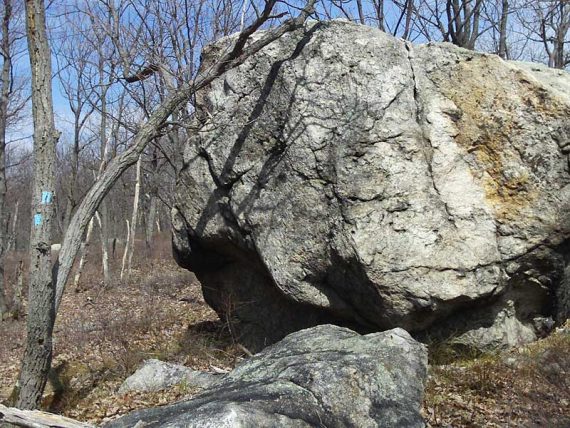 At the terminus of Split Rock loop trail, turn left and again follow the WHITE Four Birds trail, retracing your route back to the lot.
—
Hiked: 9/14/14 (Variation): Four Birds, Hawkwatch, Splitrock Res, Furnace
Hiked: 9/30/12 (Variation) Trail Blog: "Four Birds, Hawkwatch, Beaver Pond"
Hiked: 4/17/09. Trail Blog: "Four Birds Trail (south) – Wildcat Ridge"
Hiked: 4/21/07. Trail Blog: "Wildcat Ridge – Farny Highland"
Hiked: 10/8/06. Trail Blog: "Farny Highlands/Wildcat Ridge – Four Birds Trail"