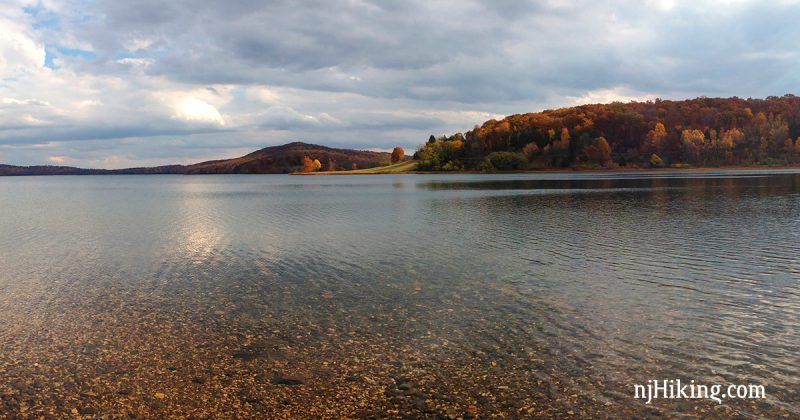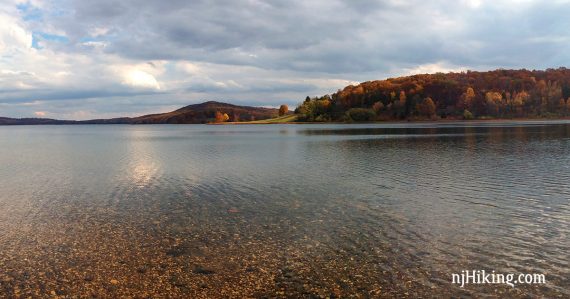 Rugged hike with some views of beautiful Round Valley Reservoir.
Total miles: 10.2 round trip. Lots of up-n-down hills with a surface that varies between flat, packed dirt to tons of softball-sized rocks… the kind that like to roll an ankle. Campground Trail is a flat, gravel woods road. Trails are multi-use.
Hike Info:
Our two cents:
Best for the great view of the gorgeous reservoir with little effort from the easy trails around the parking lot, but this is not one of our favorite spots for a long hike – this park's strengths are in everything but hiking. Worth a visit to determine for yourself, however.
Round Valleys offers picnic areas, a beach, fishing, boating, and scuba diving. The depth is 180 feet, making it the deepest body of water in New Jersey.
The park also has something rather unique in New Jersey: remote campsites that are accessible only via hiking or paddling.
Gets crowded in summer and can be closed when filled to capacity.
Fee: Charges an entrance fee Memorial – Labor Day; which is covered by the NJ State Park Pass.
Updated: 8/2021 – Page refreshed, not re-hiked. 4/2018 – re-hiked, some description tweaks, updated GPX/Interactive Map. 7/2016 – added a video to the page.
---
Map/Books:
Print out ahead or check at the park office or use our Interactive Map linked above. The park map has been improved since we last hiked this.
60 Hikes Within 60 Miles: Philadelphia contains an out-and-back only variation that is similar in length, plus map diagram in.
---
Round Valley Reservoir South Lot, Lebanon, NJ 08833. There are several lots – bear right after the park office for the trailhead lot (South Lot).
From east: I-78 west to exit 20 A to Route 22 west, follow signs to the park.
From west: I-78 east to exit 18 to Route 22 east, follow signs to the park.
---
Restrooms:
Bathroom building at East Area; portable toilet in parking lot near trailhead. Multiple rustic latrines are along the Campground Trail.
---
Hike Directions:
Overview: RED (Cushetunk Trail) – Campground Trail (Unmarked gravel path, YEL on park map) – RED (Cushetunk Trail).
Some intersections might be a little unclear but it's not too bad keeping your bearings.
0.0 – Trailhead is at the trail sign at the back of the parking lot. Start following RED (Cushetunk Trail). The trail is blazed with green metal poles with the tips painted red.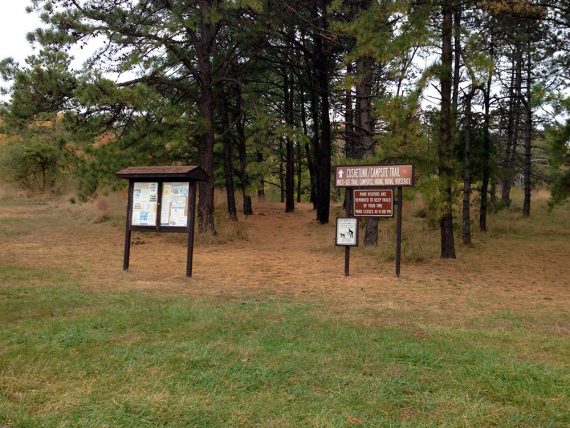 0.2 – Bench with a view over the reservoir. The park office and road are nearby.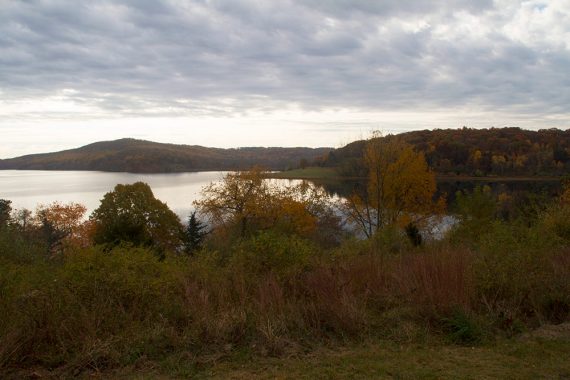 1.3 – Head steeply downhill, next to a fence (…uphill on your way back).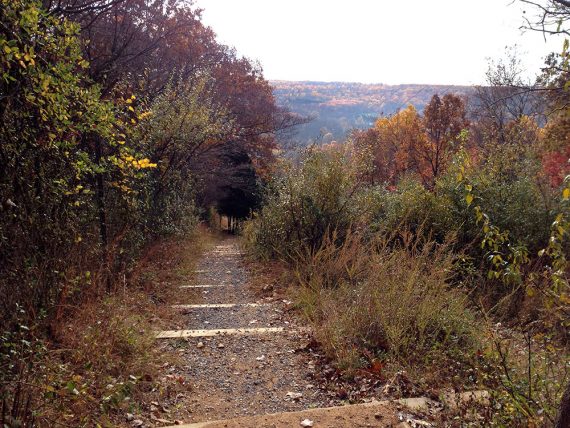 1.8 – After passing a grassy area between a fence and a road (and near a dam that is not visible), the trail gets close to the road before ducking into the woods.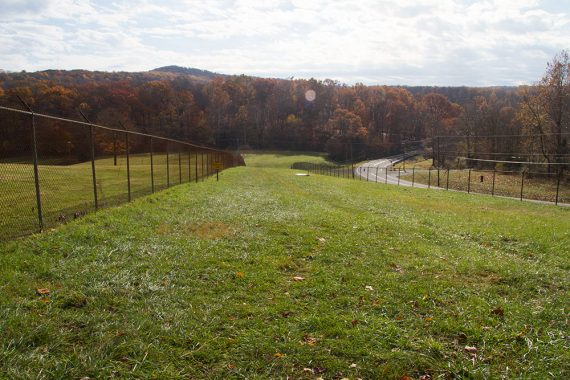 2.6 – Trail splits, bear RIGHT, continuing RED (Cushetunk).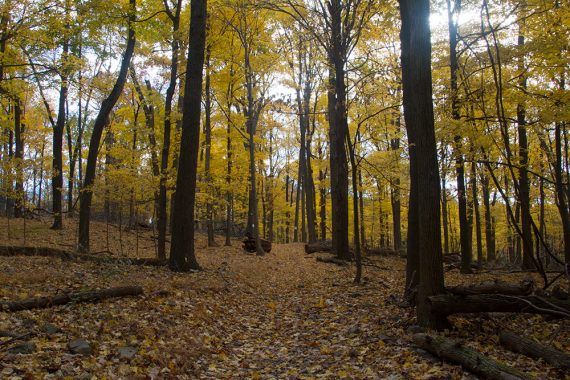 2.8 – Trail splits again, bear RIGHT, continuing RED (Cushetunk) ["Campgrounds" sign with an arrow pointing left.]
5.1 – Pass a woods road coming in from the right, and follow the trail around past two small buildings to arrive at a picnic area with a covered pavilion. (There is also a casual path that cuts directly over).
There is a stretch of beach at the waters edge.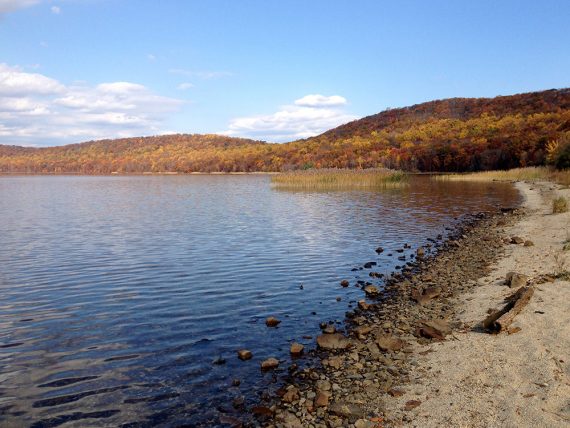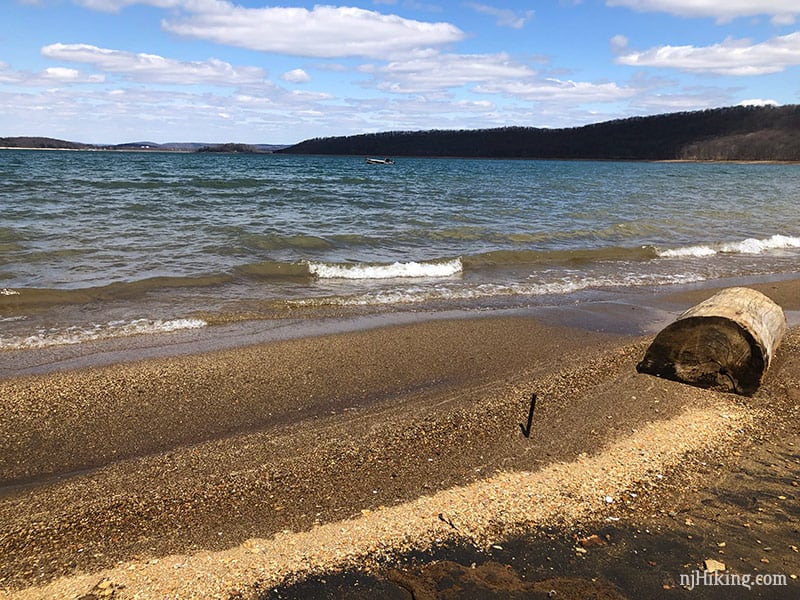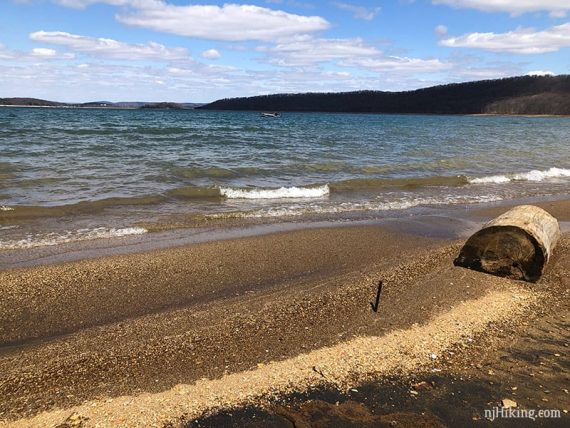 To continue, walk back on the right of the past the pavilion in order to pick up the gravel unmarked Campground Trail (marked as YELLOW on the map and there might be a few yellow blazes on the actual trail).
---
Variation 1: Do an out-and-back on the RED (Cushetunk) instead, retracing your route back. We take the Campground Trail for a change of scenery, but the gravel path is not as nice as the trail. It's also not as challenging as going back via RED (Cushetunk).
Variation 2: Continue further on RED (Cushetunk) before turning around and returning by either Campground Trail or RED (Cushetunk).
---
The Campground Trail passes multiple numbered primitive campsites, some with picnic tables. Several rustic latrines along the way.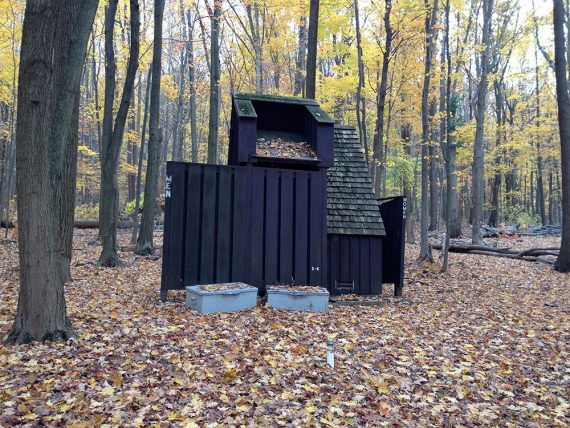 7.2 – Turn RIGHT at an intersection with a very large "WELCOME TO…. LOWER CUSHETUNK/CAMPGROUND" sign and a "3" sign.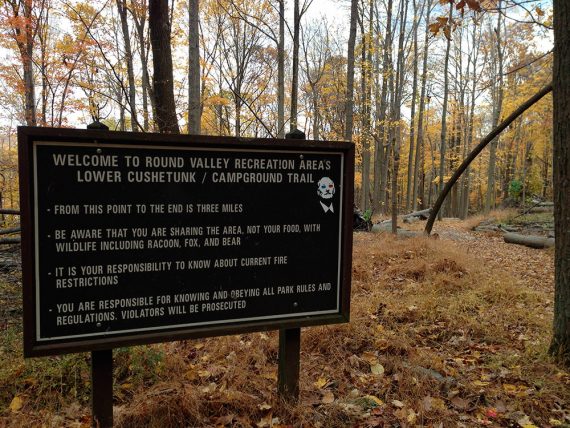 // Optional: Go straight instead, and shortly meet up with RED (Cushetunk) where you were earlier and retrace from there.//
The Campground Trail heads downhill.
7.5 – Just before the Campground Trail turns left, follow a little side trail off on the right for a view from the waters edge.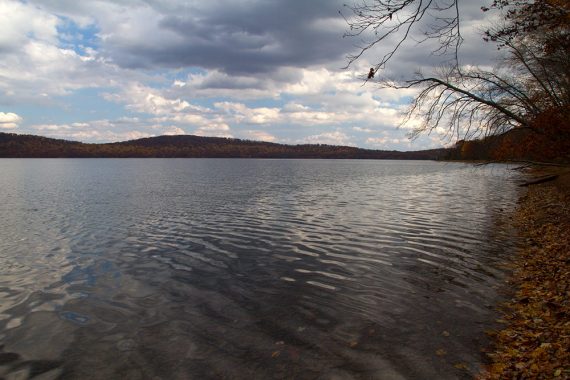 The trail now heads steeply uphill.
7.6 – Turn RIGHT onto RED (Cushetunk) at an intersection from earlier.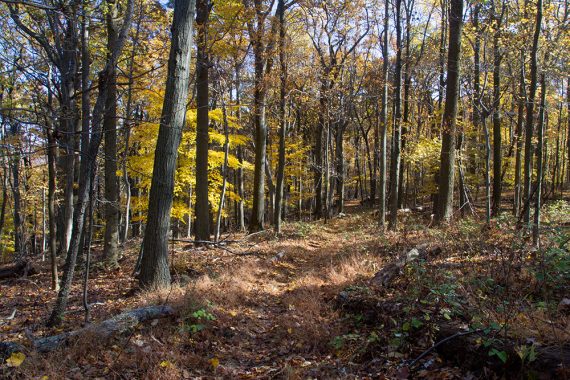 Retrace RED (Cushetunk) back to the lot.
Views of Round Valley Reservoir on the way back, off of Cushetunk Trail.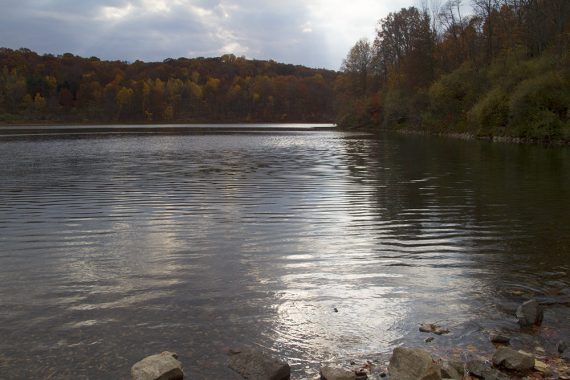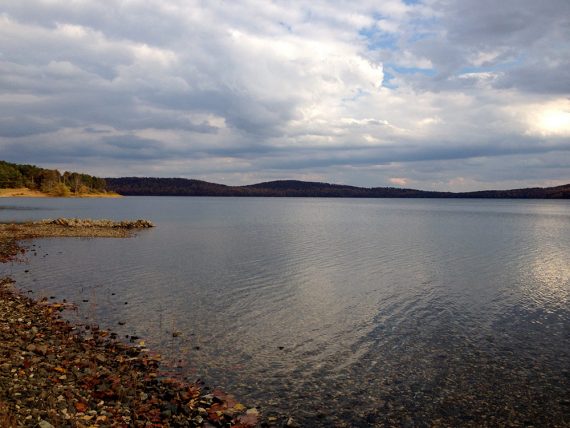 —
Hiked: 4/8/18. Trail Blog: "Chilly Day at Round Valley"
Hiked: 11/02/13.
Hiked: 2/5/06. Trail Blog: "Round Valley in Winter"