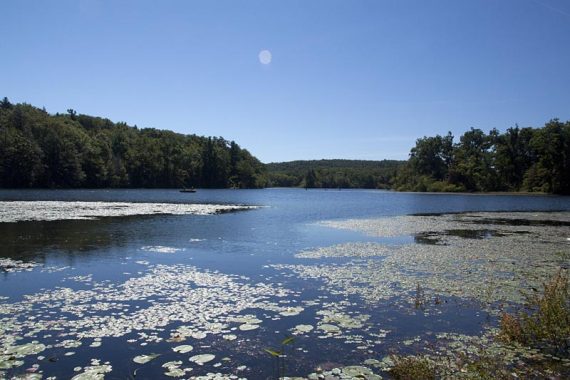 A long, pleasant wander through Wawayanda State Park on many of the park's trails, with several stops along Wawayanda Lake.
11.6 miles. Terrain is easy to moderate; distance challenging. Wawayanda terrain is less rocky and more level (most are old woods roads) compared to what's usual in North Jersey.
Shorter: Park at the boat launch and make short loops out of Wingdam, Lake Loop, and Laurel Pond.
Nearby, boat lot: Furnace Loop; Lake Loop; Cedar Swamp and Lake Lookout.
Nearby, beach lot: Lake Loop and Twin Bridges.
Nearby, visitor lot: Hoeferlin, Cedar Swamp, Red Dot.
Nearby: Old Coal Trail, Lookout Lake, Laurel Pond Trail; Terrace Pond Loop;  Terrace Pond Lollipop; Terrace Pond – West, Circular, North; Terrace Pond North.
Alternate: Wawayanda Lake Kayak.
Hike Info:
Our two cents:
This a very pretty park with very pleasant hiking, and the trails are full of mountain laurel and rhododendron blooms in May/June/July.
If you are looking to increase your hiking miles (as in, "hmm… I've been doing longer hikes, I wonder if I could do 12 miles?"), this is a good park to give that a try because the extensive trail network allows for plenty of bail-out options.
---
Updated: 4/2021 – Not re-hiked (was hiked in 2010); description updated to reflect major changes to the trail system. The Pumphouse trail on the west side of the lake has been renamed Lake Loop. 7/2020 – Page refreshed, not re-hiked. 2016: Changes moved to the bottom of this page.
---
Map:
North Jersey Trails is recommended to navigate the network of trails in this park but the most recent version (2017) is out of date around the lake due to multiple trail changes.
Note 4/2021: Some names/colors of the trails around Wawayanda Lake have changed; this hike guide uses the new names. Currently, the map on the park's site and North Jersey Trails (2017 edition) are not updated yet. Use this new Wawayanda Map for hiking around the main lake area.
Books:
We just made up this loop as we went along so it doesn't appear in any books we know of. Other hike options: A 7.5 loop is in 50 Hikes in New Jersey, a 5.7 mile route can be found in Hiking New Jersey, and a beginners hike is in Hiking the Jersey Highlands.
A 15 mile (and possibly too ambitious in our opinion) loop can be found in 60 Hikes Within 60 Miles: New York City. Detailed trail descriptions can be found in the The New Jersey Walk Book.
---
From the south: 287N to exit 55 towards 511/Wanaque/Pompton Lakes. Right at bottom of ramp and follow 511/Ringwood Ave/Greenwood Lake Turnpike through town.
The road will curve left and pass Monksville Reservoir and then Greenwood Lake. The park entrance on the left, about 19 miles since getting on 511. This hike starts near the visitor center, there are two small lots.
Note: Google and GPS software may show several of the trails here as drivable roads… they aren't. It's allowed on part of Cherry Ridge but you really want one of the main lots.
Wawayanda charges an entrance fee Memorial – Labor day; which is covered by the NJ State Park Pass.
---
Restrooms:
Regular bathroom in the main lot by the visitor center and at both Wawayanda lake parking lots – the first (beach lot) and the second (boat launch lot).
Composting toilets are by the Furnace which is near the junction of Laurel Pond and Double Pond trails.
---
Hike Directions:
Overview: Hoerferlin (BLUE) north – Woods Road – AT (WHITE) – Iron Mountain (BLUE diamond on white) – Lake Loop (ORANGE) – Boulder Garden (BLUE) – Lake Loop (ORANGE) – Cherry Ridge Road (WHITE zig-zag on BLACK) – Twin Bridges (GREEN) – RED DOT – Double Pond (YELLOW) – Hoeferlin (BLUE)
Note: Trail names are on the markers, in addition to the color.
0.0 – Look for the trail sign near between the parking lots, to start following BLUE (Hoeferlin). Don't cross the park road to the trailhead on the other side, that is your return route. Walk towards the woods a bit as the trail hangs right.
Turn LEFT at the junction to continue on BLUE (Hoeferlin).
0.4 – Pass a composting bathroom
0.5 – Trail ends at a T with a woods road. It's unclear what to do here, not really blazed as it's an unmarked road. Turn LEFT.
If you went RIGHT you would continue on BLUE to a few mine pits.
(We decided to bail off of Hoeferlin after the 1st mine (hole in the ground basically) to the woods road to the AT, we'll check out the other mines another time (mines are often nothing more than pits).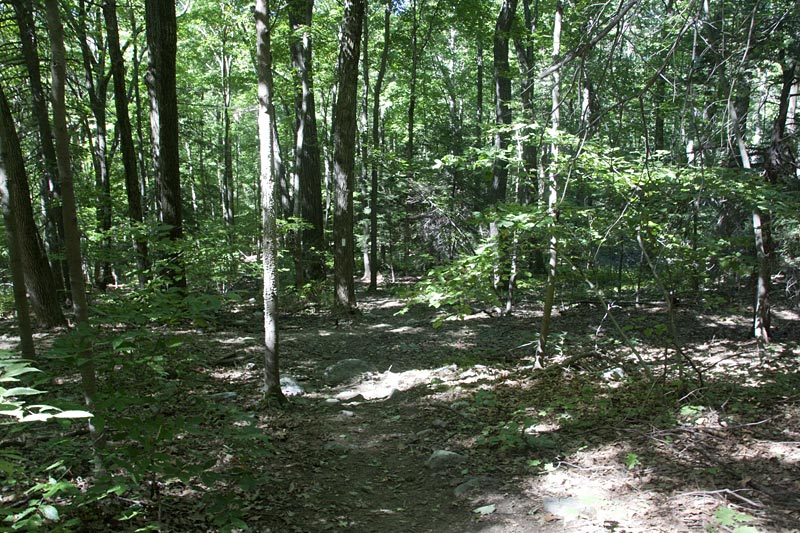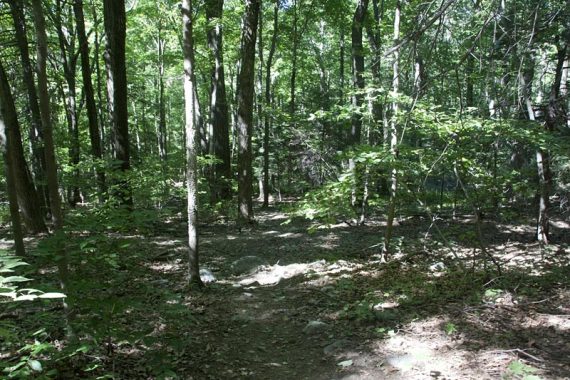 Follow the easy woods road until you see the AT (WHITE) blazes – turn RIGHT. The footpath has some minor elevation changes and you'll see Kasmar Pond a little off to your left.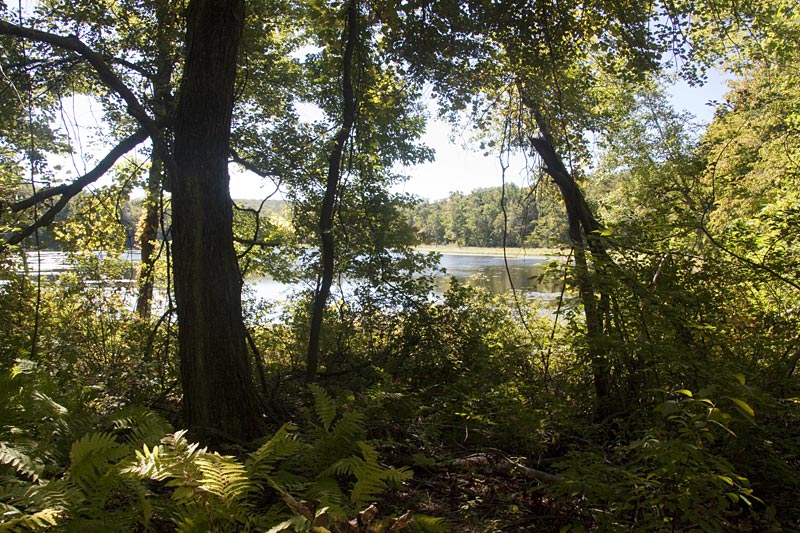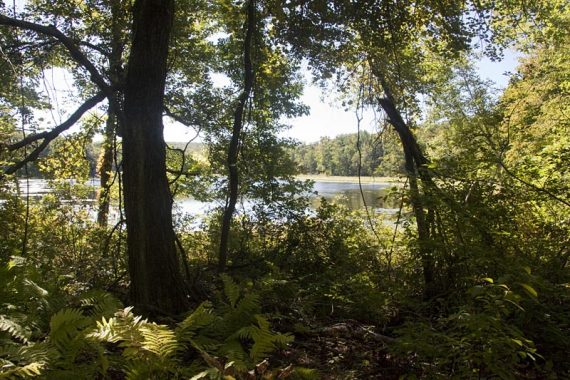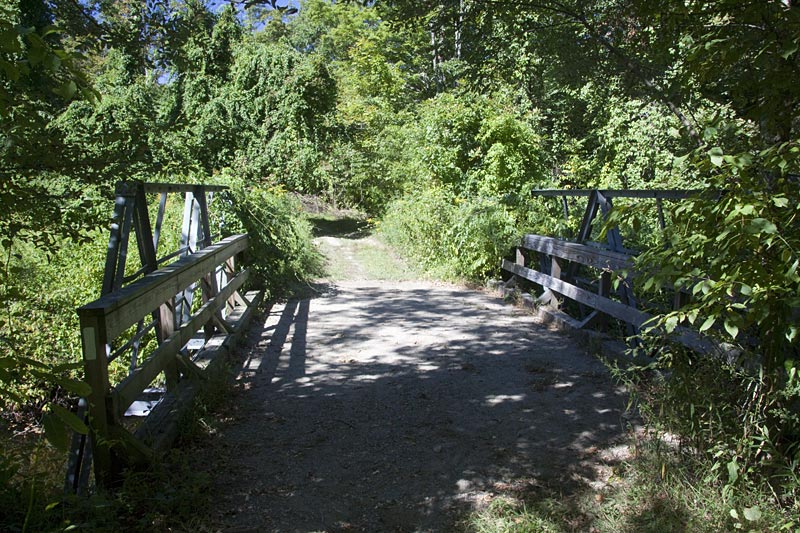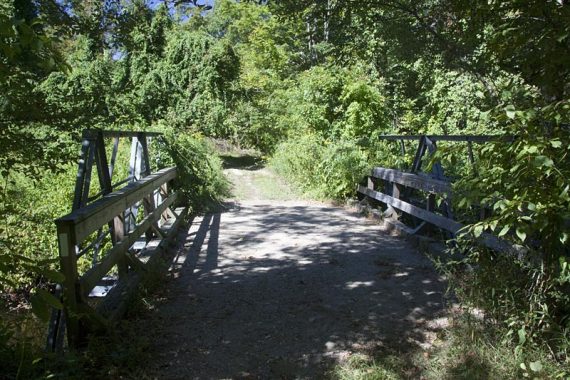 1.3 – Cross a small bridge. Right after that, the trail splits: bear LEFT onto Iron Mountain (BLUE diamond on white). Iron Mountain trail is an old woods road.
Straight ahead is the AT, and the plastic wand for the AT was leaning to the left which made it seem like the AT was left.
Iron Mountain (BLUE diamond on white) was just OK, there are some power lines along it and no views. It was a while before we saw blazes on this trail. Pass several unmarked trails.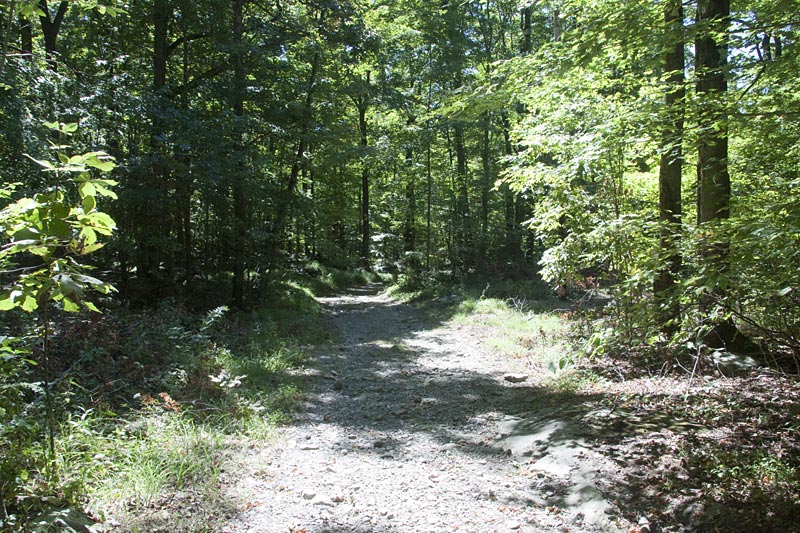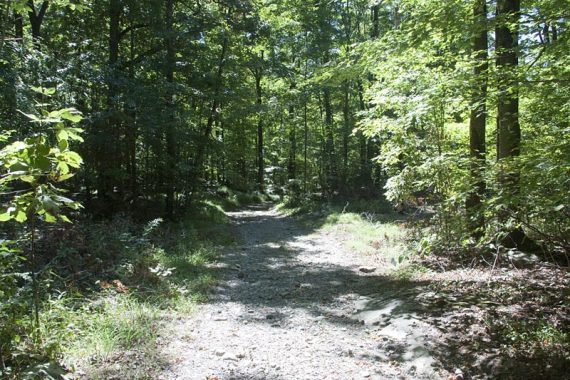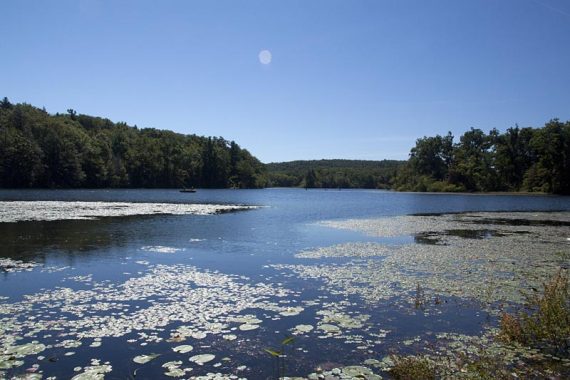 2.9 – Boat Launch parking lot. Nice lake view, picnic tables, and bathroom.
Facing the lake, turn RIGHT and along the lake to the Beach parking lot. Head towards the bathrooms, near the fence at the parking lot to find the trailhead sign for Lake Loop (ORANGE).
3.1 – At the Lake Loop trailhead, now follow Lake Loop (ORANGE). Walk through the fence and onto the grass, veer RIGHT, passing a group of picnic tables nestled in the trees on the left.
The trail follows a woods road for a short bit. Before getting to an auxiliary parking lot and entrance gate, the trail turns LEFT.
3.8 – Turn LEFT and now follow Boulder Garden (BLUE). This was rocky (… a boulder garden….) and was somewhat overgrown but that gave it a neat feel.
/// Option: Stay on Lake Loop (ORANGE) instead of Boulder Garden (BLUE), which 0.2 mile longer, probably less rocky, but you'll end up in the same spot. ///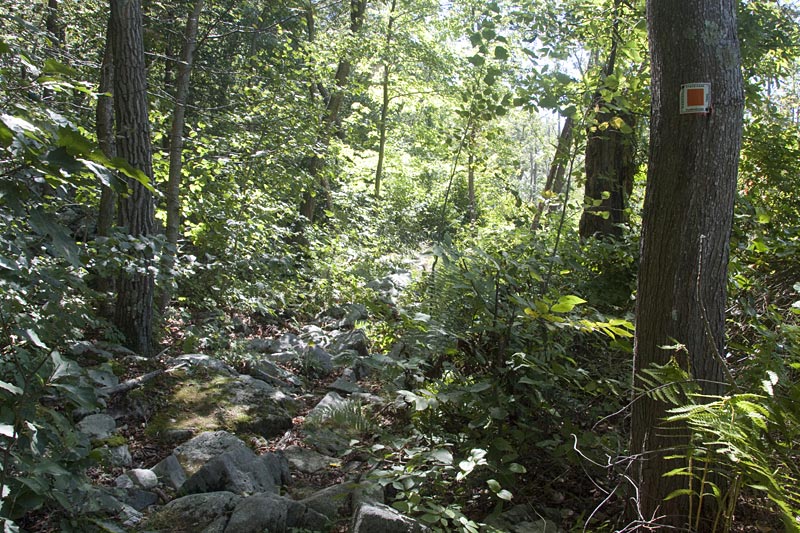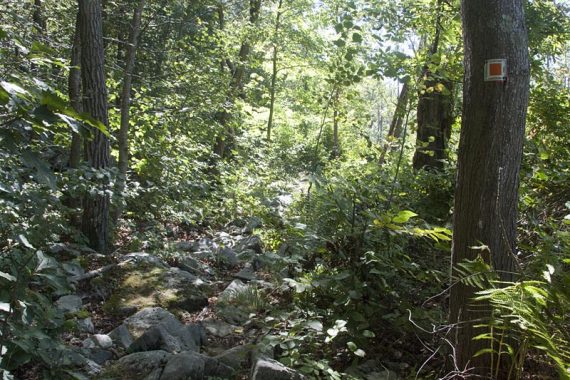 Pass interesting glacial erratics.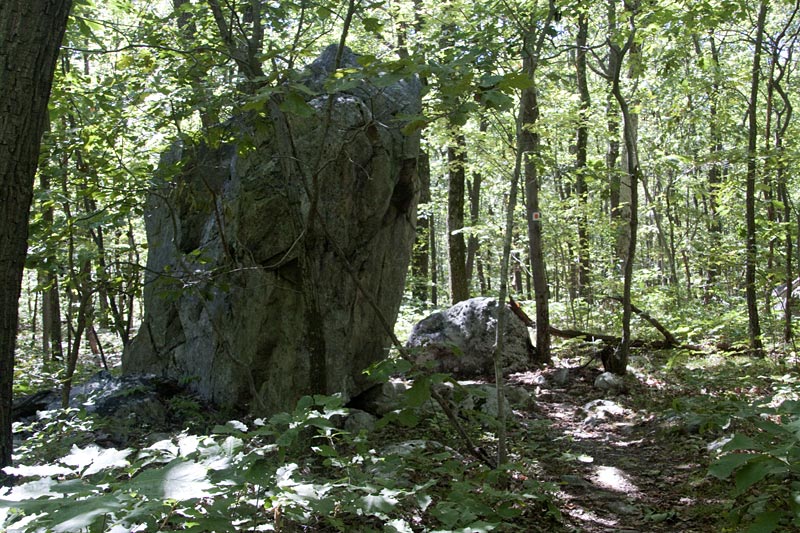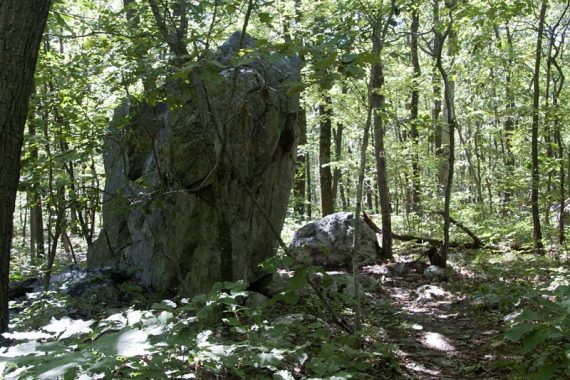 4.4 – Start following Lake Loop (ORANGE). [Boulder Garden (BLUE) ends]. Most of Lake Loop follows an old woods road.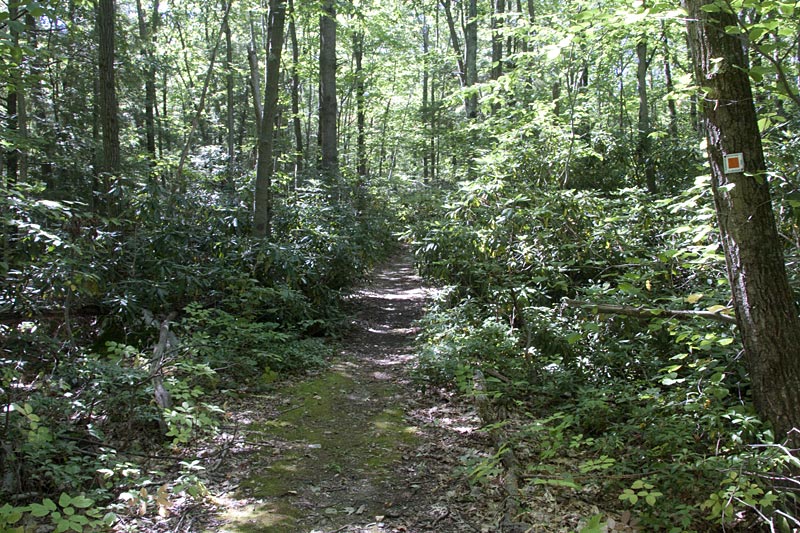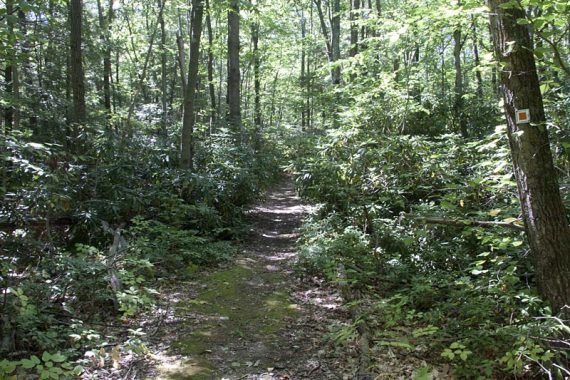 5.1 – Turn RIGHT and follow an unmarked spur trail that goes to the edge of Wawayanda Lake for a nice view and break spot.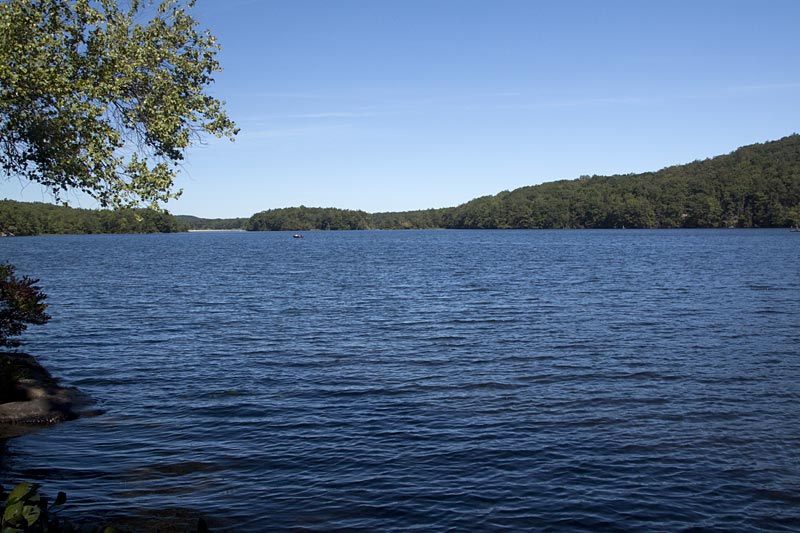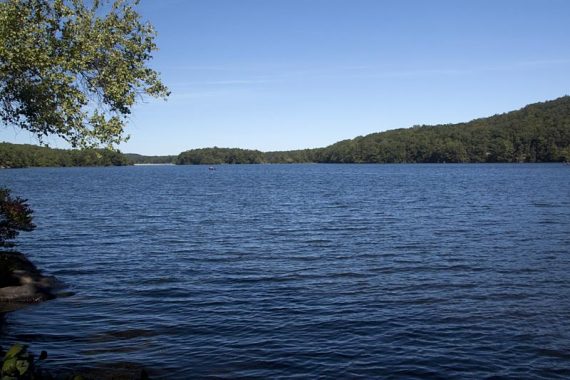 Remnants of pipes are by the edge of the lake, from when water was pumped out to a reservoir during a drought in the 1960s. [Info via Hiking New Jersey.
[There are other unmarked side trails before this one, and there isn't an indication where to turn… however, it only goes left and there was ORANGE trail marker on the tree opposite this junction.
These side trails aren't shown on the park map, only on the topo North Jersey Trails one.]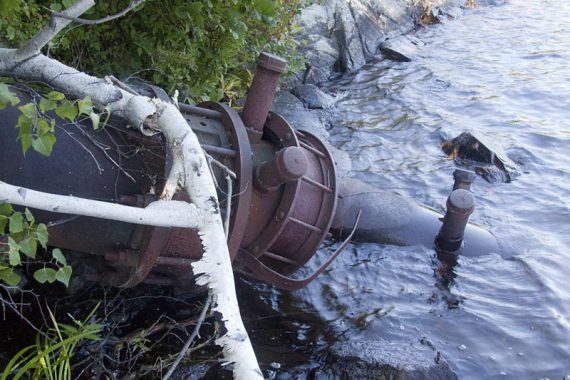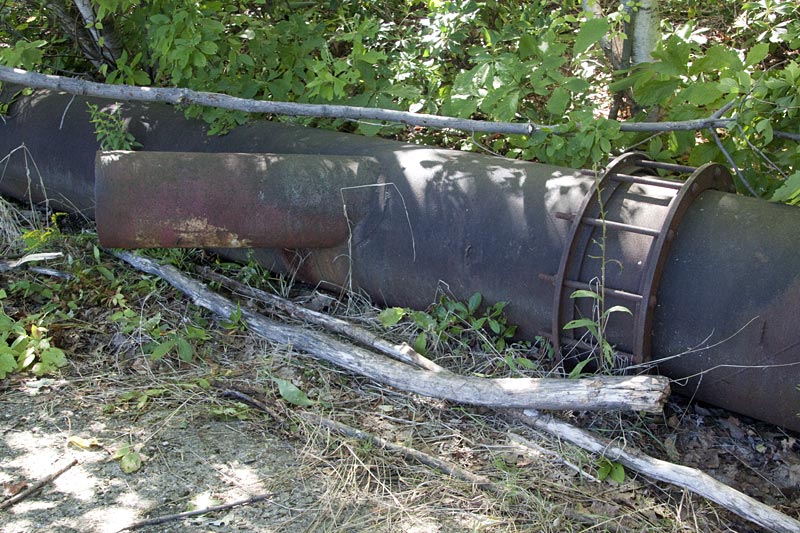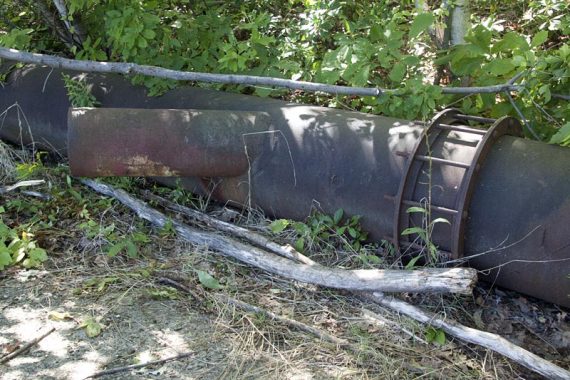 Backtrack from the lake and turn LEFT to continue following Lake Loop (ORANGE).
5.8 – Start following Pumphouse (ORG-GRN). Lake Loop (ORANGE) goes left.
6.4 – Pumphouse (ORG-GRN) ends at a small dirt lot off of Cherry Ridge Road. Walk towards the dirt road.
At the trail sign, turn LEFT, now following Cherry Ridge, occasionally blazed WHITE ZIG ZAG on BLACK.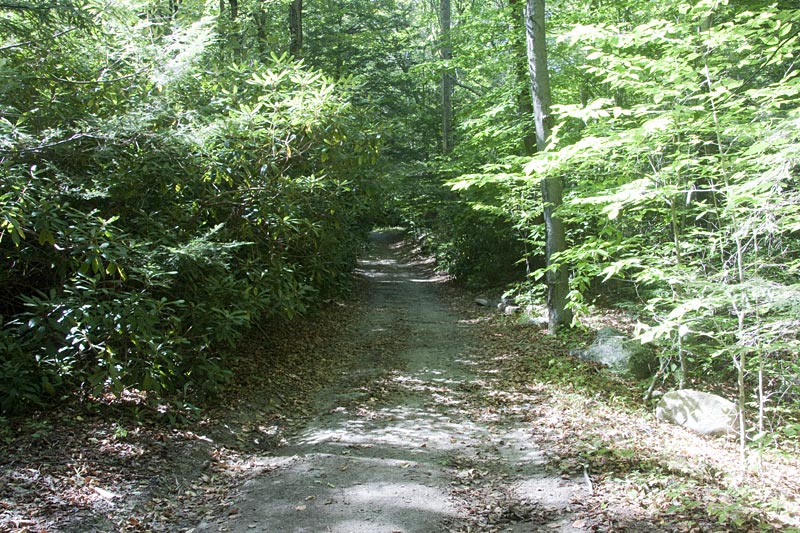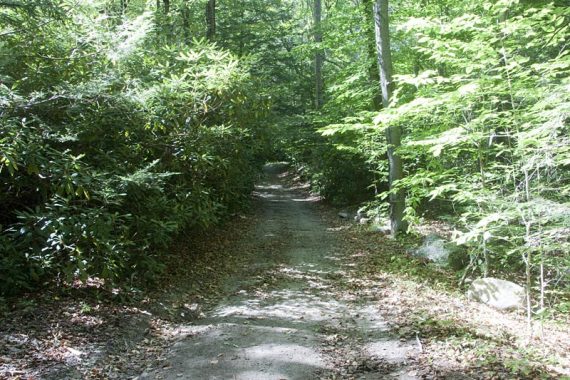 Pass Timber (GREEN) on the left. This is newer and won't be on older maps. Pass Lookout (WHITE) on the right.
7.3 – Pass Laurel Pond (YELLOW) on the left.
7.5 – Turn LEFT and now follow Twin Bridges (GREEN).
/// Variation: a little further down Cherry Ridge, turn left onto RED DOT instead, which goes over "Nature Jim's Bridge". Twin Bridges (GREEN) and RED DOT still meet up below. ///
8.7 – Turn LEFT and now follow RED DOT.
[Twin Bridges (GREEN) ends at this T-intersection. RED DOT also goes right. This is where you'd meet this description if you take RED DOT, just stay on RED DOT].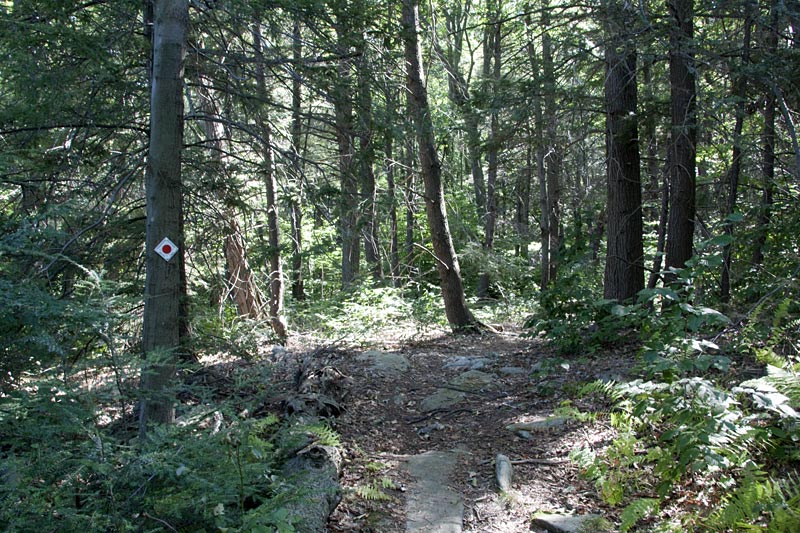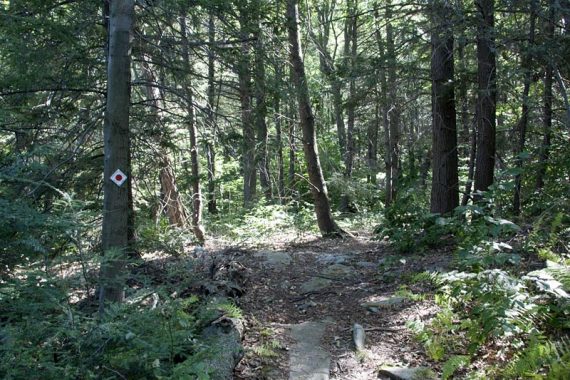 Pass a swampy area on Red Dot.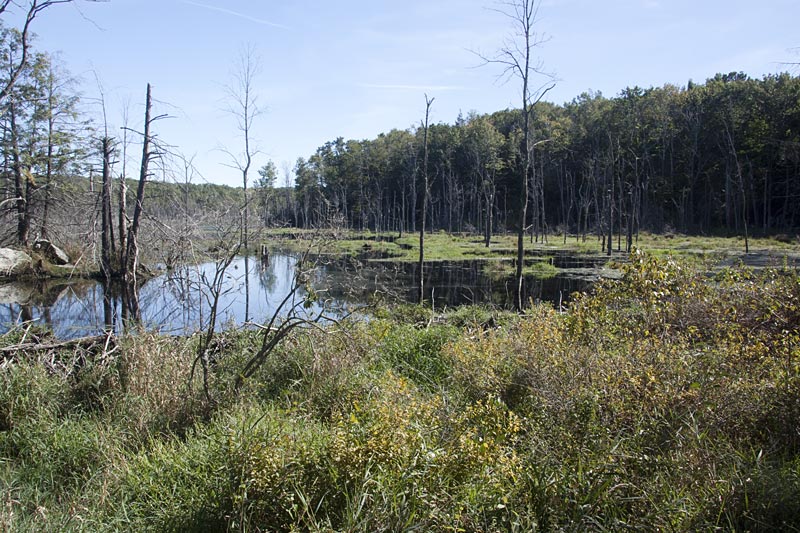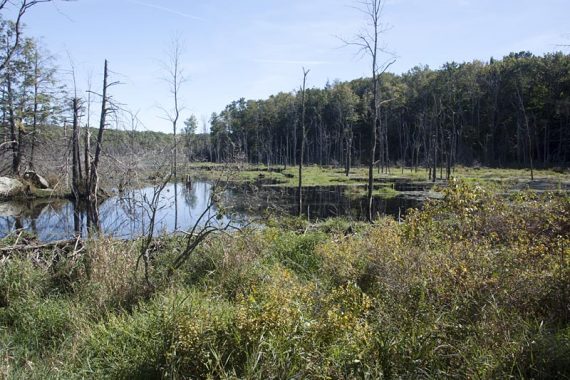 9.1 – Turn RIGHT and now follow Double Pond (Yellow). [RED DOT ends. Double Pond (Yellow) also goes left].
The blazes aren't obvious until you turn. This trail can get quite wet but is very pretty as it goes through rhododendron tunnels.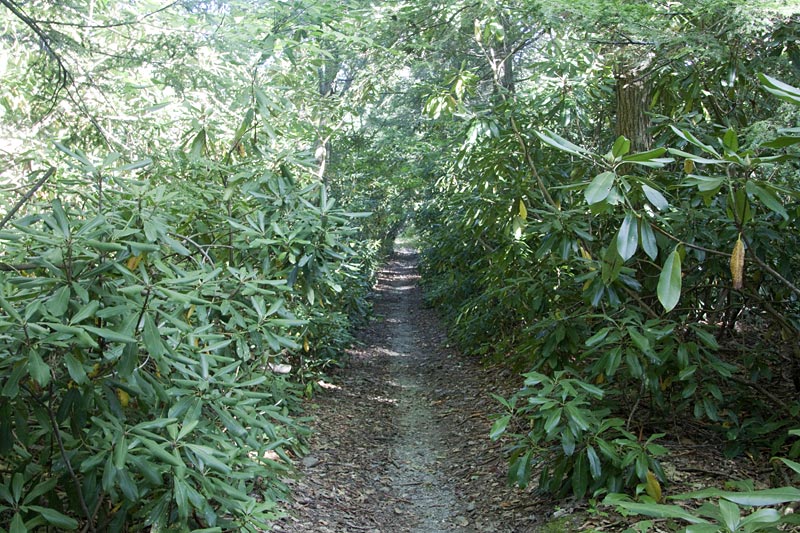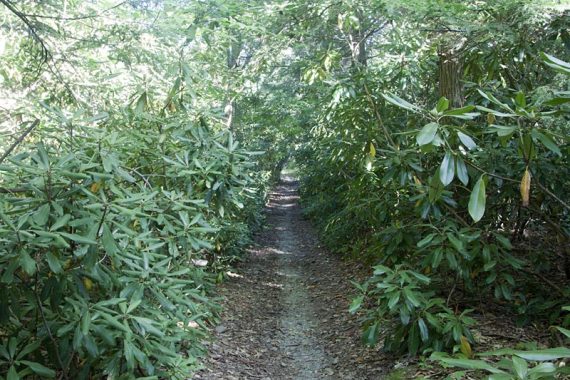 Pass Cedar Swamp (BLUE) on the right.
Pass Plymouth Lake (RED) on the right.
10.0 – Turn LEFT and now follow Hoeferlin (BLUE). [Double Pond (Yellow) ends].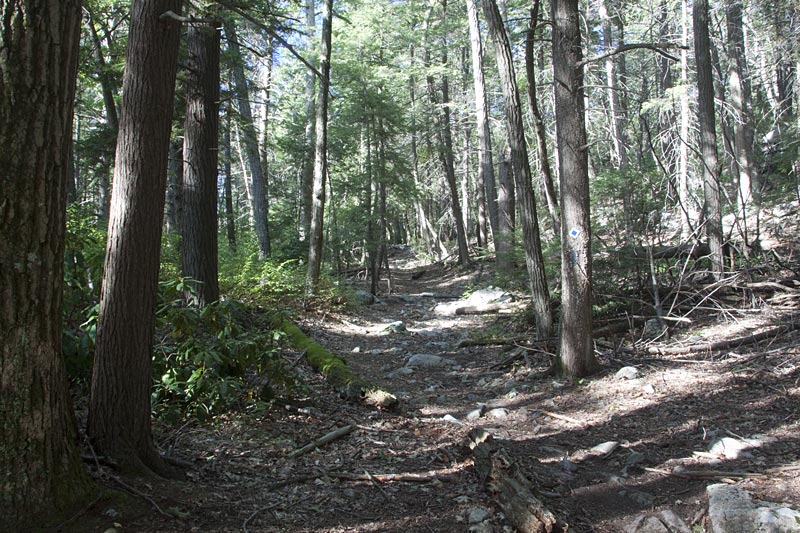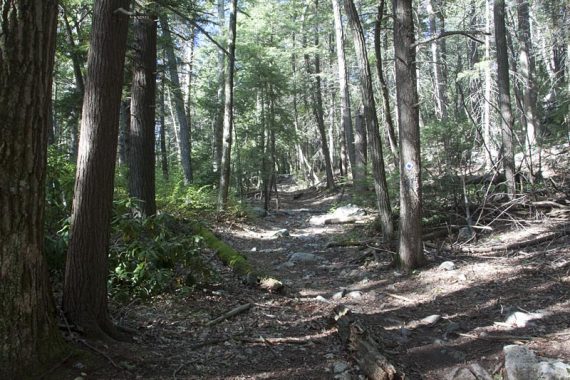 This trail is a bit rockier as you head back to the lot, passing Black Eagle (GREEN) on the way.
—
Hiked: 9/11/10. Trail Blog: "Wawayanda – Pumphouse, Red Dot, Hoeferlin Loop"
Updates 6/2016 – The hike description has been updated and the route changed to reflect some trail changes since we hiked this entire route.
We've re-hiked the Pumphouse trail section. Part of what was Pumphouse is now called "Boulder Garden" and blazed blue, while a section of Pumphouse moved to what was an unmarked trail.
The route is the same, just blazed differently. Later in the hike, the description was switched to take Twin Bridges (GREEN).
That used to be an unmarked trail that RED DOT connected to twice but now does just once. Mileage went from 12 to 11.6. Interactive Map updated; GPX added.