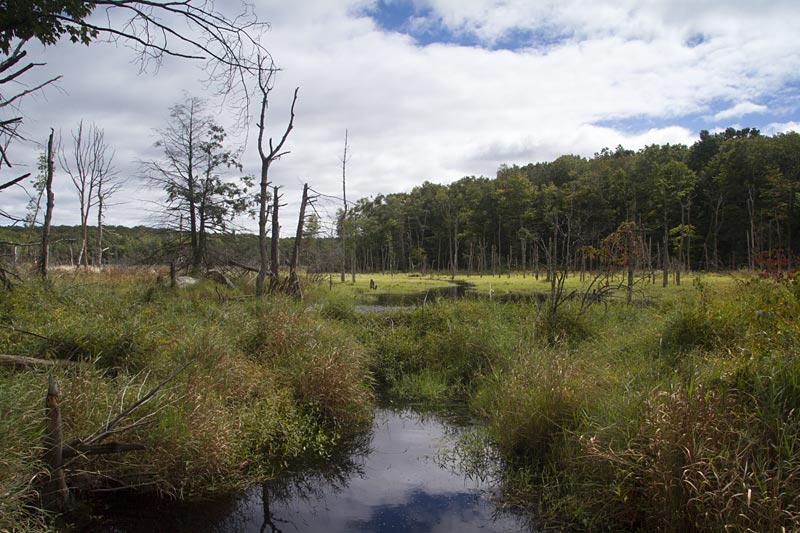 Longish loop through scenic forest, rhododendron tunnels, and cedar swamp… plus an encounter with a pair of black bears.
When I'm stumped for a hike idea, I often turn to our years and years worth of GPS data and look for "holes" on the map.
(We've currently using Garmin's excellent BaseCamp software.)
I noticed an empty spot in Wawayanda where the Cedar Swamp trail is. We likely hiked it many years ago prior to keeping data – though it is possible we just never hiked it before. So I whipped up a possible route and off we went.
9.7 miles. Surface is rooty and slightly rocky; elevation change minimal.
Hike Info:
Our two cents:
This loop skips the usual trails around Wawayanda Lake.
It doesn't offer any big viewpoints or an obvious destination – it's just straight-up nice hiking through a very pretty forest and some cool rhododendron tunnels.
Updated: 5/2020 – Page refreshed, not re-hiked.
---
From the south: 287N to exit 55 towards 511/Wanaque/Pompton Lakes. Right at bottom of ramp and follow 511/Ringwood Ave/Greenwood Lake Turnpike through town.
The road will curve left and pass Monksville Reservoir and then Greenwood Lake. The park entrance on the left, about 19 miles since getting on 511. This hike starts near the visitor center, there are two small lots.
Note: Google and GPS software may show several of the trails here as drivable roads… they aren't. It's allowed on part of Cherry Ridge but you really want one of the main lots.
Wawayanda charges an entrance fee Memorial – Labor day; which is covered by the NJ State Park Pass.
---
Restrooms:
Regular bathroom in the main lot by the visitor center and at both Wawayanda lake parking lots – the first (beach lot) and the second (boat launch lot).
Composting toilets are by the Furnace which is near the junction of Laurel Pond and Double Pond trails.
---
Map/Books:
Use North Jersey Trails. Not aware of this loop in any books. A solid 7.5 loop is in 50 Hikes in New Jersey, nice beginners hike (2.6 mile) is in Hiking the Jersey Highlands, a 5.7 mile route is in Hiking New Jersey.
A 15 mile (and possibly too ambitious in our opinion) loop can be found in 60 Hikes Within 60 Miles: New York City. Detailed trail descriptions can be found in the The New Jersey Walk Book.
---
Route:
BLUE (Hoeferlin) – YELLOW (Double Pond) – BLUE (Cedar Swamp) – Cherry Ridge Road – Red Dot – YELLOW (Double Pond) – BLUE (Hoeferlin)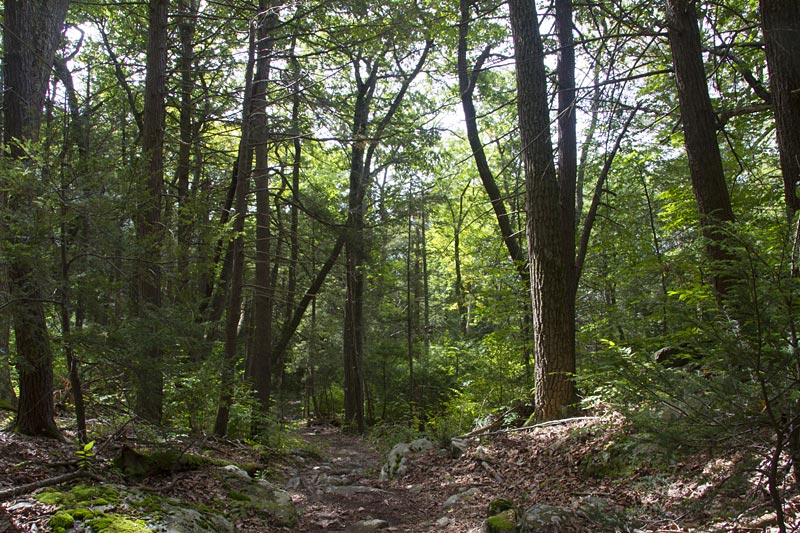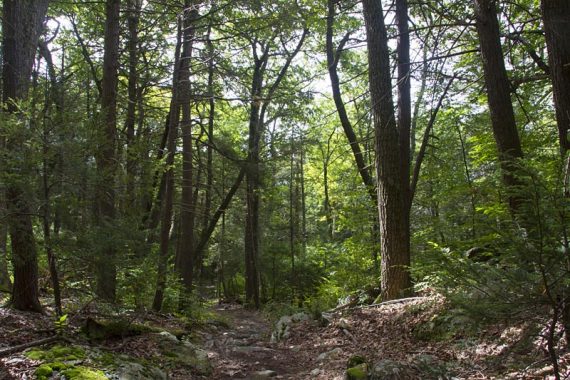 We started from the visitor center parking, crossing the road to BLUE (Hoeferlin).
Taking a right onto Double Pond lead us to BLUE (Cedar Swamp) in a little bit.
Cedar Swamp quickly felt like the "trail less taken". And we started noticing piles of bear scat.
A lot of piles. In various states of, um, "freshness".
The trail became tighter and twisty, with rhododendrons arching over the trail. Wawayanda is the place to be in the spring and summer when the rhododendrons bloom and this trail was no exception.
The trail narrowed more, and with so many blind corners we were just waiting to come nose-to-nose with a new furry friend…
…so we increased our noise level and started yelling out some "Hey bear!!! Hey bear, don't eat us!!!"
It's a good idea to make noise in bear areas so we may as well be goofy about it.
Eventually the trail became 'swampier' and used a long series of plank boardwalks over the wet areas.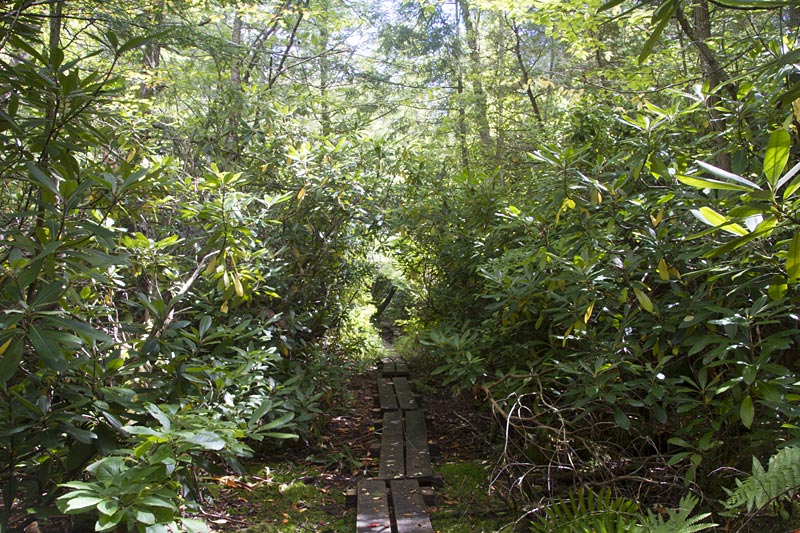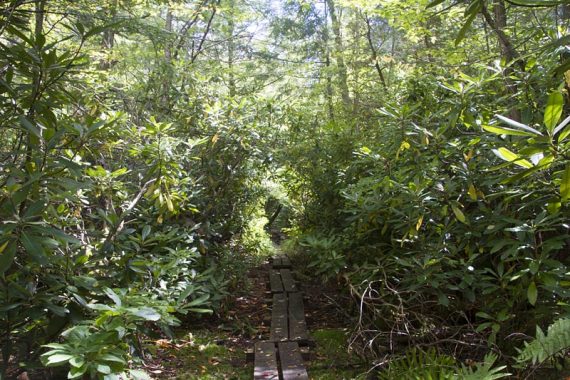 And it's not hiking in New Jersey unless there is an abandoned car along the trail.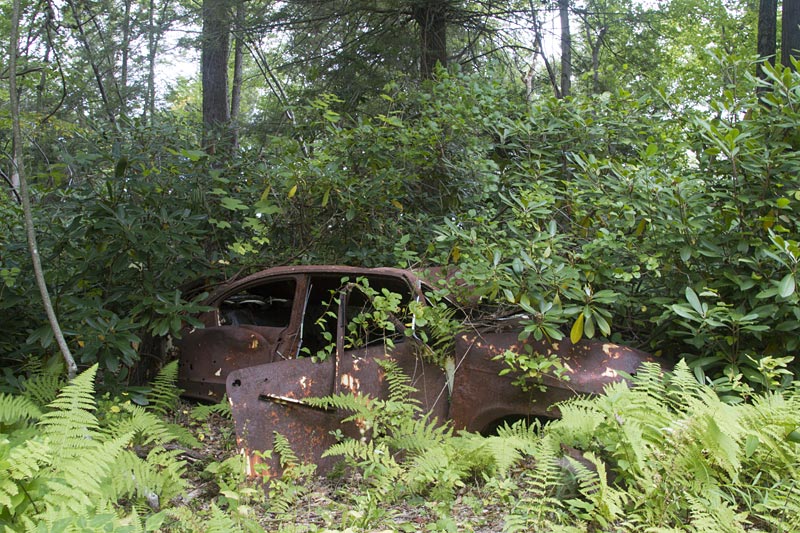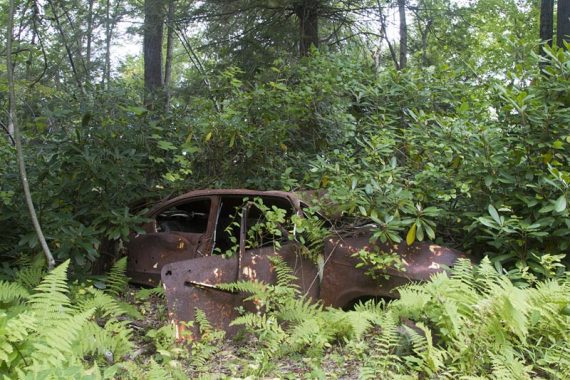 We made our way to the Cherry Ridge trail (a woods road) in order to pick up Red Dot. This passes over a stone bridge, "Nature Jim's Bridge", which has a view of the swamp.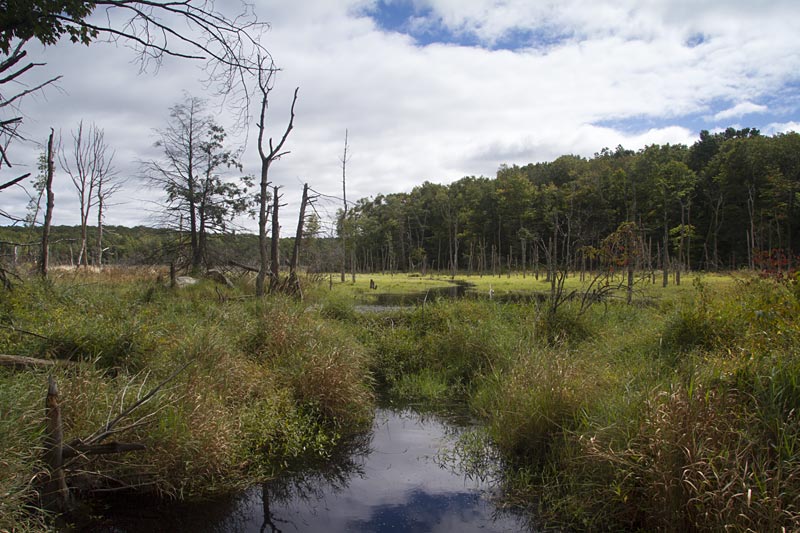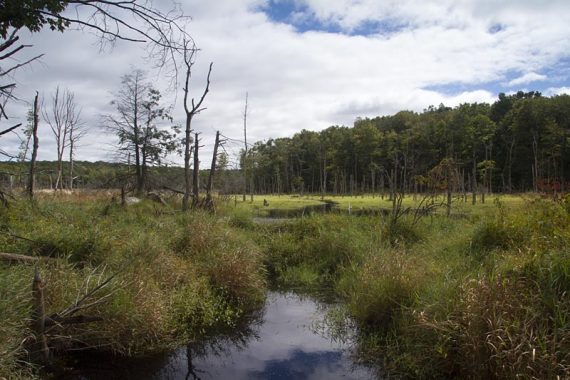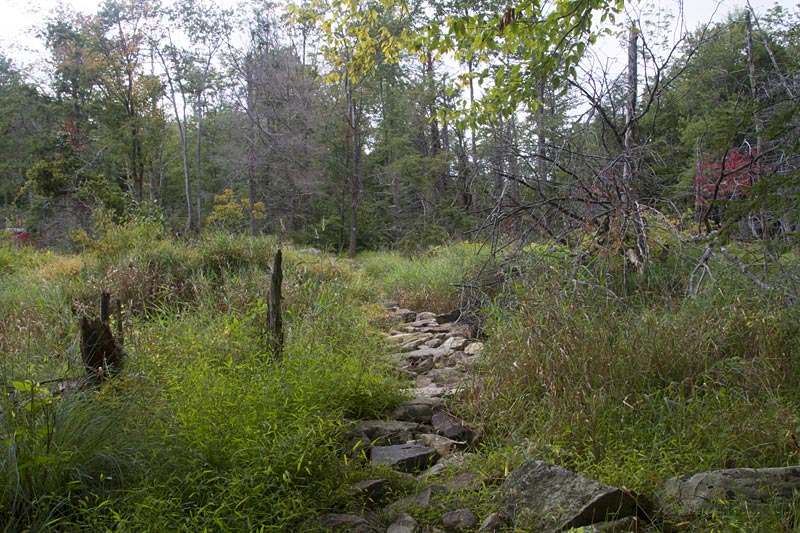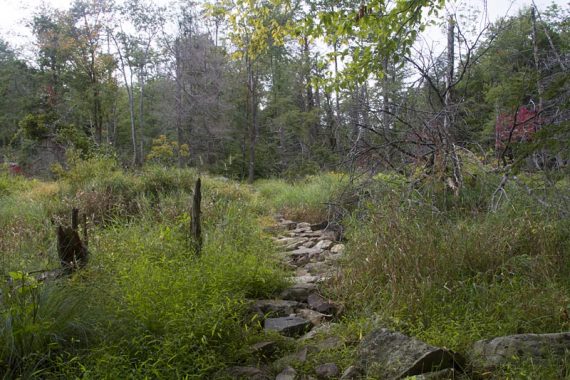 Not far after the bridge, our map shows that Red Dot forks and then rejoins later. I'd noticed on our data we'd never taken the right side so that's what we intended.
We didn't see a trail marking for the split but the blazes lead us to the right fork anyway, and once we got to where it would rejoin we instead found a trail marker for the Twin Bridges trail (GREEN) – so the left fork must be getting re-blazed.
[Update: yes it was – RED DOT no longer meets up with Twin Bridges twice]
While heading down Double Pond toward Hoeferlin to make our way back, we were stopped in our tracks by the sight of two large black bears just ahead on the trail.
We immediately started backing up and then the bears noticed us. I swear the one looked at me with a startled "OH CRAP" expression as they high-tailed it off the trail and into the woods.
We waited a moment while listening to them crash away in the thick forest – one on either side of the trail – then proceeded on while talking calmly to them ("hello bears, coming through, pardon us" etc.).
After years of multiple bear-spottings in Jersey, this was the first one since 2009 for us.
It's always an absolute treat to see these incredible animals on a trail.
If you are reading this thinking "ACK! Bears! I am never stepping foot in the woods again!!!!" just remember they want to avoid YOU and it's rather rare to ever see them.
Then pop on over to Hiking 101: Wildlife for tips on how to deal with bear encounters while hiking.
Wildlife spotted: Bears!!!!!
—
Hiked 9/14/13.