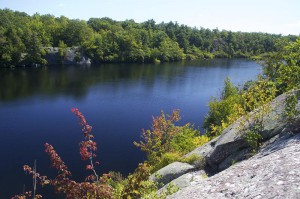 This moderately challenging loop combines pleasant forest walking with rocky scrambles and passes by pretty Terrace Pond.
4.8 miles – Most books seem to rate this loop as "challenging" … but we'd clarify that a little:
Beginner/Intermediate hiker: we would rate this as a challenge because of all the rock ledges that need to be negotiated, and the moderate length. A lot of the hiking in the beginning is just a bit rocky and there are some easy woods road sections. From the pond on, it's downhill but a lot of rocky scrambling.
Experienced hiker: the length on this is way too short to create a challenge. The trail is lovely, the Pond is a great destination, and the scrambling will keep you interested – so it's absolutely worth doing. You could always piece together a longer route using other trails.
We've tried to include trail surface photos for this hike so you can decide – what looks difficult for some may look like lots of fun to others.
Shorter option: You could just start with BLUE and go right the pond and back and still get a good hike in and see the pond, skipping the YELLOW and RED portions of the hike below. Keep in mind the BLUE trail heads uphill on the way there, with some rock scrambling.
Another option: Do the hike in the opposite direction and the scrambling is in the beginning. This is likely the best option if it's wet, and in general many find scrambling UP easier than DOWN. It also puts the easier part of the trail (YELLOW) at the end.
Note: Swimming in Terrace Pond is not allowed; We've seen people swimming here on other visits but it's patrolled and you can get ticketed. The sides of the pond are somewhat high above the water on rock ledges in most spots, it's not like you can walk into the water from a beach.
Map:Really consider getting the North Jersey Trails map set – it's better than the online park maps in the links above. It's a two-map set, this trail is on #116.
Parking: N41 08.573 W74 24.446 [P7 lot]
West Milford, Passaic County. Rt 287 to exit 52, then Rt 23 towards Butler. Pass the sign for Wawayanda that says to turn right onto Union Valley Road – that's for the main entrance. Instead go a little further down 23 and turn right onto Clinton Road.
The parking lot is 7.5 miles north of Rt 23, you pass the Reservoir and some other small parking areas. The lot is just past the sign/gate for the Wildcat Mountain Wilderness Center – and is just a large dirt area on the left with a small "P7″ sign.
The trailhead is across the street, the YELLOW and BLUE markers are obvious. There is a large bench and trail kiosk with information and a map of the trails. No paper maps, be sure to bring your own.
*Parking lot note… The trailhead parking lots are all marked now, P1 through P7, so it's much easier to find the right lot now.
Restrooms: None. Best bet is a gas station on Rt 23 in Butler.
Books: This exact route can be found in Hiking New Jersey and variations in Hiking the Jersey Highlands, Hike of the Week, 50 Hikes in New Jersey and Take a Hike New York City.
Hike Directions: Walk across the street from the lot, there are BLUE and YELLOW blazes on the tree. Almost immediately, bear RIGHT and follow YELLOW (Terrace Pond South).
Travel through some pleasant forest, crossing some wet areas on planks or rocks. Surface is a little rocky but mostly level, not too much elevation change. Go thru some laurel and rhododendron as well.
1.5 miles – YELLOW (Terrace Pond South) takes a sharp left – it's almost like the trail is going back on itself. A unmarked woods road is on the right.
A swampy area will come into view, and there is a small spur trail on the left if you want to take a closer look. After that there was a lot of water on the trail in one section – unsure if that is usual or due to all the rain we'd had.
1.8 miles – Pass an unmarked wood road on the right.
The trail passes closer to the swamp and crosses a little rocky area. Cross a drainage pipe – notice that the water level is actually higher than you are standing.
2.0 miles – Bear LEFT at the Y-intersection to follow YELLOW (Terrace Pond South). [To the right is YELLOW DOT.]
2.7 miles – Head up a rocky outcrop for a limited view of the area. Continue following YELLOW (Terrace Pond South). Blaze is a little hard to spot coming off the rocks, if you head down the path and turn around, there will be one behind you.
2.9 miles – Turn LEFT and now follow RED (Terrace Pond Red).
Very shortly after, YELLOW leaves to the right. Continue LEFT on RED (Terrace Pond Red). Trail heads somewhat steeply downhill, scrambling down some rocks. Trail is quite narrow in spots. Arrive at a large, crooked trail sign that notes the end point of the RED (Terrace Pond Red) trail.
3.3 miles – Turn LEFT and start following WHITE (Terrace Pond Circular).
3.4 miles – Arrive at Terrace Pond. There is a large rocky outcrop to hang out on, plus other smaller areas further down the trail. When you are ready to leave, keep following WHITE (Terrace Pond Circular) to the end of the pond.
3.5 miles – Meet up with BLUE (Terrace Pond North). Turn LEFT and start following BLUE (Terrace Pond North). [To the right, WHITE and BLUE continue.]
Trail heads downhill and requires some scrambling. There are also a few rock slabs to scramble up, including one with a large prominent rock with a limited view to the west.
4.1 miles – BLUE (Terrace Pond North) turns to the RIGHT. [Left is an unmarked trail that most likely ends up at the same place.] Shortly after the right turn you arrive at a pipeline cut. Turn LEFT and head steeply down a loose rocky hill.
Pass 2 unmarked trails on the left.
4.2 miles – The third trail on the left is marked with BLUE (Terrace Pond North) markers. Turn LEFT and re-enter the woods.
Trail meanders through some really pleasant forest, over a couple of wet spots and arrives back at the lot.
Hiked: 9/13/09 – Trail Blog: "Terrace Pond South"