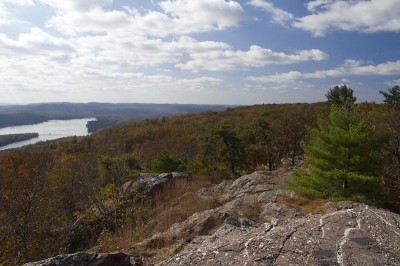 An enjoyable hike with fantastic views as the Ernest Walker Trail follows a ridge overlooking Greenwood Lake before heading to Surprise Lake.
Mileage: 7.2 – Moderate to challenging. Rugged, rocky, with some decent scrambling areas. The initial part of the trail up is steep, multiple elevation changes.
Hike Info:
Even though it's not a long hike, we'd rate it challenging due to the rock scrambles.
This Route: 7.2 miles – The main loop plus a jaunt north for great views on the AT.
Similar Route: 7.6 miles – The main loop plus a romp south down the AT. [Bearfort Ridge – State Line Trail/Ernest Walter/AT]
Shorter: 4.1 miles – Skip the AT extension: State Line, Ernest Walker, then back to State Line via a brief bit of AT. Notes marked in the description below.
Even Shorter: 2.5 miles – Go to Surprise Lake, bust our your lunch/snacks, and then retrace your steps.
Short-n-Sweet: 2.0 miles – State Line trail steeply to the ridge. Enjoy the view, then retrace your steps.
Option: From the Bearfort Ridge trail at a different parking area.
Map:
You'll want the
North Jersey Trails
#116 map. You can get by with the basic park map though it's not ideal.
Books: Detailed trail descriptions found in the The New Jersey Walk Book. The shorter 4.1 loop (and the majority of this hike) can be found in Hiking the Jersey Highlands.
Parking: N41 11.146 W74 19.918
287N to exit 55, take Rt 511 towards Wanaque. Follow 511 as it makes a right (Lakeside Rd) and hugs the west side of Greenwood Lake. Take it all the way to just before the NY border (if you hit the border, you went too far).
The parking is realllly tough to spot, it's on the left, across from a marina and there are three BLUE on WHITE blazes on the tree. Pull into the marina parking and go straight back, there is a trail kiosk there and very limited parking.
Restrooms: None. There was a gas station as you turned onto Lakeside Rd., and before that on 511.
Hike Directions: OVERVIEW: State Line Trail (BLUE on WHITE) to Ernest Walker (YELLOW) to AT (WHITE) to State Line (BLUE on WHITE)
0.0 The trail starts out along a stream and then heads steeply uphill.
0.7 – Turn left onto Ernest Walker (YELLOW). Trail continues steeply uphill.
0.8 – in under a mile you are overlooking Greenwood Lake. Awesome views! Enjoy the views as the trail follows the ridge on a rock outcropping for a bit before ducking back into the woods at 1.0 miles.
(To this point and back could work for a beginner – short in distance with a great view as payoff. Or continue to Surprise Lake and back for about a 2.5 mile roundtrip. It's not a "walk in the park" because it's steep, but it's doable. )
1.0 – YELLOW turns RIGHT, heading away from the ridge and into the woods.
1.2 – Surprise Lake. The lake just kind of appears without warning… assuming this is how it was named….
When you are ready to leave, find the tree with 3 ORANGE and 1 YELLOW markers and follow that trail for just a short bit. Keep following Ernest Walker (YELLOW) as it veers off to the RIGHT. (ORANGE continues ahead)
Pass through a rhododendron tunnel and a bit of a scramble down. Then it's on to some big rocks and a wet area to rock hop across. Head steeply up, and scramble up a rock face for some more views.
1.6 – Viewpoint. We could very faintly see the NYC skyline in the distance.
Continue on Ernest Walker (YEL), passing the start of Bearfort Ridge (WHITE). Multiple rock scrambles in varying degrees of difficulty along this section.
2.7 – Ernest Walker (YELLOW) ends at the junction with the Appalachian Trail (WHITE). The AT goes RIGHT (North) or LEFT (South).
Turn RIGHT, now heading north on the Appalachian Trail (WHITE). Follow the AT for a bit with some scrambling.
---
VARIATION: turn LEFT instead to head south on the AT. [note: that AT section is just OK, and we felt in paled in comparison to the quality of the rest of this hike. Also, this section of the park gets close to neighborhoods and was noisier. It In fact, we had planned to go further on the AT and decided not to because of this.] If you turn around at Longhouse Drive, this hike will be 7.6 miles total. [see post Bearfort Ridge – State Line Trail/Ernest Walter/AT]
---
2.8 – State Line (BLUE on WHITE) starts here. Continue on AT (WHITE)
[VARIATION: to do the 4.1 mile version, start following State Line (BLUE on WHITE) at this point]
3.0 – The NJ/NY state line is painted in white on the ground, there is an Appalachian Trail geologic marker and a trail book. You can pause here to get your photo taken with one foot in each state. Go ahead, we know you need to.
3.3 – The trail follows along the ridge with nice views, to the a viewpoint marked as "Prospect Rock" on the North Jersey Trails. Shortly after this, pass a BLUE trail on the LEFT.
3.4 – Follow the AT as it heads down on the RIGHT. But first, go straight and check out the lovely view over NY and then retrace your steps. This viewdoesn't seem to be marked on the North Jersey Trails – we blew right by this turn at first, heading straight for the viewpoint.
It's a bit of a scramble down a slanted rock face. Now you are off the ridge, and back in the forest.
4.2 – Rock-hop a stream with nice water cascades that you will hear before you see.
Approaching the viewpoint are some large rocks, then a ladder to assist going up. The ladder is only about 5 feet tall and more like going up skinny steps than climbing a vertical ladder. At the top of the ladder is another 4 or 5′ to scramble up. Like most scrambles, going up is easier than down.
4.5 – Wonderful viewpoint over Greenwood Lake, and NY. When ready, retrace your route along the Appalachian Trail.
6.1 – Back at the start of the State Line (BLUE on WHITE) trail. Follow State Line (BLUE on WHITE) to the parking lot.
—
Hiked: 10/23/11 (AT north) – Trail Blog: "Bearfort Mountain – Surprise Lake, State Line, Ernest Walker, AT"
Hiked: 4/3/2010 (AT south) – Trail Blog: "Bearfort Ridge – State Line Trail/Ernest Walker/AT"