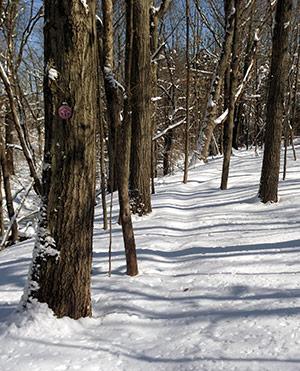 The weather outside is frightful, but the trails are so delightful… and since we're all geared up to go, let it snow, let it snow, let it snow…
Hike through the winter months and enjoy crowd and bug-free trails, crisp fresh air to ward off the winter blahs… plus there's no need to "get back into hiking shape" when spring rolls around.
*Snow Forecast and Snow Depth Maps for New Jersey and the Northeast are now on their own page*
Dress in layers
This is really the key to being outside in cold weather; add and remove pieces as needed. Don't overlook packing a hat and gloves even in shoulder-seasons – they offer an easy way to control temperature.
Depending on the conditions, use these layers:
Bottom: moisture-wicking breathable shirt or thermal layer
Mid: insulating layer like a fleece jacket
Outer: water/wind proof layer
Hat and gloves
Good socks; waterproof boots
Various layering items we use (not necessarily all at once!):
Long-sleeved wicking tee
Heavyweight TechWick 1/4 zip
Under Armour long-sleeve and bottoms
Fleece jacket
Packable wind/rain shells
Columbia Vertex jacket w/zip-out lining
Gloves: Basic lightweight ones, and heavier winter hiking gloves for really cold weather.
Mountain Hardwear Hat with ear flaps
Peruvian hat (wool with ear flaps)
Polar Buff headwear (configure into hat, neck gaiter, balaclava…)
Resist the temptation to dress too warmly. When you are shivering at the trailhead, you may think you need heavier stuff than you really do. You may be chilly for the first 15 minutes, but once you get moving you will warm up quickly. And if you will be doing a lot of uphill, you will heat up more than level hiking.
If you heat up too much and start sweating, you can risk hypothermia. It can be tough to get the balance right but adjust your temp by adding/removing hat and gloves, and opening/closing pit zips or other clothing vents. With layers, you can remove a piece to cool down and dry out some, then put it back on.
Another way to mitigate sweating is to slow your speed, or at least taper your speed down as you approach a stopping point. [See, "Don't Sweat: An Impossible Piece of Winter Advice" from AMC]
Tip for chilly starts: If you tend to run cold and always find yourself shivering for the first 15 minutes of a hike… try jogging in place for a few seconds at the trail head, or do a couple of jumping jacks to kick start your body a bit. Yes, you'll look stupid. But you won't be cold.
Traction Aids/Winter Gear
YakTrax or MICROspikes can be helpful for traction in the snow. (YakTrax Pro with the strap over the foot is better; we had the original model which slips off sometimes). For a comparison of the two, check out our review of Hiking Traction Devices.
Gaiters can be worn around your lower leg and over your boot to keep deeper snow out and your pants from getting wet. Ones for snow are water repellant and usually go up above the calf. There are other lower models that are meant more for sandy/desert conditions.
Trekking Poles add stability in slippery conditions. Even if you don't normally use them, you may want them for hiking in snow or ice. Very helpful with snowshoes.
Bonus uses for winter gear (in case you need to justify the purchase!): YakTrax: great for dog walking and snow shoveling. Gaiters: For deep snowfalls, we wear our gaiters to shovel out the driveway. Our neighbors are jealous of our snazzy leg gear (…or think we are crazy…it's a toss up…)
Snowshoeing
Snowshoeing is a fun way for the whole family to explore outside in the winter. Unlike other snow sports that require a certain amount of skill, nearly everyone can snowshoe.  It's important to get the proper snowshoe for your weight, use, and for gals to get a women-specific model (gals and guys have different gaits). Check out our snowshoe guide that includes a review of the MSR Lightning Snowshoes.
Not ready to buy? Many gear shops, ski areas, and even some local parks offer rentals.
Other winter hiking considerations/tips:
Daylight hours are limited; know when sunset is. Start early and pack a headlamp in case you get caught out in darkness. A small, lightweight one can be had for around $20 and is easier to hike with than a flashlight. We have a little Petzl Headlamp that barely weighs anything.
Know and watch for signs of hypothermia.
Tip: in under 20 degree weather try breathing in through your nose, out through your mouth to warm up the air before it gets into your system. More tips: Stay Comfortable in Cold Weather

[Backpacker Mag, Oct 2009]
Winter Hiking with Dogs
Keep your furry friend safe and comfortable in the snow. Cold temperatures, snow stuck to fur, salt and de-icers irritating paw pads… what's a dog to do! Check out the resources below to find out about doggie jackets and boots plus tips to keep your pup happy on winter trails:
Winter Hiking in New Jersey
New Jersey gets varying amounts of snowfall… Northern Jersey usually gets the most and may have deeper snow and more ice than central or southern NJ.
Keep that in mind when choosing where to hike in the winter. Central NJ may have no snow on the ground for weeks, or not have gotten any snowfall… but we've headed north to a park only to find several inches of compacted, icy snow we weren't prepared for.
Now we always chuck our MICROspikes in our winter get-out-and-go duffel, just in case. If it's snowed a lot and we don't feel like tramping through it, we head to south Jersey where they usually have less or no snow.
Trail surface is a consideration as well. Northern New Jersey is rockier, with more elevation changes to negotiate in snowy or icy conditions. For experienced hikers looking for a challenge, this is where you'll want to go. For easier trails, head to southern New Jersey and especially the Pine Barrens. The flat, easy trails there are fantastic for winter hiking or snowshoeing. Bonus: the pinelands stay green year round and can be a welcome change to the leafless brown trees elsewhere.