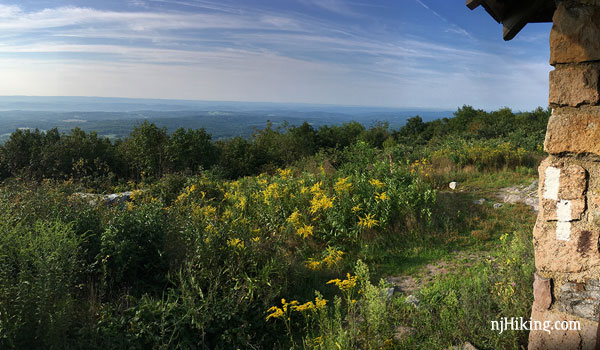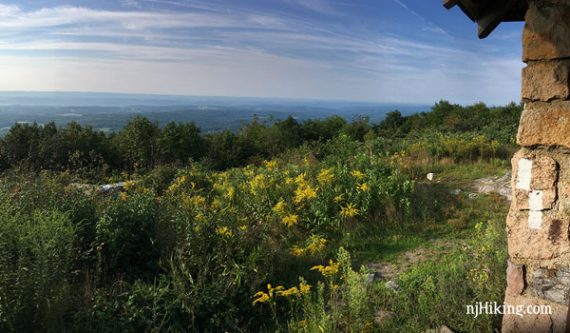 Enjoy plenty of views hiking the Appalachian Trail from Sunrise Mountain to Culver Fire Tower and Culvers Gap.
7.0 or 9.2 miles; mostly level but very rocky, with the pointy-jabby rocks common on the Kittatinny Ridge.
Hike Info:
Our two cents:
Several big views along a mostly level trail, a fire tower, and easy navigation make this a solid pick.
Turning around at the fire tower and skipping the last viewpoint is still a great hike.
Those views make this a good option for fall foliage – roughly the 3rd week of October for this area, depending on how the season is going.
Updated: 10/2020 – Page refreshed, Culvers Gap to Tower section re-hiked.
---
Map:
Use Kittatinny Trails or the map on the park site.
Books:
Shorter loop variation in Hiking New Jersey.
---
Sunrise Mountain Overlook lot. Rt 206 N into Stokes State Forest, R on Upper North Shore Rd/Rt 636. Turn left onto Sunrise Mountain Road.
After passing the Culvers Gap lot it becomes one-way. Continue for a while, then turn R at the sign for the two-way road to the Sunrise Mountain Overlook lot.
When leaving, you'll need to go back to Sunrise Mountain Rd and turn right to continue through the park. Eventually it becomes two-way again.
Parking Notes:
–Sunrise Mountain parking lot isn't open until 8am. Non-summer used to be 5am but double-check with the park if you want to arrive early. It's also closed seasonally Dec 15 – Apr 15, or anytime there are hazardous conditions due to weather.
Culver's Gap parking lot: N41.18006° W74.78786°
–Use this lot to start earlier than the Overlook lot is open, out of season when Sunrise Mountain Road is gated, to reverse this route, or leave the 1st of a 2-car shuttle here.
Starting here extends the hike some, with a steep section between the lot and the Culver Gap view.
–Two-car shuttle, about a 5.5 mile one-way hike: Park a car at the Culver's Gap parking lot and then drive up to the Sunrise Mountain Overlook lot.
At Culvers Gap view below, don't turnaround but continue downhill on the Appalachian Trail (WHITE), cross Sunrise Mountain Road, and on to the parking lot to pick up the 1st car, then drive back to Sunrise lot.
There's even a view right from the parking lot if you don't want to hike at all.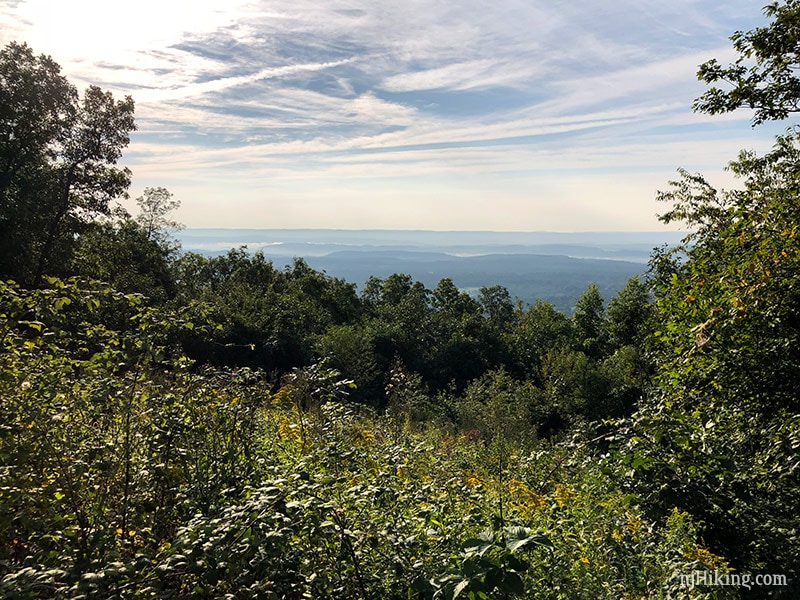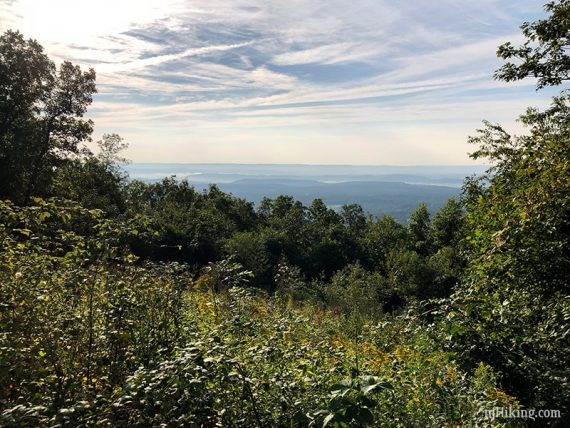 ---
Restrooms:
Composting toilet in parking lot.
Hike Directions:
Overview: This hike is an out-and-back entirely on the Appalachian Trail (WHITE).
0.0 – A path starts at a sign near the parking lot entrance.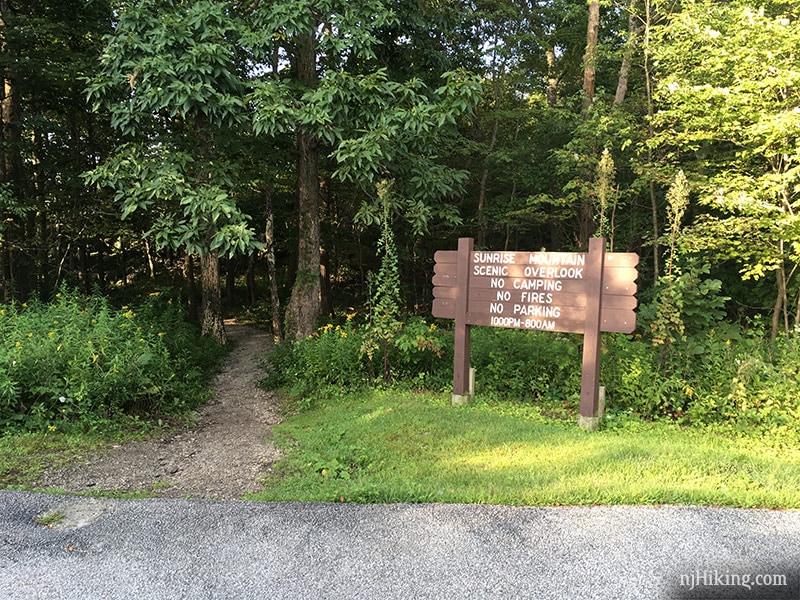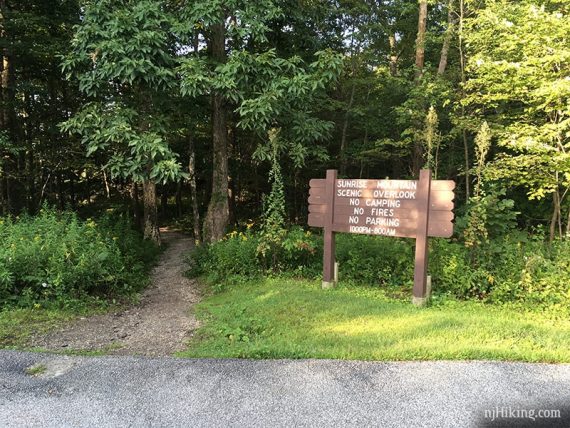 The path veers right to merge into the Appalachian Trail (WHITE) south. [Heading left will head north on the AT instead].
There is a side trail to a view that is slightly different than at the pavilion.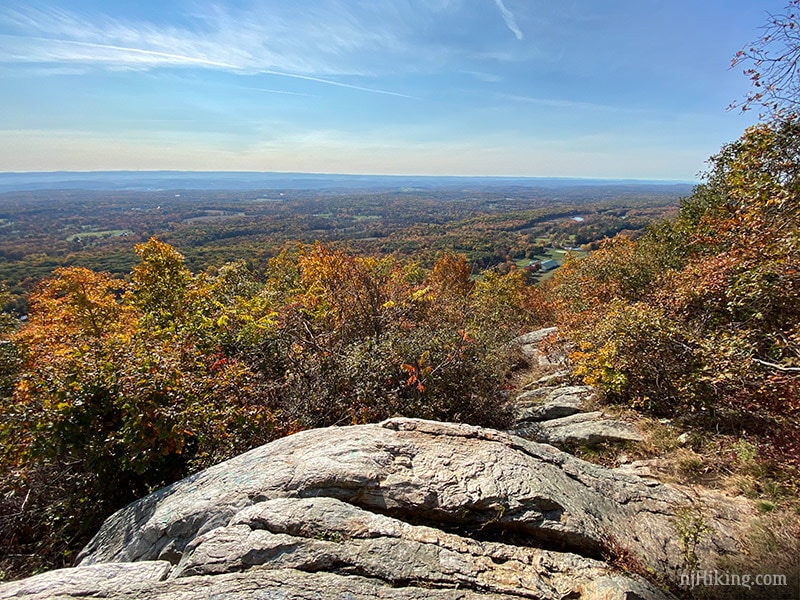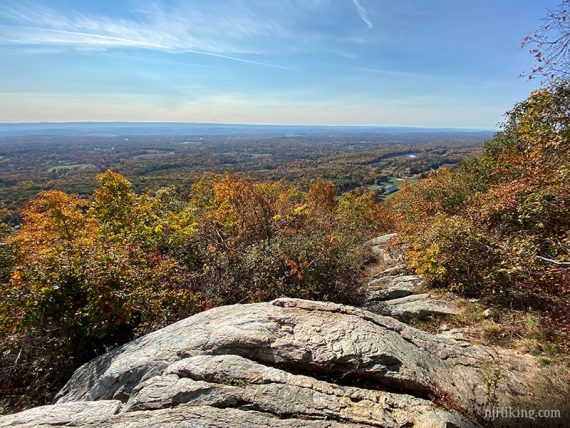 Approach the pavilion.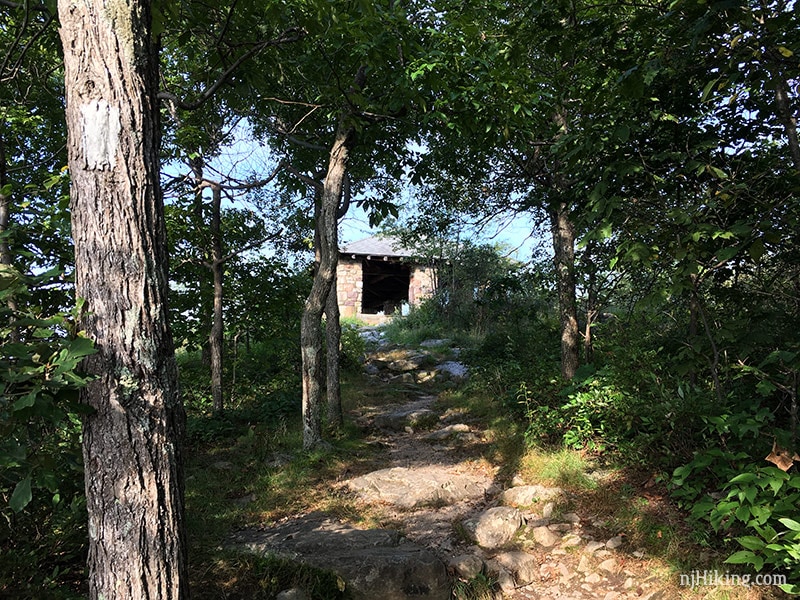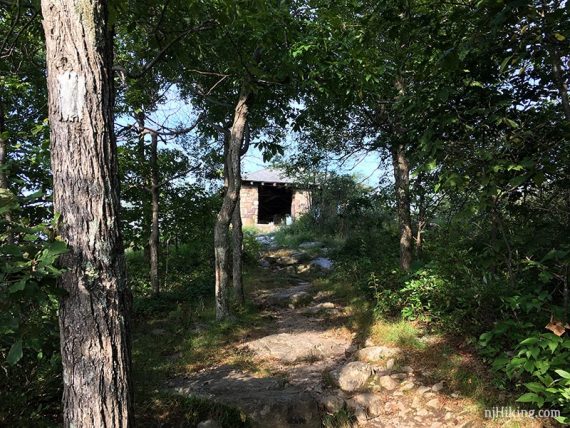 0.2 – Large pavilion built by the Civilian Conservation Corps in the 1930s.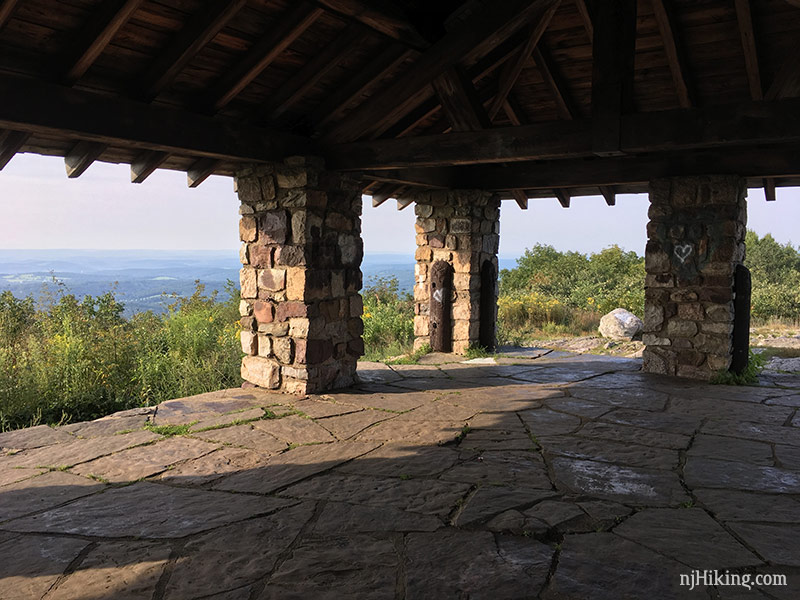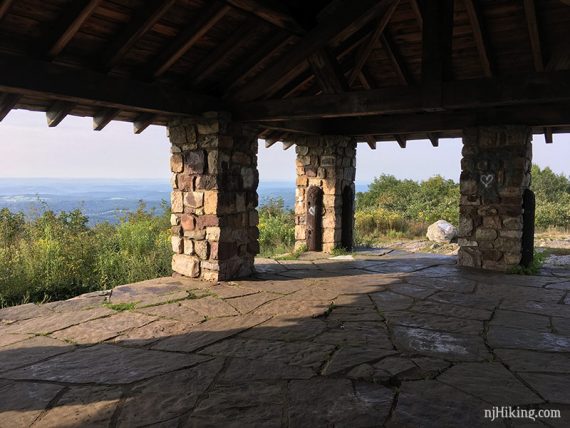 There are views on either side of the ridge, looking over New Jersey.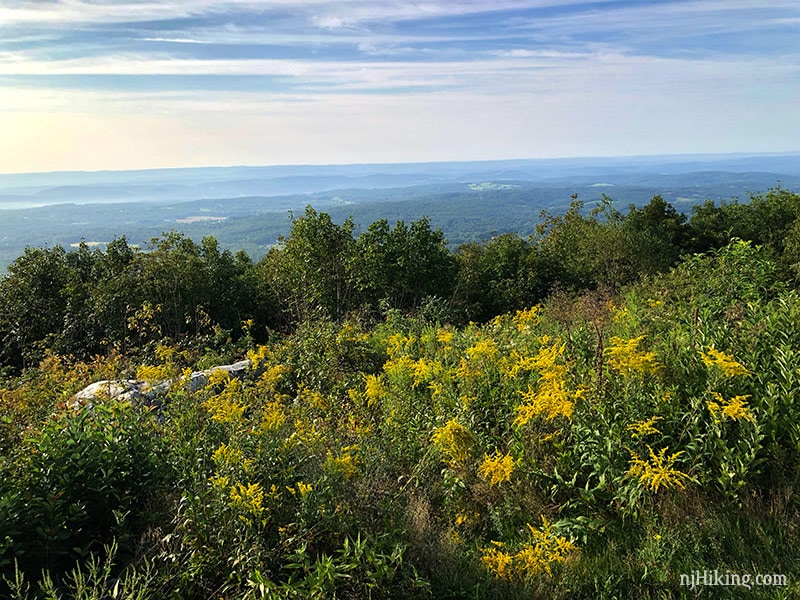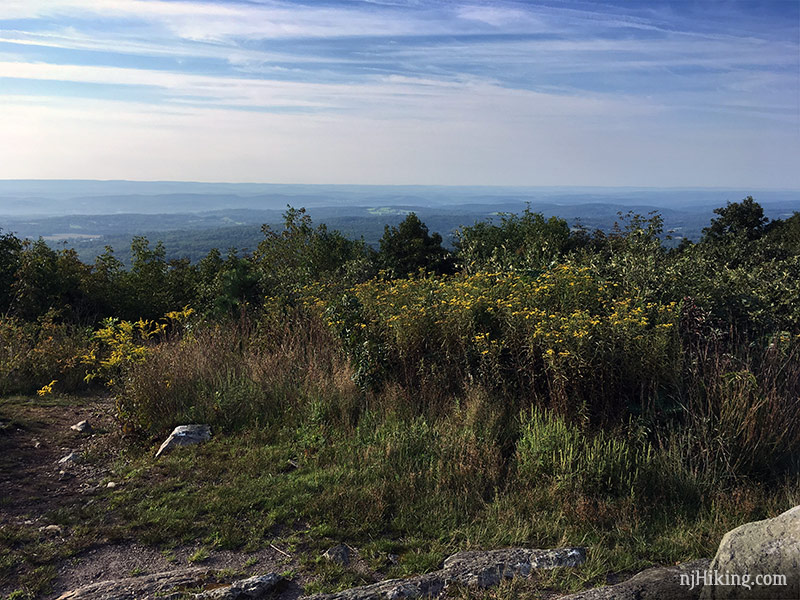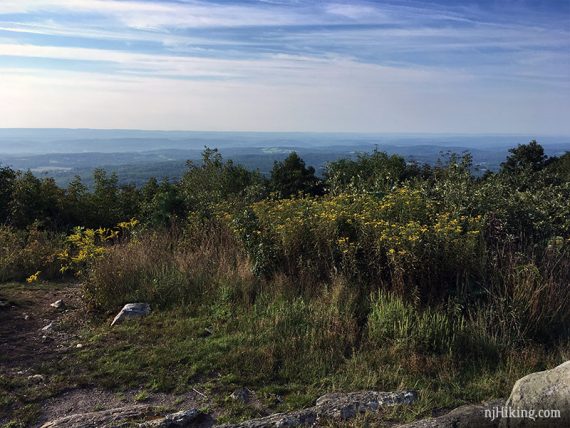 The other side is a little more limited by shrubbery ("… not another SHRUBBERY!").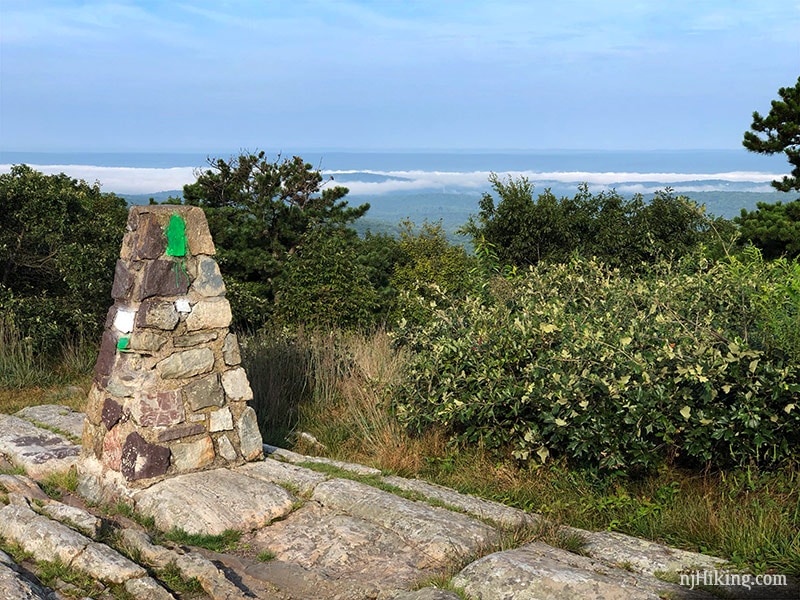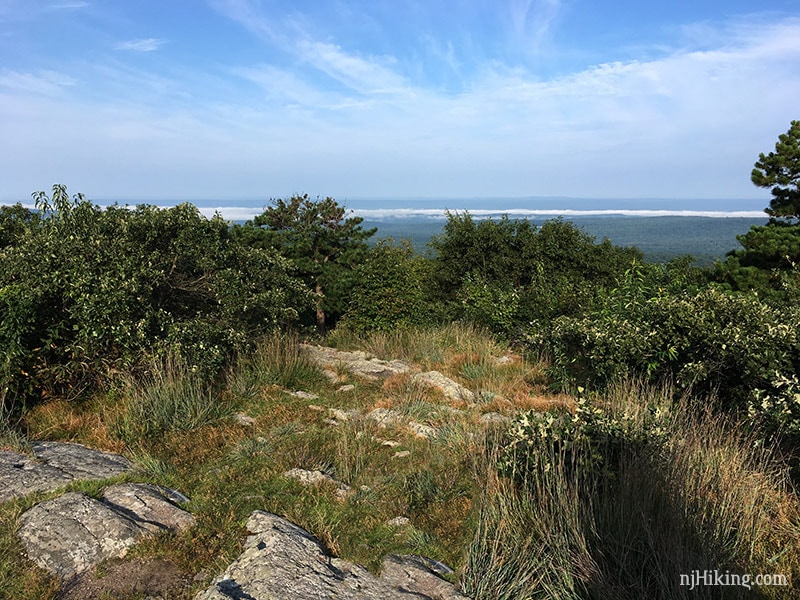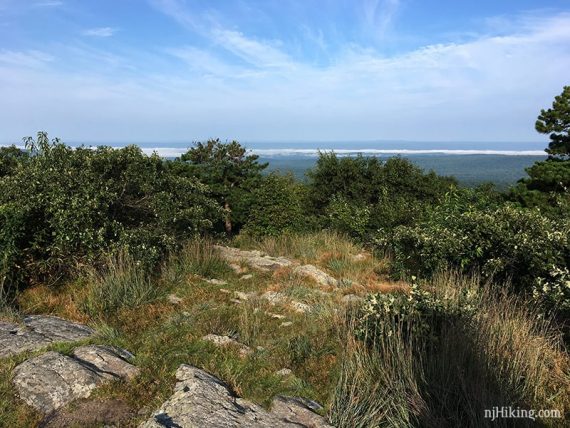 Cross to the end of the pavilion, and turn left follow the Appalachian Trail (WHITE) down.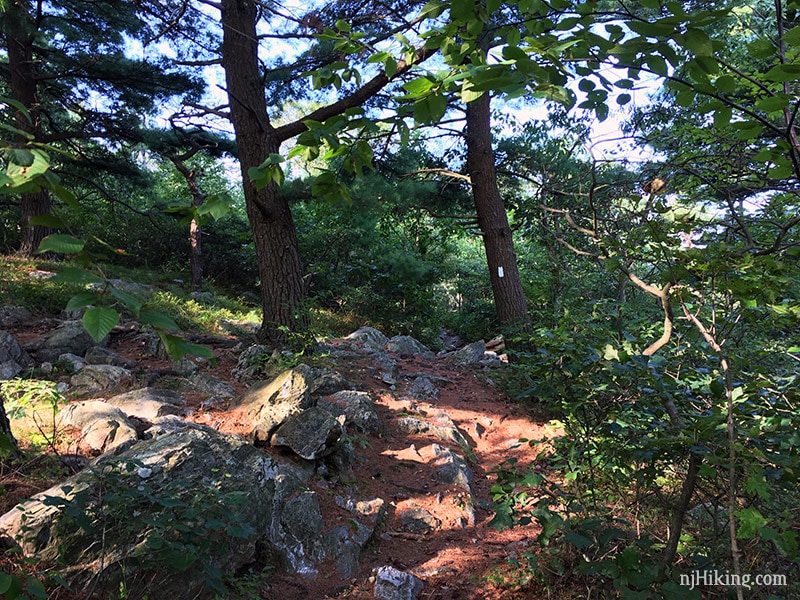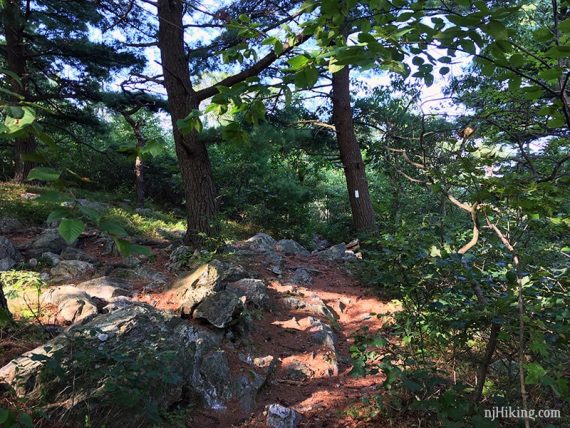 1.0 – Continue on Appalachian Trail (WHITE). Pass the Tinsley Trail.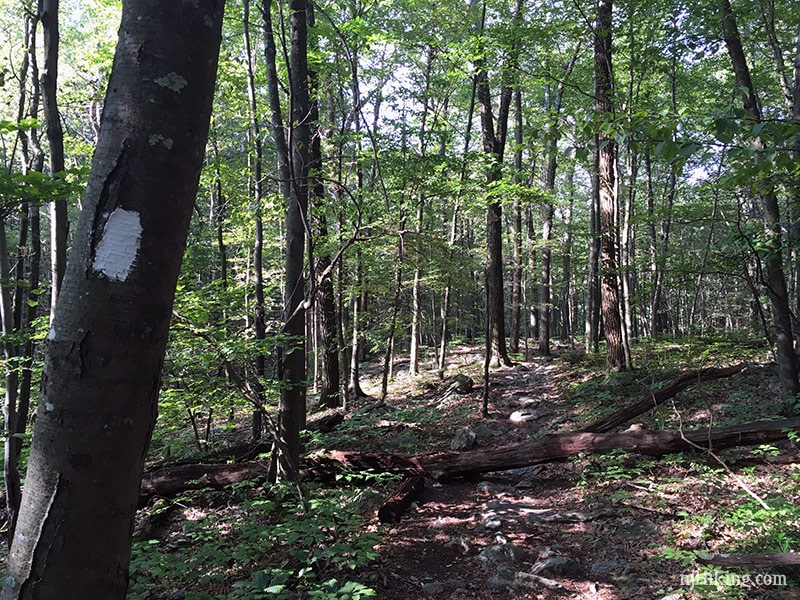 1.2 – Pass an unmarked trail to an unmarked view – easy to miss, we usually hit this on the return.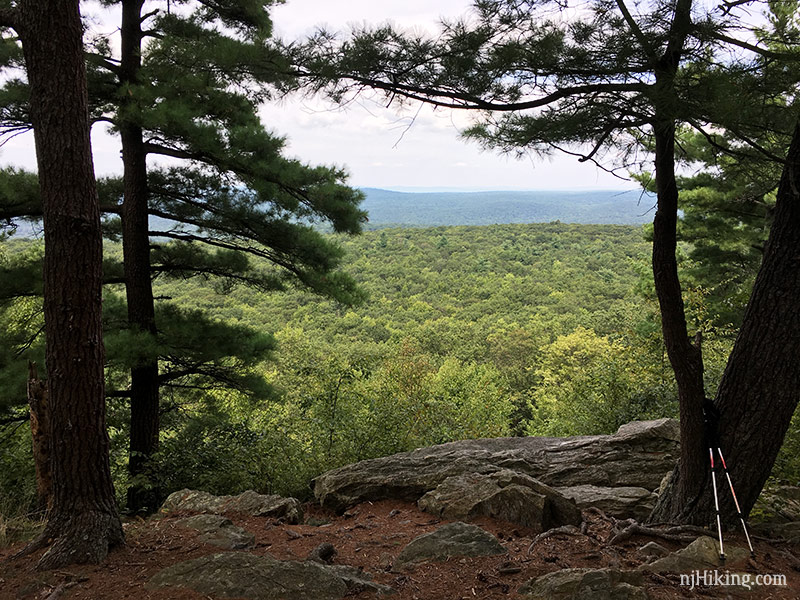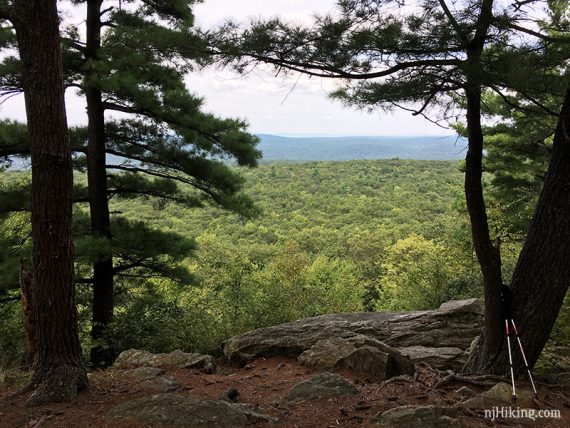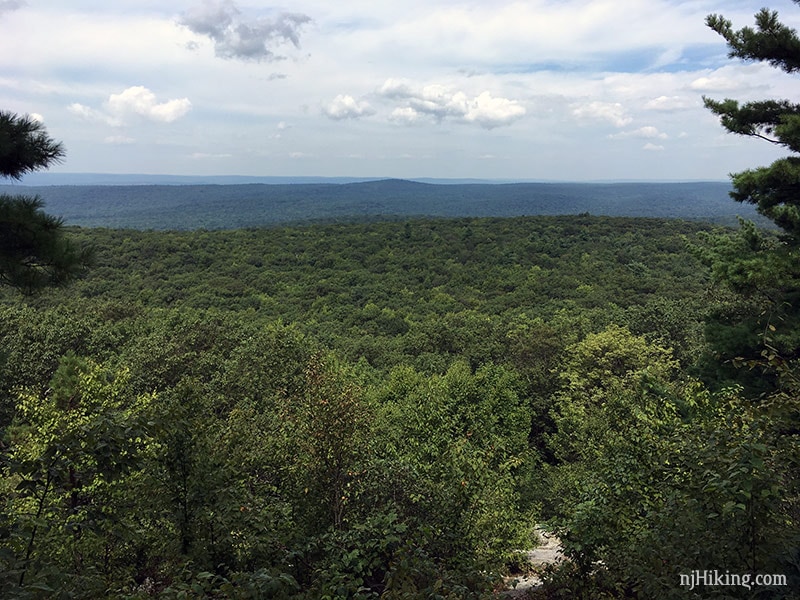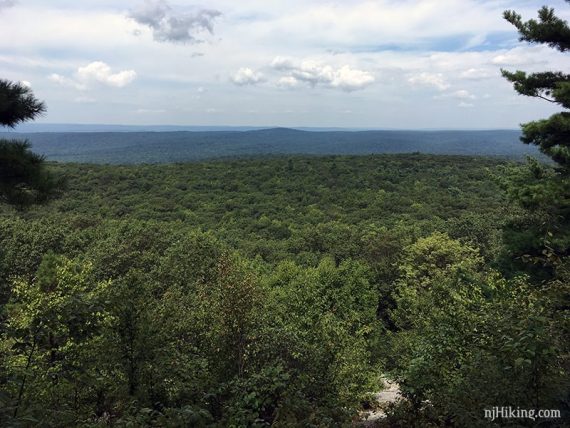 2.5 – Appalachian Trail (WHITE). Pass Stony Brook Trail.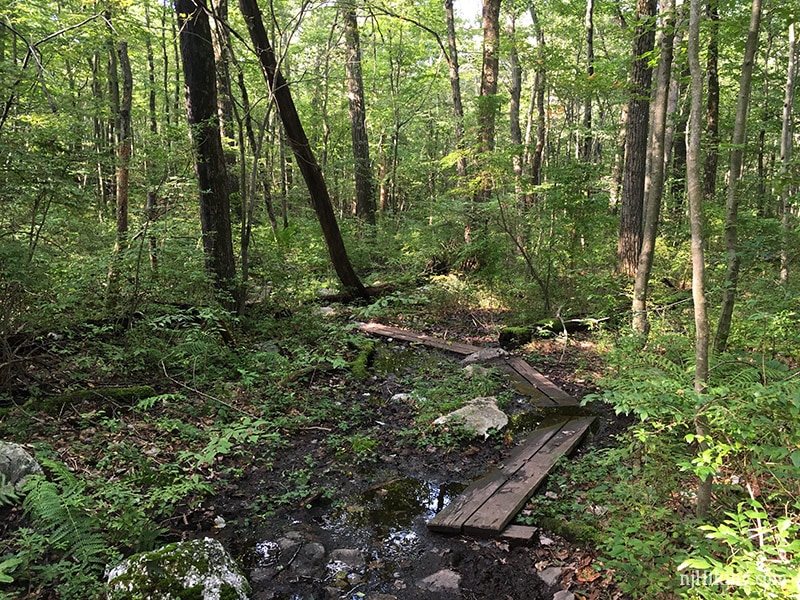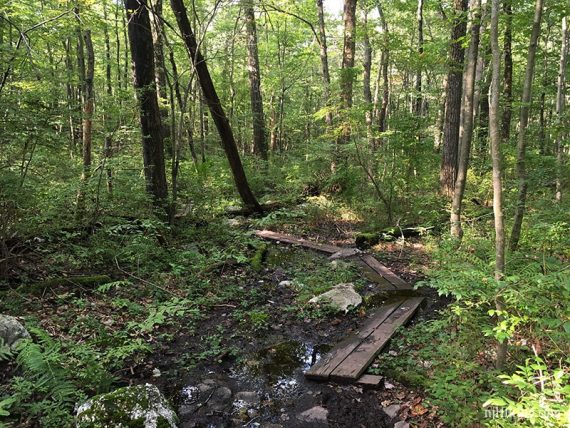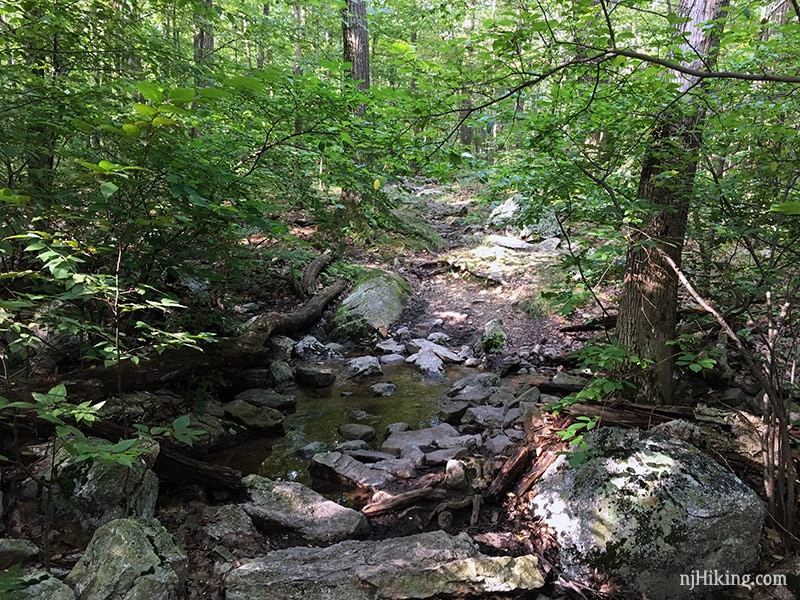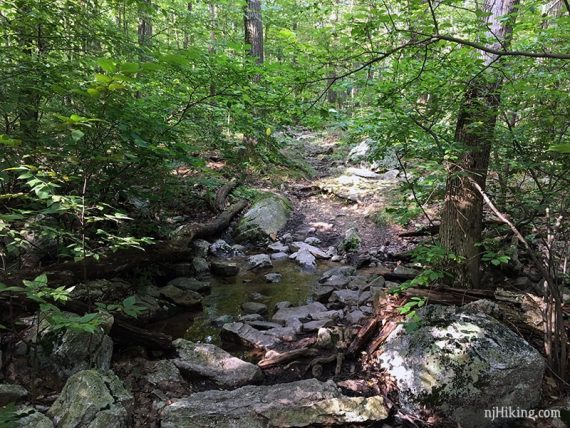 3.5 – Pass the Tower Trail and then arrive at the Culver Fire Tower.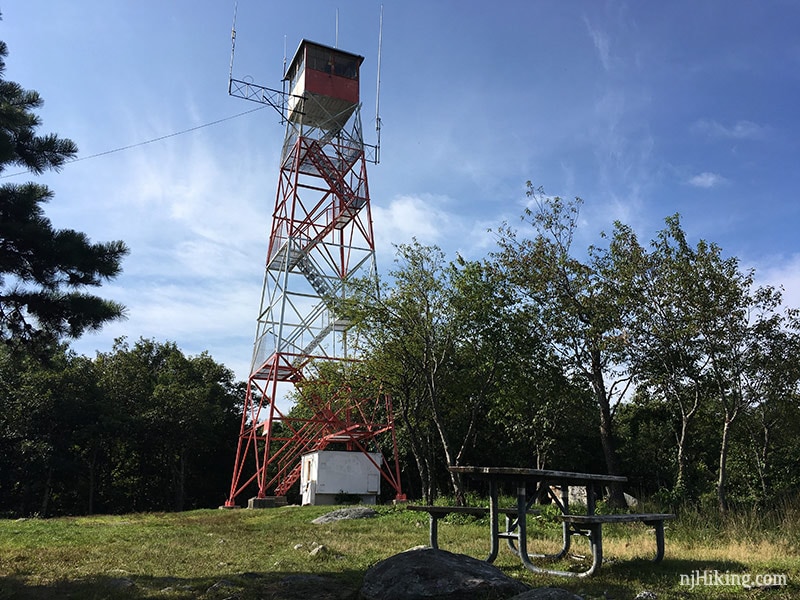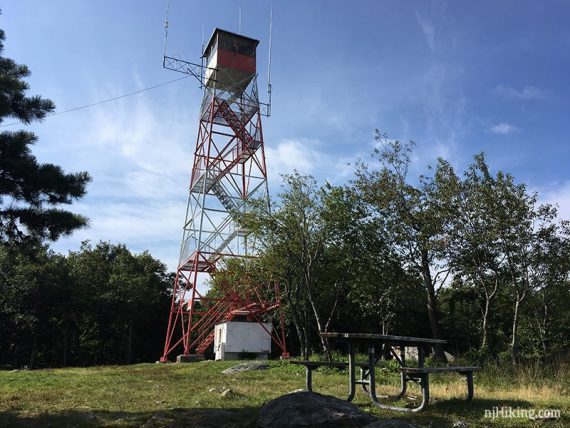 Views with a rock slab and picnic table make for a good break spot.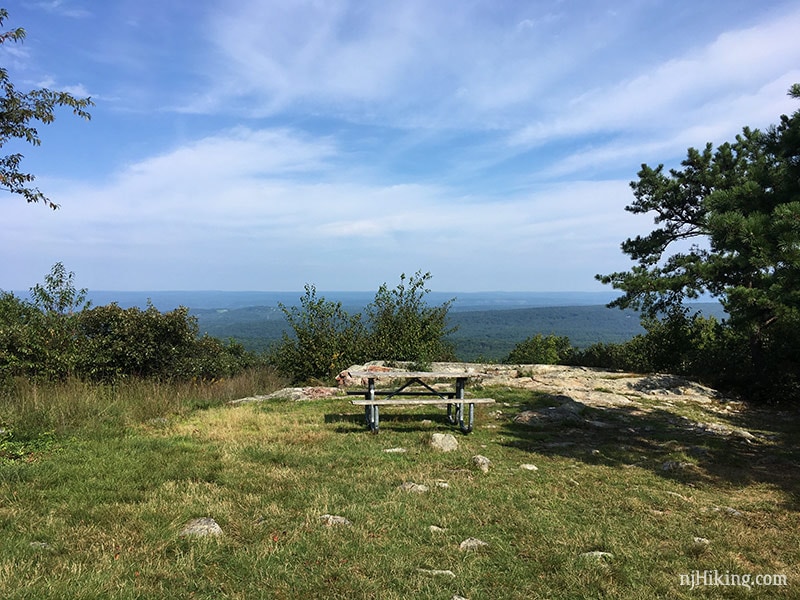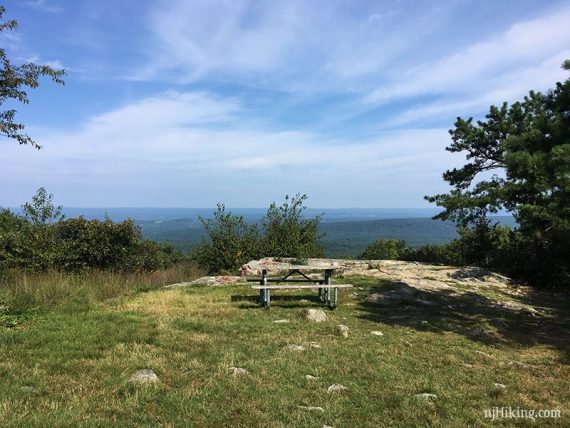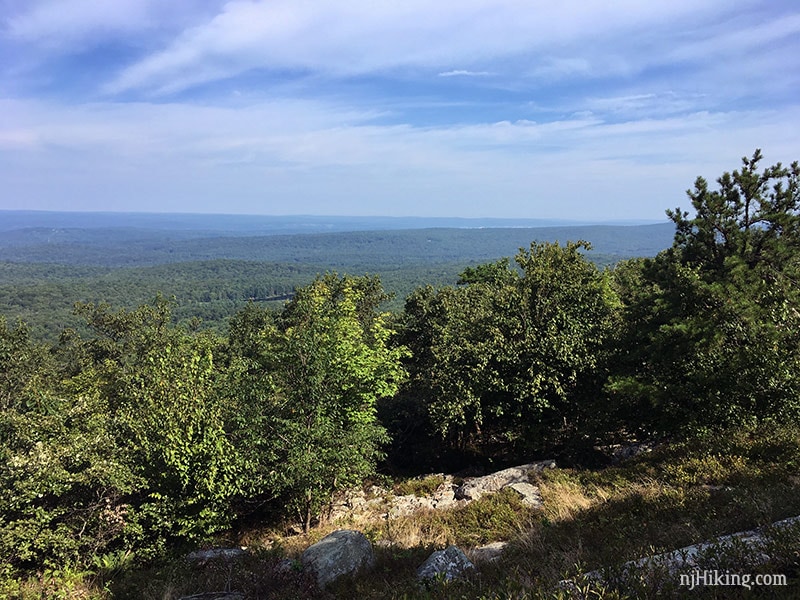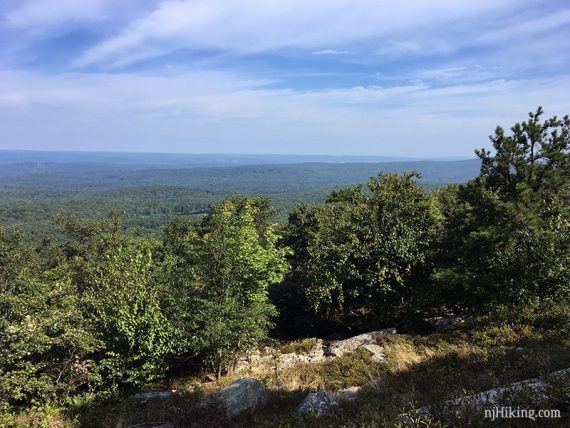 Looking at the route ahead towards Culvers Gap and Appalachian Trail south.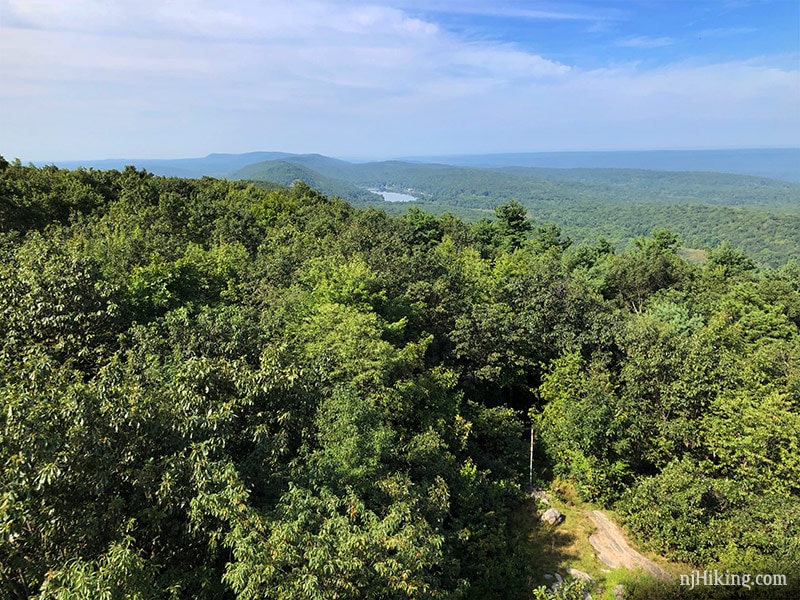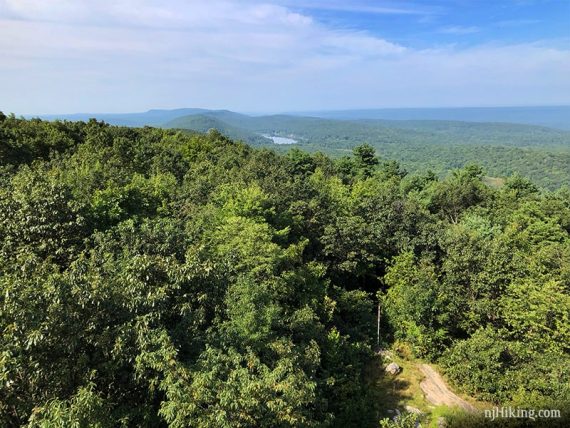 Looking at the route behind, High Point monument is faint in the distance.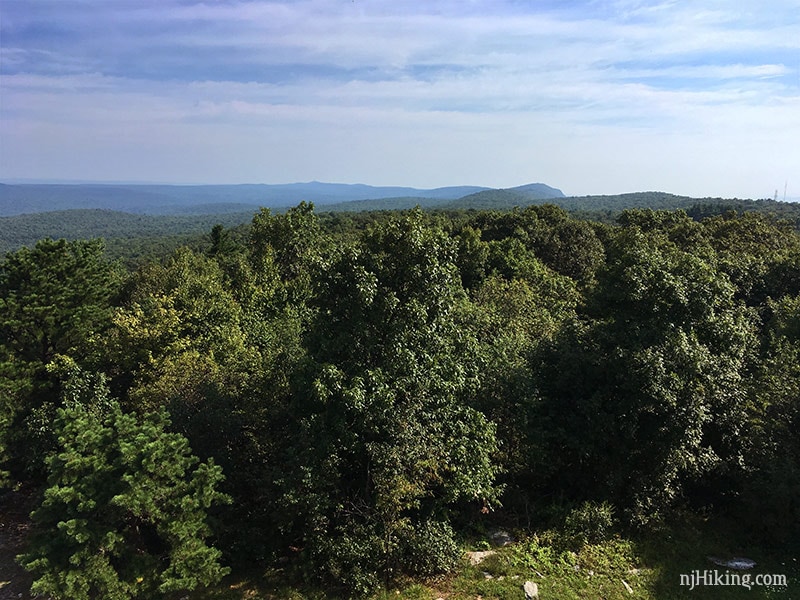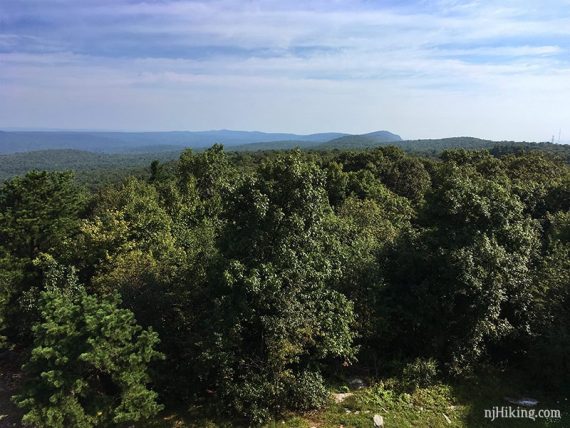 From the fire tower, continue on Appalachian Trail (WHITE).
// OR turn around for a 7.0 mile route. Debating it? View from Culver Gap is in a different direction but slightly limited. //
A wooden post means you're approaching the end of this route.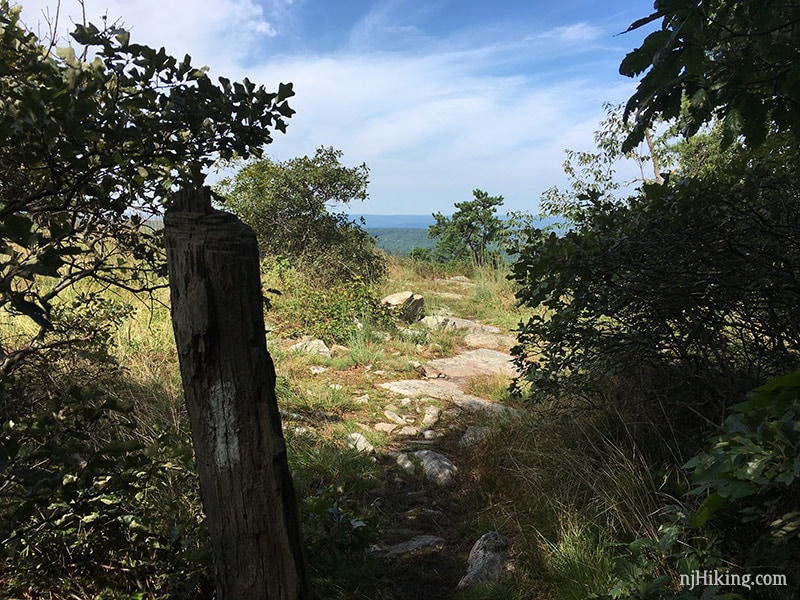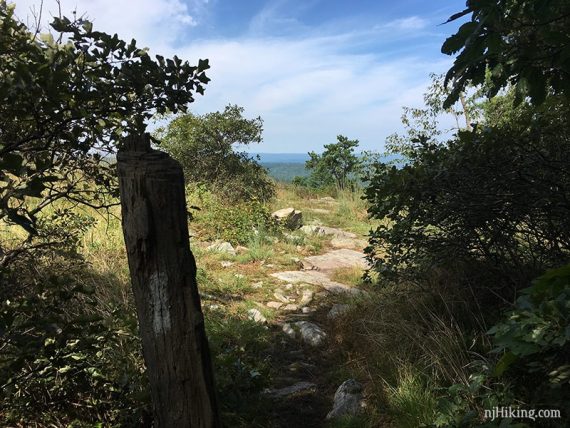 4.6 – Another big view, over Culvers Gap, in two seasons.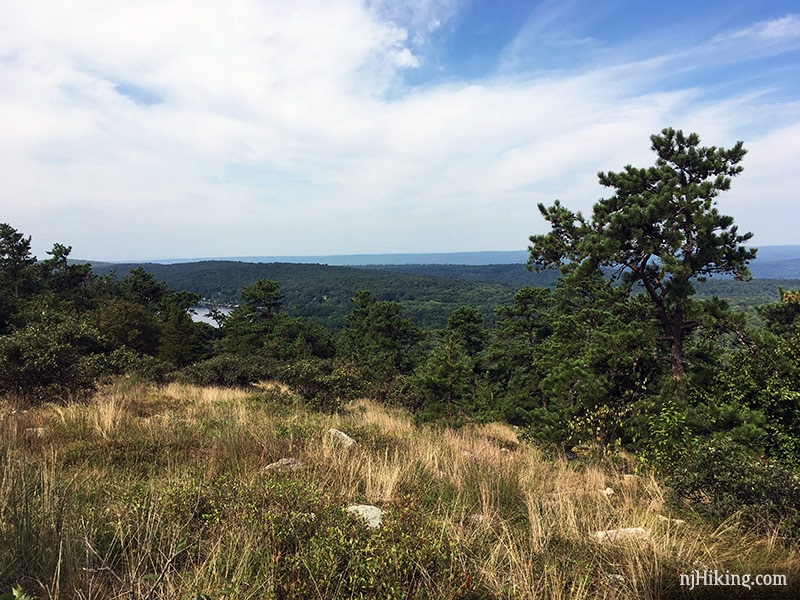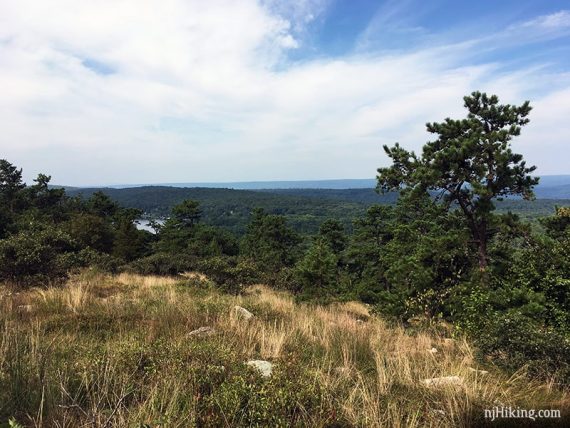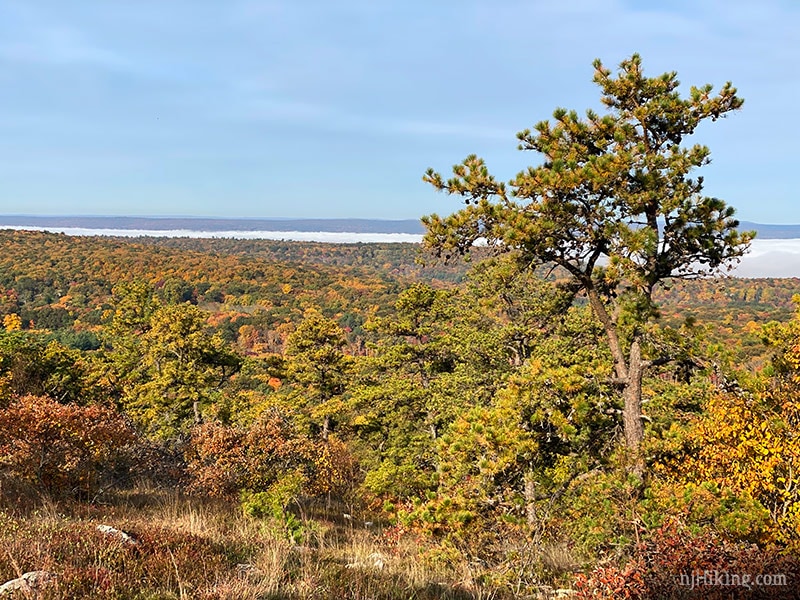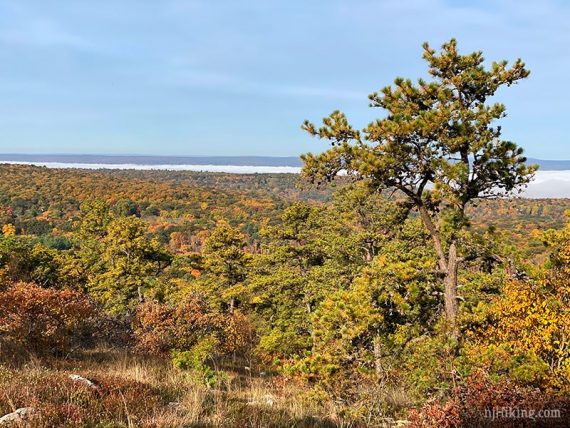 Turn around and retrace the route back on the Appalachian Trail.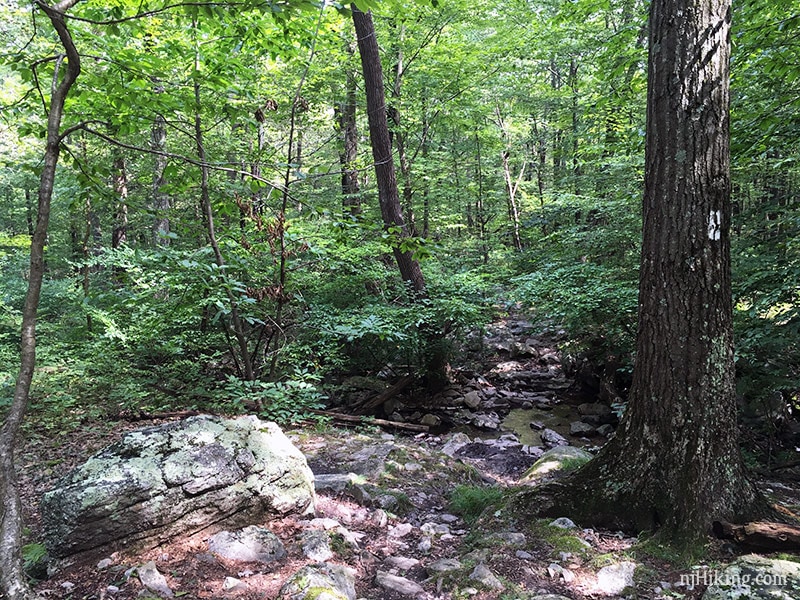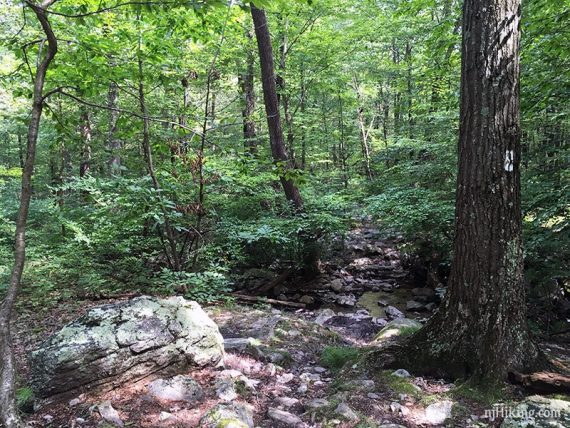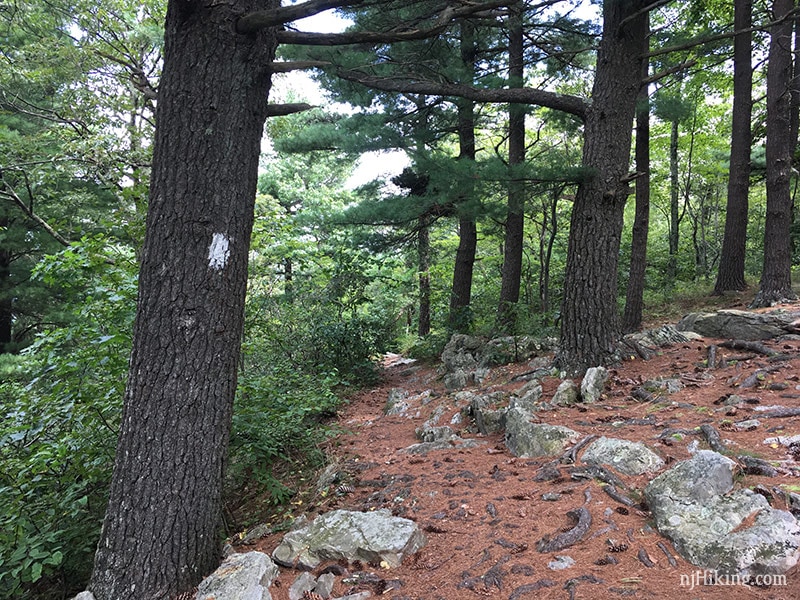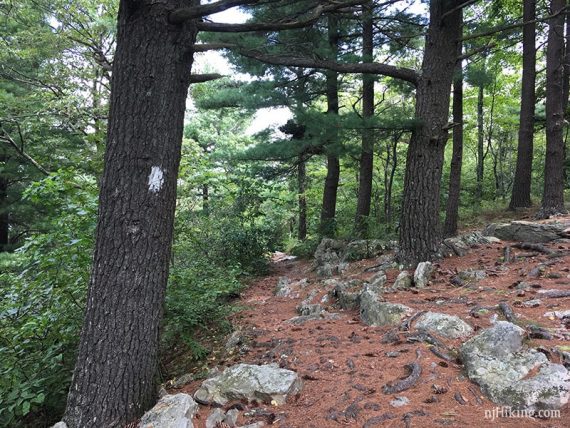 —
Hiked: 10/18/20. Culver Gap to Tower / Sunrise Mountain pavilion
Hiked: 8/25/18. Trail Blog: "Sunrise Mountain, Culver Fire Tower, Culvers Gap in Summer"
Hiked: 10/15/17. Trail Blog: "Sunrise Mountain to Culvers Gap in the Fog"