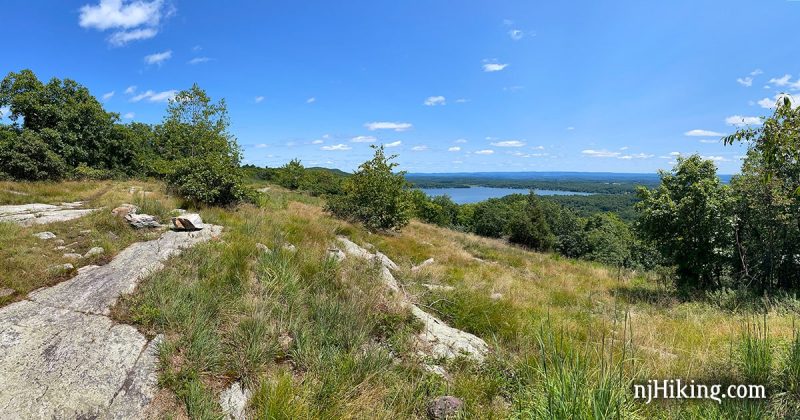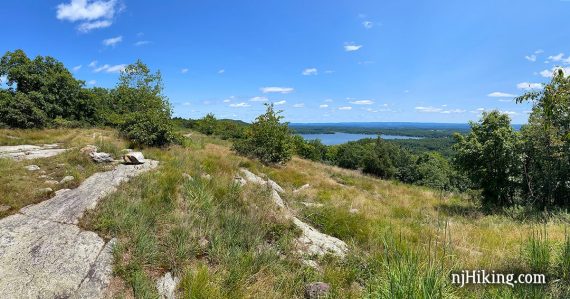 Hike the Appalachian Trail from Culvers Gap to Blue Mountain for many expansive views.
Total round trip mileage: 9.4 or 5.7 or 3.4 or 2.6; Steep at the beginning and end; a few hills on an otherwise mostly level route; very rocky. Busy road crossing.
Hike Info:
Our two cents:
Views, views, views… from the Acropolis Trail looking north towards Culver Gap fire tower…
Views along the Appalachian Trail looking over New Jersey and to Culver Lake, more along the A.T., and looking across NJ and into Pennsylvania from Blue Mountain.
The full 9.4 is best for avid hikers used to rocky north Jersey terrain, otherwise consider one of the suggested turn around points – you still get a lot of views, just not to Blue Mountain.
There were a handful of high grassy sections when we hiked in summer.
Crossing Rt. 206 wasn't too hard in early morning but returning in the afternoon was kinda like slamming the joystick forward in Frogger and hoping for the best. (OK, maybe it wasn't quite that hard.)
Updated: 7/2021 – Re-hiked, changed end of route to AT instead of Acropolis, mileage changed to 9.4 from 9.8, minor edits, changed some photos from overcast late fall to green summer. 4/2021 – Page refreshed, not re-hiked.
---
Map:
Kittatinny Trails. There were Stokes State Forest paper park maps in the kiosk in the parking lot the day we hiked.
Note! If you are following our Culvers Gap – Blue Mountain Interactive Map on a smartphone and happen to zoom into the map image underlying the route, you might notice the dotted line for the Appalachian Trail doesn't match our route in multiple places.
Google's trail data is really off in this area (as it is in many other places – don't rely on just what Google shows as a trail).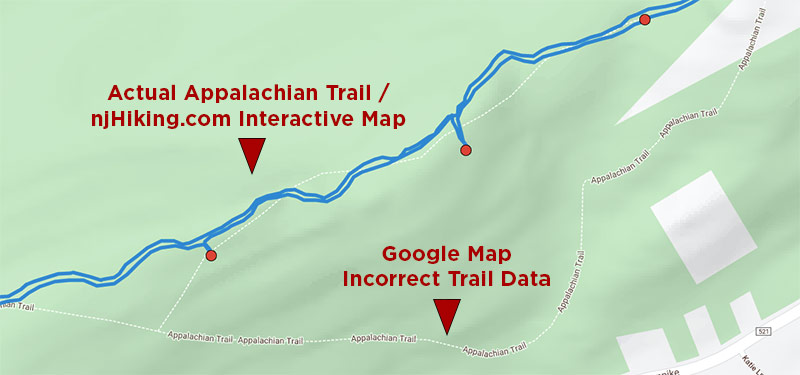 ---
Books:
None that we know of, other than the trail descriptions in The New Jersey Walk Book and Kittatinny Trails.
---
"Culver's Gap Parking Lot". Sunrise Mountain Rd, Sandyston, NJ 07826. Park road, has no street number.
Rt 206 N into Stokes State Forest, R on Upper North Shore Rd/Rt 636. Turn left onto Sunrise Mountain Road. Quick left into the Culvers Gap parking lot (there is a big sign).
Note: Continuing past this parking lot, Sunrise Mountain Road turns into a one-way road and is closed in winter (December 15 through April 15).
---
Restrooms:
Portable toilet may be in the parking lot (possibly seasonal; there 7/2021). Option: Continue just a bit further on Rt. 206 for the Stokes State Forest visitor center. Convenience stores on the approach via Rt. 206 N.
---
Hike Directions:
Overview: Appalachian Trail (WHITE) – Acropolis (GOLD/BROWN) – Unmarked Trail – Appalachian Trail (WHITE).
–Optionally, the Appalachian Trail can be taken the entire way, without using Acropolis and Unmarked Trail. This simplifies the navigation but you'll miss a big view. Acropolis (GOLD/BROWN) was also rather grassy when we hiked it in July compared to October.
–We only noticed Acropolis' GOLD/BROWN markers towards the beginning and end of the trail.
0.0 – At the end of the parking lot near the wooden trail kiosk, start following the Appalachian Trail (WHITE).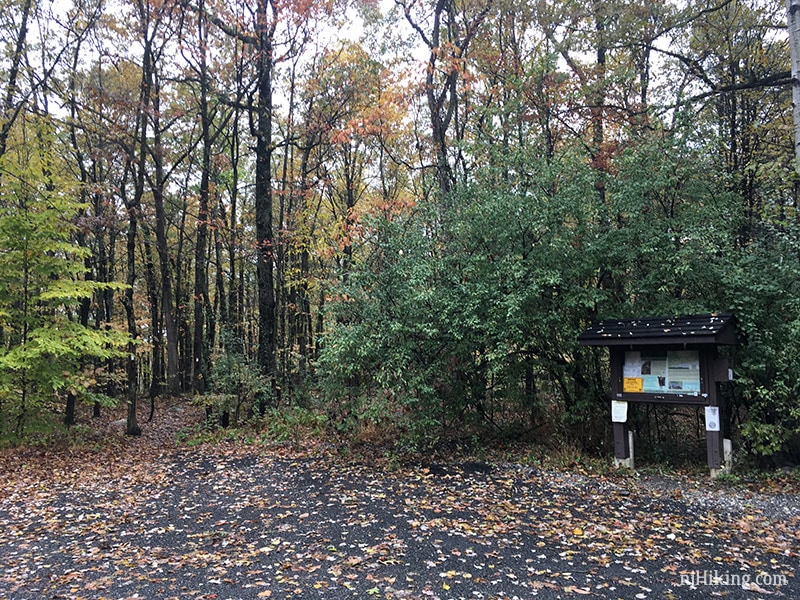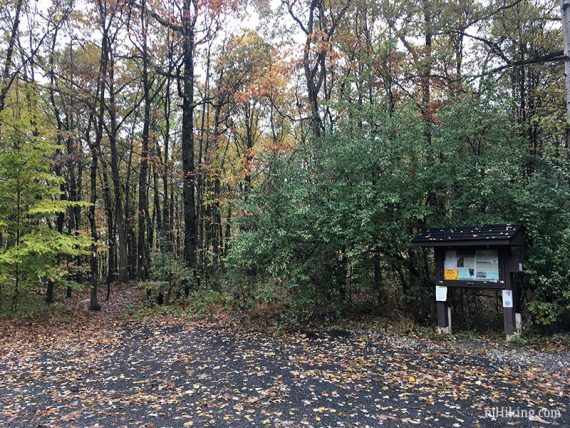 In a few steps, come to a T and turn LEFT to follow the Appalachian Trail (WHITE) south.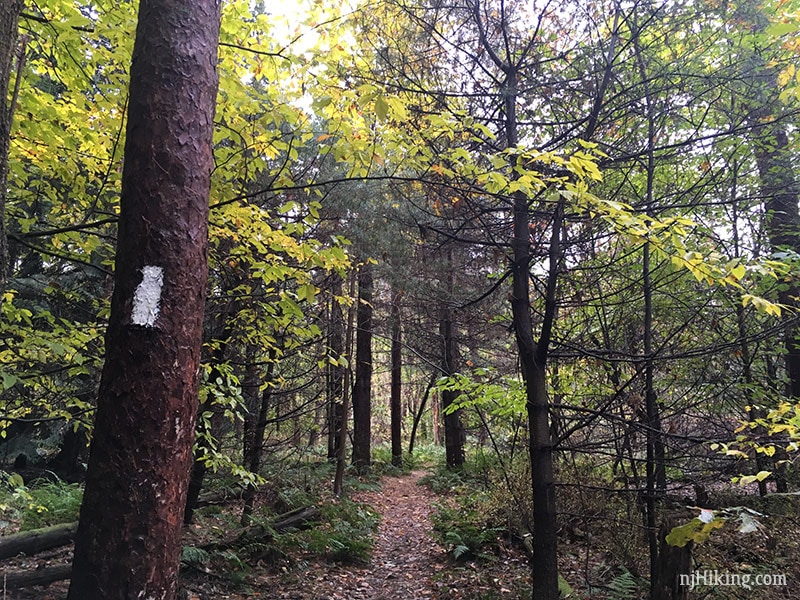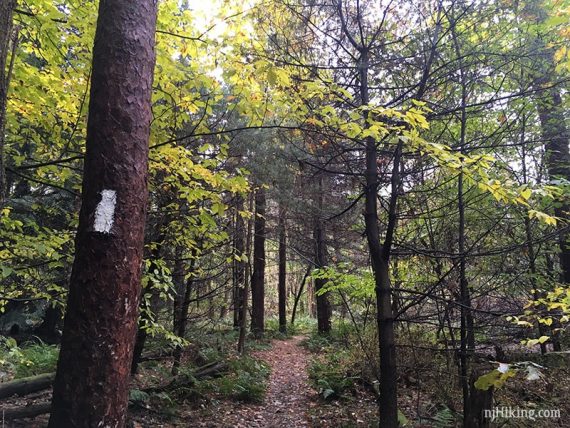 0.3 – Cross Route 206, turn LEFT and walk on the shoulder of the road.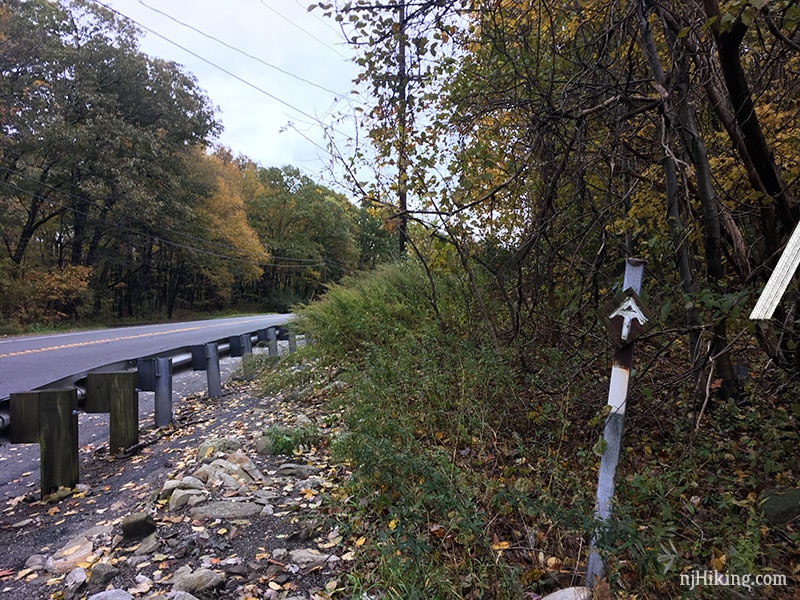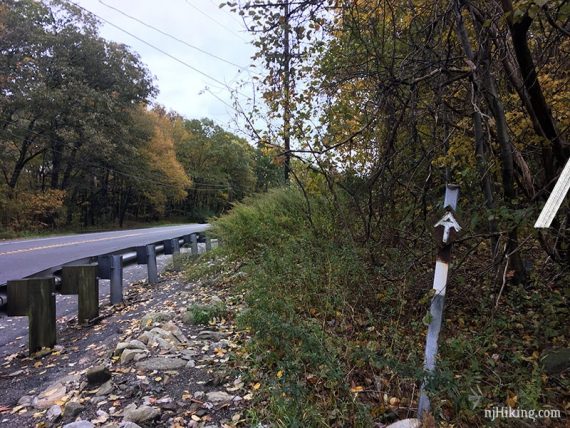 Continue along the guardrail to where the Appalachian Trail (WHITE) turns right, into the woods.
Follow the Appalachian Trail (WHITE) as it heads uphill on a rock-strewn path.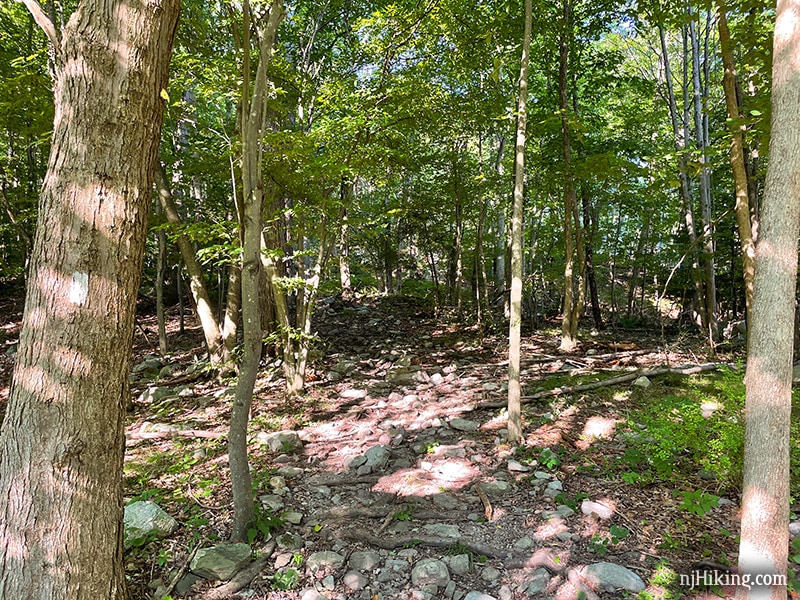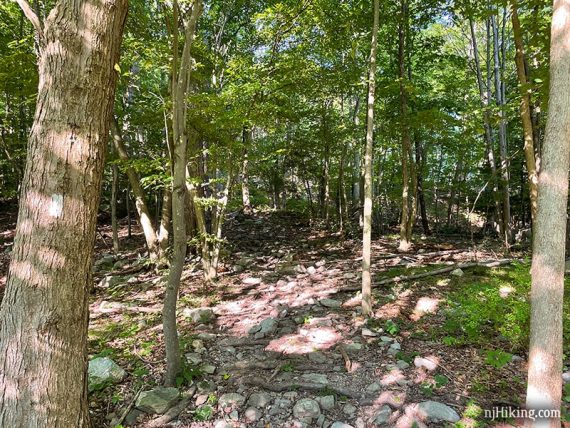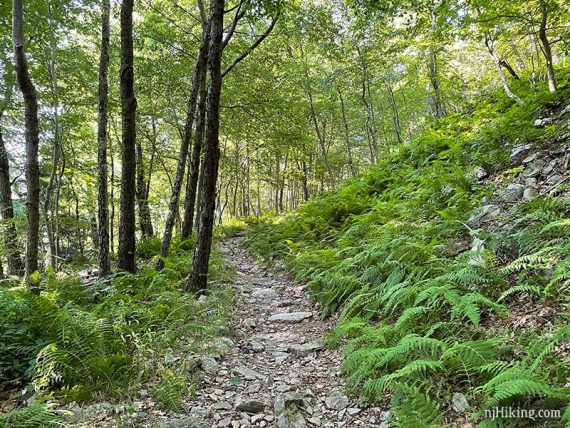 Pass a limited view of Culver Lake through a break in the trees created by a power line.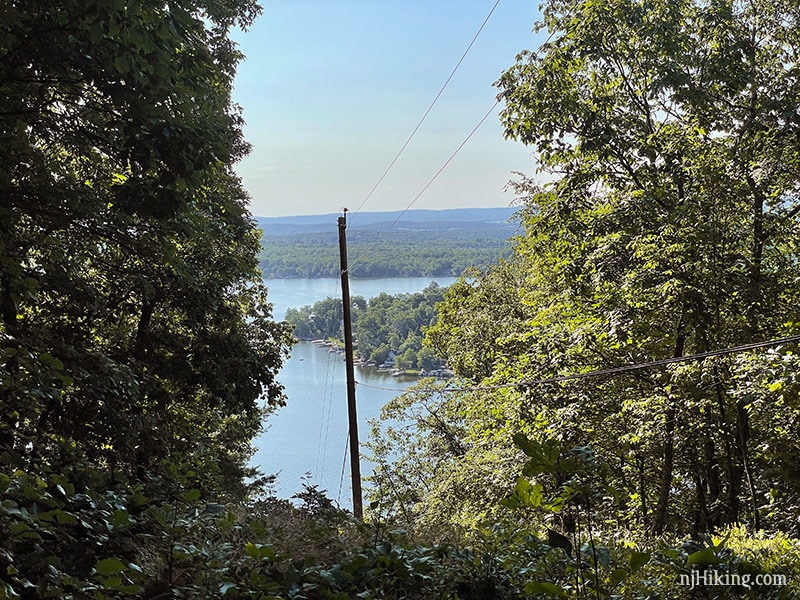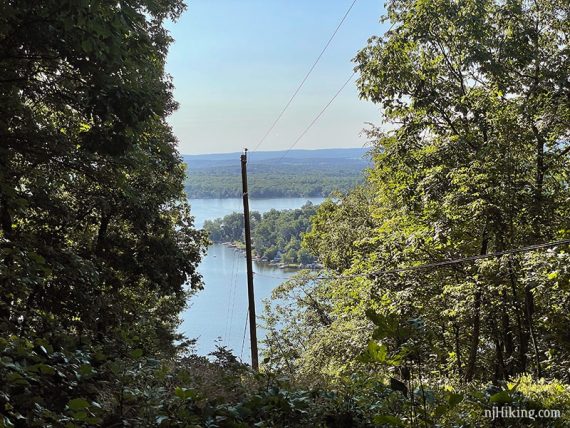 0.9 – Not far after passing the power line view, turn RIGHT and start following Acropolis (GOLD/BROWN) on a wide woods road.
[Appalachian Trail (WHITE) continues ahead and can be taken to cut out Acropolis/Unmarked trail. Acropolis (GOLD/BROWN) is also ahead on the left and leads down to Rt 206.]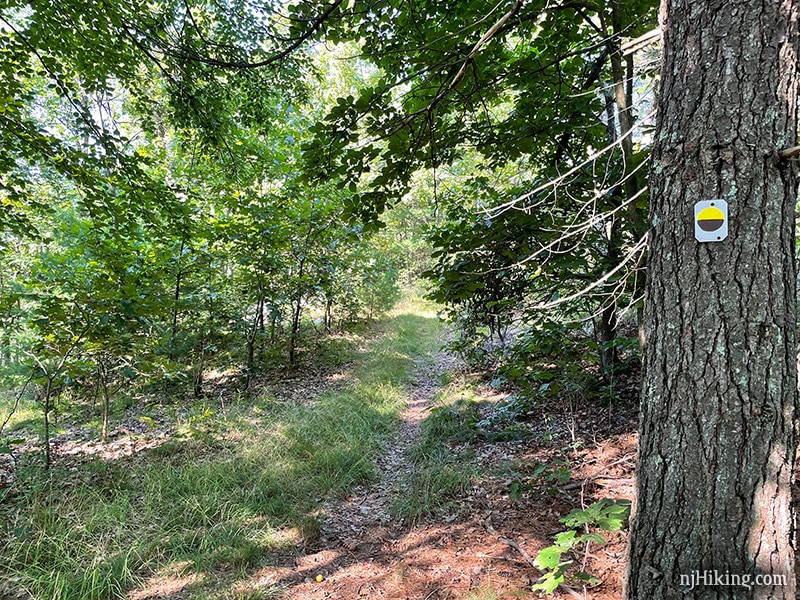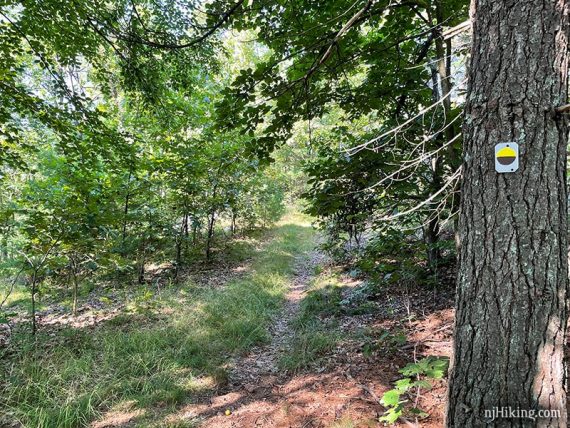 1.1 – Not long after Acropolis (GOLD/BROWN) switchbacks to the left, a short casual side trail on the right leads directly to the Acropolis viewpoint.
Note: This casual side trail is not technically the way to the view. The actual route continues ahead and switchbacks again at an antenna building, but the trails are nearly on top of each other.
The Acropolis viewpoint looks north towards Stokes State Forest with Culver Fire Tower seen on the prominent hill ahead. (The fire tower is also along the Appalachian Trail and there are two hike guides listed in the links above).

The tall monument at High Point State Park can juuuust be seen in the far distance, to the left of Culver Fire Tower.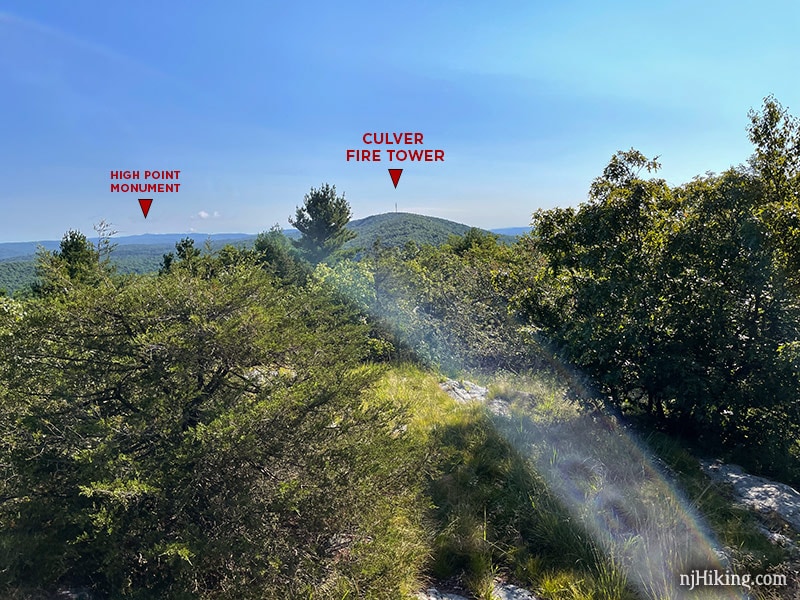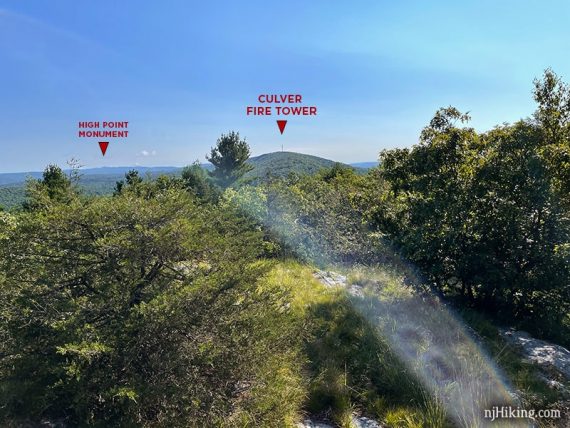 It helps to zoom in with a phone/camera and this is where our trusty little monocular always comes in handy.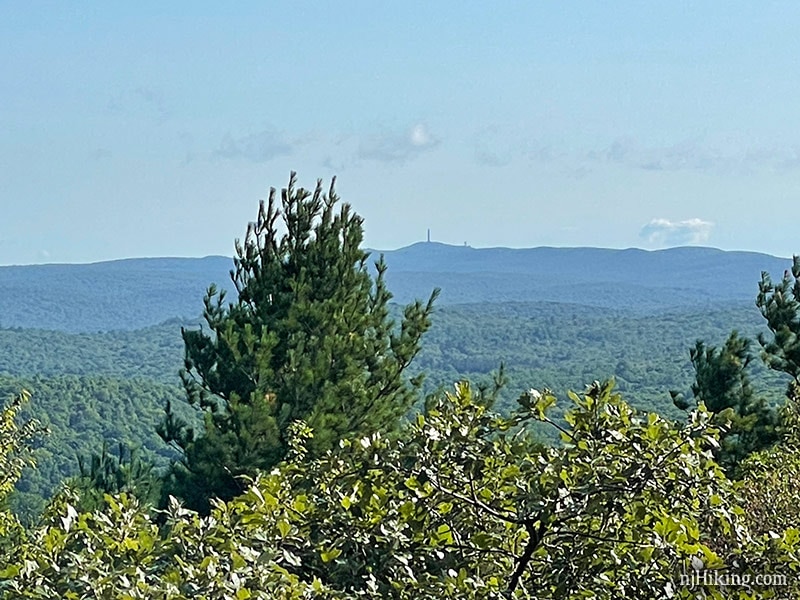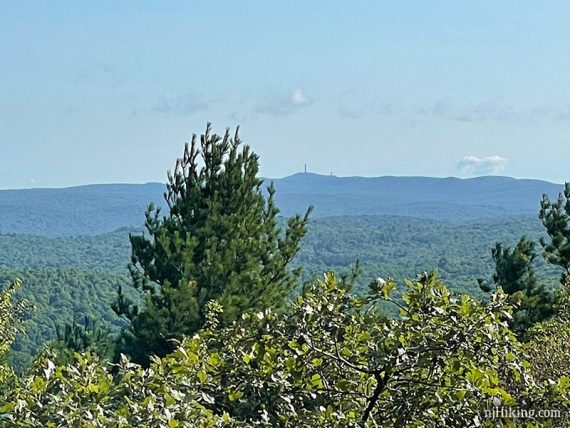 From the Acropolis there are views over the surrounding hills.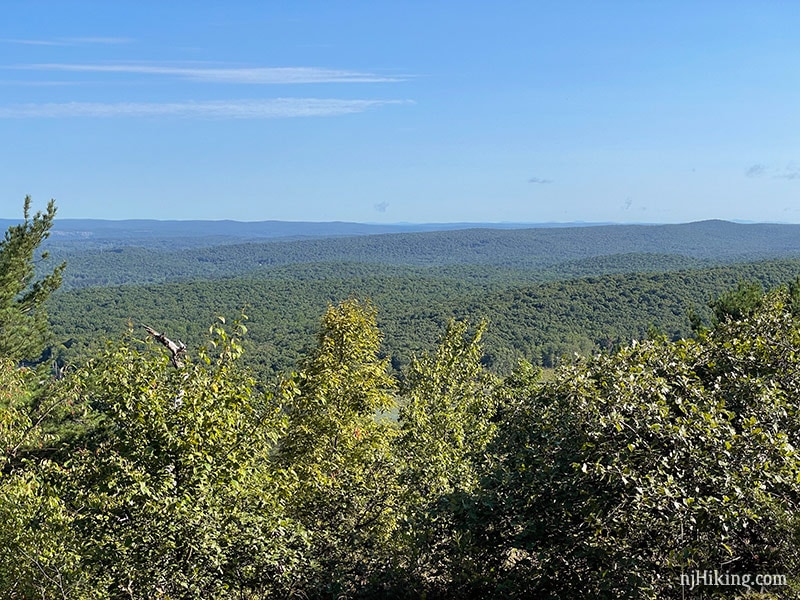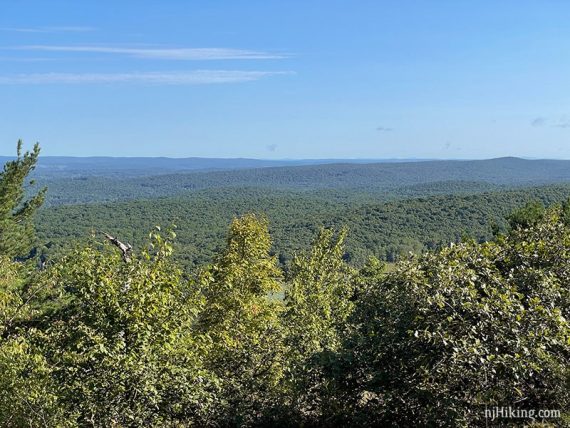 Below is Rt. 206 and the edge of Kittatinny Lake just peaks out. Taller folks will be able to see over the foliage better and more of the lake may be visible when trees are bare.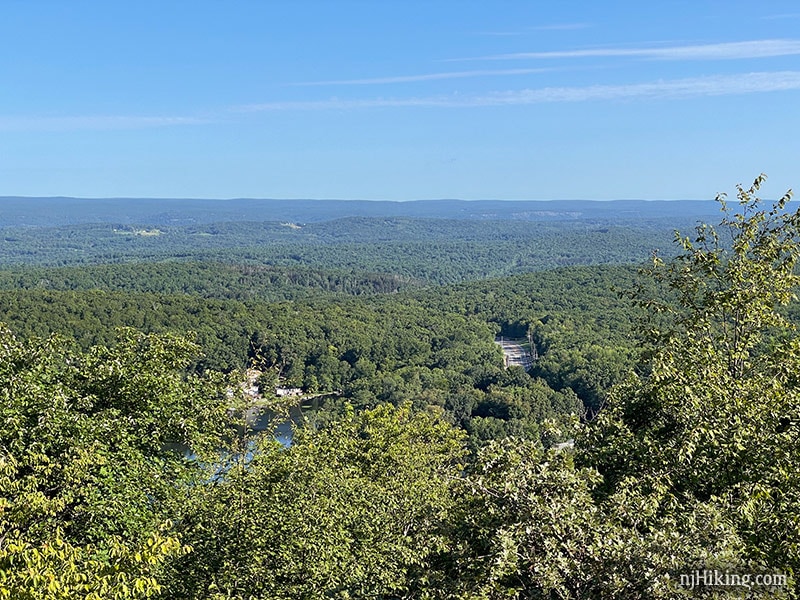 Backtrack off the casual side trail and continue on Acropolis (GOLD/BROWN) – or – continue on a nearly parallel trail from the viewpoint that is also Acropolis (GOLD/BROWN).
Both end up at an intersection with a fenced antenna building.
1.3 – Start following an Unmarked Trail on the right side of the fenced antenna building. This intersection in October 2018: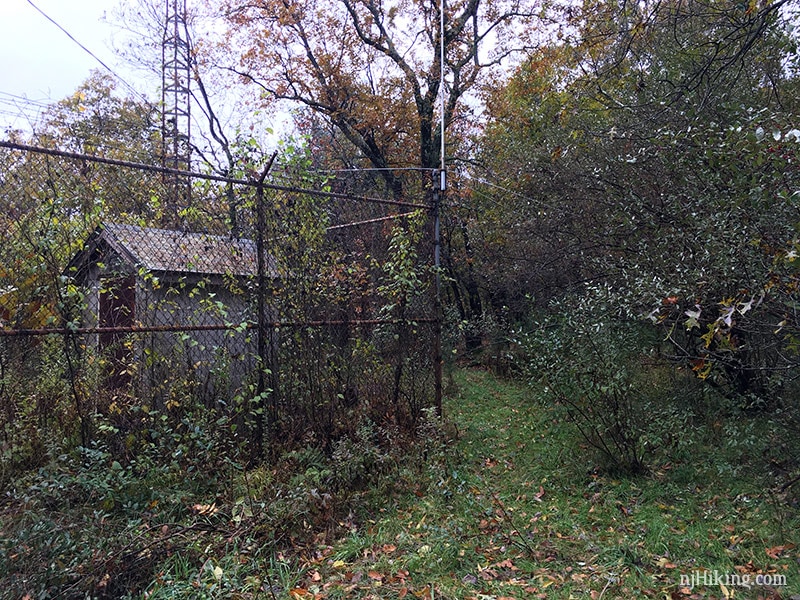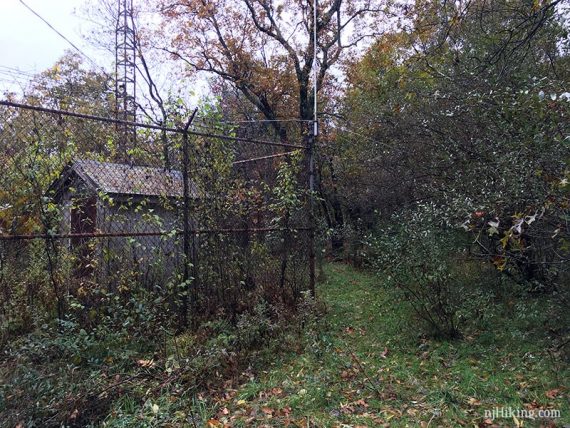 The building was much harder to see when hiking in summer and there didn't appear to be a trail at all. However, it was overgrown for just a few steps and then it was a normal trail – this appears worse than it is.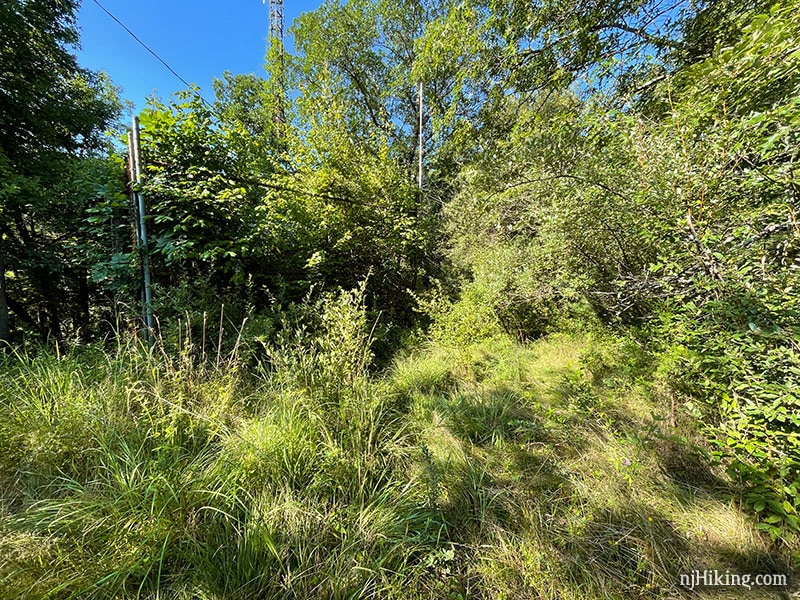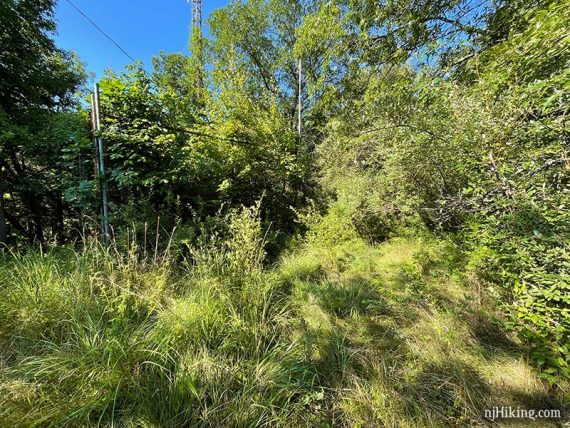 The Unmarked Trail can be a bit faint. It meanders straight ahead for a bit then jogs to the right.
1.5 – Come out to an open area and merge into the Appalachian Trail (WHITE).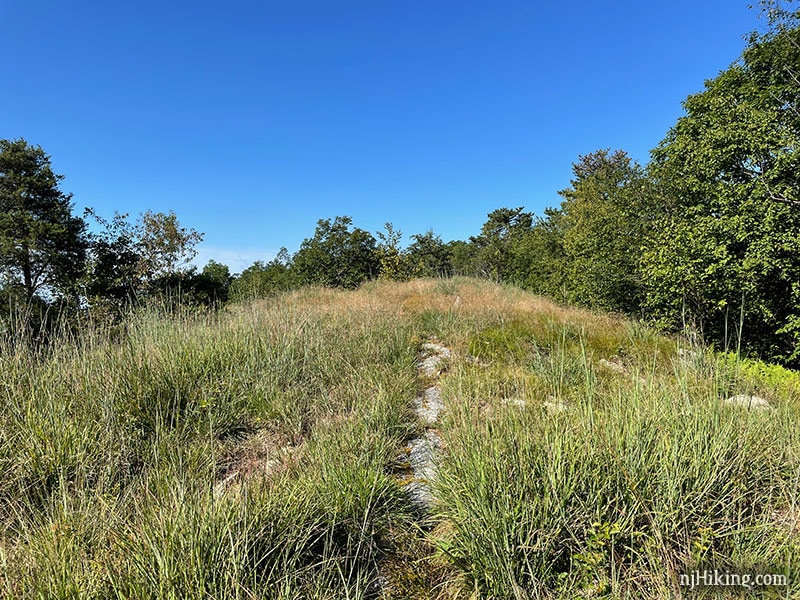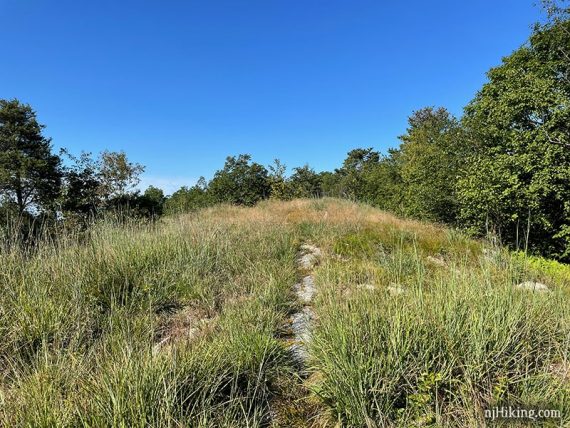 From this open area with rock slab is a wide view overlooking New Jersey.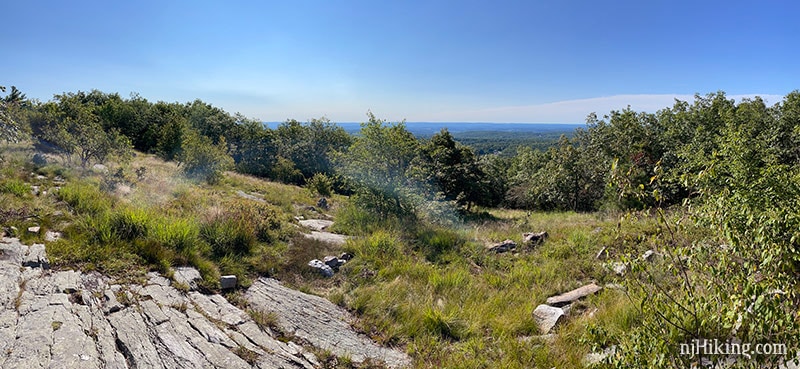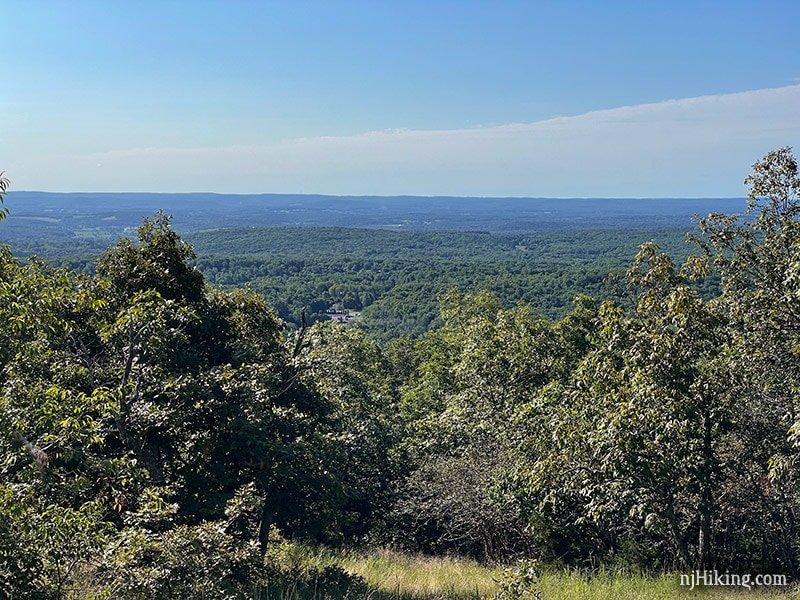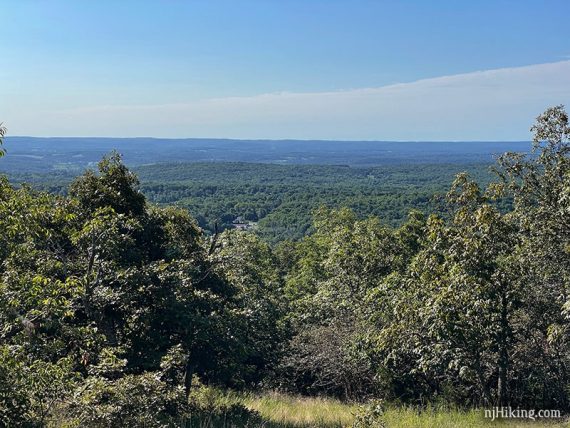 Continue following the Appalachian Trail (WHITE) along the ridge. [The Appalachian Trail (WHITE) also heads in the other direction, downhill and back to the lot.]
Shorter, 2.6 miles: Return from this junction, taking the Appalachian Trail the other direction.
1.9 – Another big open view over New Jersey from a rocky ridge with Culver Lake visible off to the left.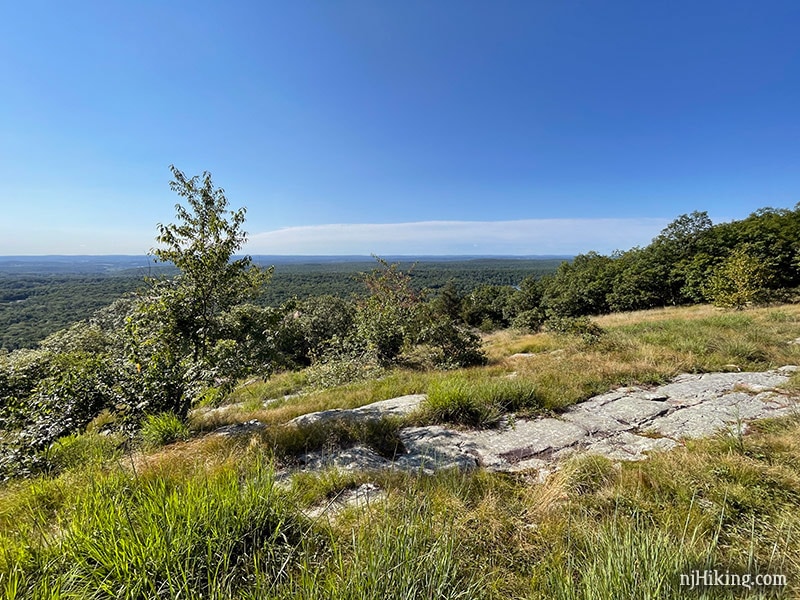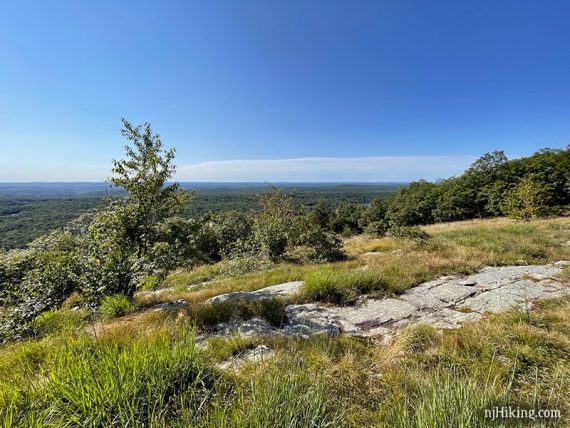 Zoom into Culver Lake.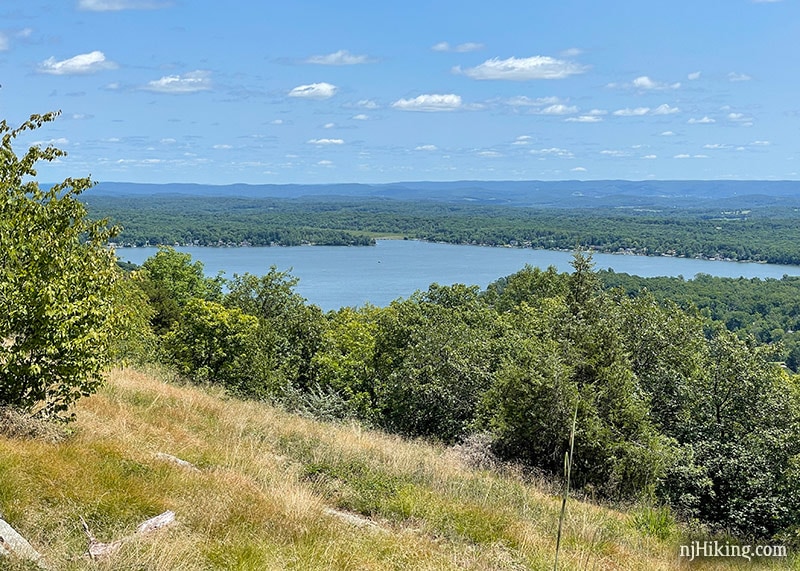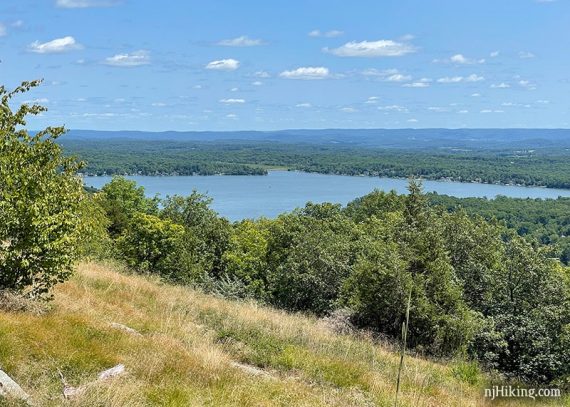 Continue just a bit further and look back for a dramatic view of the lake (or notice it on the way back).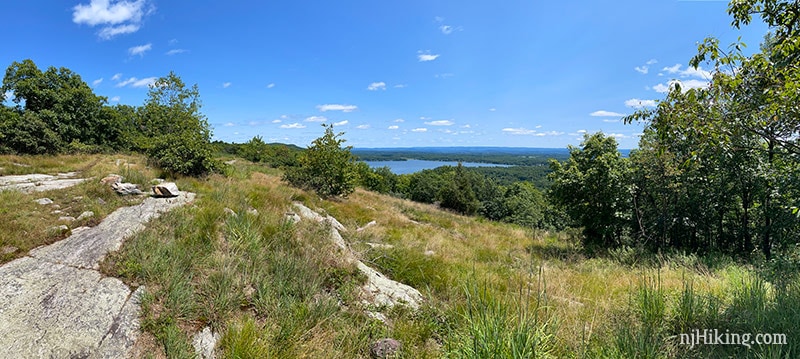 Shorter, 3.4 miles: Turn around here. You've already packed in a bunch of views!
2.6 – Pass Jacobs Ladder (BLUE/GRAY) on the right. Continue on Appalachian Trail (WHITE).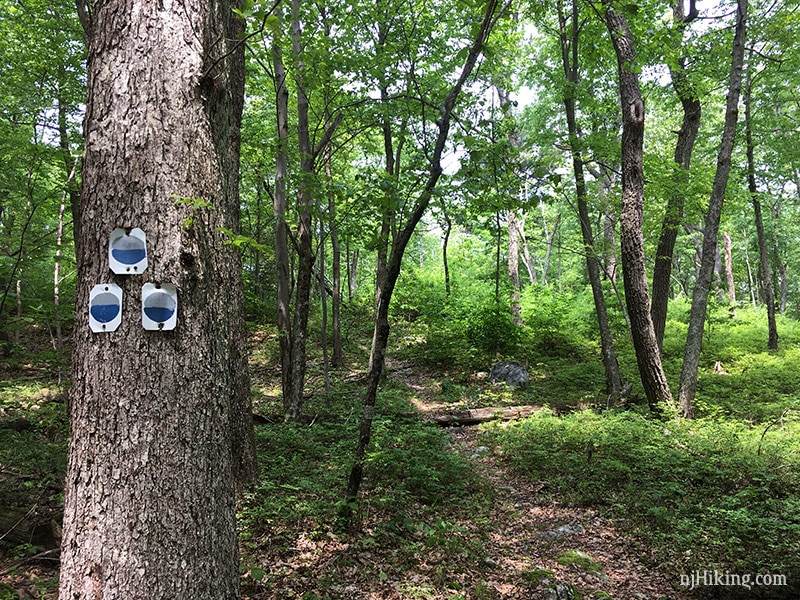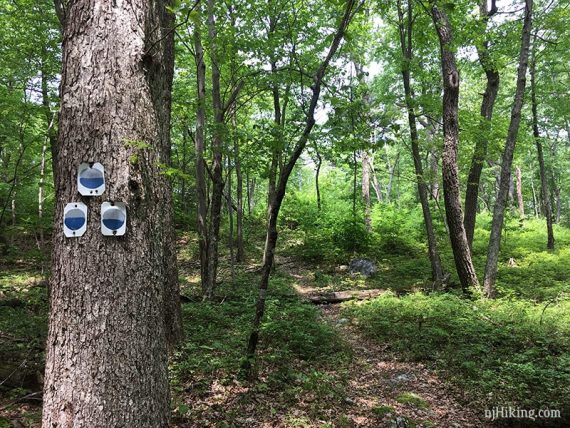 2.8 – Hard-to-spot side trail on the left, to the first of two limited viewpoints. Peek through an opening in the trees to see Lake Owassa below.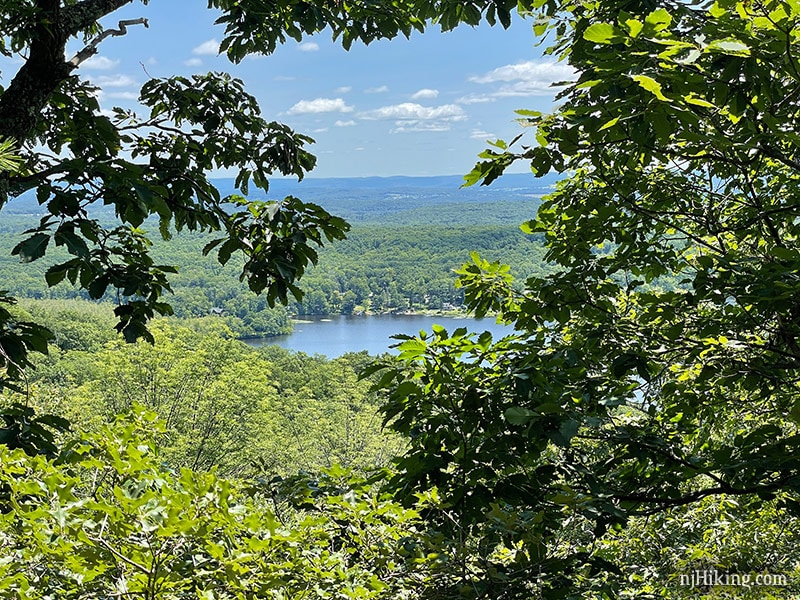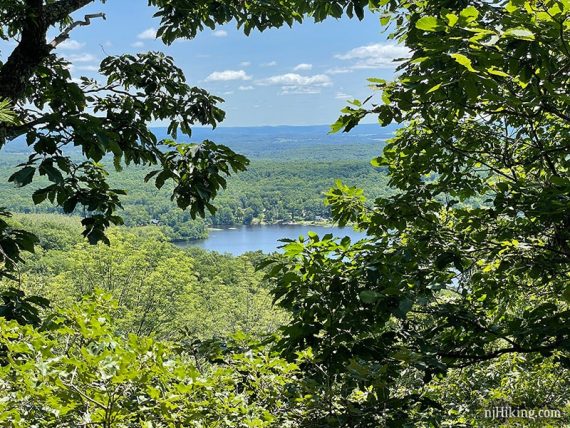 3.1 – Short, hard-to-spot side trail to the second limited view. Large rocks to take a break on.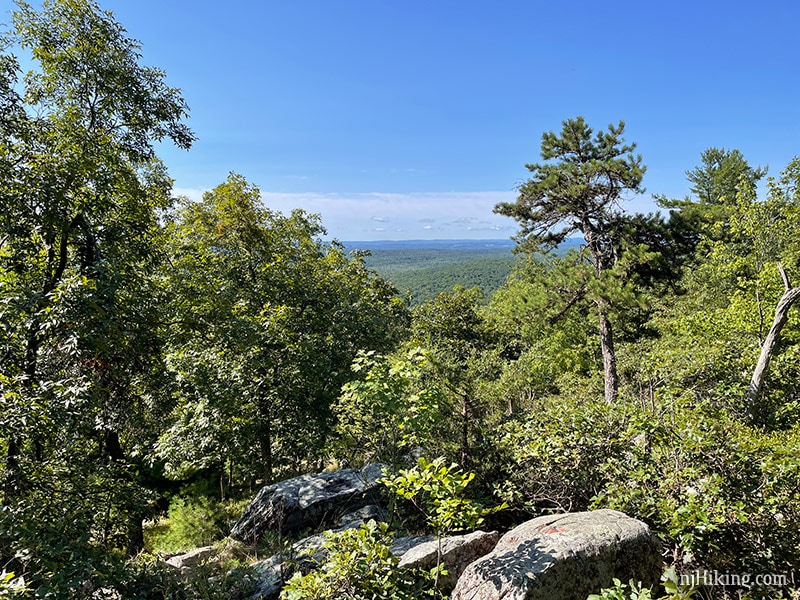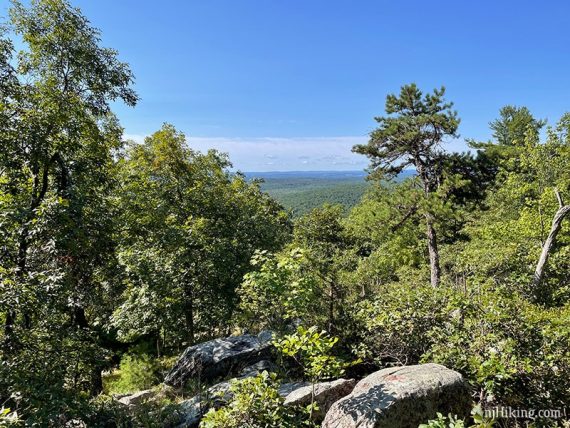 How limited the view is depends on the time of year. Above photo is July and below is late October.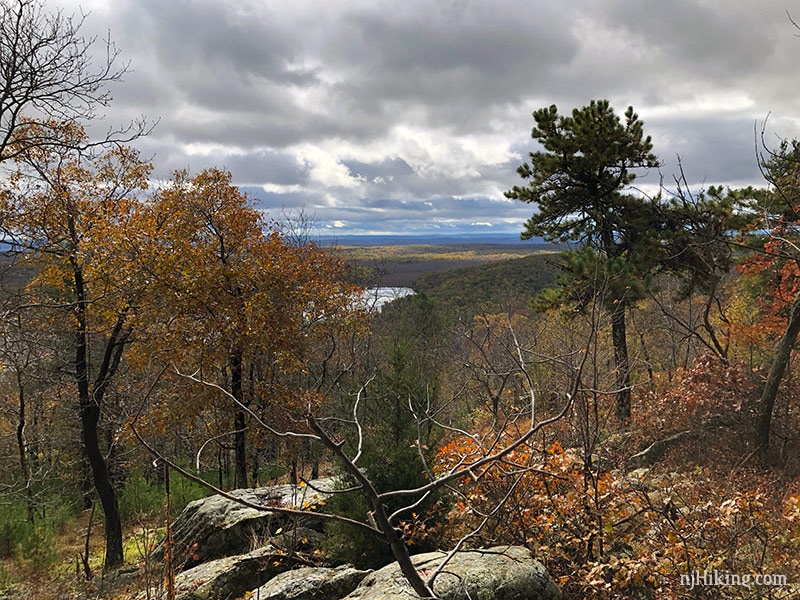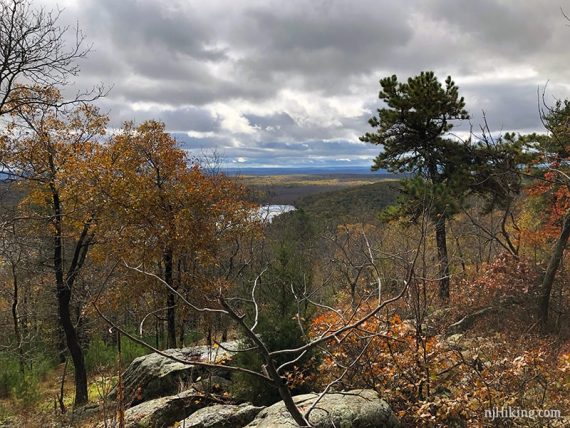 Shorter: Turn around for a 5.7 mile hike…but if you are up for more and can resist the post-hike ice cream/pizza/french fries whispering your name then it's worth it to push on to Blue Mountain.
Continue following Appalachian Trail (WHITE).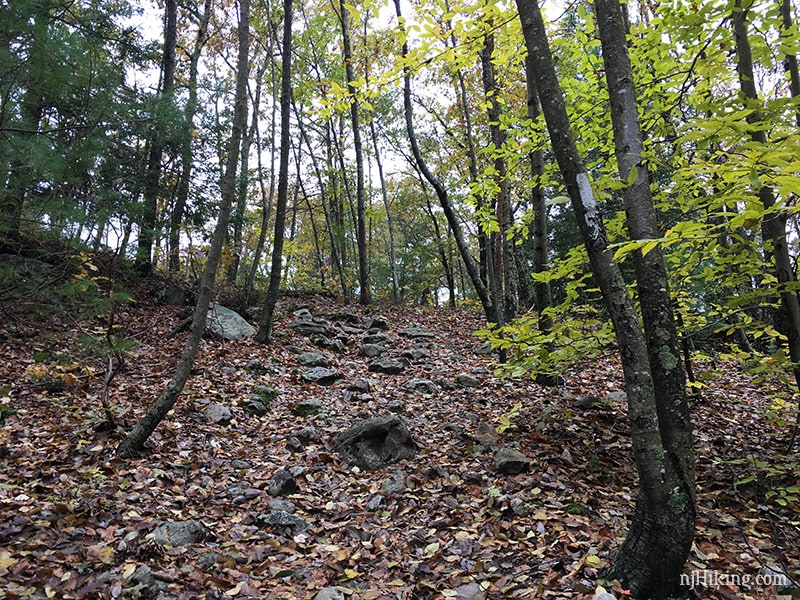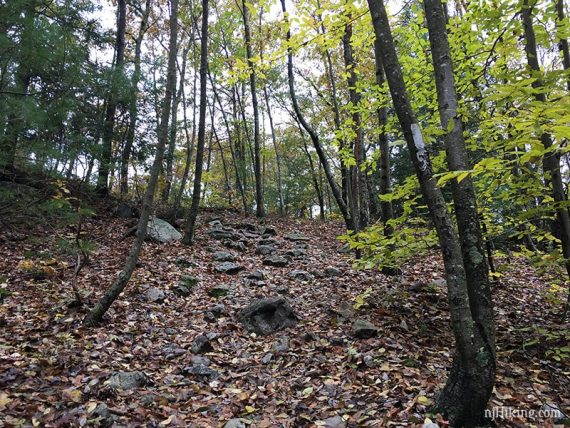 Pass an area than is either flooded or an open jumble of rocks when dry.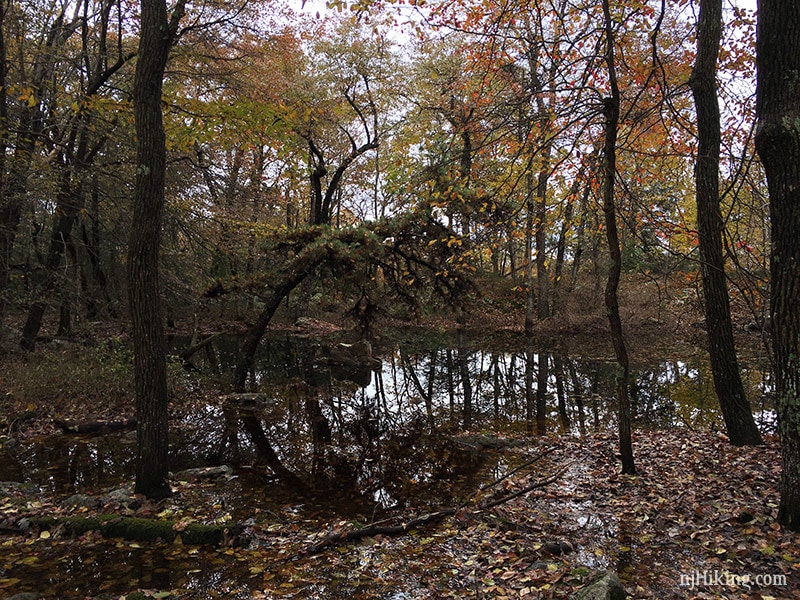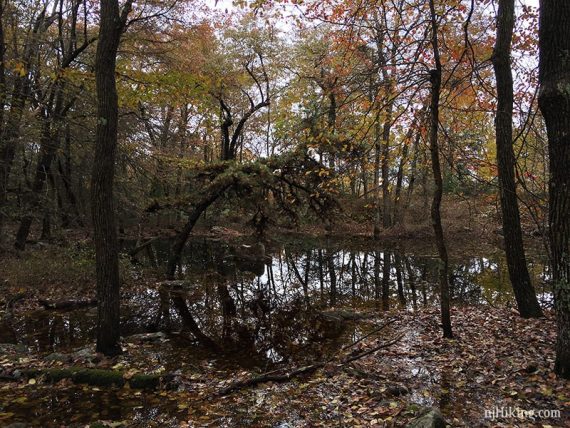 3.8 – Pass an Appalachian Trail register. Inside the box is a log book for through hikers to sign.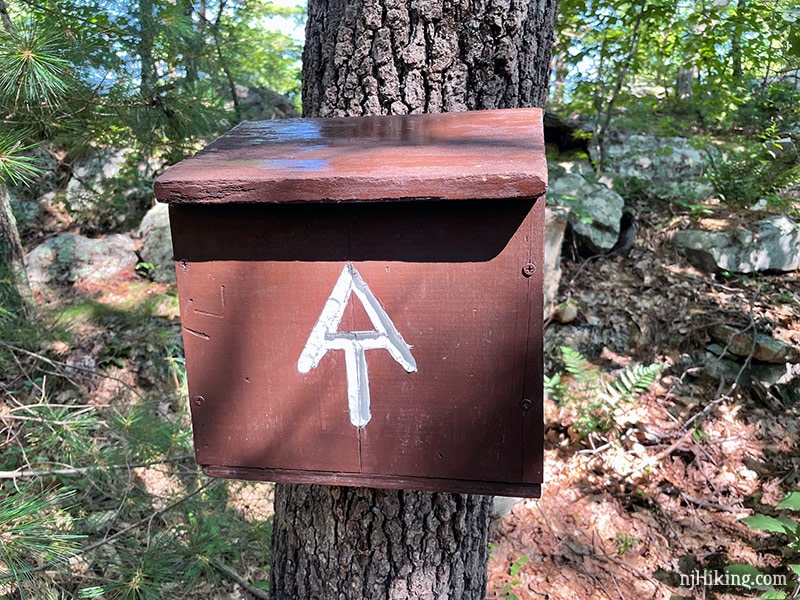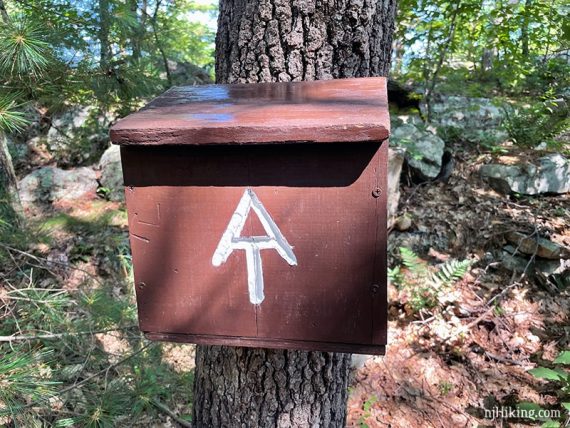 4.2 – Cross Brink Road, a very wide woods road. Continue on Appalachian Trail (WHITE).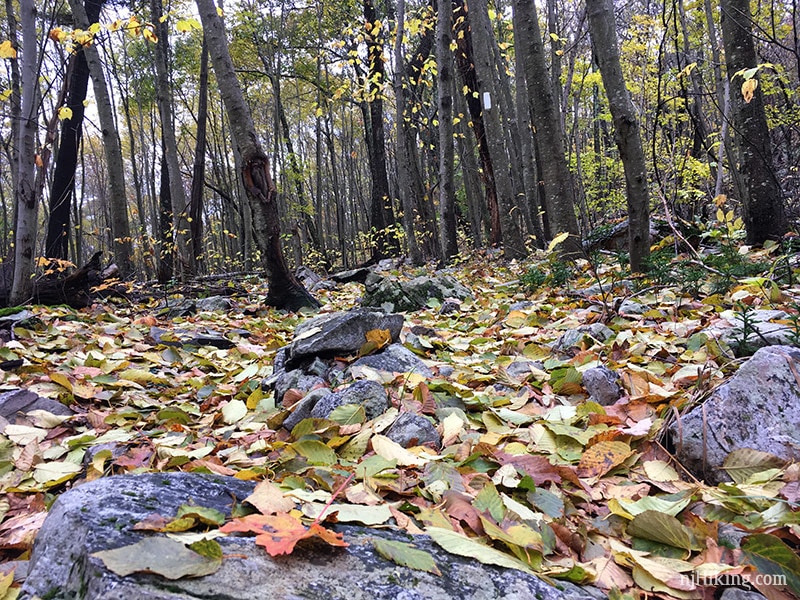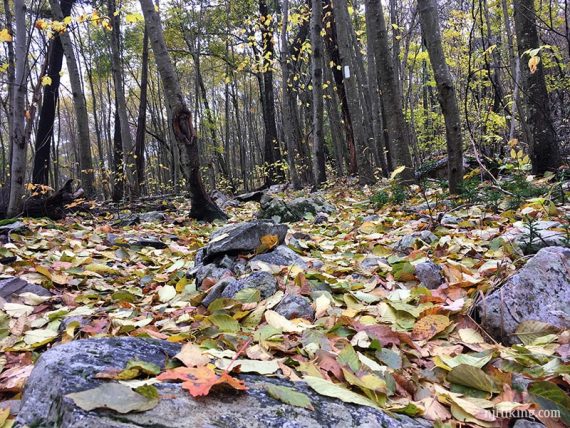 Eventually push uphill. Pass through a narrow tunnel of green just before arriving at the top.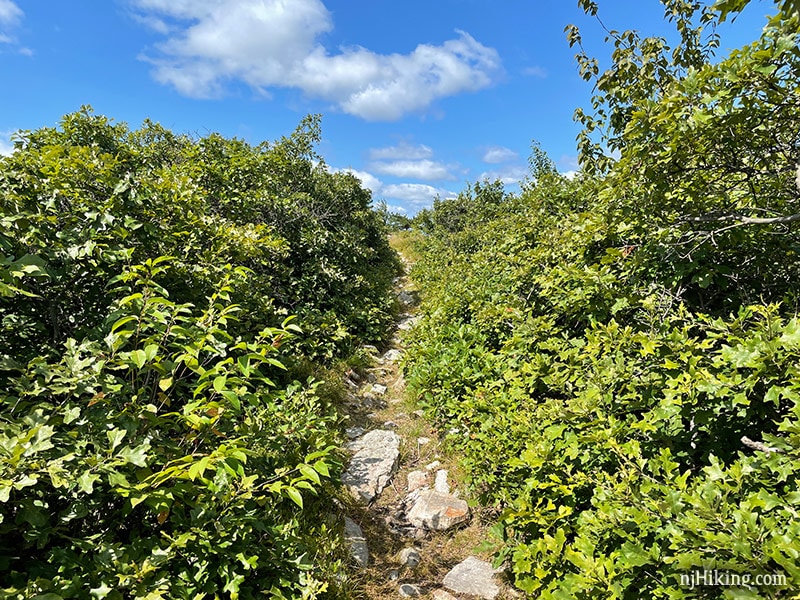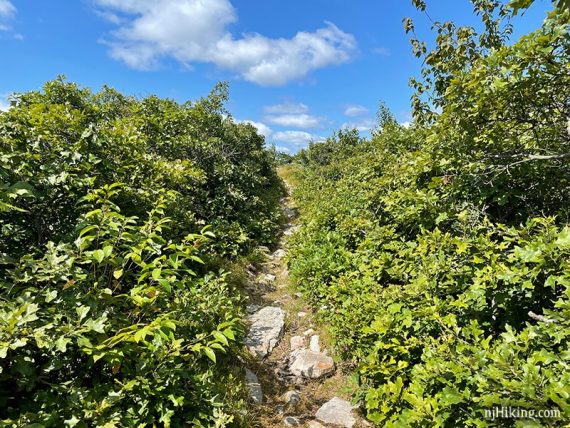 4.9 – Big 180° panoramic views from Blue Mountain, looking over New Jersey and into Pennsylvania:


Blue Mountain summit, looking south on the Appalachian Trail.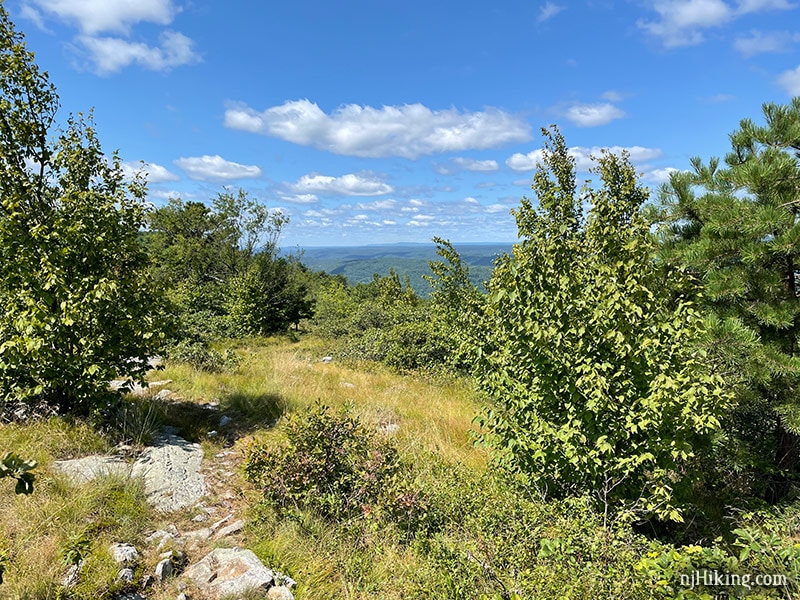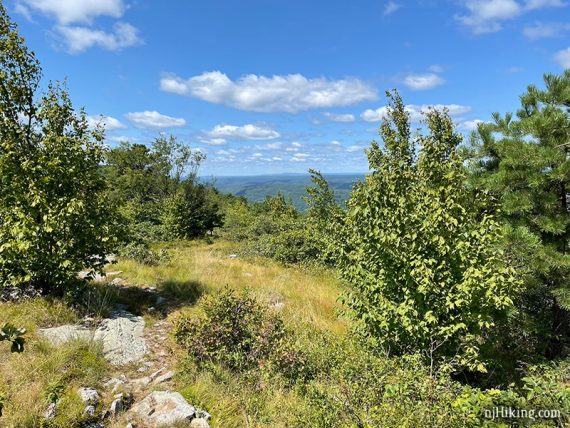 Looking west from Blue Mountain over NJ into PA.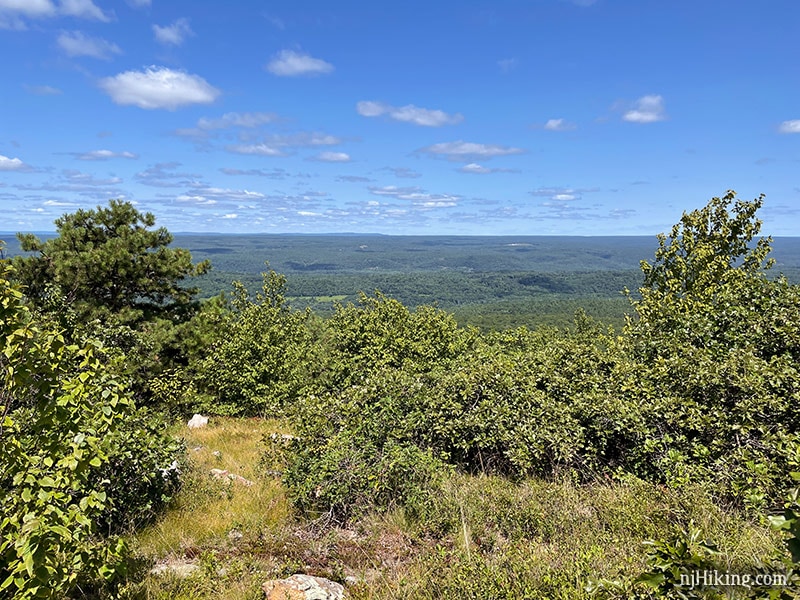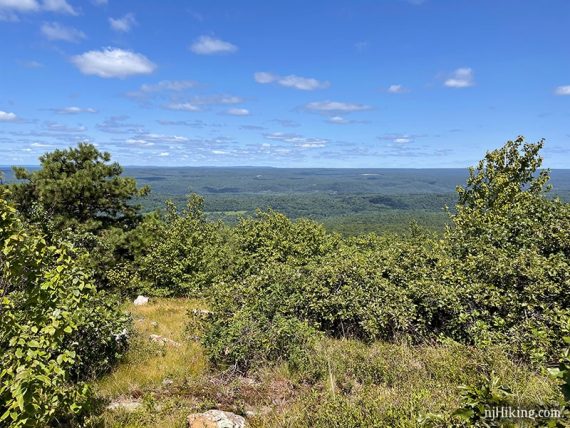 Looking back north along the rocky surface of the Appalachian Trail.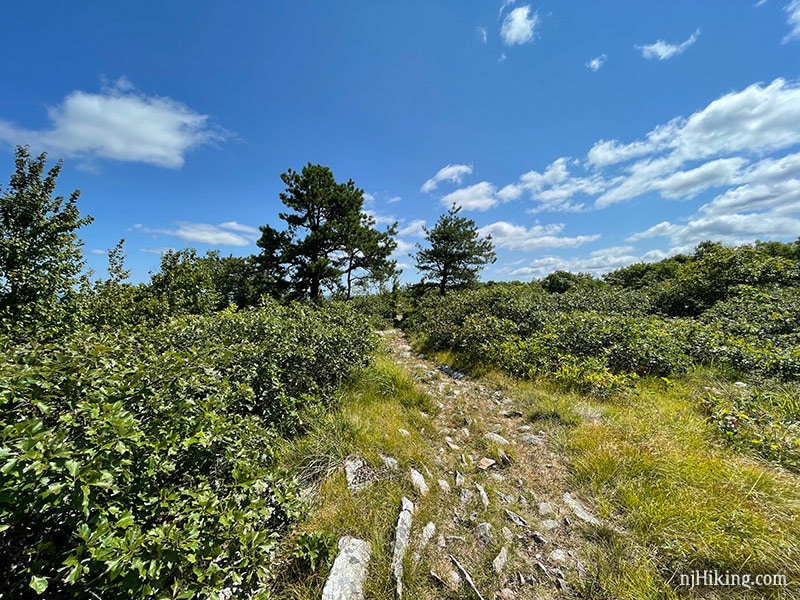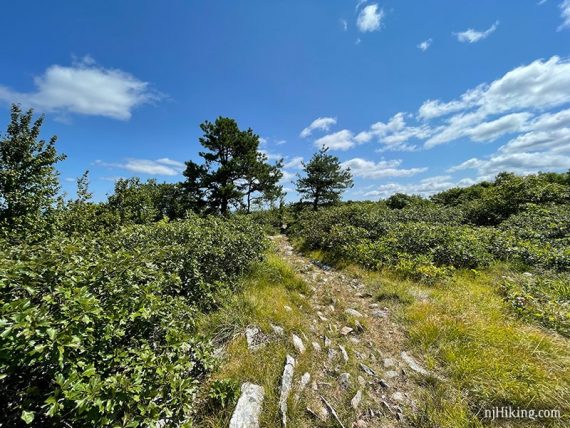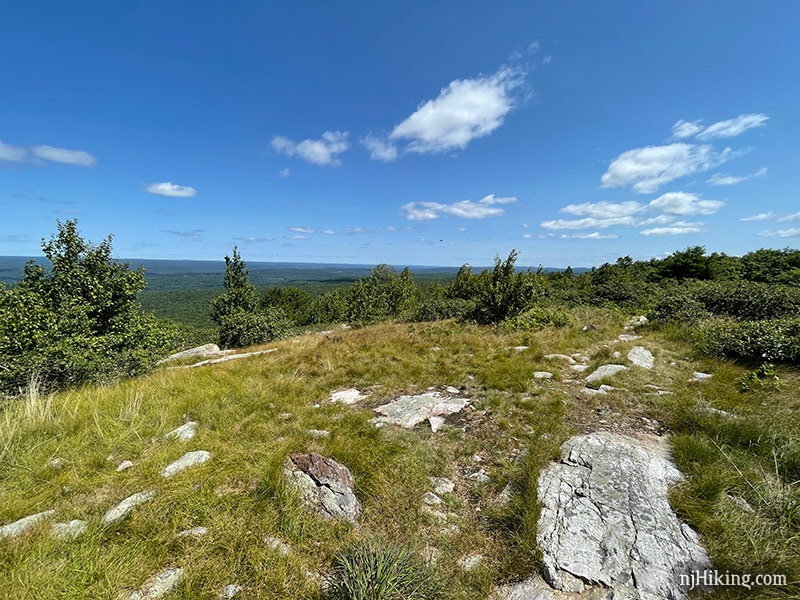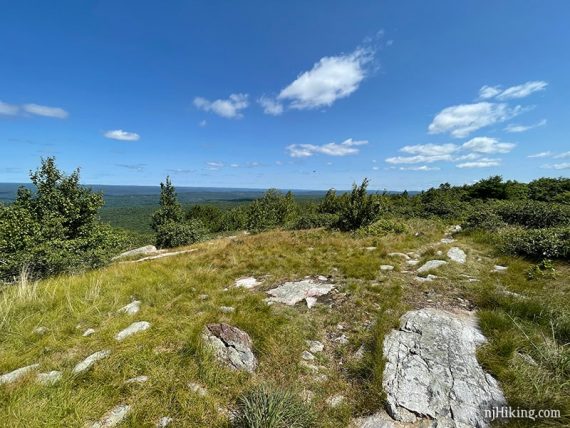 Our Blue Mountain turn around point is usually a small group of rocks that make for a good snack spot, but there's plenty of places to stretch out for a break all along here.
(And plenty more trail if you'd like to keep going – next up heading south on the A.T. is Bird Mountain then Rattlesnake Mountain.)
Retrace the route back on the Appalachian Trail (WHITE).
8.3 – Continue following Appalachian Trail (WHITE) as it veers down to the right. This is at the intersection with the Unmarked Trail from earlier but from this direction you may not even notice the Unmarked Trail.
—
Hiked: 7/31/21.
Hiked: 10/28/18. Photo archive: "Blue Mountain from Culvers Gap in Late Fall"