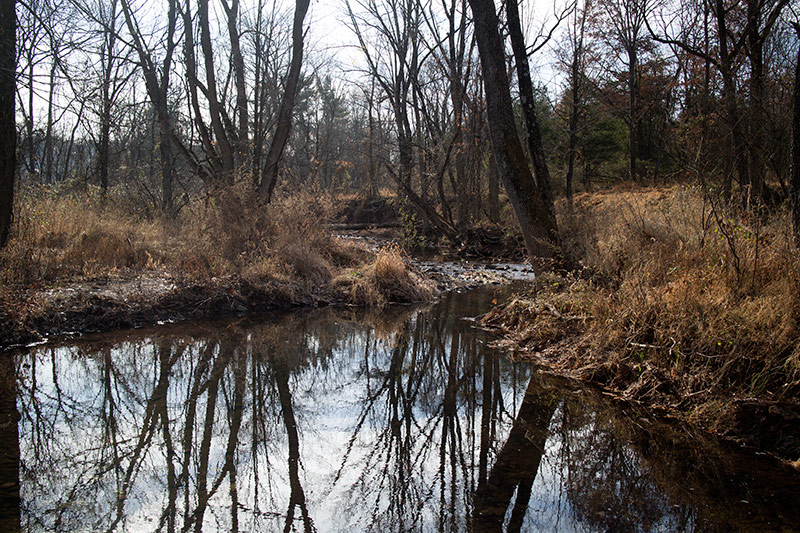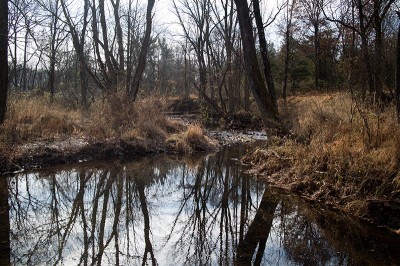 Three short loops that can be combined or hiked alone in this small park surrounding the Ten Mile Run Stream.
4.2 miles, easy; not a lot of rocks or major hills. Multiple rock-hop stream crossings might be tricky when the water level is up.
Hike Info:
Our two cents: This has been on our list to check out for awhile and is a nice option for a short hike in central Jersey – but it's not something to drive far for. Stick to hiking Sundays during hunting season, in addition to many park rules there were multiple deer stands. And we saw 2 deer just in the short time here.
Map:
Paper maps in the trail kiosk or print one ahead.
Books: Not in any books we know of.
Parking: N40° 26.672′ W74° 34.724′
Restrooms: None. Variety of stores if approaching from Rt. 27.
Hike Directions: Overview: PURPLE loop – RED loop– Briefly back on PURPLE back to lot – Cross Butler Road – YELLOW loop
[Two of the three loops leave from the small parking area on Butler Road. RED is picked up a short ways in off of PURPLE.]
Start following PURPLE, passing the turn for RED early on. GPS: PURPLE/RED
Soon is a short crossing of the Ten Mile run on rocks. Follow PURPLE around a loop and return, again crossing the stream.
Start following RED. GPS: PURPLE/RED
Soon the trail crosses a wide section of the 10 Mile Run on rocks. Continue on RED as it crosses Butler Road. The trail splits but ends up in the same spot… take either side and follow RED until it dead-ends at Sunset Ave. (no parking area here).
Retrace on RED, taking in a different section of the split if you like. Cross Butler Road again and return to the parking lot.
Back at the parking lot… cross Butler Road and start following YELLOW. As it nears the edge of a golf course, the trail crosses a wide section of the 10 Mile Run on rocks.
Continue following YELLOW as it heads back until ending at Butler Road. Turn RIGHT and walk a short distance on the side of the road back to the parking lot.
—
Hiked: 11/23/14