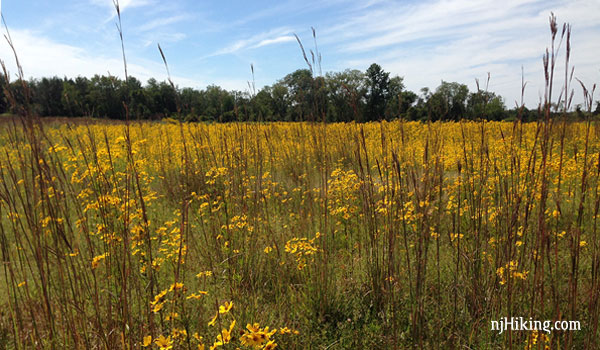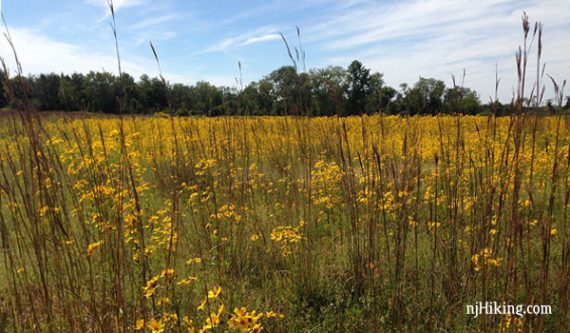 Easy hike around the edges of grasslands and through some forested areas with plenty of birding opportunities.
2.5 miles, surface is easy, level dirt or grass that mostly runs along fields and tall grasslands with short sections of forested trail.
Short: BLUE from lot to wildlife blind is .68 mile round trip and ADA accessible.
Shorter: Stay on YELLOW to PURPLE and skip BROWN.
Longer: This route takes in the whole perimeter, so you'd have to do trails twice or also drive over to nearby Six Mile Run – Red Trail or Six Mile Run – Canal Road.
Hike Info:
The grasslands are sensitive and endangered – don't walk or ski/snowshoe on them.
Our two cents:
More of a walk than hike and not something you'd drive far for, but still good for a short local hike.
Large power lines are not only visible but are walked under in one section. Good for birding or a snowshoe option.
Updated: 4/2020: Page refreshed, not re-hiked. 
Map:
Print ahead or the kiosk might have printed ones.
Hunting:
None on Sundays. Complicated usage during deer season (closed to non-hunters some days or portion of days) – check the park site for rules.
Books:
None that we know of.
Rt. 27 S to Skillmans Lane. (Turn at Better World Market on the corner of Skillmans and Rt. 27.)
Follow Skillmans around and just after it turns left, the small lot will be on the right.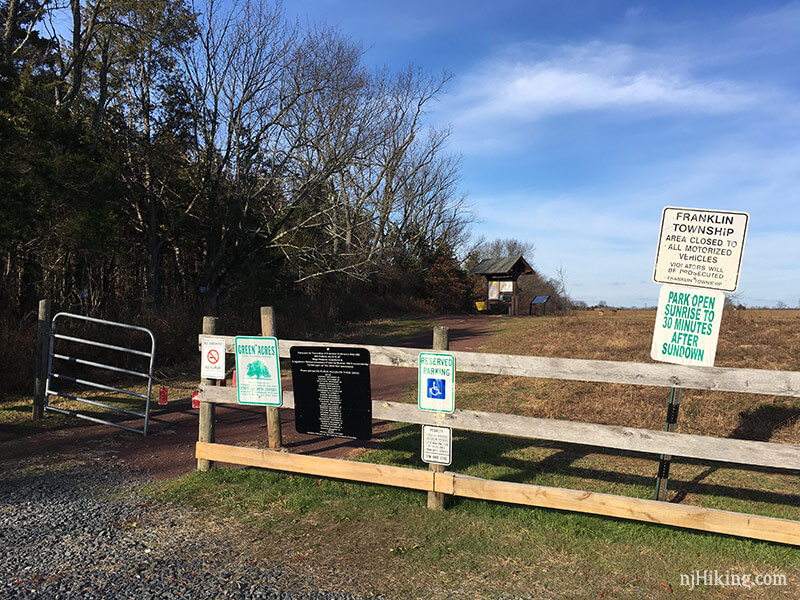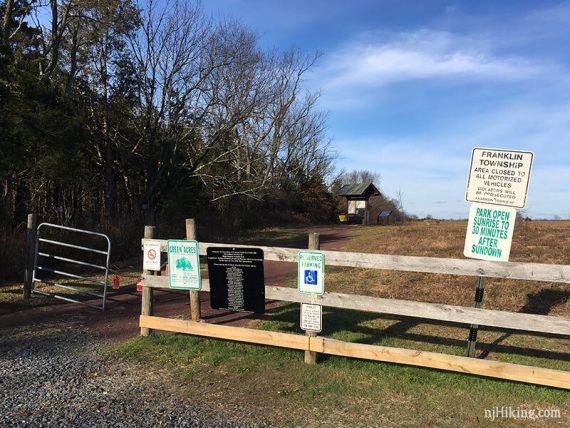 Restrooms:
None. A Wawa is nearby at the intersection of Rt. 27 and Cozzens Lane plus there are gas stations and a variety of stores on Rt. 27.
Hike Directions:
Overview: BLUE – YELLOW – BROWN – YELLOW – PURPLE
0.0 – From the parking lot, walk thru the fence towards the trail kiosk on BLUE.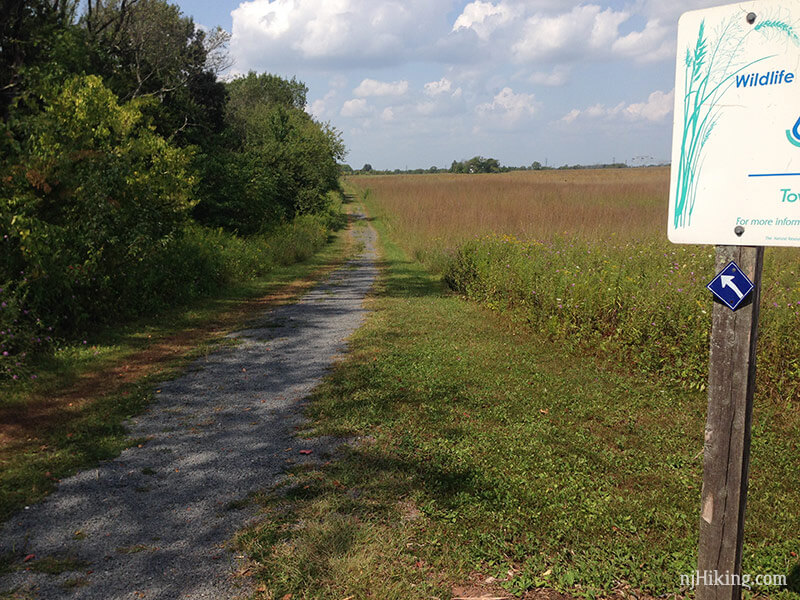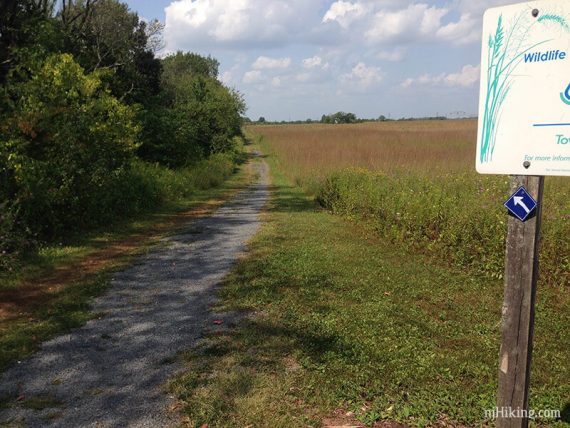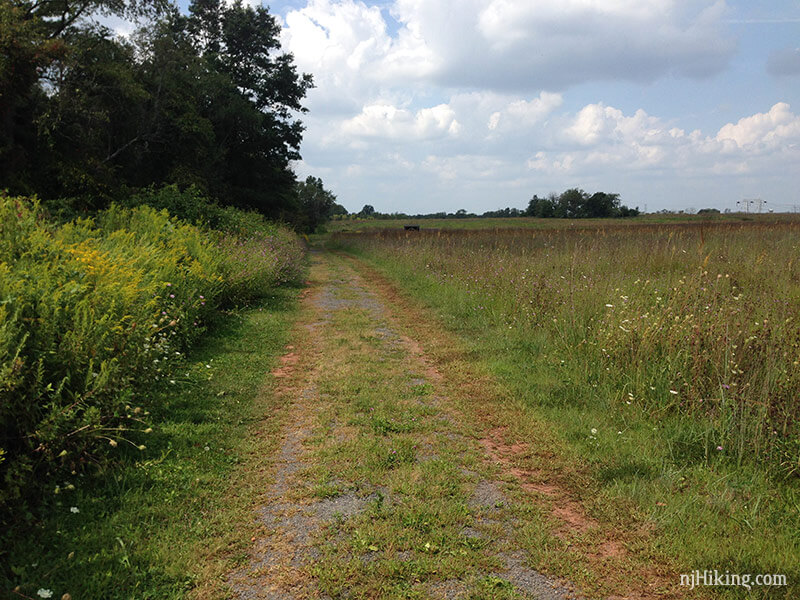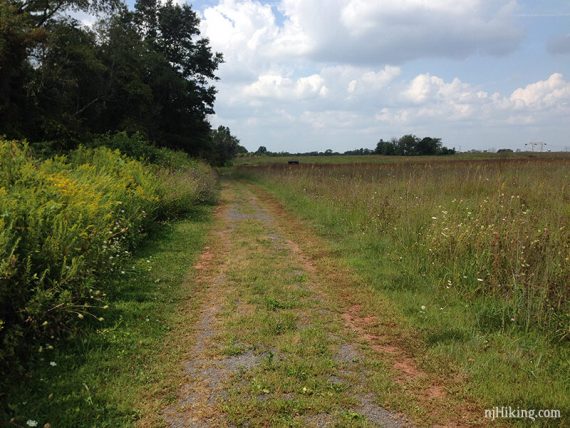 0.3 – Pass a large wildlife blind and continue straight, the trail is now YELLOW.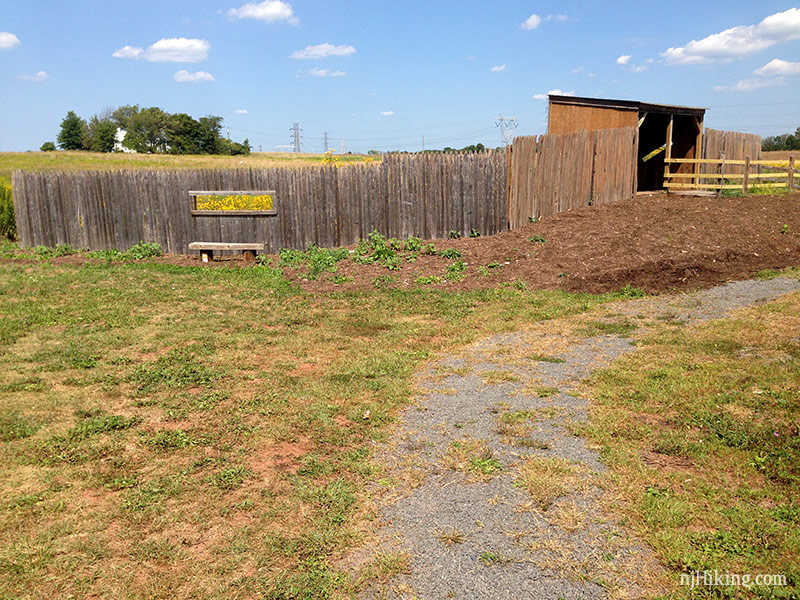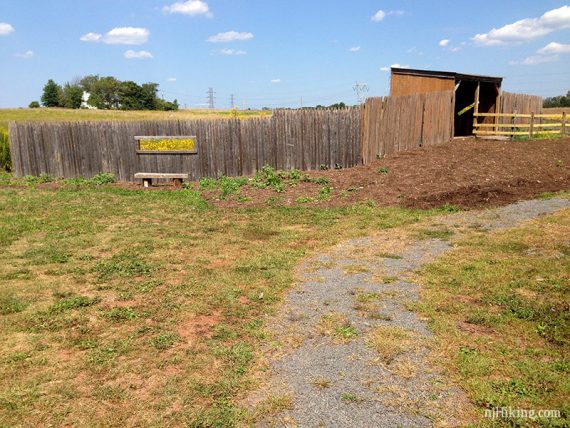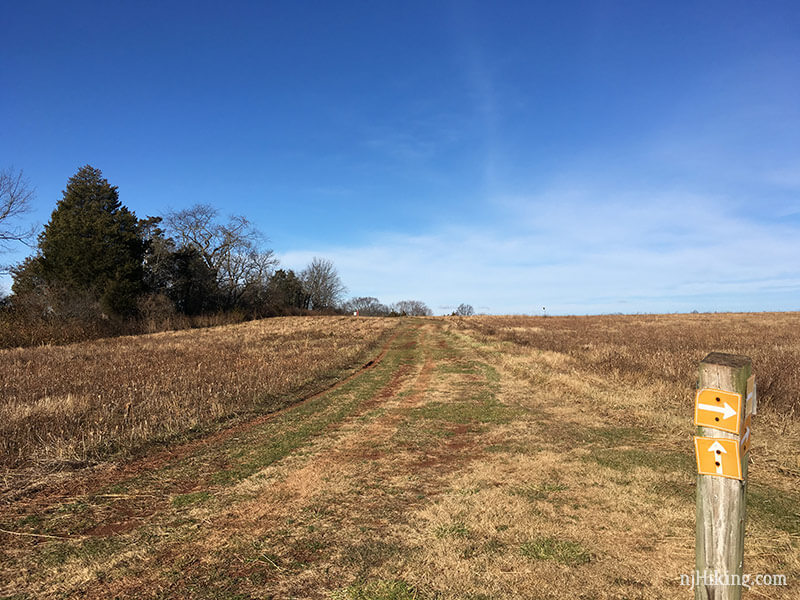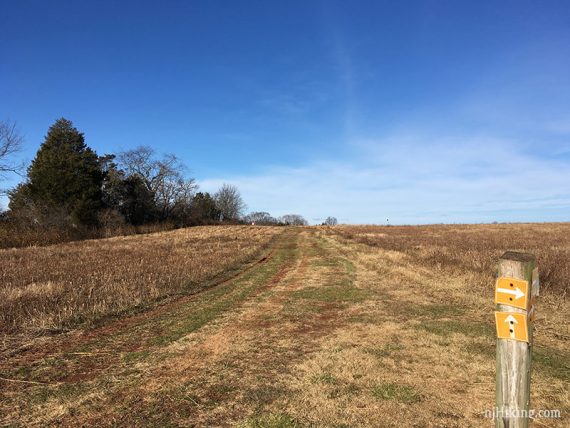 View from the wildlife blind.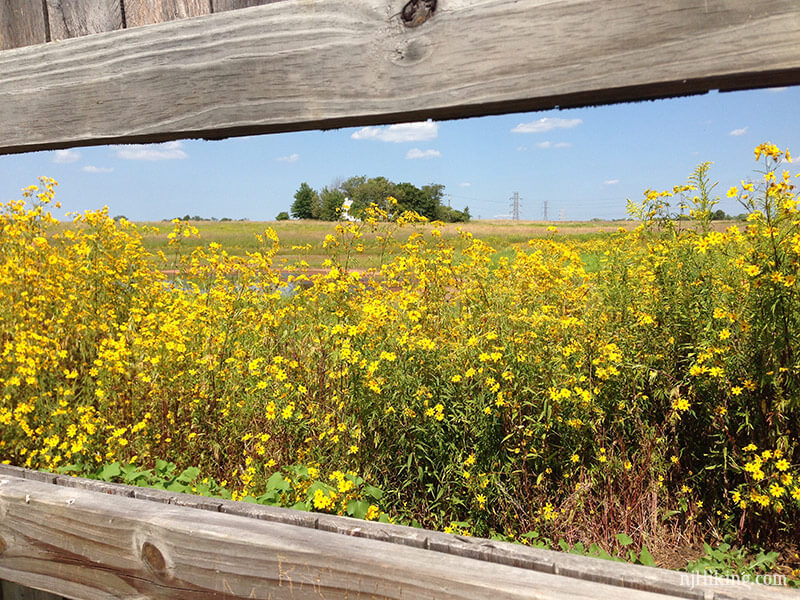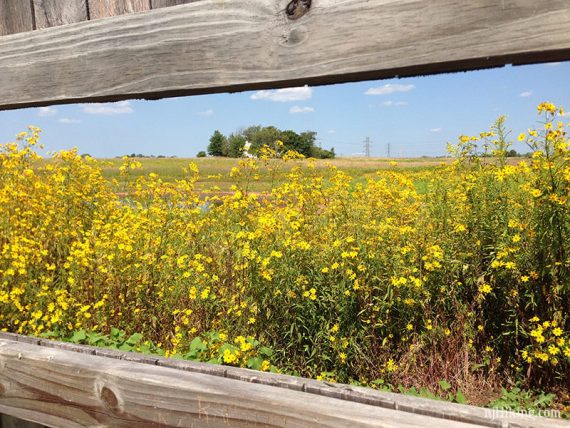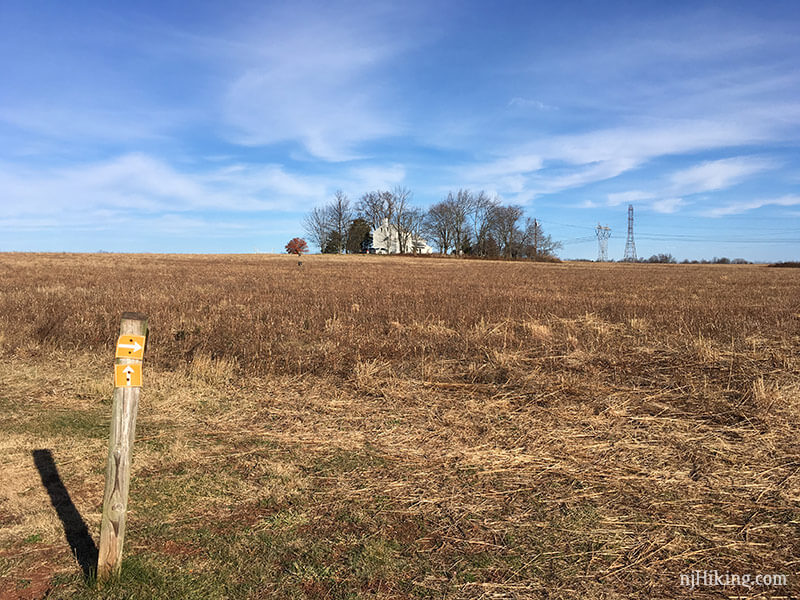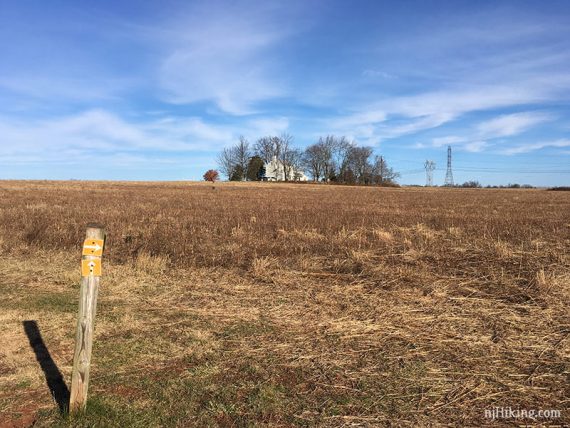 In the right season, there are plenty of wildflowers along the way.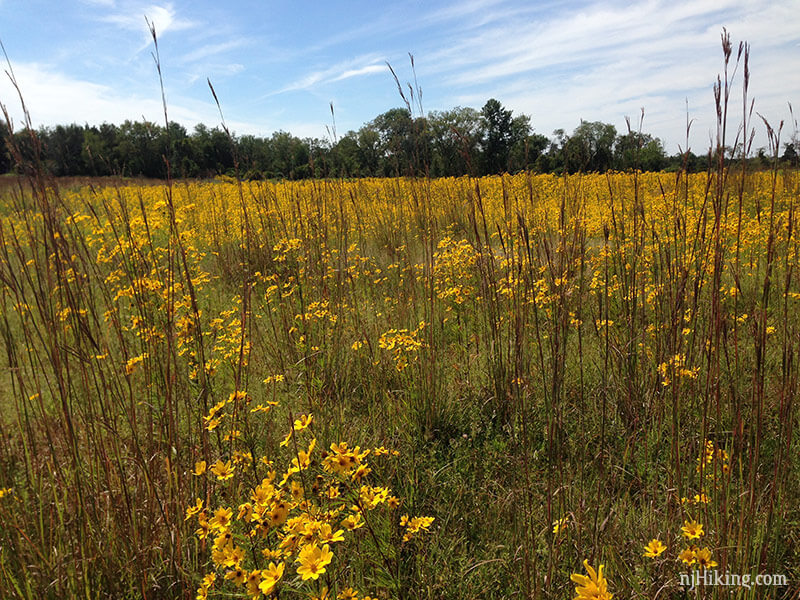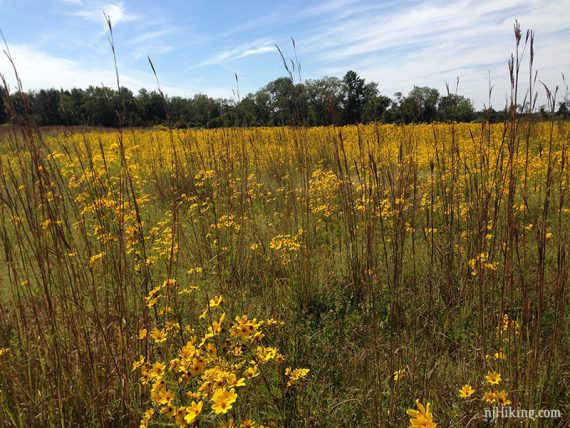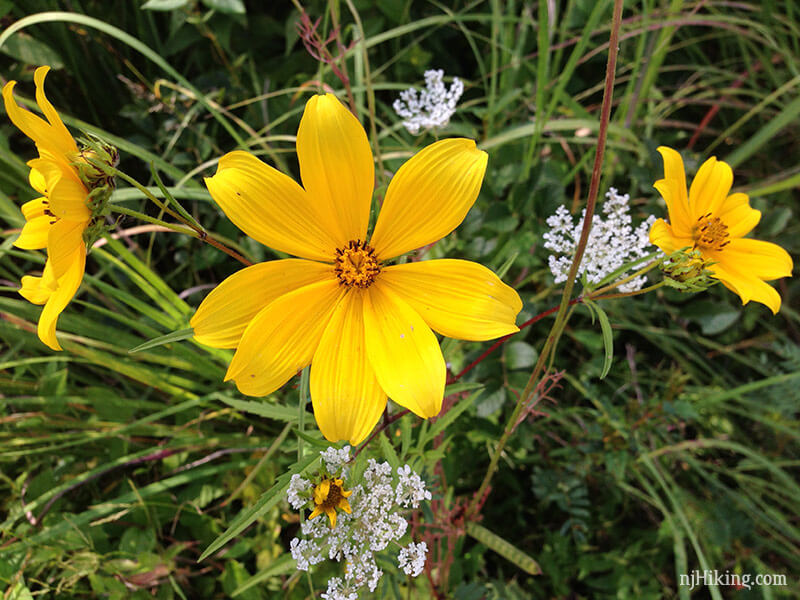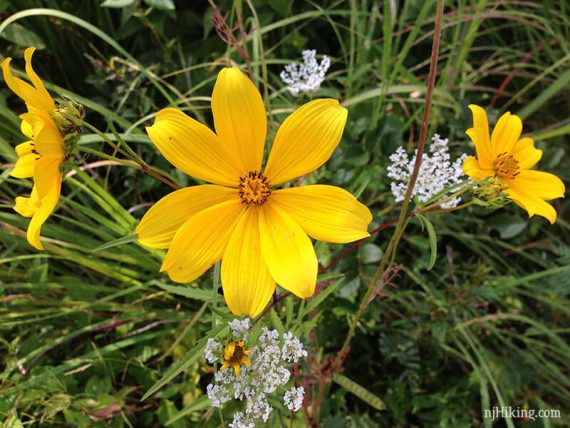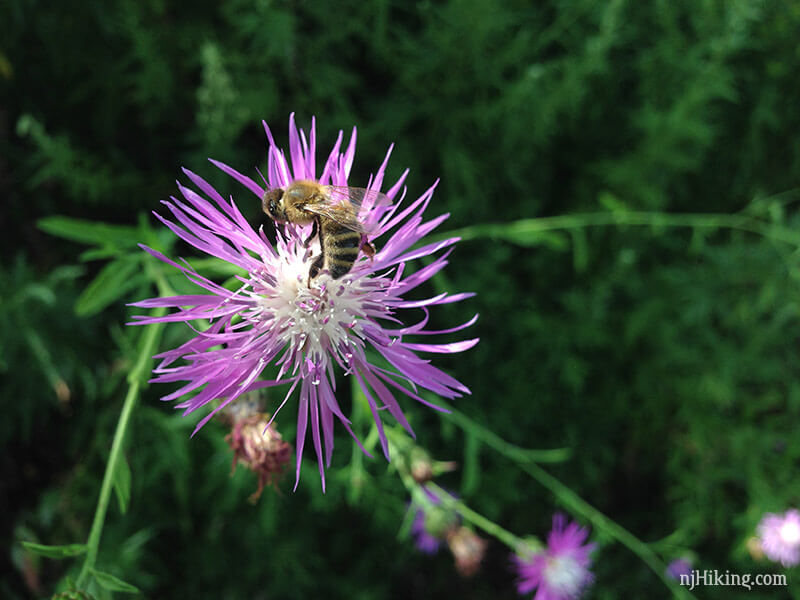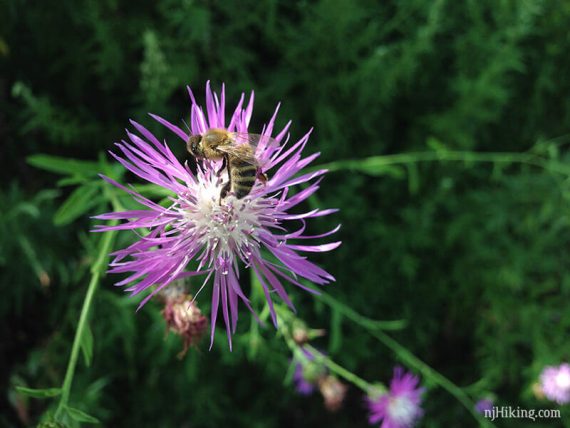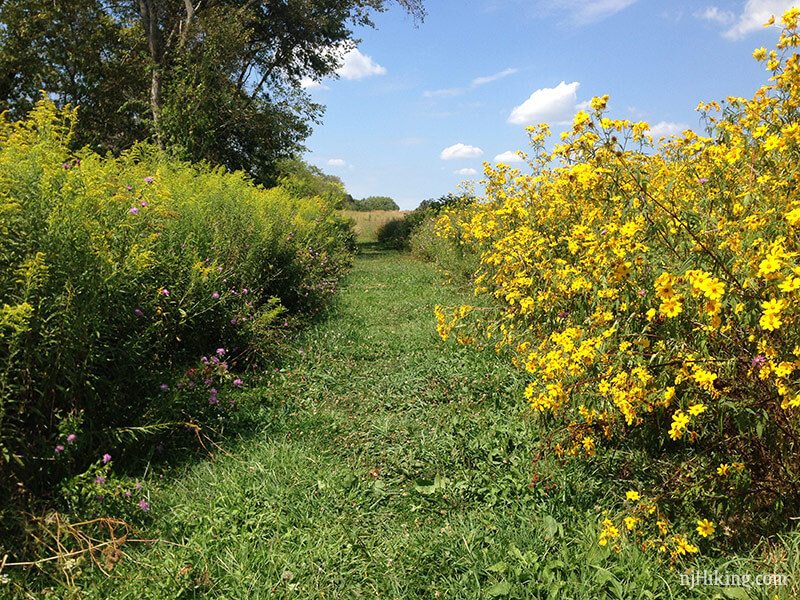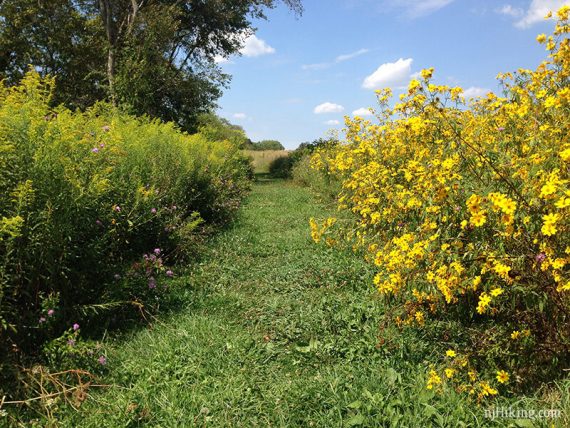 0.6 – Continue on YELLOW as it briefly enters the forest, crossing a wooden bridge, and then back to field edges.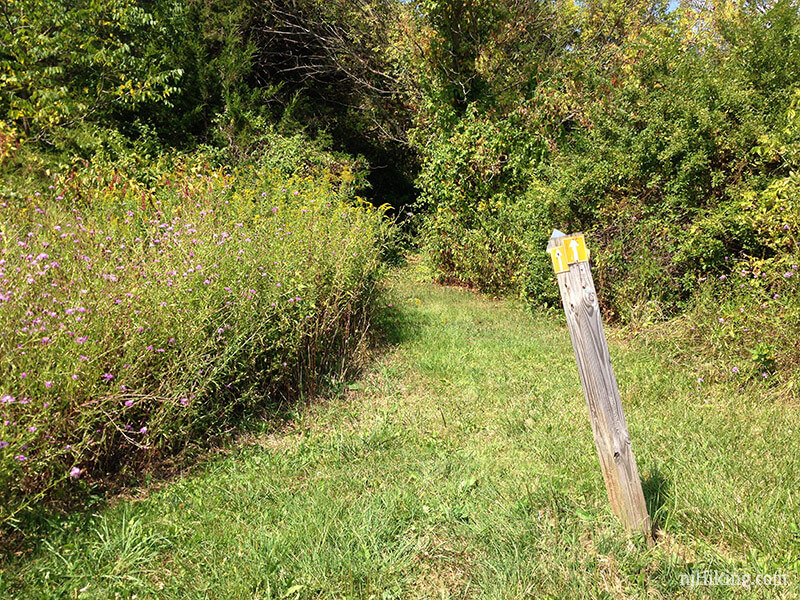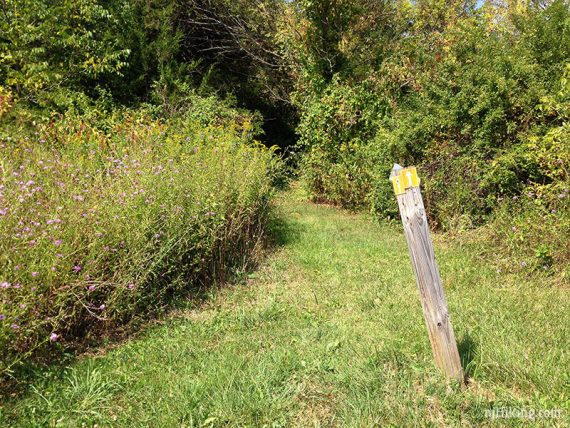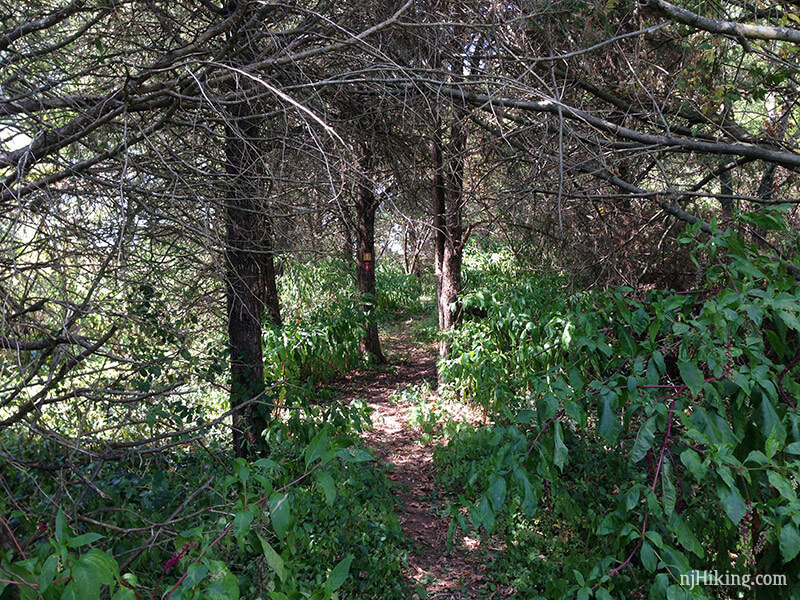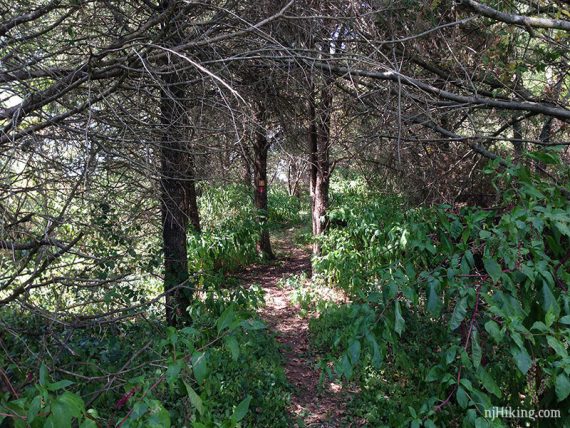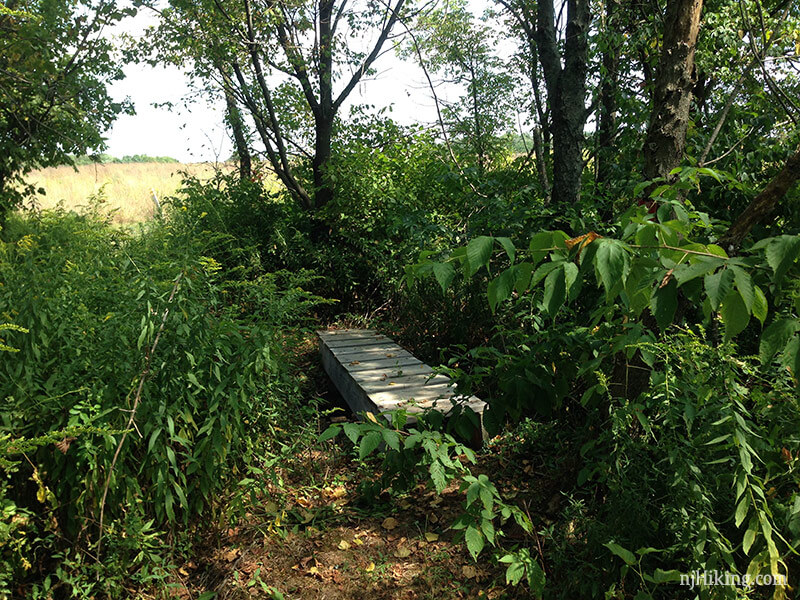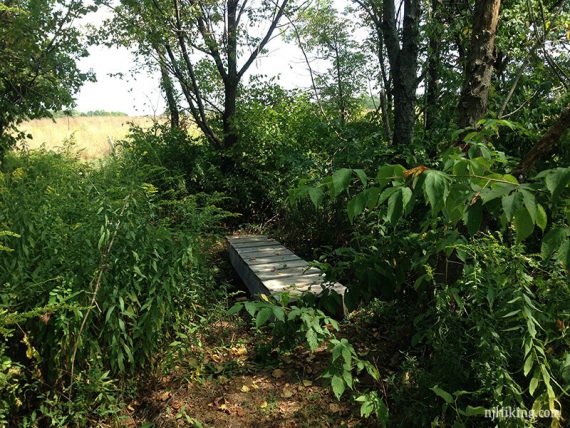 Continue on YELLOW on mowed paths, past grassland, and then under power lines. Shown in summer and winter: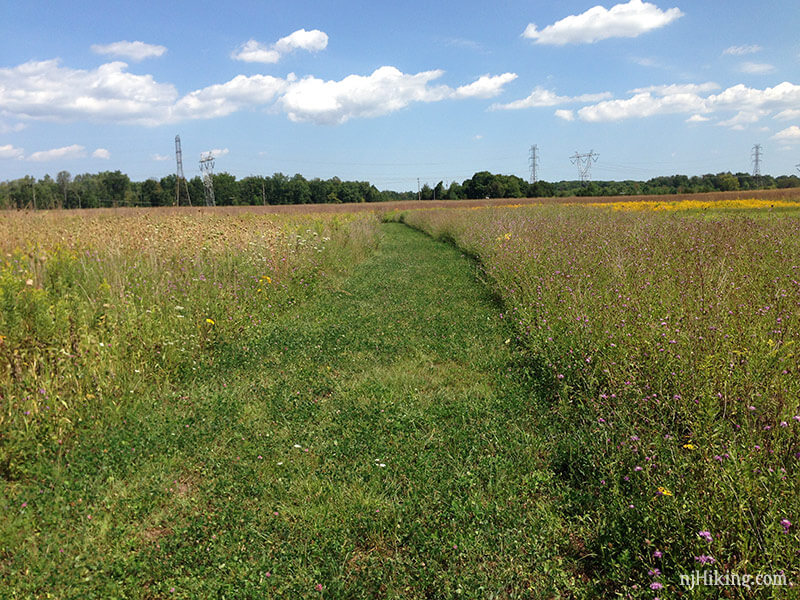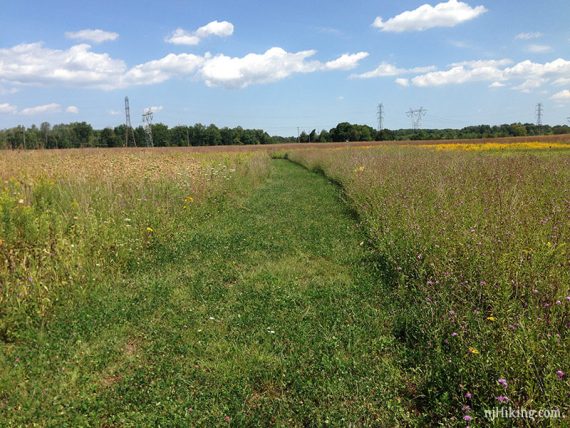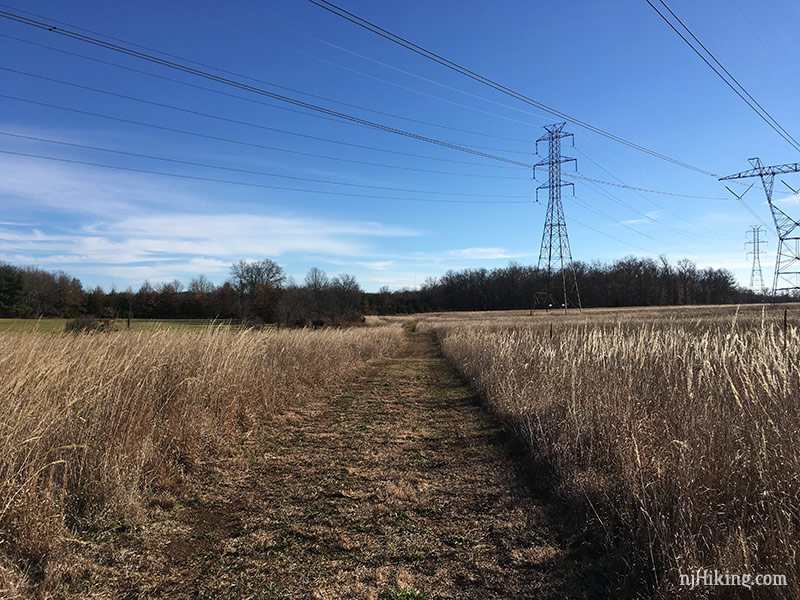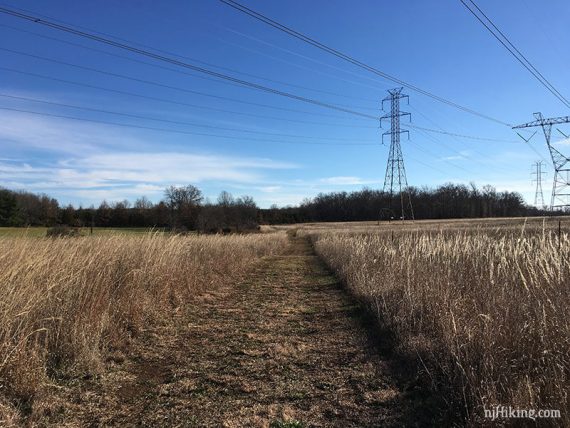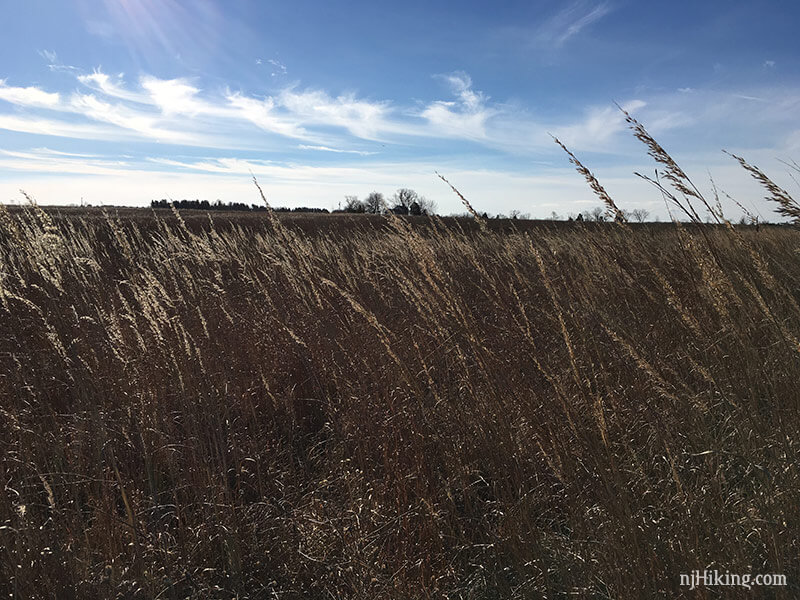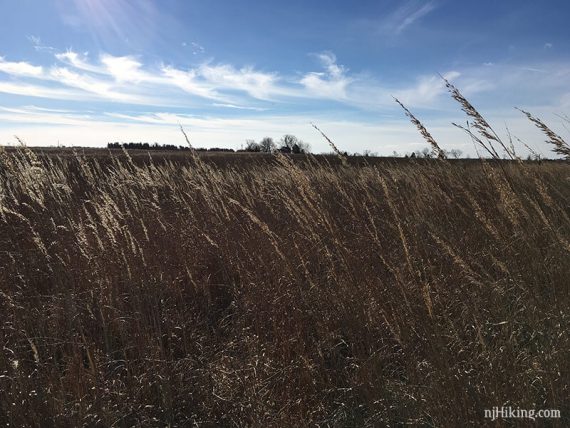 1.3 – Veer LEFT and start following BROWN over a plank bridge and into the forest again. [Also marked RED].
/// Shorter: keep on YELLOW instead and take that back to PURPLE. ///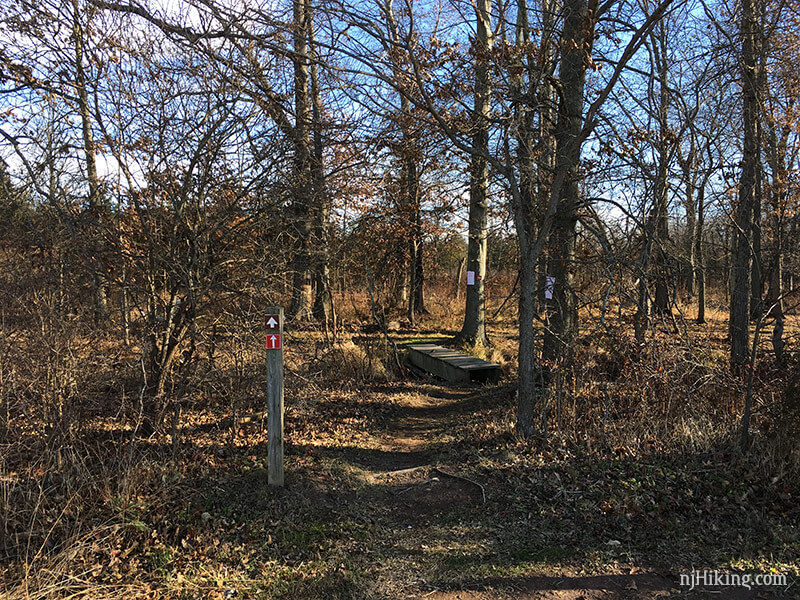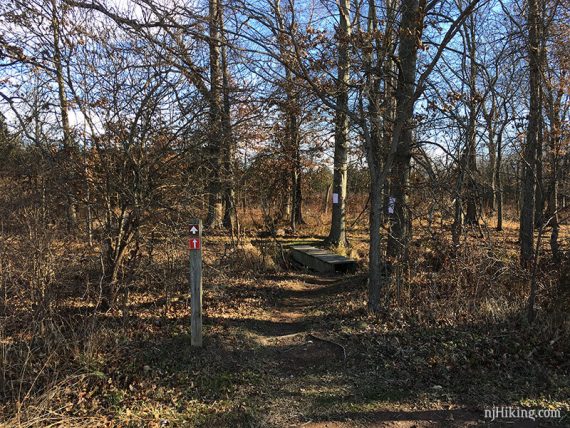 Once on BROWN, the trails in this section don't quite seem to match the trail map and it may be a tad confusing. RED intersects through here too.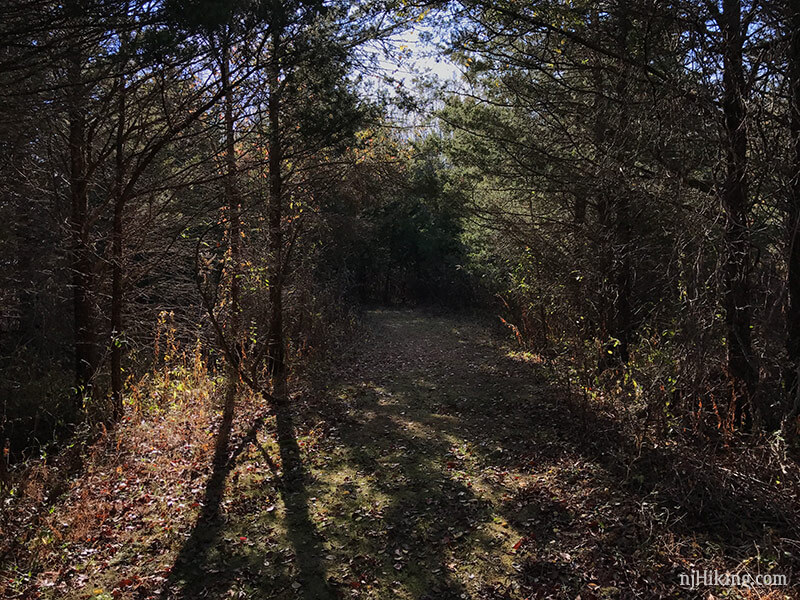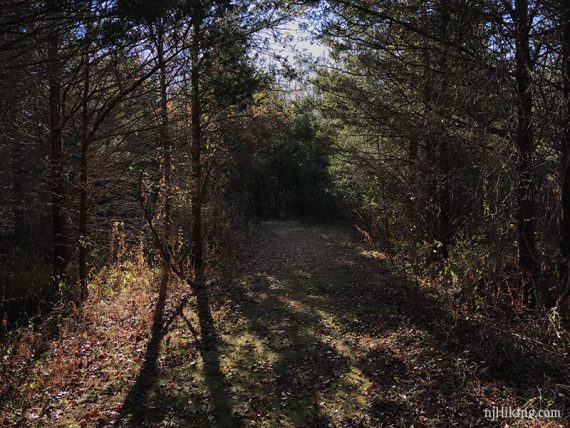 1.5 – BROWN comes out to a farm field. Turn RIGHT and then shortly turn LEFT to follow along fields again.
[If you don't make a left and instead continue towards the woods, that's where RED comes in.]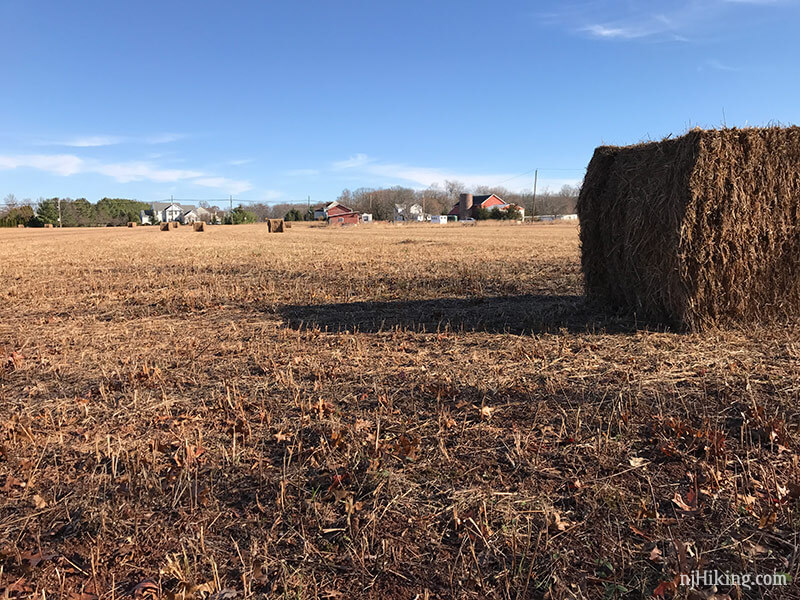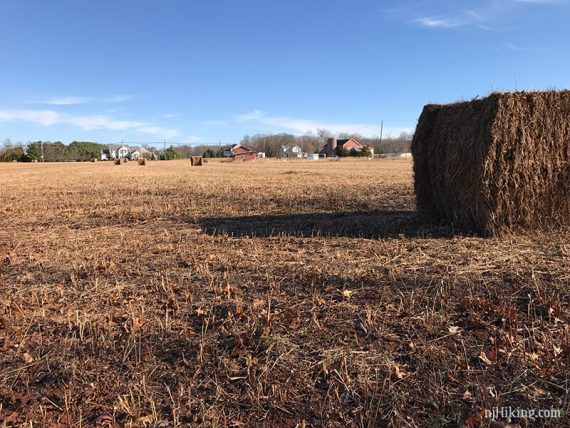 1.9 – Turn LEFT and now follow YELLOW.
2.0 – Turn LEFT and now follow PURPLE.
—
Hiked: 12/4/16.
Hiked: 8/31/15.
Hiked: 7/6/15.
Hiked: 11/7/14.
Hiked: 10/3/14.
Hiked: 9/17/14.
Hiked: 9/2/14.