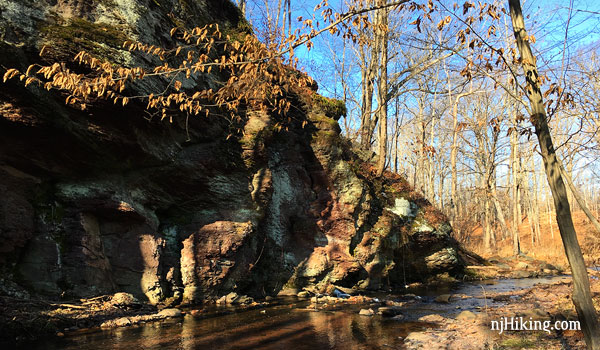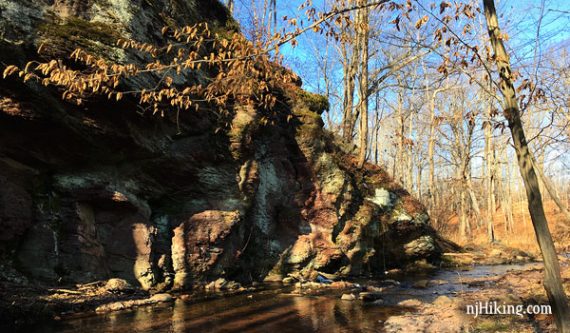 Short trails along fields and through forests, with a 30-foot cliff near Ten Mile Run.
1.7 or 4.0 miles. Easy, mostly level. There are two rock-hop stream crossings over Ten Mile Run on the BROWN trail, one is potentially tricky.
Shorter: Just YELLOW loop (1.19) or portions of other trails.
Longer: 4.0 – Continue further on BROWN, instructions below.
Longer: Add 1.1 on RED, instructions below.
Even longer: RED continues into Griggstown Grassland Preserve.
Hike Info:
Our two cents:
The cliff is interesting and may have cascades of icicles running down it in cold wet weather.
Nice option for short hikes in central NJ, but not something to drive far for. The stream crossing is not really hard, just potentially wet if the water is high.
Stick to hiking Sundays during hunting season, as the rules here are complicated.
Map:
Paper maps in the trail kiosk or print one ahead.
Books:
Not in any books we know of.
Bunker Hill Road, Princeton (Franklin Township), N.J. 08540.
Alt lot: N40.44012° W74.55894°
903 Old Vliet Rd, Franklin Park, NJ 08823 (Corner of South Middlebush).
The cliff area can also be accessed (with no stream crossings) from a parking area on the other end of the trail system, technically in Franklin Park Natural Area. From that lot, take the BROWN trail to the cliff.
Restrooms:
None. There are a variety of stores along Rt. 27; WaWa near the corner of Rt. 27 and Beekman Road.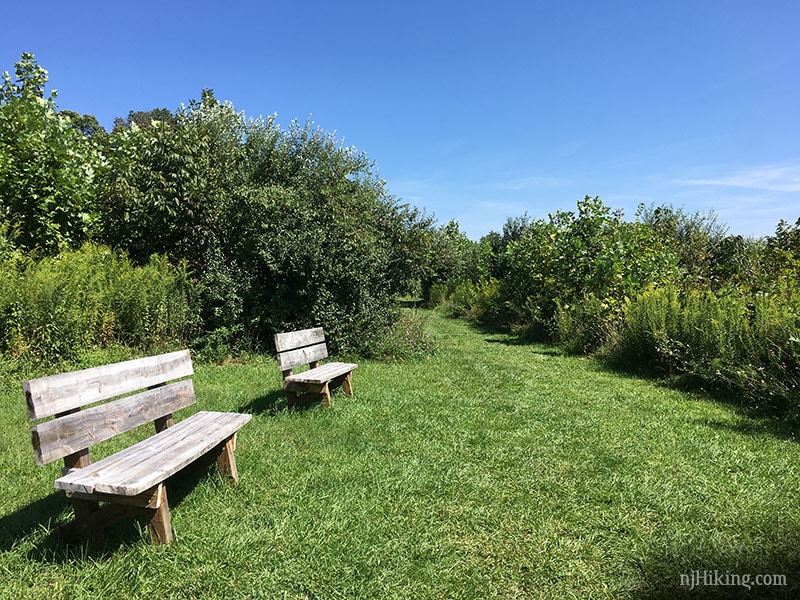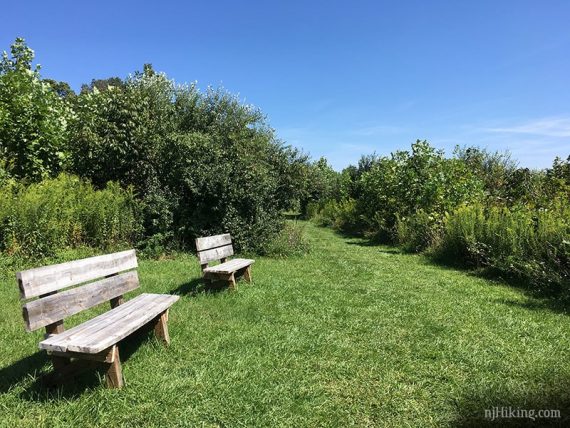 Hike Directions:
0.0 – Start following YELLOW from the parking lot. Pass RED on the left, and then BLUE on the left.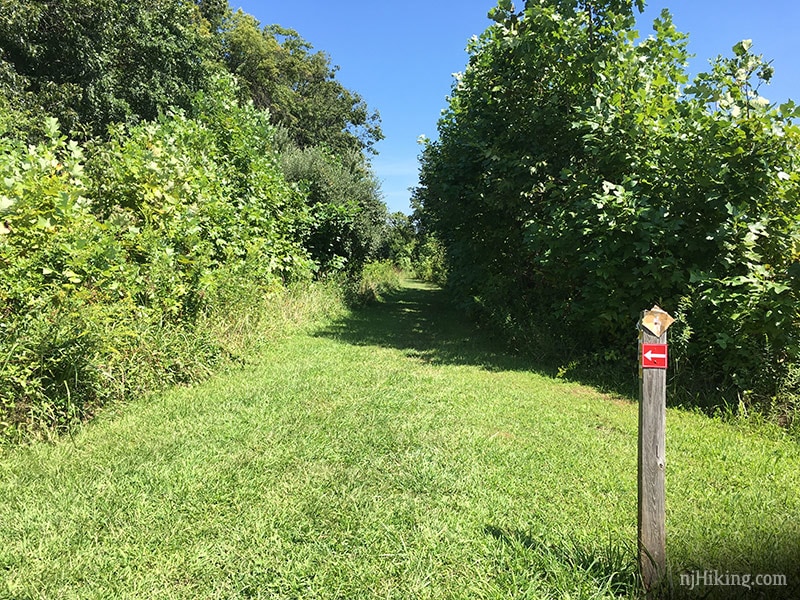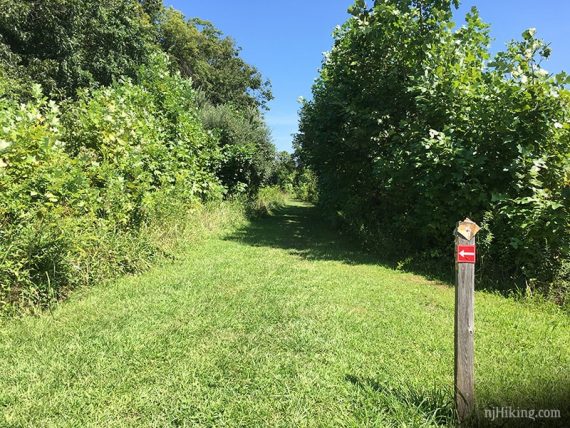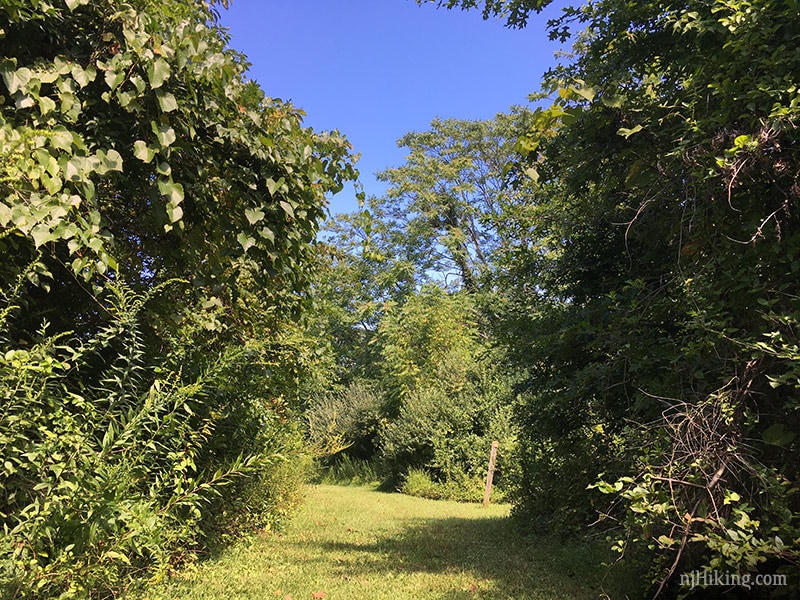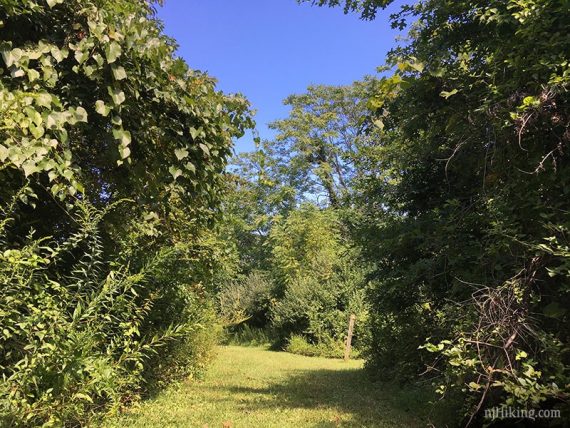 The trails are mostly mowed grass in this section.

0.3 – Keep straight on YELLOW as it splits off in a loop (return here later). Keep left, passing any unmarked paths that go off to the right.
0.5 – Turn RIGHT on to the start of BROWN.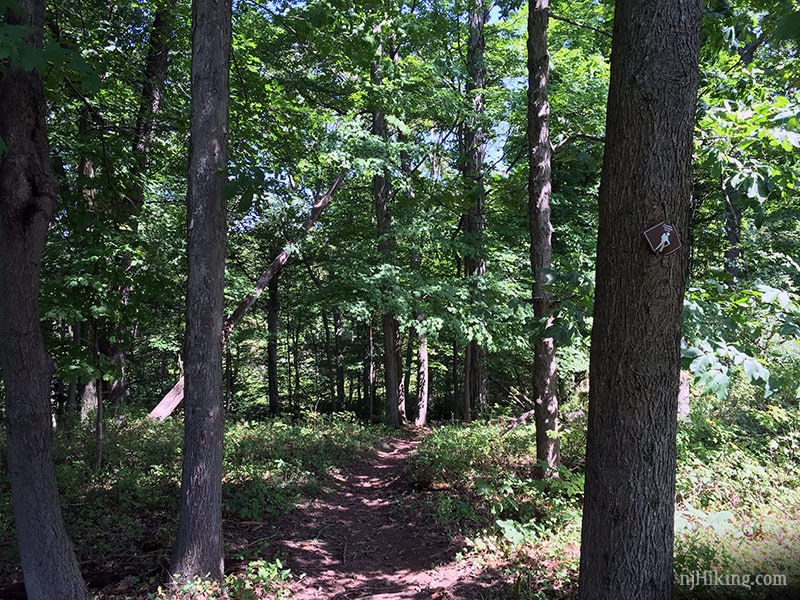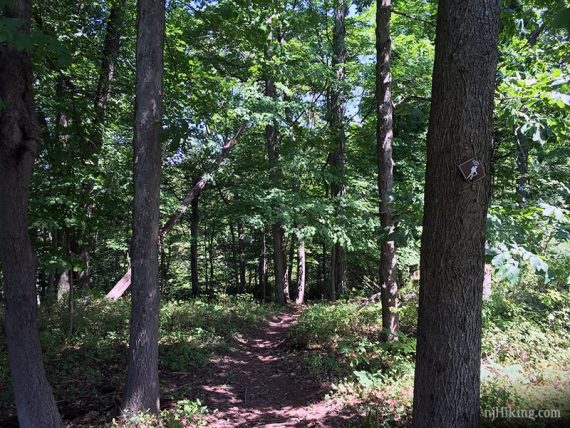 Continue on BROWN, crossing Ten Mile Run stream on rocks.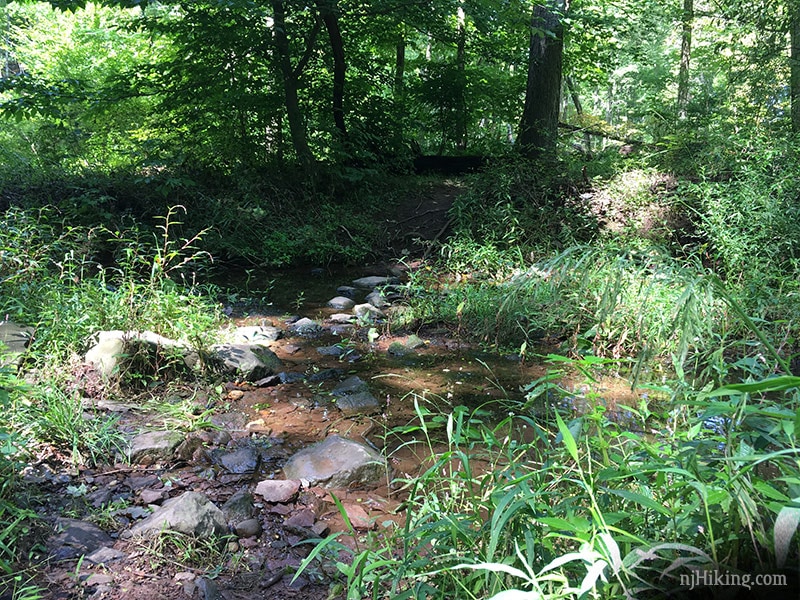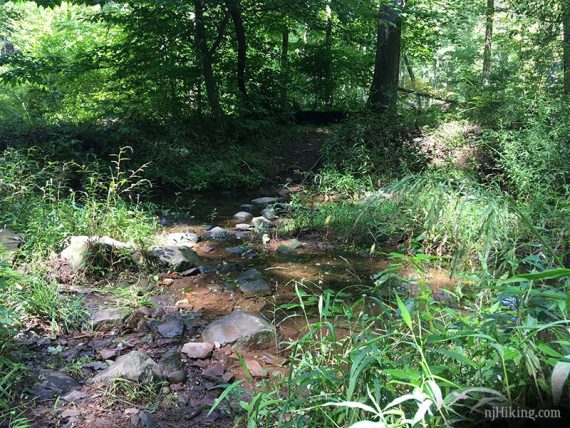 0.7 – Arrive at a 30-foot cliff "towering" over the Ten Mile Run.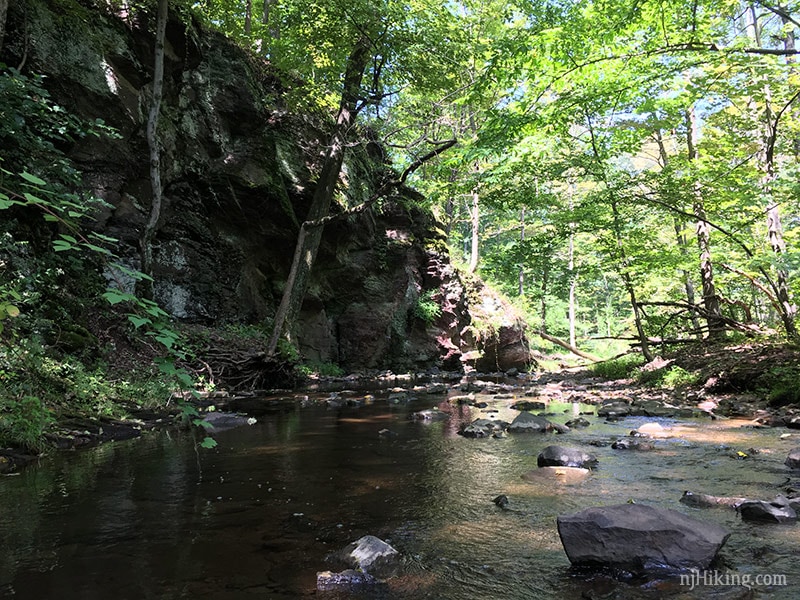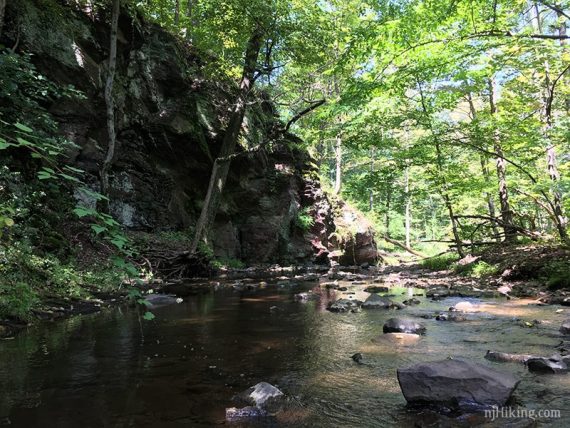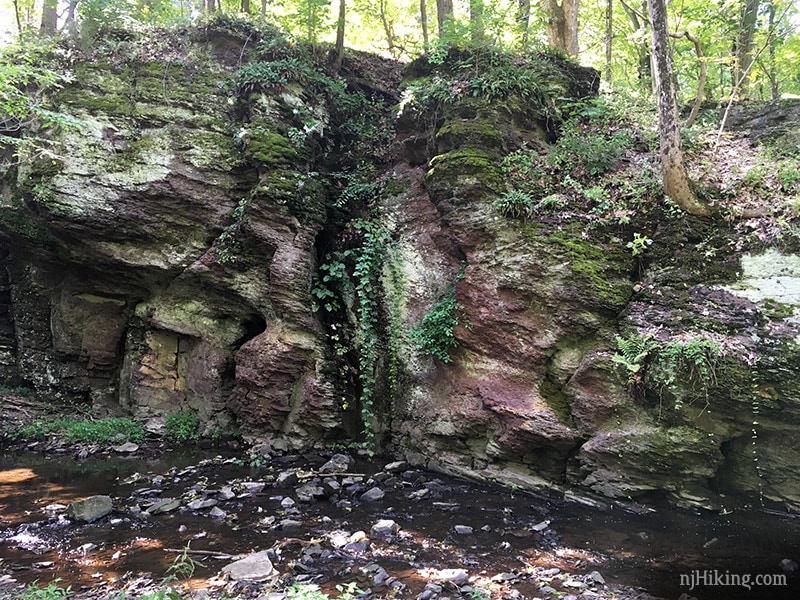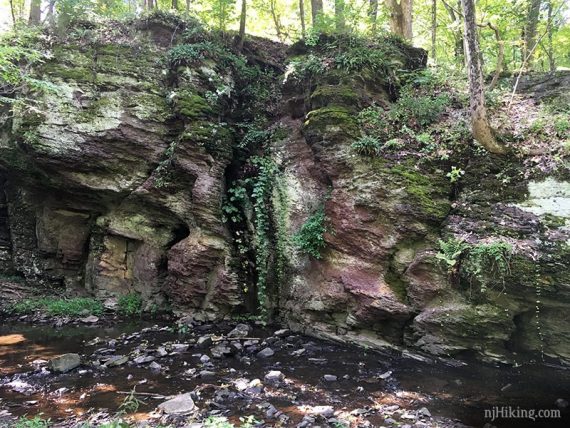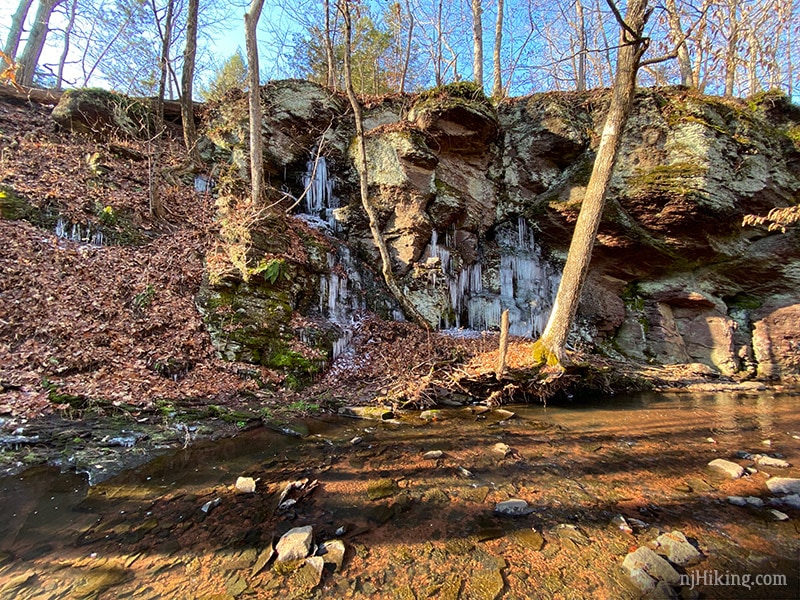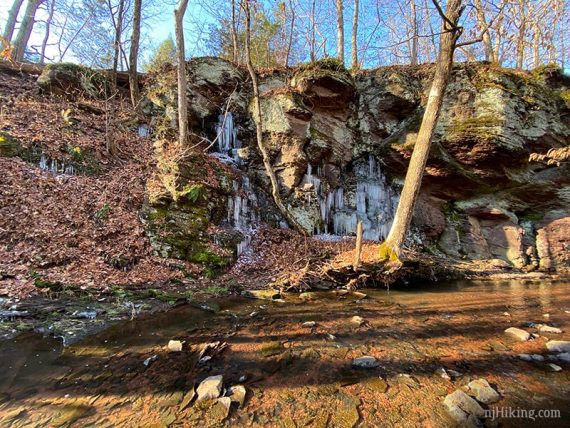 If it's cold and there's been rain, the water trickling down the cliff may be frozen: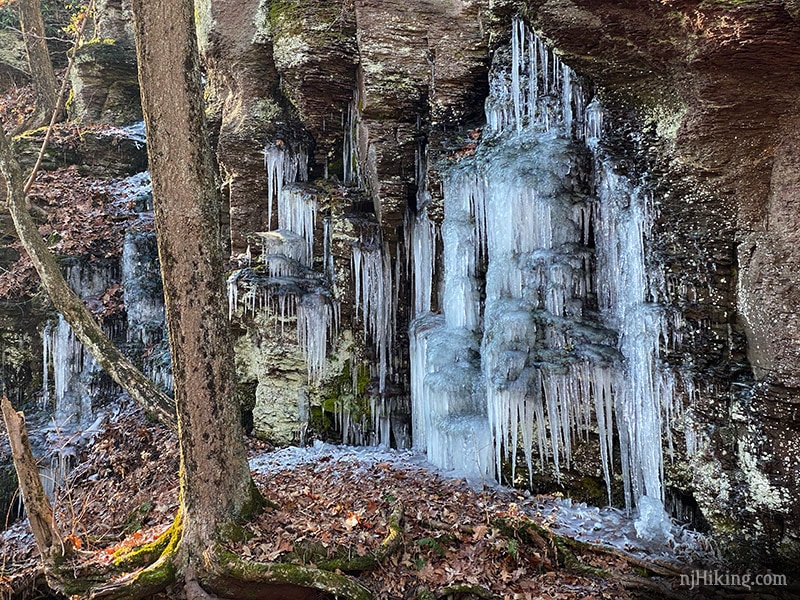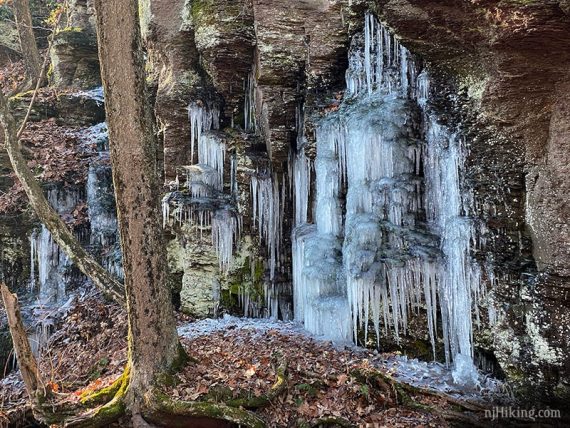 The cliff is better viewed from after the crossing, but it's still plenty visible without crossing.
Crossing the Ten Mile Run in September: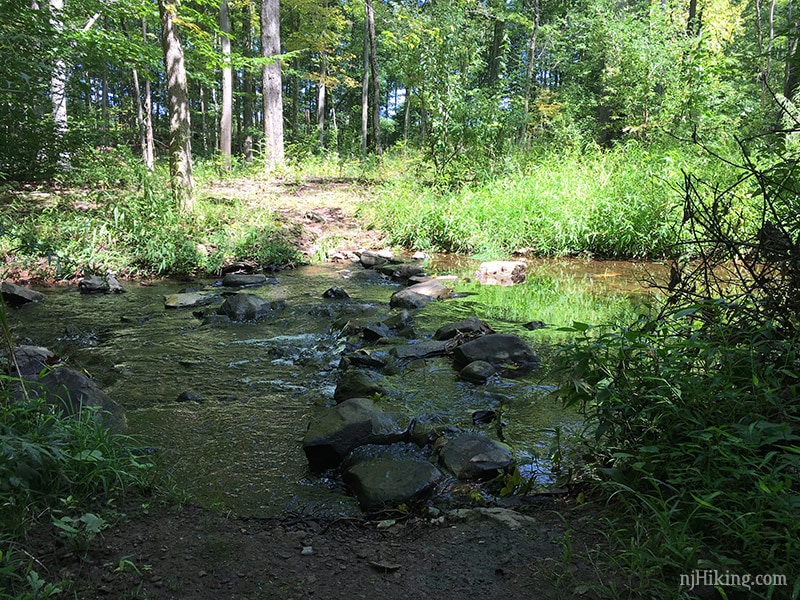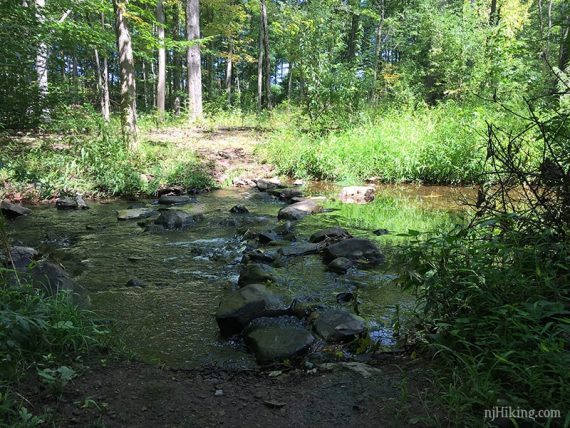 If the water is high or the rocks are icy then this crossing may be potentially tricky.
Note that big glob of slick ice on one rock. This was taken from the other direction, in December: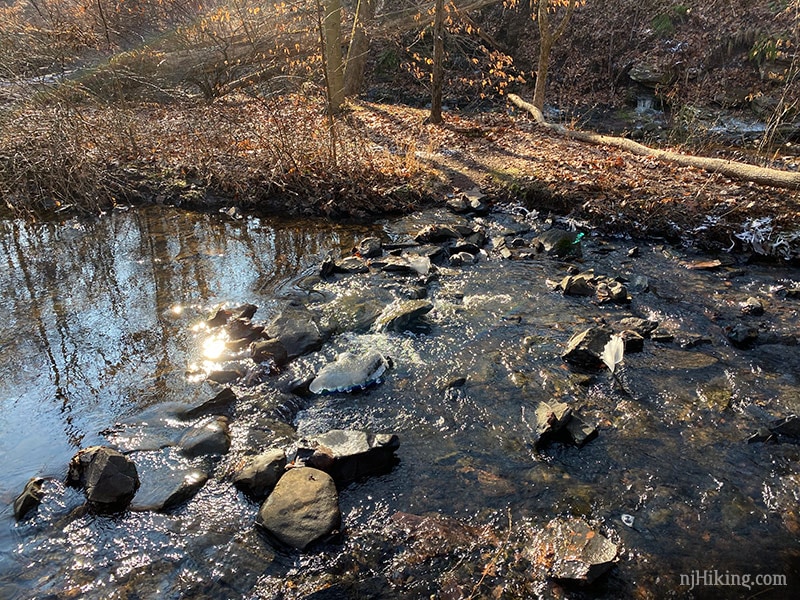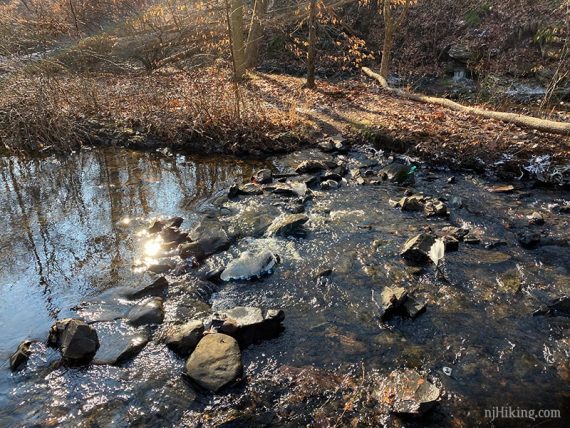 The cliff/crossing is a good turn around spot either way – retrace steps on BROWN back to YELLOW.
–——————-Start of longer option——————————
Adds 2.3 miles. Instead of turning around now, cross the stream and follow BROWN as it continues to a parking area at South Middlebush Road, and then retrace.
Turn LEFT here and walk down the driveway just a bit, before veering right back onto the grass.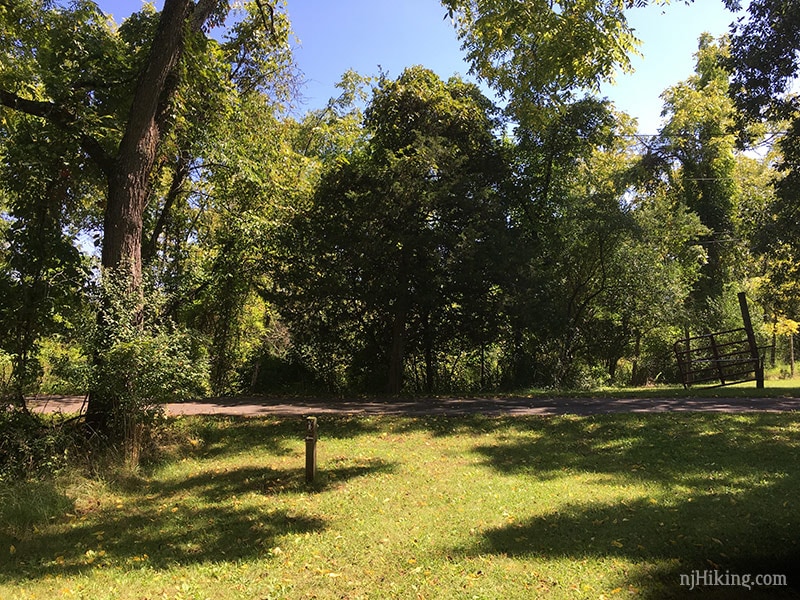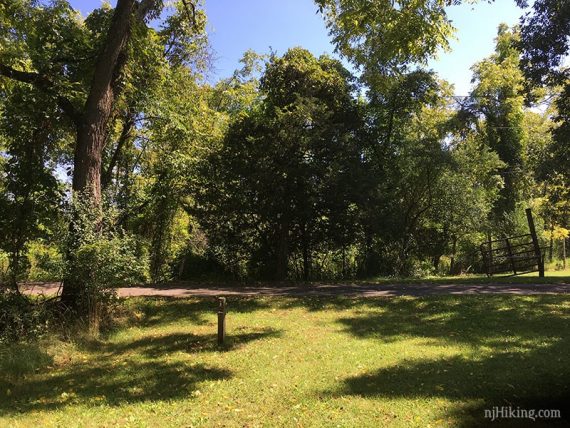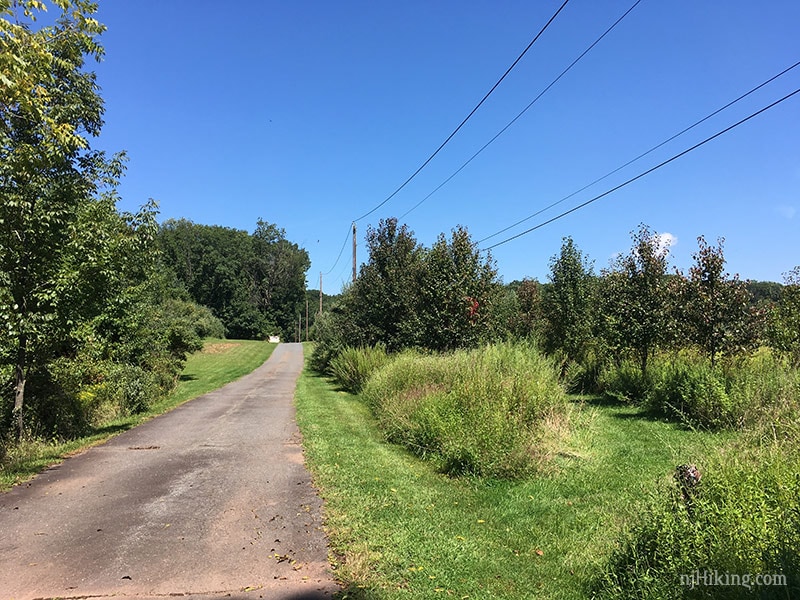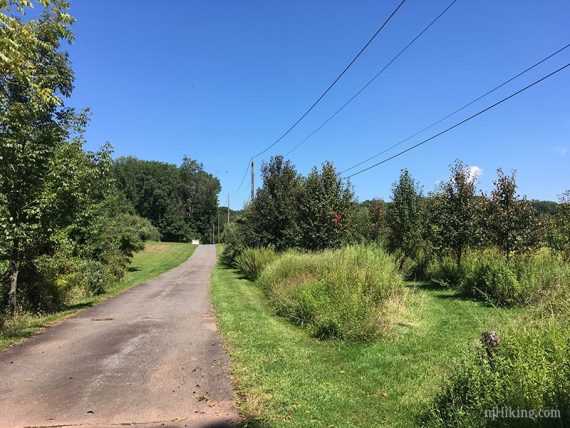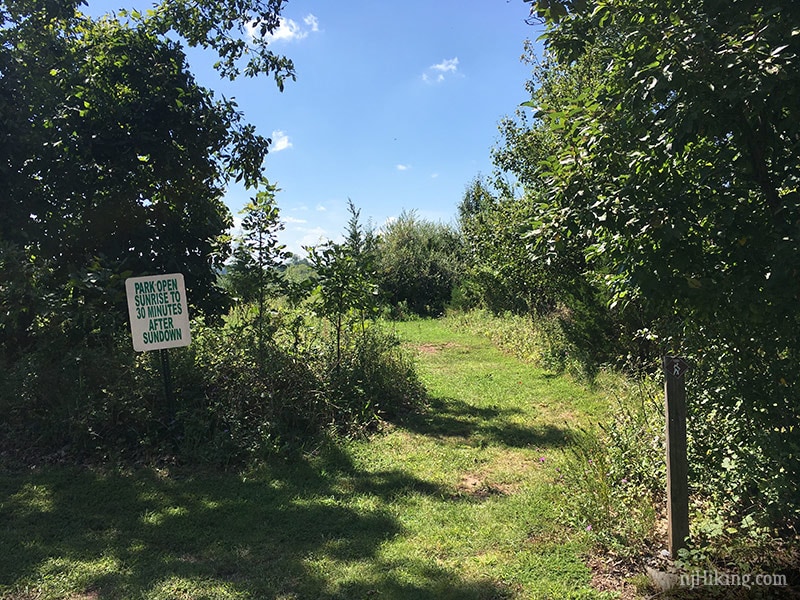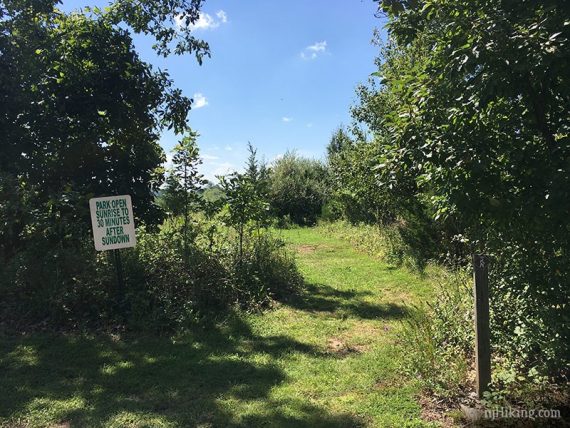 BROWN follows on mowed paths and field edges with a decent amount of sun exposure. It's not especially thrilling but it's a nice easy hike.
–——————-End of longer option——————————
0.8 – Turn RIGHT onto YELLOW and follow it around to where it split earlier.
1.1 – Turn RIGHT, continuing on YELLOW.
1.2 – Turn RIGHT and start following BLUE.
[Alternate: Keep on YELLOW and go directly back to the parking lot].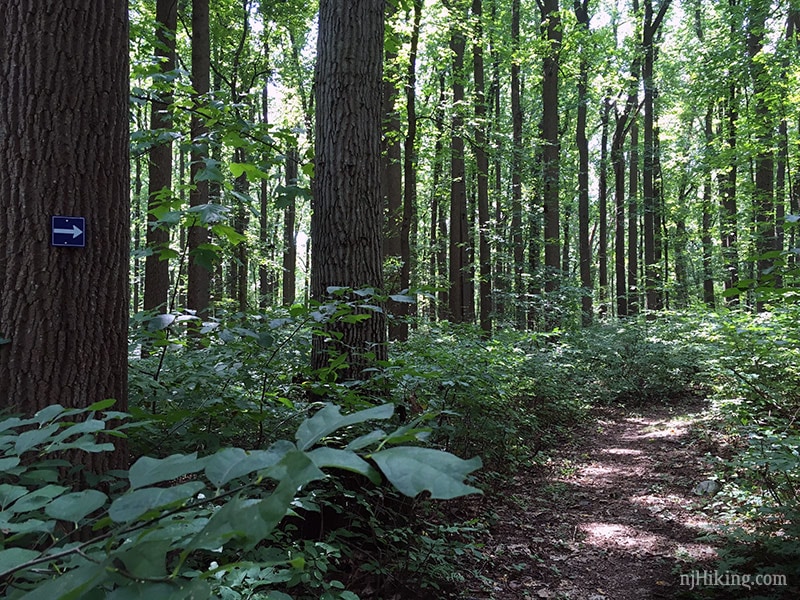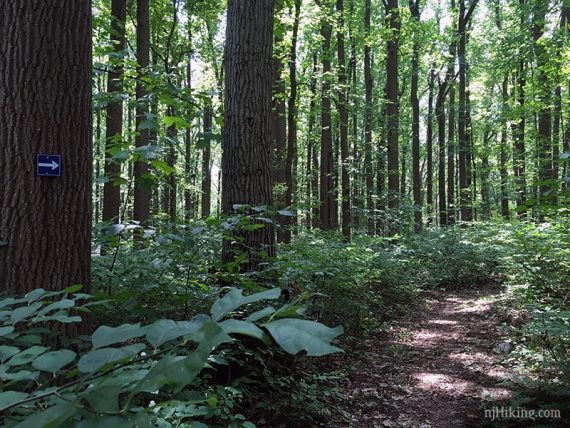 1.5 – Turn LEFT to start following RED. [BLUE ends]
Turn RIGHT on YELLOW and back to the Bunker Hill Road lot.
——
Alternate: Adds 1.1 miles. Turn RIGHT (or it might have been more straight) and start following RED. Cross Bunker Hill Road.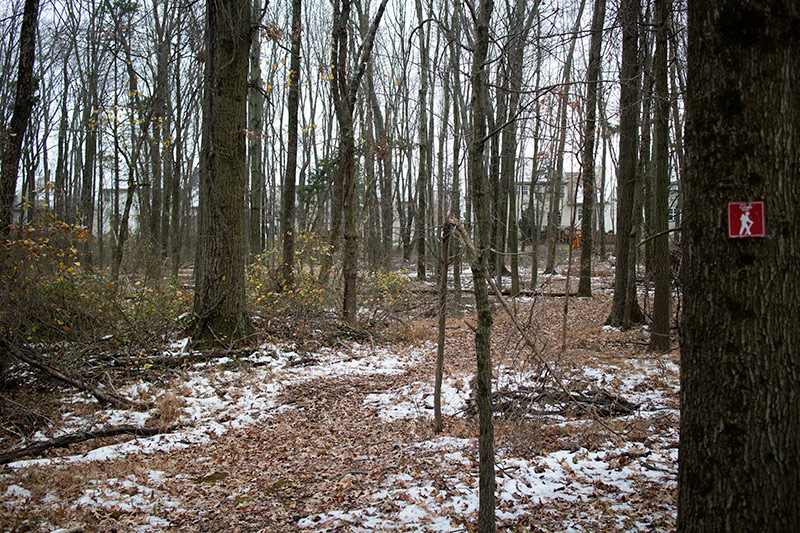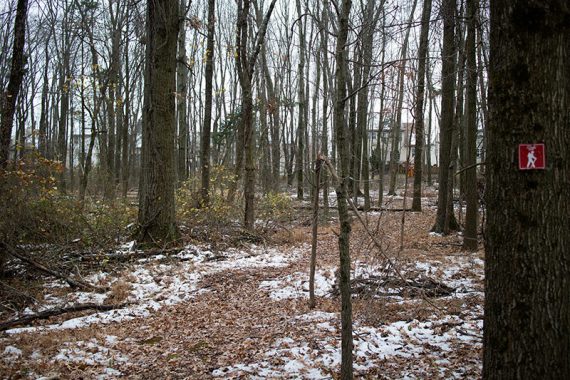 RED travels through a sliver of woods sandwiched between houses, eventually ending up in someone's back yard.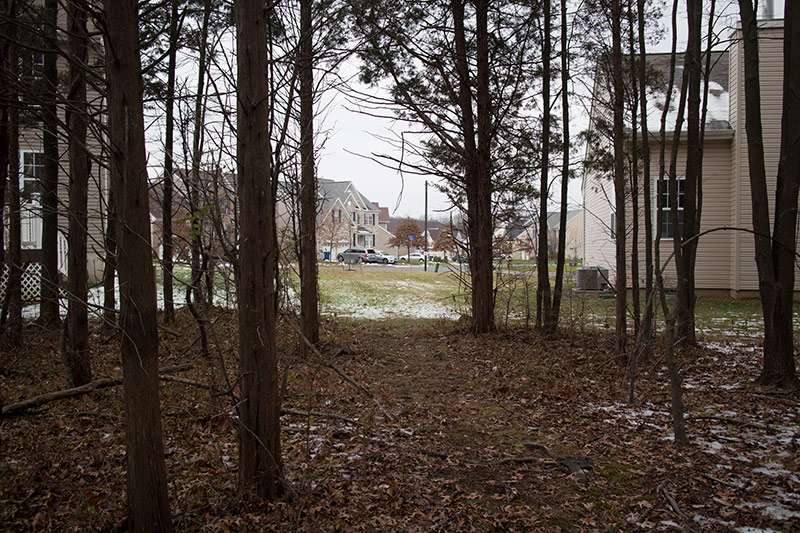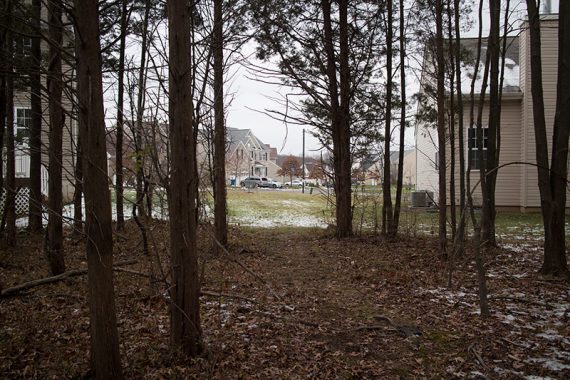 Where the trail turns into a backyard, turn around and retrace steps, following RED back to the parking lot.
To extend the hike even further, walk through the neighborhood on RED to link up with Griggstown Native Grassland trail system.
—
Hiked: 12/22/29. 2.2 miles, from Middlebush. With Butler Road hike.
Hiked: 9/4/17. ~4.5 miles.
Hiked: 3/22/15. in snow, 2.3 miles, from Middlebush.
Hiked: 11/30/14. Trail Blog: "Bunker Hill in Winter".