Enjoyable paddling on a quiet lake tucked away in suburbia.
Our two cents:
The south end is narrower and shallower than the north end (and more interesting in our opinion), but is more affected by low water. However, the entire lake is a pleasant and easy paddle.
Relatively quiet area but some power lines and houses that border the lake are visible, with the associated noise of mowers etc.
Road noise, especially along the southern section. Lots of fishing boats but it's electric motors only and there is room to spread out.
Plenty of wildlife – herons, other birds, turtles. A solid choice for those in central Jersey, but not something you need to drive far for.
Description
We usually put in at Church and Riva. The Hardenburg Ln. lot is a bit bigger but is sometimes is filled with boat trailers.
We think of this lake in two sections, split at the Church and Riva lot:
North/right:
Goes towards the widest area. Just past the bridge at Hardenburg Ln (the other launch area) is a strip of land jutting out, with submerged pylons that are easily navigated through.
There is a cove with walls, and the lake ends at a dam area.
South/left:
Immediately goes under the Church Ln. bridge and into a narrower area that is filled with lily pads. This continues to narrow, with overhanging branches, passing under another bridge.
It eventually becomes too shallow to continue, just short of entering Davidsons Millpond.
This area is much wilder in feel than the more open sections in the north of the lake. When the water level is low, the 2nd bridge may be tricky as there are rocks or cement pieces under it.
Launch area from Church & Riva avenues: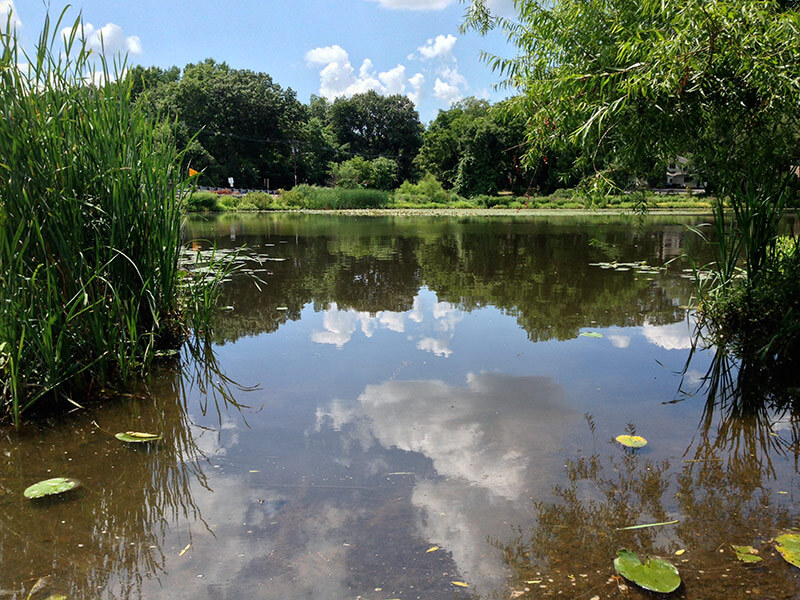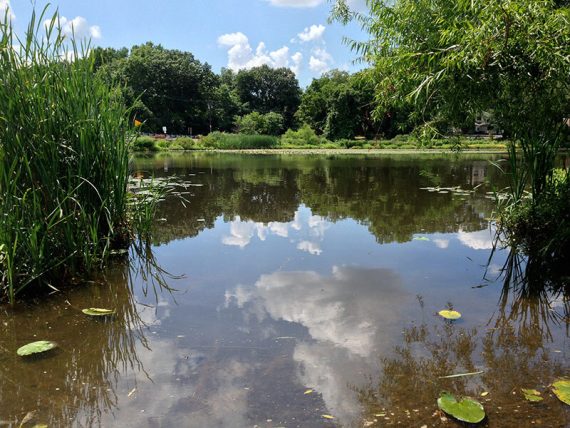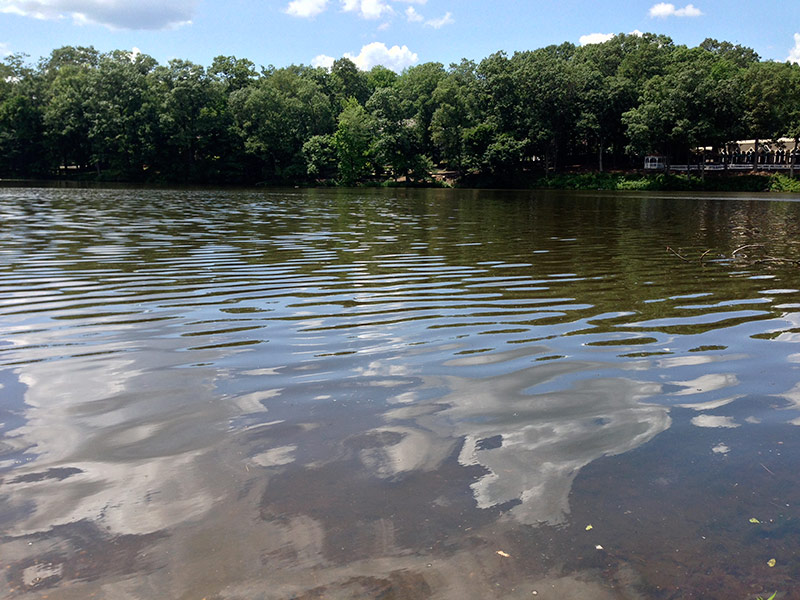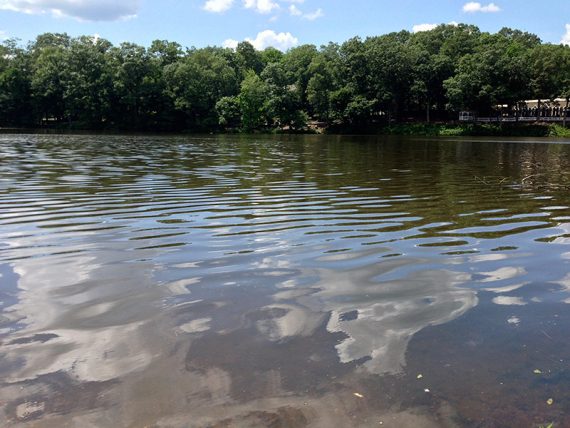 A few powerlines.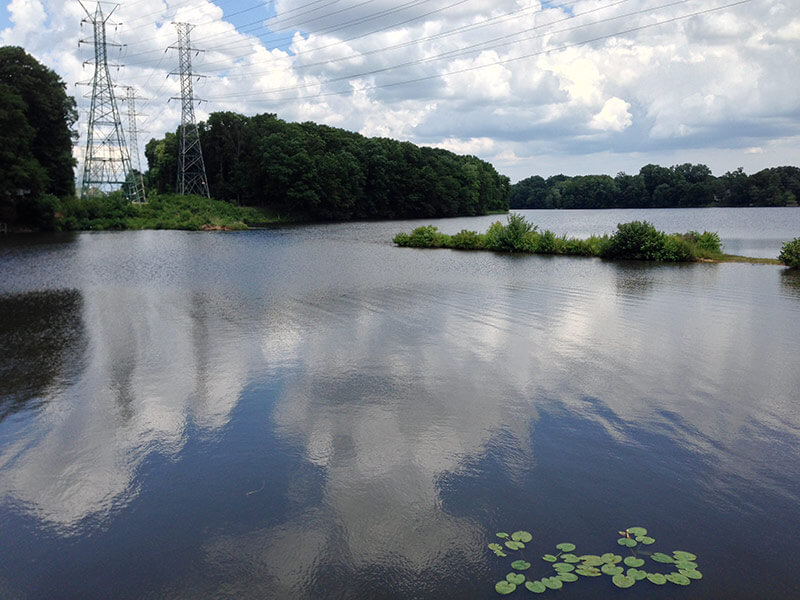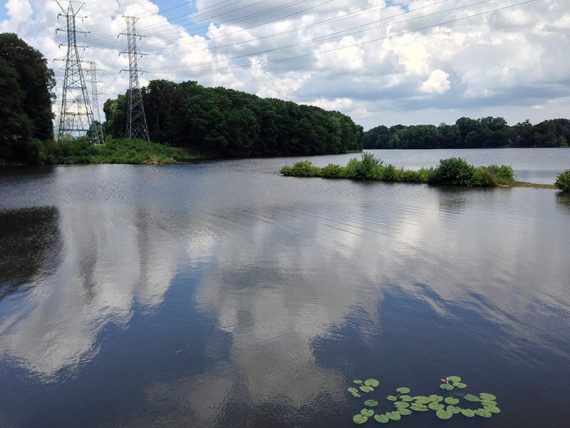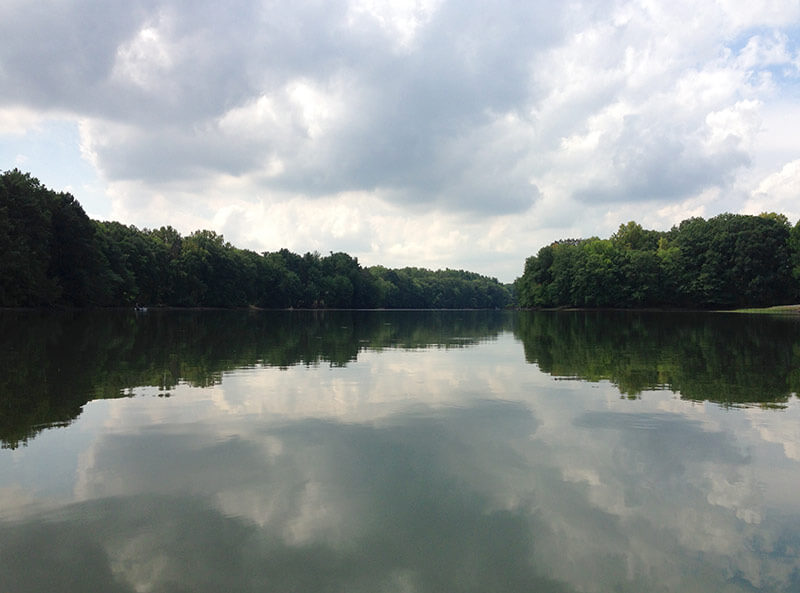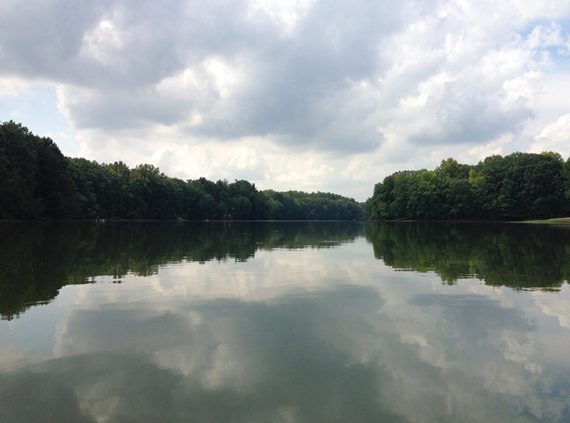 Pylons near Hardenburg Lane bridge. When the water is high these aren't visible, but there are some metal rods stuck in them to make them easier to avoid.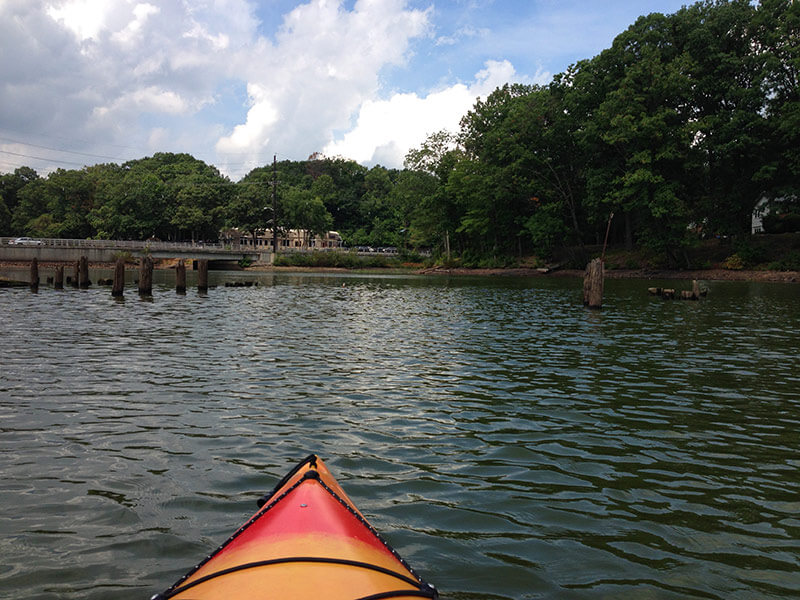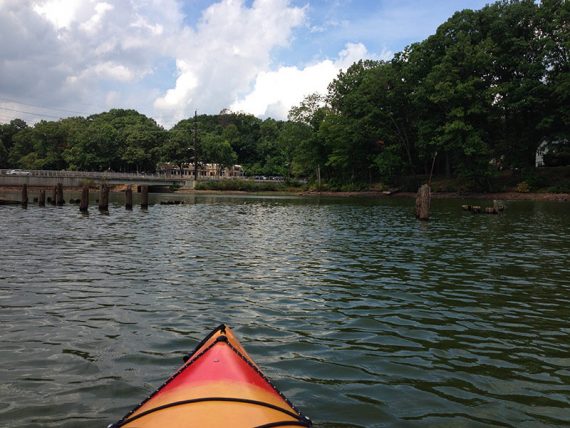 South section is narrower and shallower.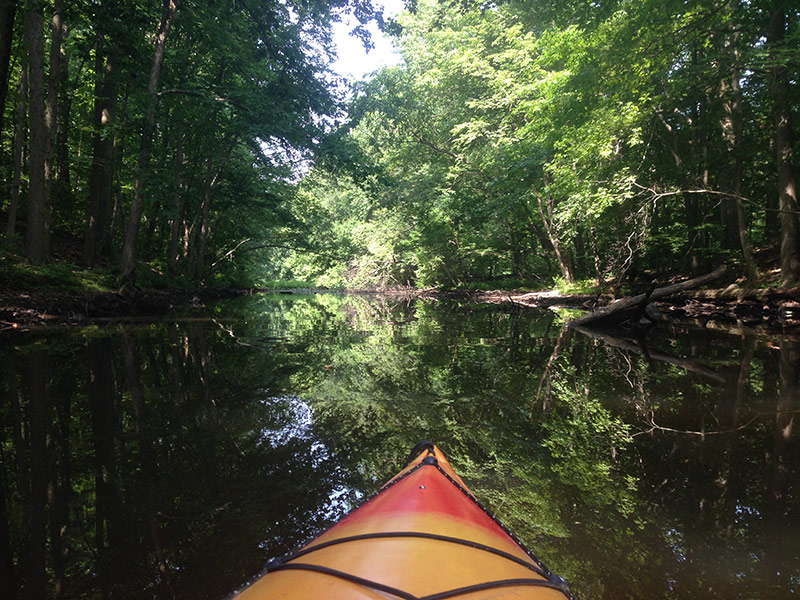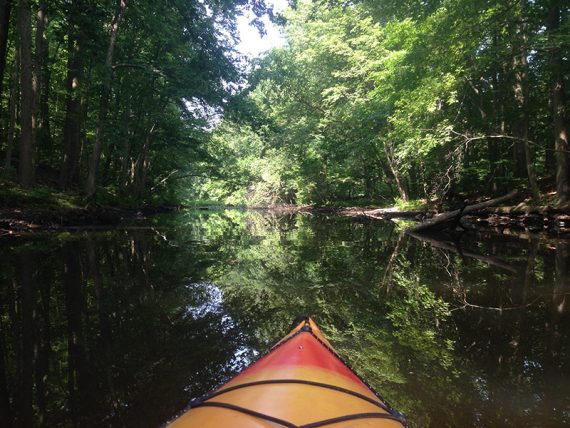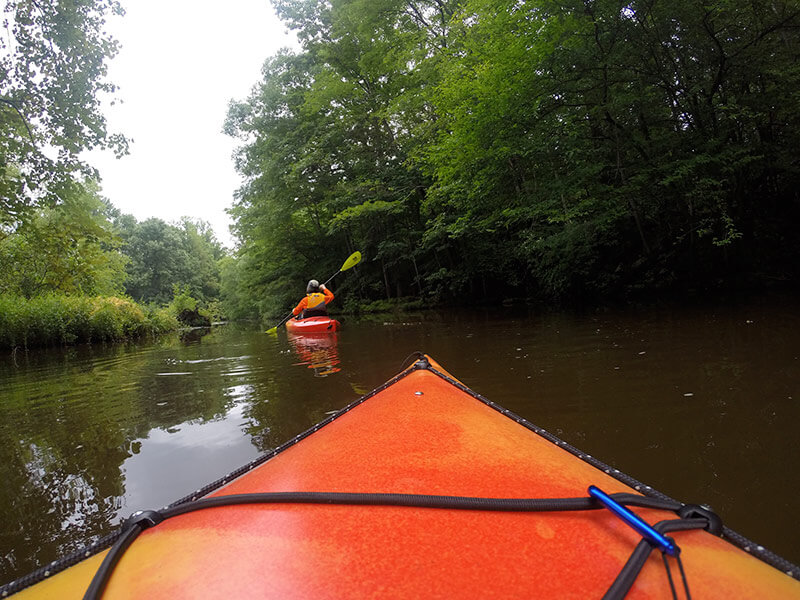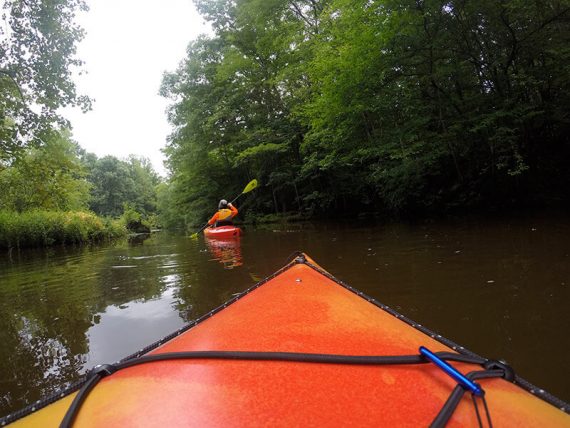 2nd bridge, going south.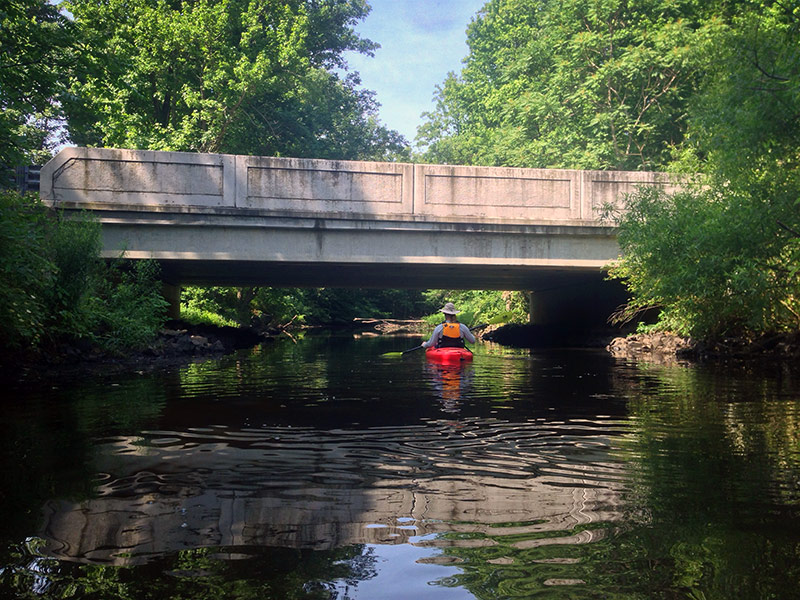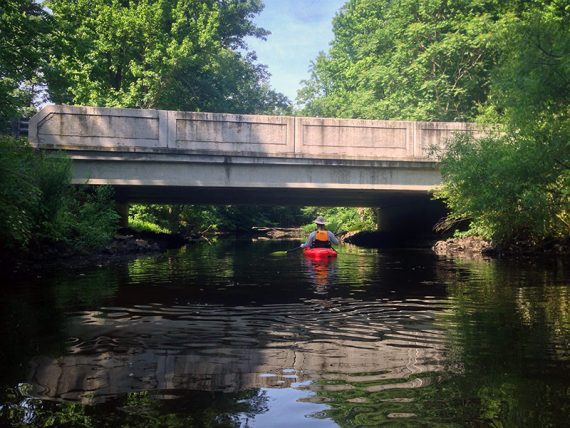 Details
Miles:
Up to about 8 miles roundtrip, if you go in both directions from either launch.
Parking/launch:
N40° 25.469′ W74° 28.614′ [Riva & Church Ave.] Small dirt lot. Launch from shore.
40°26'20.3″N 74°28'00.0″W [Hardenburg Ln] Dirt lot. Launch from shore.
Size:
290 acres, average depth: 6', max depth: 12'.
Restroom:
Usually none (Riva lot – no porta-john as of 8/2019).
Facilities in Bicentennial Park, down the road from the Hardenburg Ln. lot – but sometimes they are locked even when you'd think they'd be open.
Book:
Quiet Water New Jersey, Trip # 21
For general info, check out our Kayaking NJ page.
—
Kayaked 8/10/19. 4.7 miles, right. Wildlife: an absurd amount of great blue herons and egrets.
Kayaked 7/4/19. 4.0 miles, left.
Kayaked 8/18/18. 3.4 miles. Hardenburg Ln.
Kayaked 7/4/17. 4.0 miles. Wildlife: multiple herons, turtles popping up in front of us.
Kayaked 6/26/16. 3.0 miles. Wildlife: several herons, including one that flew right over us with a loud squawk.
Kayaked 8/23/15. 3.9 miles.
Kayaked 5/25/15. 2.6 miles.
Kayaked 8/03/14. 4.9 miles.
Kayaked 7/12/14. 5.0 miles.
Kayaked 7/7/14. 3.8 miles.