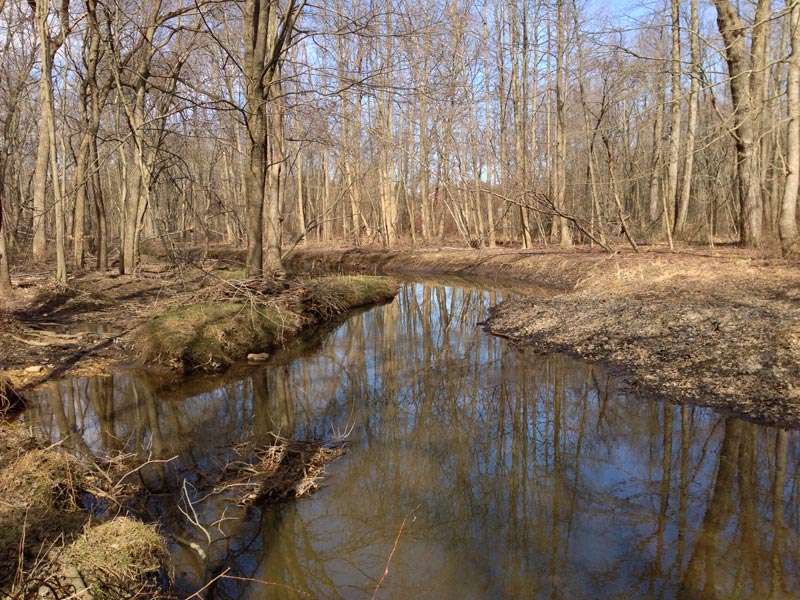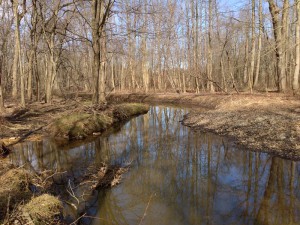 Small park in Middlesex County with a few short, easy trails near Ireland Brook in East Brunswick.
We'd been saving checking this one out for a day when we needed a quick, somewhat close-by hike.
Since many of New Jersey's trails still aren't in great shape or are closed, we've been using this winter to finally get some projects done that we keep avoiding in favor of trotting off to a trail. As expected, it's taking up almost all our of hiking time (hence our procrastination) so we've been trying to hit closer parks.
While checking out the Middlesex County parks site awhile ago, I noticed several trail systems that were close to each other: Ireland Brook, Farrington Lake and Davidson's Mill Pond.
The trails are short but it looked possible to piece them together into a longer route. So when we've had a little bit of time we've been stopping by to check them out in sections.
There are two trails within Ireland Brook Conservation Area, Forest Brook and Ireland Brook, that can be connected by walking a pipeline cut (we're assuming the clearing is for a pipeline… it doesn't say).
We did the Forest Brook loop first, then decided to check out the other parking lot for Ireland Brook and did that trail from there. On the map, it does appear the pipeline could be followed from BLUE to link up to YELLOW however.
Both trails are nice and well-maintained but short, and road noise is a bit of an issue. Don't drive far to get here but if you are in the area, they are good for a quick leg-stretcher.
Ireland Brook Conservation Area site and Ireland Brook Trail Map

Forest Brook Trail (BLUE)
—
Parking: N40 25.227 W74 29.082
*Easy to miss tiny dirt lot, with BLUE blazes on a tree. When traveling southwest on Riva Ave just after Church Lane the lot is on the left before a Leaving East Brunswick sign. Before that was a driveway with a gate that had a sign by the road for the conservation area, but wasn't really marked as hiker parking. We realized later that the gravel road beyond the gate led to a trail kiosk… so this may be a better parking area.
Miles: 1.0
Route: BLUE
Forest Brook trail has a nice view of Ireland Brook in the beginning. It's a pleasant, flat, easy trail that loops around, with a turn that is easy to miss off of the pipeline cut, and another after that (turn left before the section of gravel road, and if you've gotten to the wooden trail kiosk, you missed it.)
We were surprised to encounter a small section of fence with a gravestone for Gertrude Provost, 1809 – 1839. You just never know what you'll find in the woods.
Ireland Brook Trail (YELLOW)
—
Parking: N40 24.884 W74 28.783
From Riva Ave, turn onto Ireland Brook Drive and head through the neighborhood to the end, turning onto Parkview Court. It ends at cul-de-sac with a run-down tennis court and playground. No signs whatsoever that there is a trail. The trailhead is across the field, in the far corner at the tree line, marked by a small wooden map container. No trail markers until getting a bit into the trail, at the pipeline clearing.
Miles: 1.9
Route: YELLOW
Flat easy trail, but the later part of Ireland Brook Trail is torn up from off road use, and has a section of trash. Part-way through the trail, it branches off in a Y, but both directions lead back together – we went right to start with and returned on the other section.
We cut Ireland Brook short due to not being able to cross where it is marked "no-bridge" on the map… it was way too wide to jump, and not worth wading through as the trail ends shortly after at Fresh Ponds Rd. We've been told there are yellow markers on the other side of Fresh Ponds Rd that leads to other trails.