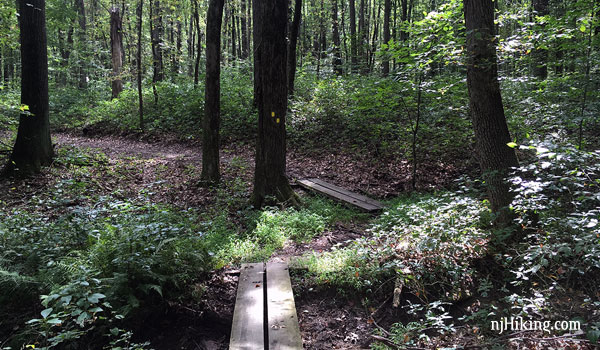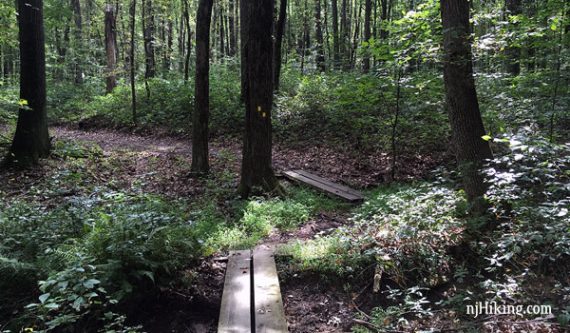 Small park in Middlesex County with a few short, easy trails near Ireland Brook.
4.5 or 1.5 miles. Dirt and roots; plank boardwalks.
Hike Info:
Our two cents:
Pleasant and generally well maintained but there are some areas with overgrown grasses – use bug spray and/or wear long pants. Road noise is a bit of an issue.
Good for quick leg-stretchers or to get in an easy ~5 miles if you are in the area, probably not something to drive over an hour for.
Updated: 4/2021: Moved Forest Brook trail to it's own hike page. 1/2021: Page refreshed, minor changes. Ireland Brook re-hiked (Forest Brook was not). 9/2019 – Ireland Brook re-hiked (Forest Brook was not), description updated, new photos.
Since we first hiked this in 2013, Ireland Brook was extended quite a bit and Pseudacris Trail added.
---
Map/Books:
There may be paper maps in the kiosk but it's not a bad idea to print one out ahead. In no books that we know of.
Restrooms:
None. Not much in the area, best bet may be to stop by Davidson's Mill first as there should be a porta-john in that lot.
Parking:
There are separate parking lots for the Ireland Brook trail and the Forest Brook trail. Detailed driving directions on park site. Parking lot and hike info for both hikes are below.
---
Ireland Brook & Pseudacris Hike Directions
Parking: N40.41474° W74.47971° [Ireland Brook] 99 Parkview Court, South Brunswick, NJ.
From Riva Ave, turn onto Ireland Brook Drive and head through the neighborhood to the end, turning onto Parkview Court.
This ends at cul-de-sac, park on the asphalt by a small playground.
Overview: YELLOW (Ireland Brook) – RED (Pseudacris Way) – YELLOW (Ireland Brook)
Miles: 4.5
Markers are generally clear but YELLOW splits in two directions a few times – we basically were keeping left at intersections – plus ignore a couple unmarked trails.
0.0 – Walk across the field to the far corner to a trail kiosk and a map container.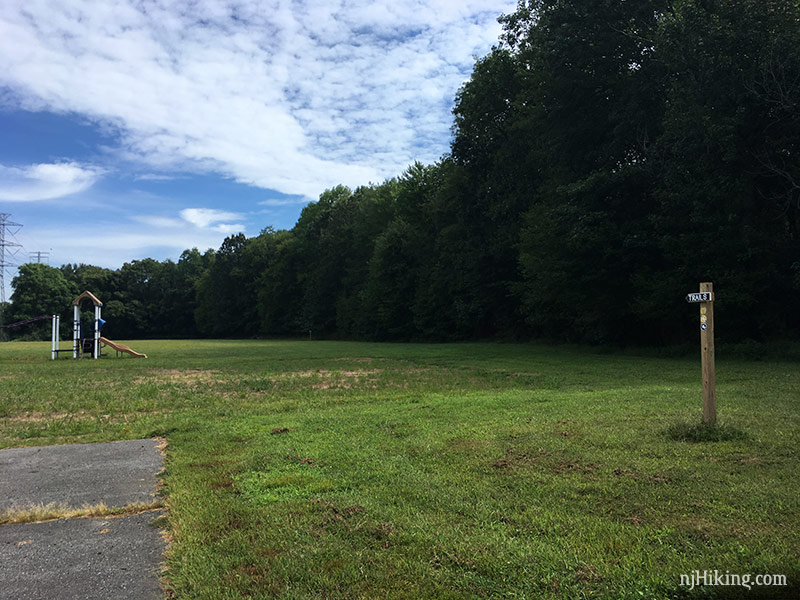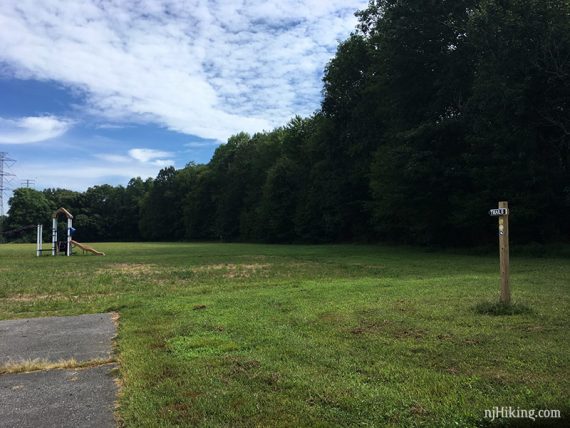 Start following YELLOW (Ireland Brook) from the trail kiosk.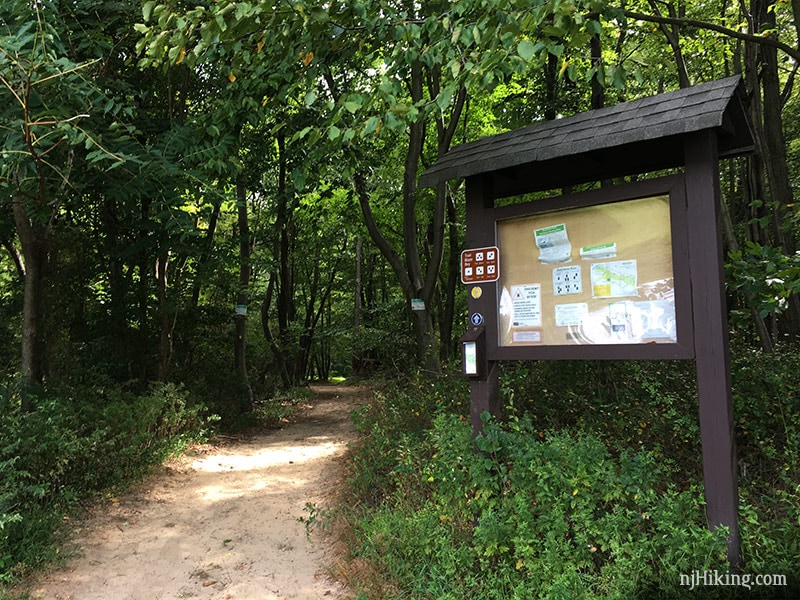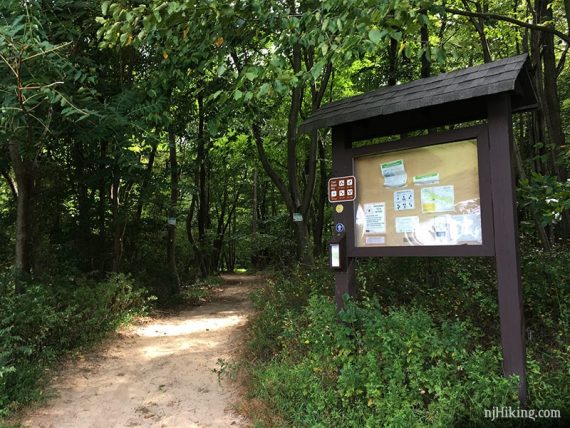 Almost immediately pass YELLOW markers going off to the right… the return of the loop. Might not even notice it.
Cross the pipeline cut.
Ireland Brook trail has many plank boardwalks.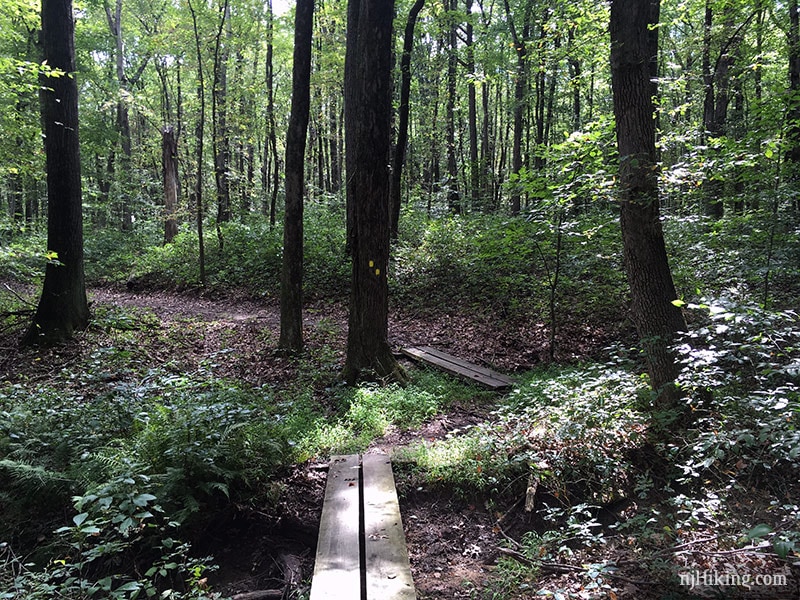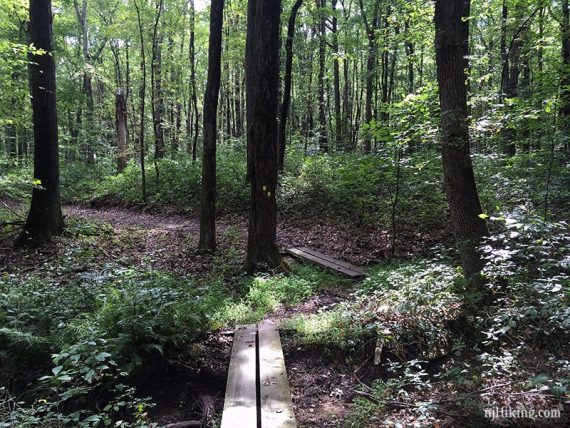 The trail is generally well maintained.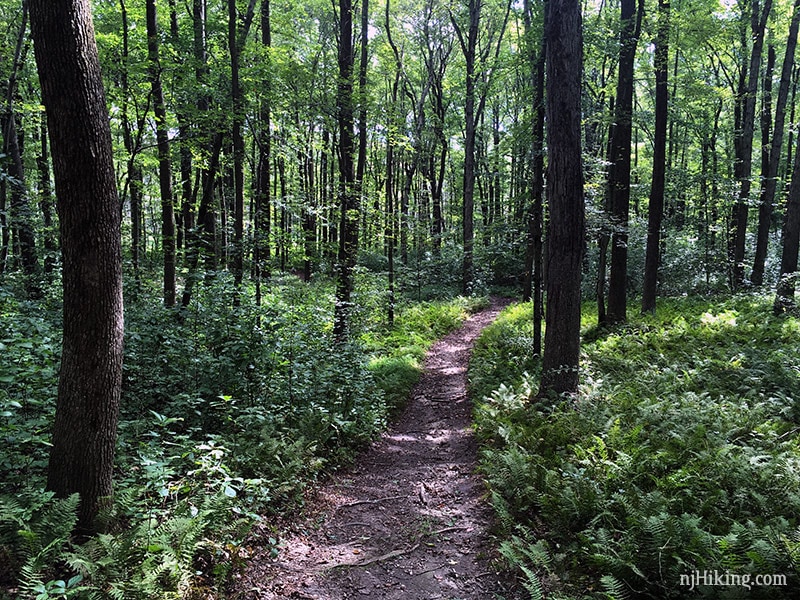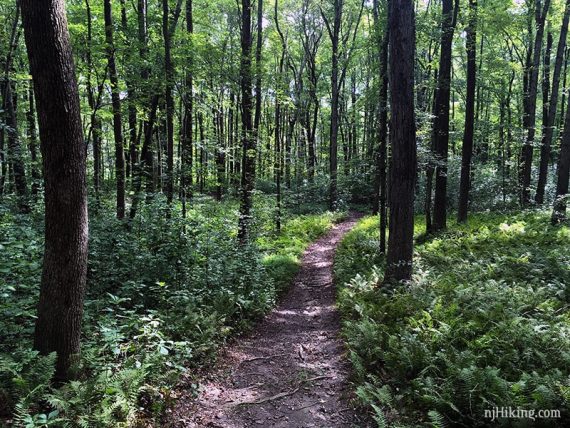 0.4 – Turn LEFT at T-intersection, didn't see blazes near here.
[Unmarked trail on right leads to the pipeline cut – PURPLE on the map].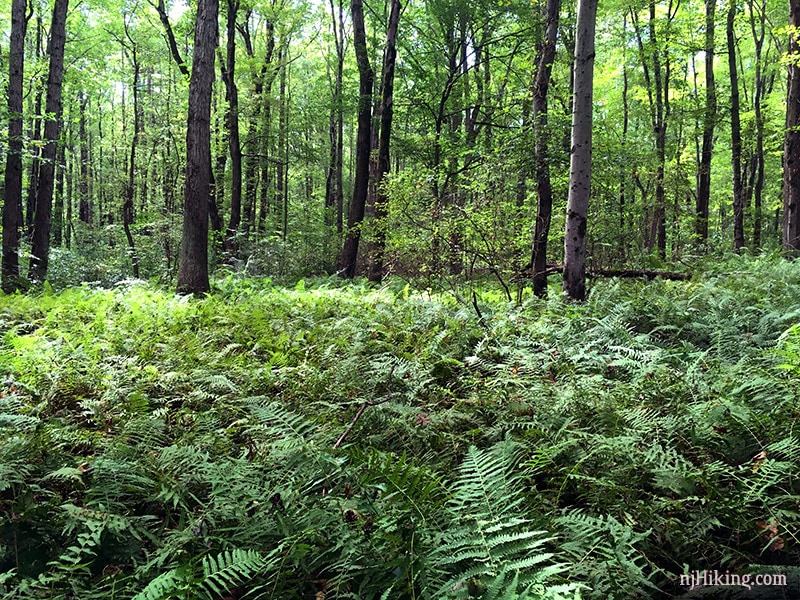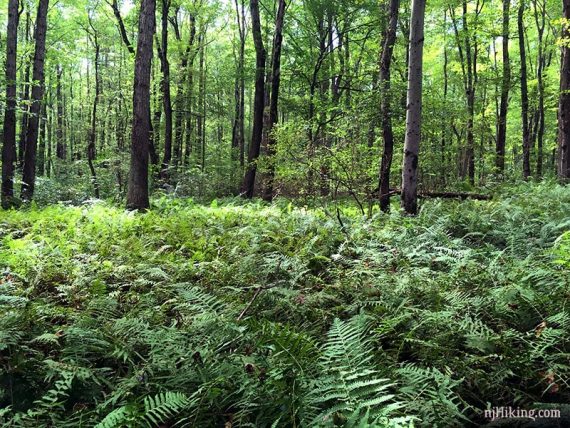 Adjacent fields come into view along the Ireland Brook trail.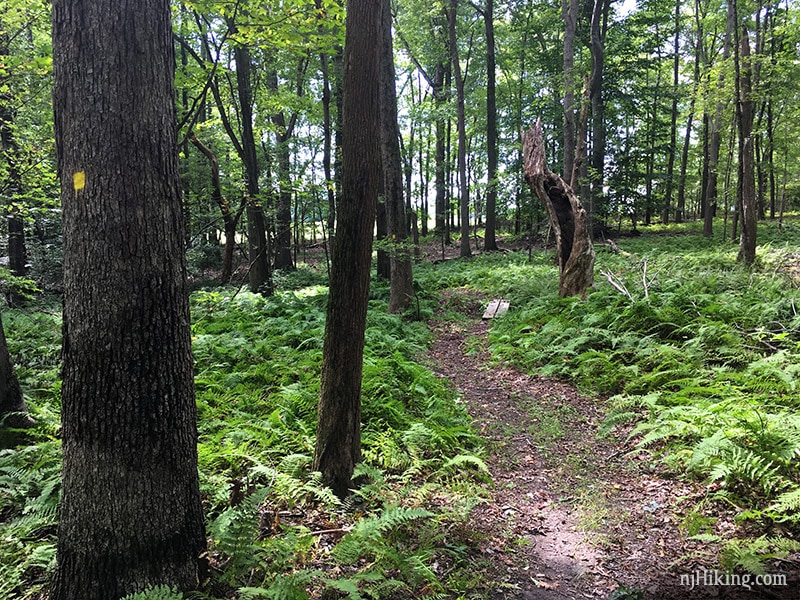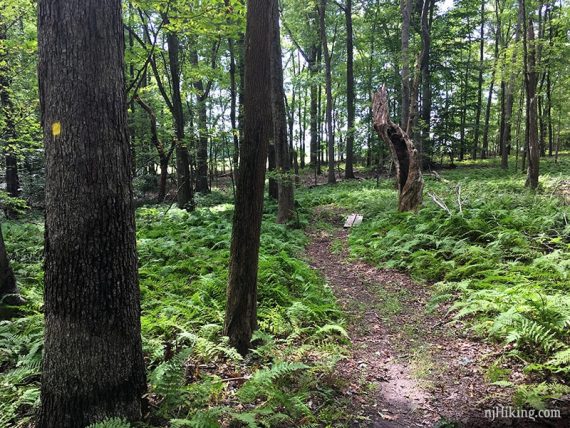 Invasive grasses are sometimes prevalent along the trail.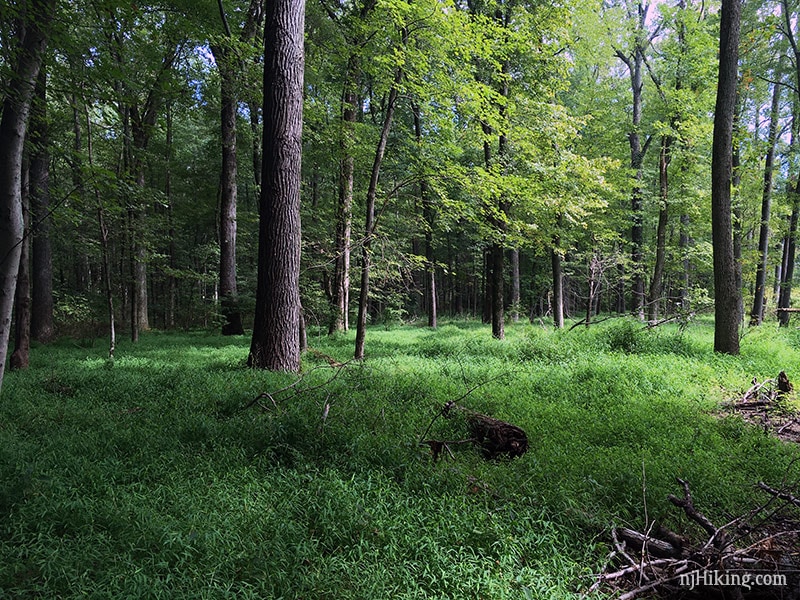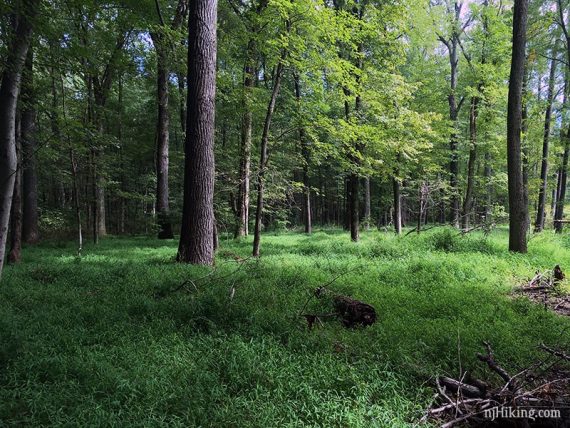 Plank boardwalk on the Ireland Brook trail.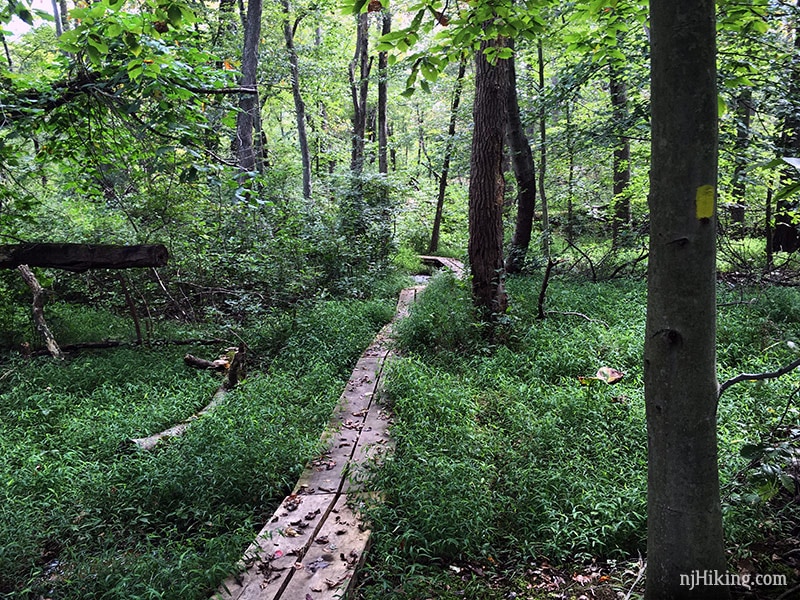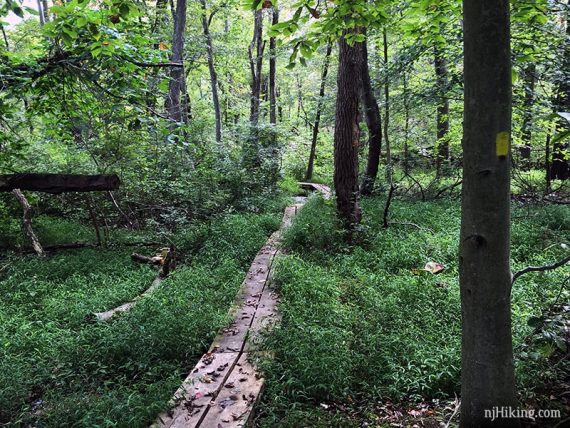 0.5 – Keep LEFT. [RIGHT is an inner loop of YELLOW].
0.7 – Turn LEFT.
/// Shorter option: 1.5 loop: Turn RIGHT instead and take the YELLOW loop back. ///
1.3 – At Fresh Ponds Road, turn left and cross the road, walk over the bridge, then turn right to get back on to the trail.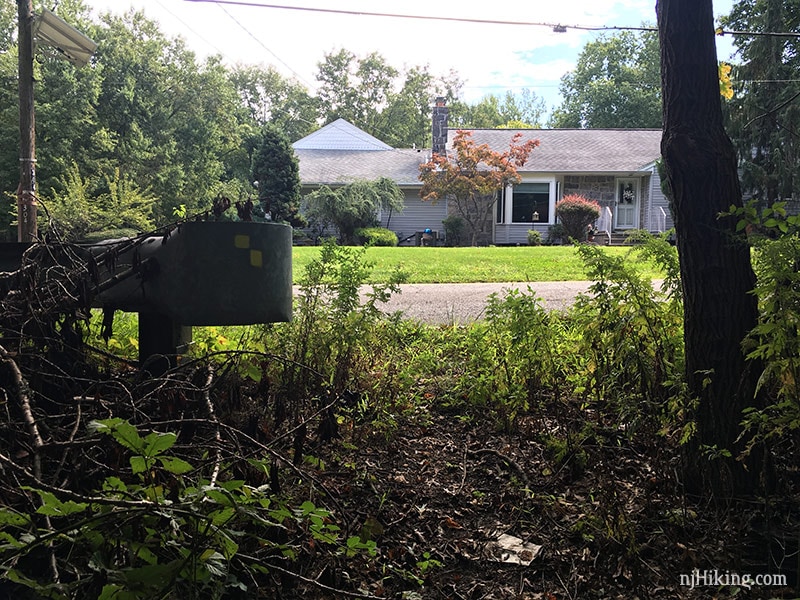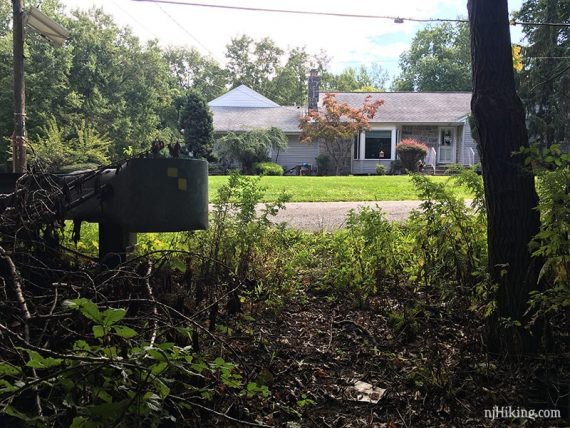 A few areas of the trail are overgrown when hiked in September 2019.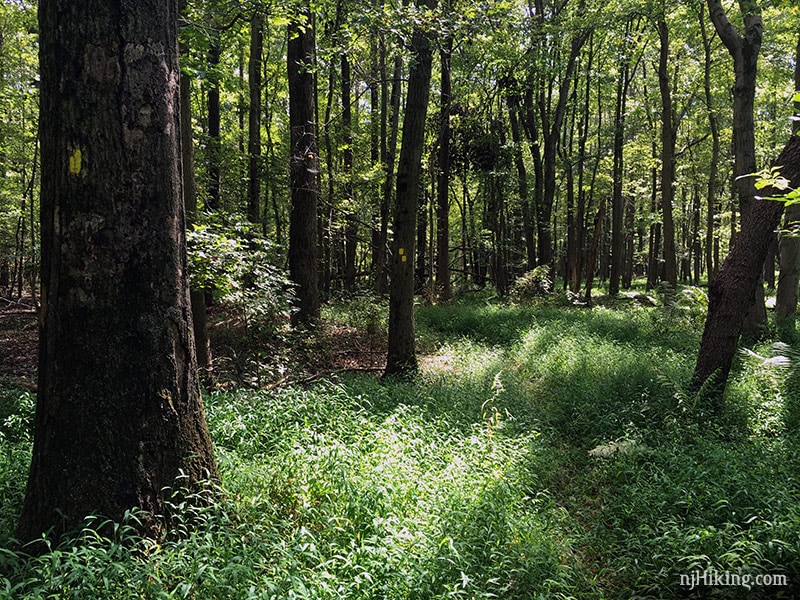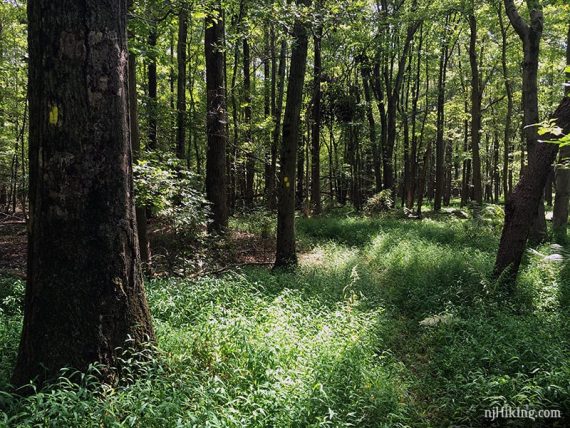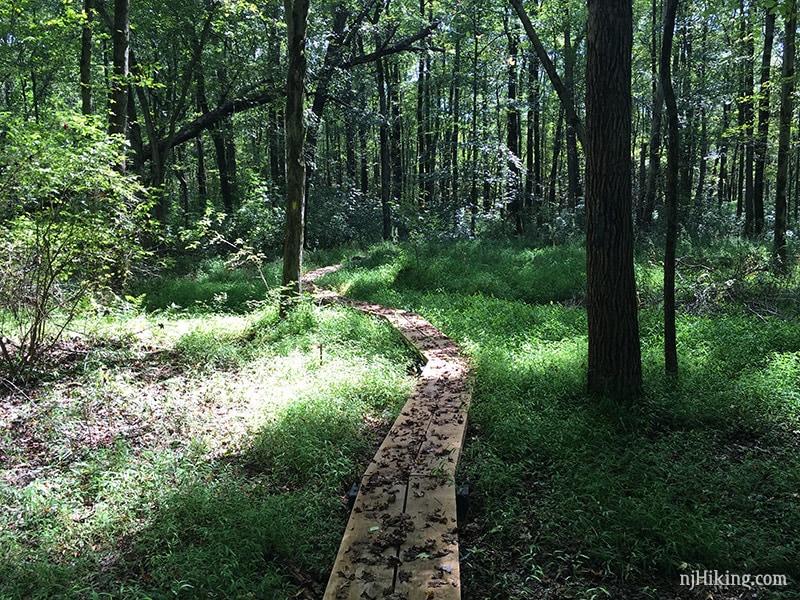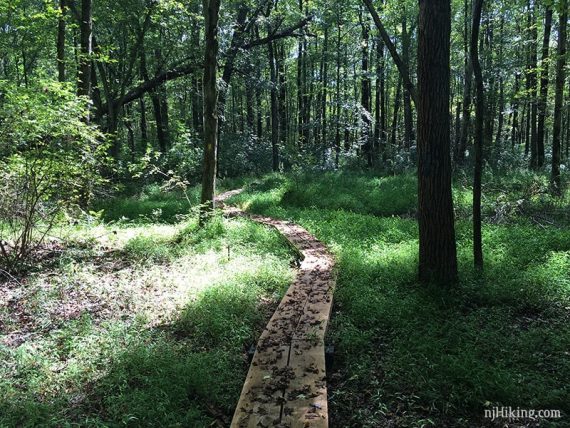 In January of 2021, this area had a newer section of plank boardwalk (puncheons) with pieces of shingle for grip.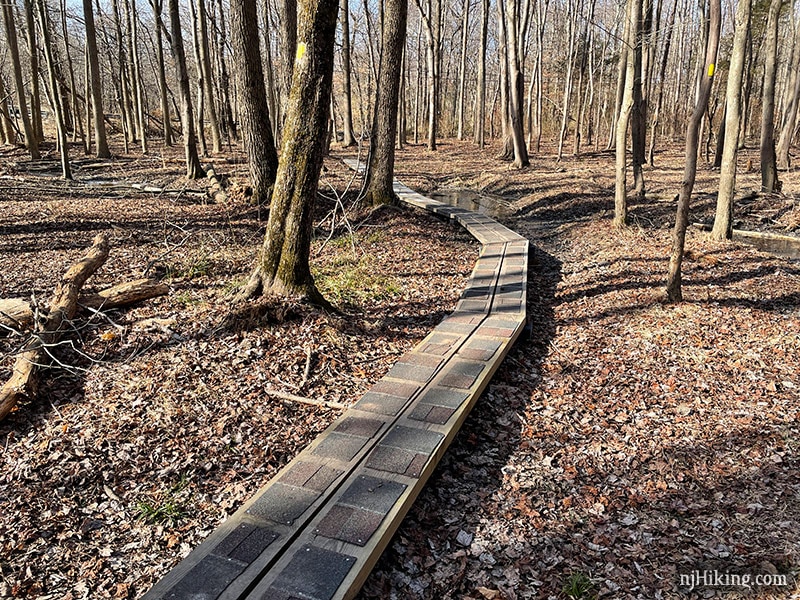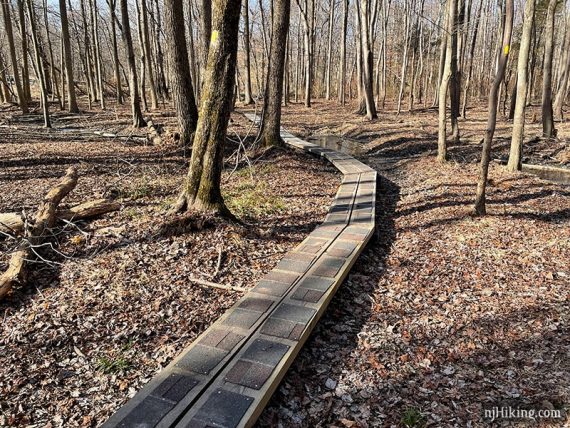 And then more planks and a new bridge.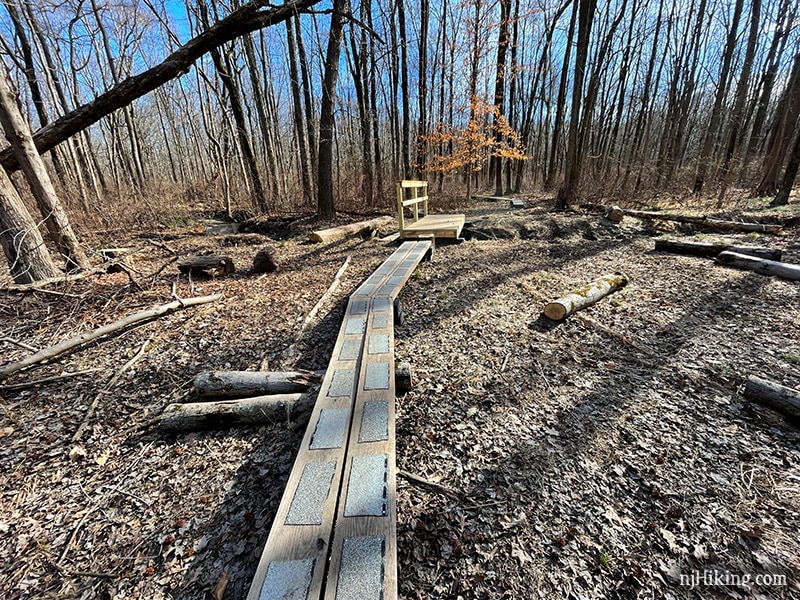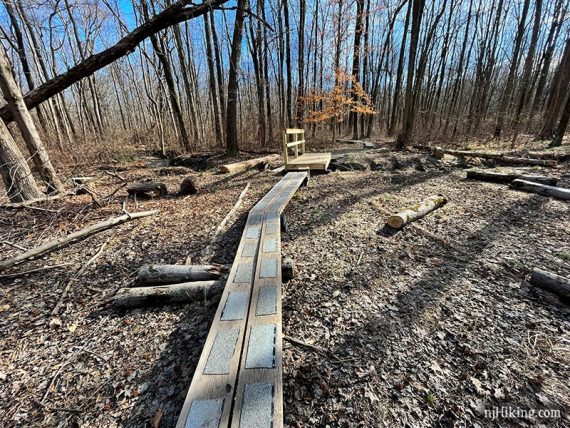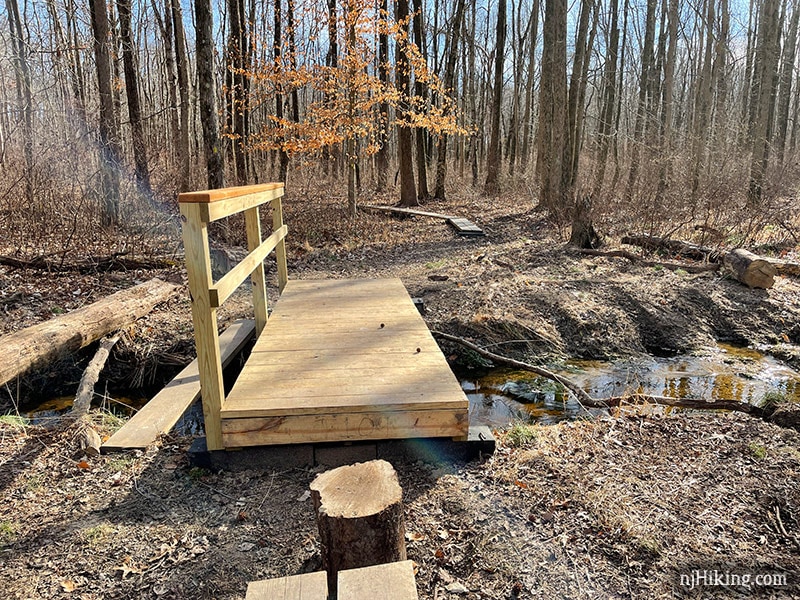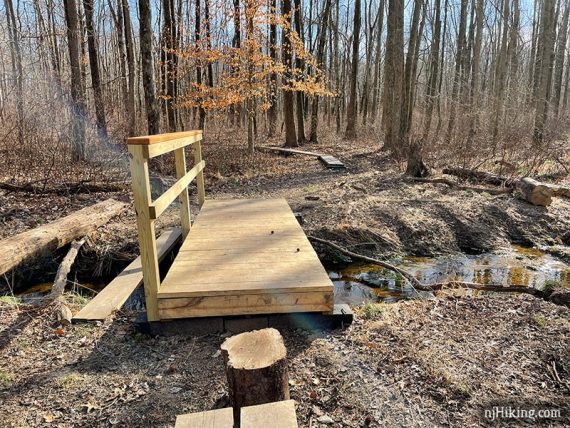 Pass a LARGE unturned tree with it's roots exposed.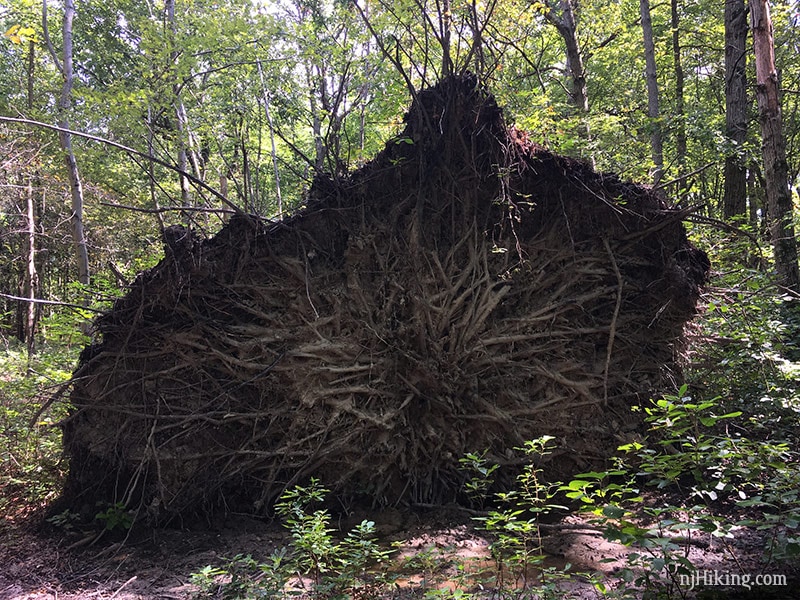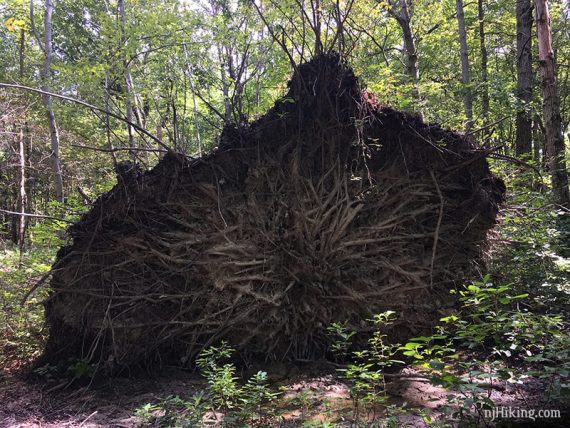 Walk along the edge of a farm field.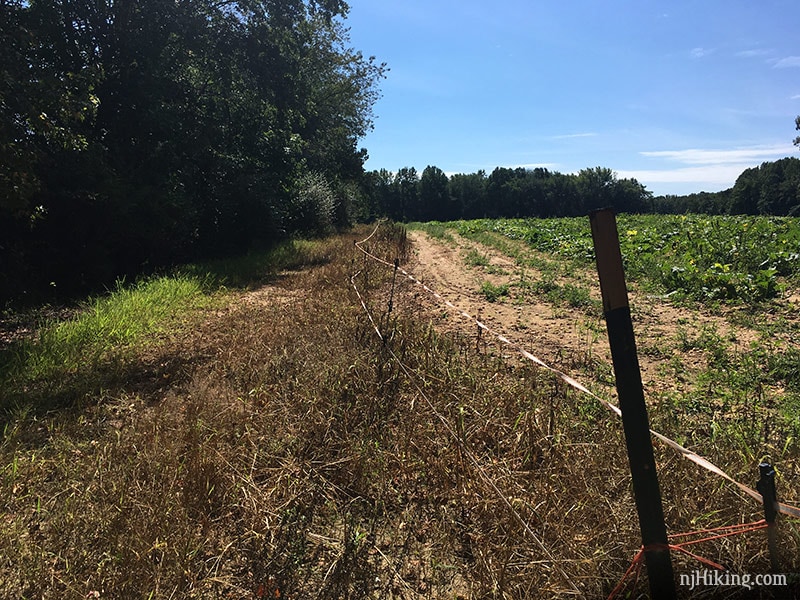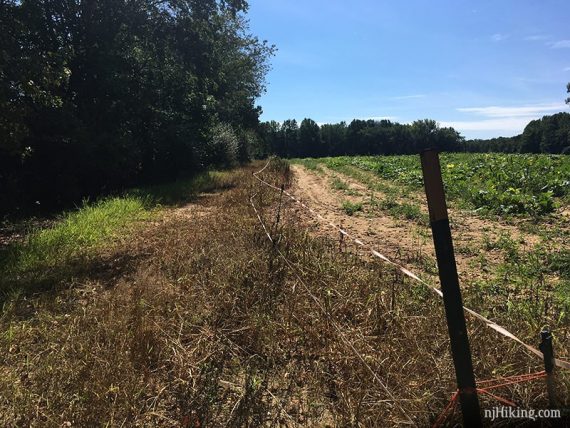 2.0 – Turn LEFT to now follow RED (Pseudacris Way).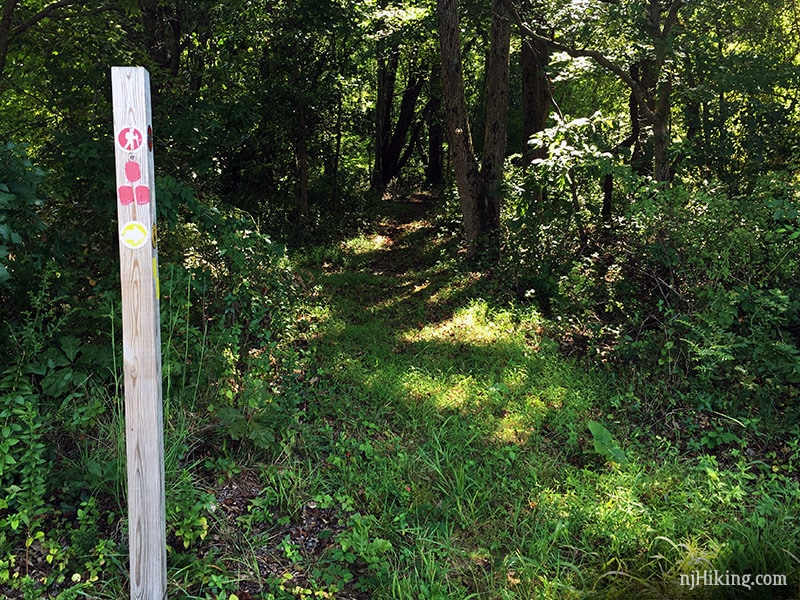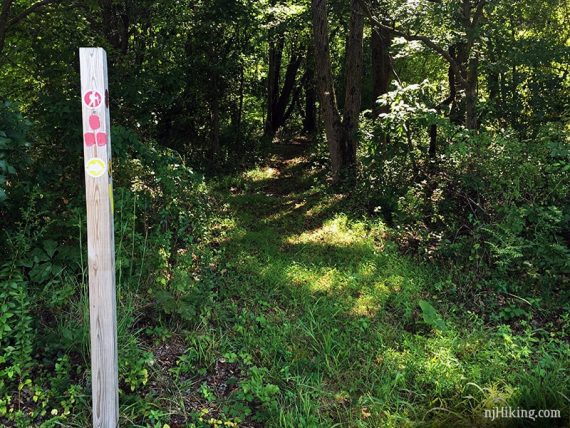 This is a very short trail that passes a small vernal pond.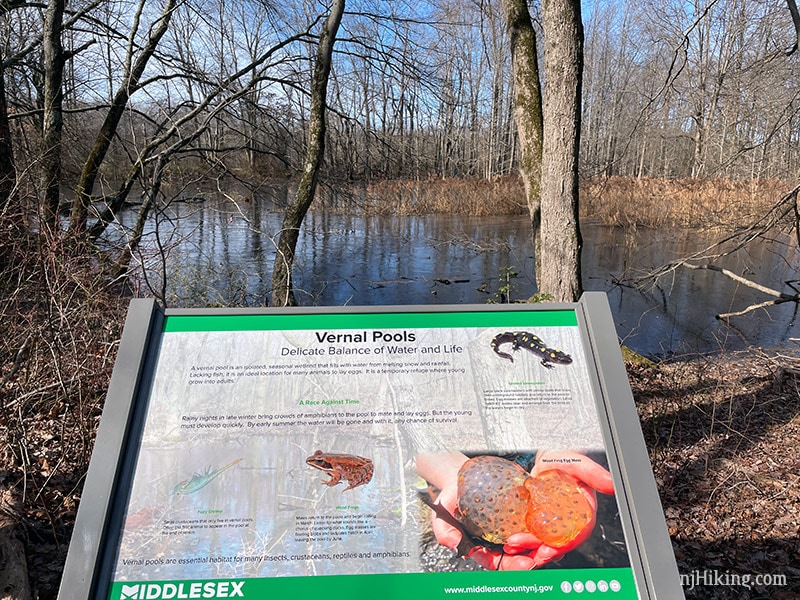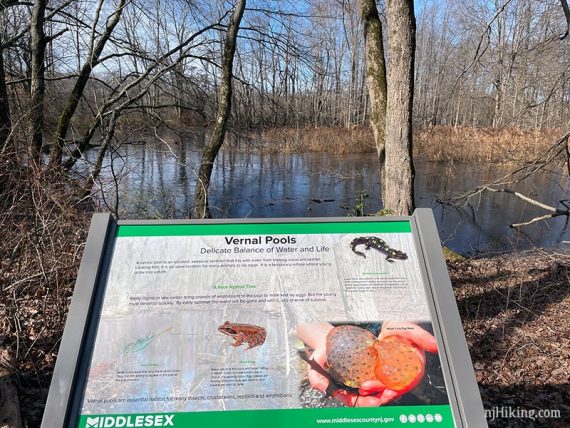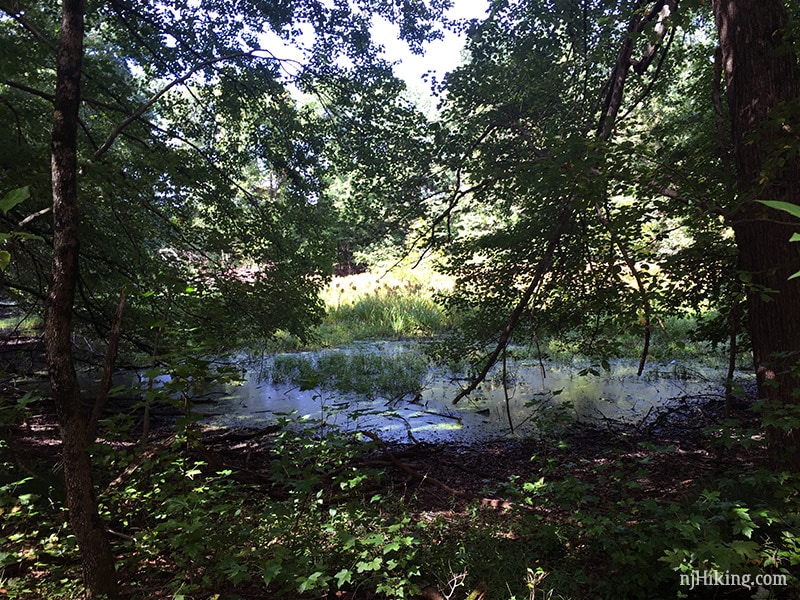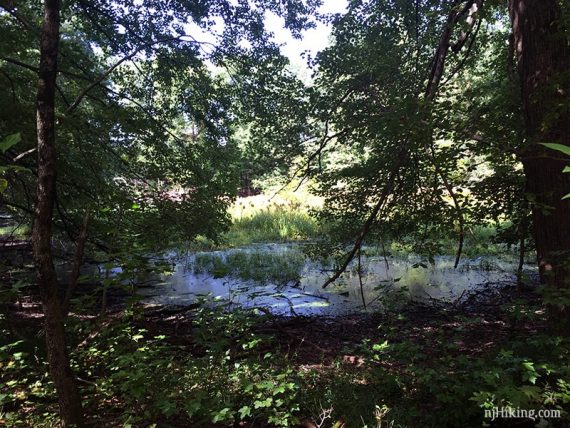 RED (Pseudacris Way) soon ends at another pond at the edge of a field. Retrace to the intersection with YELLOW.
[After the out-and-back on Pseudacris we continued on YELLOW to the right which leads to the parking area on Beekman. Unless you parked there it's not worth it… a dirt farm road basically… and therefore didn't include it here.]
Turn RIGHT to retrace YELLOW back along the field and all the way to the intersection for the shorter loop.
3.7 – At the loop intersection, turn LEFT to take a different way back. (No biggie if you miss this, you'll retrace your whole route back.)
Pass the inner loop of YELLOW on the right.
Pass through a short area that is mowed through a field.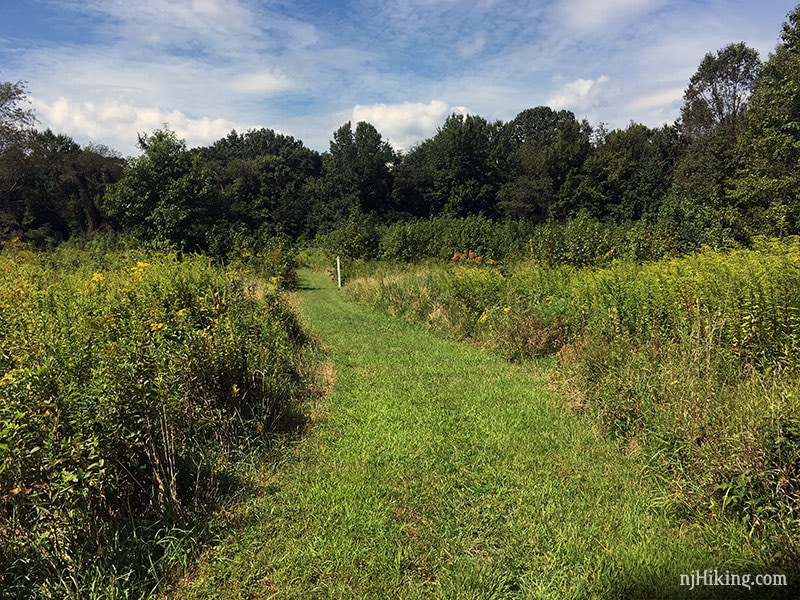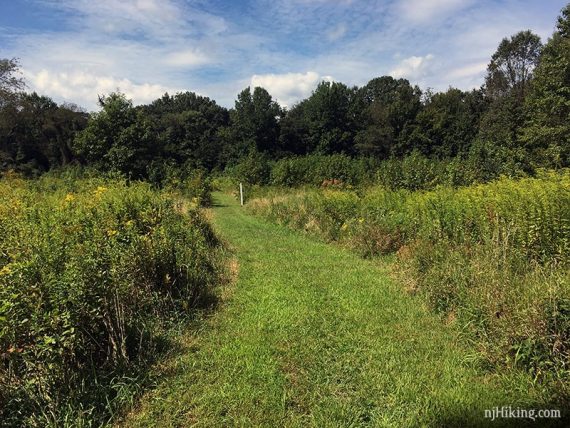 Eventually rejoin YELLOW from the start. Turn LEFT to be back at the trail head in a moment.
—
Hiked: 1/24/21. Ireland Brook, Pseudacris.
Hiked: 9/8/19. Trail Blog: "Ireland Brook and Pseudacris".
Hiked: 3/10/13. Trail Blog: "Ireland Brook and Forest Brook