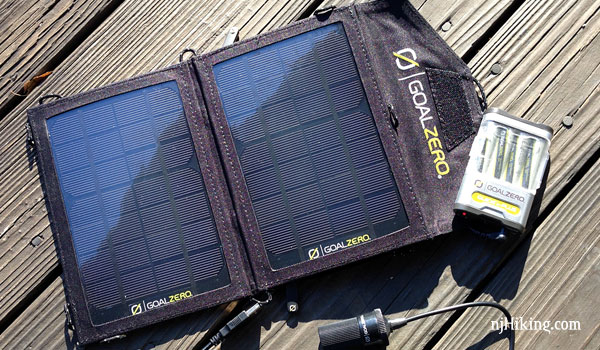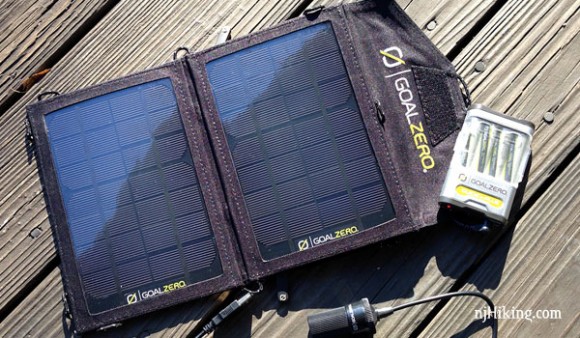 The Goal Zero Guide 10 Plus is a portable solar kit to charge phones and batteries on the go.
Note: This is our own purchase and was not supplied by any company for review.
Most people buy a portable solar charger for backpacking or camping.
But I wanted one as an option for charging phones and batteries if we had a long-term power outage (during both Hurricane Sandy and Irene here in New Jersey we were without power for about a week), or maybe even use it while on a road trip.
I also have a weak spot for gadgets and find solar power interesting (ever since getting a Radio Shack 75-in-1 electronic project set as a kid that had a little solar panel activator…).
So basically I was looking for an excuse to tinker around with harnessing the Power of the Sun.
My purchase criteria was pretty simple:
Around $100-120
Charge a phone and batteries, maybe top-up a tablet
Easy to use
Compact
After doing some research, the Goal Zero Guide 10 Plus seemed like the right choice. They've since updated the kit and there a variety of Goal Zero products now.
While it's not something we use all the time, it's been a worthwhile investment… and kinda fun to play with!
In the box
Guide 10 Power Pack
Nomad 7 Solar Panel
4 – AA rechargeable batteries
AAA adapter tray
Charging cord for the pack
12V cigarette adapter
All of this fits into a zippered pouch on the back of the solar panels and makes for a tidy little kit: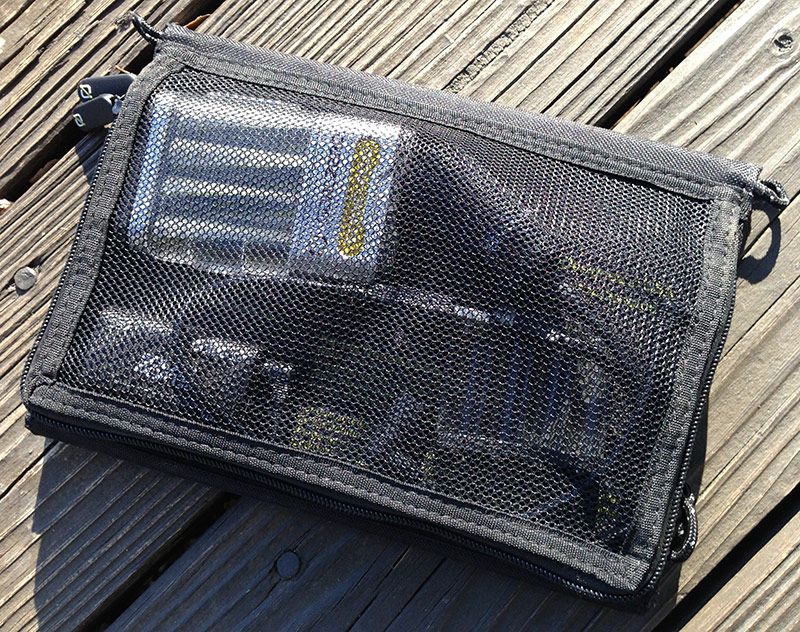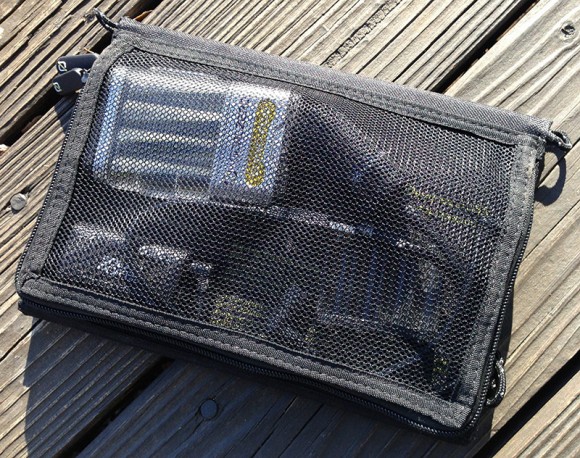 The Nomad 7 panel unfolded is 9″ x 13″ and 9″ x 6.5″ when closed: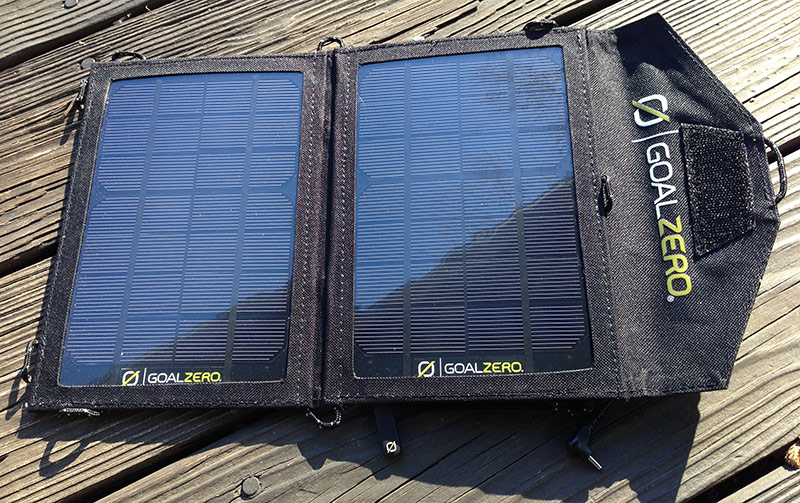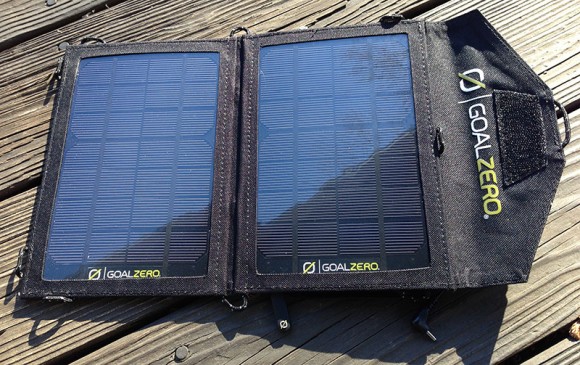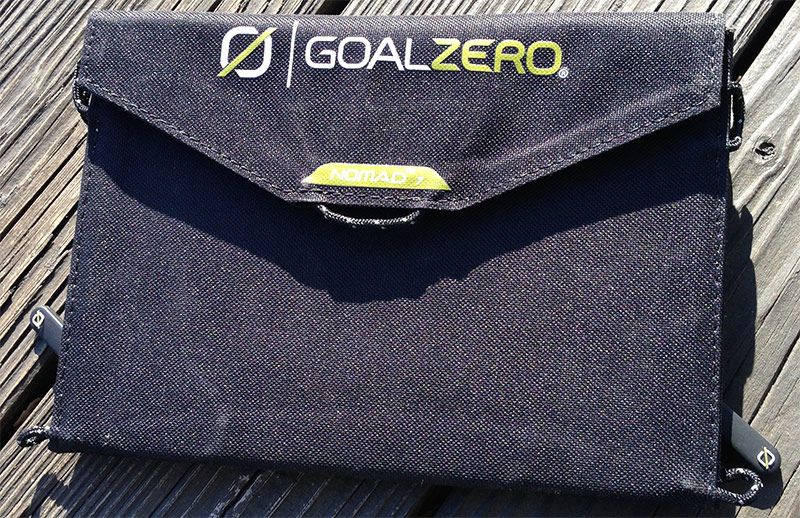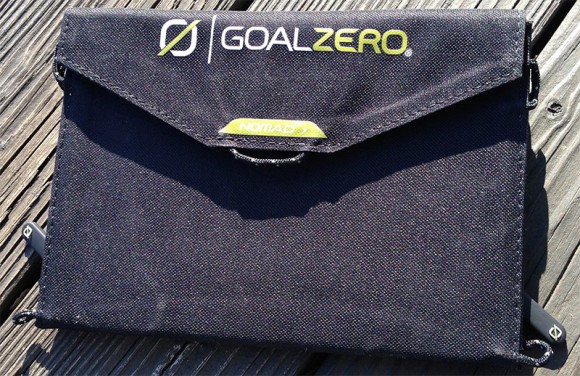 Using it
Devices can be powered directly from the Nomad 7 panels or by charging the power pack first and then using that to charge the device.
There are two ways to charge the Guide 10 power pack: via the Nomad 7 solar panels or USB.
Charging is faster via solar, but being able to charge the pack with USB is good if it's been really cloudy and you know you'll need it charged.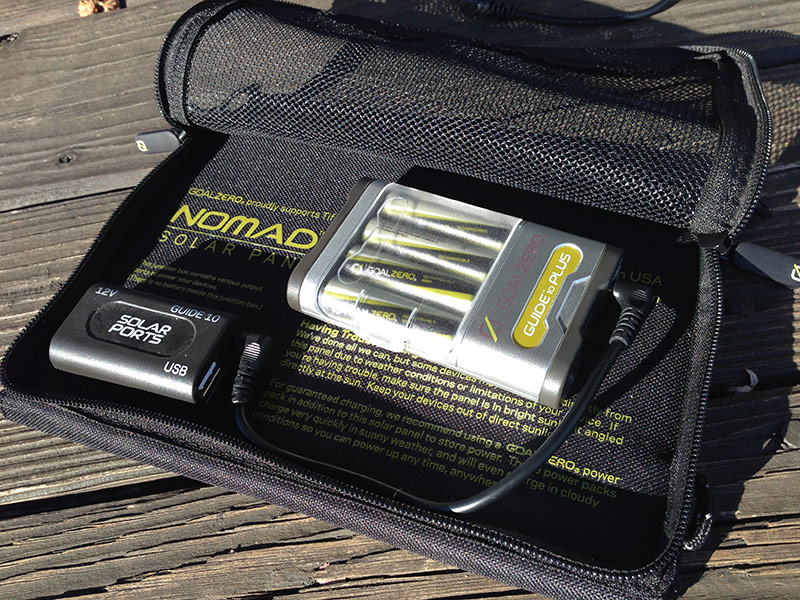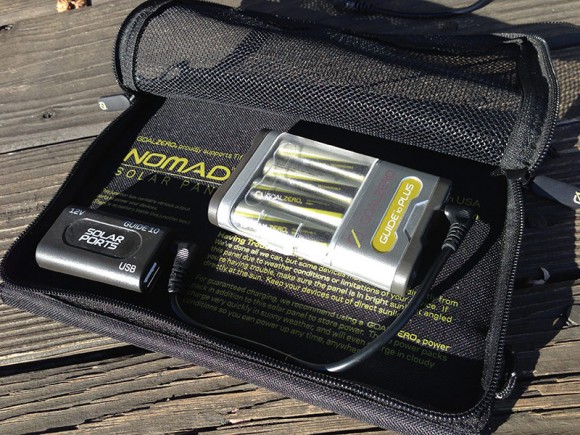 The Guide 10 power pack connects to a port on the back of the panel, inside the mesh pocket.
I usually set the solar panel on our deck sitting in full sun to charge the power pack until the green light is steady.
To charge, I just plug my iPhone into the USB port on power pack using the normal iPhone cable. It's that simple.
I can also remove the AA batteries for use in our flashlight or GPS (or if I've charged AAA, in our headlamps). Or I can wander around using the power pack as a flashlight.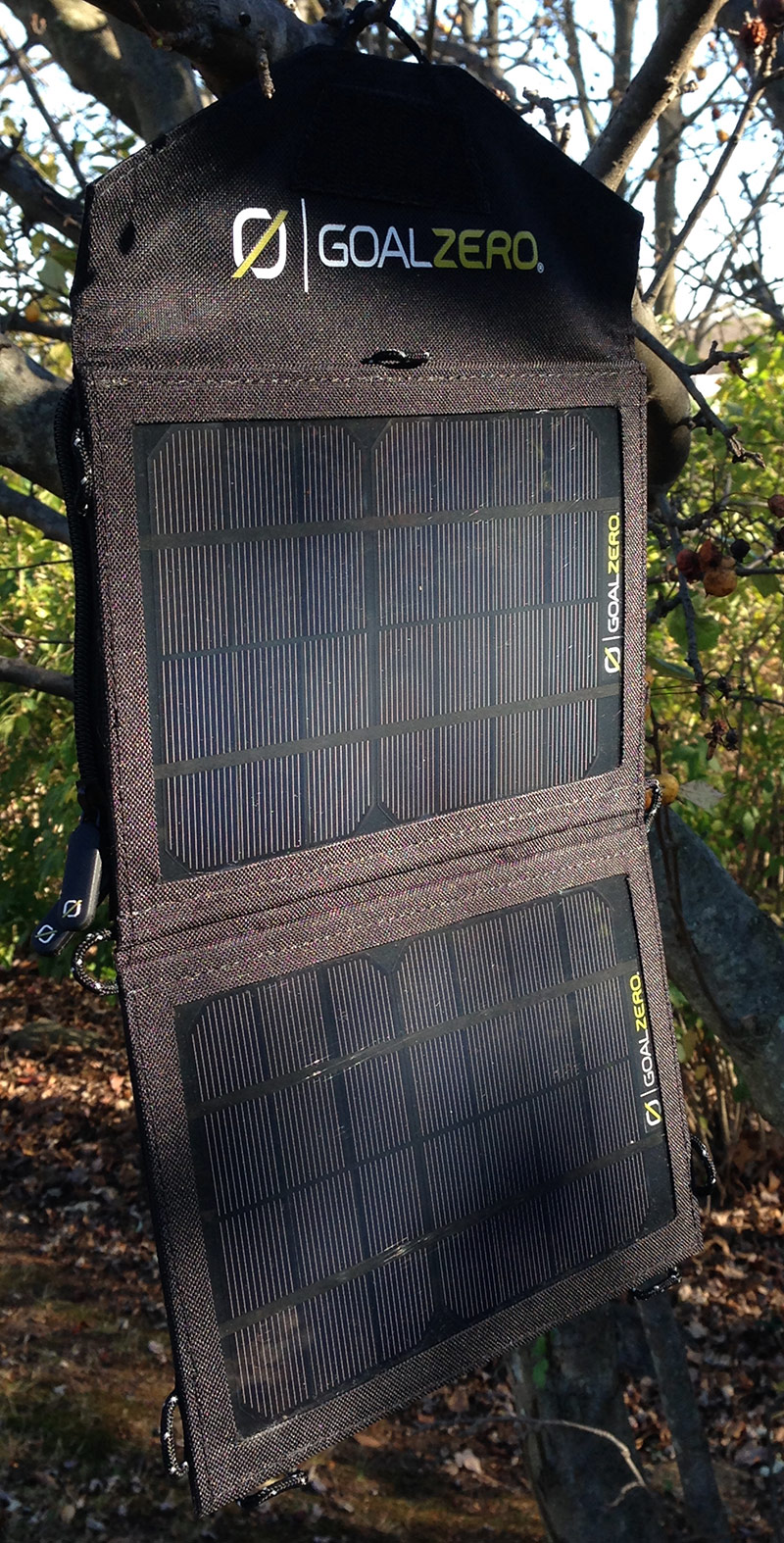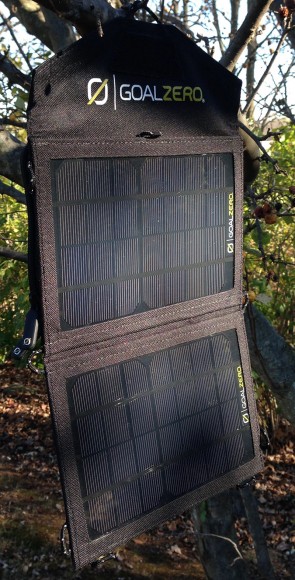 This kit is actually pretty flexible and has a lot of uses, here are a few videos for ideas:
Using the solar panel to charge a Go Pro and in a car, attaching the panels to a backpack, and a Guide 10 Plus general overview.
Results
Results of a few charging scenarios, your results may vary.
| | |
| --- | --- |
| Charging via Nomad 7 solar panels: | |
| Phone 5 from 50% to 90%: | 1 hr |
| Guide 10 Plus Power Pack from empty to full: | 2.5 hrs |
| Charging via fully charged Guide 10 Power Pack: | |
| iPhone 5 from dead to 100% (Power Pack still had charge left): | 2.25 hrs |
| iPad Mini from 45% to 55% (then the Power Pack was out of juice): | 45 min |
Pros
Best for small devices like phones
Well thought-out design, compact, easy to use
Multiple sturdy loops around the edge of the panel allow it to be hung up or strapped to a backpack… or pretty much anywhere
The power pack is also a flashlight
The flexibility of charging both AA and AAA rechargeable batteries
Cons
Some phones have difficulty being charged directly from the panels (which is not really needed, we always charge the power pack first)
It's not super fast to charge, but completely adequate for most needs
Not really beefy enough to fully charge a tablet.
Overall
While we didn't purchase this for camping or backpacking (we're day hikers), it would work well for that.
A Goal Zero Solar Charger is an easy way to charge a phone, a GoPro, or AA/AAA batteries on the go, and makes a good addition to an emergency prep kit.
—
Updated: 11/2020; 12/2019. Original Review: 11/2015.