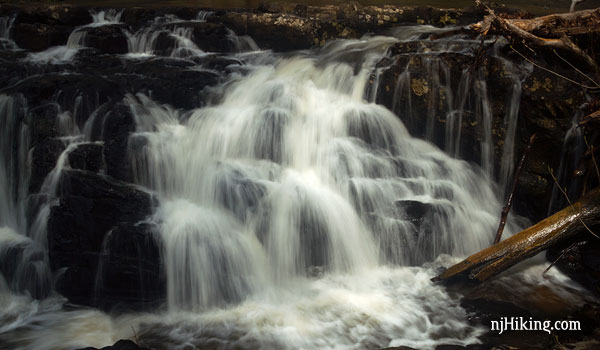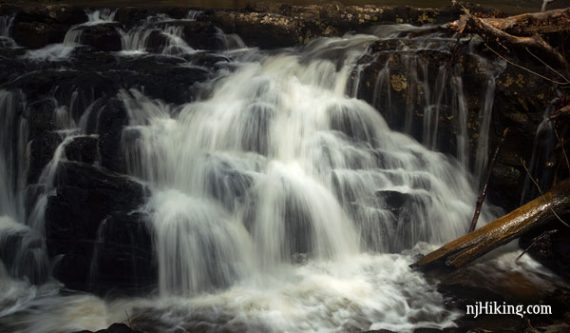 Short hike to a waterfall cascading over a rocky drop in Lockatong Creek.
1.8 miles, surface is roots and some rocks, and the beginning of the trail may contain deep, thick mud. Mostly level until a brief downhill just before the falls.
Longer: Drive 10 min for another short hike to Kugler Falls.
Hike Info:
Our two cents:
Decent sized waterfall payoff for a short hike – just be aware that the trail was incredibly muddy for awhile before drying out into a normal trail.
We hiked this after recent rain (the best time to see any waterfall…) so your results may vary on the mud. Conveniently, there was a large puddle in the parking lot to rinse our boots.
Updated: 7/2021 – Page refreshed, not re-hiked. Adjusted parking link to the turn for the driveway instead of down at the lot; Google was missing the turn.
---
Map:
Print ahead, nothing at the trailhead.
---
Lockatong Preserve. 235 Kingwood Stockton Rd, Stockton, NJ 08559. On Rt 519 in Kingwood Township, about 1/4 mile from the Kingwood Township Methodist Church. Turn at the Lockatong WMA sign at the entrance.
Continue down the long dirt driveway with a few pot holes. The parking lot is a circular dirt area for the Lockatong WMA: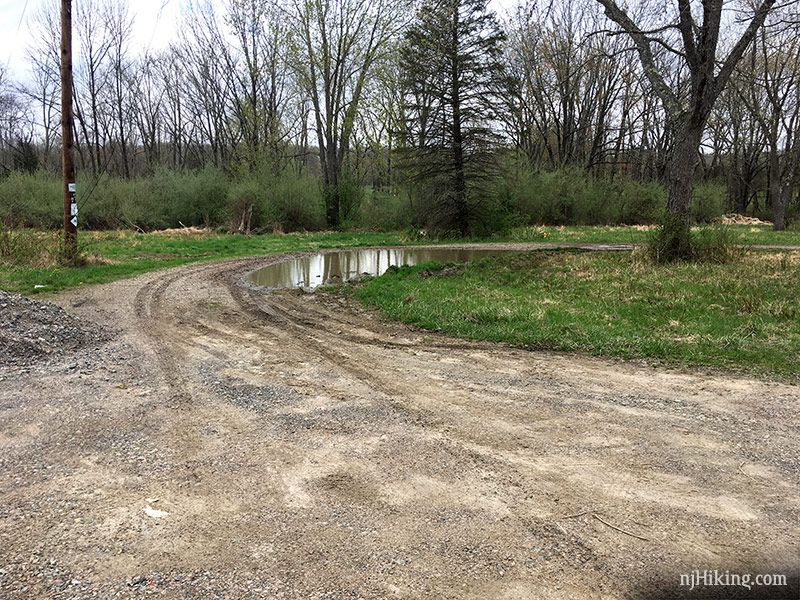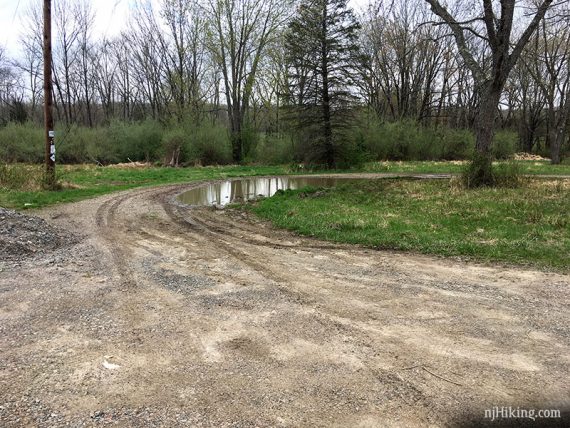 ---
Restrooms:
None and the immediate area is mostly houses/farms.
If coming up Rt. 29 there is the town of Stockton, and Prallsville Mill's has restrooms back by the D&R Canal Towpath. Further out, Rt 29 also has Bull's Island Rec. Area park office or the Washington Crossing parking lot.

---
Hike Directions:
Overview: WHITE out-and-back
0.0 – The trail starts towards the left if your back is to the main road.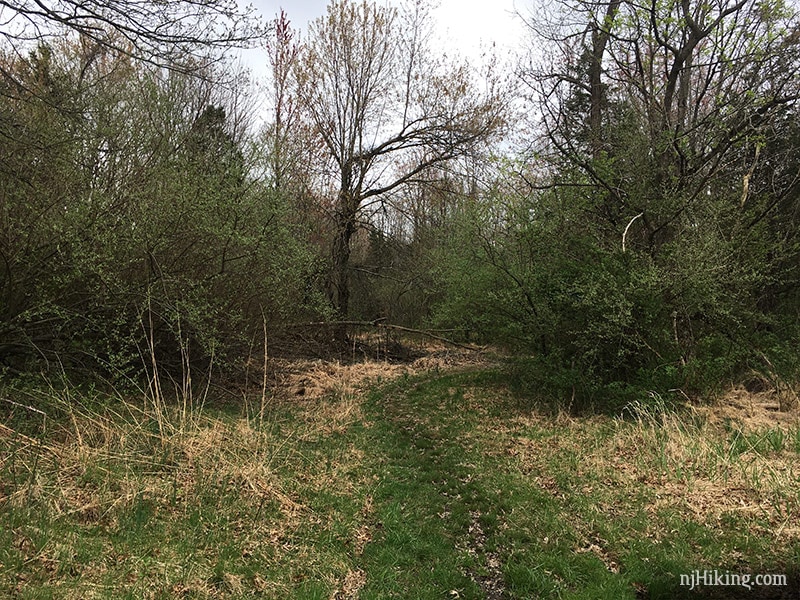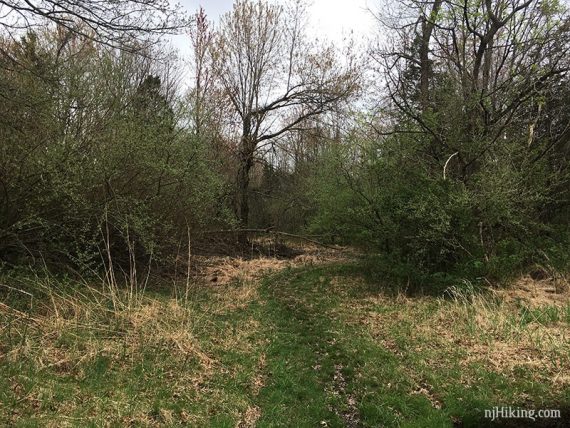 Shortly, keep straight, passing a branch of the trail on the right.
Note: The map shows the trail is a loop but when we tried going to the right side in the beginning it was so muddy and overgrown we bailed and kept straight to do it out-and-back.
Keep following WHITE, possibly through mud, roots, and fallen branches before it turns to a regular trail.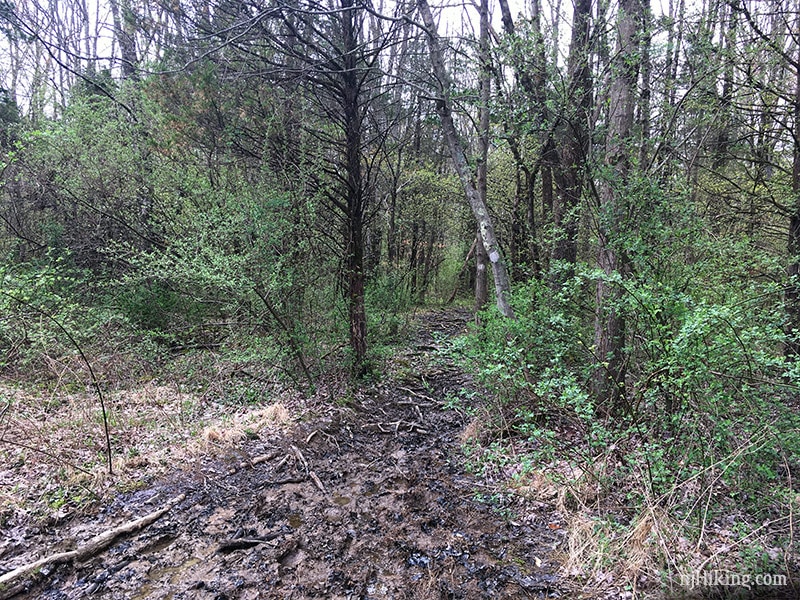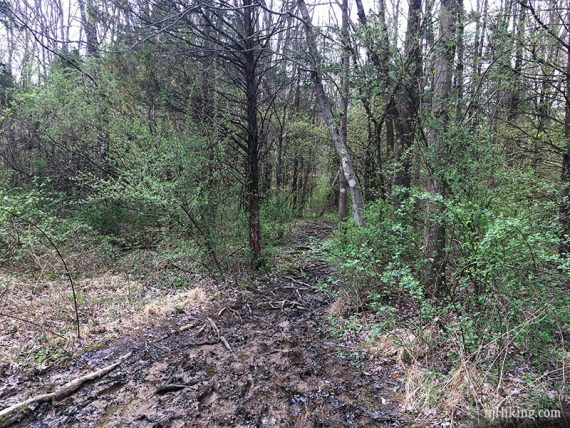 Muddy section, keeping in mind it had recently rained.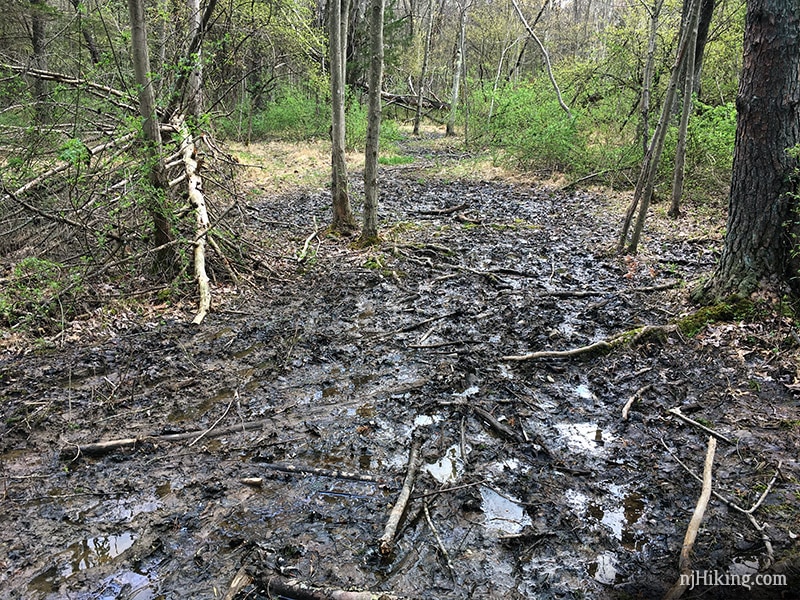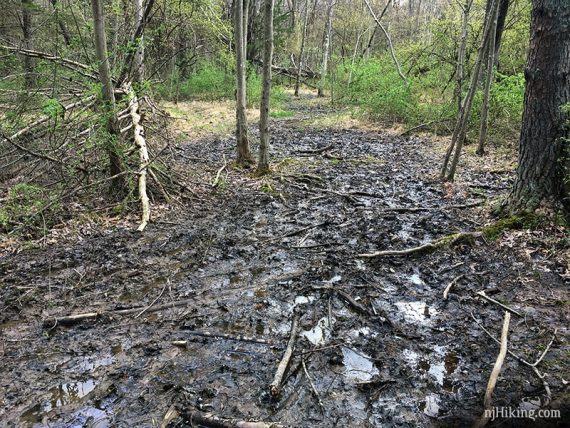 The muddy and torn up trail continues a bit.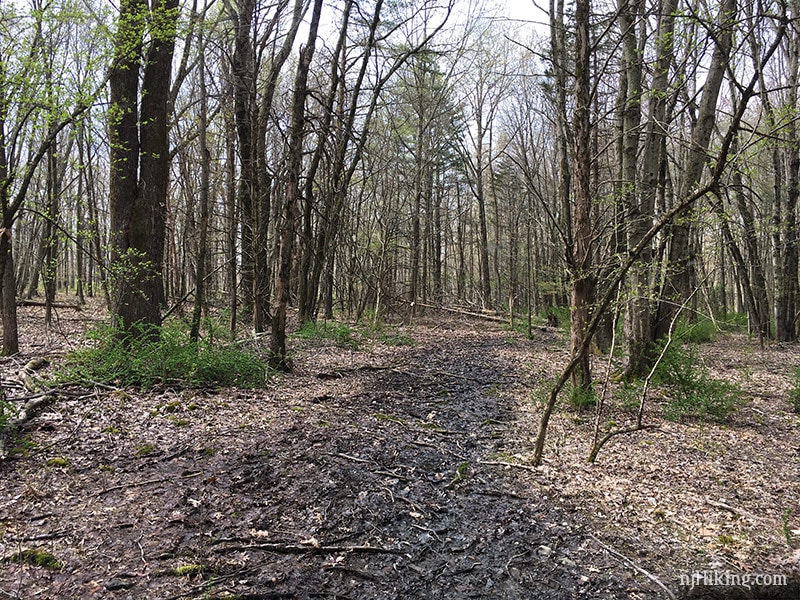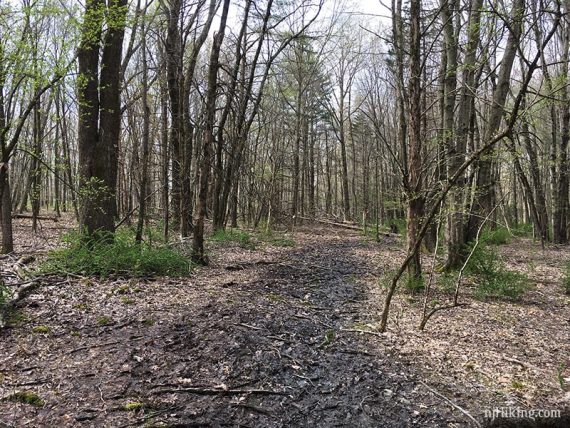 After the muddy section the rest of the trail was dry.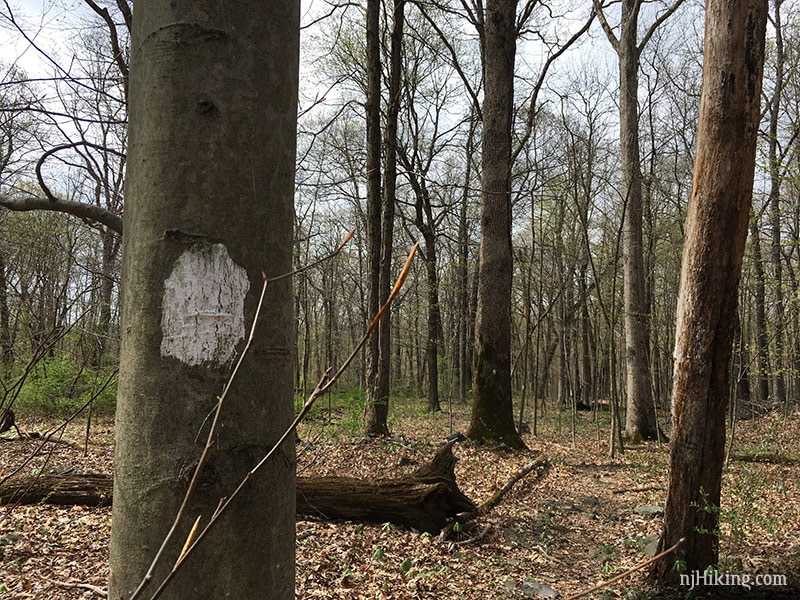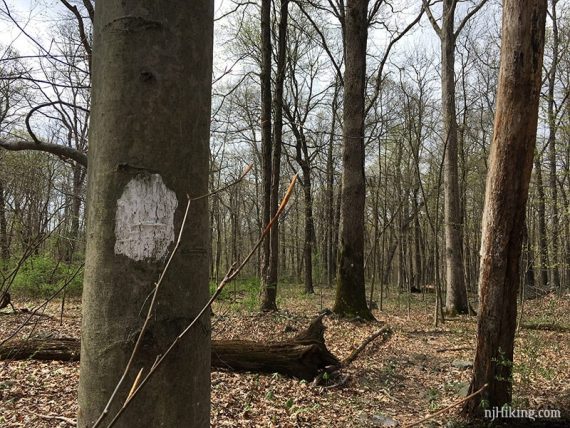 Start to hear the falls as the trail slopes downhill.
0.9 – The falls are below the trail.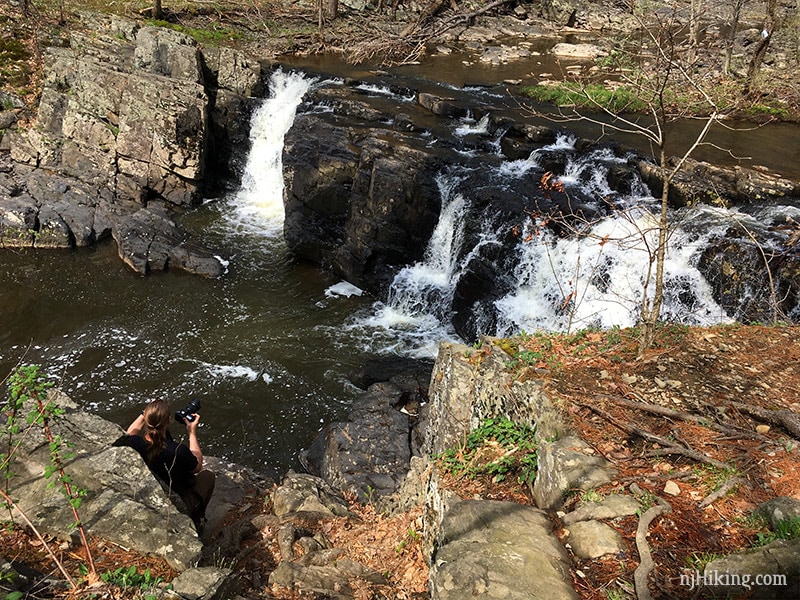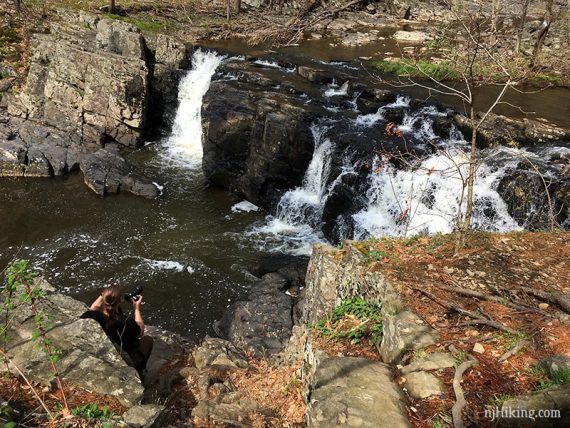 Close up of the falls from above.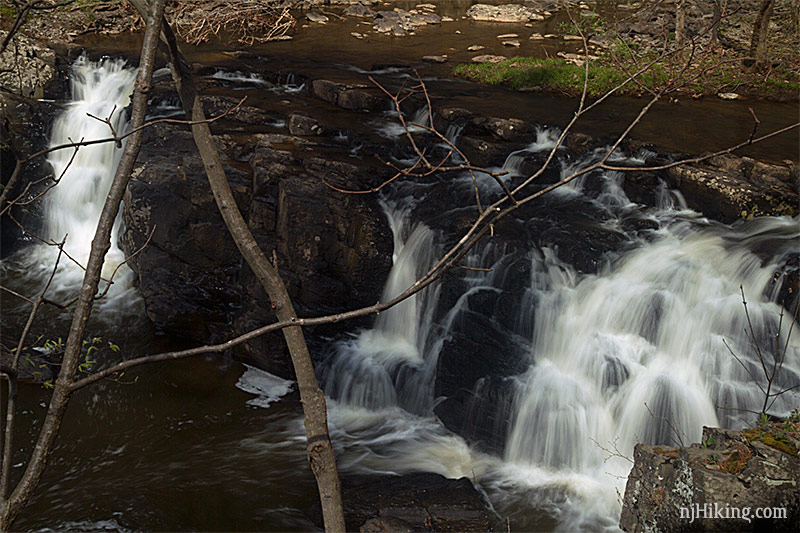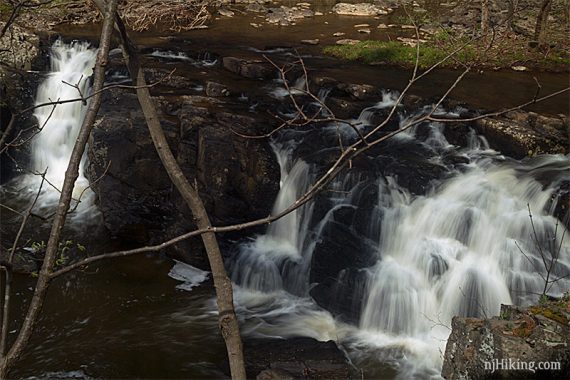 There's an area to carefully scramble down for a closer look.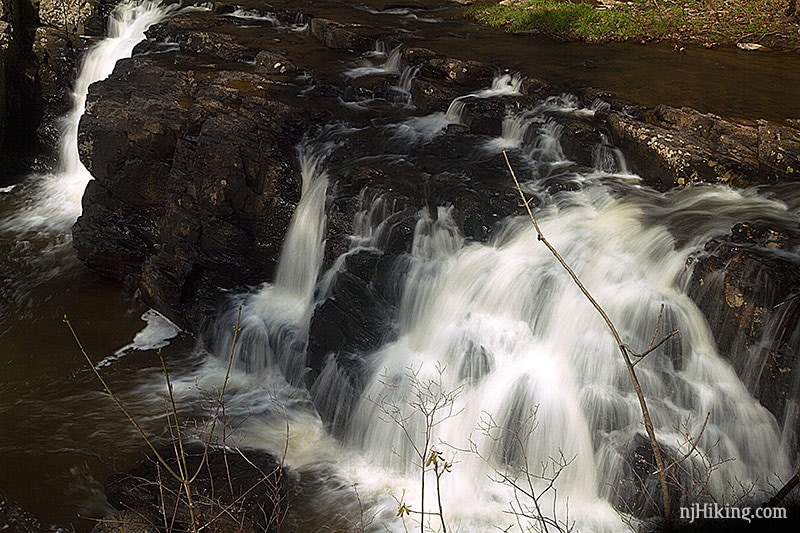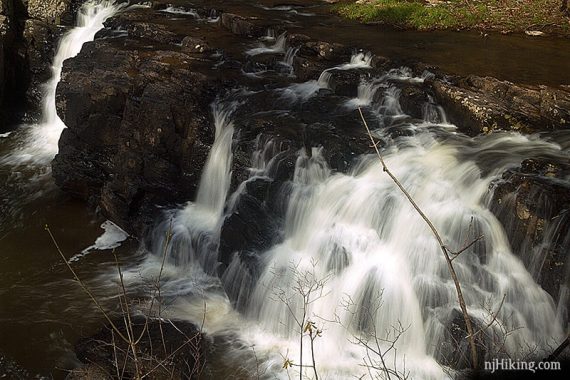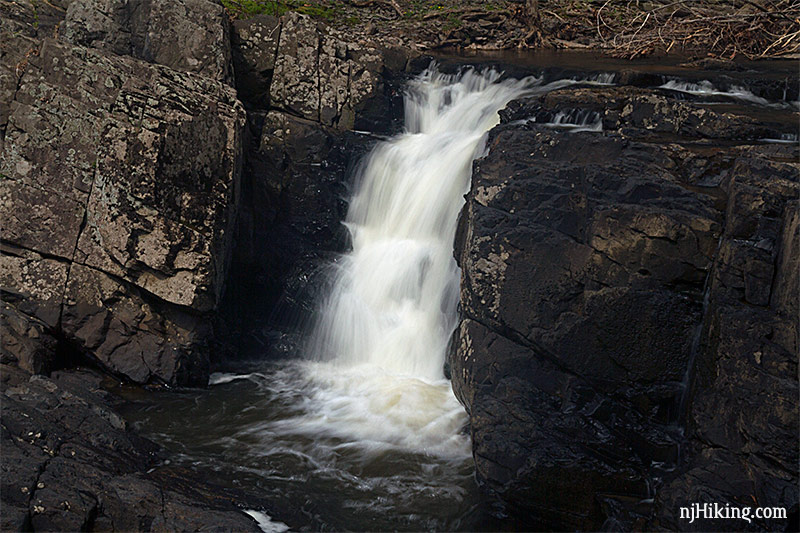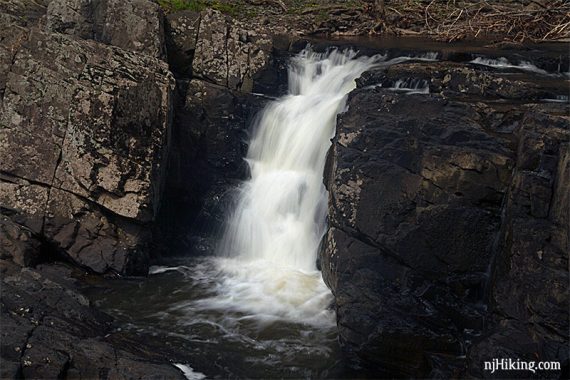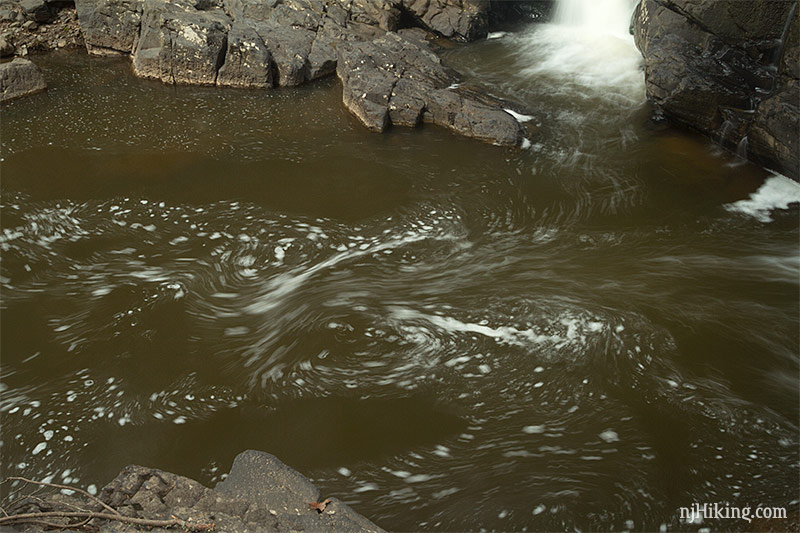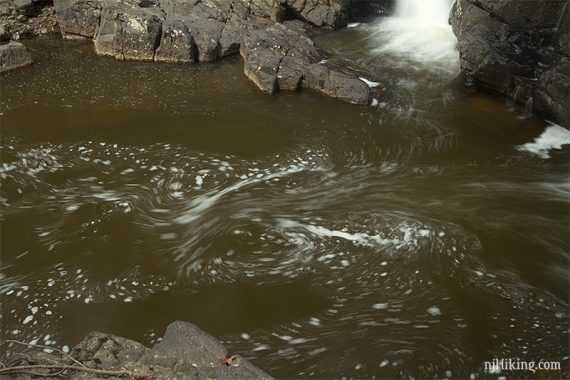 This very short scramble down gives a closer vantage of the falls.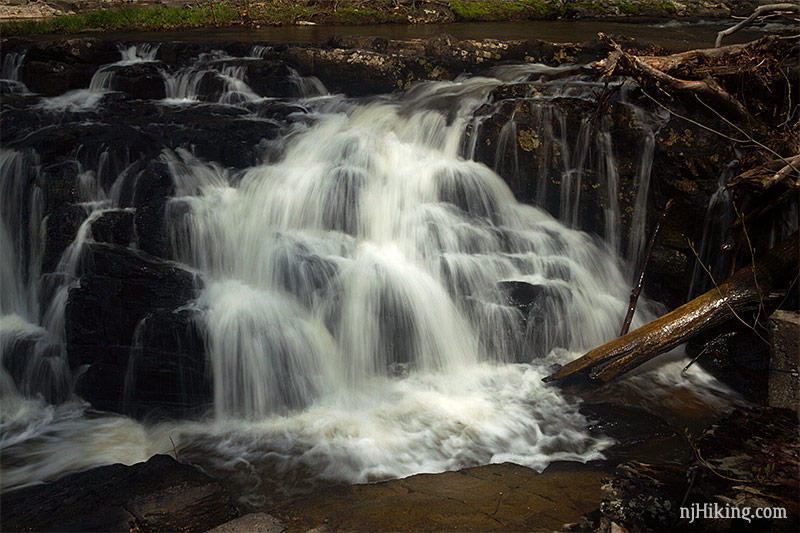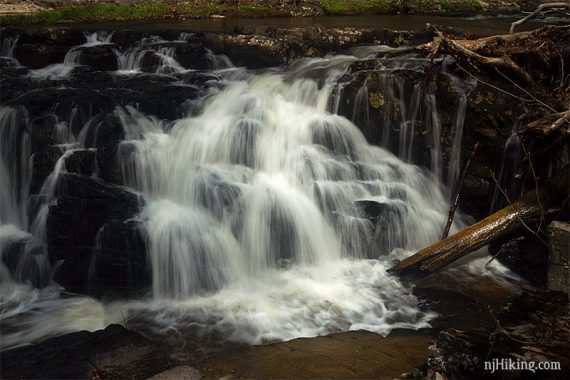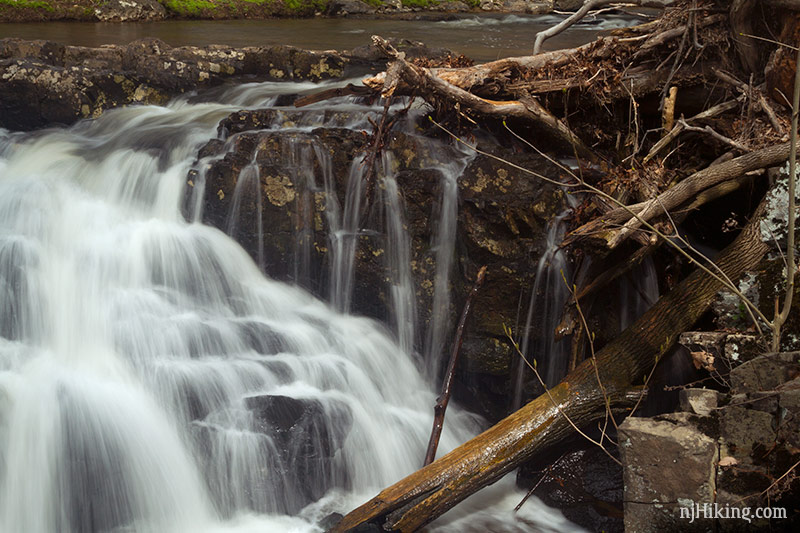 There are many little cascading areas over the falls.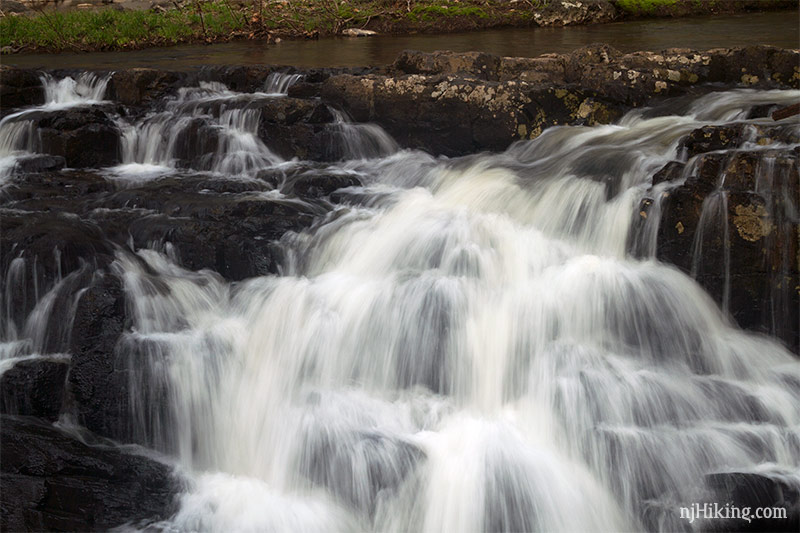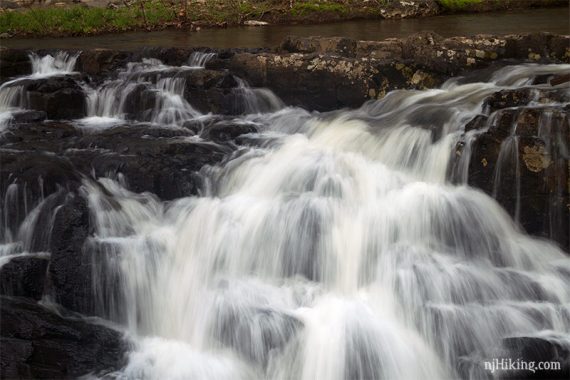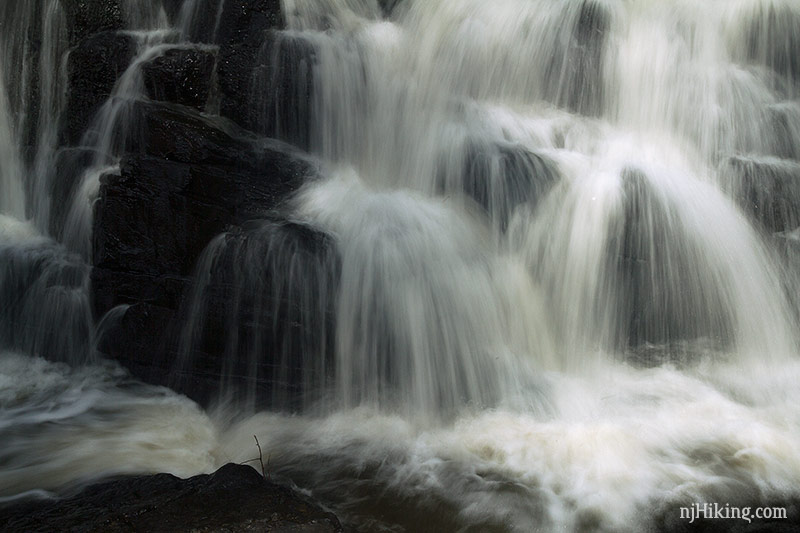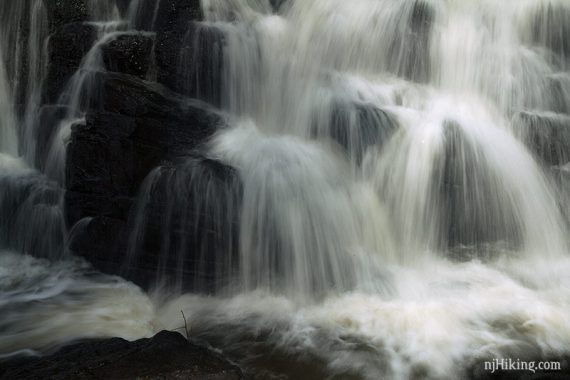 Looking to the right, upstream above the falls.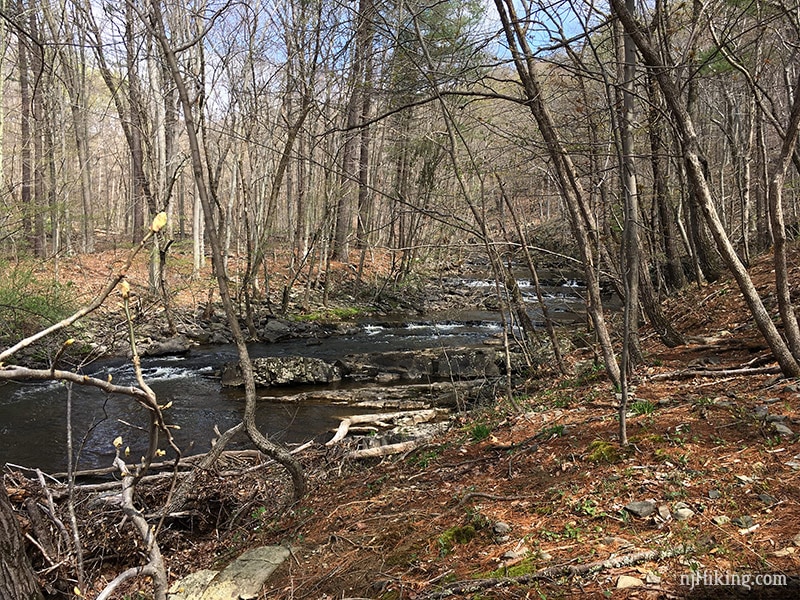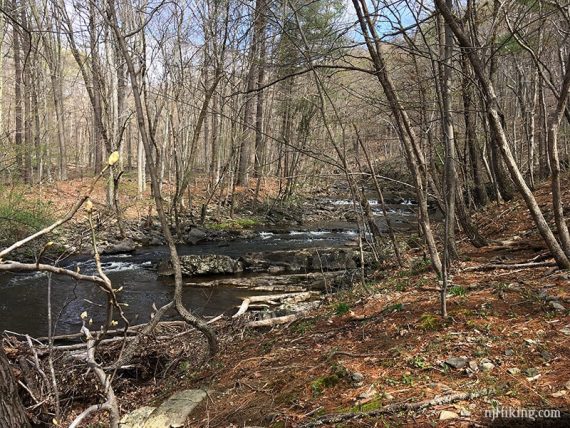 There are small cascades in the stream as well.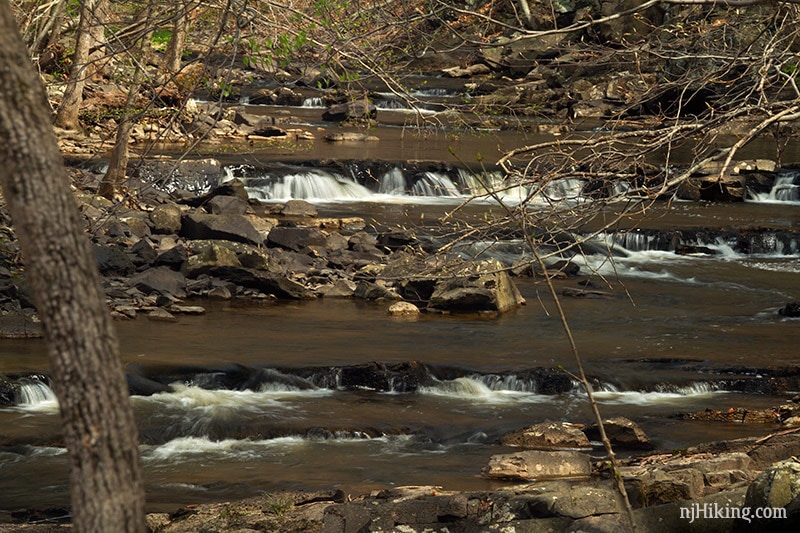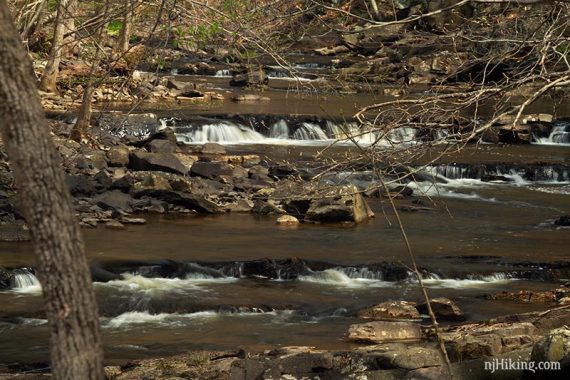 Looking to the left, downstream.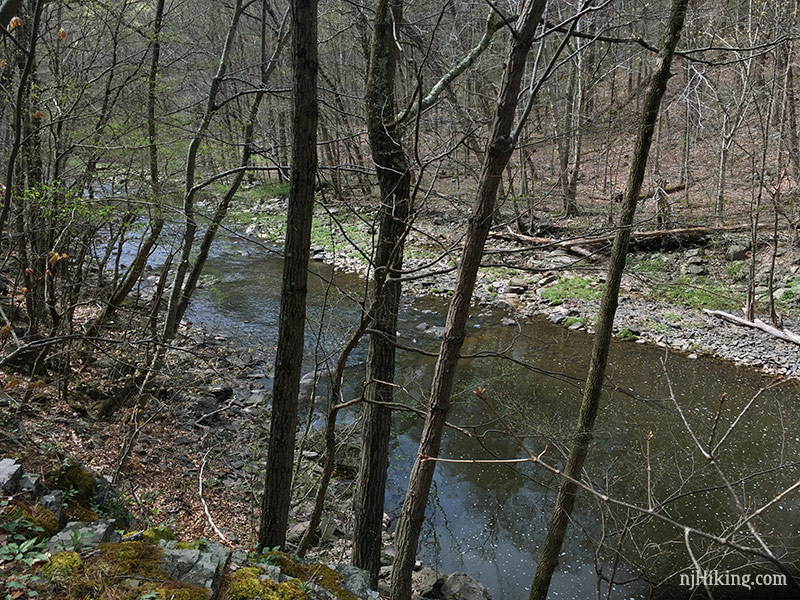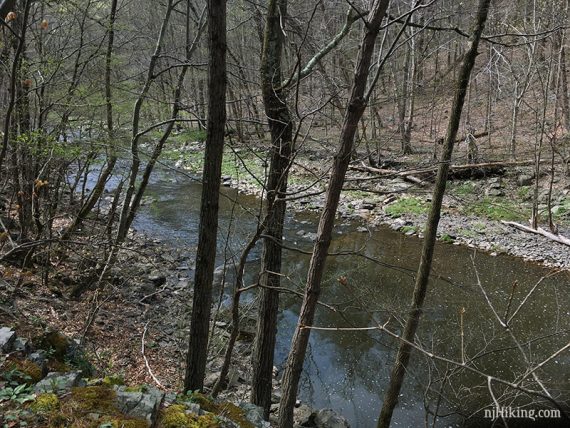 Retrace the route. Optional: Try taking the other side of the loop back.
Our boots at the end of the hike: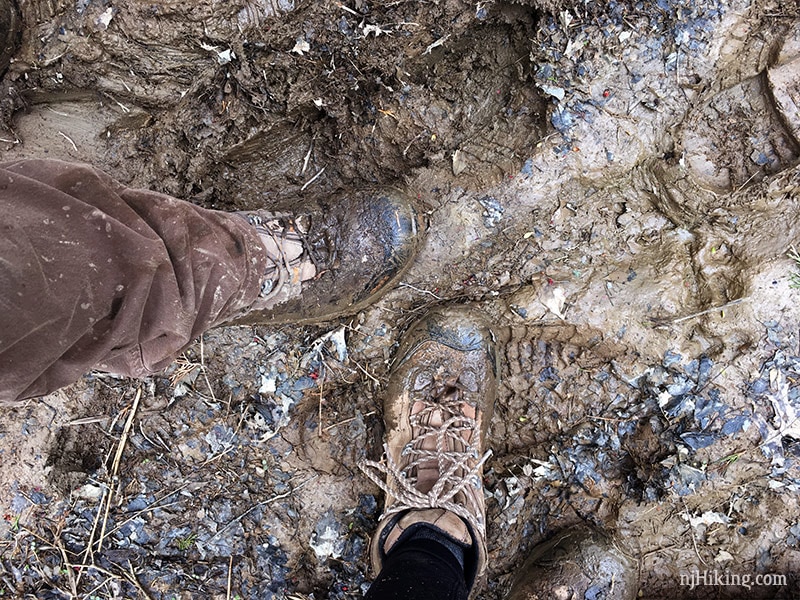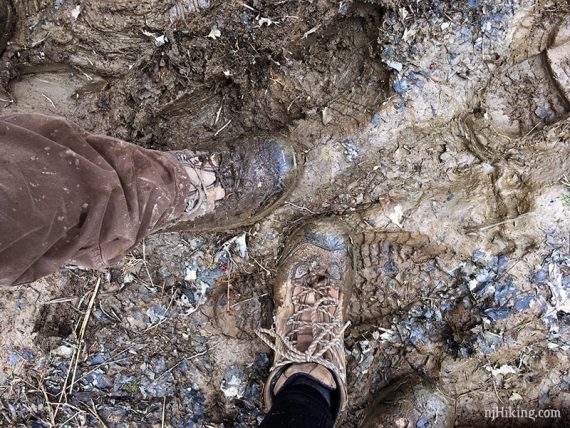 —
Hiked: 4/19/19.