The Camelback M.U.L.E is a compact, lightweight day pack with a 3 liter water reservoir that is good for hiking, biking, and travel.
We look for gear that is as multifunctional as possible.
While the Camelbak M.U.L.E pack is marketed to mountain bikers, it works well for day hikes and even as a carry-on/travel bag.
Note: Newer but similar versions of this pack are out now. The original M.U.L.E. Hydration Pack may also be available.
Size
The M.U.L.E manages to get the balance right: big enough to hold 3 liters of water and gear for a full day on the trail, but narrow in width, lightweight, and not bulky.
I did some minor scrambling without it getting in the way or shifting around.
This particular pack seemed to not be overly long or as large as other bags in this class and that factored into our choice.
We originally were sharing the pack – I was using it for hiking/travel while Tom is using it for biking rail-trails – but after a few months I liked it so much I totally bogarted it.
Now it's my main pack and all mine. Sorry, Tom.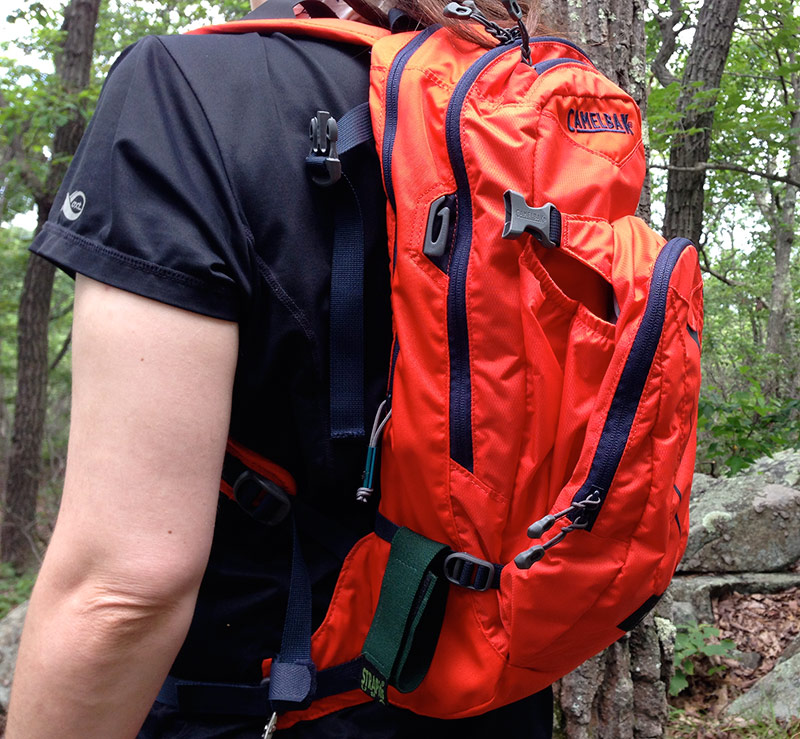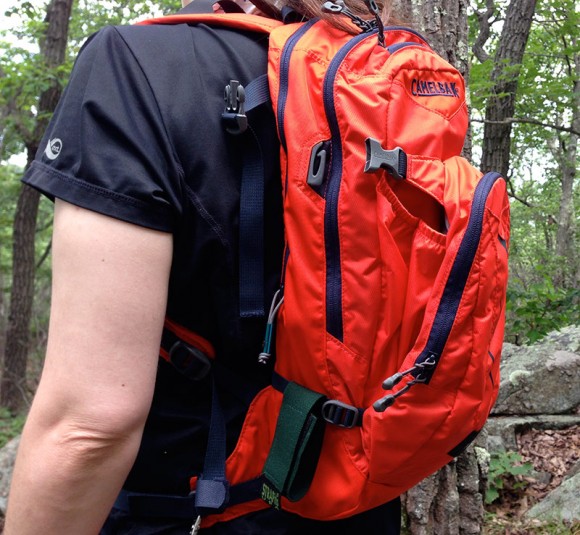 The pack straps are a tad wider than I'd like. Women may want to look into gender-specific packs (Camelbak makes them, but not in the M.U.L.E).
A nice feature are small Velcro tabs at the end of the shoulder adjustment straps… roll up the extra and secure it with the tab – no more dangling straps!
Water Reservoir
The reservoir compartment zips open 2/3 of the way and has a shelf to hook the included 3 liter (100 oz) Antidote water reservoir on so it doesn't slide down into the bag.
The hose pokes out a hole in the top of the pack, and can be secured to either shoulder strap.
It felt a little short, and sure enough the length is about 3-4″ less than our other bladders.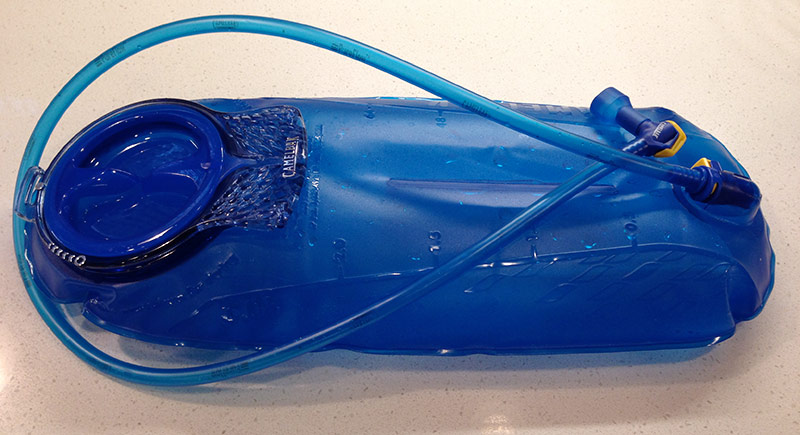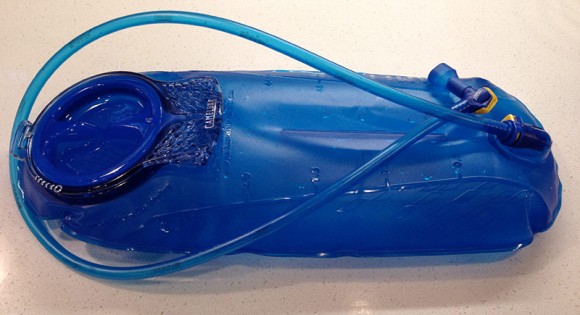 Unlike our other bladders, the hose can be easily removed from the bladder for cleaning and the cap has two plastic fold-out drying arms to prop open the bag.
(Tip: store your clean, dry, bladders in the freezer to prevent them getting funky).
For travel, the reservoir compartment could fit an iPad or similar tablet.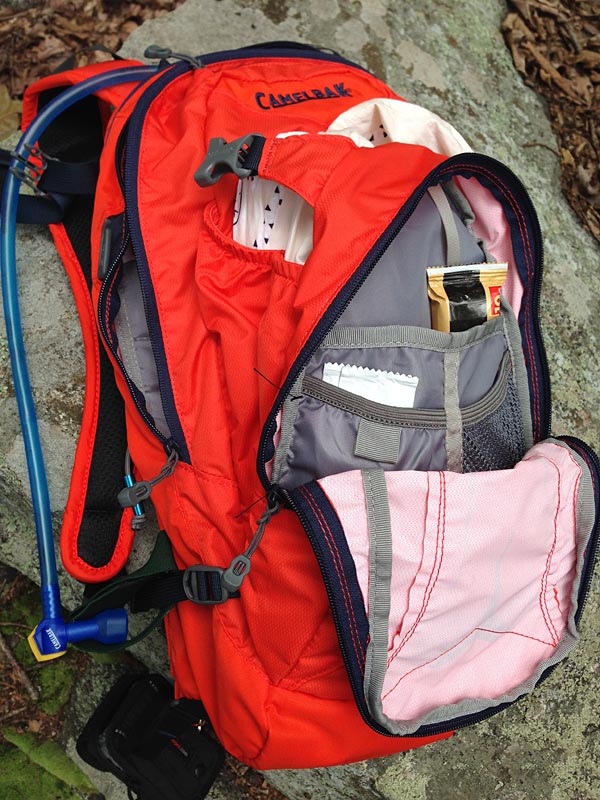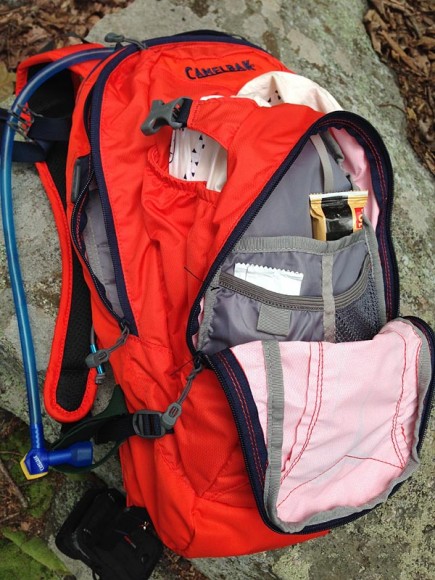 Organization
In front of the reservoir area is the main compartment that can hold a lightweight layer, first aid kit, winter traction aids etc.
In the middle is a stretch pocket with straps to adjust how open it is.
This is terrific to stuff gloves, a hat or even a lightweight layer – anything you might want quick access to. It cinches flat when empty.
There are two outer zippered pockets. The smaller one at the top fits a phone, tissues, or sunglasses etc.
The larger outer pocket is divided into compartments and includes a key clip.
This is good for energy bars, a compass, small items, and my ever present container of Ibuprofen (hiker's "Vitamin I").
This level of organization makes it viable to serve as a small carry-on bag.
There are no bungee cords for lashing gear to the outside of the pack, and no mesh pockets for extra water bottles – but this pack doesn't need them and it keeps the outside streamlined.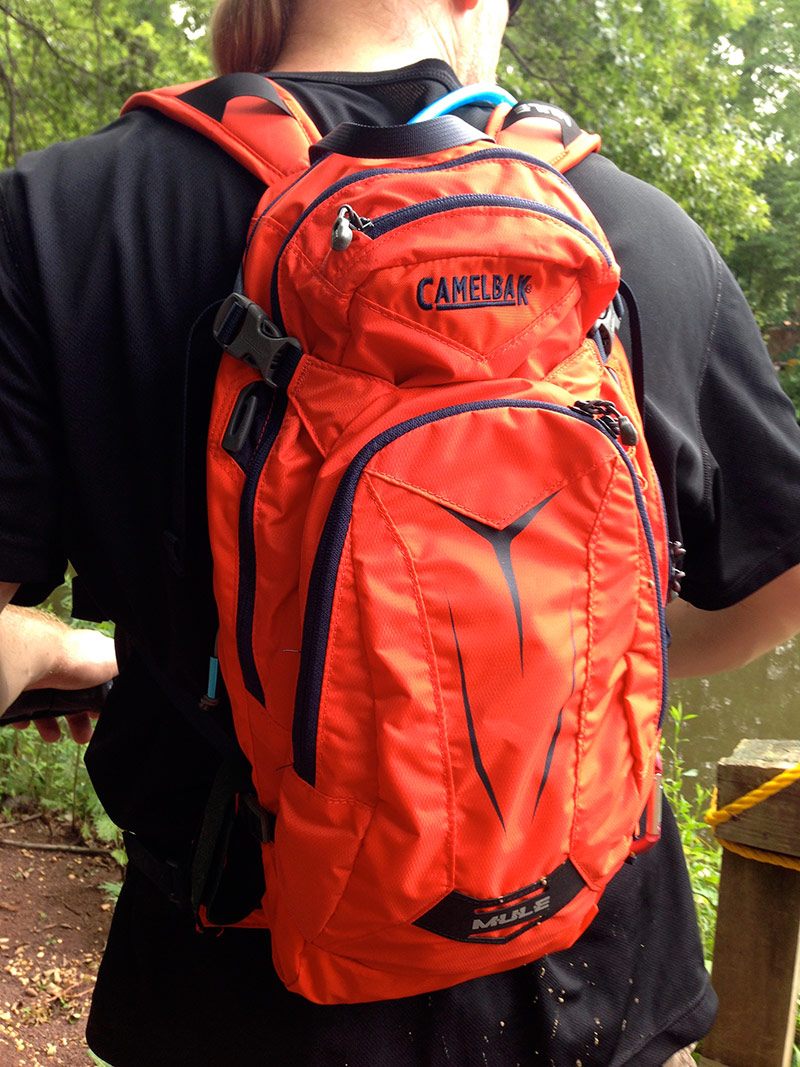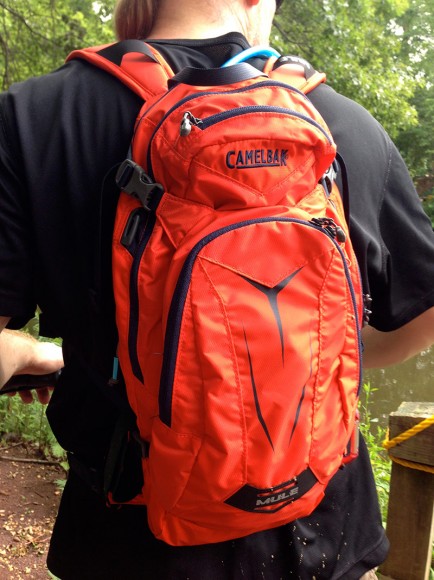 Padding, venting, insulation
The back is padded with segmented channels intended to promote airflow and keep your back cooler.
Tom noticed a difference while biking, but I didn't notice much improvement while hiking.
While insulation is not noted in the product description, water stayed noticeably cool even on 85+ degree sunny days.
I always fill our bladders with ice, but there was a marked difference between the M.U.L.E and our other non-insulated bags in how long the water stayed cold.
Color
Since we hike all through hunting season I chose Camelback's screaming orange called "Poppy".
There are more subdued options like Charcoal, etc. The 2017 model was also available in a very visible "laser orange".
Overall
The Camelback M.U.L.E is a solid hydration backpack choice for day hikes or biking, with the added bonus of it working as a small carry-on travel bag.
Update, November 2020
Still going strong at six years of use. I tend to grab it even for shorter hikes where I don't need to bring a hydration bag just because it's easier to have all my stuff where I like it.
Update, November 2018
Four years of heavy use and still looks new. We always use this as one of our carry-on bags now, and it's small enough to be the "personal item" to bring in addition to a main piece.
The easy access stretch pocket is great to stash items to take out for the airport security dance, like tablets and liquids bag.
Update, July 2017
Still a great bag. Using it weekly for day hiking and some biking and shows no wear at all.
It's comfortable and the organization makes it so functional.
There is now a 2017 M.U.L.E. Hydration Pack available that uses their new Crux water reservoir.
Update, October 2015
After using this bag for over a year, it's still a solid pick.
Not an ounce of wear is visible after hiking or biking with it pretty much every weekend.
I really find the organization in the front pockets useful, as well as the middle pocket to stuff gloves or our monocular.
—
Updated: 11/2020. Original review Aug 2014.