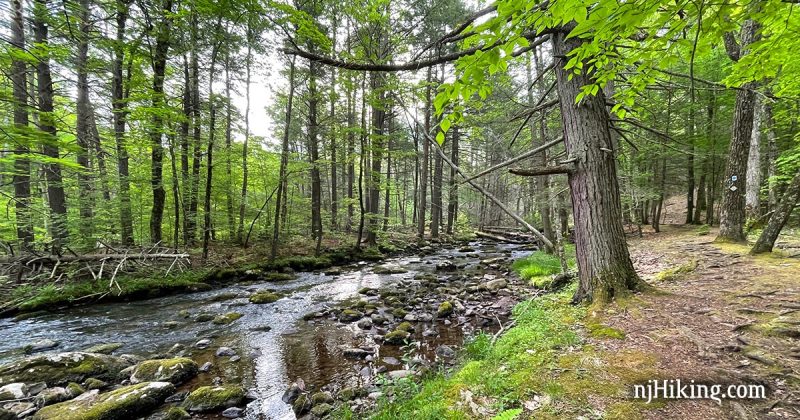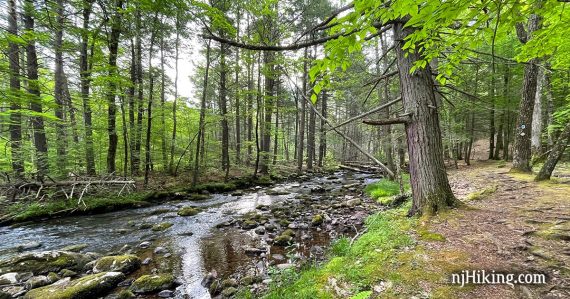 Pleasant hike through a pretty forest and along Big Flat Brook.
8.7 or 17.0 miles. Surface is dirt/roots not too rocky; couple potentially soggy areas. A steep up and down at the viewpoints.
Longer variation, 9.2:

To Sunrise Mtn, Appalachian Trail to Tinsley. Noted below.

Longer, 17 miles: Do the whole Blue Mountain Loop! Guide for the other half: Blue Mountain Loop – Lower.
Hike Info:
Our two cents:
An enjoyable trail meandering through a beautiful forest and along a stream with two somewhat limited viewpoints in the middle. This is a hike for people who just like to hike.
Can be done in the opposite direction, but the stream is the prettiest part (in our opinion) and we like to do the best when we're freshest. Almost all shade.
Want a challenge or are into trail running? The entire Blue Mountain Loop is a 17-mile circuit of Stokes. This route uses Tinsley to bisect the trail into upper and lower loops, but you can just keep following those blazes and do the whole thing. EARN that post hike ice cream or french fries.
---
Map:
Kittatinny Trails is best (use at least the 2016 version as earlier maps won't have the complete trail), or print the park map or pick one up at the office.
Appears in 50 Hikes in New Jersey going in the opposite direction and starting from the old parking area.
---
Skellenger Road in Stokes State Forest, near the Lake Ocquittunk camping area.
If coming from Rt. 206 N, continue past the park office, turn right on to Flatbrook Road. Pass the turn for the camping/cabin area, then right on Skellenger Road where there is a sign for Lake Ocquittunk and School of Conservation.
Just over the stone bridge, turn right and park on the grassy area by the stream. Don't continue into the campground. Older maps will show the trail head further down Skellenger, at the intersection with Tinsley Trail, but it's been moved to here.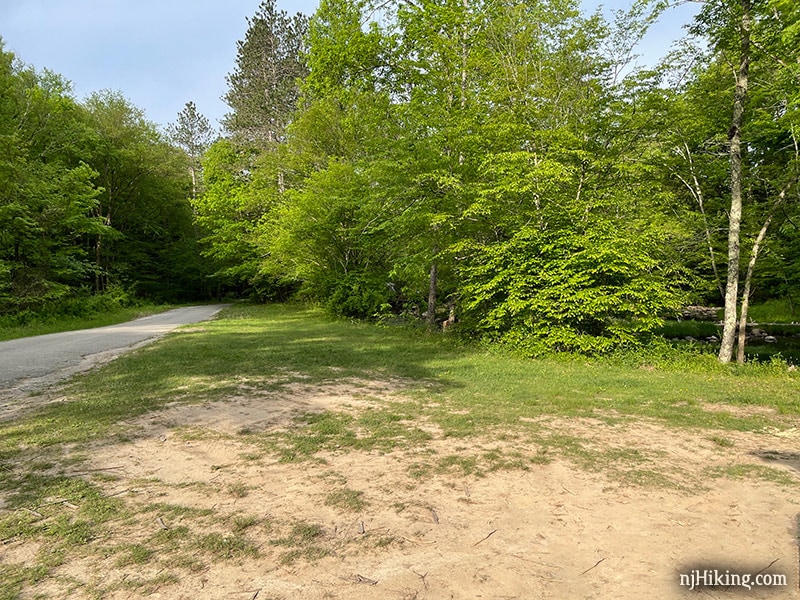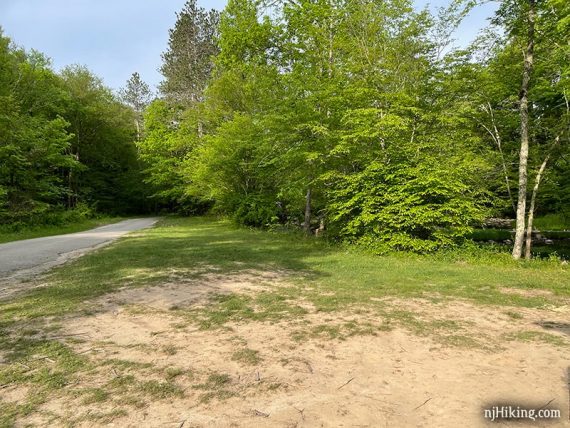 Scenic Big Flat Brook – at the parking area before the hike is even started.
---
Restrooms:
Restroom building along Skellenger Road before getting to the trailhead. These are for the campsites so are possibly seasonal. Was open before 8am. Also at the visitor center, which is passed on Rt. 206.
---
Hike Directions:
Overview: Blue Mtn (BLUE DOT on WHT) – Tinsley (YELLOW) – Blue Mtn (BLUE DOT on WHT)
Occasionally there are also markers from the NJ School of Conservation in the beginning of the hike. There may be old Stokes trail markers as well (i.e. light blue Parker), as the Blue Mountain Loop took over some existing park trails.
0.0 – When standing at the parking area and looking at the bridge, Blue Mtn (BLUE DOT on WHT) is across the road and to the right of the bridge.
[Blue Mtn Loop continues in the other direction too, be sure to head the correct way].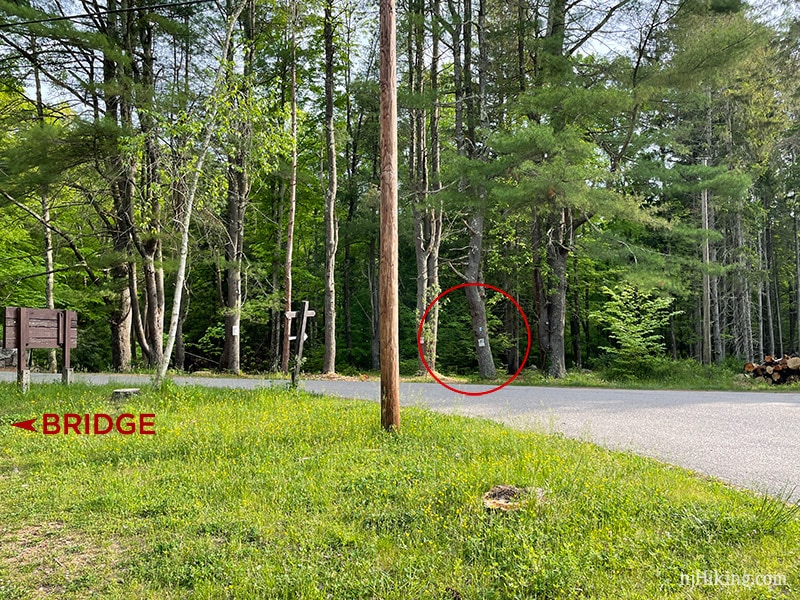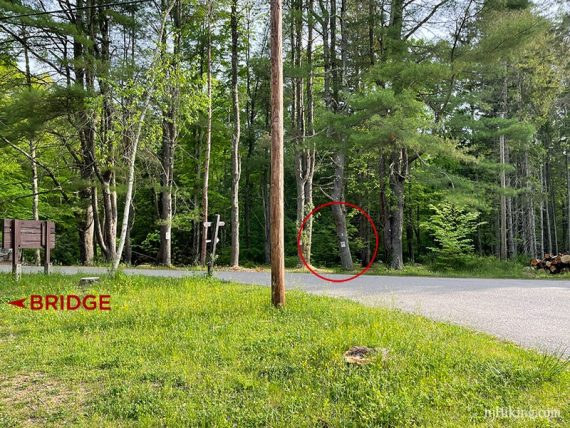 Start following Blue Mtn (BLUE DOT on WHT) as it enters the woods.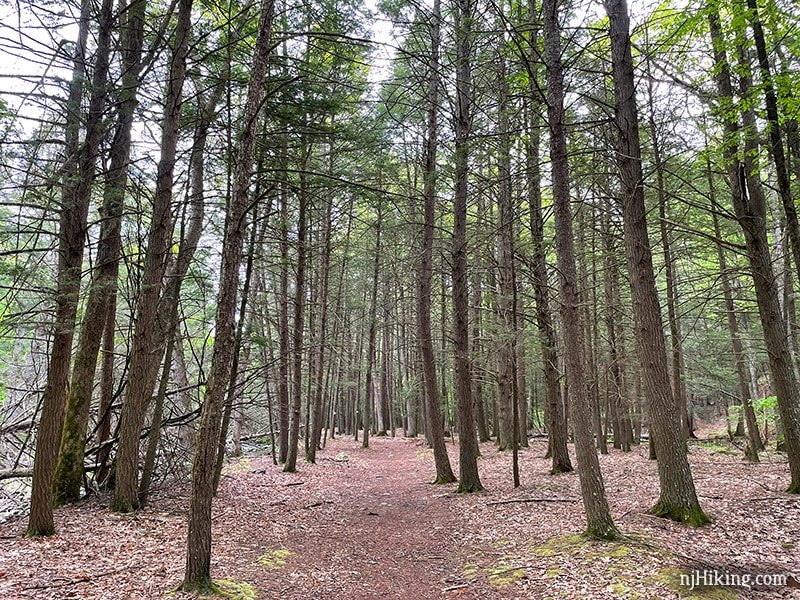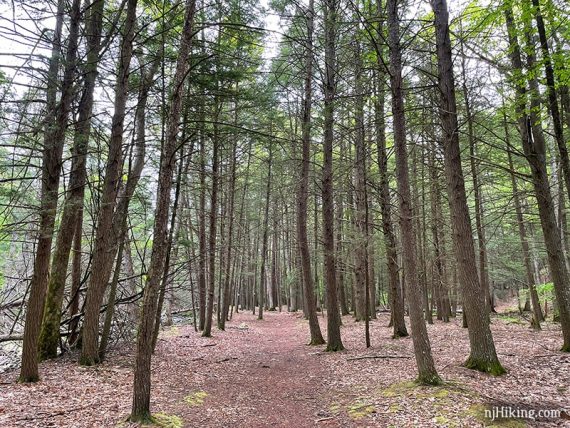 0.2 – Pass Tinsley (YELLOW). Continue following Blue Mtn (BLUE DOT on WHT) along Big Flat Brook.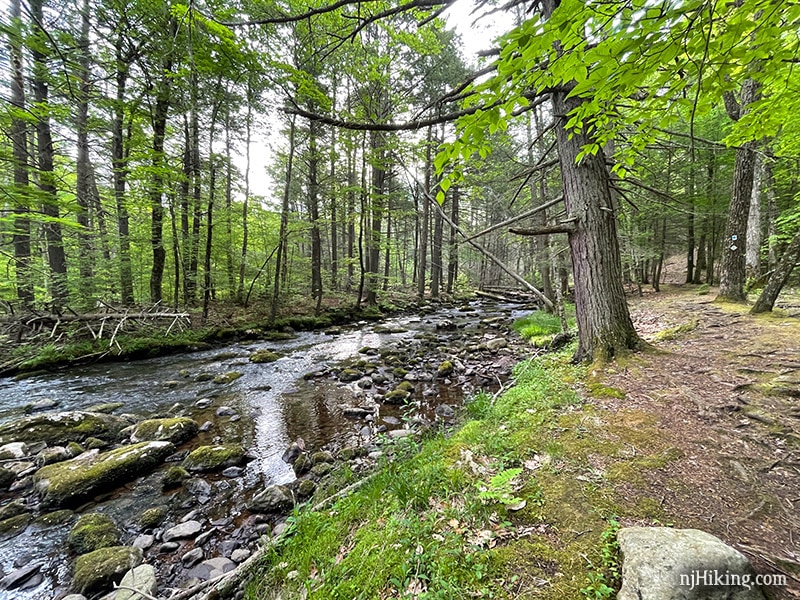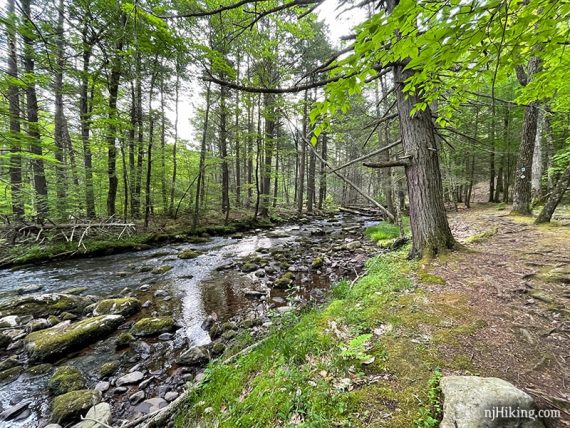 Blue Mtn (BLUE DOT on WHT) meanders right next to Big Flat Brook for awhile.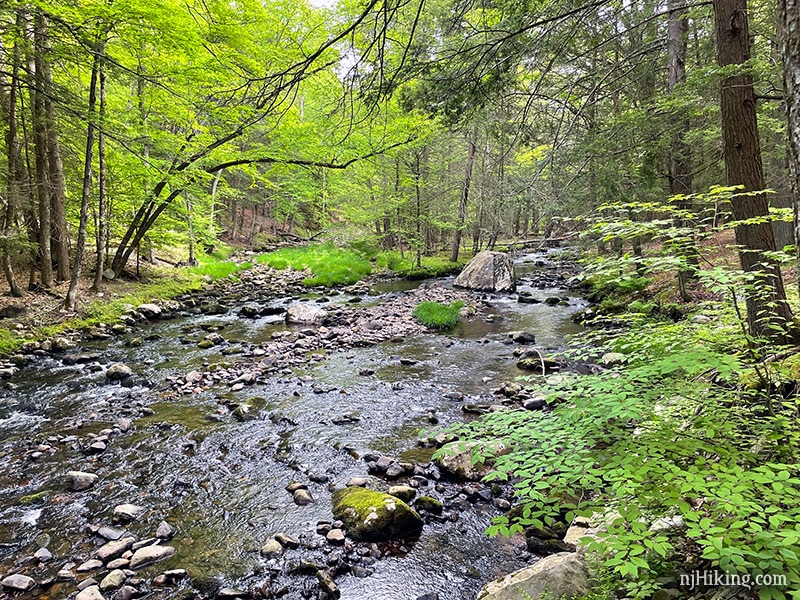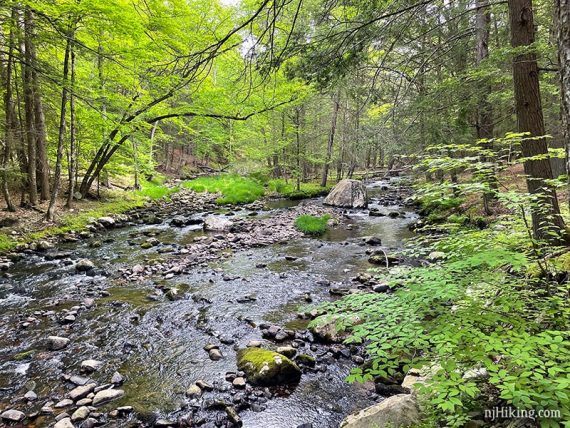 0.8 – Cross a wooden footbridge.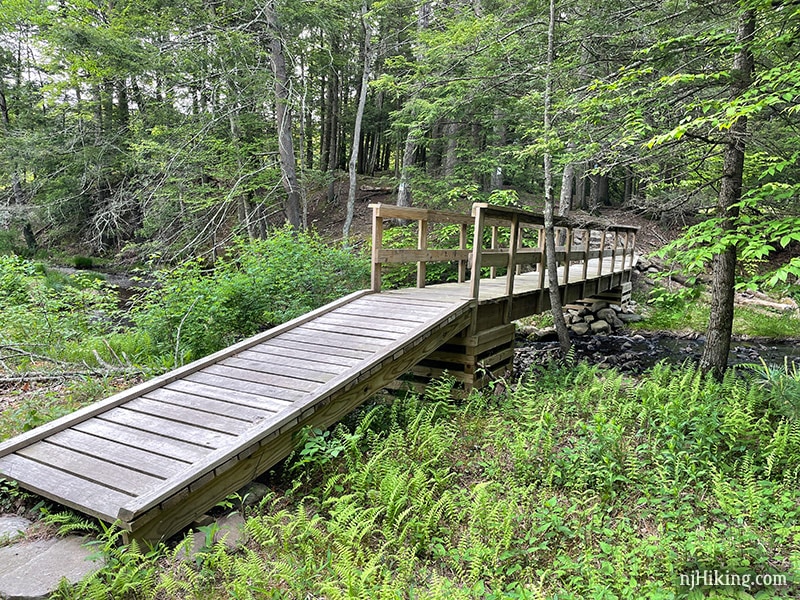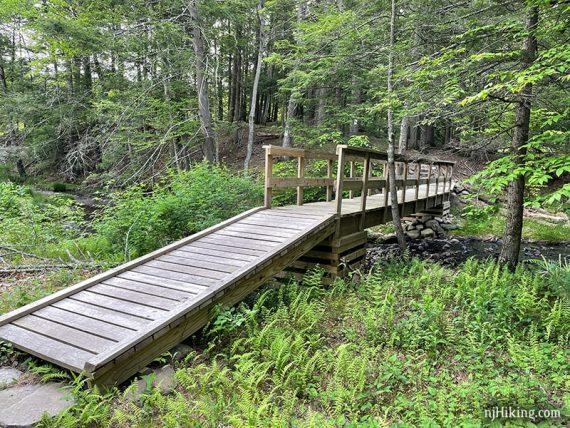 Continue following Blue Mtn (BLUE DOT on WHT) along Big Flat Brook.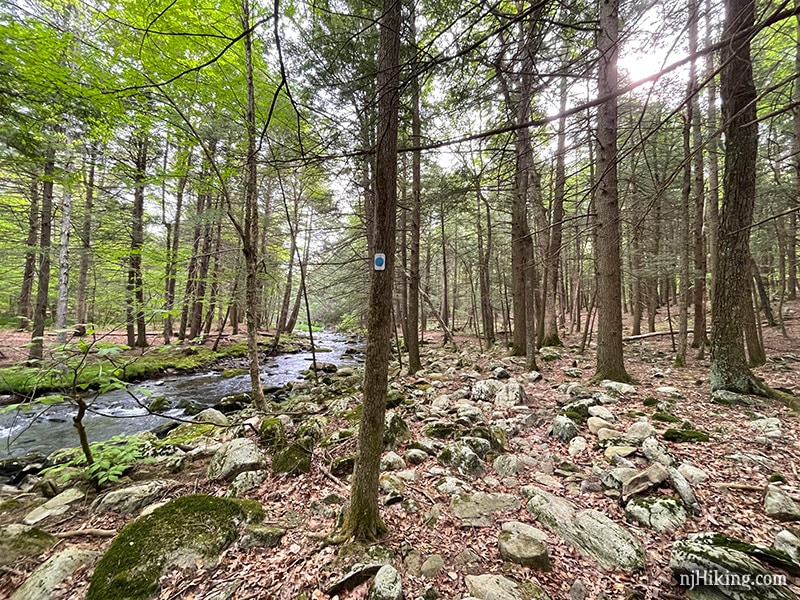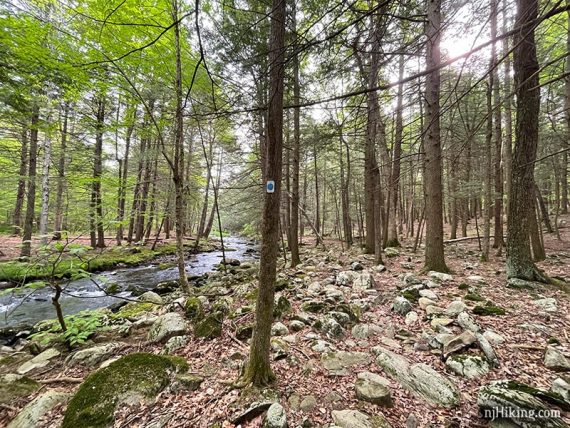 We spotted rocks placed in a heart along the way.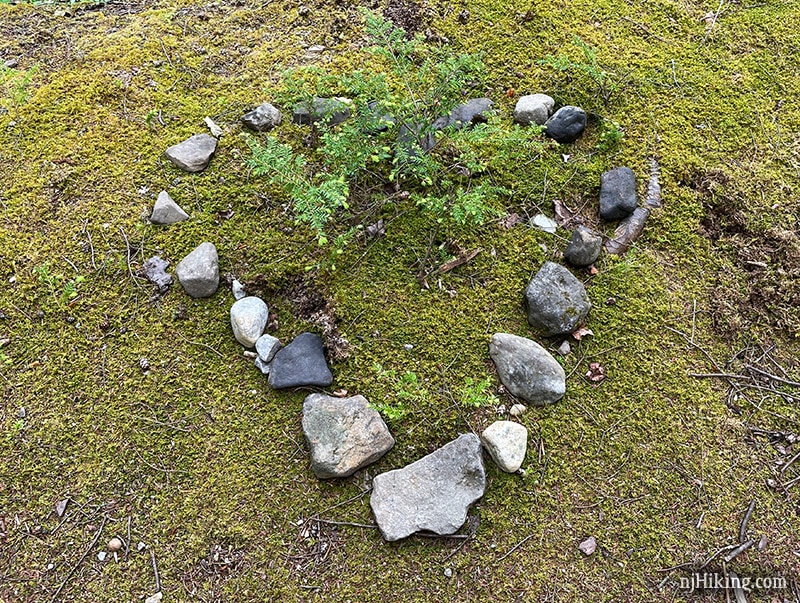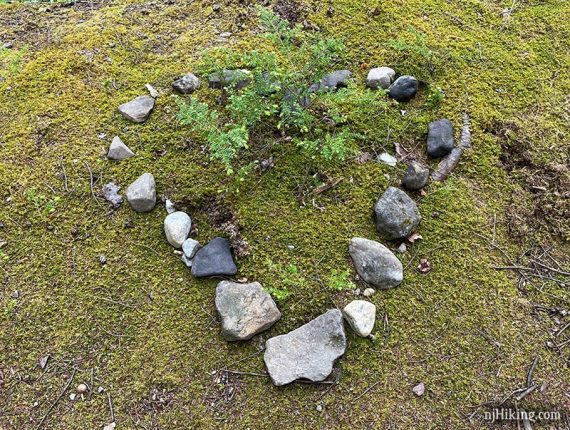 2.0 – At a paved park road, Crigger Road, turn LEFT and cross the bridge. Didn't spot any markers indicating this. Just a bit after the bridge, turn RIGHT to continue on Blue Mtn (BLUE DOT on WHT).
The trail moves away from the brook.
2.8 – Follow Blue Mtn (BLUE DOT on WHT) as it turns to the RIGHT. [Parker (BLUE) is straight.]
Some plank boardwalks are in this area but there may be some wet sections (we hiked during a dry spell and it was still a little mushy).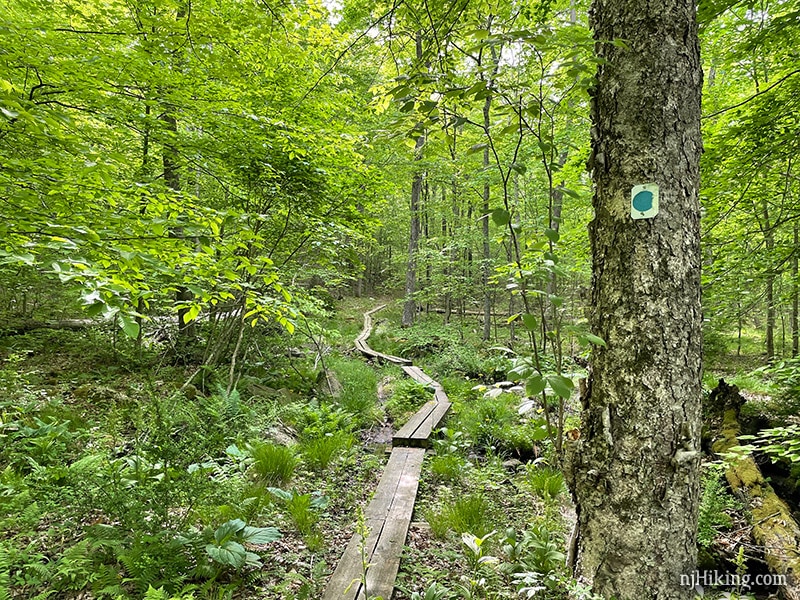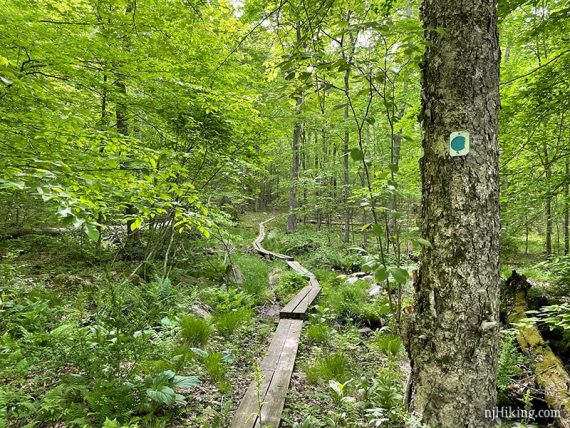 3.6 – Cross Big Flat Brook again on a wooden bridge.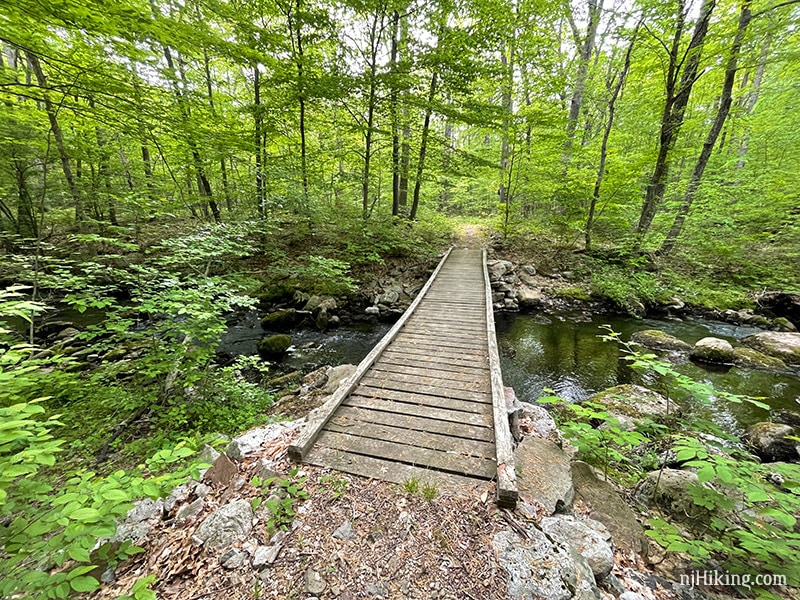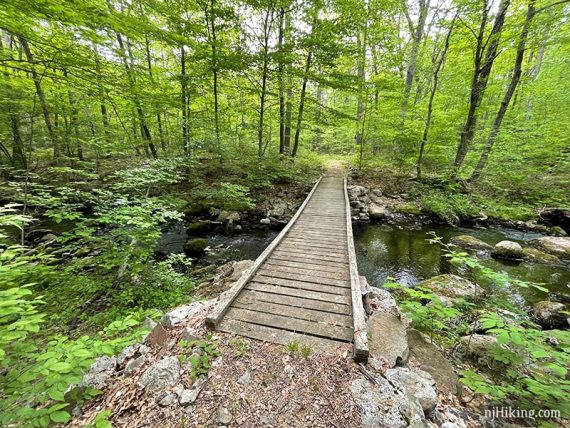 4.8 – Pass a short connector trail BLACK DOT on BLUE that leads to a parking pullout on Crigger Road.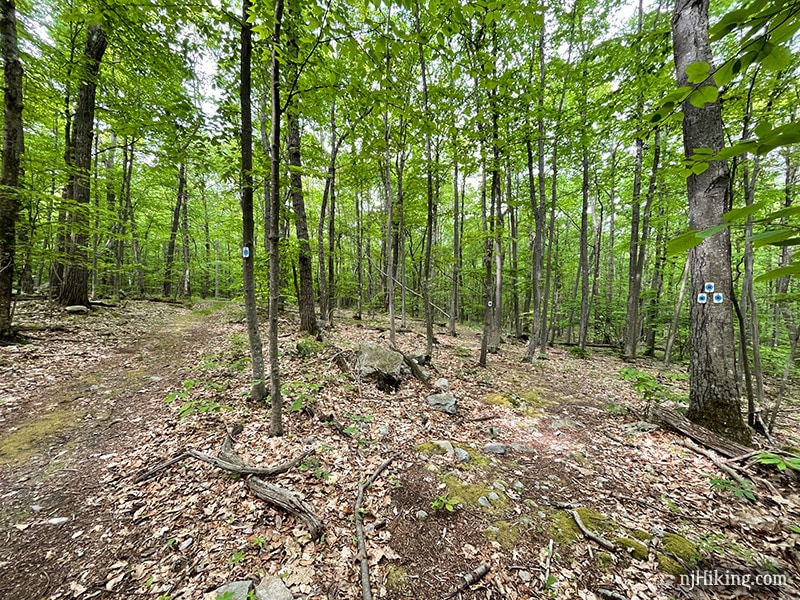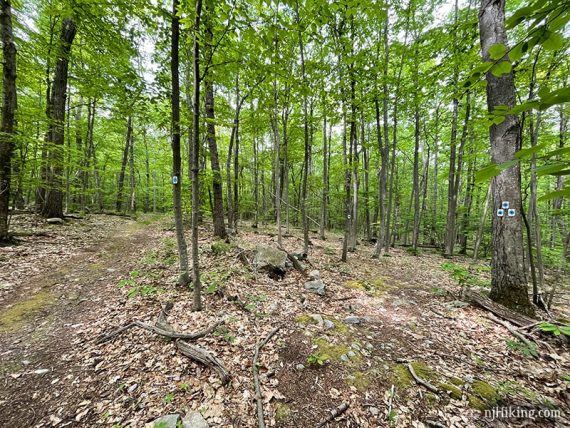 Start to climb up to the viewpoint.
5.2 – Viewpoint with the ridges in the distance are just visible over the trees. The second viewpoint is in less than a quarter mile away.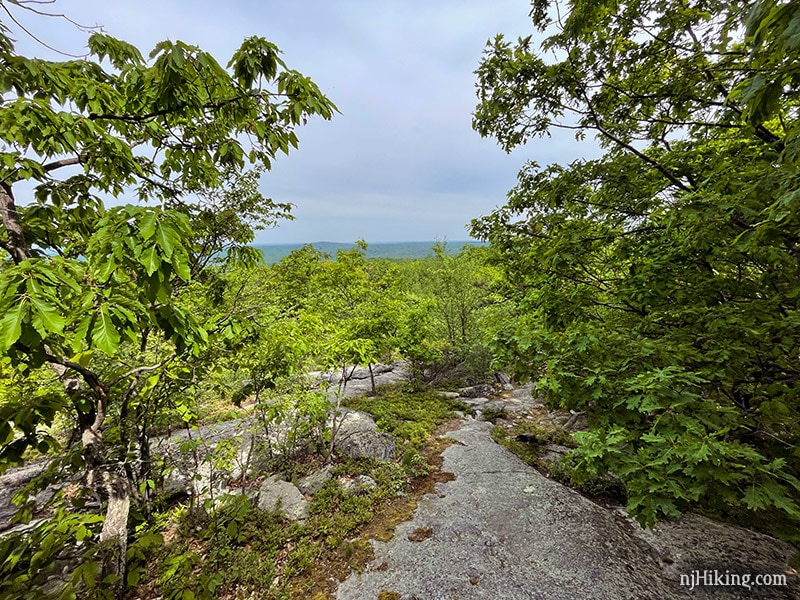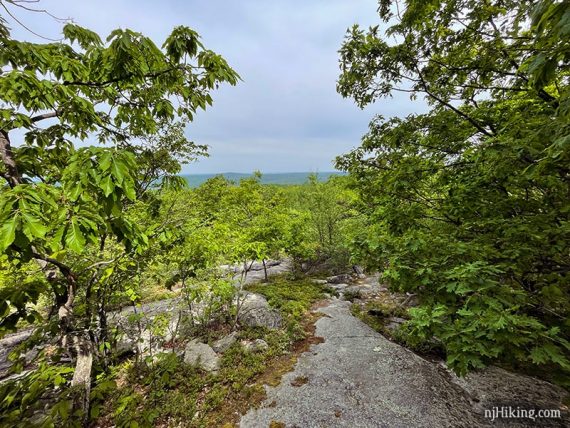 5.3 – At a T-intersection near a large rock, turn RIGHT to continue following Blue Mtn (BLUE DOT on WHT). [BLACK DOT on BLUE connector goes left].
// Variation, 9.2 miles: Turn LEFT instead, follow BLACK DOT on BLUE up. R on Appalachian (WHITE) to the view from Sunrise Mountain. Continue A.T. to R on Tinsley (YELLOW) which meets up at 7.4 below. Waypoints included on our Interactive Map. //
5.4 – Viewpoint. Stand on a rock to get a better view over the tree tops. The rocks make for a good break spot.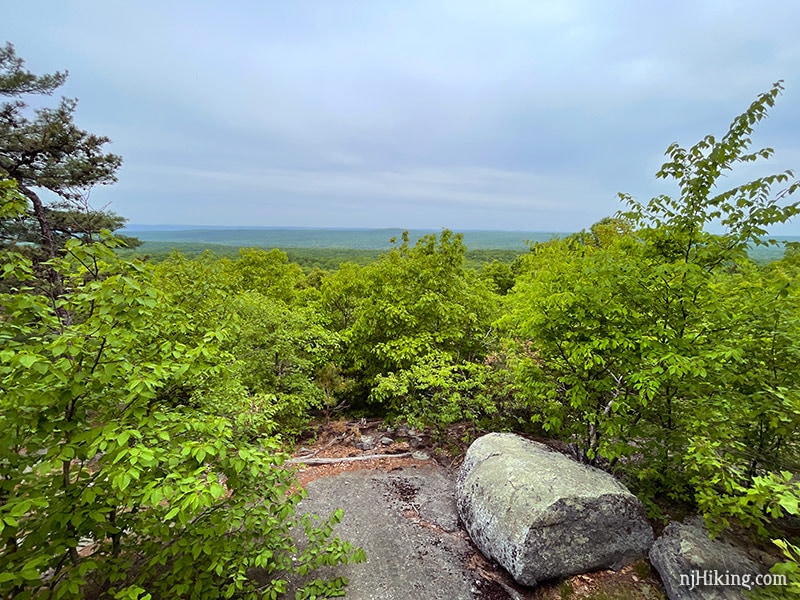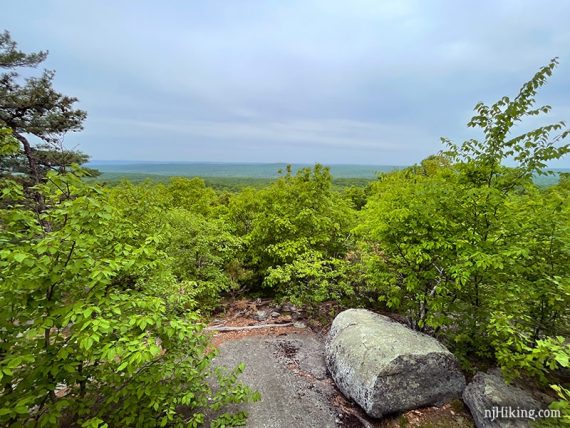 We've always found this spot to be very quiet – a rarity in the woods of New Jersey. There's little if no road or plane noise (unless we've always lucked out and been here when it's not in a flight path).

Viewpoint zoomed in. The view faces west, looking over Stokes State Forest and towards Pennsylvania.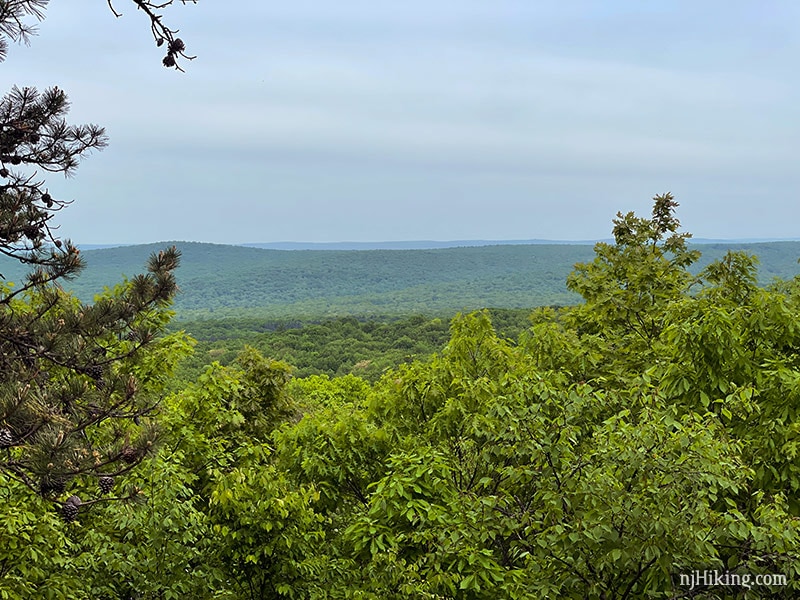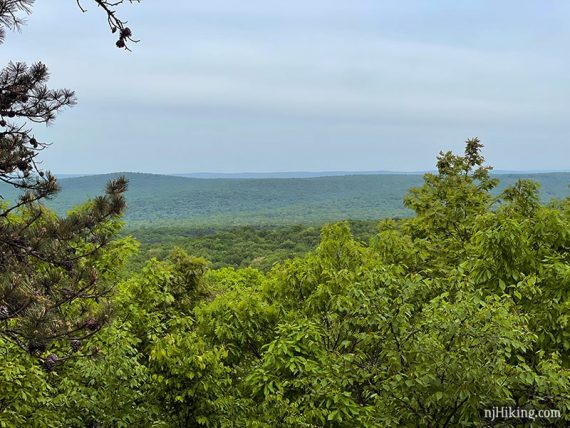 The High Point Monument can be spotted from here – but we couldn't see it this time. It was hazy but it could also have been because the foliage had grown quite a bit too.
If looking out at the open view, High Point would be to the far right. This is a zoom taken in October of 2015: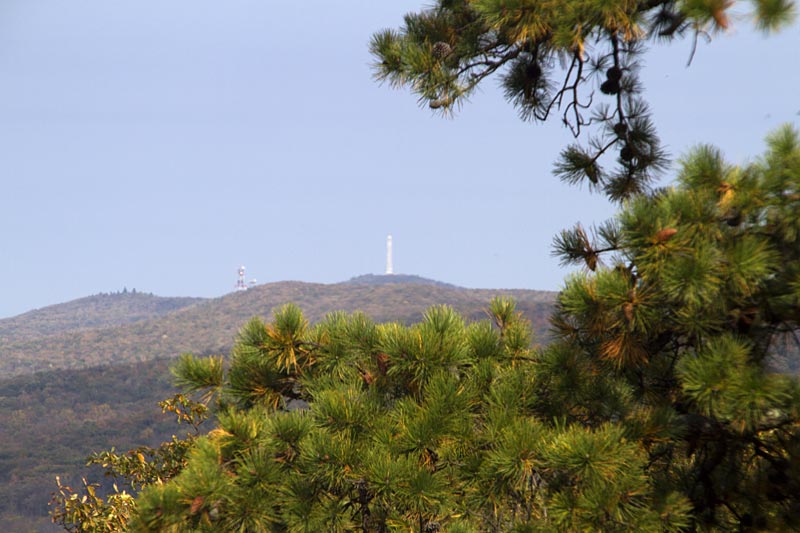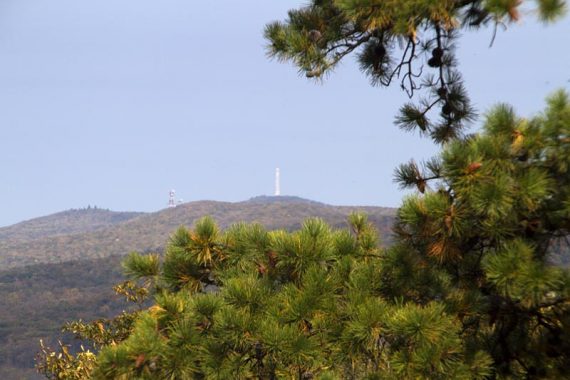 Blue Mtn (BLUE DOT on WHT) continues steeply downhill over a long rock slab that could be difficult when wet. It's steeper than appears in the photo.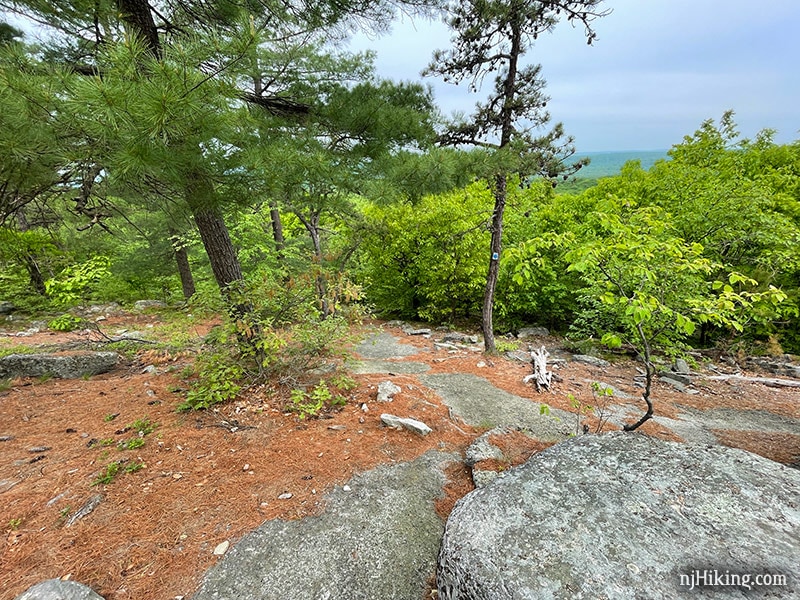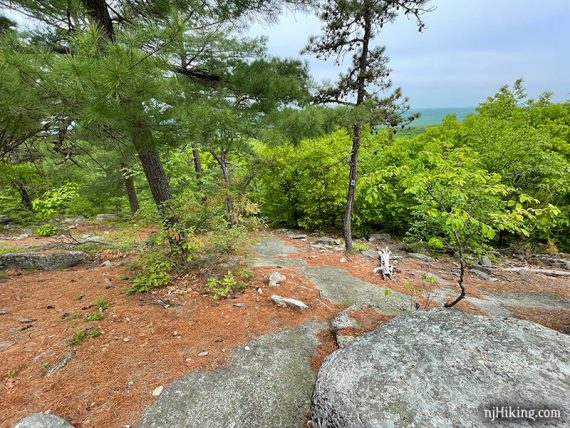 Cross Sunrise Mountain Road.
Continue following Blue Mtn (BLUE DOT on WHT).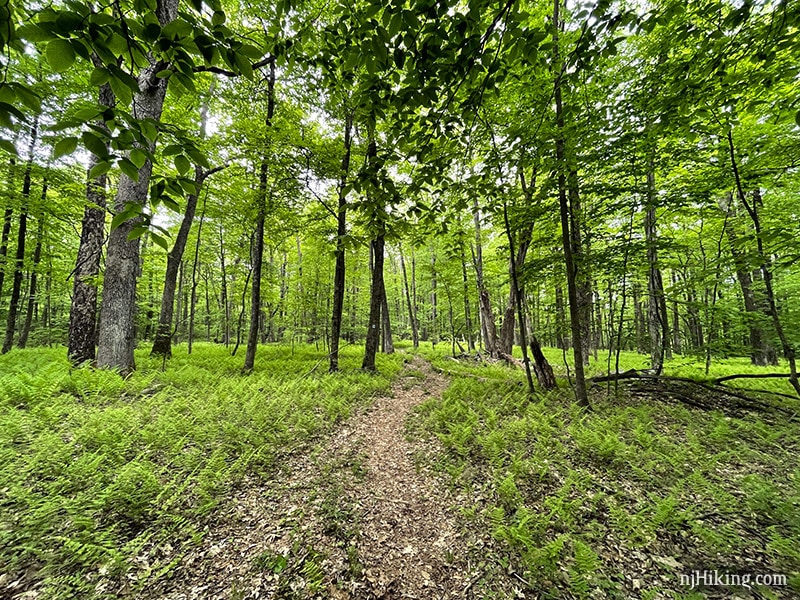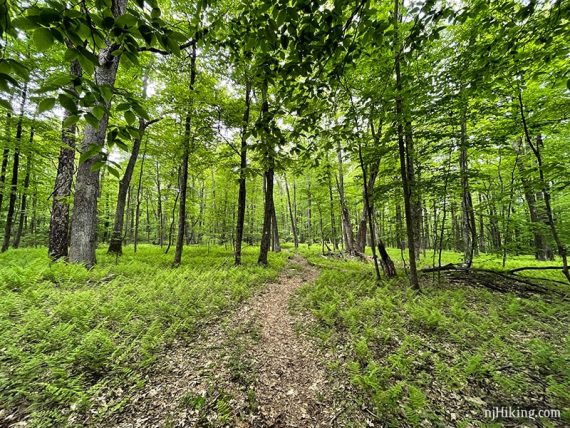 There are few rock hops and wet areas.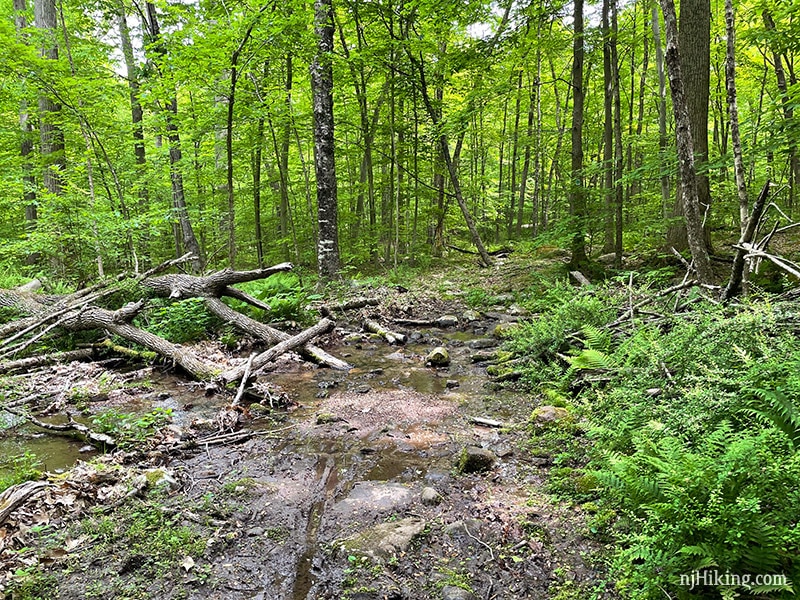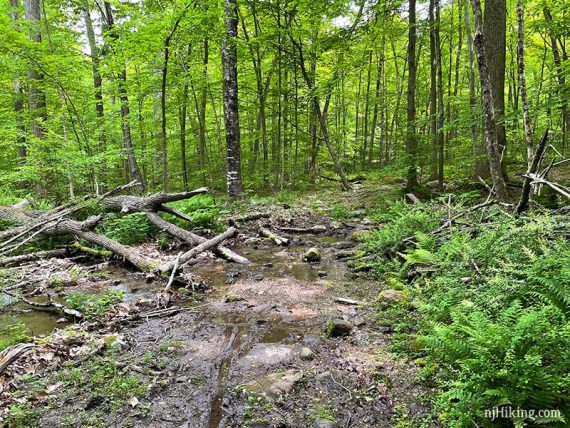 6.4 – Pass Swenson (RED).
7.0 – Arrive at a cabin.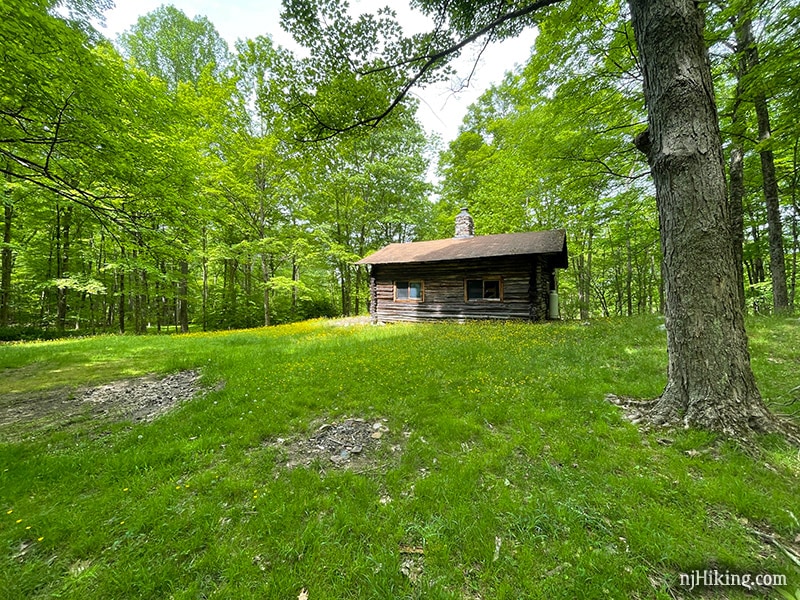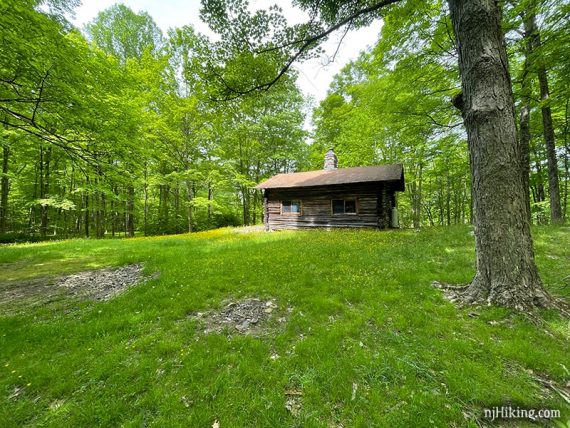 Continue across the grassy area, with a wood shed on the left and the cabin on the right to continue following Blue Mtn (BLUE DOT on WHT). Looking back at the cabin: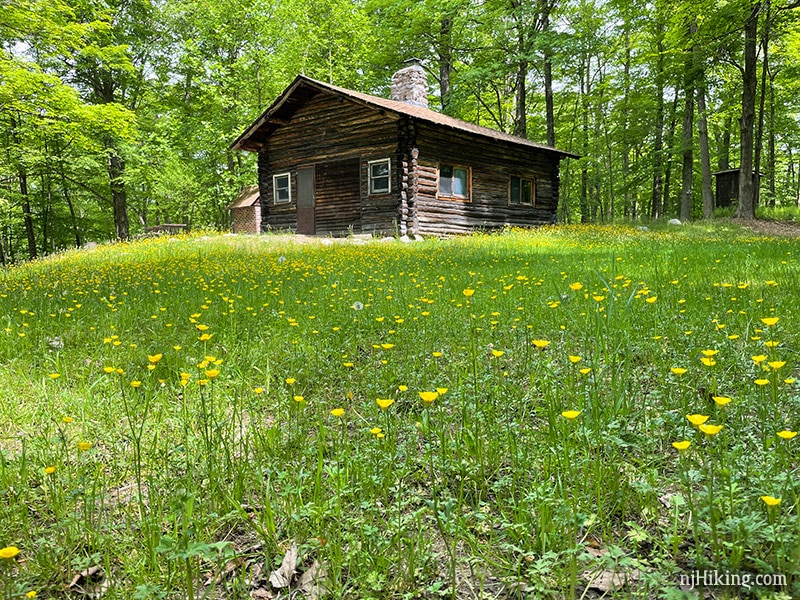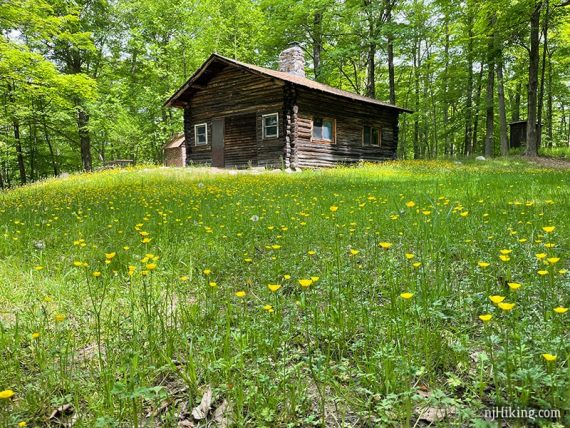 7.4 – Turn RIGHT and now follow Tinsley (YELLOW).
!! This turn could be easy to miss as Blue Mtn (BLUE DOT on WHT) continues to the left so there are blue dot turn blazes on a tree… that direction would be to do the WHOLE loop. Tinsley (YELLOW) also goes left.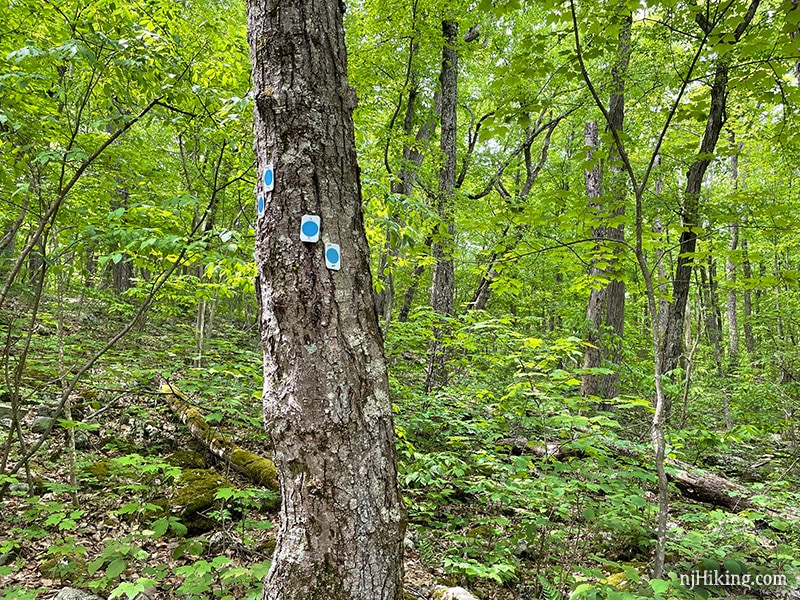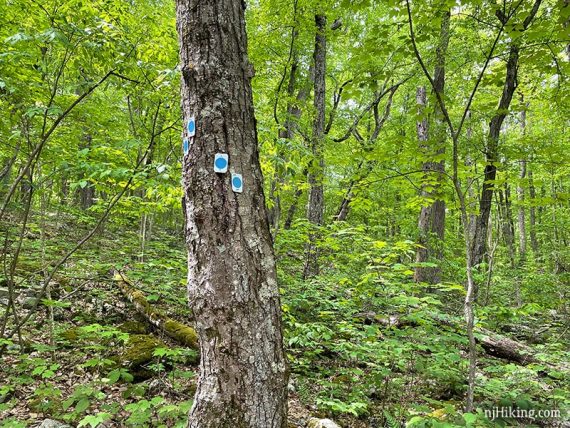 Tinsley (YELLOW) becomes a flat woods road for a bit before crossing Skellenger Road and some switchbacks down to the stream.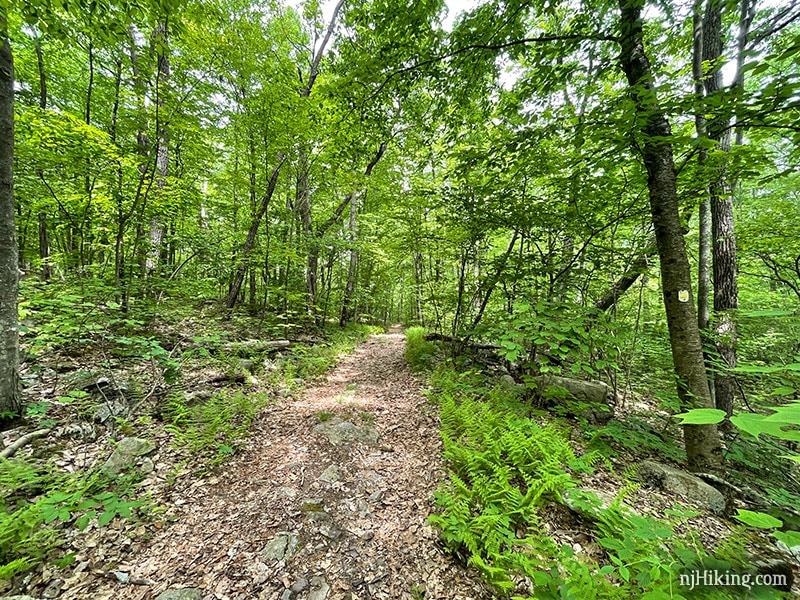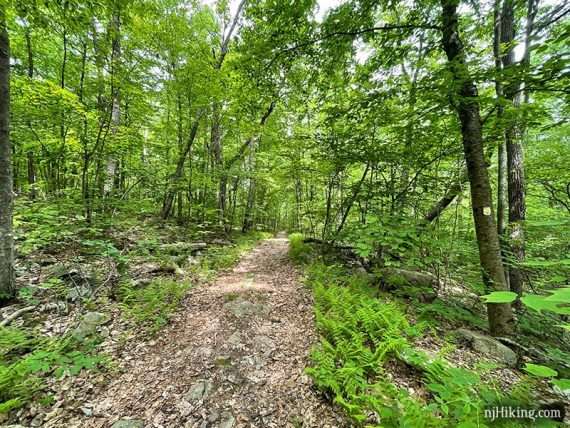 8.5 – Turn LEFT on to Blue Mtn (BLUE DOT on WHT) again (passed this early on in the hike) and head back to the lot.
—
Hiked: 5/22/21.