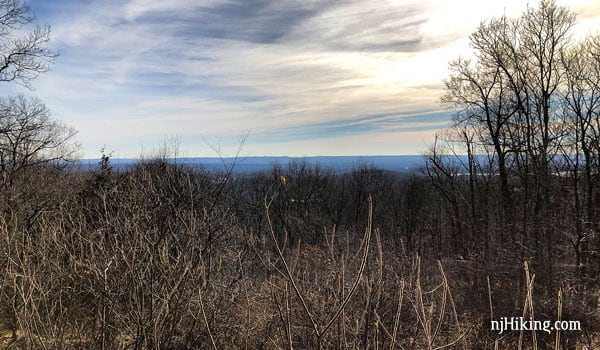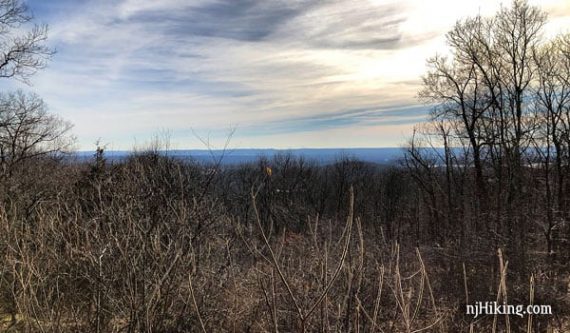 Head to the Top of The Tourne for a glimpse of the NYC skyline then hike the perimeter of the park.
5.9 miles, surface is dirt, some rocks, a little hilly. Many trail options to reduce this route, notes in the description.
Shorter: ~1.75 miles, do Top of the Tourne loop only.
Shorter: ~3.6 – RED loop only – no view or any side loops.
Longer: This route is basically it.
Hike Info:
Our two cents:
Easy trails in a compact and well-maintained park. The view of the NYC skyline from the "Top of the Tourne" is somewhat obscured by trees and can be hazy.
We happened to be there just as the morning sun was directly facing us which washes out the skyline. To see more detail, be sure to have a telephoto lens or binoculars.
Playground at the lot. Picnic tables at the viewpoint.
Updated: 4/2020: Page refreshed, not re-hiked.
Map:
Print ahead or may be available at trail kiosks (in the parking lots or at the end of the wild flower trail). Also on the Jersey Highlands Trails but the park's map is larger and shows more detail.
Books:
Shorter Top of the Tourne only loop from East lot is in Hike of the Week and Hiking the Jersey Highlands. RED loop plus Top of the Tourne is in Hiking New Jersey.
There is also an East Lot and then a few spots further in at the Wildflower Trail. The park road is gated so West doesn't connect to East.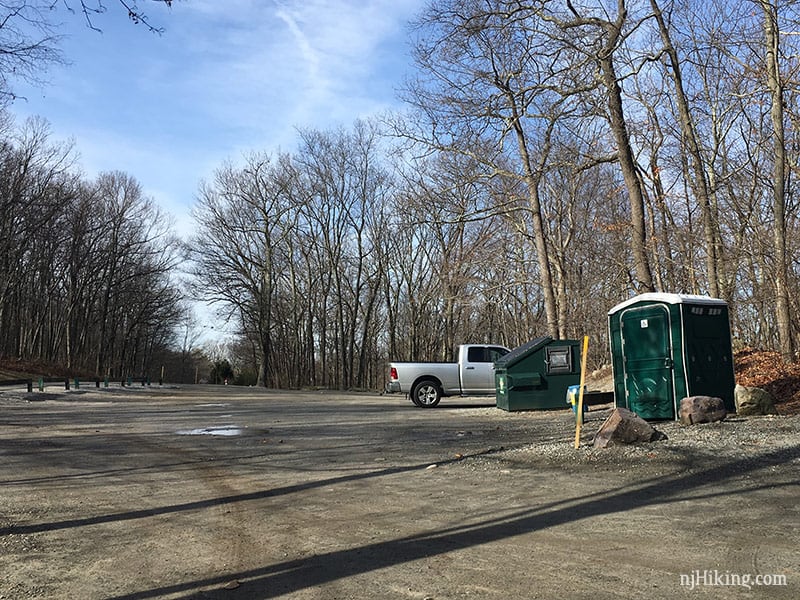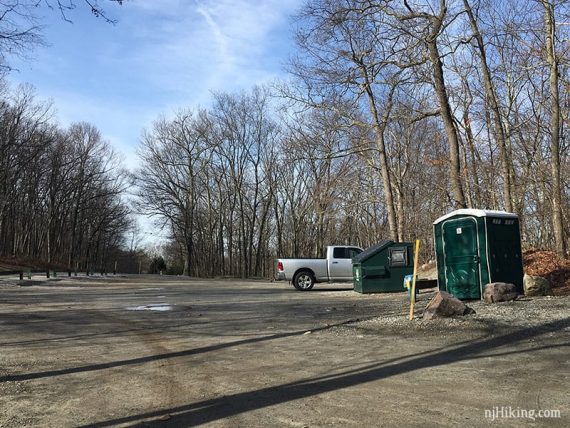 Restrooms:
Porta-john in West Side parking lot; none at East Side. Porta-john at Birchwood Lake half-way through the hike.
Hike Directions:
Overview: RED – YELLOW (Decamp) – RED – Wildflower – Park Road – GREEN (Evergreen) – RED – Birchwood Loop – Unmarked around lake – RED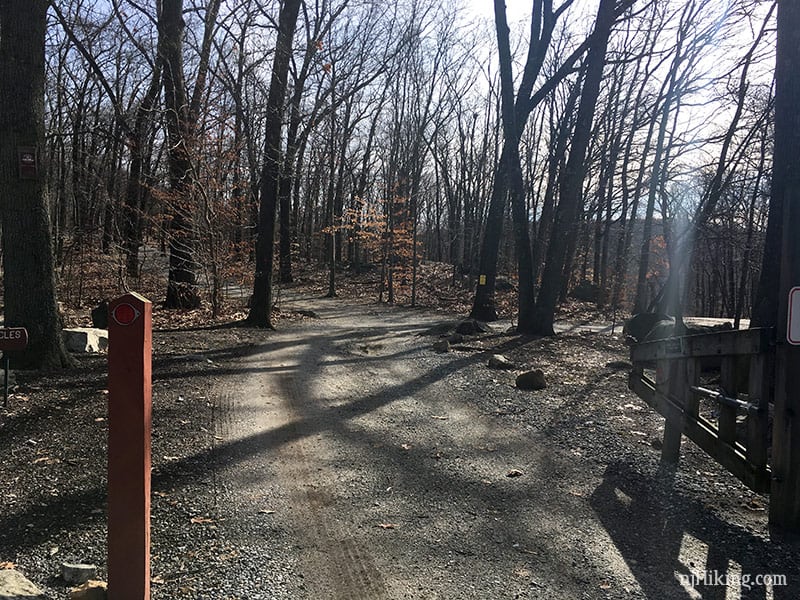 0.0 – Start following RED at the gate across from the porta-john, on a gravel path, at the end of the parking lot.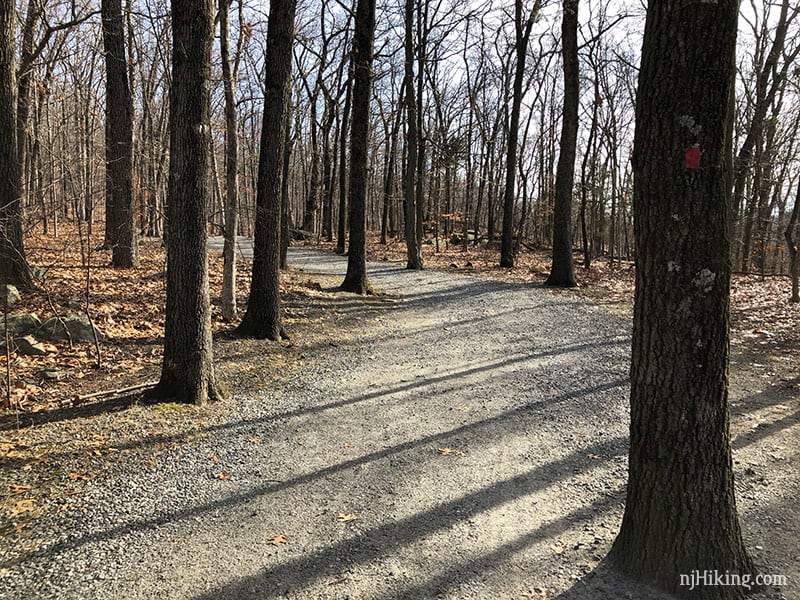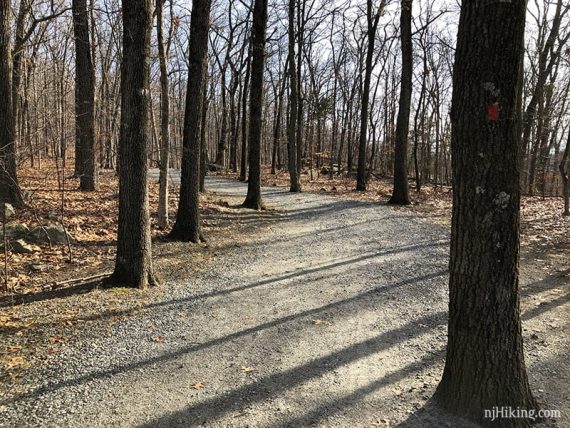 0.2 – Turn LEFT and start following YELLOW on a gravel path uphill.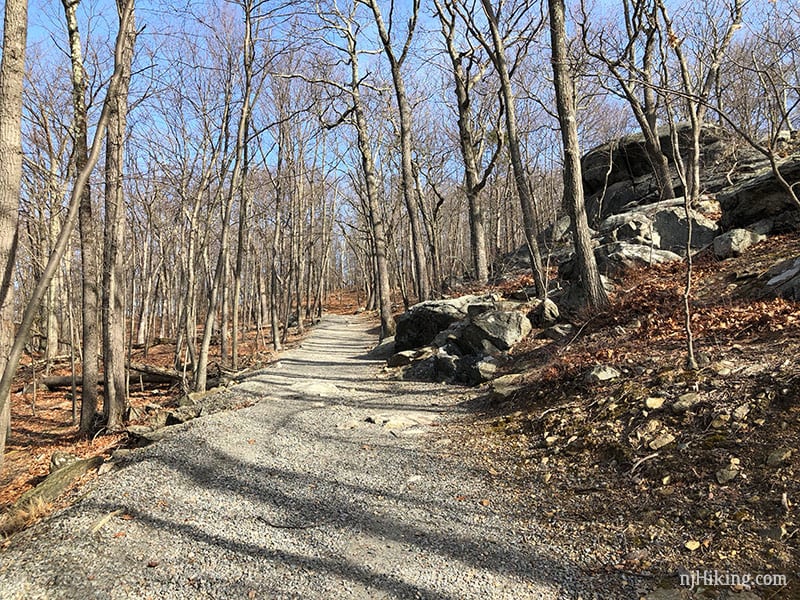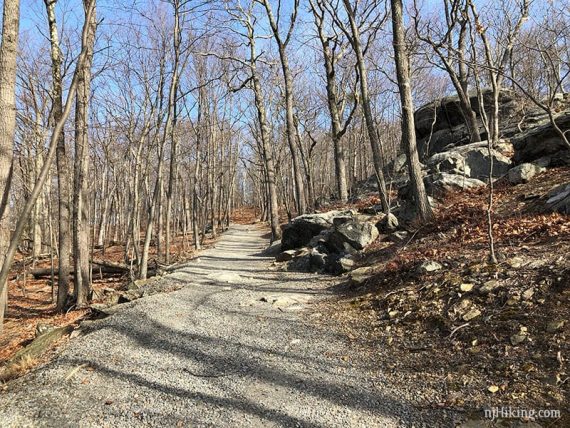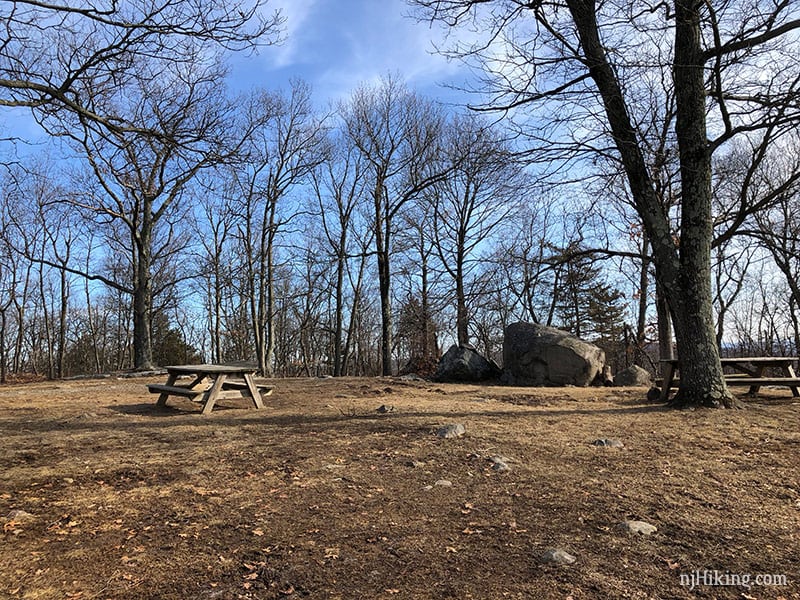 0.6 – Top of The Tourne, at 897 feet.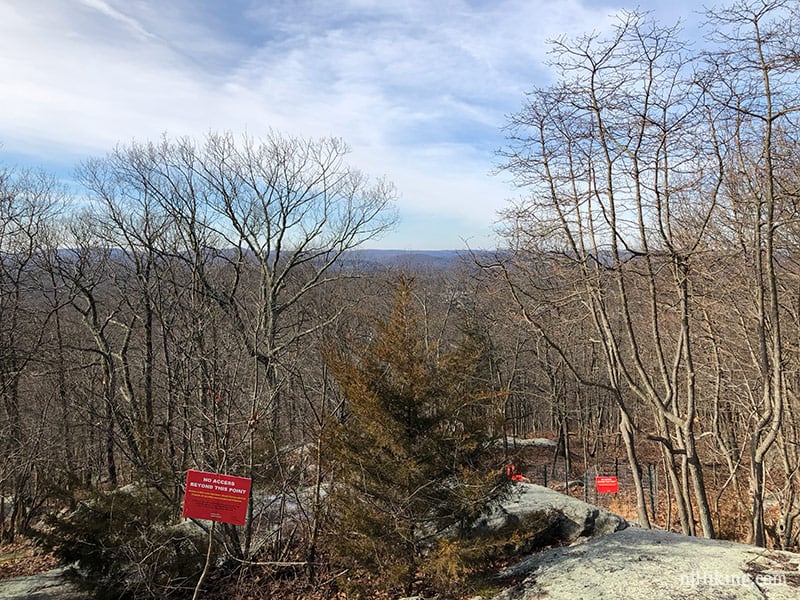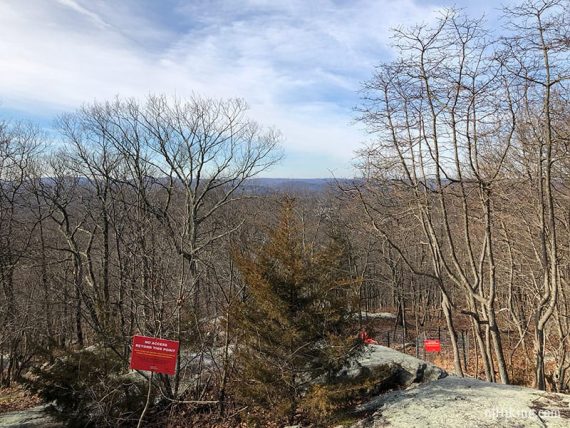 Viewpoint towards the NYC skyline with a 9/11 memorial flag, and another view on the other side. Continue on YELLOW.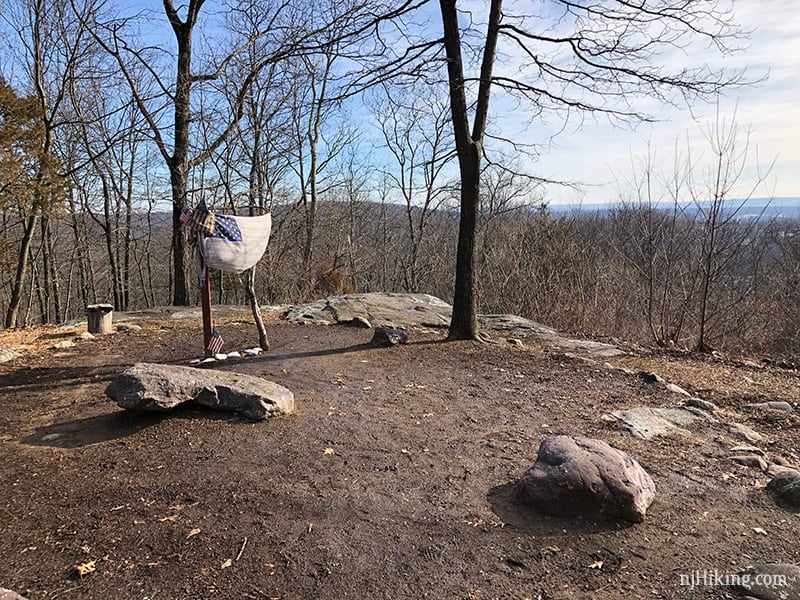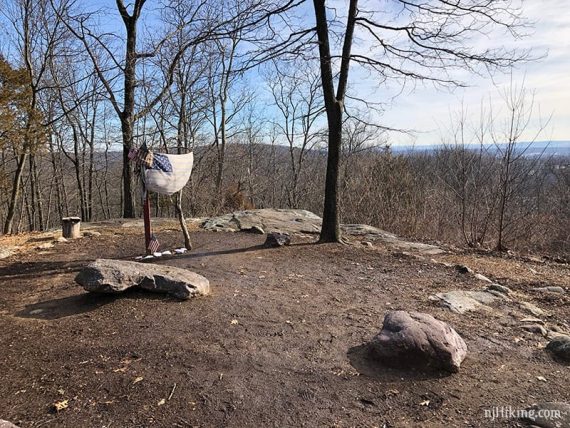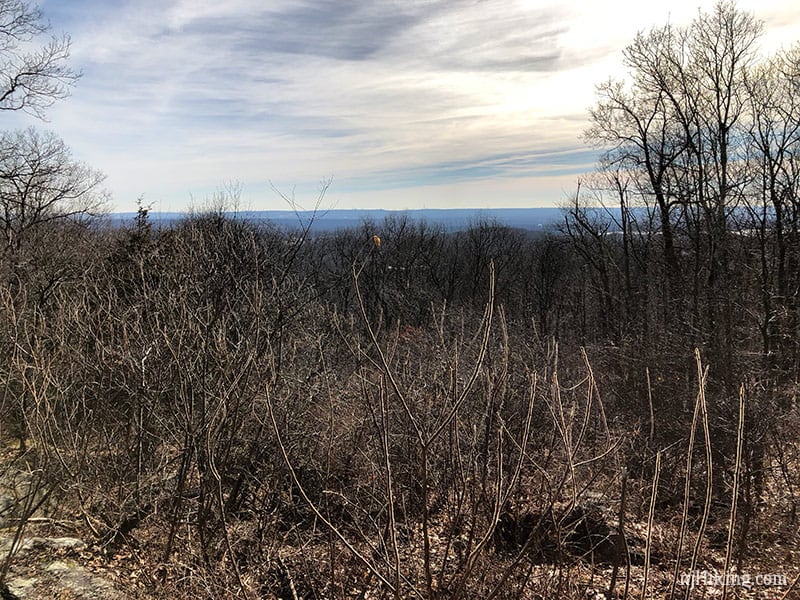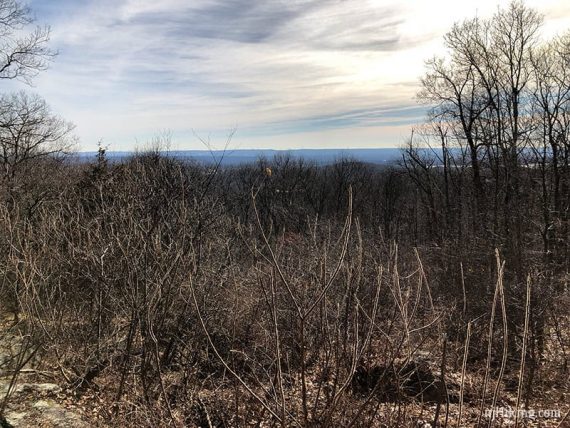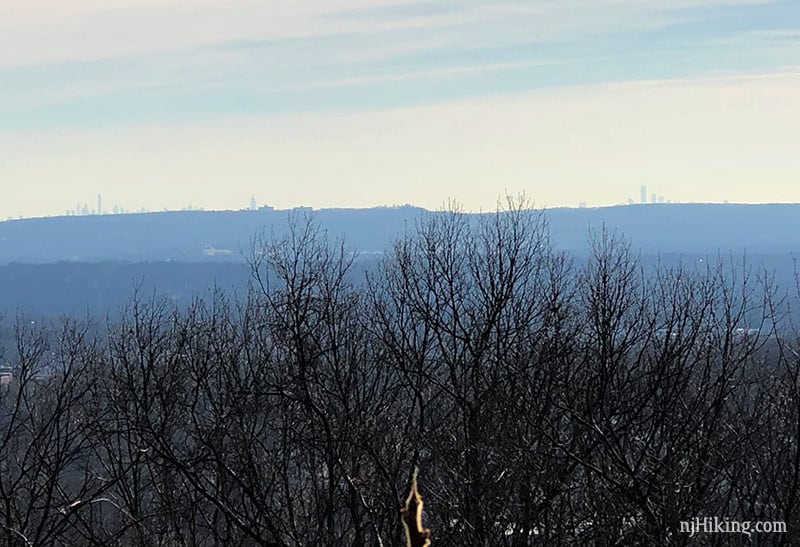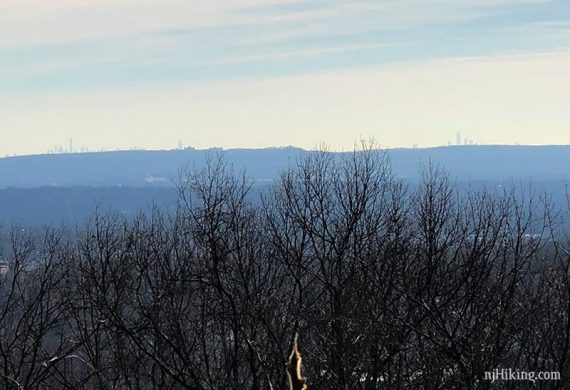 /// Optional add-on: In just a bit, on the right, is an unmarked casual path that leads to a large glacial erratic called "Mouse Cradle Balancing Rock". Adds 0.1 mile round-trip. ///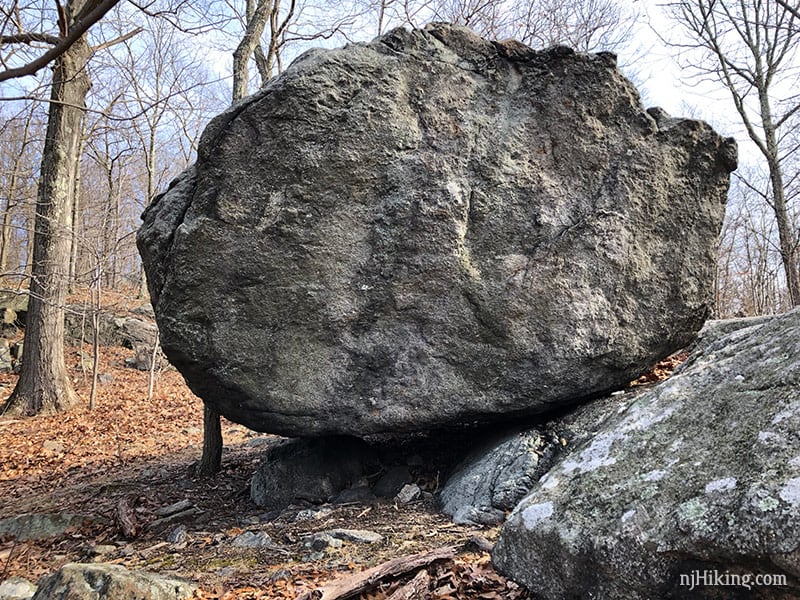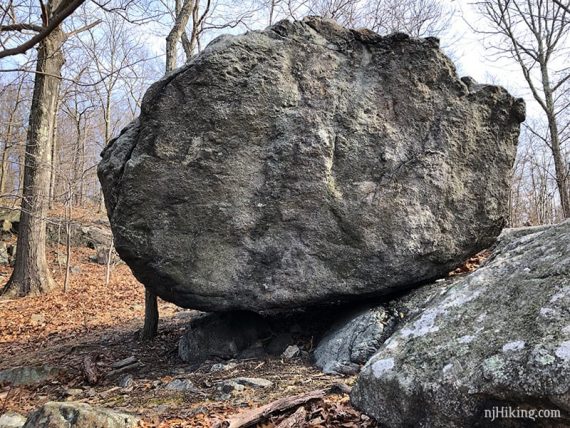 Continue following YELLOW downhill.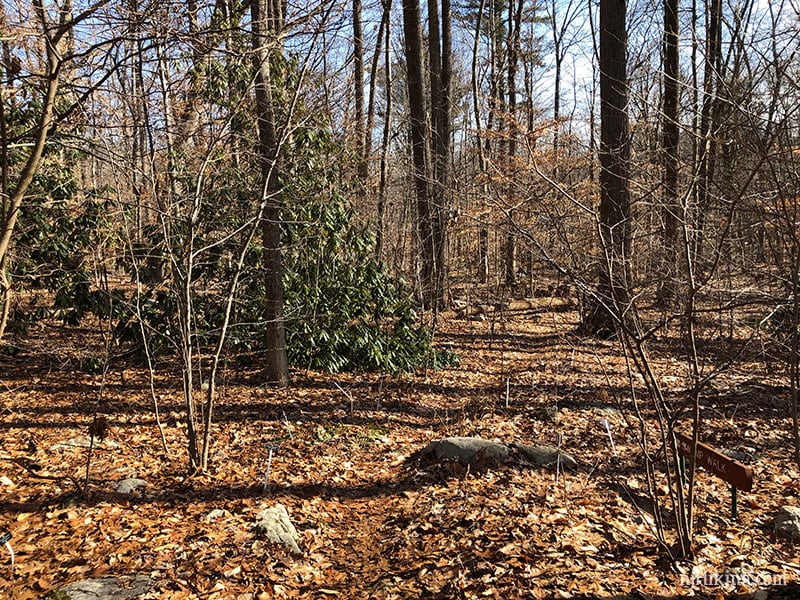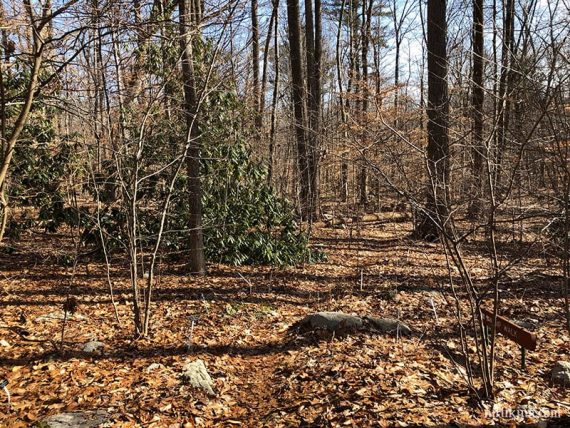 1.3 – Turn LEFT at the gate and sign "To Wildflower Trail" to start following RED. [An unmarked path goes straight and leads to a play area, YEL/RED goes right]
/// Shorter option, 1.75 mile loop: Turn RIGHT and take YEL/RED back to the parking lot. ///
Shortly, turn LEFT and start following the Wildflower trail. There are named paths in this small section, basically follow Hepatica – Trillium – Swamp – Brookside.
"Denture Rock" is on a side loop off of Swamp (which we missed as we didn't have the brochure/map detail for this area until after hiking this section).
Cross two bridges.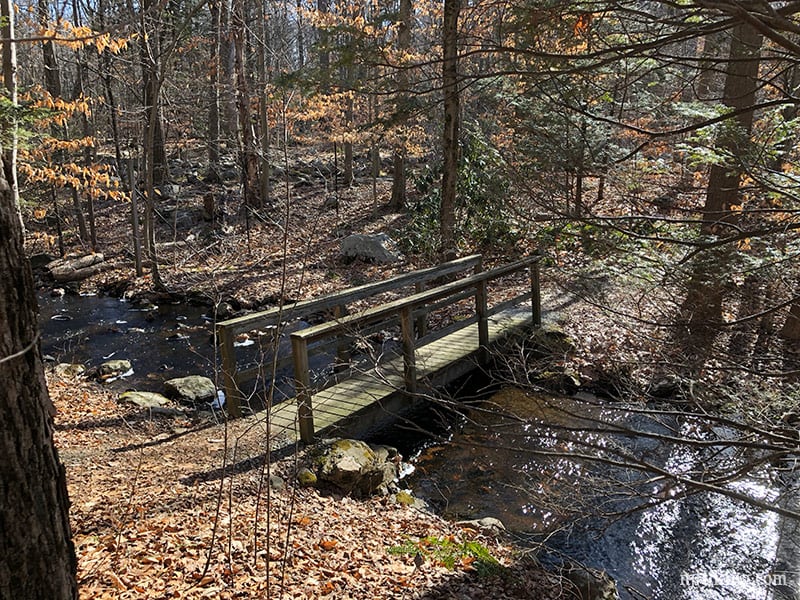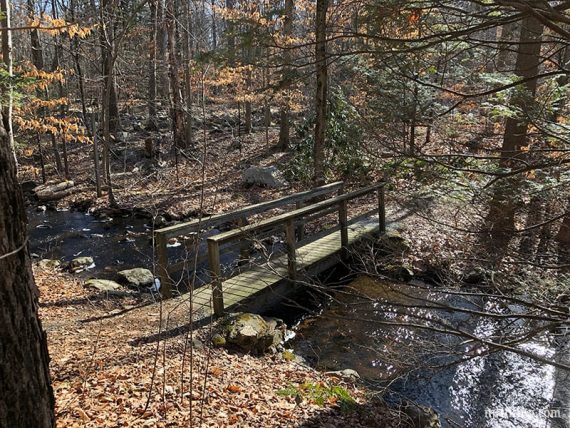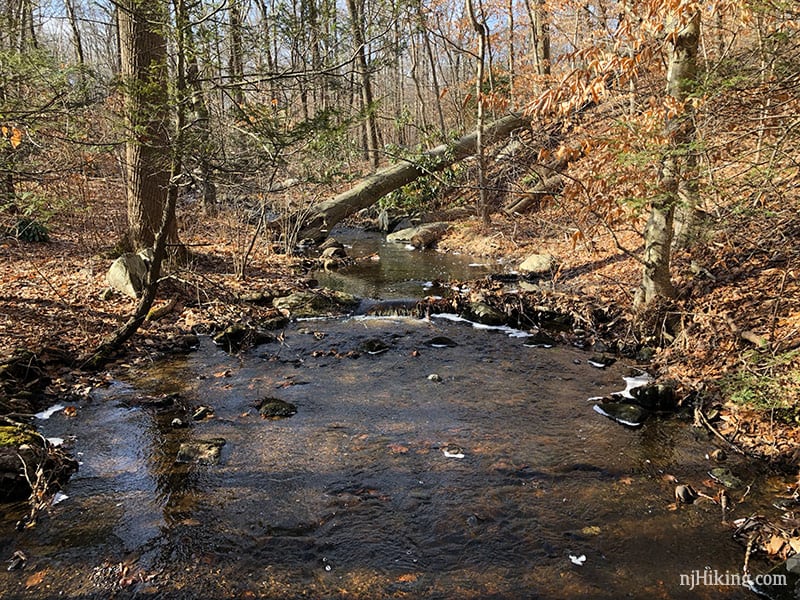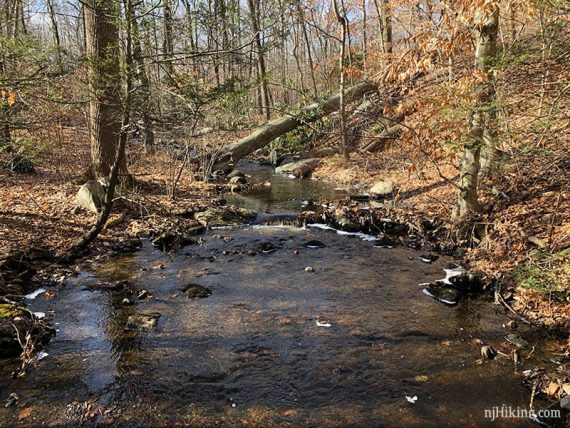 1.5 – Arrive at the park road near a trail kiosk with map and wildflower brochure. Turn LEFT and follow the park road just a bit until RED/GREEN.
Start following GREEN (Evergreen) loop up to the left uphill and around back to this spot.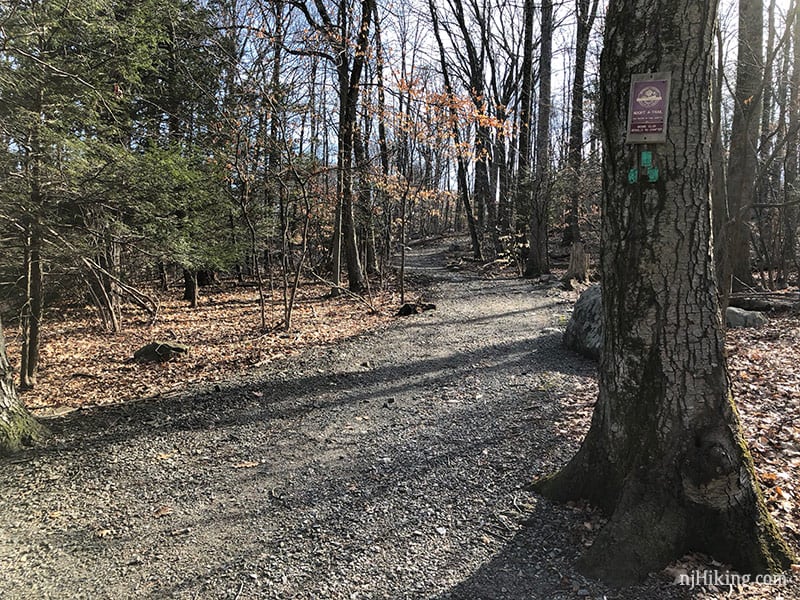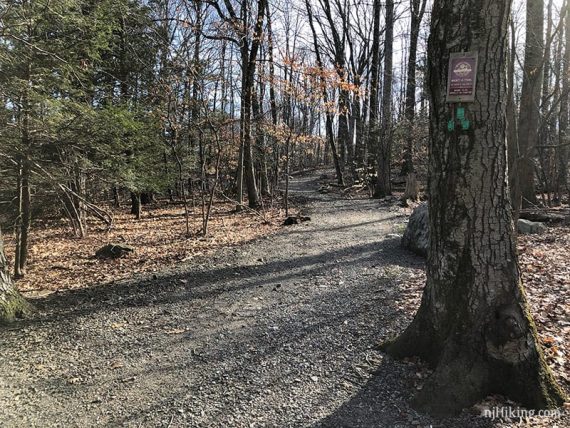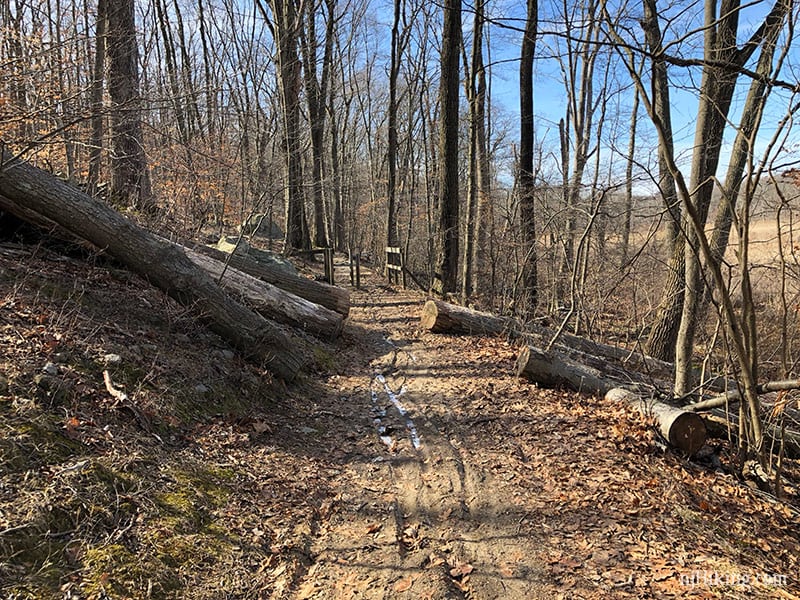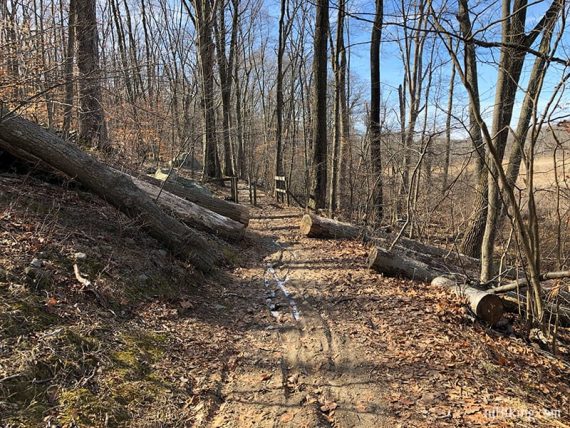 /// Option: Cut the green loop out if you'd like to reduce the hike by 0.4 miles. The loop was just ok. ///
2.1 – Start following RED.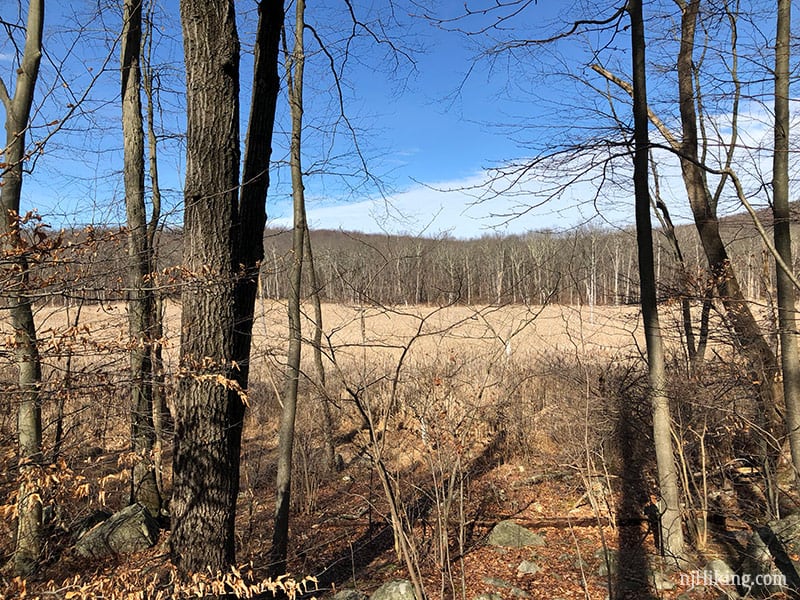 2.5 – Turn RIGHT to follow BLUE – turn is easy to miss. [RED/BLUE continues straight and meets up in the same spot].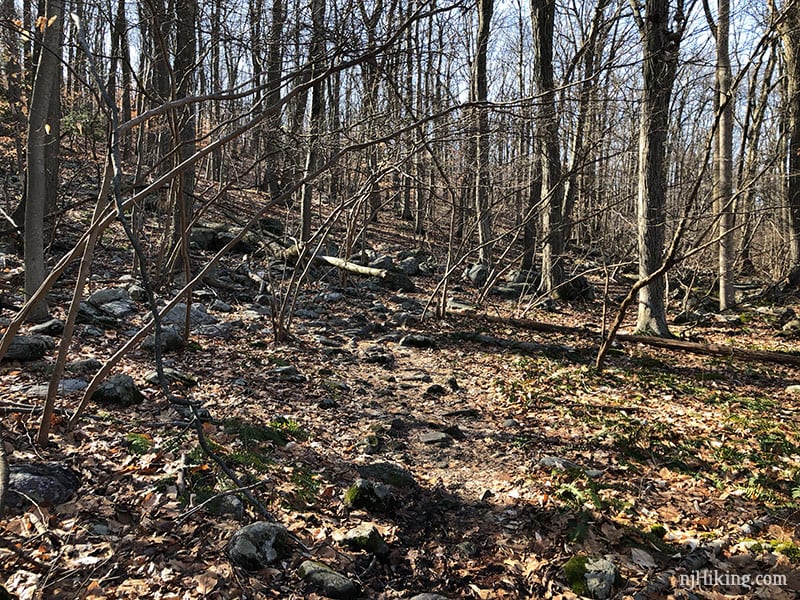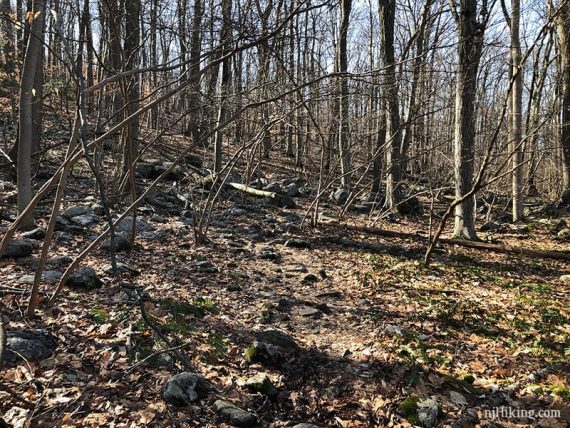 BLUE is a trail and not a gravel path. Pass the remains of a spring house along the way – some stone around where an old spring used to be.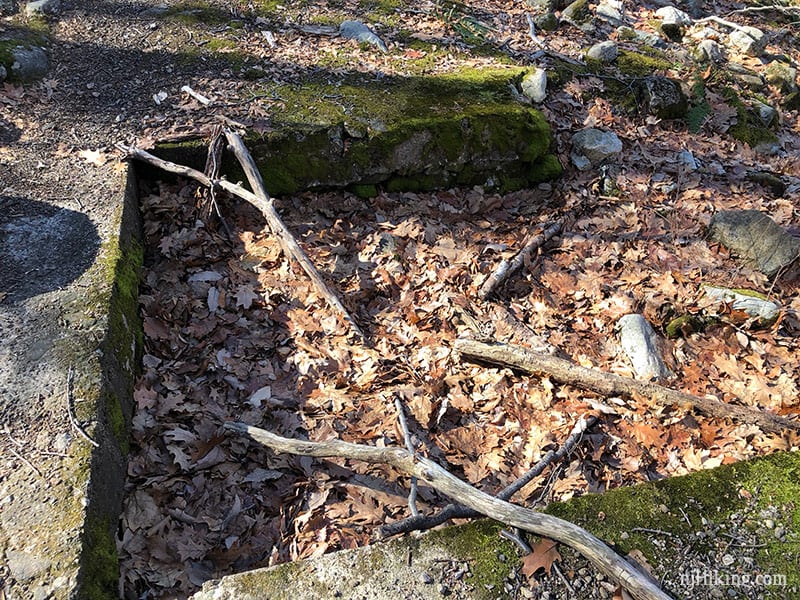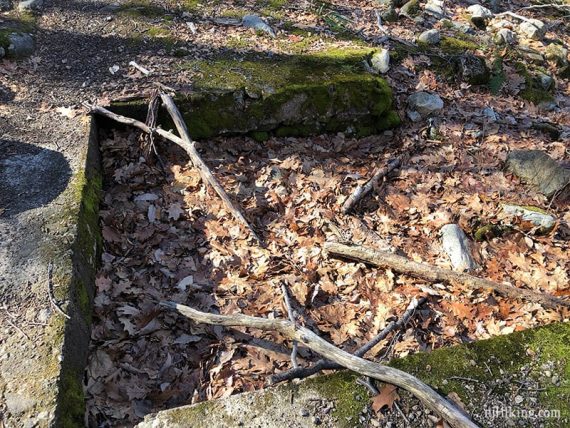 3.0 – Follow RED again.
3.3 – Continue straight, now following unmarked gravel Birchwood Loop. [RED goes right].
/// Shorter option: Turn RIGHT on RED to cut off the Birchwood Lake loop, remove ~0.8 mile from the hike, and meet up at 4.1 below where you'll stay straight to keep on RED ///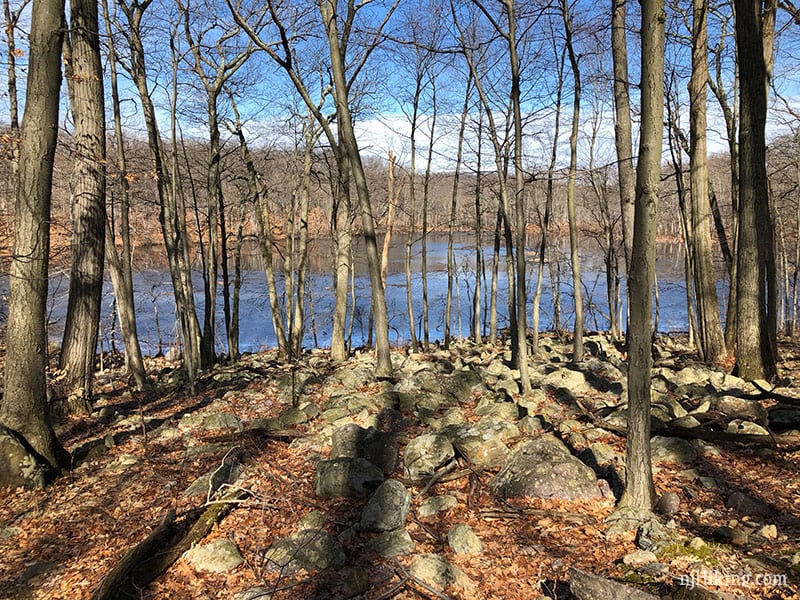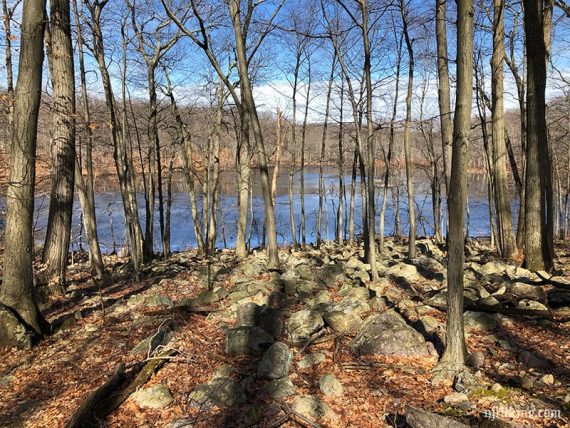 Follow Birchwood around the east side of Birchwood Lake.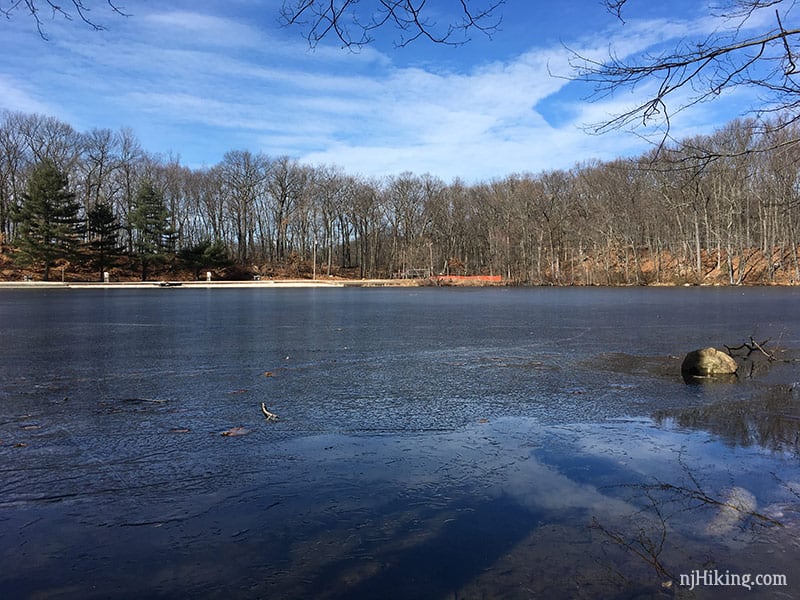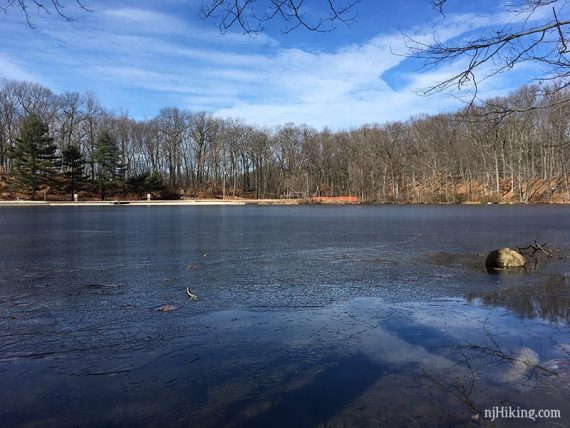 Continue past a swimming area and parking lot with a 9/11 memorial rock, then along an unmarked trail on the east side of the lake.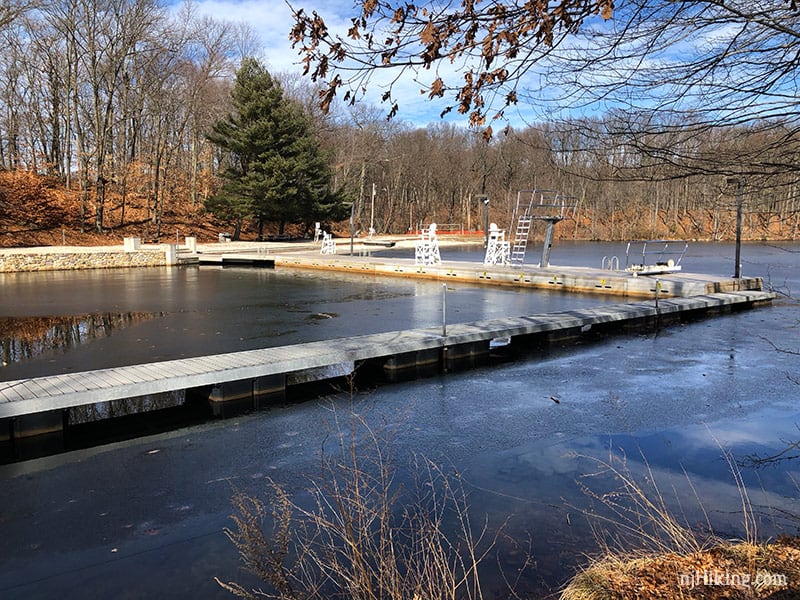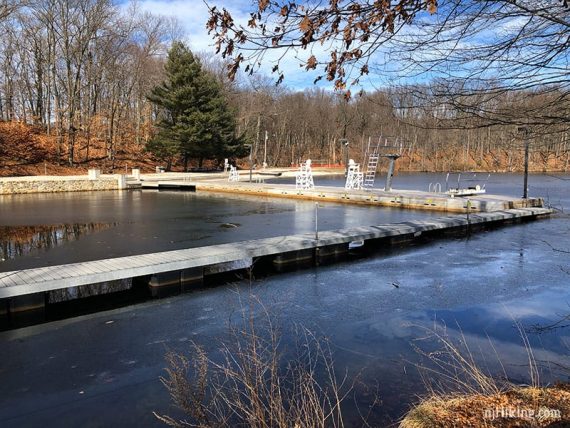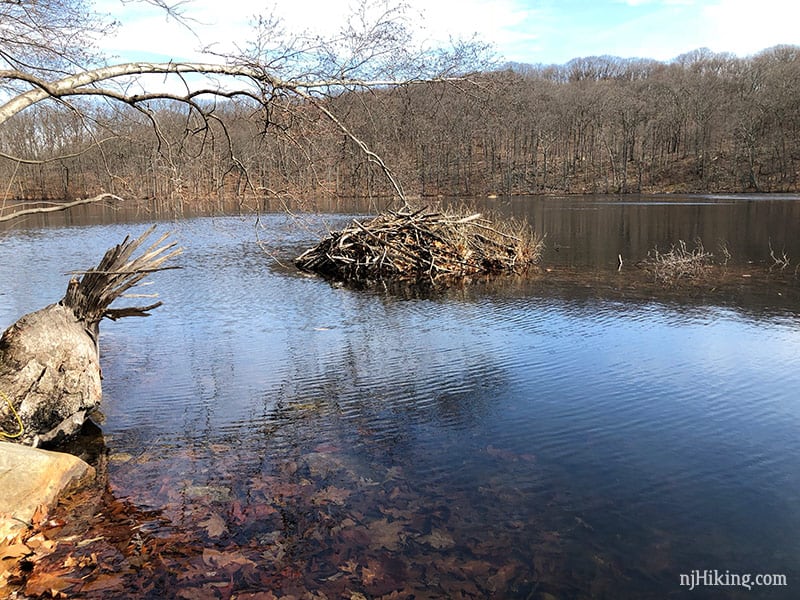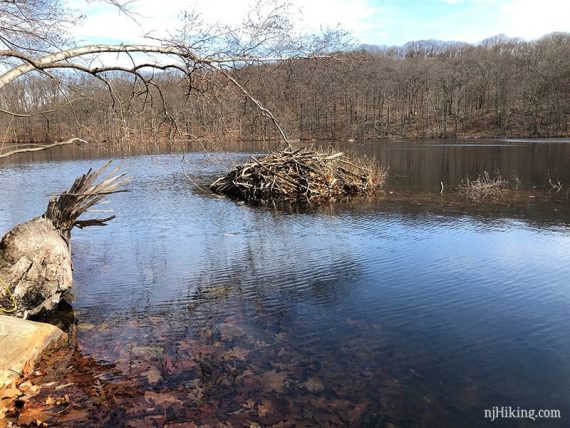 4.1 – "Tourne Access" sign at the intersection of RED, PURPLE, and WHITE.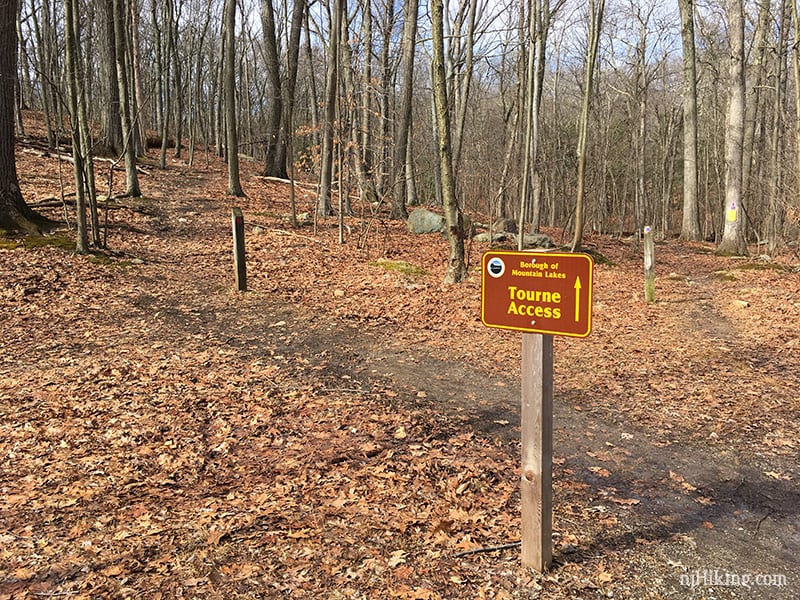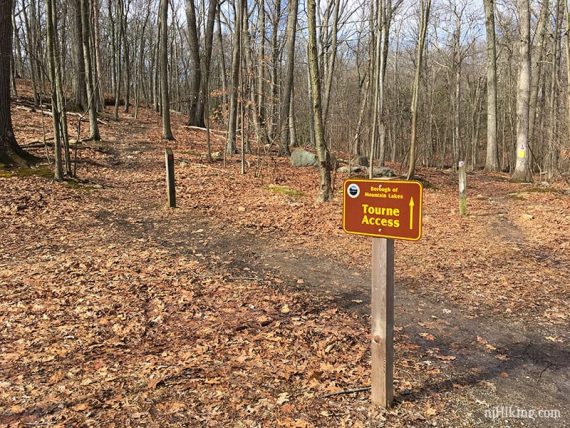 Turn sharp LEFT to start following RED for the rest of the hike.
[PURPLE veers left and also returns to the lot, WHITE (Ogden) goes straight and is another way back, RED also goes right]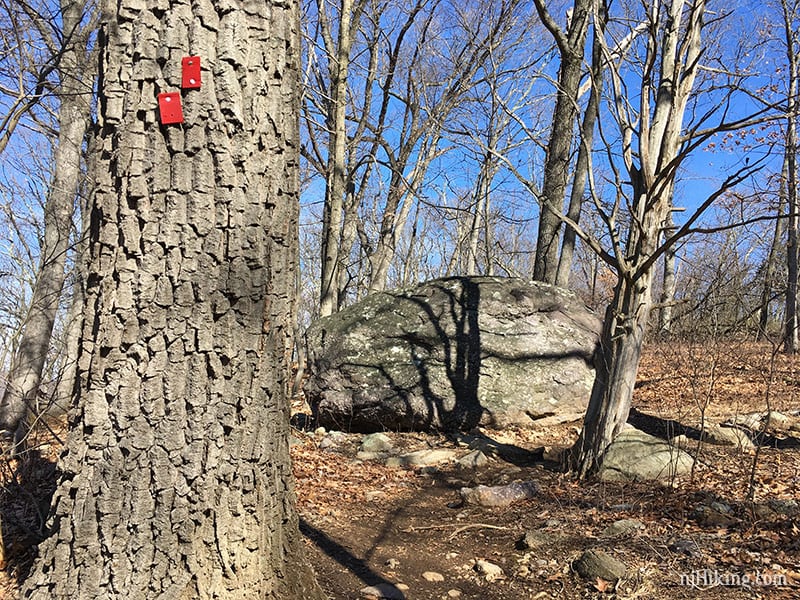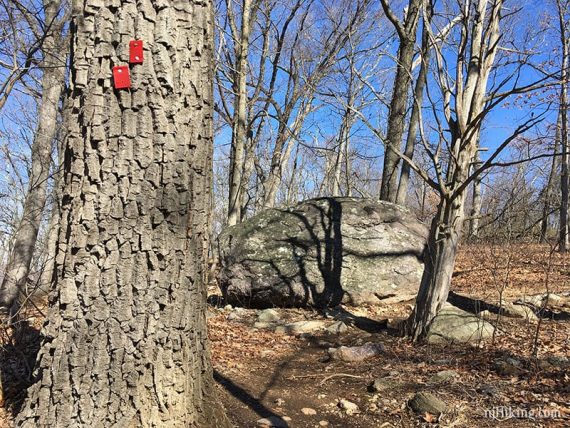 4.6 – Keep following RED as PURPLE comes in from the right, is co-joined briefly before leaving to the right.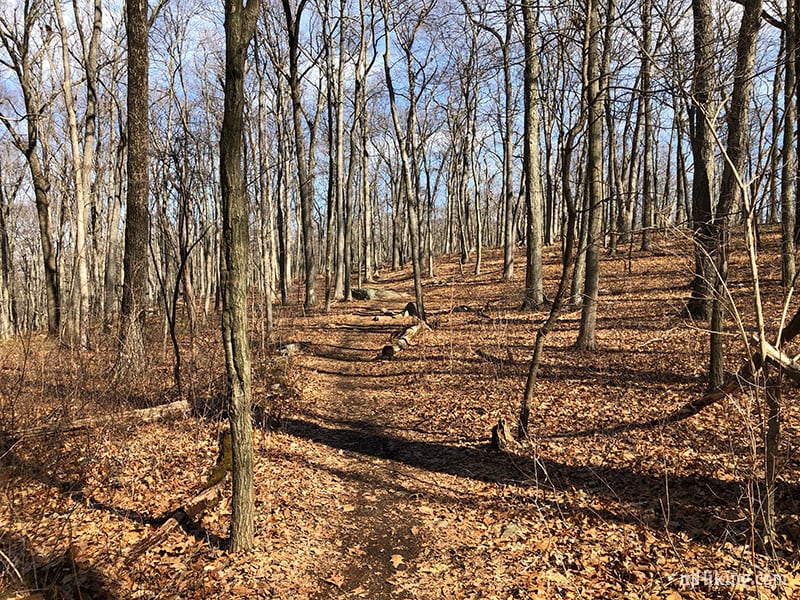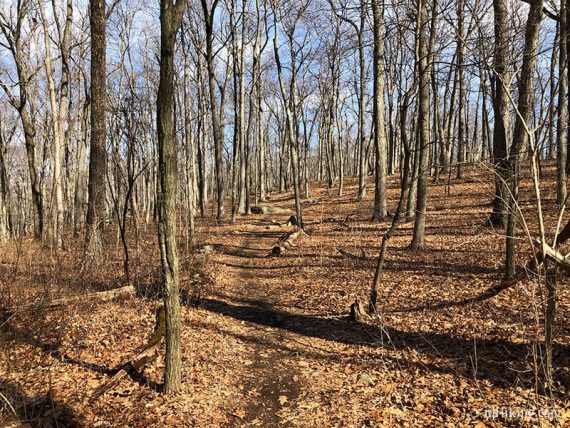 5.3 – Continue straight on RED. [PURPLE crosses left and right]
5.5 – Continue straight on RED. [PINK crosses left and right]
—
Hiked: 2/17/18. Trail blog: "Top of the Tourne in February"