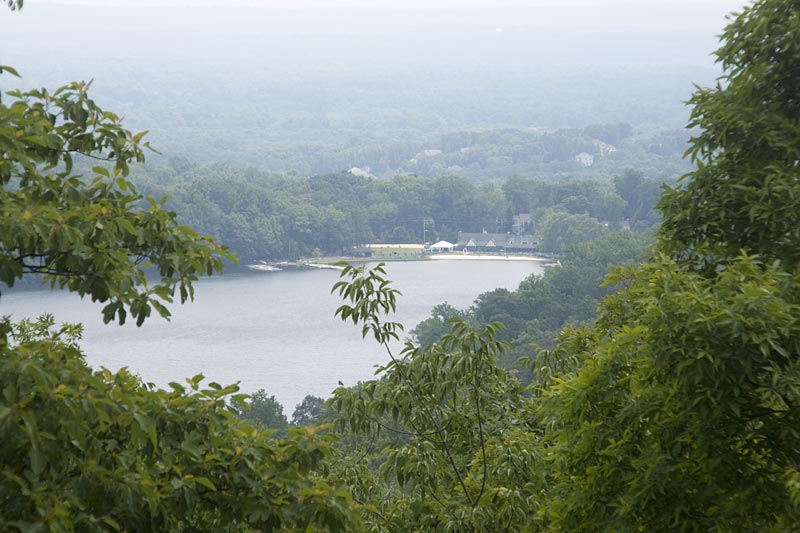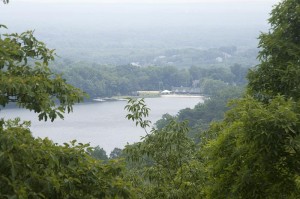 Moderate hiking across the road from Pyramid Mountain, with a view of NYC and a few other obscured views.
5.4 miles. Moderate, minimal elevation gain. 4 viewpoints: two obscured, one of a lake, and one of the NYC skyline (very faint if it's hazy). Also pass the ruins of a house.
Shorter – Multiple trail options to cut it shorter; check the map.
Longer – This is pretty much the longest loop you can put together on the Turkey Mountain side without duplicating trail sections. Easily make a longer day by combining this loop with one at Pyramid across the street.
Hike Info:
Our two cents: Both Pyramid and Turkey Mountain offer easy access to decent hiking, and are good for beginner hikers.
Map: This area is covered by the Jersey Highlands Trails map set, and there should be maps in the trail kiosk in the parking lot.
Books: A 3.5 mile variation is in Take a Hike New York City. A longer version that includes Pyramid is in 60 Hikes Within 60 Miles: New York City. Detailed trail descriptions found in the The New Jersey Walk Book. Most trail books seem to favor Pyramid over Turkey, probably because of popular Tripod Rock.
Parking: N40 56.820 W74 23.268
Rt 287 to exit 45. 472 A Boonton Avenue, Montville Township, NJ. Detailed directions here.
Restrooms: In the visitor center, which is open at 10a. There is also a porta-john in the lot near the exit driveway that is in decent shape.

Hike Directions: Overview: YELLOW – WHITE- RED – GREEN – BLUE.
0.0 – This route starts from the Pyramid Mountain parking lot. Walk out the exit driveway, near the visitor center, cross the road, and start on easy YELLOW trail.
0.5 – Turn RIGHT onto WHITE. (You can skip WHITE and stay on YELLOW, and end up in the same spot via a bit easier trail if you like). Trail is more rugged with some switchbacks (elevation change not bad though)
1.2 – Rejoin YELLOW, turning RIGHT. Keep following the well-blazed trail as it passes a unmarked trail, then RED on the left, and zigs around.
The trail becomes very overgrown as it crosses a powerline cut. Hopefully you applied bug spray if you are wearing shorts.
2.2 – Cross North Valhalla Brook on a bridge. There should be a small waterfall just north, before crossing the bridge. It wasn't obvious the day we hiked, but after looking at our photos from a older winter hike we remembered it.. either we were just oblivious that day or possibly it's obscured a bit, or around a corner…. try looking/walking to the left some before you cross the bridge.
Follow YELLOW as it turns LEFT after the bridge.
The trail approaches Stony Brook road and parallels it for a bit, with some minor traffic noise. The trail comes out to the road, turn LEFT and walk along the guard rail for just a bit before turning LEFT back into the woods, on a woods road.
3.9 – There is a small trail that leads to a large rock with a very obscured view (perhaps it is better when their is no leaf cover). Just a few steps later, the YELLOW trail ends and you are at a T-junction with RED.
Turn LEFT and follow RED. (if you go right, you will also end up at 100 steps, but will miss stone ruins and a NYC view)
4.5 – Turn RIGHT, following GREEN. RED goes straight.
4.6 – Stone ruins of a unfinished cabin. (According to theThe New Jersey Walk Book, the cabin was abandoned when the power lines were added)
Look for a GREEN spur trail behind the ruins that leads to the power line and a view of NYC. At the viewpoint, behind you and to the right, a stone chimney can be seen. There are no trails to this.
4.8 – Viewpoint over Lake Valhalla.
After that, the GREEN ends and T-intersects with BLUE. Turn RIGHT here and follow BLUE (there is also a blue arrow on a rock. You can also go LEFT for a longer way back to the lot)
4.9 – Trail turns LEFT onto the powerline cut, then head down the "100 steps" -a series of steps that head downhill along the cut.
The trail arrives at the road, turns left and you have to cross the road back to the entrance to the lot.
—
Hiked: 6/12/10 – Trail Blog: "Turkey Mountain – 100 Steps and Stone Ruins"
Hiked: 2/19/06. Trail Blog: "Turkey Mountain in February"
Hiked: 11/9/03.