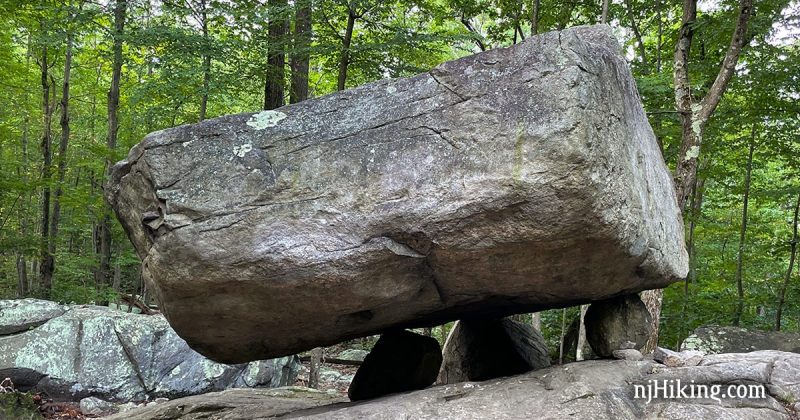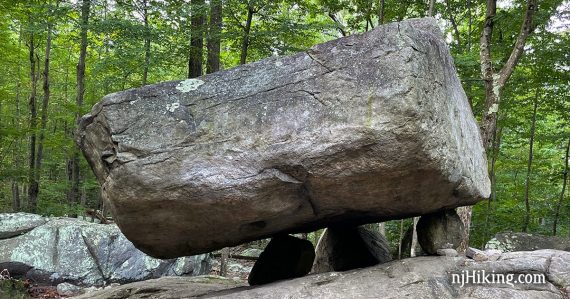 Hike to three large glacial erratics – Tripod Rock, Whale Head Rock, and Bear Rock – as well as two overlooks.
Total round trip mileage: 4.3. Rocky, somewhat steep uphill to overlook and a slightly difficult rocky descent past Whale Head Rock.
Shorter: To create a short-but-sweet 3-mile loop, follow the directions below to Tripod Rock, then retrace back to the lot.
Nearby, from same lot: Turkey Mountain.
Hike Info:
Our two cents:
Some of the largest glacial erratics in the state are spaced out along this route. The trail system here is good for beginning hikers but interesting enough for experienced ones.
To create longer loops, add in an out-and-back on PINK DOT or cross the road from the parking lot and also hike Turkey Mountain.
Fun fact: A "glacial erratic" is a rock transported by ice that differs from the type of rock native to the area.
Updated: 8/2021 – Re-hiked; minor edits; new photos. Remainder of change log at page bottom.
---
Map:
Use the park's map linked above due to major trail blaze changes 3/2021. This park is included on Jersey Highlands Trails but the current (2017) map is now outdated due to these changes.
---
Books:
Routes can be found in Hiking New Jersey, 60 Hikes Within 60 Miles: New York City, Hiking the Jersey Highlands,Hike of the Week and 50 Hikes in New Jersey. Detailed trail descriptions are in The New Jersey Walk Book. Note that many of the trail colors will no longer match the book routes.
Road Side Geology of New Jersey is an interesting book about how glaciers and other forces shaped the landscape of the state.
---
Pyramid Mountain Parking, 472 Boonton Ave, Boonton, NJ 07005. Large gravel parking lot that often fills on weekends.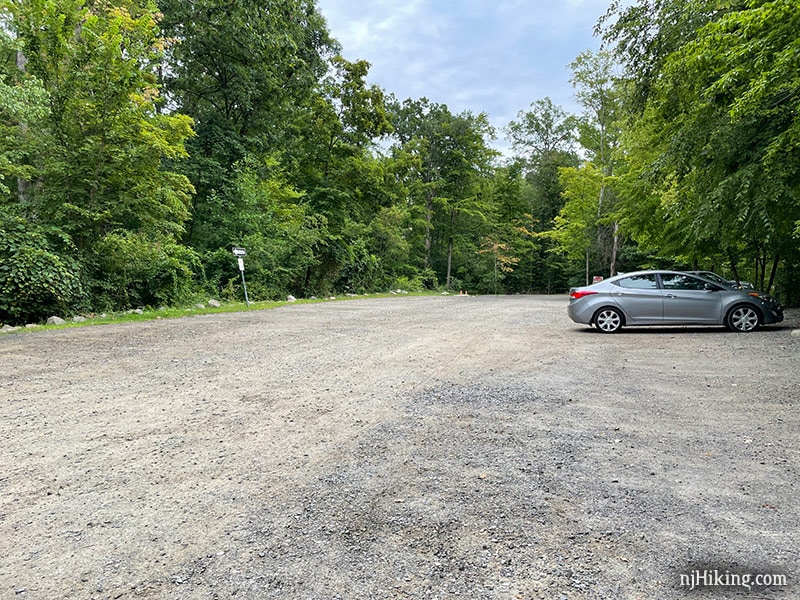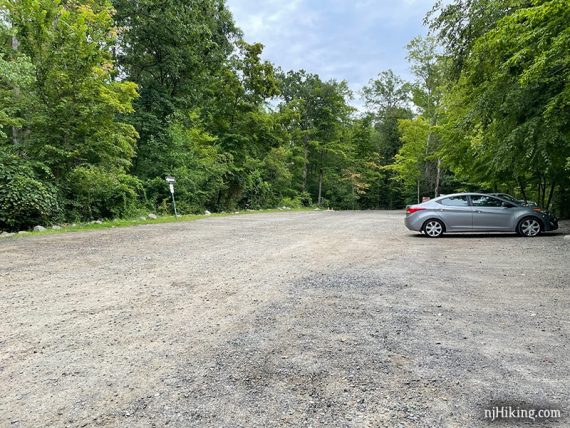 ---
Restrooms:
In the visitor center when open (usually 7 days a week; 9 – 4:30). Portable toilets in the parking lot (may be seasonal).
---
Hike Directions:
Overview: BLUE (Mennen) – BLUE DOT – PURPLE – BLUE DOT – ORANGE – BLUE (Mennen)
0.0 – Start at the trail kiosk and follow BLUE (Mennen) along a manicured gravel trail.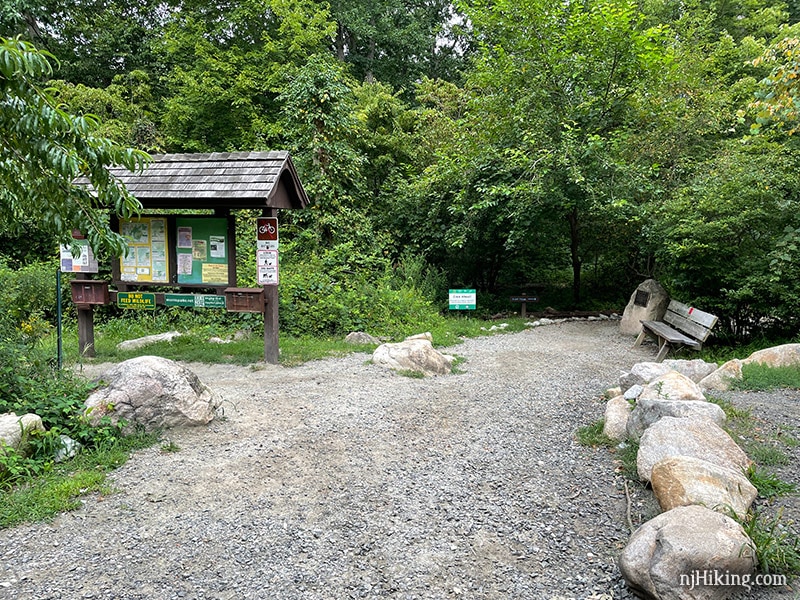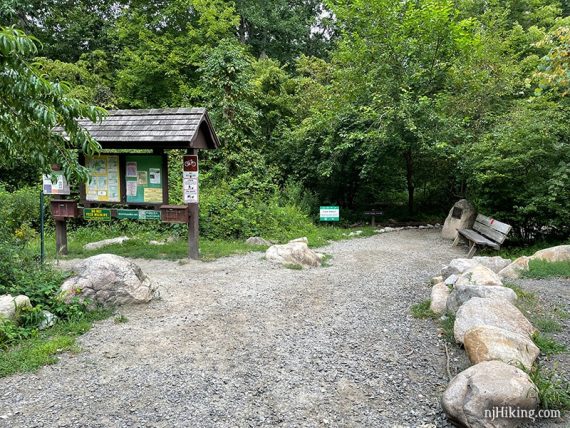 The trail is only like this in the beginning and soon becomes a normal rocky hiking trail.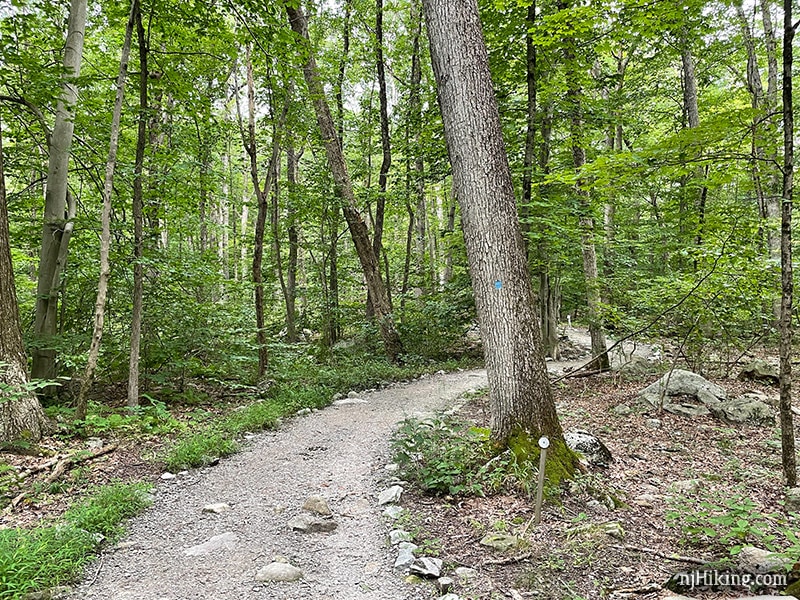 Cross a wooden footbridge.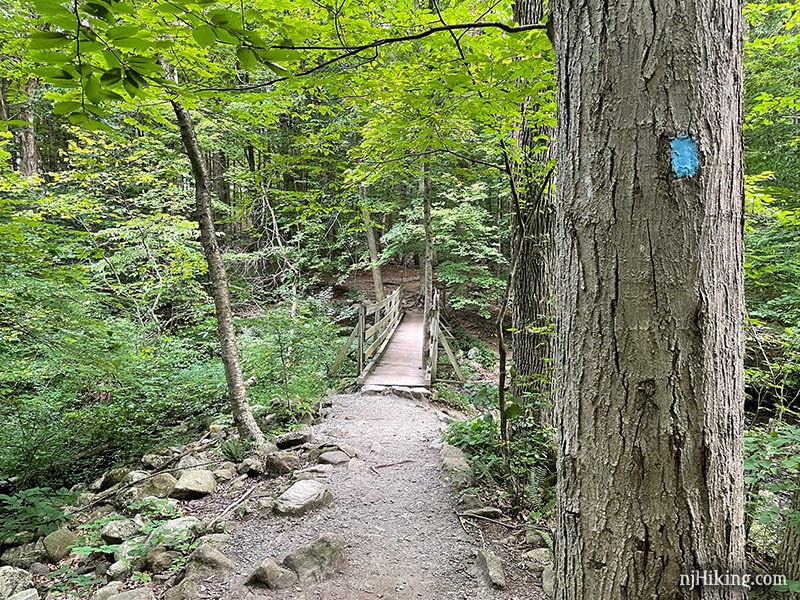 0.2 – Take the LEFT fork of BLUE (Mennen) at a sign and large cairn (pile-o-rocks). [BLUE (Mennen) also goes to the right].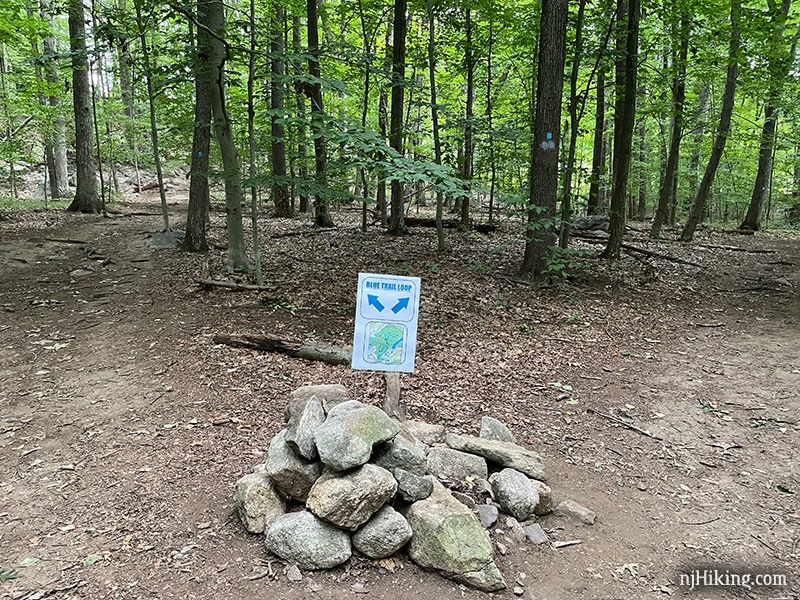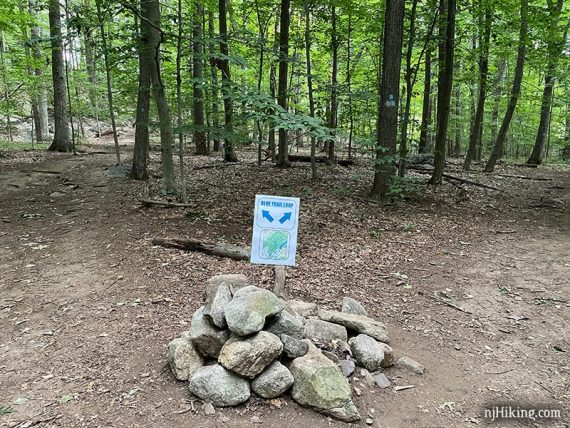 Cross a power line cut, with a large electrical tower.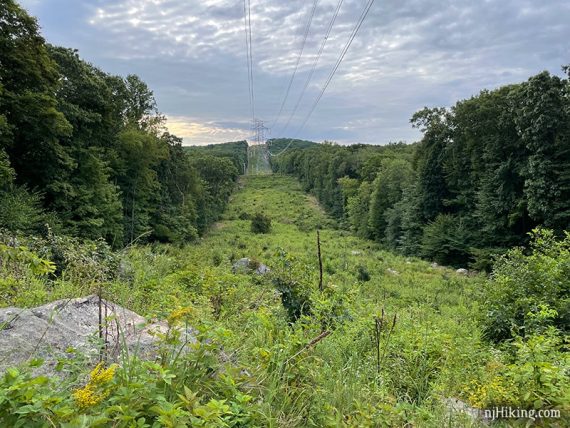 These large towers dominate the views in this area, unfortunately. Not long after the crossing, there is a side trail to the left that is just a view down the power line cut.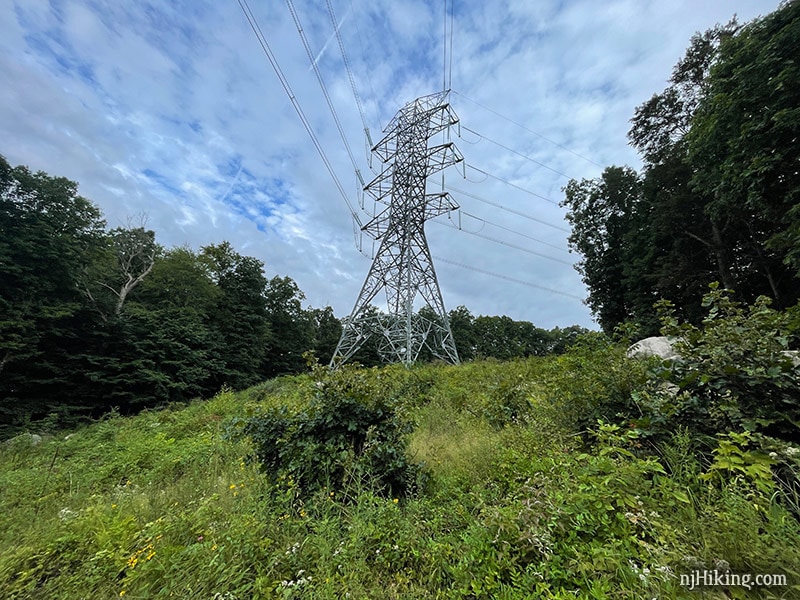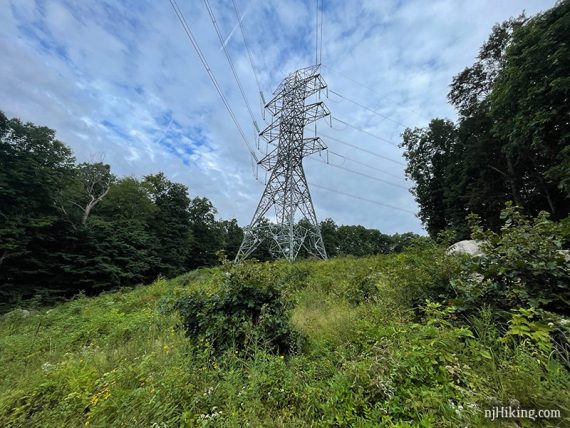 0.5 – Continue following BLUE (Mennen). [ORANGE starts to the left near a sign for "bear rock" and will be the return route].
The very rocky trail heads steeply uphill.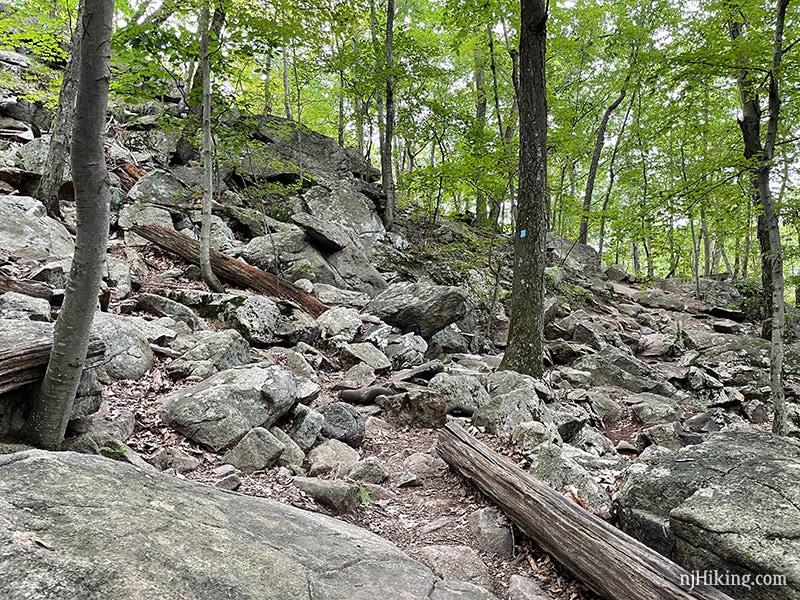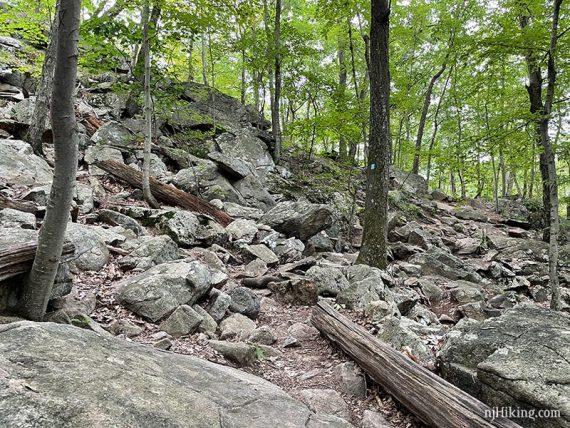 0.7 – Scenic overlook sign. One overlook is just ahead, and another is down a short path to the right. Both views are very similar, but the one straight ahead has a bit more of the skyline visible and water below.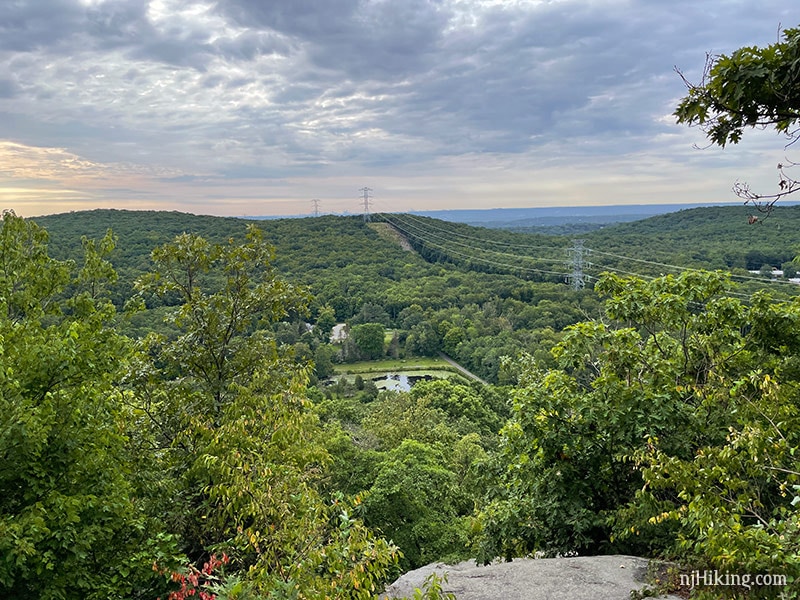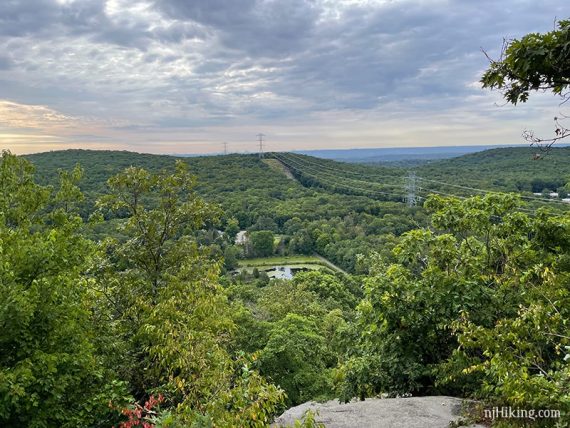 The view is over the surrounding hills with the New York City skyline visible on a clear day along the horizon.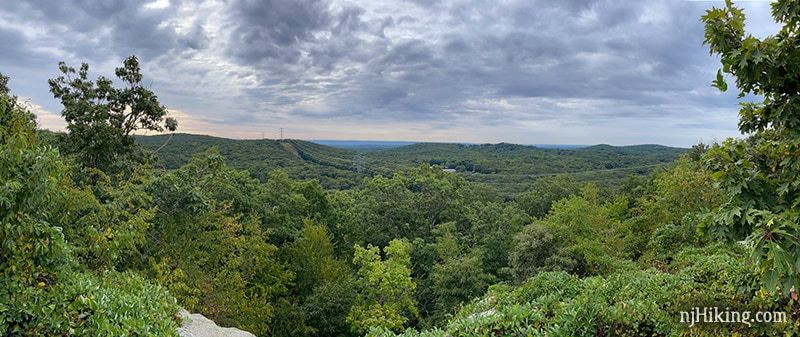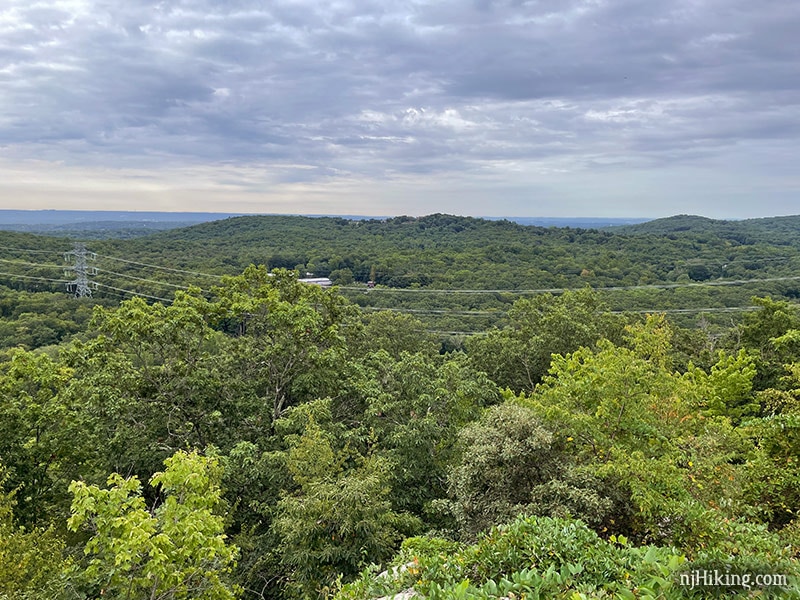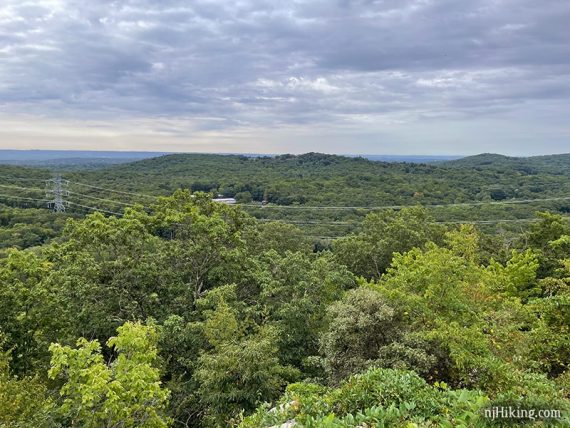 Those pesky power lines and towers dominate the view but the overlooks are still nice.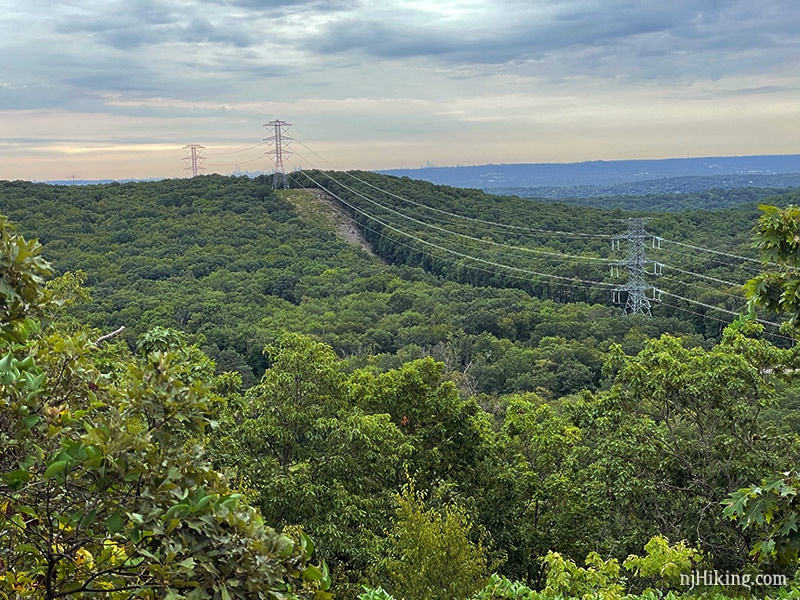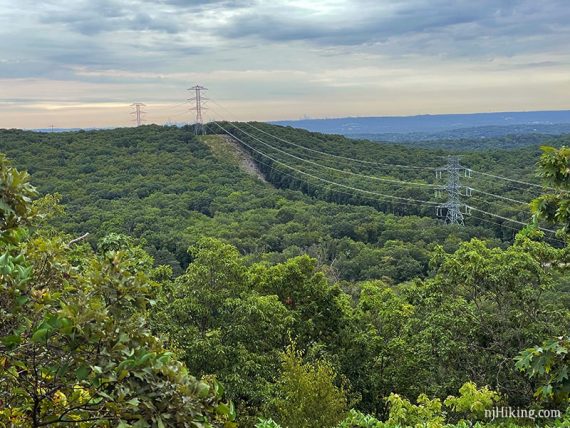 The towers are much taller after they were redone several years ago (~2013).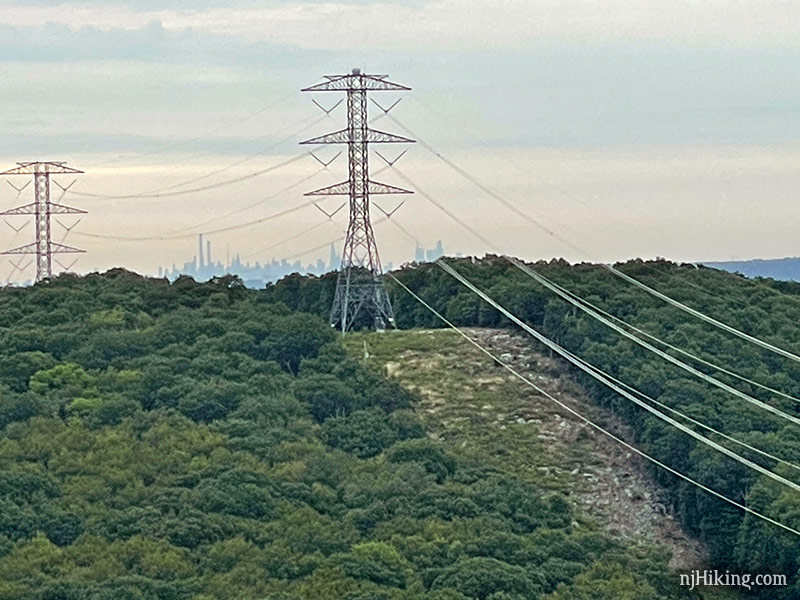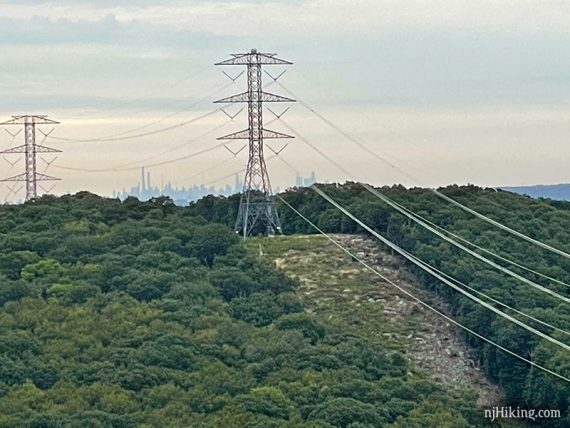 After the overlook, continue following BLUE (Mennen) as it descends.
1.1 – Continue straight to now follow BLUE DOT. [BLUE (Mennen) leaves to the right and loops back to the parking lot.]
Soon, continue ahead on BLUE DOT where YELLOW DOT leaves to the left near a sign for "Bear Rock".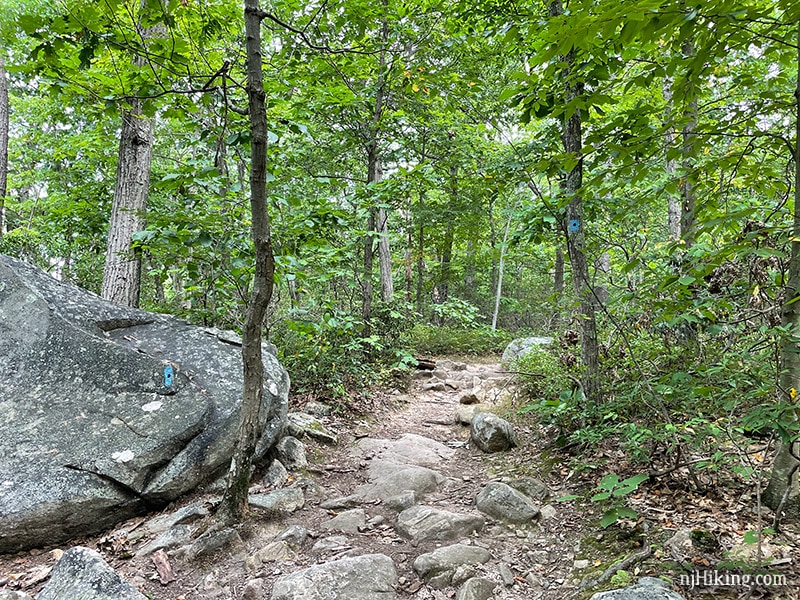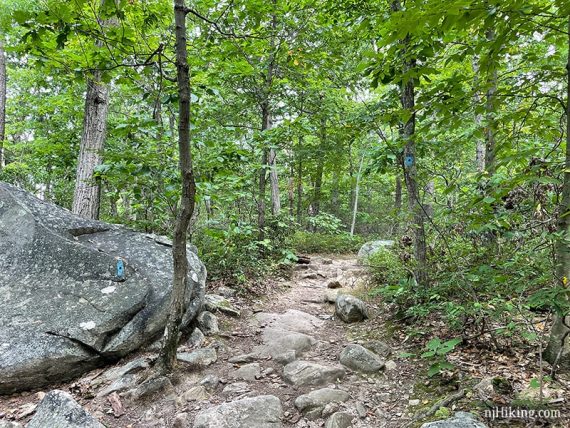 1.2 – Turn LEFT to now follow PURPLE to "Lucy's Overlook". It is named for Lucy Meyer who helped preserve the land around Pyramid Mountain from development in the 1980's.
Option: PURPLE is a rocky side loop that meets up with BLUE DOT in a bit. To skip it just stay on BLUE DOT.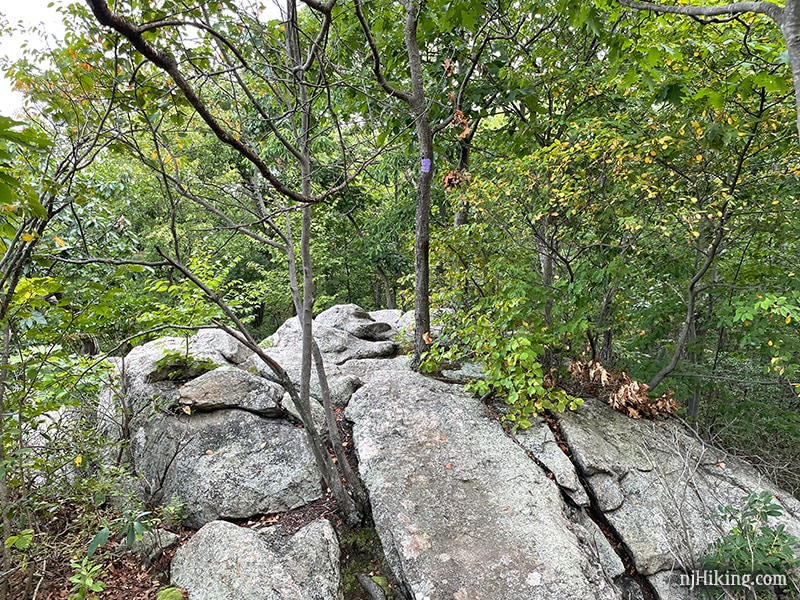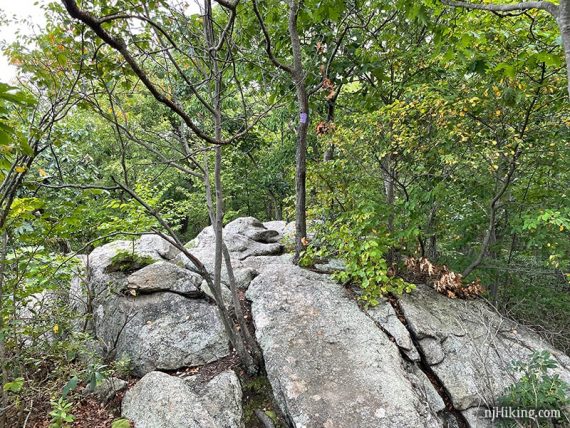 The view from Lucy's Overlook.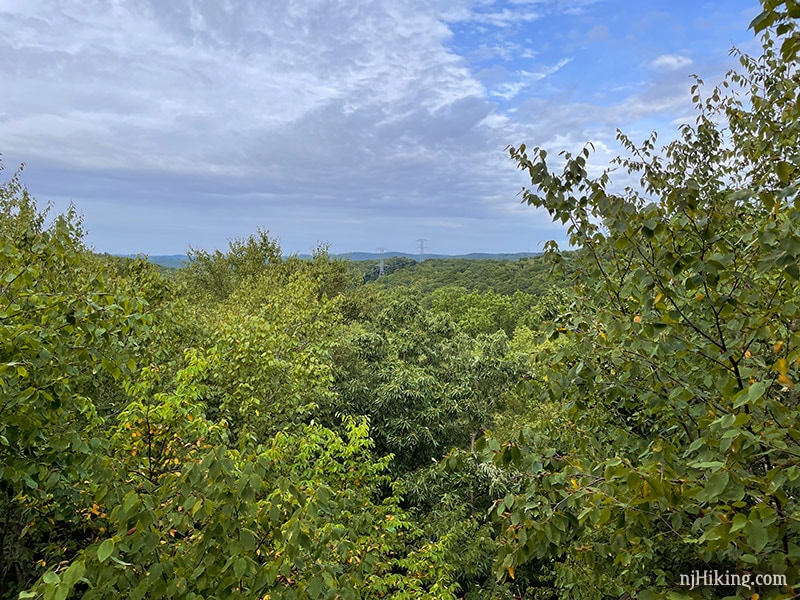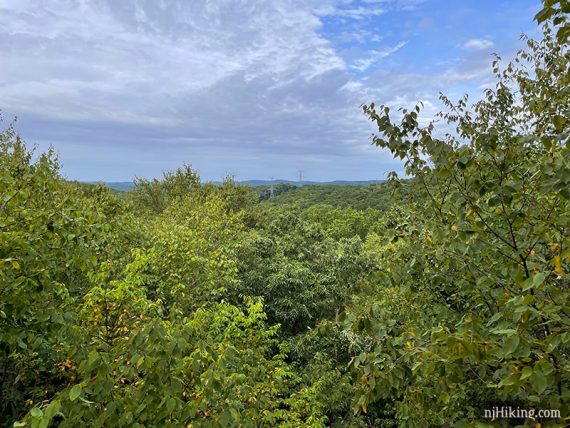 Continue on PURPLE from the viewpoint. When back at BLUE DOT, turn LEFT to continue on BLUE DOT.
1.4 – Continue on BLUE DOT straight. [Unmarked trail to the left].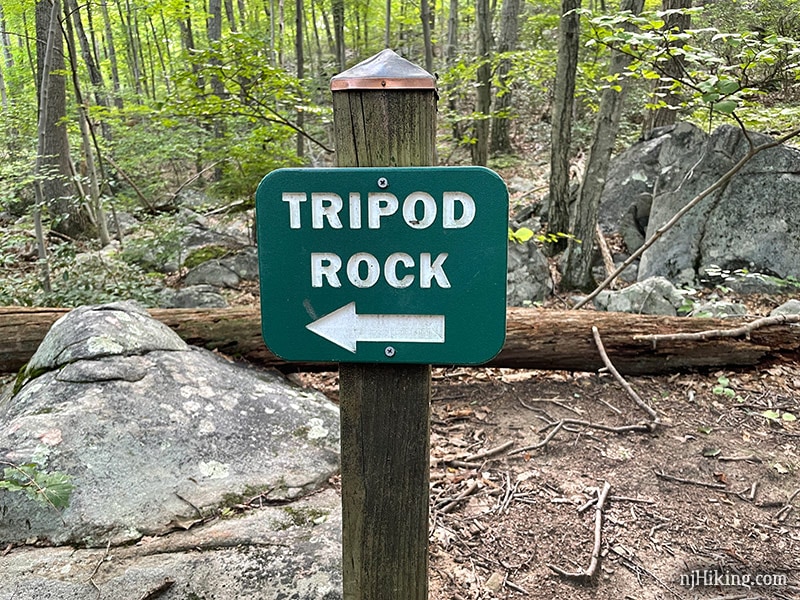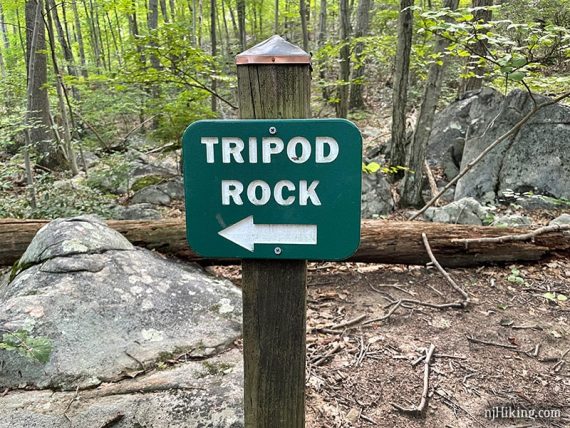 1.5 – Arrive at Tripod Rock… a large boulder balanced on 3 smaller ones.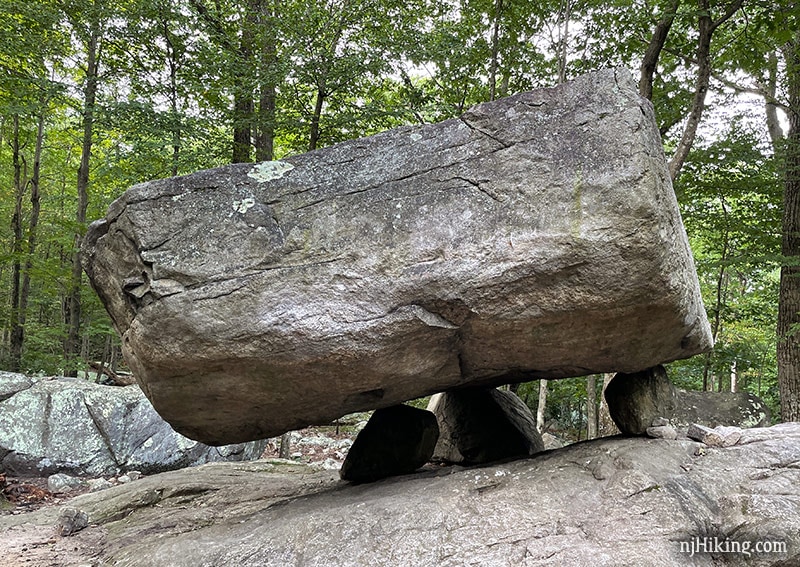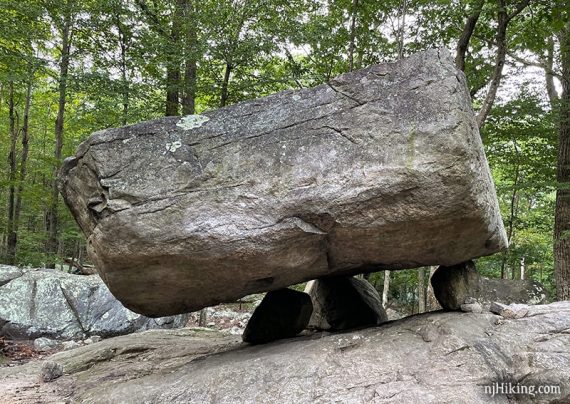 Fun fact: Tripod Rock weighs 180 tons and was deposited by the Wisconsin Glacier in this location over 18,000 years ago. [Source: Park website.]

There are some smaller glacial erratics nearby.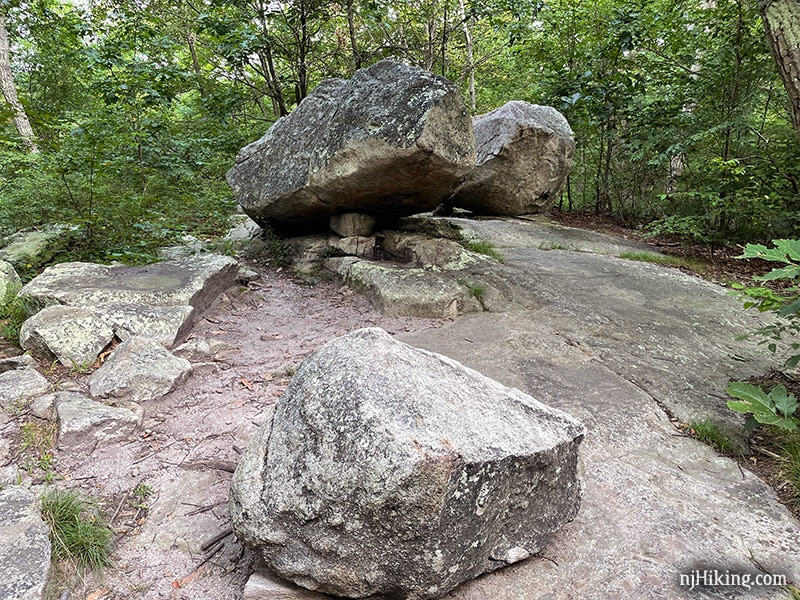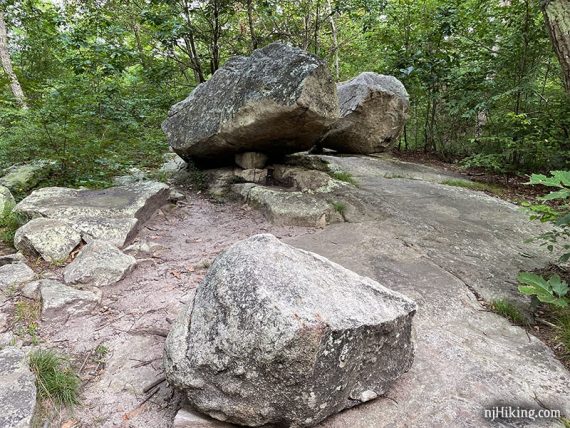 Tripod Rock seen from different angles.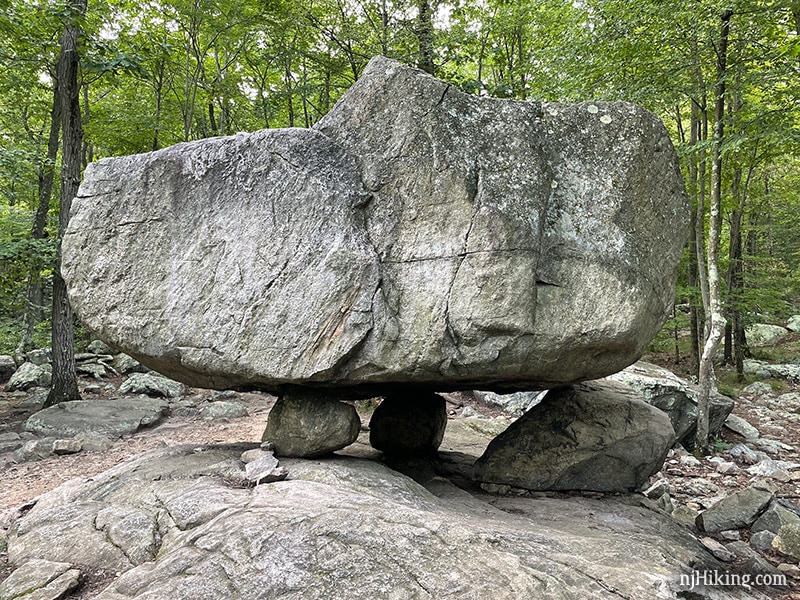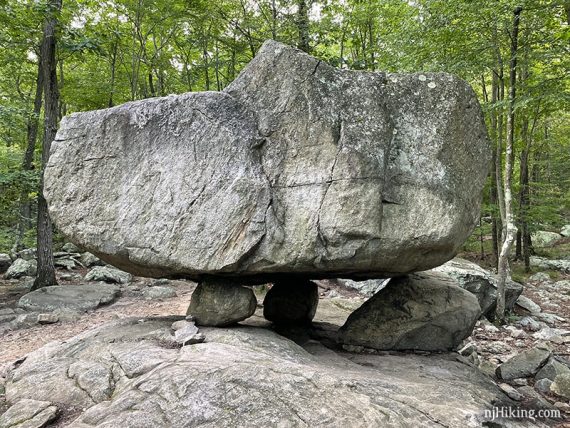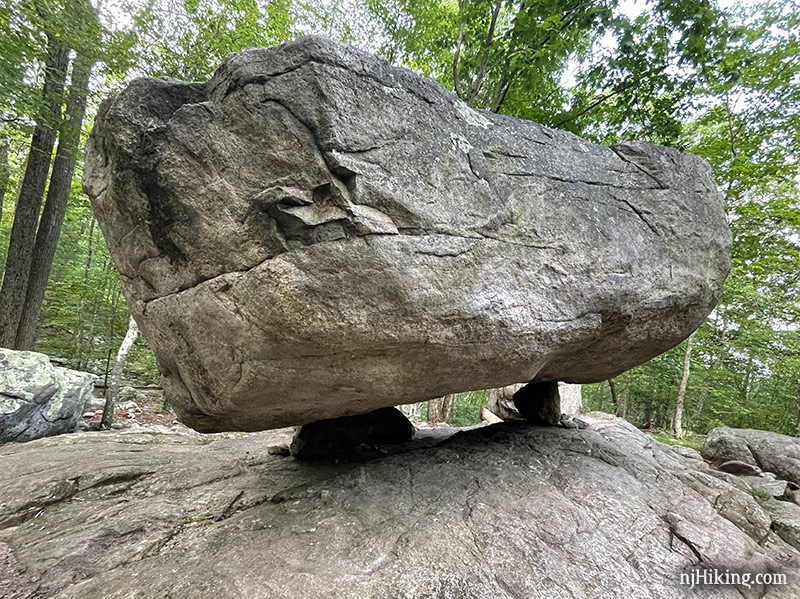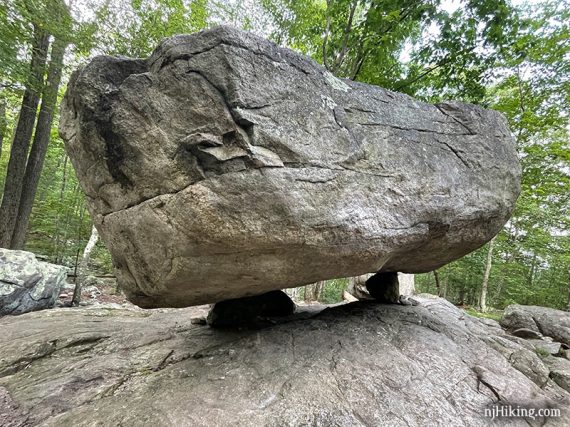 Continue following BLUE DOT after Tripod Rock.
1.9 – Turn LEFT and start following ORANGE. [ORANGE also continues ahead. BLUE DOT ends].
The trail goes around a rocky area called Eagle Cliff on the map (no views and you probably won't notice it).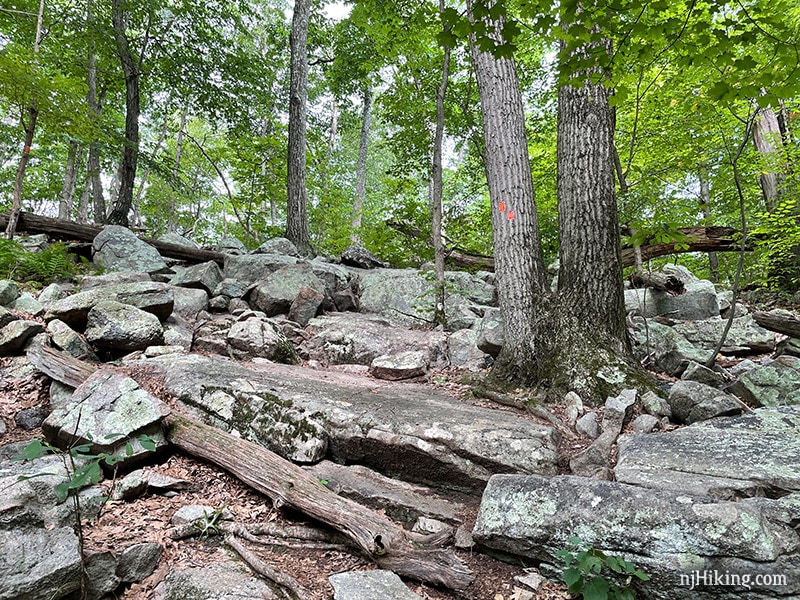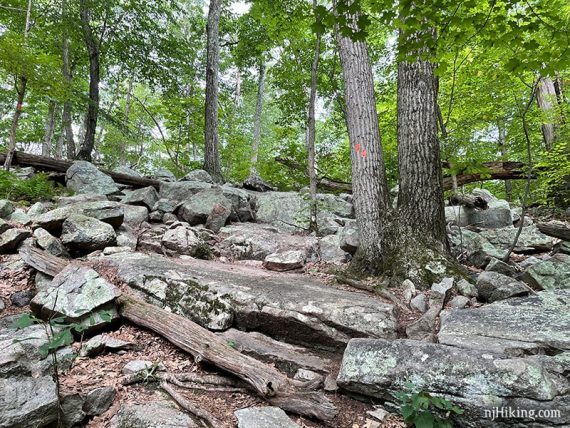 2.4 – Arrive at Whale Head Rock… a large boulder that does look like a whale head.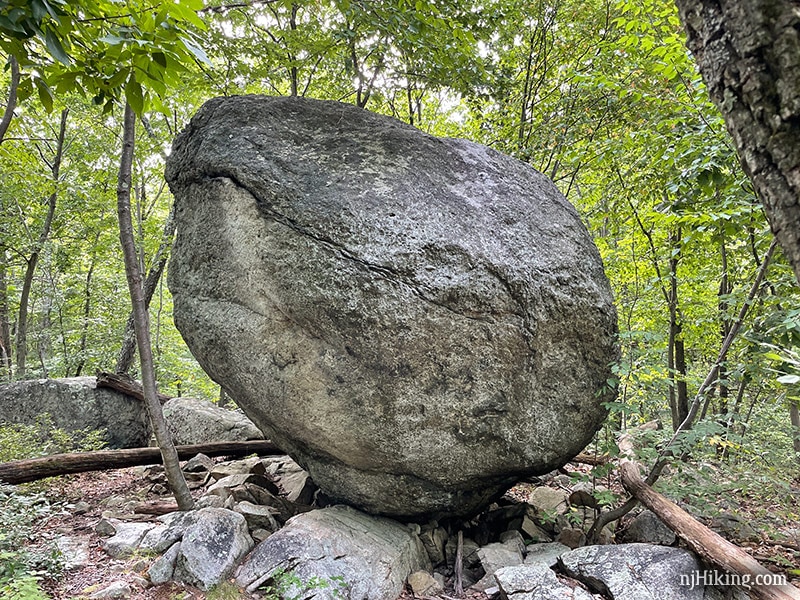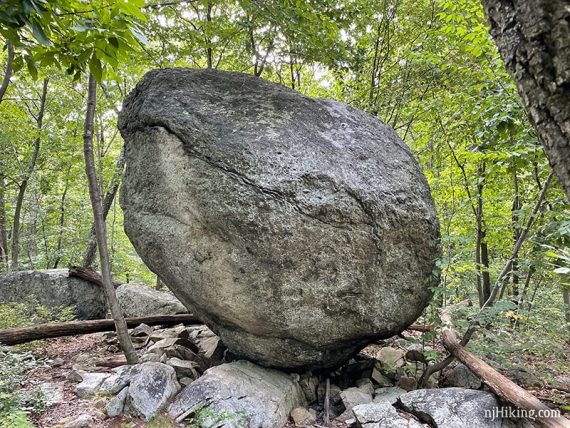 Continue following ORANGE as the trail descends steeply over rocks on a somewhat difficult section of this loop.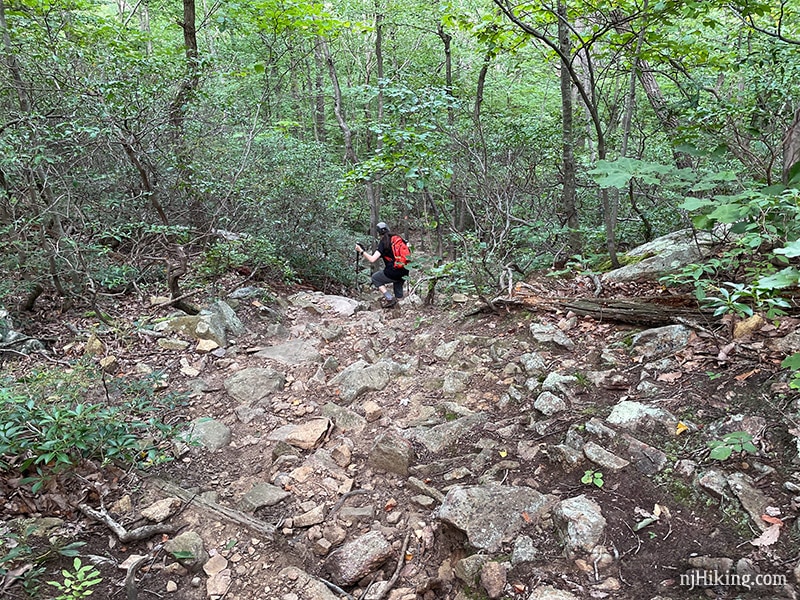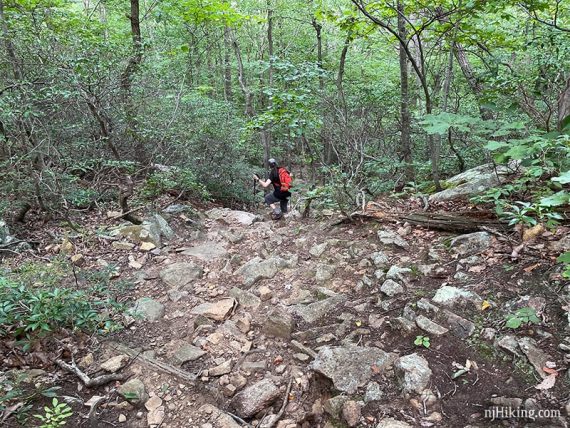 Once ORANGE levels off, watch for the trail markers, as the trail is all rocks and is not always an obvious footpath. Eventually it veers to the right.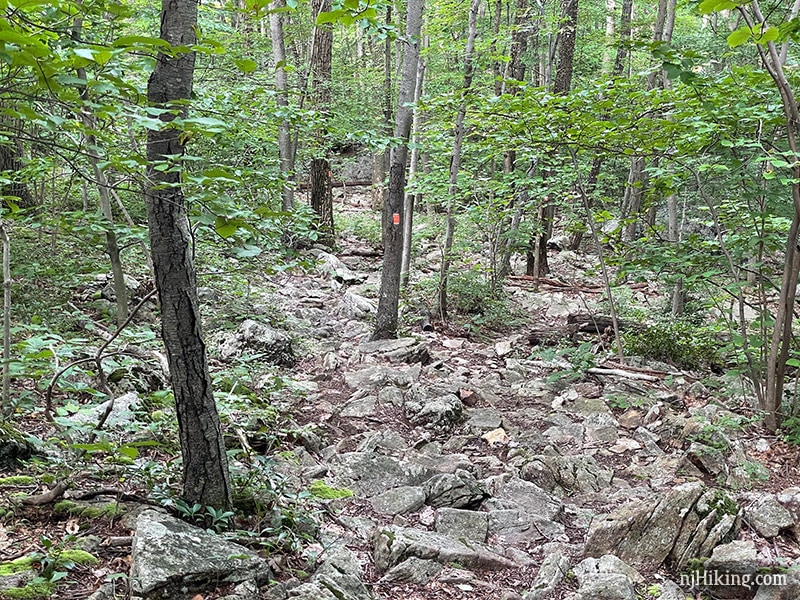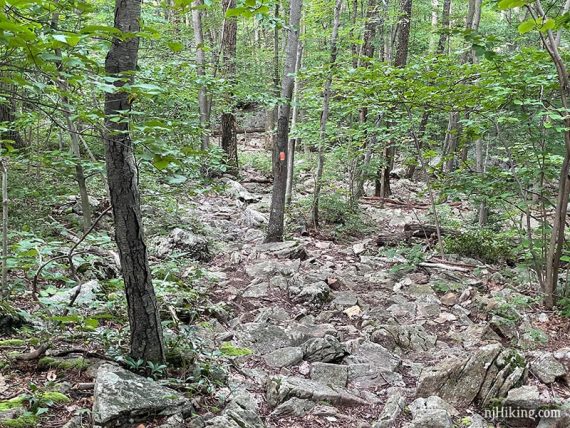 2.7 – Turn LEFT at a trail kiosk and "visitor center" sign to continue following ORANGE across a small footbridge. [WHITE DOT goes right.]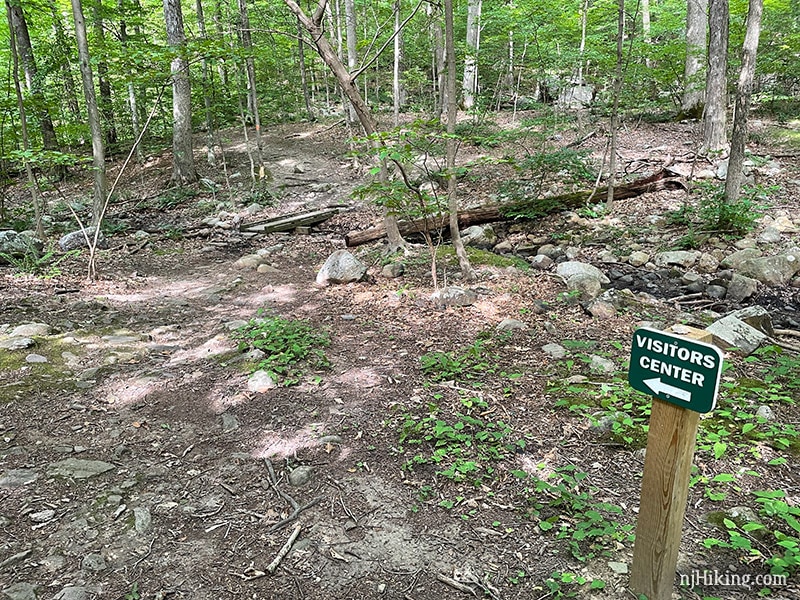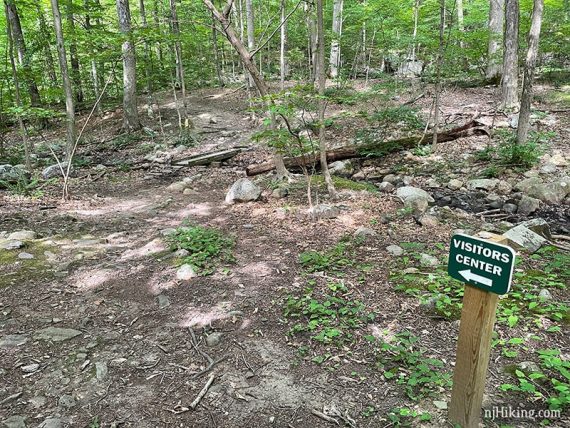 Continue following ORANGE on a generally level path.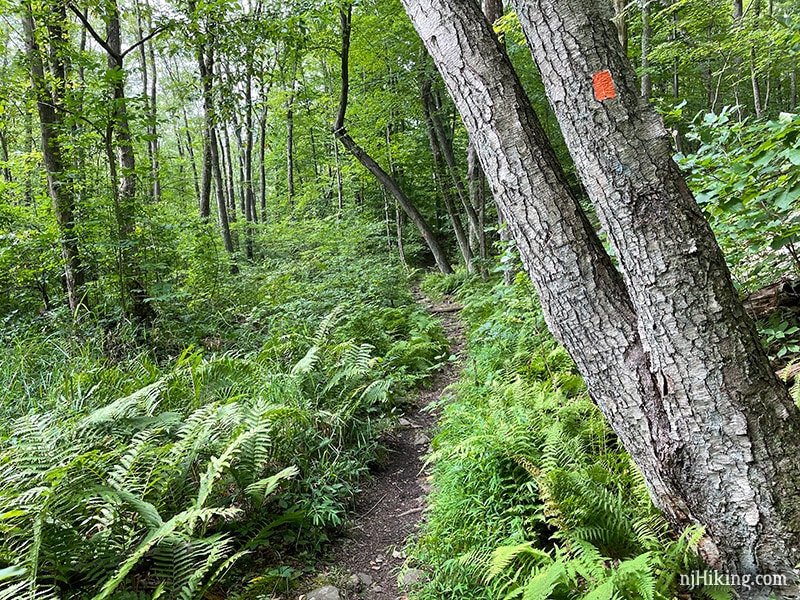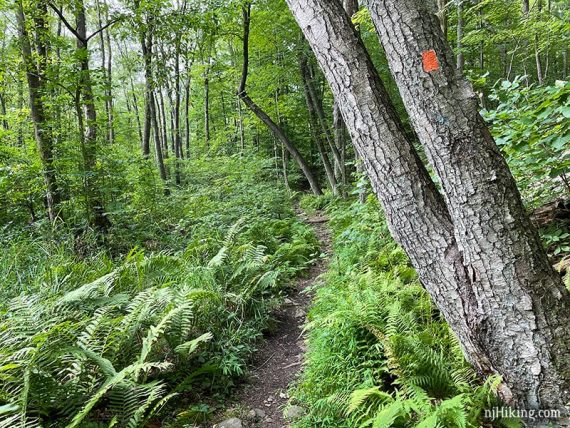 3.2 – Bear Rock… another VERY large glacial erratic and is one of the largest in New Jersey. From the side the sheared back is visible.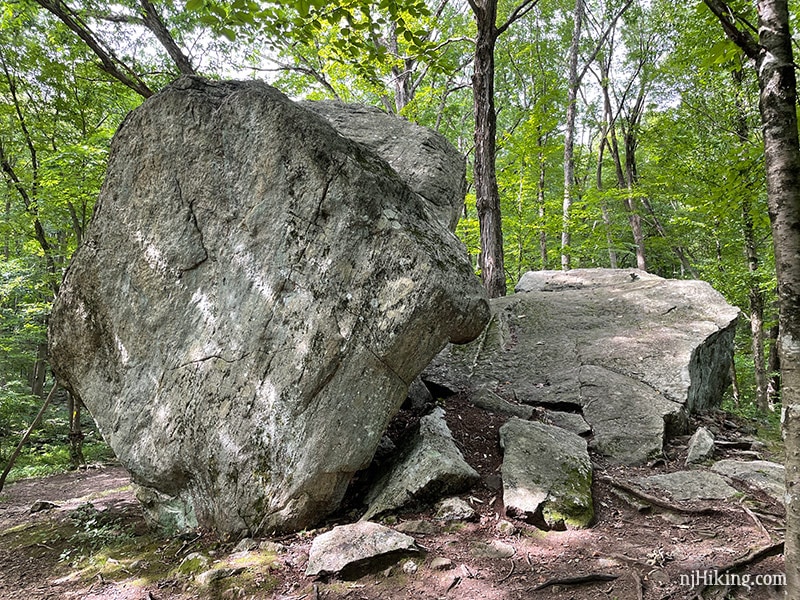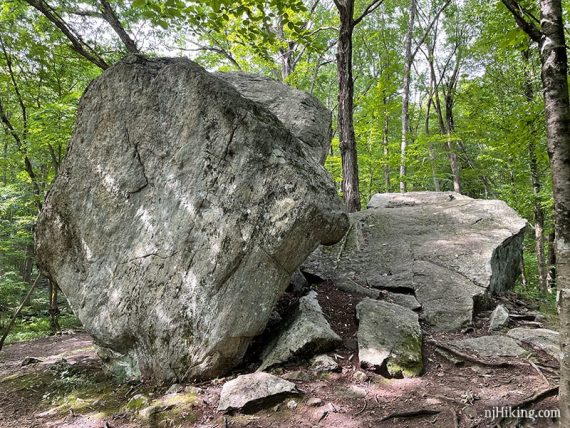 The front of Bear Rock with a hiker for scale.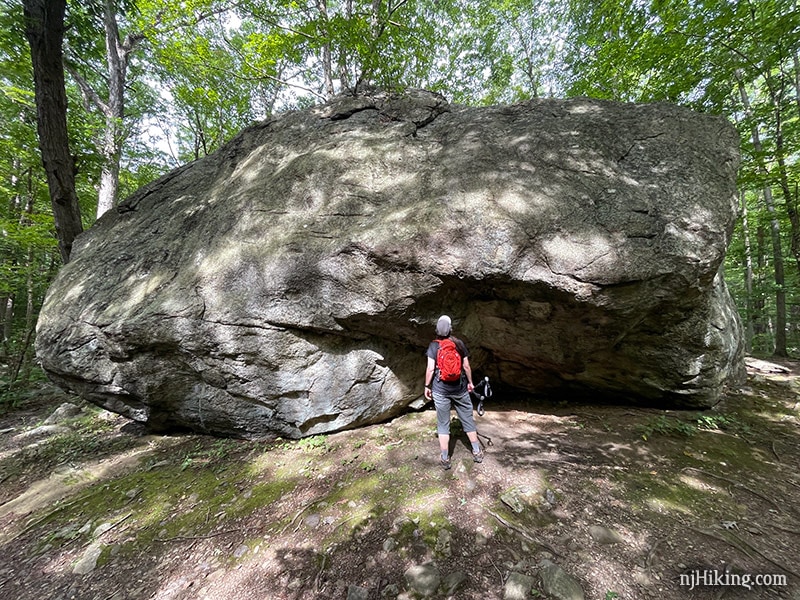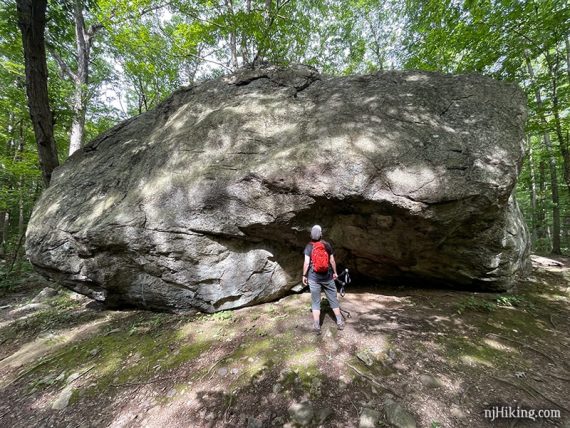 Walk around to the other side of Bear Rock to continue following ORANGE. Don't cross the footbridge. [YELLOW DOT is to the left, over the bridge.]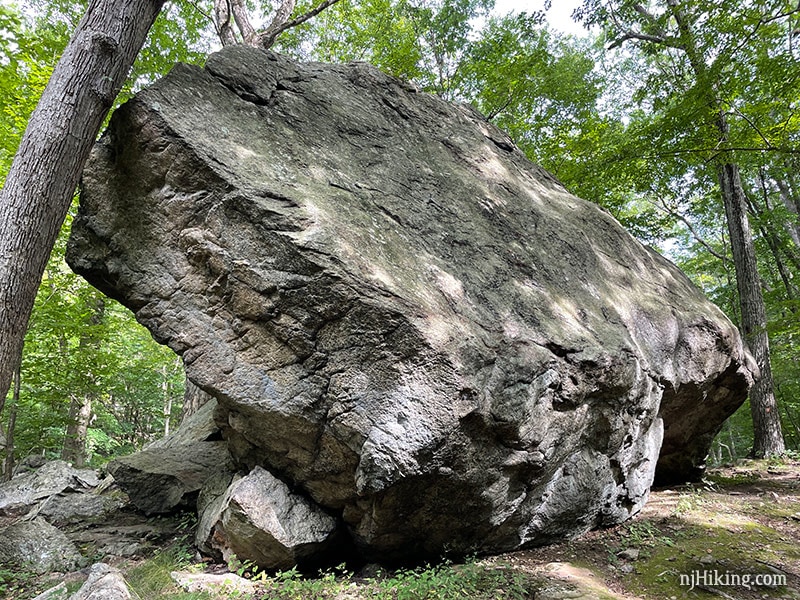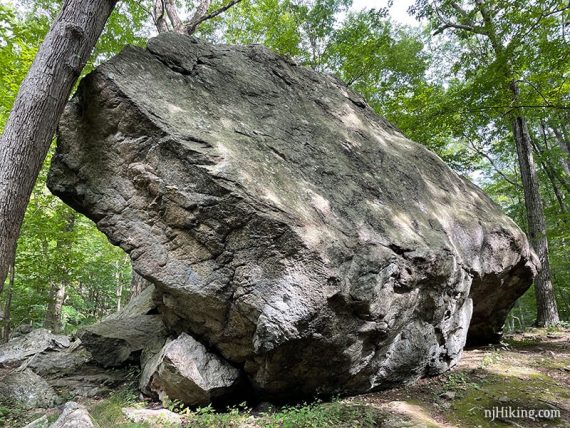 Shortly after, pass PINK DOT on the right. Eventually make one last push uphill.
3.9 – Now follow BLUE (Mennen) straight. [ORANGE ends. BLUE (Mennen) also goes left – this intersection is from early on in the hike.]
Retrace BLUE (Mennen) back downhill to the parking lot.
—
Hiked 8/16/21.
Hiked 7/19/14. Photo archive: "Tripod Rock in July"
Hiked 5/20/12. Variation, skipping Tripod. Trail Blog: "Whale Head, Bear Rock, Kincaid"
Hiked: 5/10/09. Trail Blog: "Tripod Rock and Lucy's Overlook"
Hiked: 7/20/08. Trail Blog: "Pyramid Mountain in July"
Hiked: 1/21/07. Trail Blog: "Pyramid Mountain in January"
—
5/2021 – Description updated to reflect major trail changes, Interactive Map updated; not re-hiked. 7/2020 – Page refreshed, not re-hiked. 7/2014 – Re-hiked, description updated to included RED trail change, new photos, GPS updated.