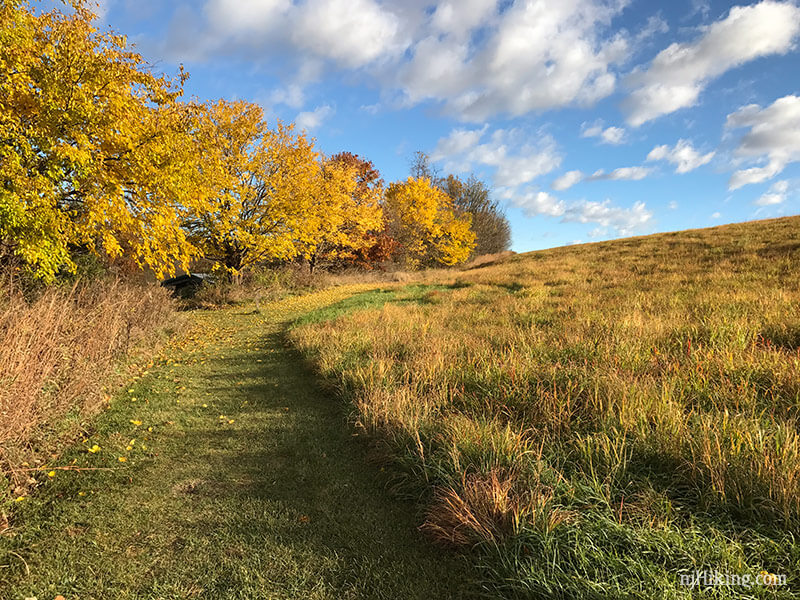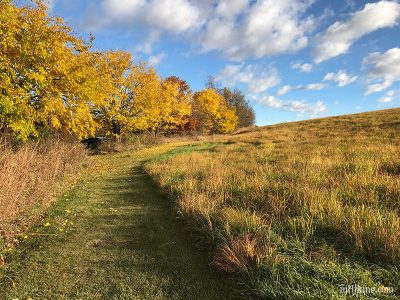 Hike along grasslands, forests, wetlands, and a river with views across the Wallkill Valley and of the Kittatinny Ridge.
5.7 miles, surface is easy. Dagmar Dale goes down and then uphill, while Wood Duck is totally level (and ADA accessible for the first .6 mile).
Shorter: Do only one trail: Dagmar Dale = 2.7 miles round trip; Wood Duck = 3.0 miles round trip.
Longer: Include one of the other trails in the area: Liberty Loop = 2.5; Timberdoodle = 4.6; Winding Waters = 5.2
Our two cents: Best suited for short or easy hikes. Wood Duck is more of a walk than a hike. Dagmar Dale traverses some open fields. There are 5 trails scattered across the refuge; we've covered two here. No hunting at any time on the Liberty Loop trail.
Map: Print out the maps ahead, or they may be copies in the trail kiosks. There is a refuge overview, plus detail maps for each trail.
Books: Dagmar Dale trail is in Hiking New Jersey.
Parking – Dagmar Dale/Refuge HQ: N41° 12.049′ W74° 33.896′
Rt 287 N – 80 W – 15 N – 94 N – 23 N – 565. Detailed directions on the park site.
Parking – Wood Duck: N41° 11.642′ W74° 35.124′
Around the corner on Rt 565 from Dagmar Dale, near the intersection with Rt 23.
Restrooms: At the parking lot for the refuge headquarters, which is the trailhead for Dagmar Dale. Near Wood Duck is a QuickChek on Rt. 23.
Hike #1 – Dagmar Dale
We combined the north and south loop into one; there is a trail through the middle to cut it shorter.
The north loop starts in the far corner of the parking lot, near some buildings, and follows along a field before coming out to views over toward the Kittatinny Ridge. High Point monument may be visible in the distance.
The trail goes downhill toward the Wallkill river, eventually getting close enough where there is a short side trail to the right to the edge of the water. A bridge used to cross the river here but is gone.
At an intersection, continue on to the south loop, or bail by turning left. South will loop around and head back uphill. Cross a bridge just before returning to the parking lot.
Hike #2 – Wood Duck
From the trailhead this is a straight shot on an old railroad bed with views of forest, marshy areas, and a few hills in the distance. Pass a wildlife blind and cross a couple wooden bridges. Benches along the way.
Trail ends at a view of the river, where a gate is off to the left. Turn around and retrace.
[We walked past the gate to see what was there because we're always curious… don't bother. A path follows the edge of a field a short ways to an unmarked parking area. Nothing to see and the field's uneven ruts are annoying to walk on.]
—
Hiked: 10/23/16.