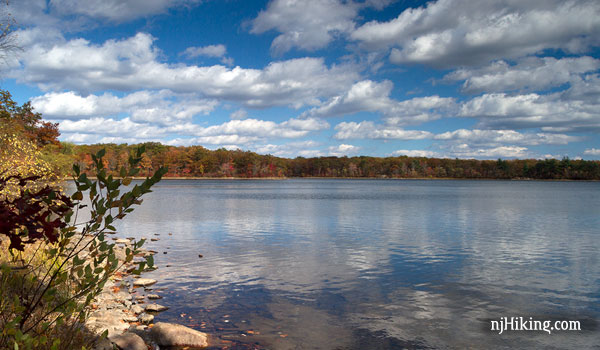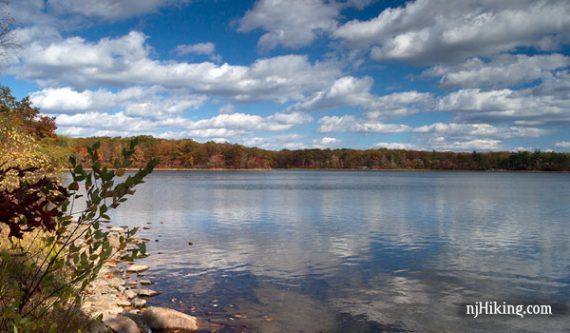 Several nice viewpoints along a figure-8 loop using the Appalachian Trail and the Iris trail.
9.1 or 6.6 miles. Very rocky start on the AT but moderate after that; a couple of minor steep areas, mostly rolling elevation changes. Swimming not allowed at Lake Rutherford, it's a city water supply.
Our two cents:
Mostly shady route with several nice viewpoints relatively early on, and ends with a good view of Lake Rutherford.
The route could be done in the opposite direction, but then the harder sections would be at the end.
Doing just one loop (6.6 version) is a solid option that gets you all the views with fewer miles.
Map:
Use the Kittatinny Trails, pick up a trail map at the visitor center, or print the one from the park site.
80W to Rt. 15 N to Rt 565 – OR – Rt 287 N to Rt 206 N. When Rt 206 and 15 meet, Rt 206 turns into 565. Either way, from 565 take 23N into High Point.
Large "Appalachian Trail Hiker Parking" lot on Rt 23 in the park, on the left, right after two stone pillars. (2 hr pkg limit at visitor center lot, so you can't park there for hiking).
For the monument parking lot or Lake Marcia instead, bear right past the visitor center.
NOTE: Fee is charged Memorial Day through Labor Day, BUT there is no fee to park at this hiker lot, only if you go into the main park. Info on the NJ State Park Pass.
Updated 7/2018 – Re-hiked, description updated, changed map link to the one now on the park site instead of our older scanned PDF.
11/7/13 – Hike directions updated, new photos and GPS [Note: Older maps/books most likely will have the parking in the old area, and don't show the BLUE connector trail.]
Restrooms:
At the visitor center, north of the parking area. Times vary by season, check park site.
Books:
Shorter non-figure-8 versions and map diagrams can be found in 50 Hikes in New Jersey and Hiking New Jersey. A slightly longer variation and map diagram are in 60 Hikes Within 60 Miles: New York City.
Individual trail descriptions can be found in Kittatinny Trails and The New Jersey Walk Book.
Hike Directions:
Overview: BLUE connector – Iris (RED DOT on WHITE) – Appalachian Trail ("AT" – WHITE) – Iris (RED DOT on WHITE) – BLUE connector
0.0 – From the parking lot, follow the trail near the trail sign.
0.2 – Turn RIGHT onto Iris (RED DOT on WHITE). It's also marked BLUE connector.
0.3 – At the intersection, turn LEFT to now follow the Appalachian Trail ("AT" – WHITE) South. [AT (WHITE) also goes right and shortly arrives near the visitor center. YELLOW goes straight.]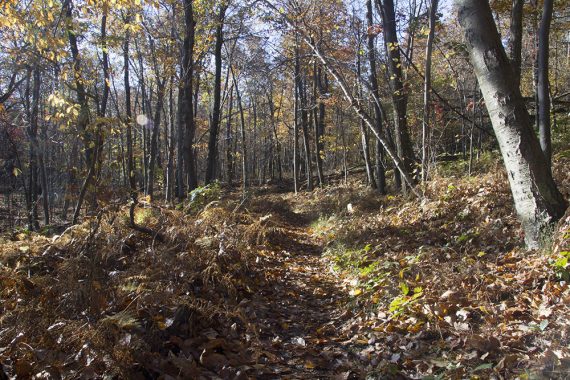 Soon after getting on the AT, pass a large sheer wall of rock rising above you. The trail surface of the AT throughout NJ is notoriously rocky – and the first couple miles of this route is even more so.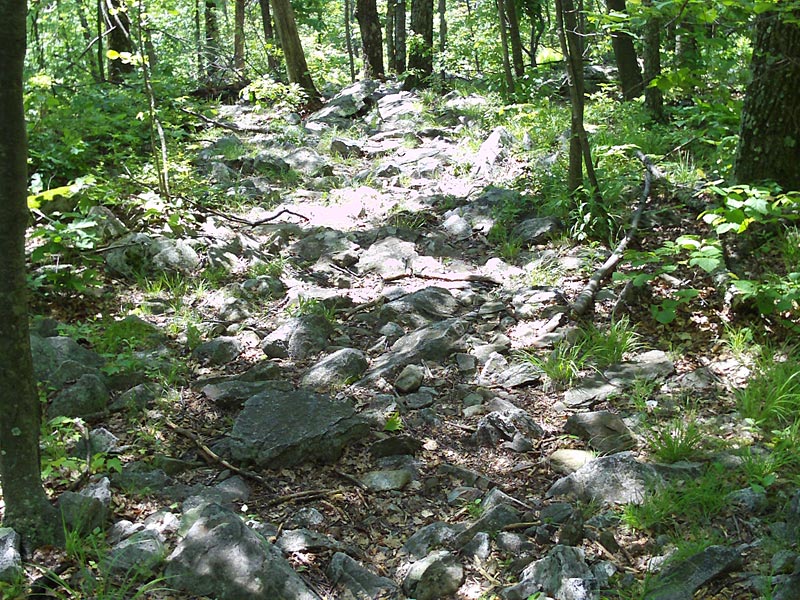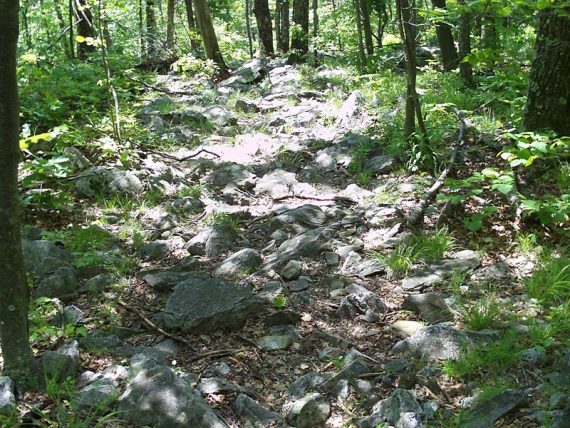 1.0 – Continue on AT (WHITE), passing the BLUE DOT trail on the right. [BLUE DOT leads to Sawmill Lake and campground].
1.1 – Viewpoint on the right to the west over Sawmill Lake.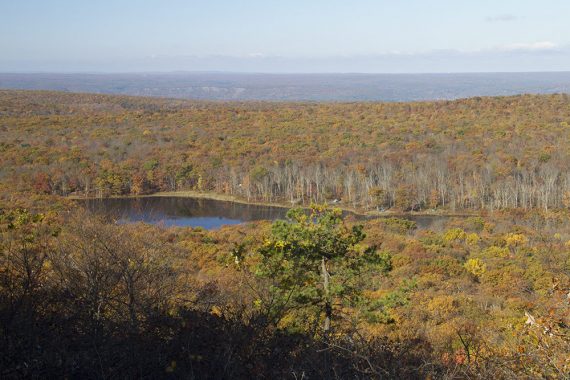 The trail descends down a slightly steep section, then goes up a steep rocky section.
1.5 – Limited viewpoint east overlooking Sussex County. Lake Rutherford can be seen in the distance to the right.
1.6 – Viewpoint.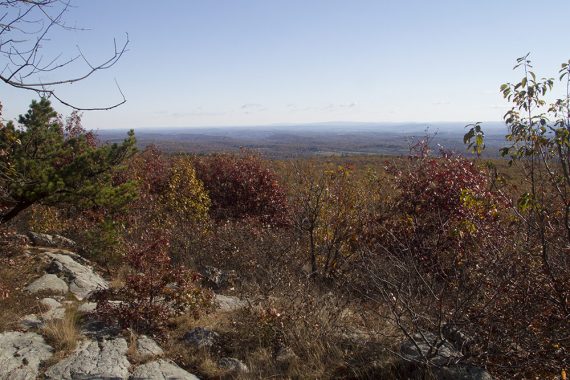 2.4 – Viewpoint.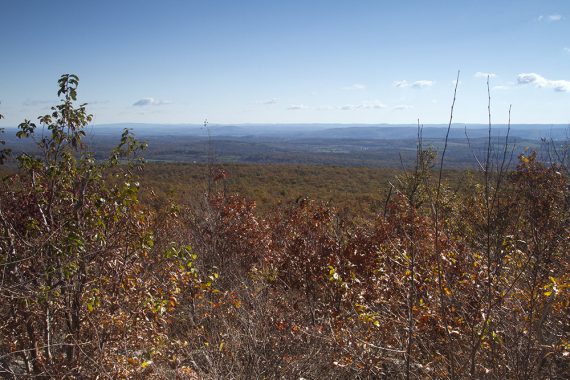 2.6 – Viewpoint. There is another view or two, but after so many, it had just gotten old hat and we neglected to mark them.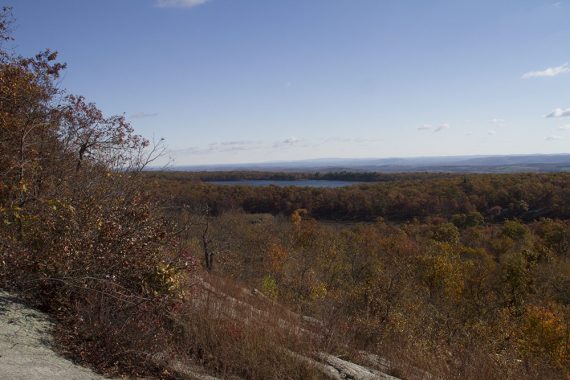 Pass a few interesting large rocks along the way.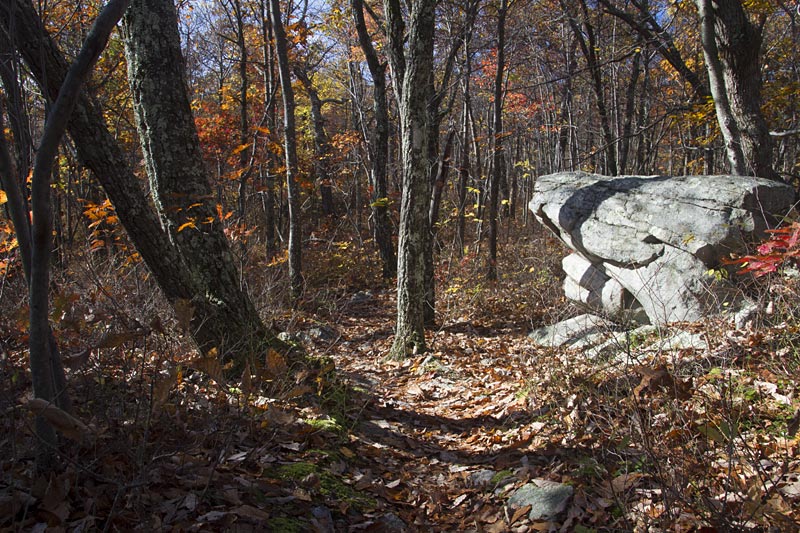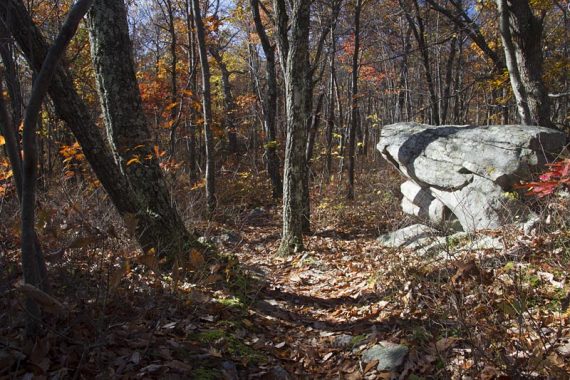 2.9 – Continue on AT (WHITE), passing a BLUE spur trail to the Rutherford Shelter (camping spot on the AT) on the left. There is a sign.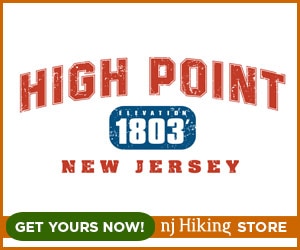 3.4 – The AT (WHITE) intersects with Iris (RED DOT on WHITE). Bear RIGHT, still following AT (WHITE). AT (WHITE) and Iris (RED DOT on WHITE) are co-joined for a brief time, then split.
// Shorter option: Return via the Iris trail now by turning LEFT, continuing with the description below at 6.6. //
When the trails split, bear LEFT to continue following AT (WHITE) only, while Iris (RED DOT on WHITE) goes straight.
4.2 – The AT (WHITE) crosses a pipeline cut.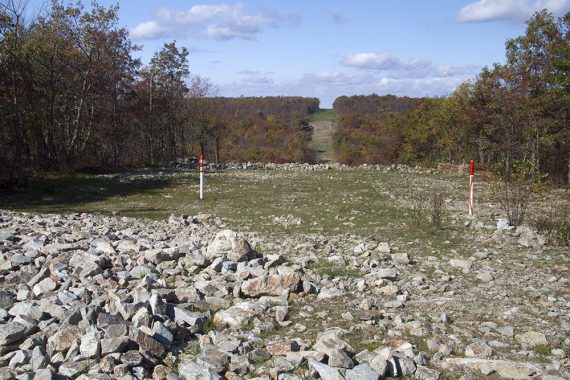 To the left is a view.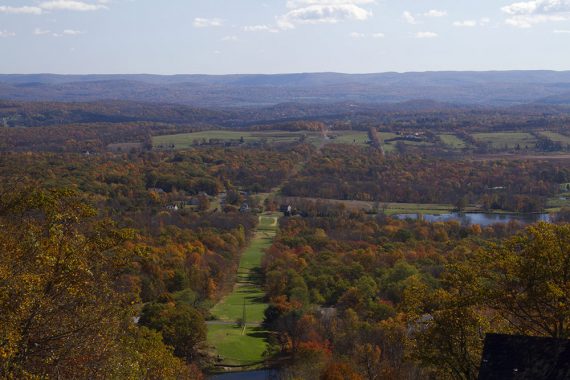 Just after crossing the cut, AT (WHITE) bears RIGHT. [A gated woods road continues straight ahead].
4.6 – Large flat-ish boulders on the left side of the trail make a nice spot for a break/snack.
4.7 – At an intersection with a large rock, make a sharp RIGHT to begin following Iris (RED DOT on WHITE).
[Iris (RED DOT on WHITE) continues to the left and will go a little way to a parking lot on Deckertown Turnpike, while the AT (WHITE) continues ahead].
Head downhill, then back uphill.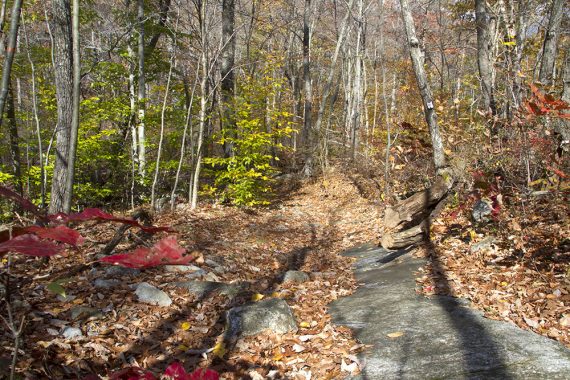 5.3 – Pass a faint, unmarked trail on the left that leads to "Stone Wall Ruins" marked on the Trail Conference map. It's not really obvious so you may just walk by it.
---
Optional add-on: Side trip to "Stone Wall Ruins", out-and-back, only adds roughly .4 miles.
Not incredibly exciting, so most people will pass on this… but if you, like us, have a tendency to go wandering around the woods because you saw something marked "ruin" on a map AND you either have a GPS or a really good sense of direction…
Then pick up a faint, barely-a-trail that leads out to a large area of stone walls.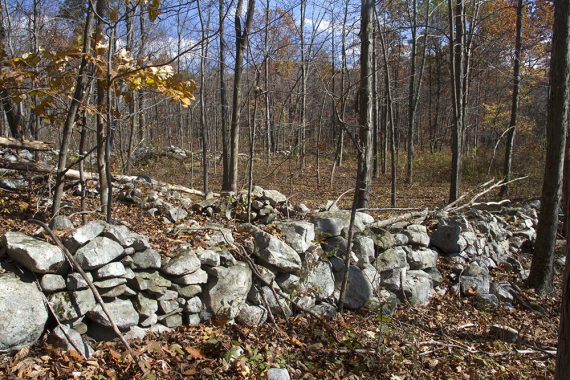 Near the walls, we spotted two old tin can bottoms nailed to a tree, red with a white center, but not any other markers leading out there.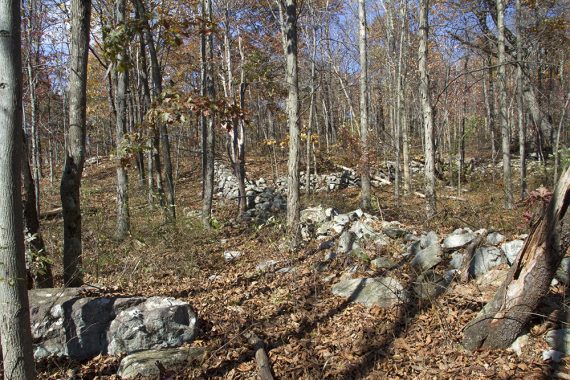 The mileage from here on out assumes you DID NOT go on this little adventure, so add 0.4 to the rest of the mileages if you did. Hiked in 2013.
End of optional add-on //
---
5.6 – Pipeline cut, further down from the crossing earlier.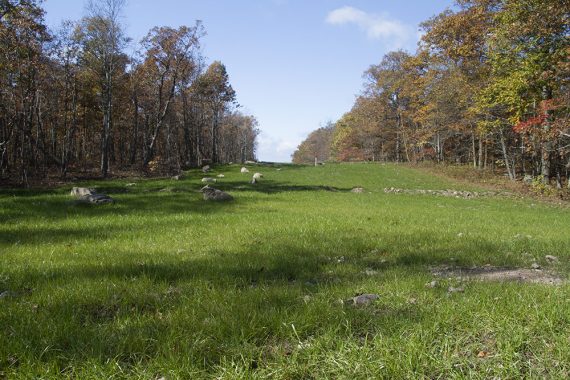 5.8 – Continue straight on Iris (RED DOT on WHITE) [AT (WHITE) is on the right, where you turned earlier in the day.] For this brief section, the two trails are co-joined.
Bear RIGHT when the trails split and continue following Iris (RED DOT on WHITE). [AT (WHITE) bears left]
6.6 – Continue following Iris (RED DOT on WHITE) as markers indicate a sharp LEFT. [The woods road continues straight but is marked private property].
Iris (RED DOT on WHITE) then quickly veers to the right. [An unmarked woods road continues straight, leading to the Rutherford shelter].
The trail is mostly level with moderate changes, grassy at times, with few rocks. Lake Rutherford comes into view, but the trail doesn't run right along it.
7.2 – Limited view of Lake Rutherford.
7.4 – Turn RIGHT on an unmarked spur trail (easy to miss) and follow that down to the edge of Lake Rutherford for a nice view and break spot.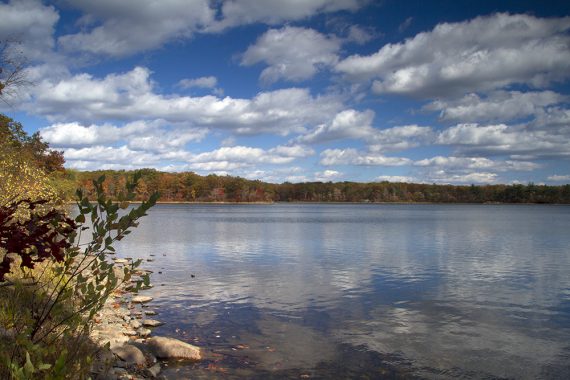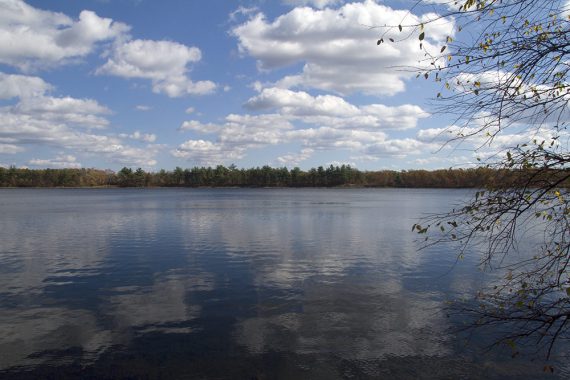 Return to Iris (RED DOT on WHITE) and continue.
8.9 – Turn right onto BLUE connector and head back to the parking lot.
—
Hiked: 7/14/18. Trail Blog: "AT and Iris Trail in Summer"
Hiked: 10/20/13.
Hiked: 5/30/09. Trail Blog: "Hiking the AT and Iris Trail Loop"