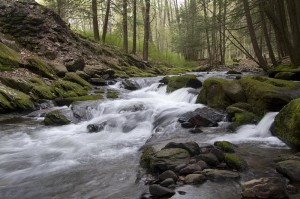 Detailed hike info and directions on our Millbrook and Van Campens Glen page.
We did this hike after a brief 2 mile hike at Tillman Ravine, which is further down the road from Millbrook Village. This hike is about 6.9 miles, so combined with Tillman it made for a decent length hike.
This hike starts at historic Millbrook Village and mostly follows woods roads. Get a peek at the Delaware River from atop a bluff, walk past houses abandoned because of the Tocks Island Dam project, and take a brief side trail to tiny DePue Cemetery. Then hike through Van Campens Glen – a shady, rocky (and popular) path next to a stream and waterfall.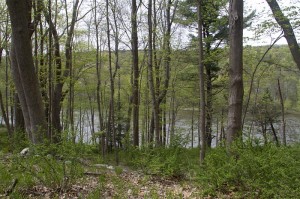 It was a beautiful day yet we only encountered a couple of hikers on the trail.
More people were at Van Campens Glen, and once it gets warmer this area will be teaming with people. It's one of the most scenic areas in NJ so you won't have it to yourself, but it is certainly worth a visit.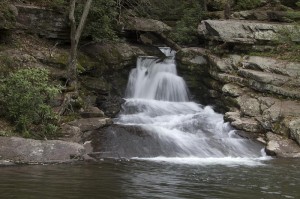 Van Campens Glen can be hiked on it's own, without doing the rest of this route if you are looking for short hike with a lot of scenery. The path is quite rocky in places, and could be too slippery in wet or icy conditions.
The last part of this hike goes past some of the historic Millbrook Village buildings.
ROUTE: Orchard (Orange) – left onto Hamilton Ridge (Blue) – right onto Pioneer (Orange) – straight onto Hamilton (Blue) – side trail to DePue Cemetery and return – cross Old Mine Road and turn left – turn right into the parking area for Van Campens Glen – YELLOW through the Glen – Unmarked trails from Watergate back to Millbrook.
There are bathrooms at Millbrook Village, as well as in the parking lot for Van Campens Glen.
Parking: N41 04.449 W74 57.805
Kittatinny Trails – On map #121 of the set, this is the map we use.
Orchard/Pioneer Trails and Van Campens Glen Loop from Millbrook Village – trail description from NY-NJ Trail Conference.
Hiking New Jersey – Detailed directions of this route and a map diagram. Recommended.
Delaware Water Gap Millbrook Area Map – on page 2. Not that fantastic.
Millbrook Village Guide/Map – Details about Millbrook Village and a map of the various buildings.
Millbrook Village Society – info about Millbrook Village Days events, photos, videos, etc.
"Millbrook Village Society works to show the way of life of a typical village during the 1850-1900 time period. During summer weekends a blend of NPS and volunteer personnel demonstrate crafts and activities of a typical village".