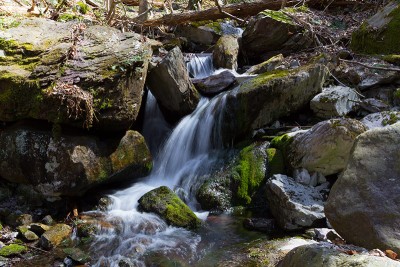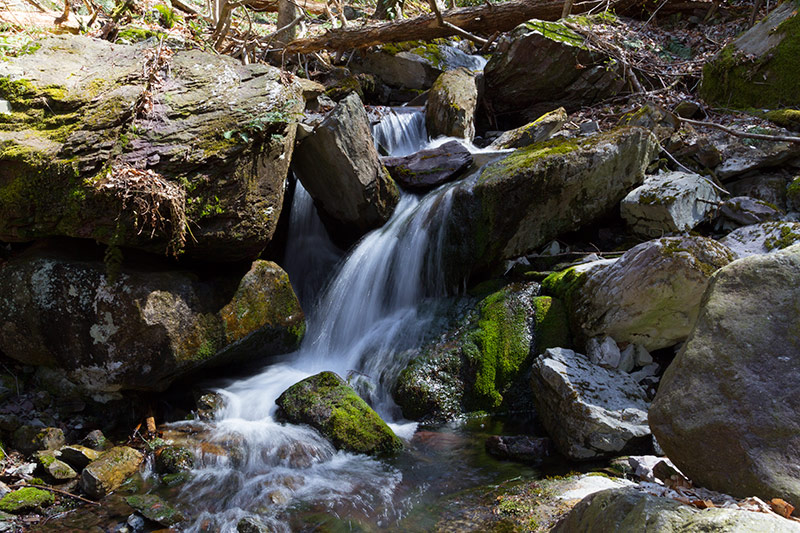 Loop with streams, water cascades, mines (closed), ridges with views of rural Jersey, a fire tower, lush trails, rhododendron tunnels, and a swamp.
Trail surface: Moderate, rocky trail surface. Coppermines Trail follows a stream for a lot of the way, and heads gradually uphill. The Appalachian Trail has a ton of views and many nice break spots. Rattlesnake Swamp trail skirts the swamp and is a little soft in spots but not really wet.
Hike Info:
This route: 10.2 miles roundtrip
Shorter: 4.8 miles roundtrip, Coppermines to the junction with AT, then retrace route.
Shorter: Use nearby Kaiser trail to make a loop with Coppermines
Short: 1.5 mile or 2 mile options, turn around where noted in the description below
Our two-cents: Do this in the spring for maximum water flow. Even better after a recent rain. There are several nice cascades and it was many degrees cooler by these.
Map: Get the Kittatinny Trails. There is a overview map on the park site but as of 4/2016 there are no detail maps provided.
Books: A 5.5 mile variation appears in Hiking New Jersey, a 7.8 mile variation in Hike of the Week, and a 5 mile loop using just the Rattlesnake Swamp section is in 50 Hikes in New Jersey. Trail descriptions appear in the Kittatinny Trails and the The New Jersey Walk Book.
Parking: N41 02.301 W75 01.651
Rt. 80 W to the last exit in NJ (1) for Millbrook/Flatbrookville which bears right onto River Road/Old Mine Road. Cross a one-lane bridge with a stop light and continue on Old Mine Rd for about 7 miles.
The parking lot is on the left, with a sign for Coppermines on the right side of the road. (Don't confuse it with the Douglass parking lot that you will pass on the left before.)
Rest rooms: A composting toilet building is a few minutes drive north of the parking area, near "Poxono Access" on the map. [4/2016: porta-john is no longer in the lot].
Update 4/2016 – Re-hiked first mile only, added new photos, minor description changes.

---
Want to give back to the trails?
The New York-New Jersey Trail Conference builds, maintains, and improves trails across northern New Jersey.
Get involved with events/workshops and as a volunteer.
---
Hike Directions: Overview: unmarked spur – Coppermines Trail (RED) – AT – Rattlesnake Swamp Trail (ORANGE) – road through Mohican Outdoor Center – Coppermines Trail (RED).
0.0 – The Coppermines Trail (RED) trail head is across the Old Mine Road. Just a bit down the trail, at a post, turn LEFT onto a well-worn but unmarked trail. Follow this pretty trail past several water cascades for about .2 mile.
The trail ends at a closed mine entrance. Turn around and retrace your steps. When back at the post from earlier, turn LEFT to continue on Coppermines Trail (RED), passing some remains of buildings. The trail will start to head uphill on an old woods road.

0.4
– Pass the junction of Kaiser Spur Lower on the right.
0.7 – Pass a closed mine entrance on the right just before arriving at a footbridge over the stream. There is a pretty cascade at the bridge. Continue uphill.
[Shorter: Turn around at the bridge and retrace your route for about a 1.5 mile hike]
1.0 – Several cascades may be visible along the stream below before arriving at an open area with a waterfall. (The main waterfall we saw in 2011 was dry when we hiked in 2016. There is a waterfall in another area that I don't think was there in 2011 – so it's likely that the water route changed.)
[Shorter: Turn around and retrace your route for a 2 mile hike]
1.2 – Arrive at a junction with the Kaiser Spur Upper trail. Turn LEFT and continue on Coppermines Trail (RED) [Taking the Kaiser Spur Upper to the right would meet up with Kaiser (BLUE) and can be used to make a loop back to the parking lot]
2.4 – Coppermines ends at a junction with the Appalachian Trail (AT -WHITE).
[Shorter: retrace the route from this point for a 4.8 mile hike]
Turn LEFT onto the AT, cross the stream on a bridge, then cross over the gravel camp road (which leads to Mohican Outdoor Center), now following the Appalachian Trail (WHITE)
3.4 – We found a shady rock for a break, but there are multiple view points and good break areas along the ridge.
4.7 – Catfish Fire Tower. There was a picnic table.
4.9 – Watch for the Appalachian Trail (WHITE) blazes indicating a turn off to the LEFT, while a woods road continues straight.
5.1 – Turn LEFT off of the Appalachian Trail (WHITE) onto a gravel road (this is shown as an unmarked trail on the TC map but was not marked at the actual trail intersection). This unmarked trail is used to get to the trail head for Rattlesnake Swamp. [The AT continues ahead and will meet up with the unmarked trail later too, if you miss this]
5.3 – Arrive at the signpost for "Rattlesnake Swamp" and Fire Tower 1.5 miles". Turn LEFT onto it, now following the ORANGE blazes of the Rattlesnake Swamp trail.
Pass a swampy area on the right, then eventually Catfish Pond will be visible through the trees, on the right as well, where some beaver lodges may be visible.
7.3 – Arrive at a T-intersection where there is a sign post for "Rattlesnake Swamp/AT" to the left and "Camp Mohican" to the right. Turn RIGHT and follow the unmarked trail through Camp Mohican.
7.4 – When you arrive in the main camp, at a cabin, turn LEFT onto the camp gravel and follow that through. Pass a camp bathroom on the right. Eventually pass the visitor center, camp store, parking lot.
8.1 – Turn RIGHT onto the Appalachian Trail (WHITE), cross the footbridge again, and turn RIGHT onto the start of the Coppermines Trail (RED).
At this point you are retracing your route from earlier, following Coppermines Trail (RED) back to the parking lot.
—
Hiked: 4/10/16. First mile only, for waterfall photos. "Silver Spray Falls, Buttermilk Falls, Coppermines cascades"
Hiked: 5/29/11. Trail Blog: "Delaware Water Gap: Coppermines – Rattlesnake Swamp"