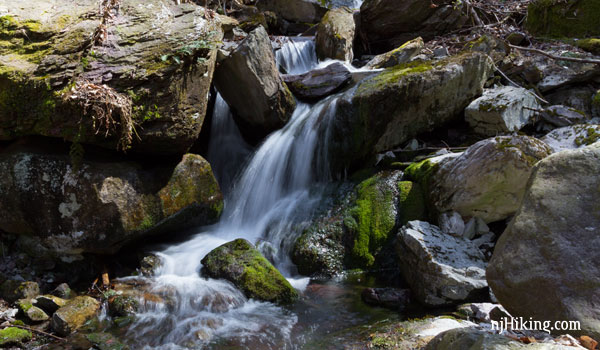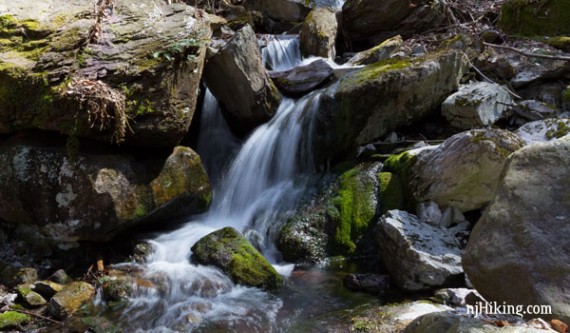 Loop with streams, water cascades, mines (closed), ridge views, the Catfish fire tower, rhododendron tunnels, and a swamp.
10.2 or 7.2 or 4.8 or 1.4 miles. Rocky trail surface. Coppermine Trail follows a stream for a lot of the way, and heads gradually uphill. Rattlesnake Swamp trail skirts the swamp and can be soft or muddy in several areas.
Shorter: 1.4 mile, 2 mile. 4.8 mile, 7.2 mile options – noted in the description below.
Alternates: Use nearby Kaiser trail to make other loops.
Hike Info:
Our two-cents:
Do this in the spring for maximum water flow or after recent rain. There are several nice cascades along the way, though the larger waterfalls seem to be no more.
The trails in this area have lots of Mountain Laurel or Rhododendron (blooms May-June and June-July, respectively).
In addition to the Catfish Fire Tower, there are many viewpoints (and nice breaks spots) overlooking rural New Jersey from the Appalachian Trail, so this is a nice hike to do during fall foliage season.
Updated: 7/2021 – Page refreshed, not re-hiked. Minor edits. Previous update log to page bottom.
---
Map:
Kittatinny Trails or use our Coppermines Interactive Map with a smartphone. For paper maps check a visitor center (Kittatinny Point, Millbrook Village).
Note: Google maps shows an incorrect "Rattlesnake Trail" point along the Appalachian Trail but it's not near the actual intersection of the A.T. and Rattlesnake Swamp Trail.
---
Books:
A 5.5 mile variation using Kaiser appears in Hiking New Jersey, a 7.8 mile variation in Hike of the Week, and a 5 mile loop using just the Rattlesnake Swamp/A.T. section is in 50 Hikes in New Jersey.
A good 5.7 loop starting from Mohican Outdoor parking instead and hitting the cascades but skipping the mines is in Best Day Hikes in New Jersey (New, 2019).
Trail descriptions appear in the Kittatinny Trails and the The New Jersey Walk Book.
---
"Pahaquarry Copper Mines trail". The lot is on "Old Mine Rd, Hardwick Township, NJ 07825" – but this is a park road in the Delaware Water Gap National Recreation Area with no street number to enter into a GPS.
Rt. 80 W to the last exit in NJ (1) for Millbrook/Flatbrookville which bears right onto River Road/Old Mine Road. Cross a one-lane bridge with a stop light and continue on Old Mine Rd for about 7 miles.
The parking lot is on the left, with a sign for "Copper Mine" on the right side of the road. (Don't confuse it with the Douglas parking lot passed on the left before.)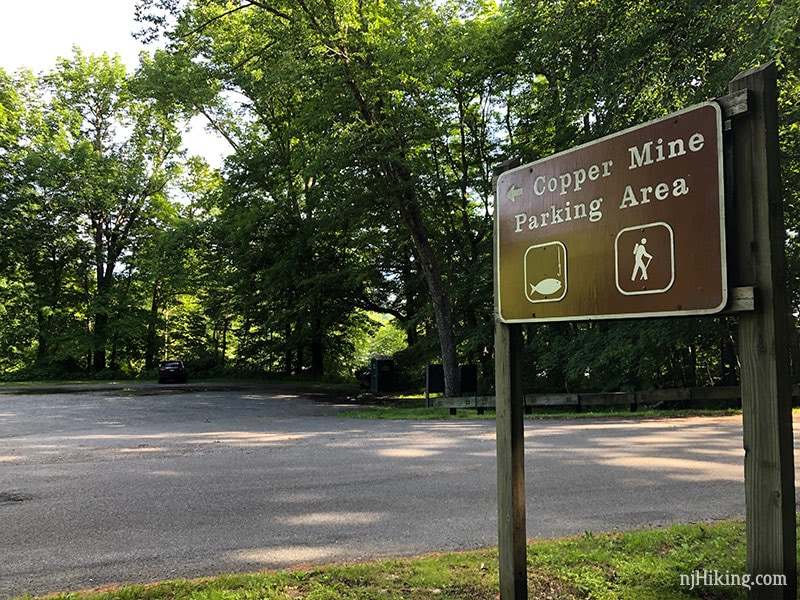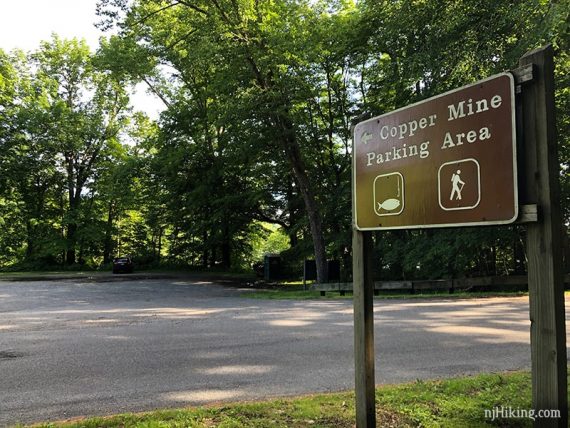 ---
Restrooms:
A portable toilet was in the lot (6/2019). A composting toilet building is a few minutes drive north of the parking area, near "Poxono Access" on the map.
Bathrooms at the Kittatinny Visitor Center, but that is on Rt 80 E and you'll need to loop around. There is rest area on Rt. 80 W. about 20 minutes before the trailhead: Delaware Water Gap Travel Plaza.
---
Hike Directions:
Overview: Coppermine Trail (RED) – Unmarked Spur Trail – Coppermine Trail (RED) – Appalachian Trail (WHITE) – – Unmarked Trail – Rattlesnake Swamp (ORANGE) – Road through Mohican Outdoor Center – Coppermine Trail (RED).
0.0 – The Coppermine Trail (RED) trail head is across Old Mine Road from the parking area.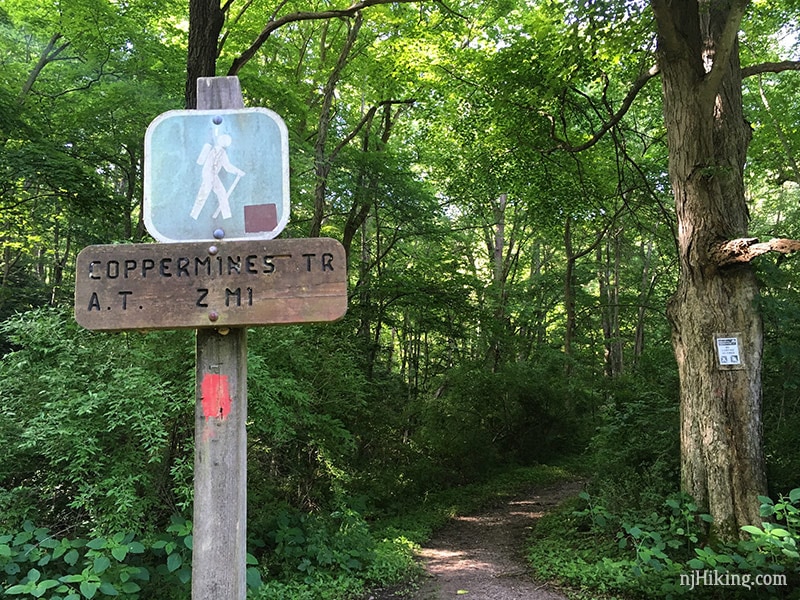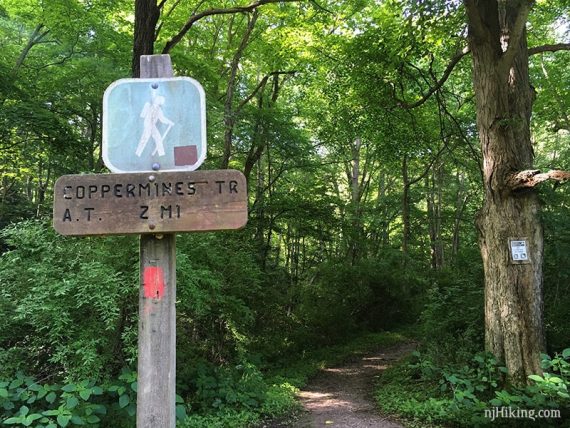 Just a bit down the trail, at a post, turn LEFT onto a well-worn but unmarked trail for about 0.2 mile.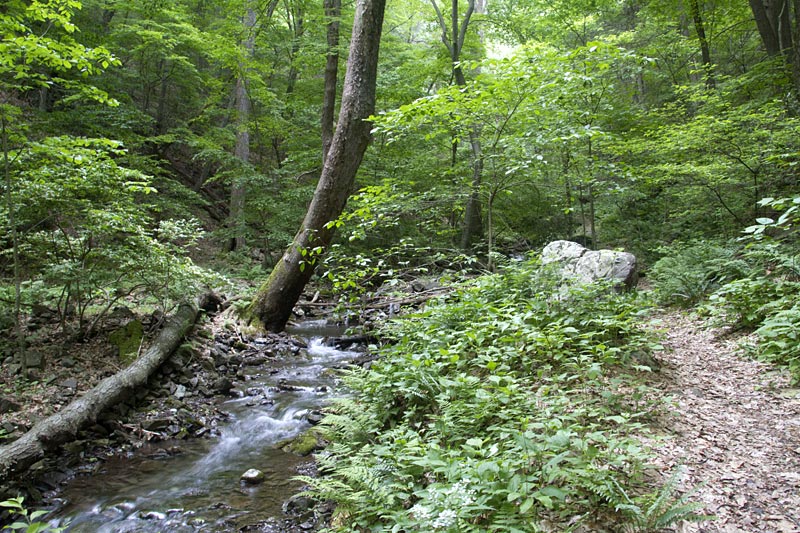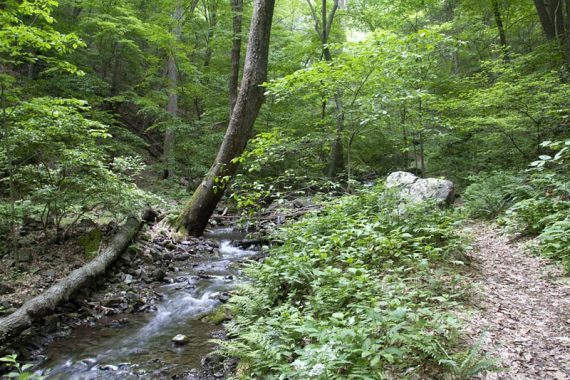 There were several water cascades along the stream in 2016 (shown) but not as many in 2019.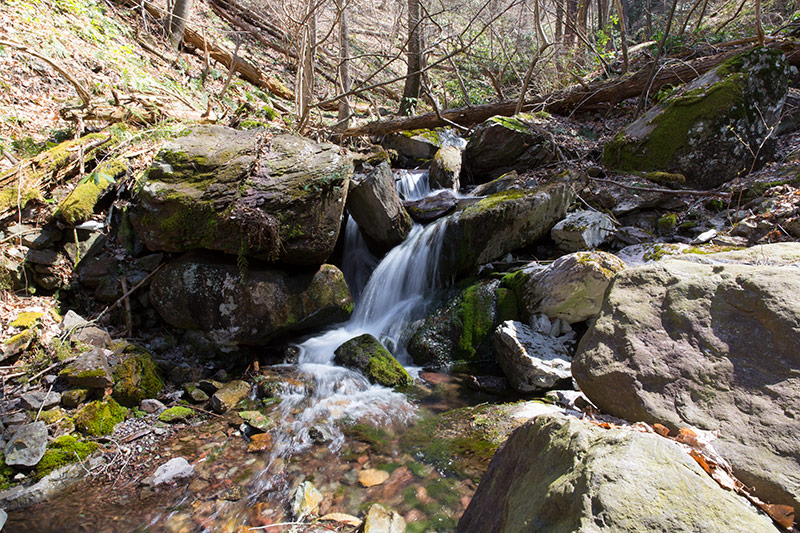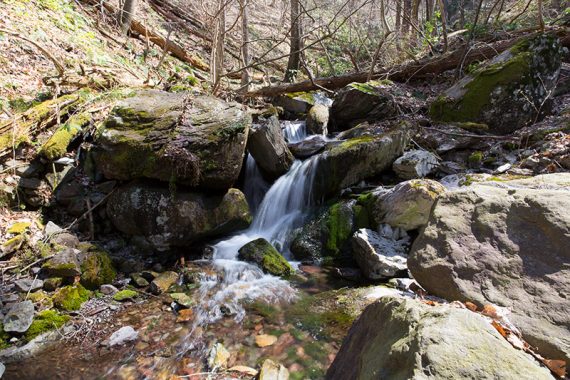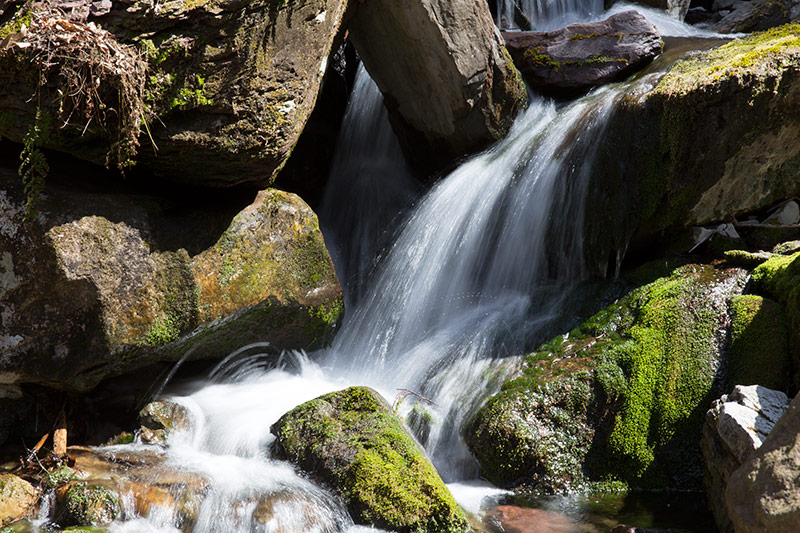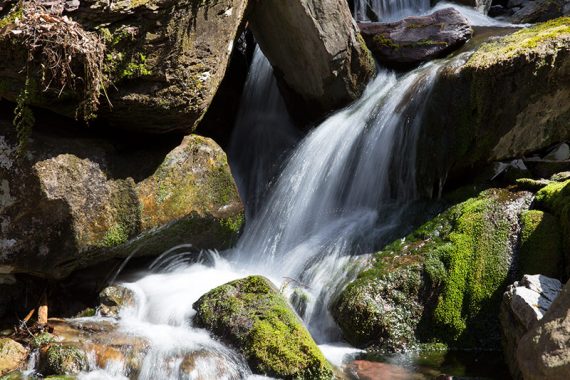 The mine opening isn't obvious when approaching.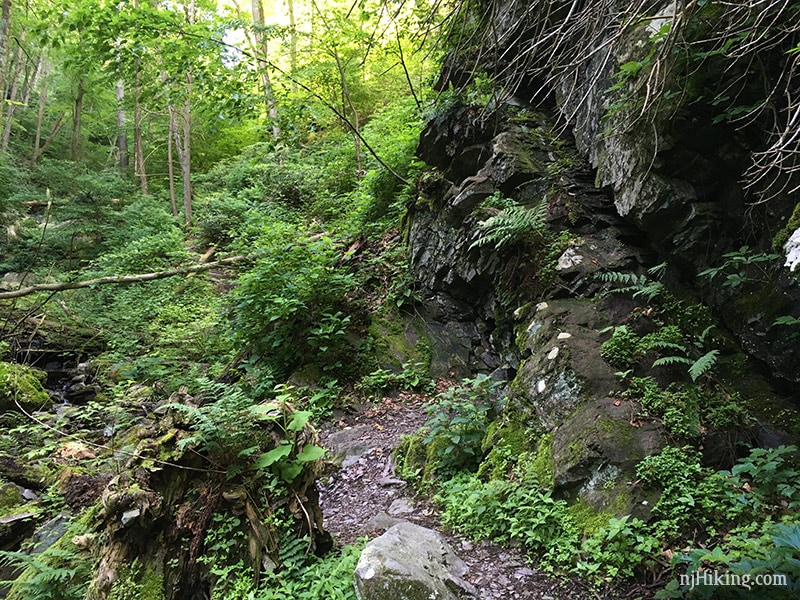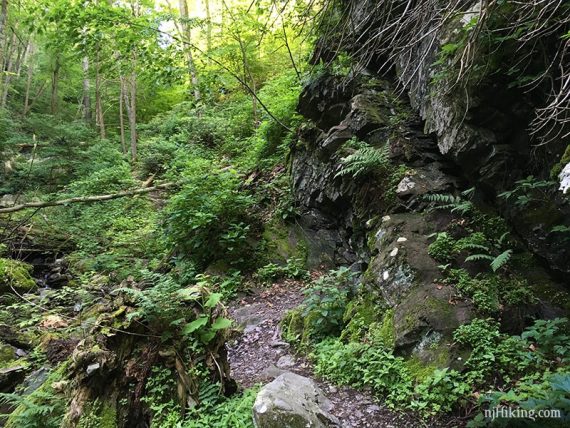 The trail ends at a mine entrance.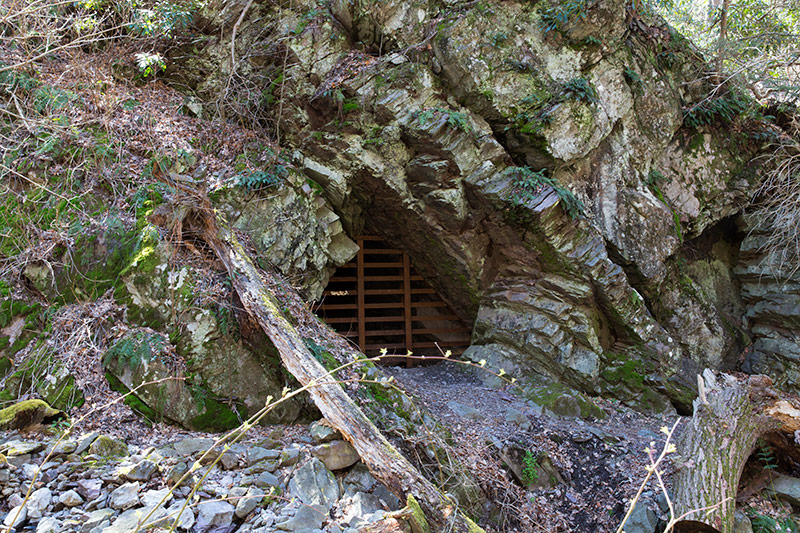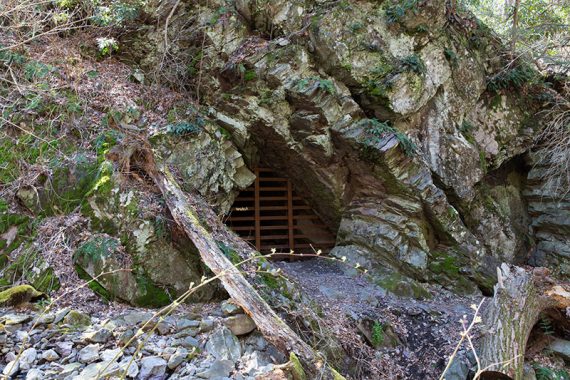 The opening is barricaded by metal bars.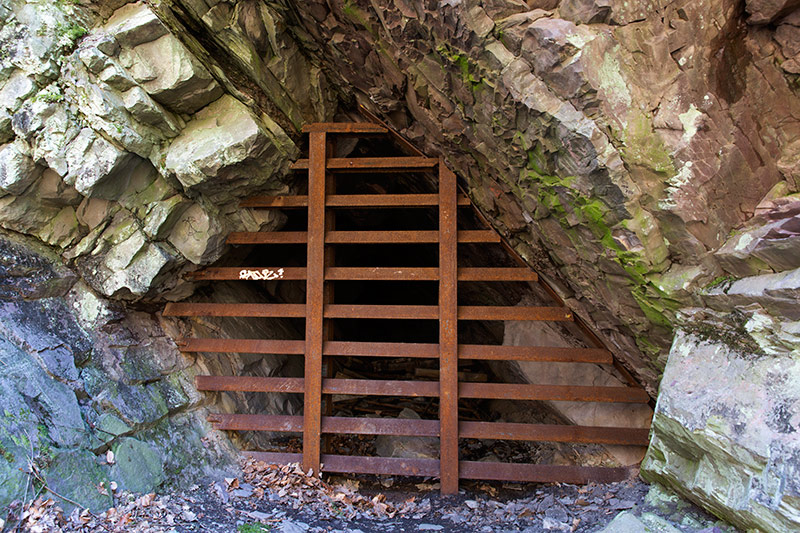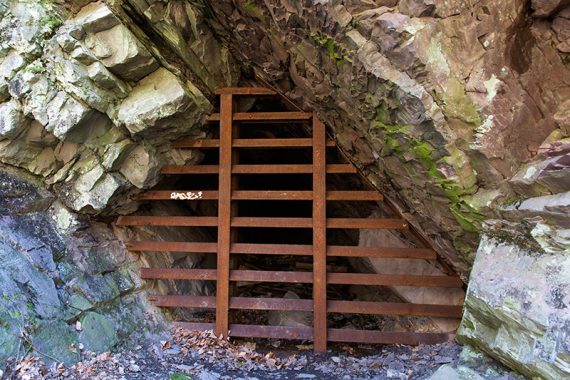 Looking through the metal gate into the mine: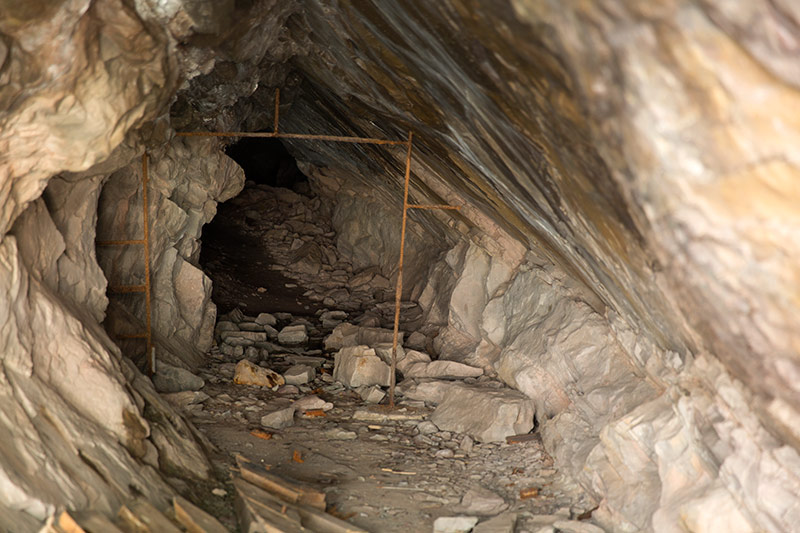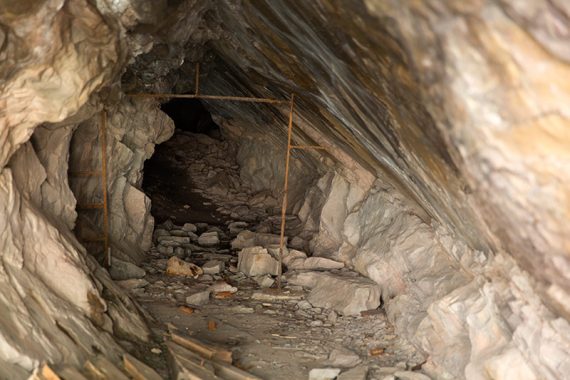 Turn around and return to the post.
When back at the post, turn LEFT to continue on Coppermine Trail (RED), passing some building remains.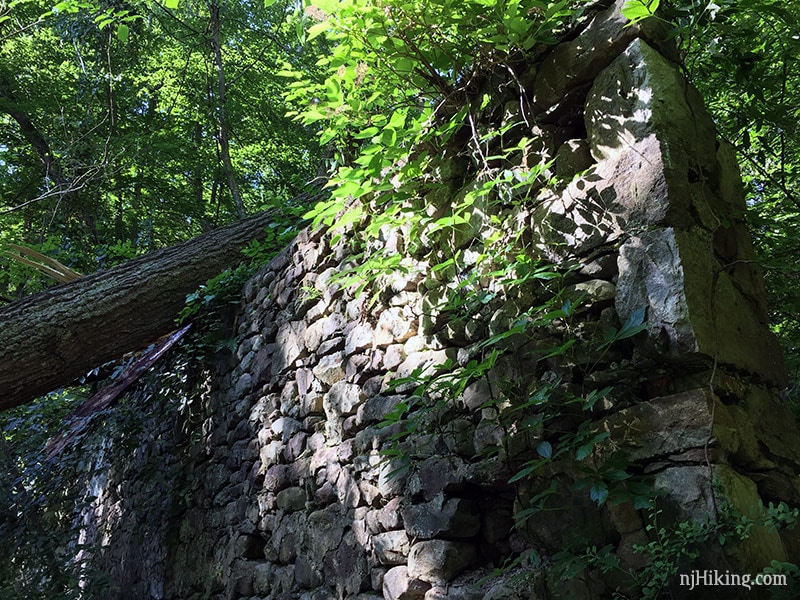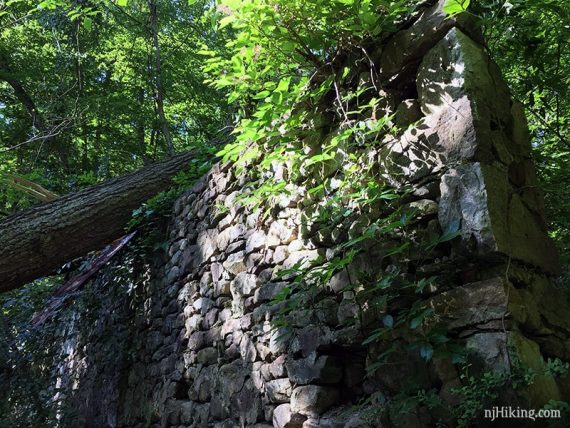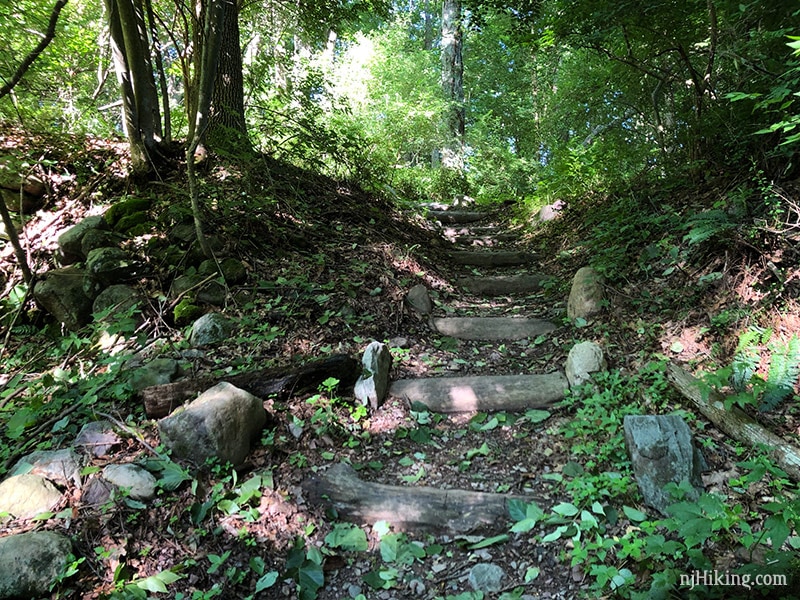 The trail will start to head uphill on an old woods road.
0.5 – Continue on Coppermine Trail (RED), passing the junction of Kaiser Spur – Lower (BLUE) on the right. [This can be used to connect to the Kaiser trail for other hike loops.]
0.6 – Pass a closed mine entrance on the right, up a short steep incline (easy to miss).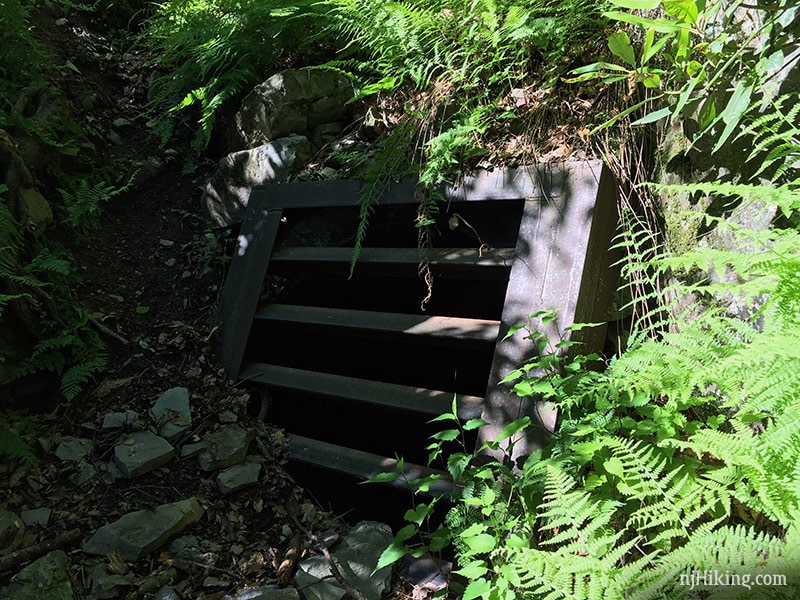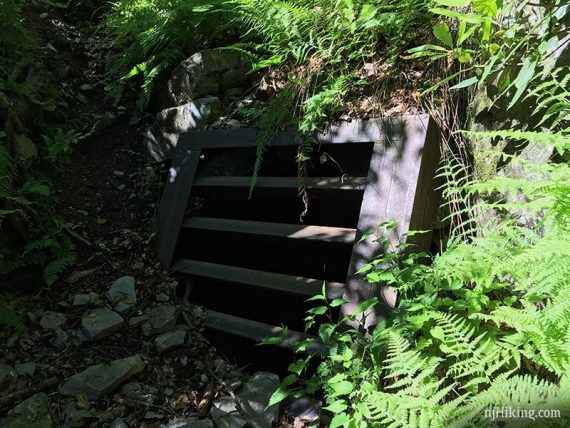 Looking through the gate of the second mine.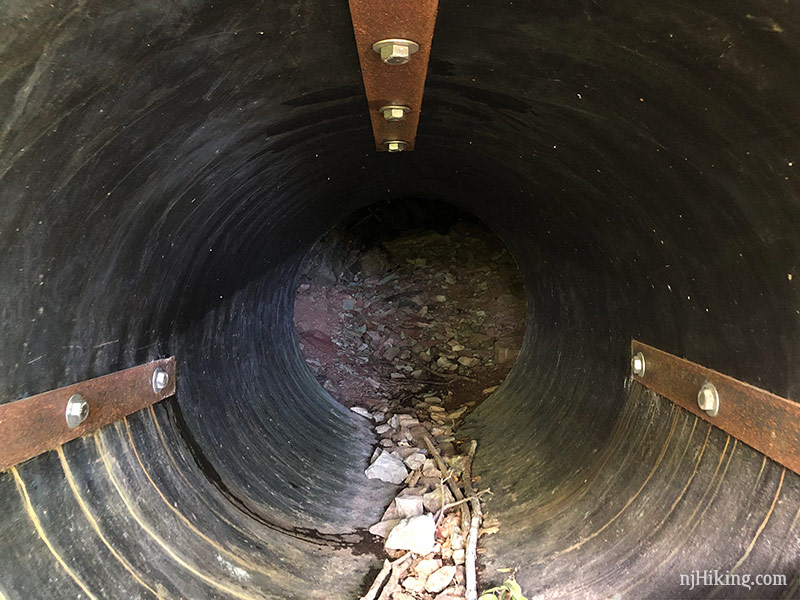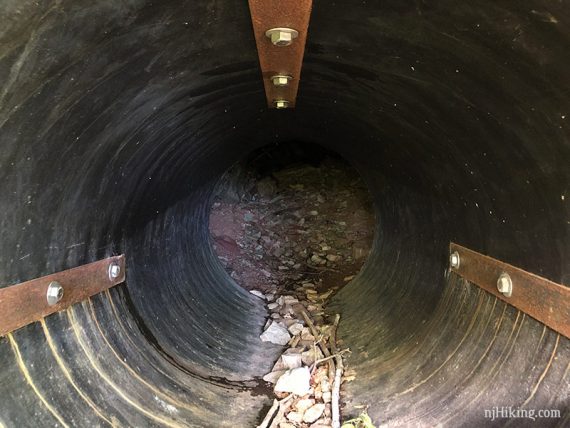 Shortly, cross a stream on a wooden footbridge near some pretty cascades.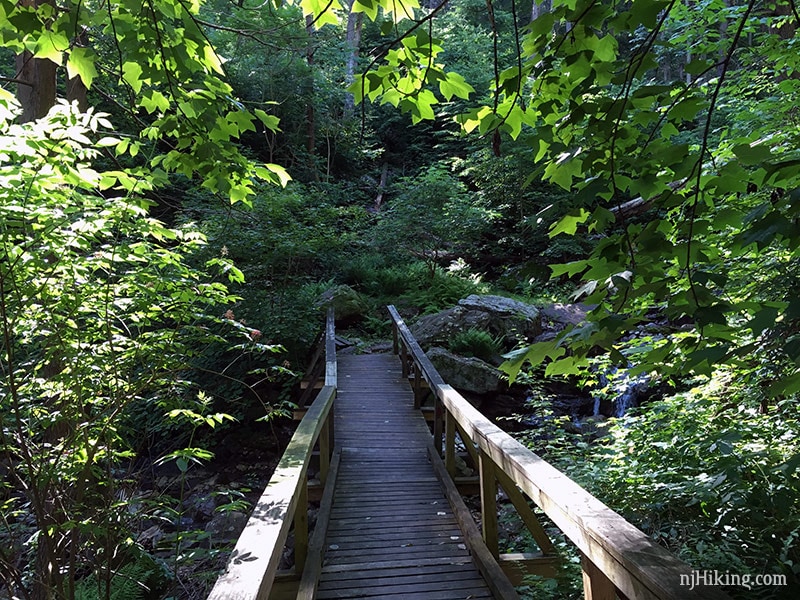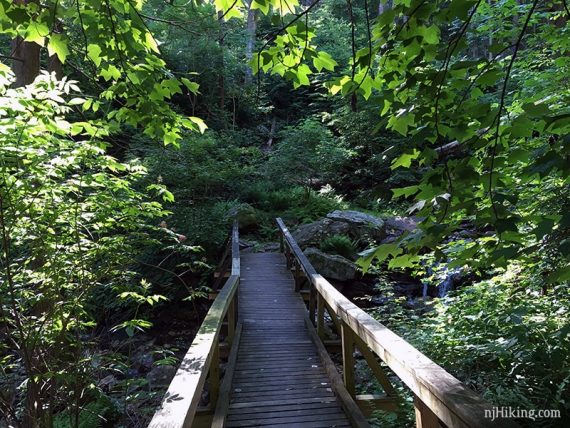 The cascades near the bridge, 2016.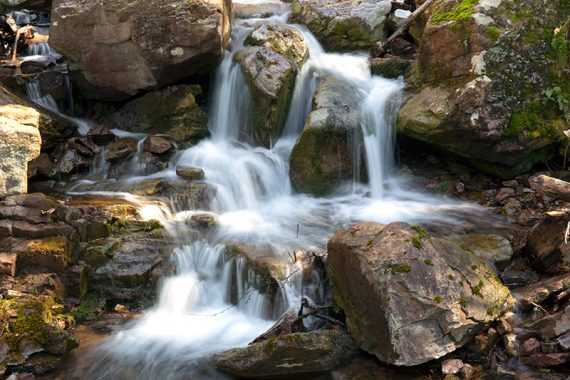 // Shorter, 1.4 miles: Turn around at the bridge and retrace. //
Continue following Coppermine Trail (RED) as it switchbacks uphill.
1.0 – The trail rises above the stream. Several cascades may be visible below before arriving at an open area.
The open area has cascades and possibly a small waterfall – but the amount and location of them has changed over the years. The photo below is the area in 2011: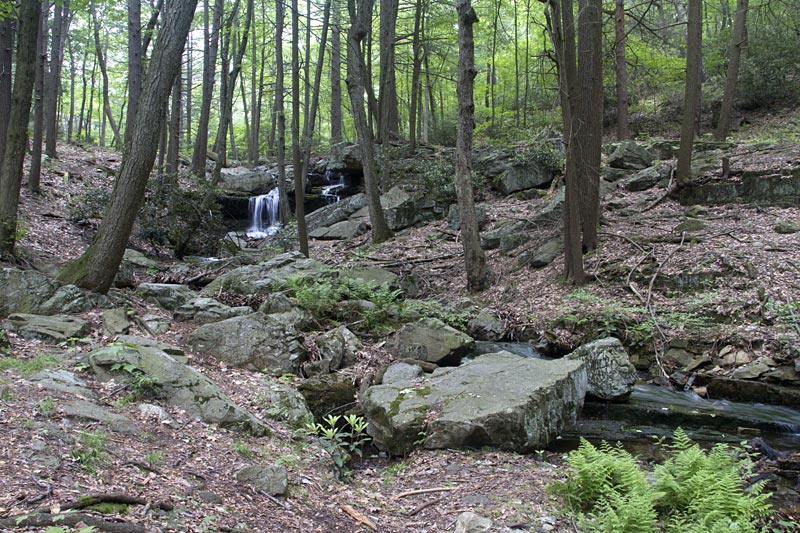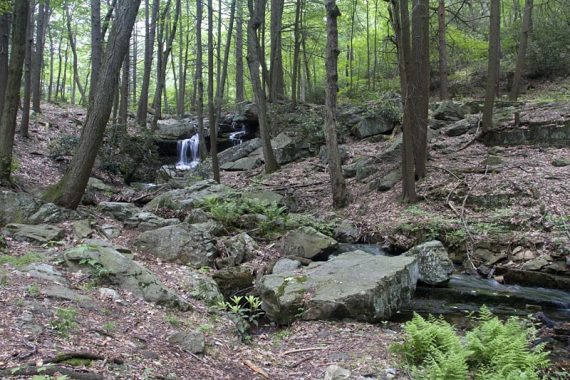 The main waterfall in 2011 (photo below) was dry in 2016. By 2019 it was hard to tell there used to be something there, it was so clogged.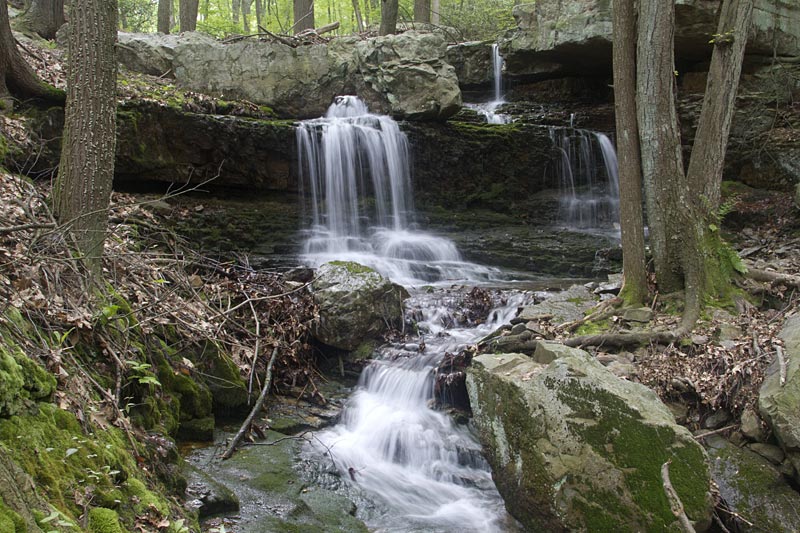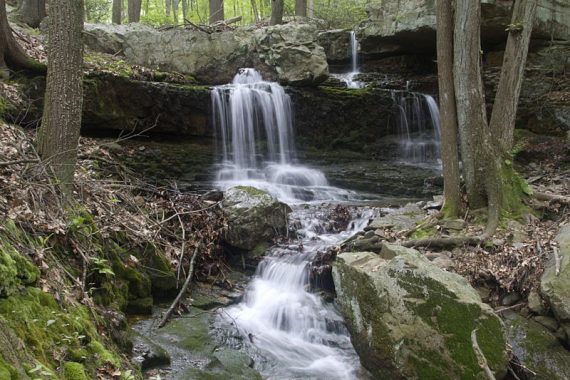 In 2016, a waterfall appeared in an area that I don't think had one in 2011 – so it's likely that the water route changed (photo below). By 2019, this was hard to see and reach.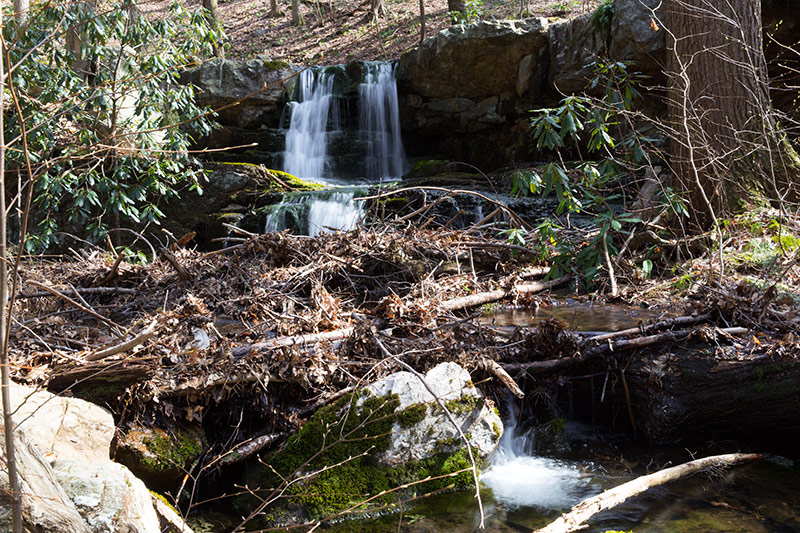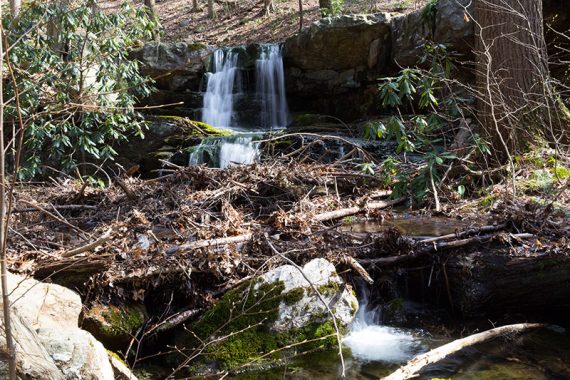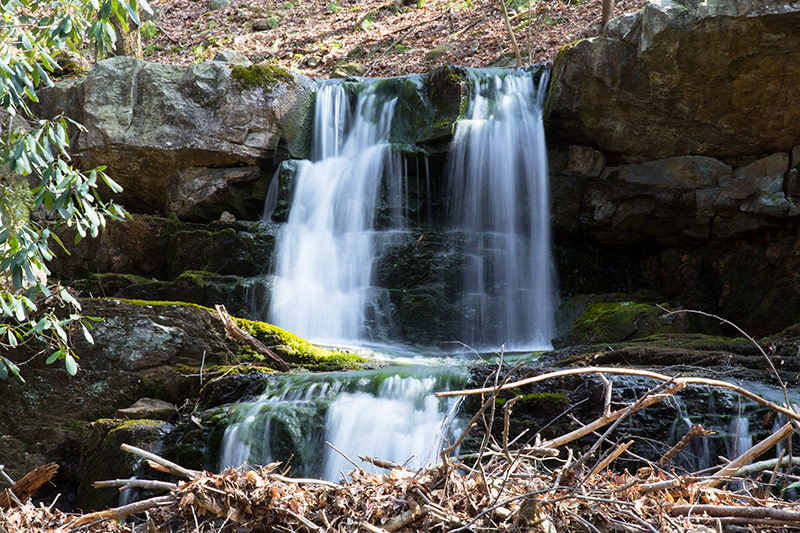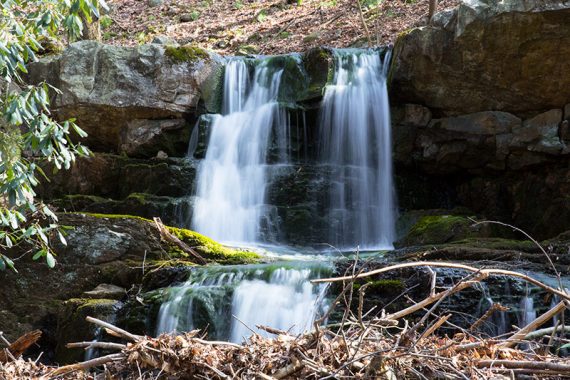 The point of showing these photos from over the yeats is that you'll never quite know what you'll get… which is part of the fun.
// Shorter, 2.0 miles: Turn around at the cascades and retrace.//
1.2 – Turn LEFT to continue on Coppermine Trail (RED).
[Kaiser Spur – Upper (BLUE) goes right and would meet up with Kaiser (BLUE) to make a loop back to the parking lot]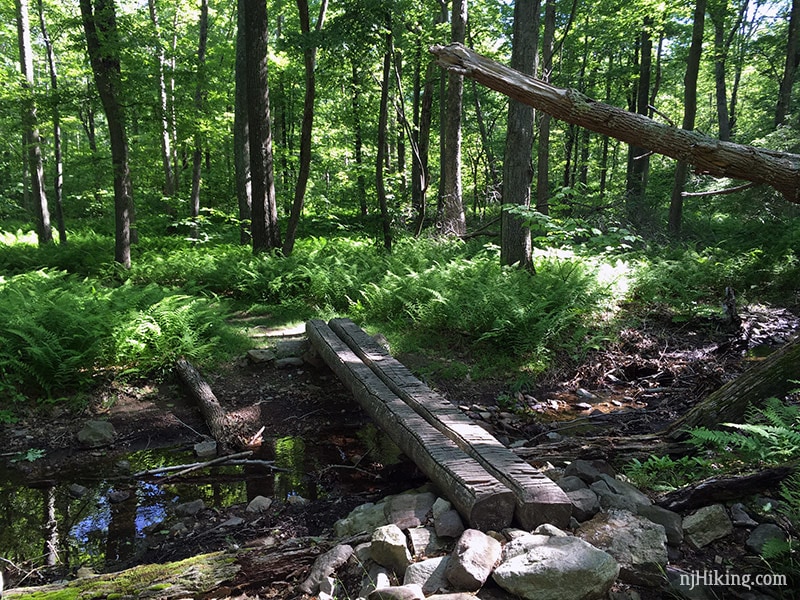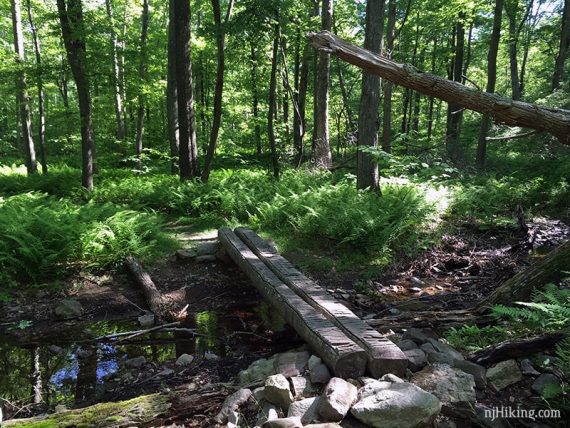 Lots of ferns line the trail.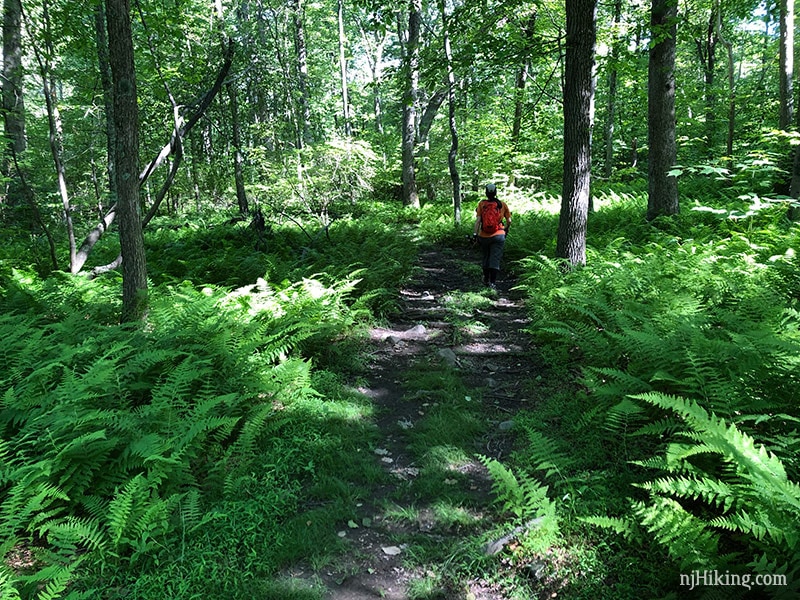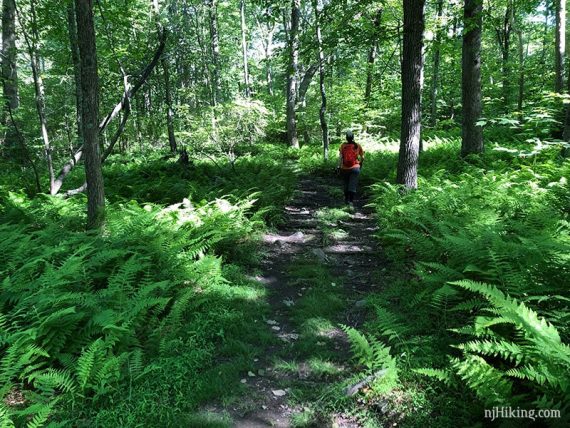 2.4 – Turn LEFT to now follow the Appalachian Trail (WHITE). [Coppermine Trail (RED) ends].
//Shorter, 4.8 miles: Retrace the route from this point.//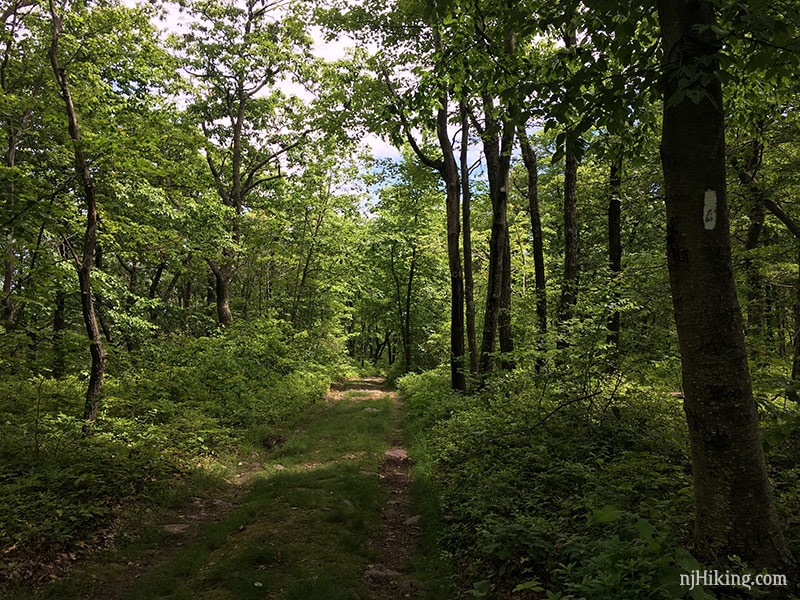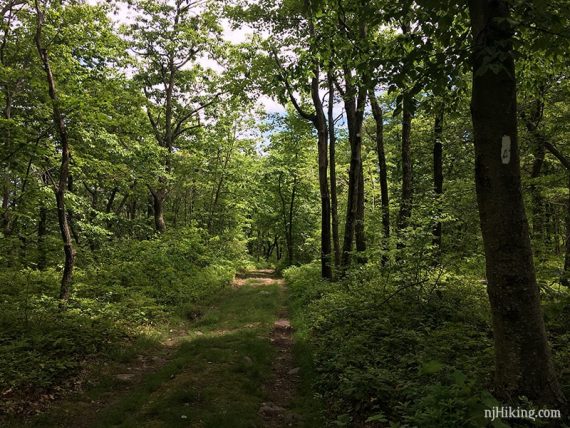 Cross a stream on a bridge, then cross over the gravel camp road (which leads to Mohican Outdoor Center).
The Appalachian Trail (WHITE) heads steadily uphill to gain the ridge.
3.2 – Get a peek of the ridge views to come at two rocks, with limited views. There are better in just a bit.
3.5 – Shady rock in a little open area we like to stop at – but there are multiple view points and good break areas along the ridge (we didn't mark all of them). There's another just after this one.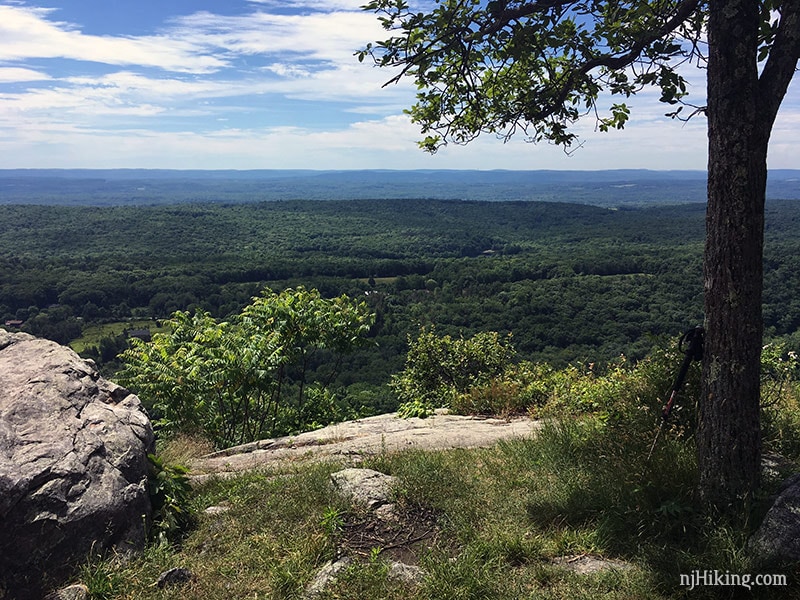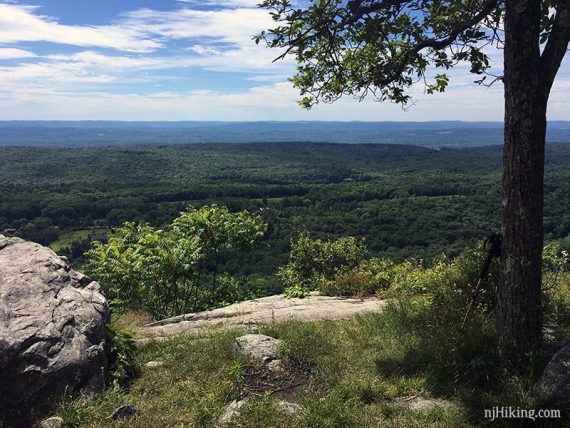 The view from this spot has a view over New Jersey from the Kittatinny Ridge. This is looking left: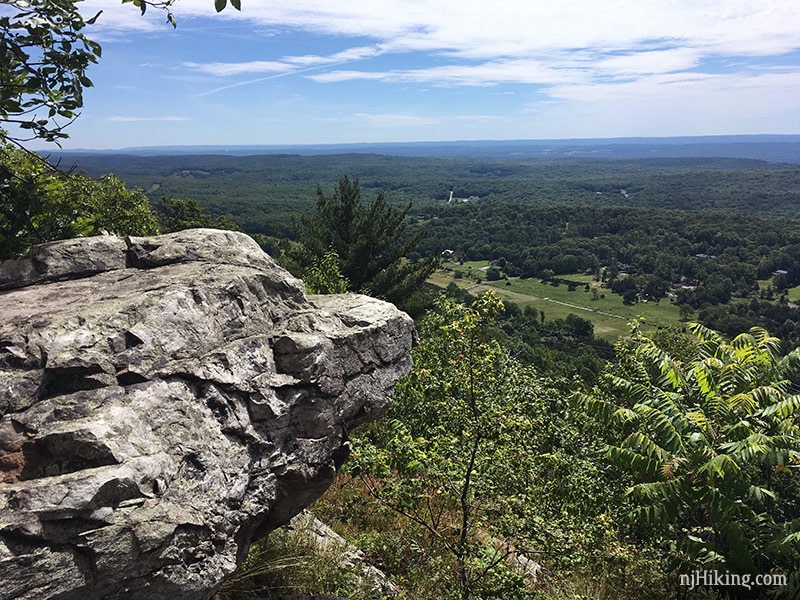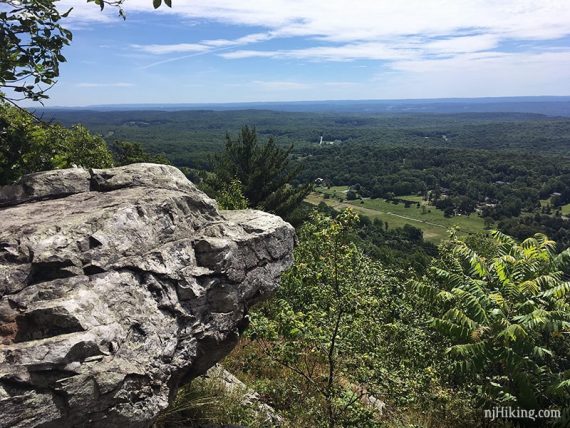 Looking to the right: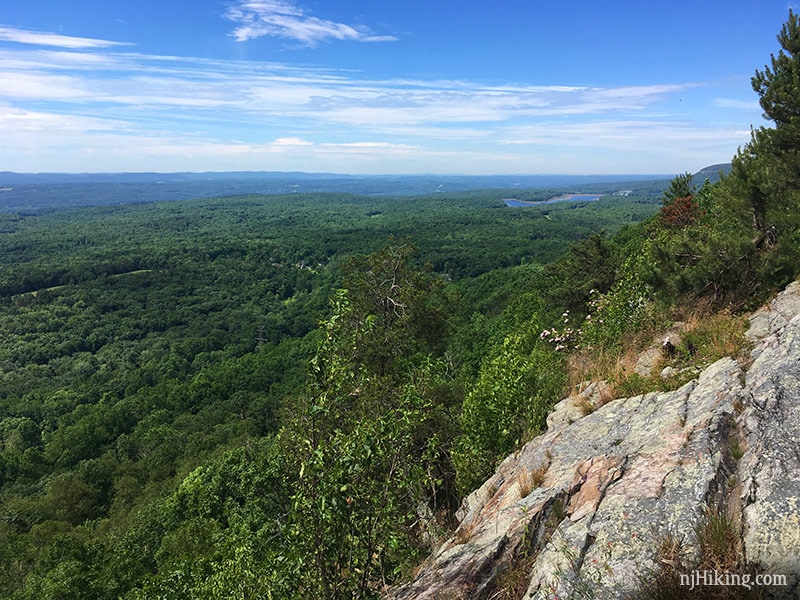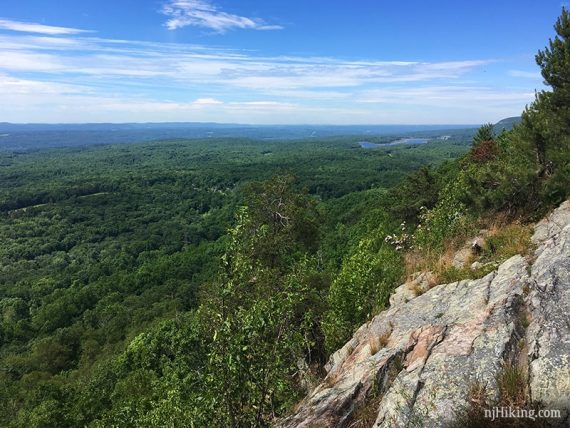 More views as the Appalachian Trail (WHITE) continues along the ridge.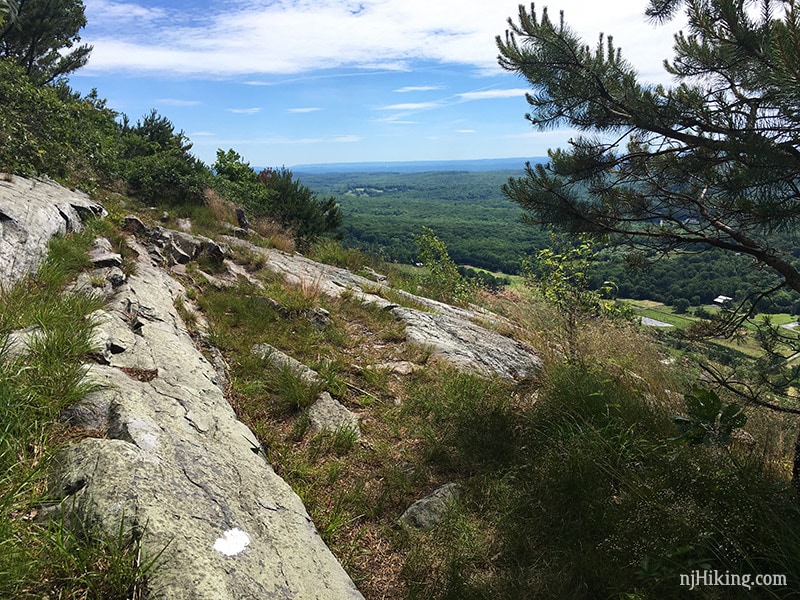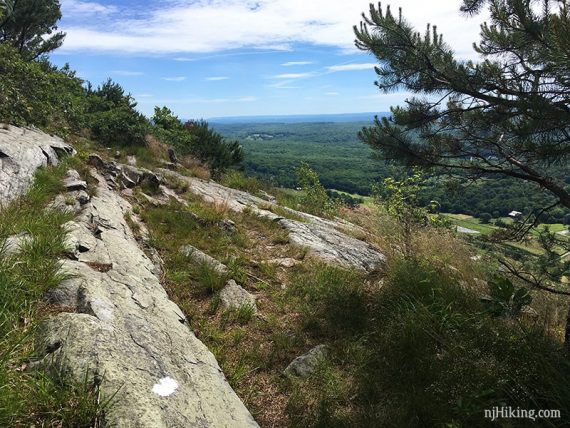 3.8 – Pass Rattlesnake Swamp (ORANGE) on the left (easy to miss, tucked back a bit) and continue on Appalachian Trail (WHITE).
//Shorter, 7.2 miles: Turn left and follow Rattlesnake Swamp (ORANGE) and resume directions at 7.3 below. This removes 3.0 miles and the fire tower from this hike.//
4.7 – Arrive at Catfish Fire Tower. There is a picnic table.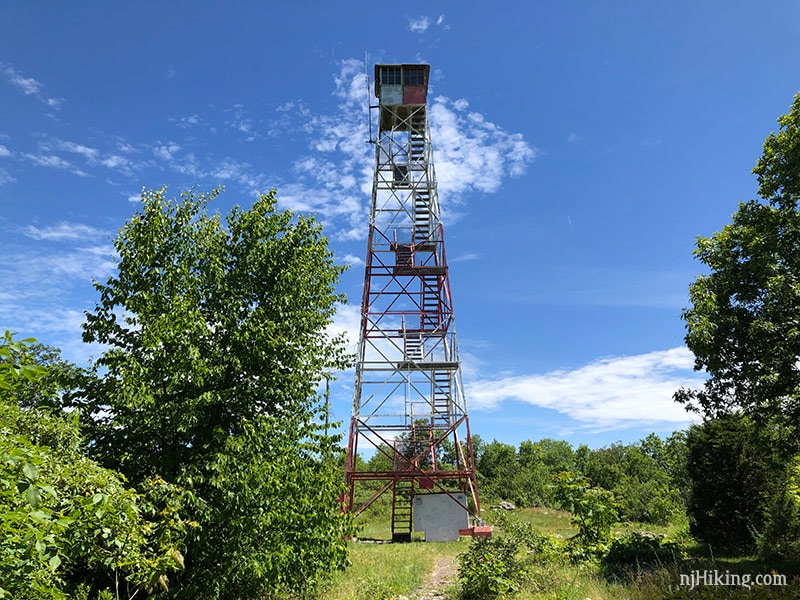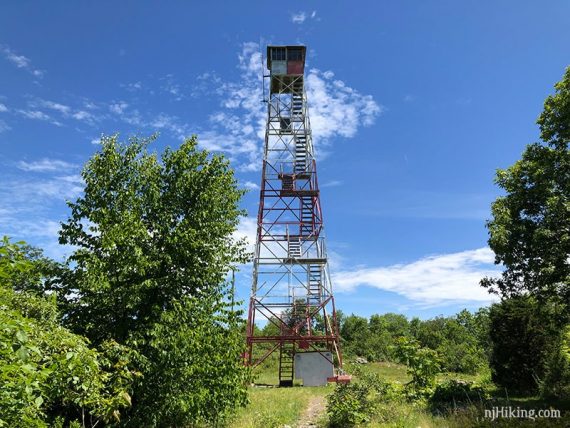 The fire tower has metal steps with open grating.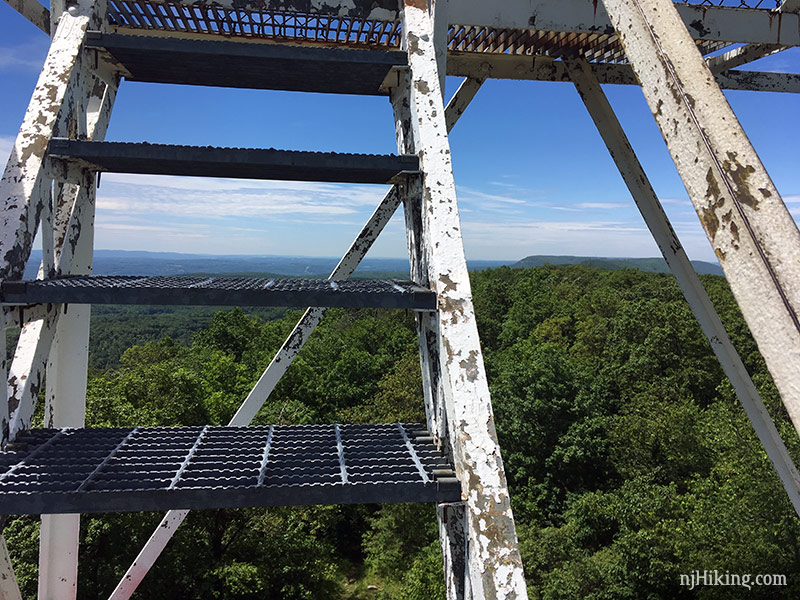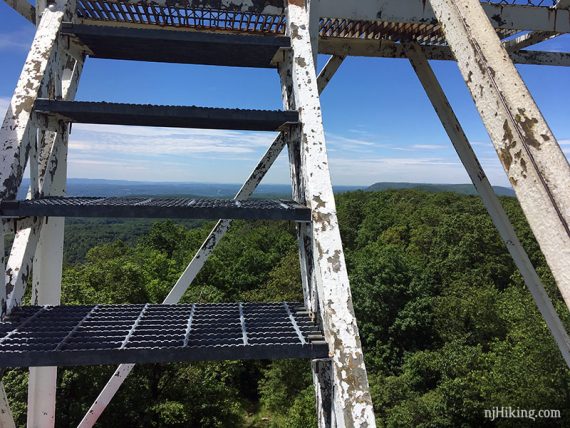 Looking towards southwest-ish from Catfish tower.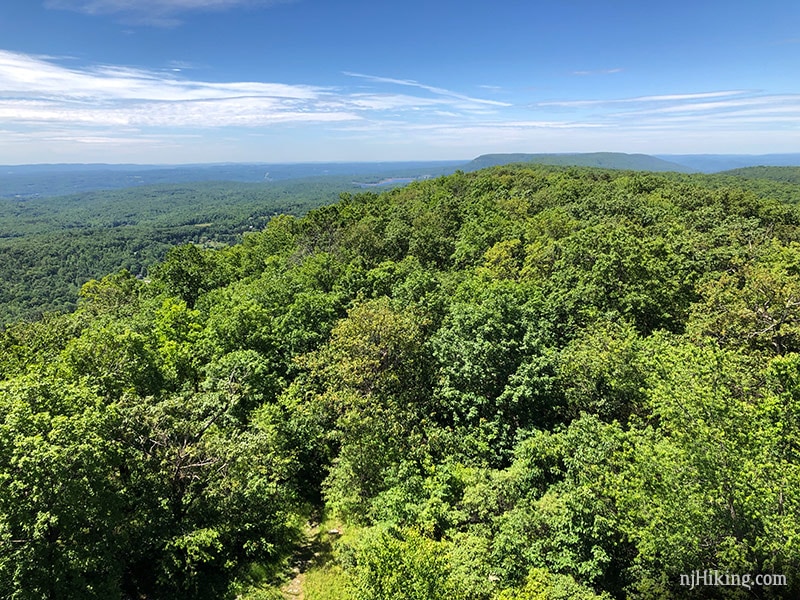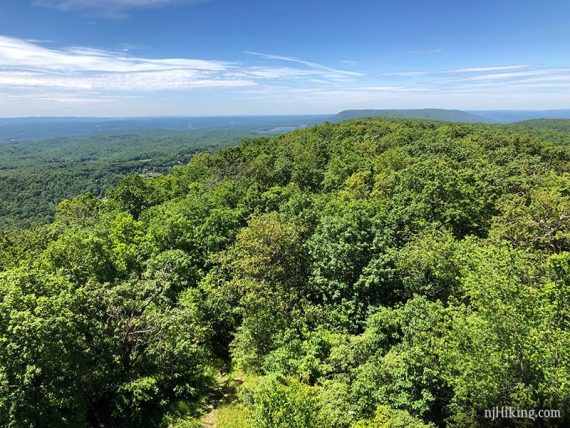 Looking over northeast-ish over New Jersey and the Kittatinny Ridge.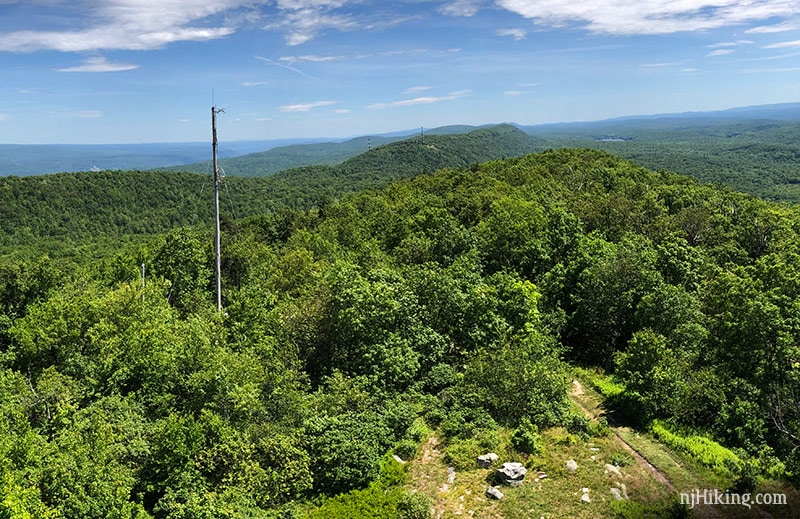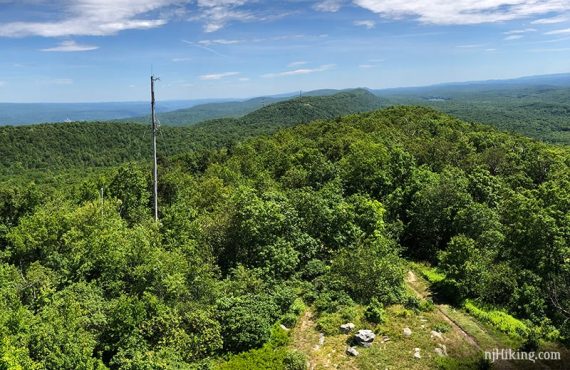 Looking east-ish over the valley below.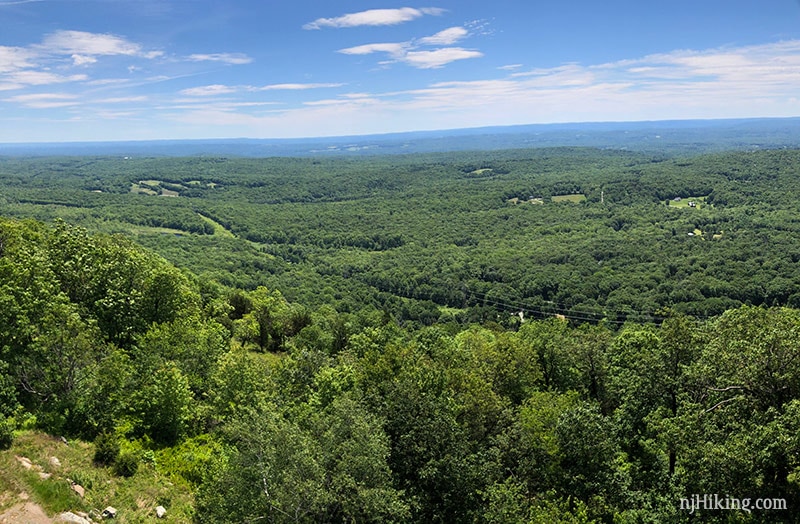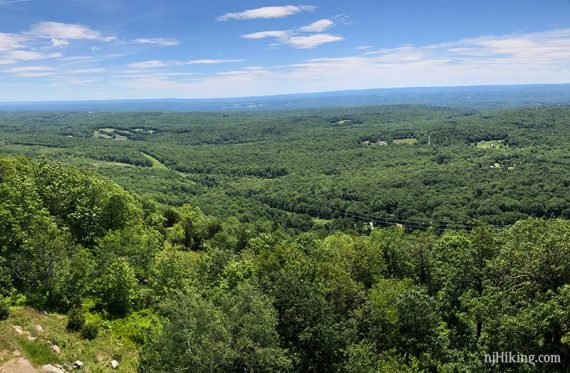 5.0 – Watch for the Appalachian Trail (WHITE) blazes indicating a turn off to the LEFT, while a woods road continues straight.
5.2 – Turn LEFT off of the Appalachian Trail (WHITE) onto a woods road. This is shown as an unmarked trail on the Kittatinny Trails map but was not marked at the actual trail intersection.
[Appalachian Trail (WHITE) continues ahead… all the way to Maine.]
5.4 – Signpost for "Rattlesnake Swamp Trail" and "Fire Tower 1.5 miles" and a large stump post with 3-orange blazes.
Turn LEFT to start following Rattlesnake Swamp (ORANGE).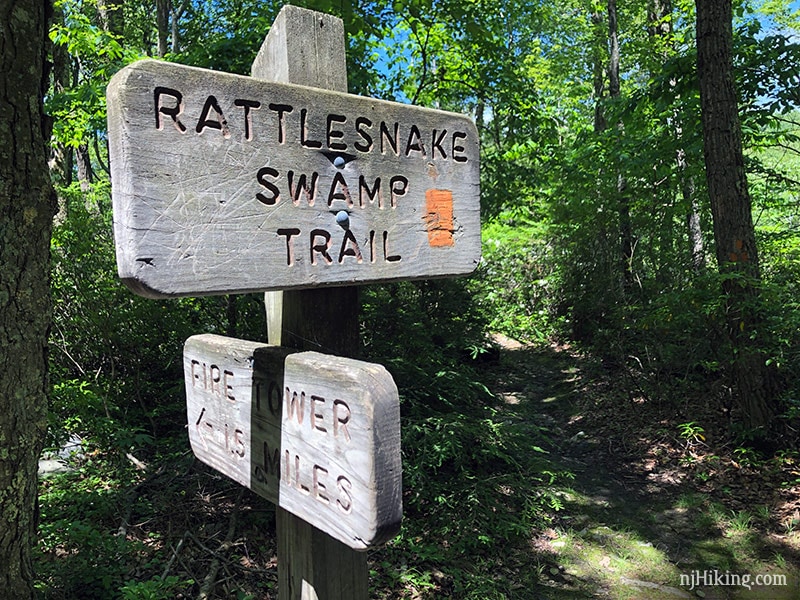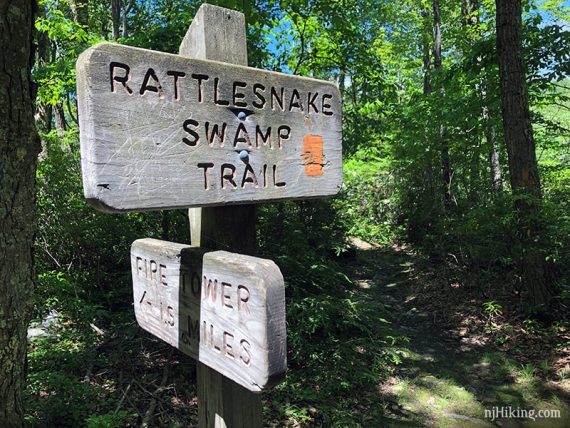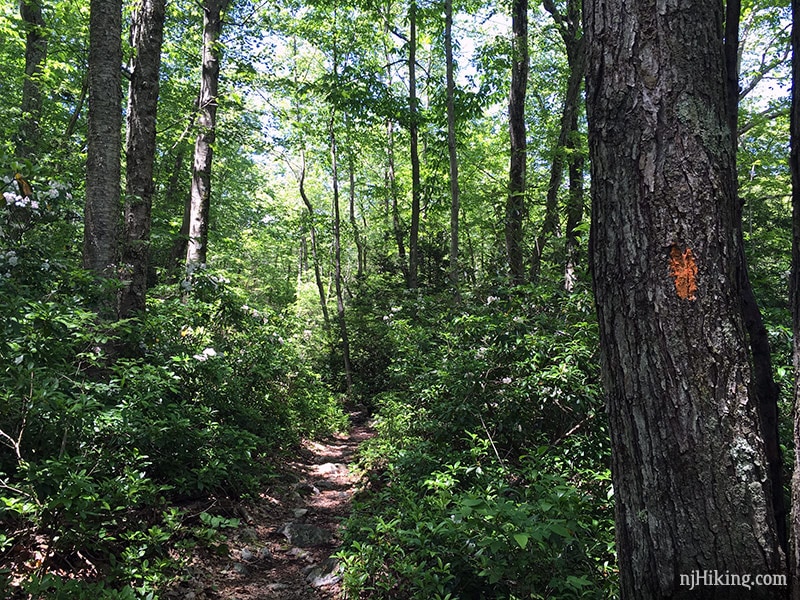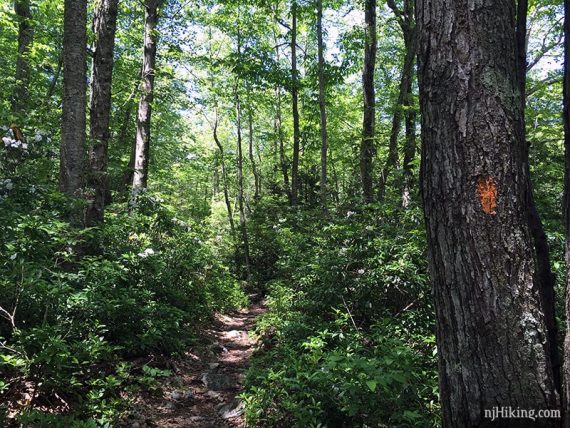 Rhododendron and mountain laurel thickets line both sides of the trail.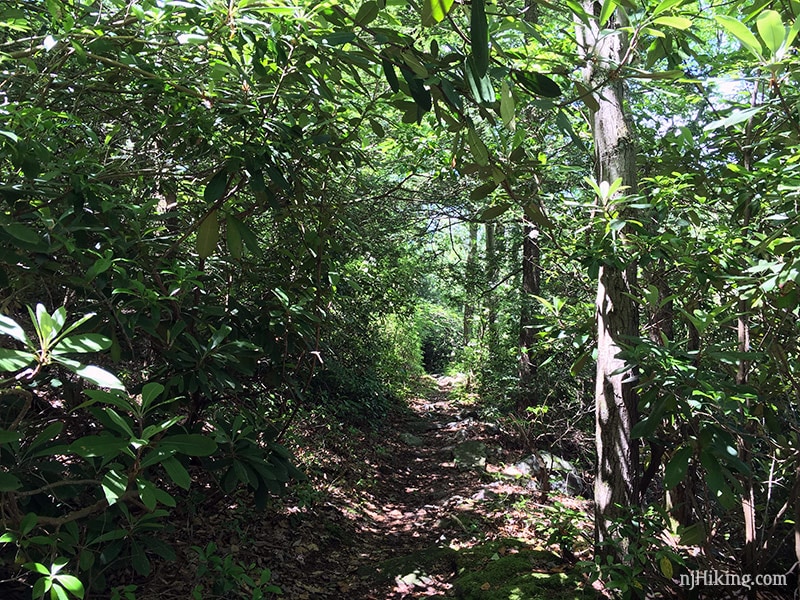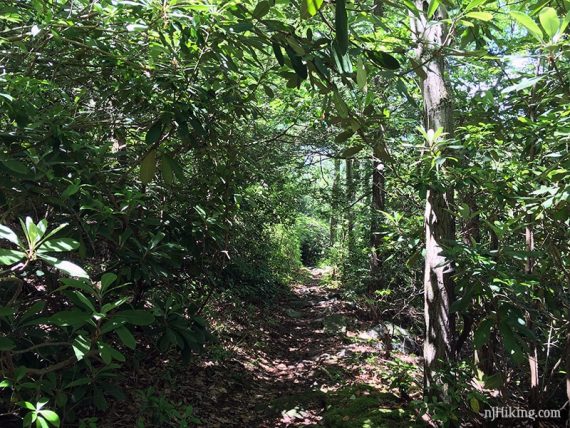 Mountain laurel in bloom.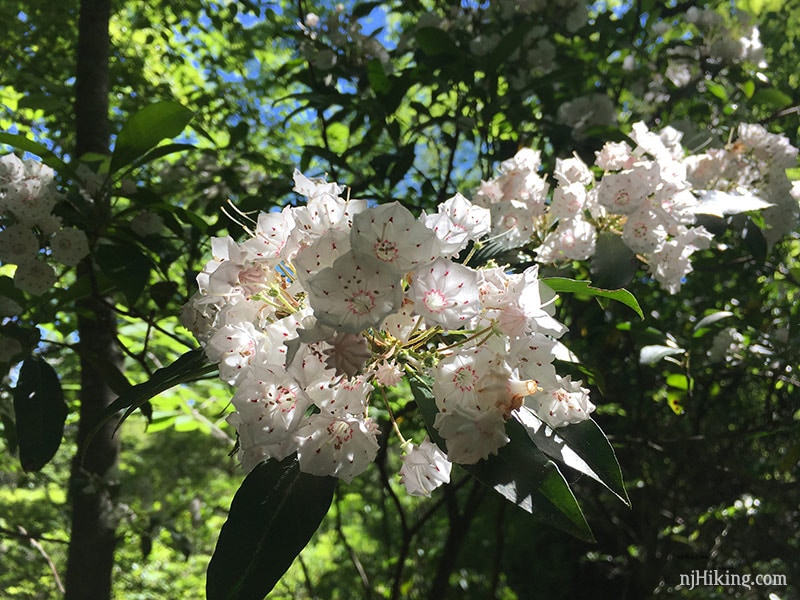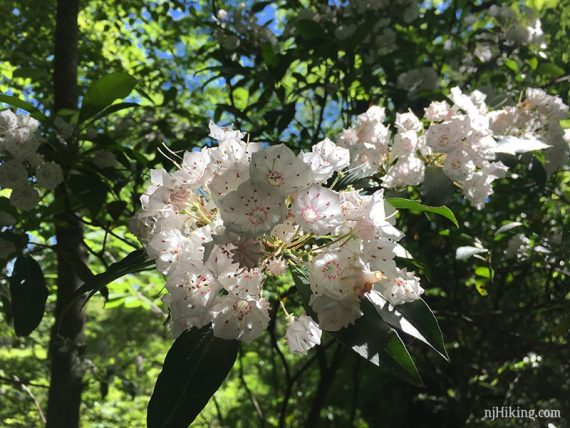 Pass a swampy area on the right.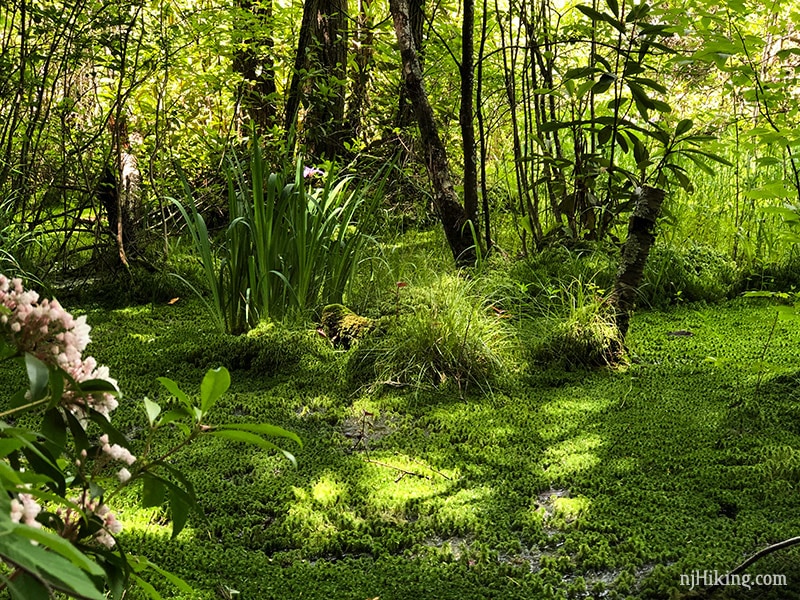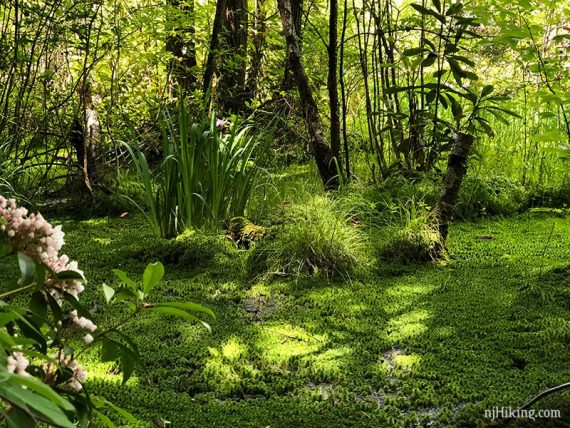 Eventually Catfish Pond will be visible through the trees on the right as well.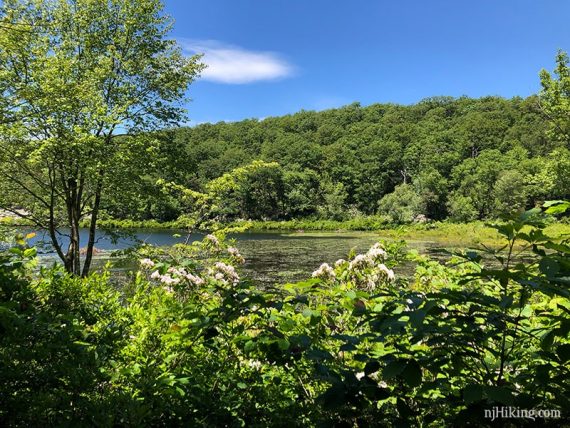 Wooden boardwalks over potentially wet areas.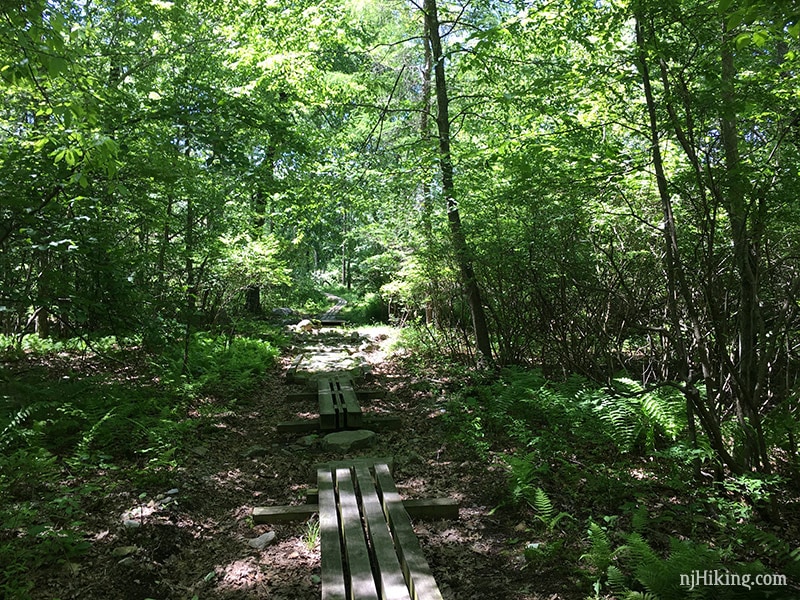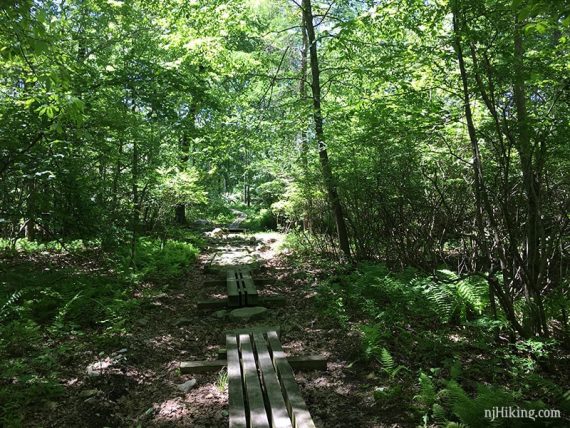 7.3 – Signpost indicating "Rattlesnake Swamp/AT" to the left and "Camp Mohican" to the right. Turn RIGHT to now follow the unmarked trail through Camp Mohican.
7.4 – When you arrive in the main camp area, at a cabin, turn LEFT onto the gravel road and follow that through camp.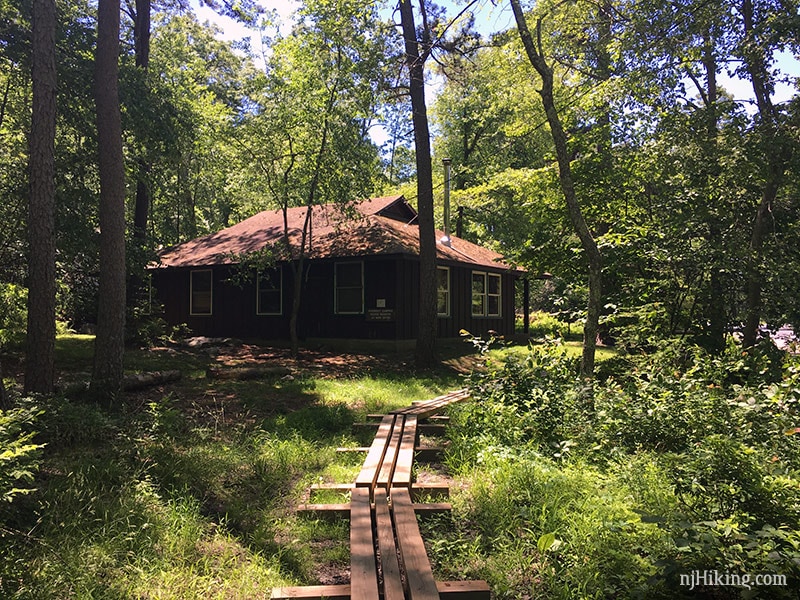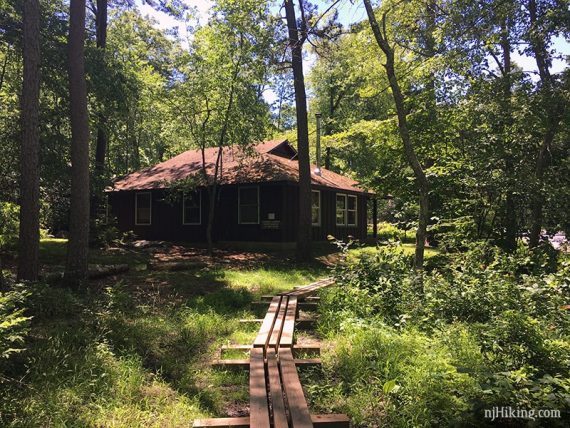 Pass a camp outhouse on the right and the a circle of benches.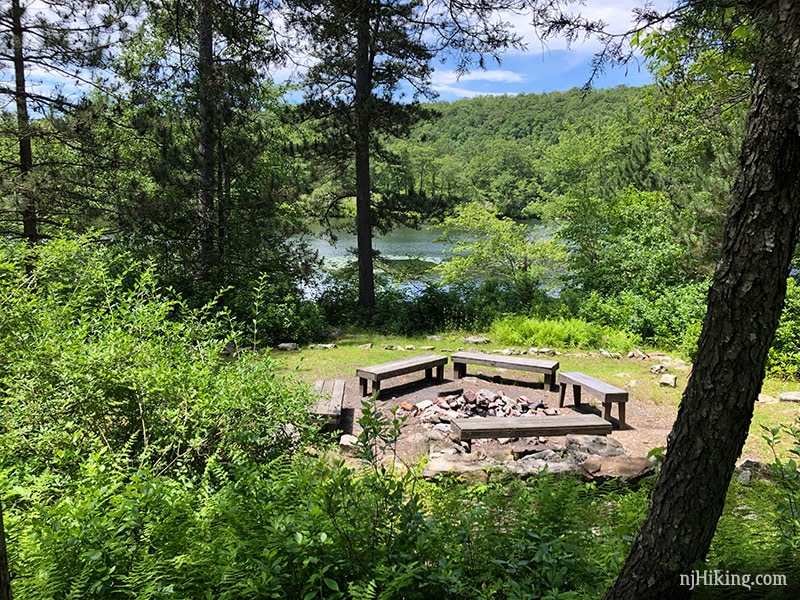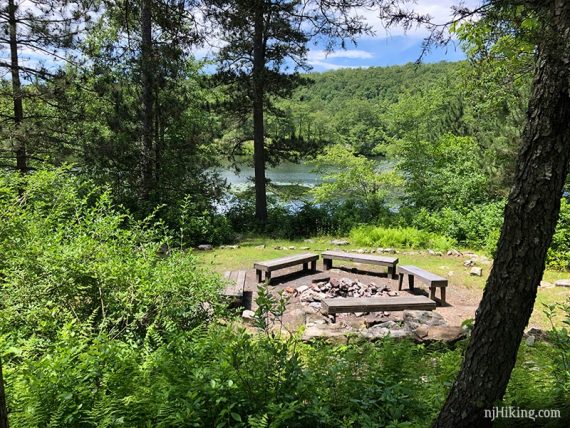 7.6 – Open view of Catfish Pond on the right. Continue on the gravel road.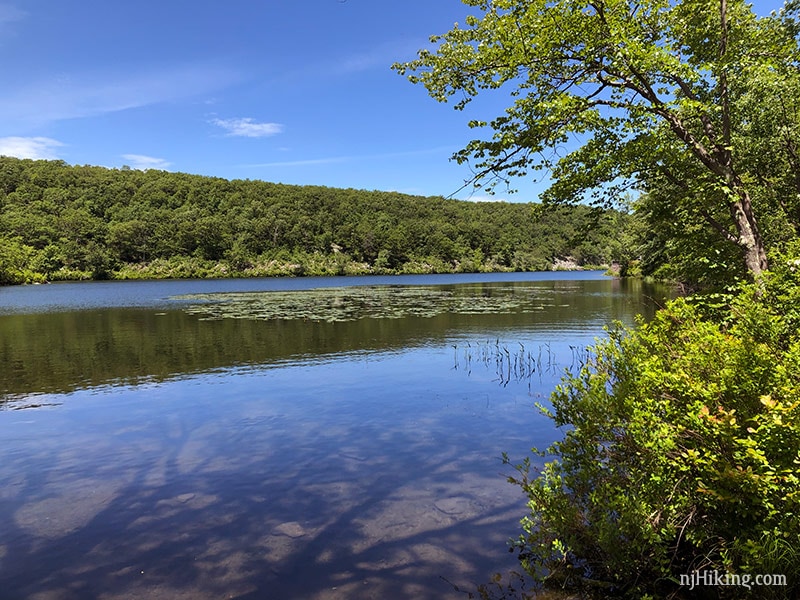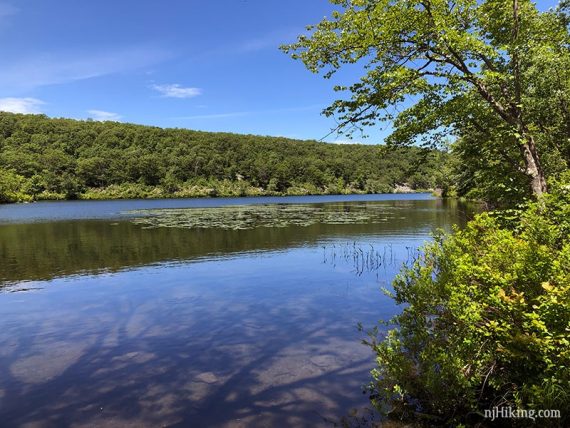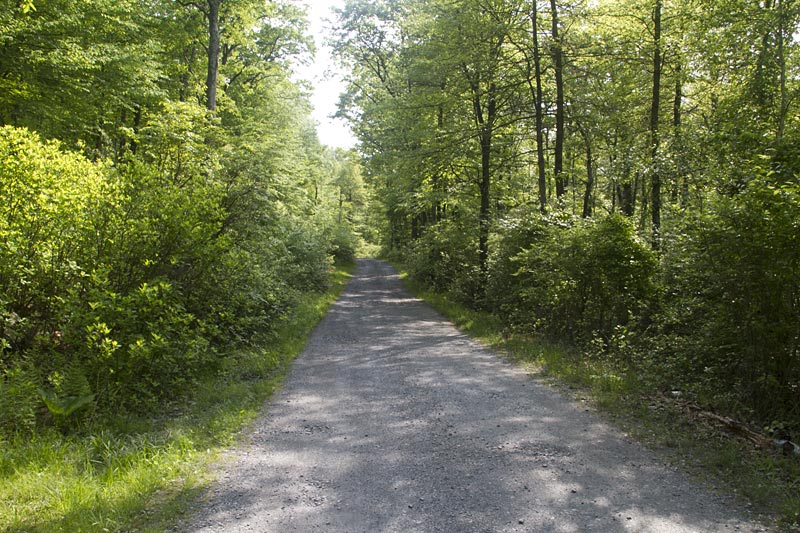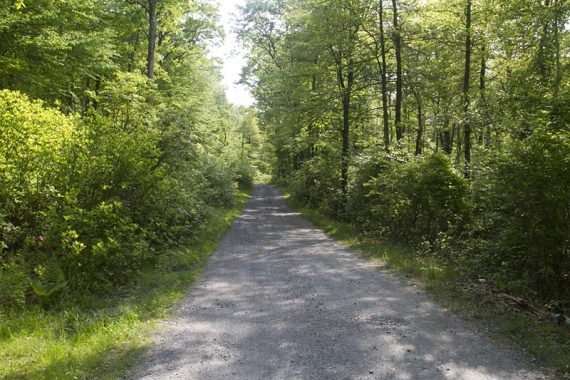 Pass the Mohican Outdoor Center Lodge and parking lot.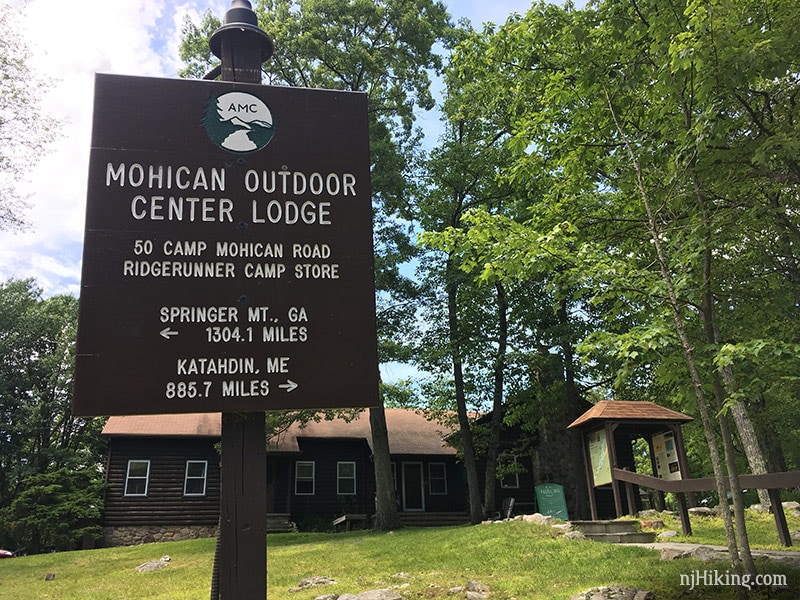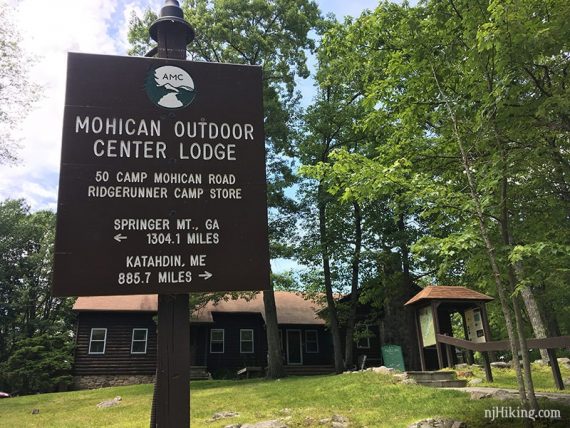 8.1 – Turn RIGHT to start following the Appalachian Trail (WHITE) again (you crossed the road here earlier).
Cross the footbridge and soon turn RIGHT onto the start of the Coppermine Trail (RED).
From this point, retrace the route from earlier, following Coppermine Trail (RED) back to the parking lot.
—
Hiked: 6/15/19.
Hiked: 4/10/16. First mile only, for waterfall photos. "Silver Spray Falls, Buttermilk Falls, Coppermines cascades"
Hiked: 5/29/11. Trail Blog: "Delaware Water Gap: Coppermines – Rattlesnake Swamp"

Updated: 6/2019 – Re-hiked, updated description and online map data, added photos. Removed this hike from our Best Waterfall Hikes in NJ page as they've changed and reduced in flow from when we originally added it. Still a great hike though! 4/2016 – Re-hiked first mile only, added new photos, minor description changes.