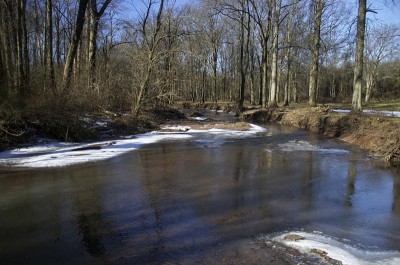 Trails pass through forests, pines, open fields and along Six Mile Run river in this small multi-use park in Somerset County.

Note: This was hiked in January of 2010 and this description may be outdated due to trail changes. At the very least, the section of the RED trail to Canal Rd is no longer on the park map and it may be closed. That section of this hike can easily be removed from the route below.
11.7 miles. Moderate trail surface, some small hills. You can make shorter hikes; we hit up all but the BLUE trail to see what the all new trails were like.
Hike Info:
Shorter: 6 miles: Take RED to where BLUE starts, then turnaround and retrace your steps.
Short: 4.4 miles: Take RED to the concrete bridge (it's obvious, in an open area in the backyard of a couple buildings), then turnaround and retrace your steps.
Our two cents: We recommend skipping the ORANGE trail even though it's an obvious choice to make a loop and not have to retrace your route. It passes through a very nice area of pine trees but the trail has been created for biking and is very twisty, almost looping onto itself in places. Fun for bikers, but we found it tedious to hike.
You need to keep a heads up for bikers. Several occasions we didn't hear them until they were right on us. We went on a VERY cold Sunday in January and saw quite a few on the trail… so if it's a nice day, you probably can expect a lot. Making note of that only because that can impact your hiking experience.

Map: The trail is marked pretty well with a few intersections that are questionable. Please note that there are several new trails and changes, so if you have an old Six Mile pamphlet from the park, it is very different now.
Books: None of our books have this park, except for a brief description found in the The New Jersey Walk Book. Since the park's trails have been added to considerably; trail descriptions found in a book may be out of date anyway.
Parking: N40 27.375 W74 30.843
There are 3 parking areas. This hike starts from the large parking lot on Rt. 27 South, on the right side, a few streets down from Rt 608/Cozzens Lane, there is a brown trail sign.
There is also a parking area on Jacques Ln, and the main park office on Canal Rd (check the trail map).
Restrooms: Porta-john in the parking lot. The Jacques Ln lot had nothing.
Hike Directions: Overview: We took RED to past where BLUE starts, went to Canal Rd, backtracked, Took RED to Jacques Ln to WHITE, to RED, then took ORANGE, which ends up at RED again.
The RED trail starts on the left corner of the lot (if your back is to the road).
0.7 mile – Shortly after passing a power line clearing, turn left and continue following RED. ORANGE goes straight here. The RED markers are small reflective discs.
2.9 miles – Cross busy Middlebrush Rd. Pass behind a house.
3.0 miles – Continue on RED. BLUE trail starts, to the right.
3.3 miles - Continue on RED to the right. WHITE goes to the left.
3.8 miles - This is one of those questionable intersections. There was a sign about trail maintenance, so perhaps this will be more clear the day you are hiking.
The trail that goes straight is marked red, with a plastic wand marker bent over. The trail that heads left is a wide straight woods road and is unmarked.
I'm pointing this out because it's not like this on the JORBA map – they have the trail making the left as RED. So, the map says RED is left; while in person it appears RED actually goes straight.The old park pamphlet we have lists the straight trail as RED, and there is no trail to Jacques Ln.
We just kept heading on RED, straight, to see what was there. It is still marked RED as you go along.
It was pretty along the Six Mile Run River, and we also passed some fields to our left. At one point there was an abandoned car (I swear these are required on trails, we've run into so many).
4.5 miles – We continued on RED until we ended up at Canal Rd. Down the road a ways to your right is the park office,
where you can pick up the BLUE trail. We just backtracked to where the trail had split.
5.3 miles – We turned RIGHT down the unmarked trail (which would be the RED trail on the map). It was later marked as RED, but not where you could see it at the intersection.
5.7 miles – Jacques Ln parking lot. RED ends here. We picked up WHITE. Didn't see any trail sign for that, we just followed tracks out of one side of the parking lot. (If your back is to the road, on the right side) Follow that a bit and you start to see WHITE plastic wand markers. The trail here is odd… a mix of going along woods roads and thru stands of pine and then some fields – just an odd mix.
6.0 miles - It's mostly well marked but there are some spots where you are left wondering why there isn't a marker. For example, we headed to the right at this point based solely on what direction a couple of bikers went – it was not marked and both options looked like they could be it.
7.2 miles – arrive back to the RED trail. Turn RIGHT.
7.4 miles – back at the junction with BLUE. Continue following RED, retracing your steps
9.0 miles – Junction with ORANGE. We took Orange back but we don't recommend it (see above). The choice is yours.
NOTE: If you want RED, it's to the right; Orange is straight. RED is a little easy to miss… you'd easily just keep walking straight down Orange and not even realize it, in the late afternoon sun the colors
were very similar.
If you choose RED, retrace your steps to the lot. ORANGE winds and twists it's way back to RED further on, then retrace your steps to the lot.
Hiked: 1/10/10. Trail Blog: "Six Mile Run Reservoir – Somerset County"