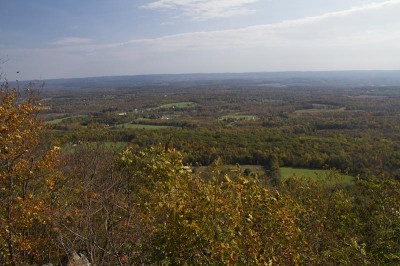 Nice views of rural Northern NJ from Sunrise Mountain and along the Appalachian Trail, plus hiking through a dense forest.
Updated 10/14/12: Description updated, new set of photos and GPS coordinates added.
8.6 miles. Moderate – to difficult, typical rugged north Jersey trail surface. The AT is not as rocky here as it is closer to the Gap. Steady uphill on the Cartwright Trail as well as being quite rocky, and a bit overgrown. Stony Brook was wet in areas with rocks with a small stream crossing over a log (or via a old wooden footbridge nearby).
Shorter – extensive trail system here, use the trail map to create shorter options
Longer – To make the loop 10 miles, pass Stony Book and take the next trail to the right instead, Tower (GREEN), in the description below.
Casual Day Out – Perhaps combine a drive to the view at Sunrise and walk down the Appalachian Trail for a bit, or add in a short hike at Tillman Ravine and stop at Buttermilk Falls.
Map:
Pick up a map from the visitor station, or use the link above. A very worthwhile purchase is the 
Kittatinny Trails
 – Stokes is #122 of the set. If you use the map set, it's not a bad idea to have the park map too… the trails are color coded (helpful to see that GREEN Station Trail is really light green as opposed to GREEN Tower Trail which is darker green for example), and there is a trail mileage/difficulty chart.
Books: Detailed trail descriptions found in Kittatinny Trails and the The New Jersey Walk Book. A similar but longer 9.5 mile route is in 60 Hikes Within 60 Miles: New York City. A 5.9 mile loop in Stokes that does not take in Sunrise Mountain can be found in Hiking New Jersey.
Parking: N41 12.175 W74 46.403 [Stony Lake Parking]
206 North until you enter Stokes, pass Rt 636 and then turn right for the park entrance. Drive down Coursen Rd and make a right at the end to get to the trail lot. (Follow signs for Stony Lake)
Parking fee is charged from Memorial to Labor day. Info on the NJ State Park Pass. There are cabins to rent, get a brochure from the visitor center.
Restrooms: at the Visitor Center. Also at Stony Lake (walk up the hill from the parking lot) from Memorial to Labor Day
Hike Directions: Overview: Swenson Trail (RED) to Cartwright (BROWN-RED) to Appalachian Trail (WHITE) to Stony Brook (BROWN) to Station (Light GREEN).
0.0 – Look for the trail kiosk (large wooden sign), that marks the beginning of the trails – all 5 start down the wide path beyond a metal gate Follow this for a bit and then veer LEFT onto Swenson (RED), as Swenson breaks away from the other trails that continue straight.
1.8 – Stay on Swenson Trail (RED) as it bears LEFT. [Tinsley (YELLOW) joins in from the RIGHT, and is co-aligned for a bit.]
1.9 – Turn RIGHT to continue on Swenson Trail (RED). [Tinsley (YELLOW) goes straight.]
2.2 – Arrive at a cabin. Look for a Swenson Trail (RED) sign post across the open area and off to the right a bit. [There are also blue blazes for a short connector trail.]
2.9 – Turn RIGHT onto the start of Cartwright (BROWN/RED). Cartwright is rocky and overgrown.
3.8 – Cross Sunrise Mountain Road. Swenson Trail (RED) eventually heads uphill.
3.9 – Arrive at a slanted slab of rock that opens up to a wonderful view. Look north (to your right) and spot the High Point Monument in the distance.
4.2 – Turn RIGHT onto the Appalachian Trail (WHITE). Level footpath.
4.4 – Short side trail to a partial view. Continue on Appalachian Trail (WHITE).
4.5 – The parking lot appears above you on your right. Pass that, go up some steps and then on your left is the view from Sunrise Mountain. Plank bench here.
4.7 – Large pavilion with benches with a view on both sides, however it is partially obscured with brush. Continue following the Appalachian Trail (WHITE) – it veers to the left if facing the direction of travel (south). [a trail appears to go to the right as well but that's not itl]
5.8 – Pass Tinsley (YELLOW) on the right. Continue on Appalachian Trail (WHITE).
7.1 – Cross Sunrise Mountain Road.
7.2 – Turn RIGHT onto Stony Brook (BROWN). The trail soon veers to the left at a small sign for the AT shelter. This turn is a little hard to spot. Stony Brook (BROWN) is rocky and can be quite wet.
8.1 – Turn RIGHT onto Station (Light GREEN). [The trail continues straight as well]
Station (Light GREEN) is an old woods road and an easier trail surface, passing some old stone fences. It curves to the right as BLUE joins in, then passes Swenson from earlier today on the way back to the parking lot.
—-
Hiked: 10/14/12. Trail Blog: "Sunrise Mountain – Stokes State Forest"
Hiked: 5/22/10. Trail Blog: "Stokes State Forest – Sunrise Mountain"