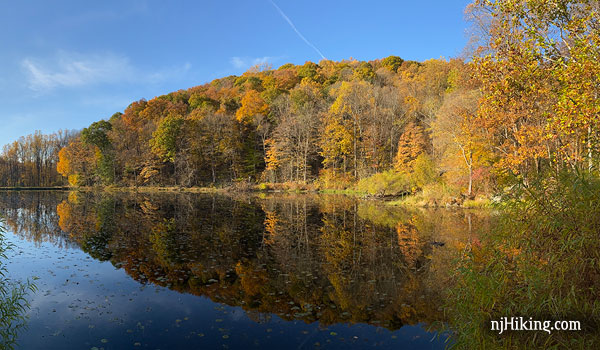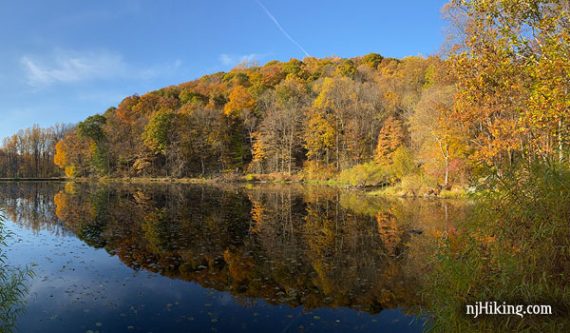 Hike through Jenny Jump State Forest for many views of the surrounding mountains and valleys before arriving at Ghost Lake
5.5 miles round trip. Rocky trail, two somewhat steep descents and the route back is uphill most of the way.
Shorter: Multiple options noted in description.
Longer: 6.3 miles. Continue to the "Fairy Cave", noted in description.
Nearby: In another section of this park: Jenny Jump Trail.
Hike Info:
Updates: 8/2020 – Re-hiked, minor text changes, added pics. 10/2019 – Re-hiked, new photos, minor description changes, added the Fairy Cave. 12/13/15 – Minor description changes, inserted shorter hike options.
Our two cents:
A solid hike packed with viewpoints to a nice pond with an optional extension to a small cave. Nice during fall foliage and is also a Halloween Hike.
Books:
Variations appear in 50 Hikes in New Jersey, Hiking the Jersey Highlands and 60 Hikes Within 60 Miles: New York City plus there is a very short one in Hike of the Week. Trail descriptions can be found in The New Jersey Walk Book.
Rt 80 to exit 12 (Hope/Blairstown). Rt 521 S. Turn L onto 519 at the blinking light. Turn R on Shiloh Road. Turn R onto State Park Road. There are several brown and white Jenny Jump State Forest signs marking the way.
Alternate: N40 55.327 W74 53.636
Park at the Ghost Lake boat launch area off of Shades of Death Road (have to love that road name) and do the route in reverse.
The uphill will be at the beginning instead of the end. There is a parking area before and after the guardrail.
Restrooms:
Comfort station in the parking lot. There may be a porta-john at the Ghost Lake parking lot (was there 10/2019).
Hike Directions:
Overview: YELLOW (Summit) to BLUE (Ghost Lake) and back.
0.0 – From the lot, follow RED (Swamp)/YELLOW (Summit) up a woods road.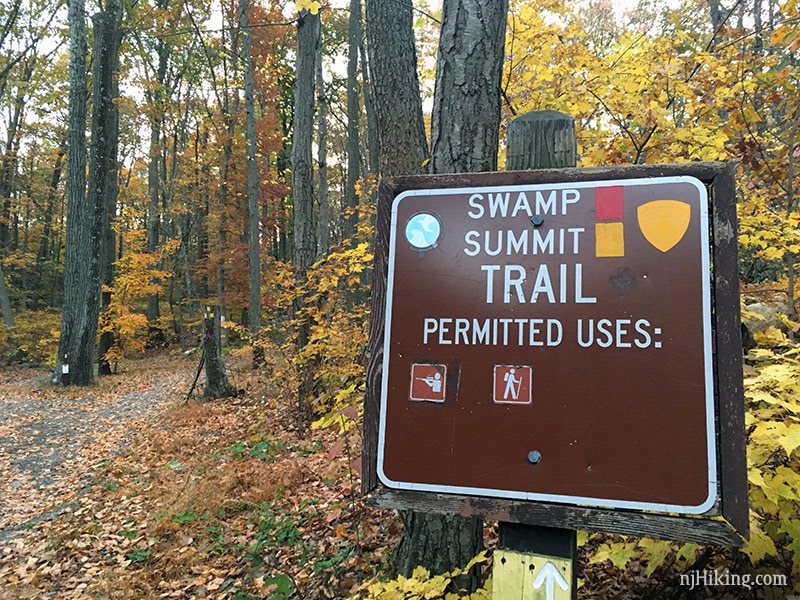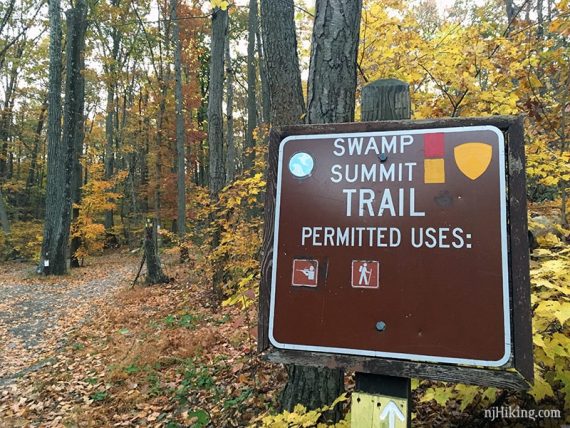 0.15 – The trail splits. Continue following YELLOW (Summit) to the RIGHT. [RED (Swamp) continues to the left.]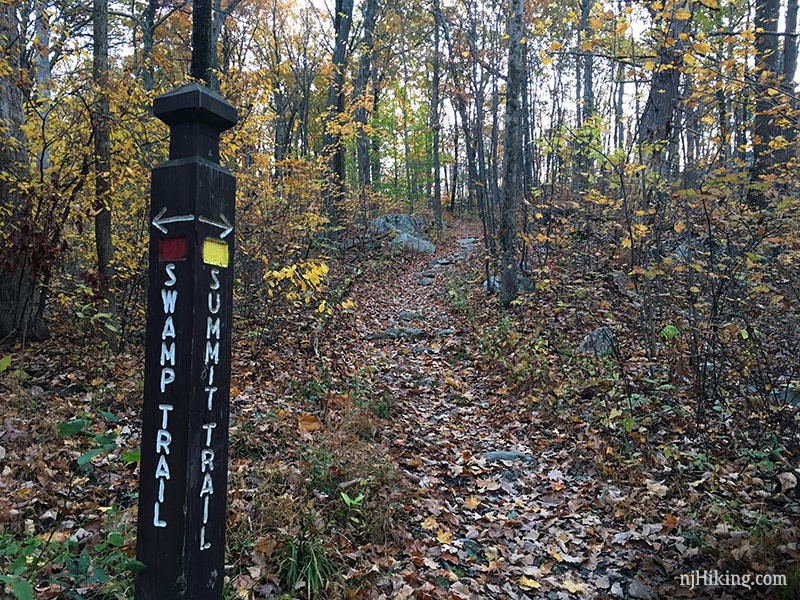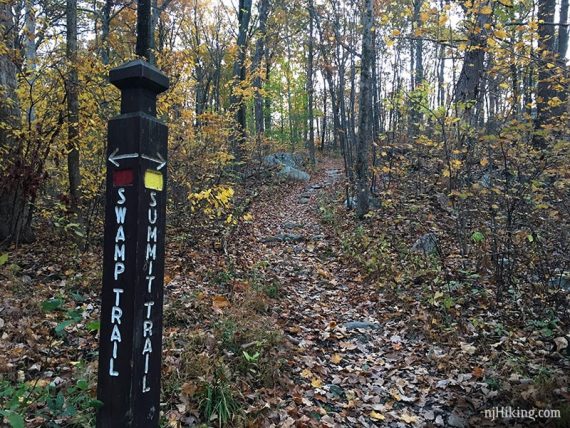 0.2 – Short side trail to an overlook on the right, and another shortly after. Watch for multiple side trails on the right leading to viewpoints.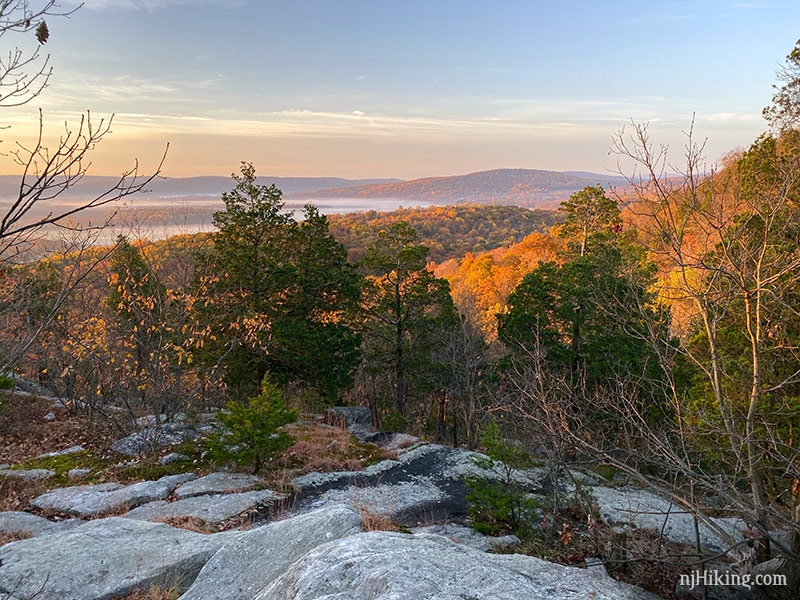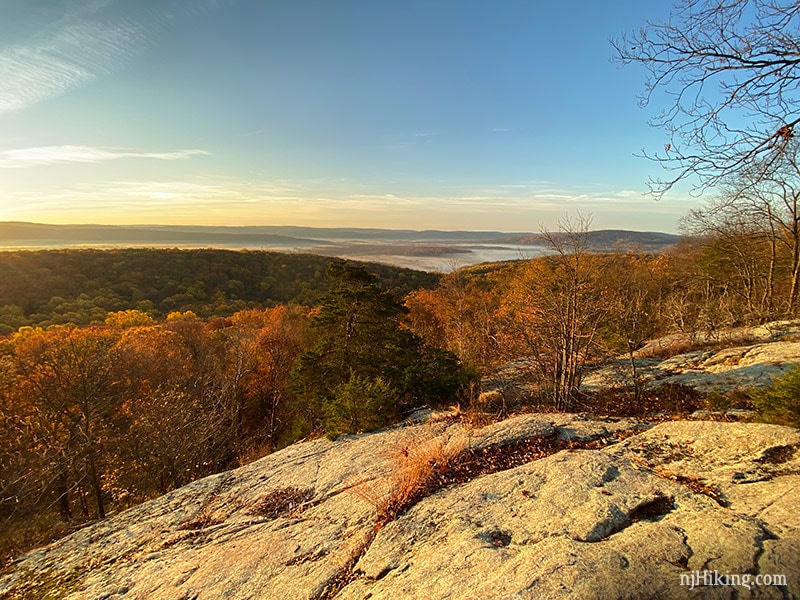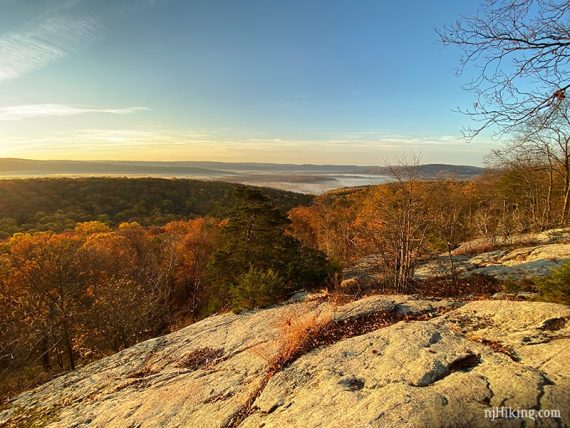 Pass two large glacial erratics, one of either side of the trail.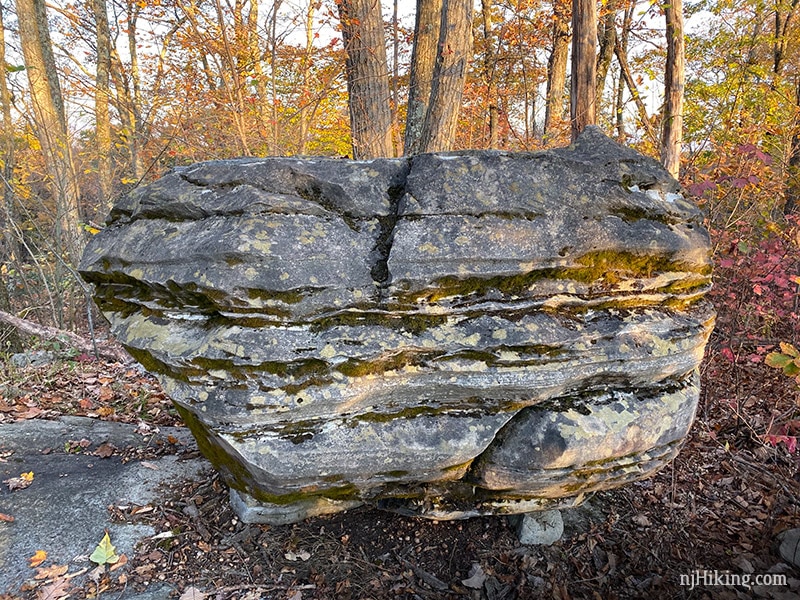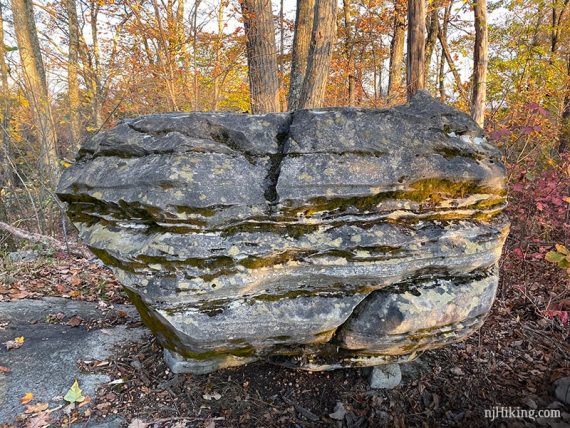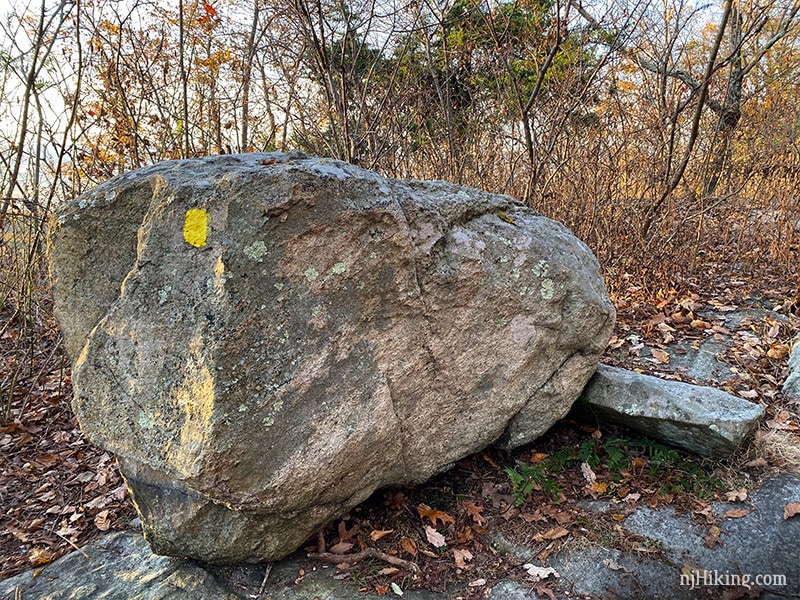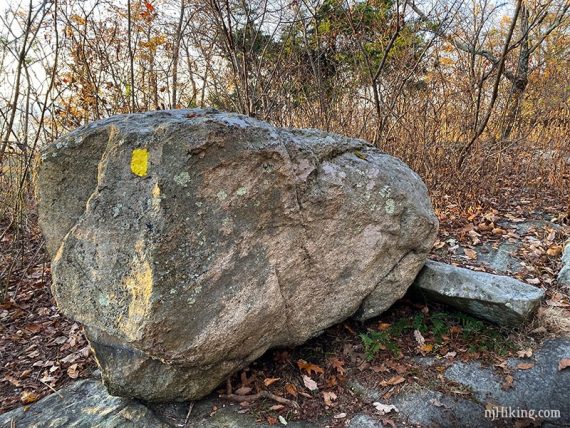 0.7 – Near a bench on the left is an overlook where the Delaware Water Gap can be seen in the distance.
This is where the Delaware River has carved a gap through the Kittatinny Mountains.
On the right is Mt. Tammany in N.J. and on the left is Mt. Minsi in P.A. Seen in fall and in summer: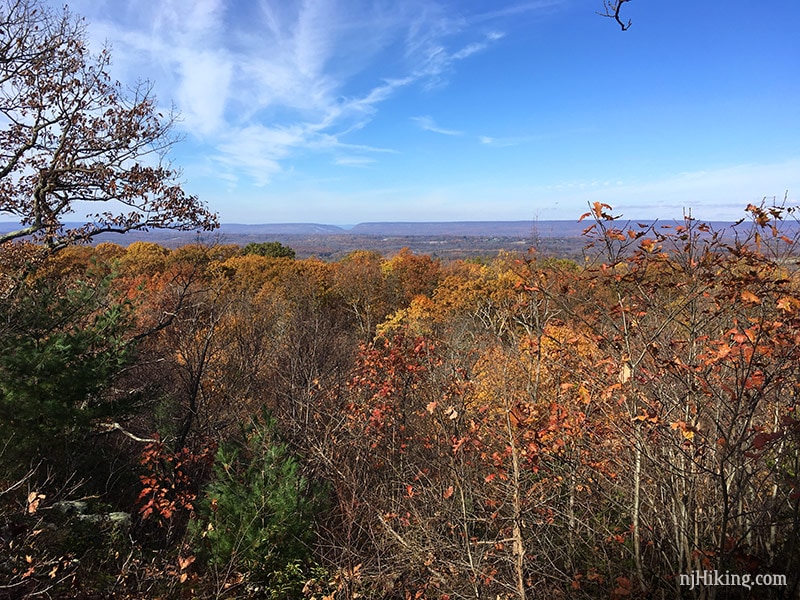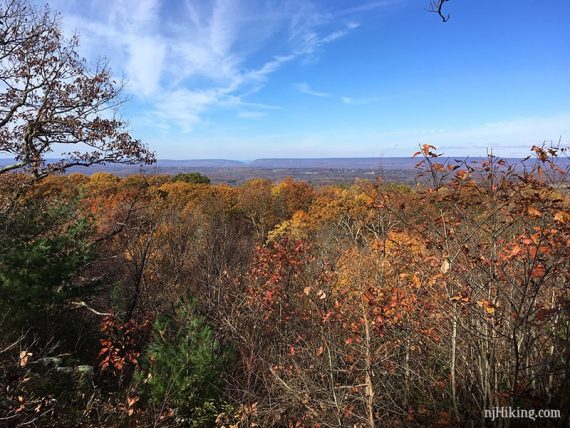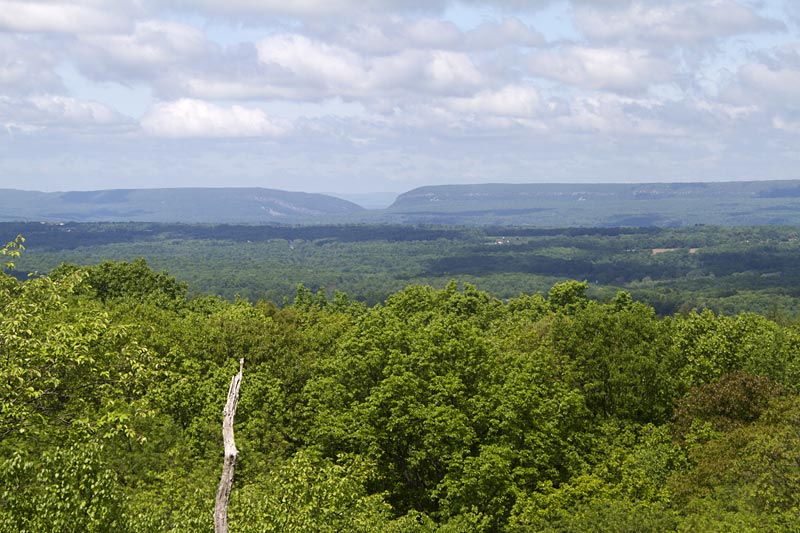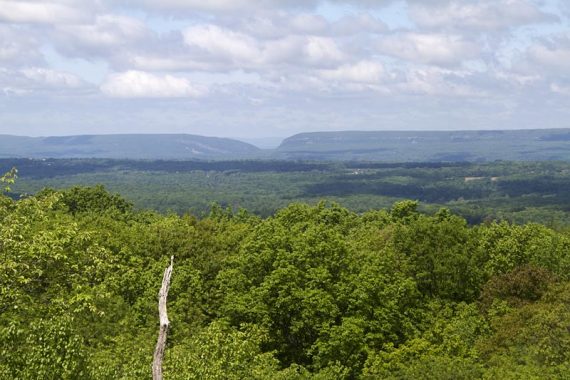 0.8 – Continue straight on YELLOW (Summit). [DARK BLUE (Spring) crosses the trail, left and right.]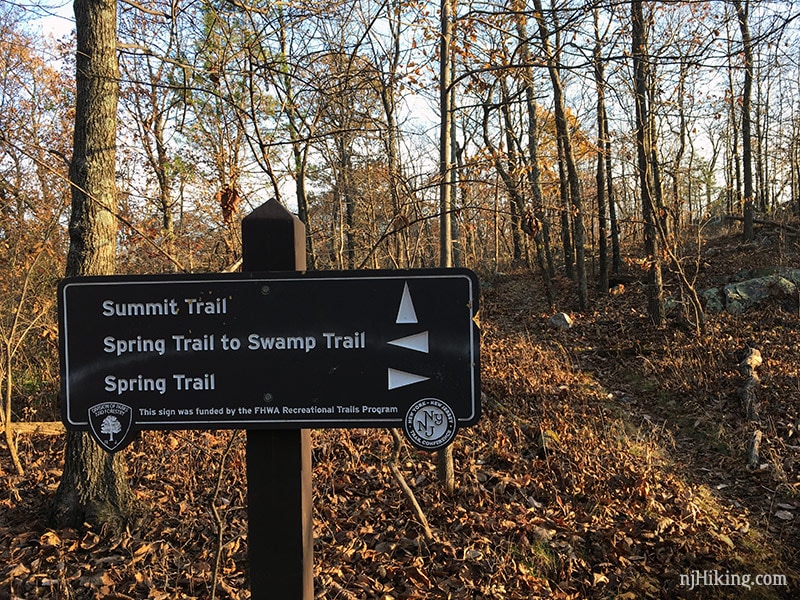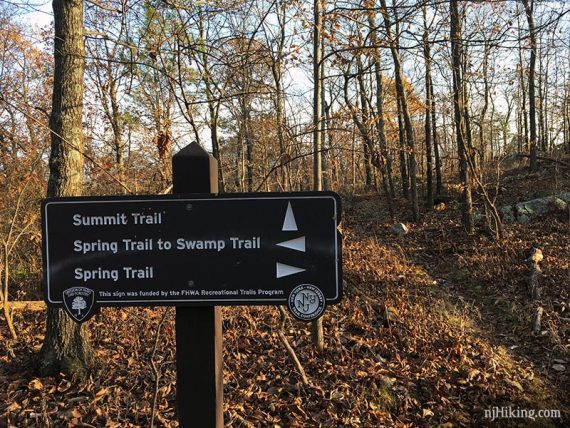 ——————————
Shorter options at this junction: 1) Turn around and retrace on YELLOW (Summit); 2) Turn right and take DARK BLUE (Spring) back; 3) Turn left and take DARK BLUE (Spring) to RED (Swamp) and take that back to the lot.
——————————
Long stretch of trail with no viewpoints.
1.5 – Turn RIGHT and start following BLUE (Ghost Lake). [BLUE (Ghost Lake) also continue to the left, YELLOW (Summit) ends].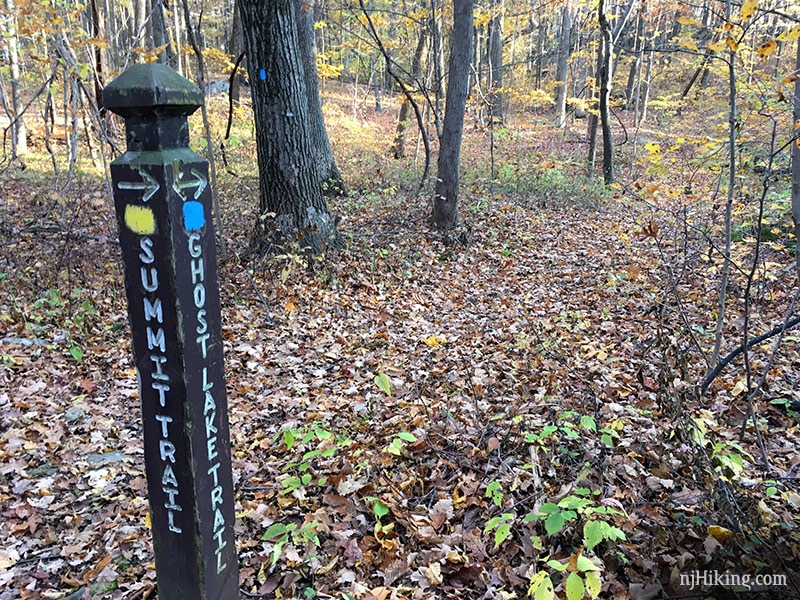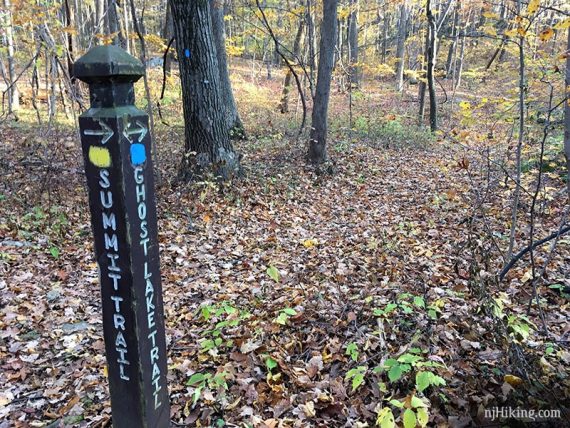 ——————————
Shorter options at this junction: Turn left instead to follow BLUE (Ghost Lake) until it ends at a camping area – you won't get to Ghost Lake but you also miss a downhill/uphill section.
Follow the park road until it hits RED (Swamp) and take that back. This is also an option for an alternate on the way back from Ghost Lake.
——————————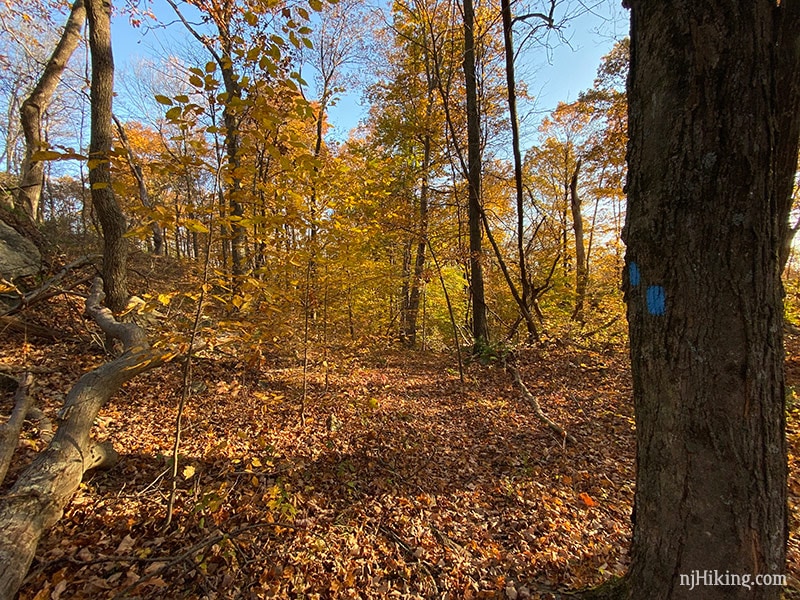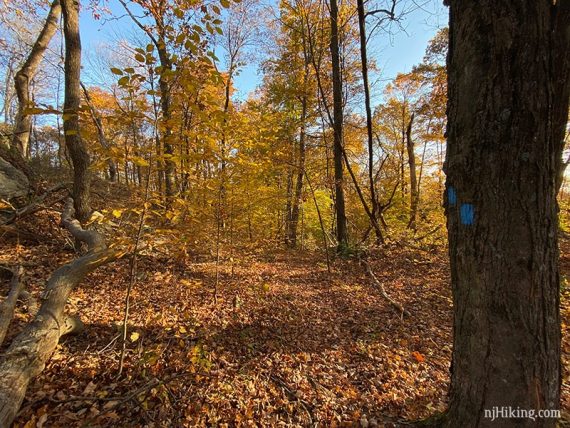 Pass a sign from the planet system walk (new, 2020).
This one mile scale model of the solar system starts with the Sun at the Orchard Trail parking area and ends with Neptune on the Ghost Lake trail.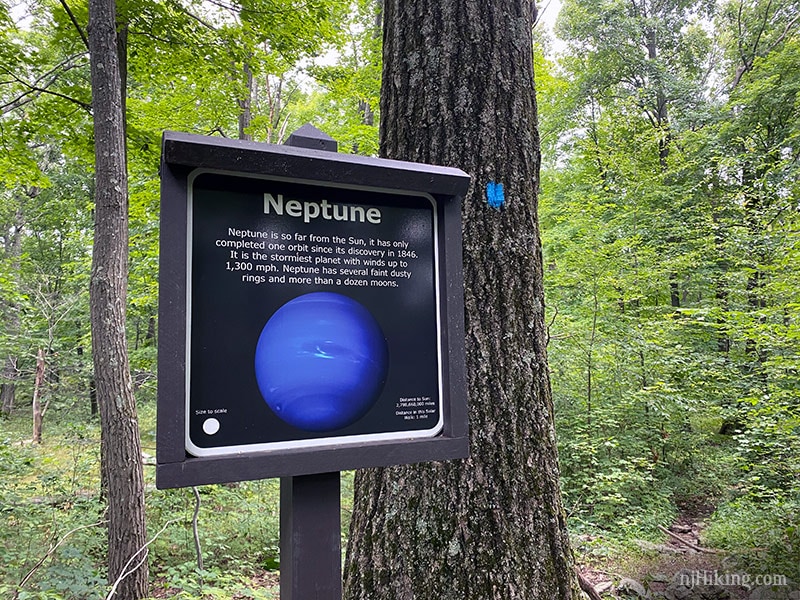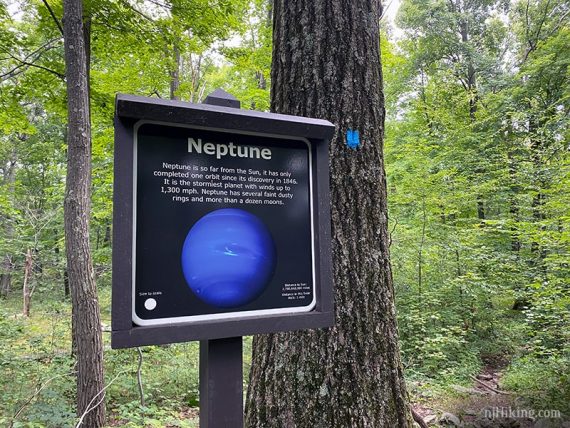 The path is a rolling, rocky trail with two slightly steep rocky descents.
2.1 – On the right is a short path to the ruins of an old cabin, and a nice view of the surrounding area. The cement foundation works well as a bench for a break spot.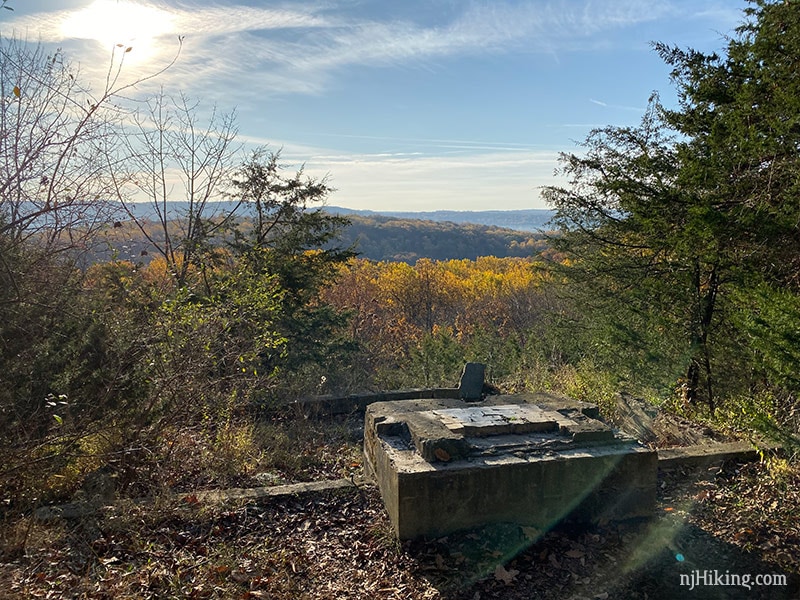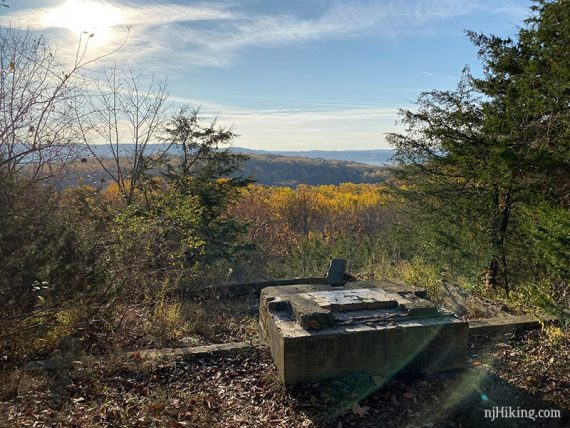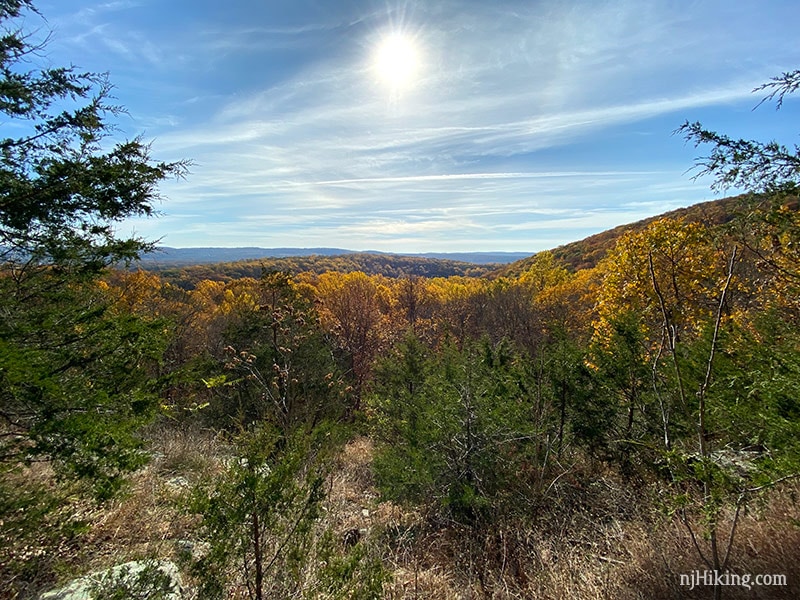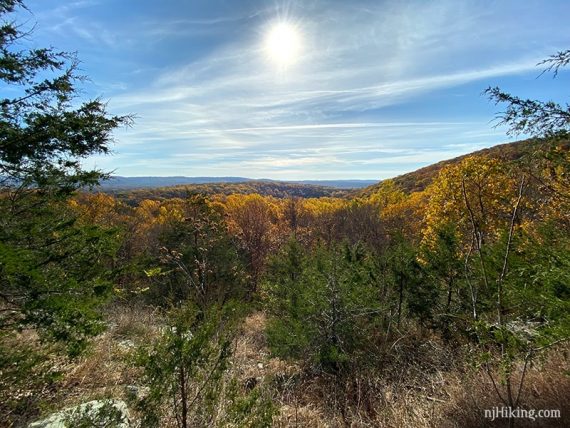 Shortly after, the trail turns into more of a woods road and Rt 80 can be seen (and heard) briefly.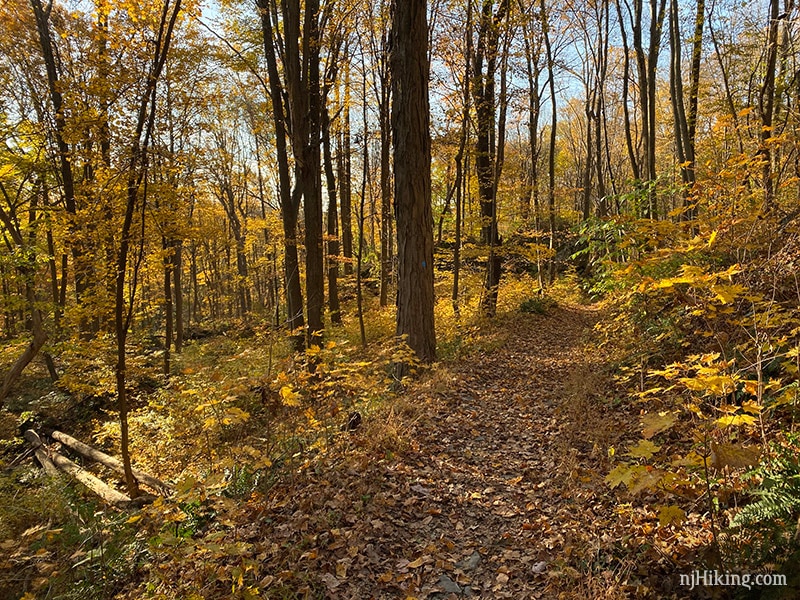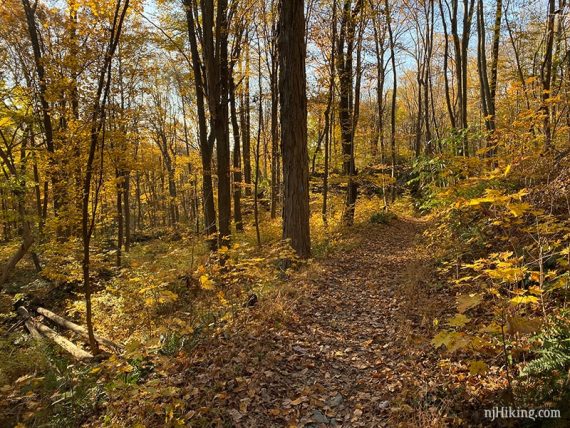 The trail becomes exceptional pretty with lots of ferns and some large rocks. A small gurgling stream leads into Ghost Lake.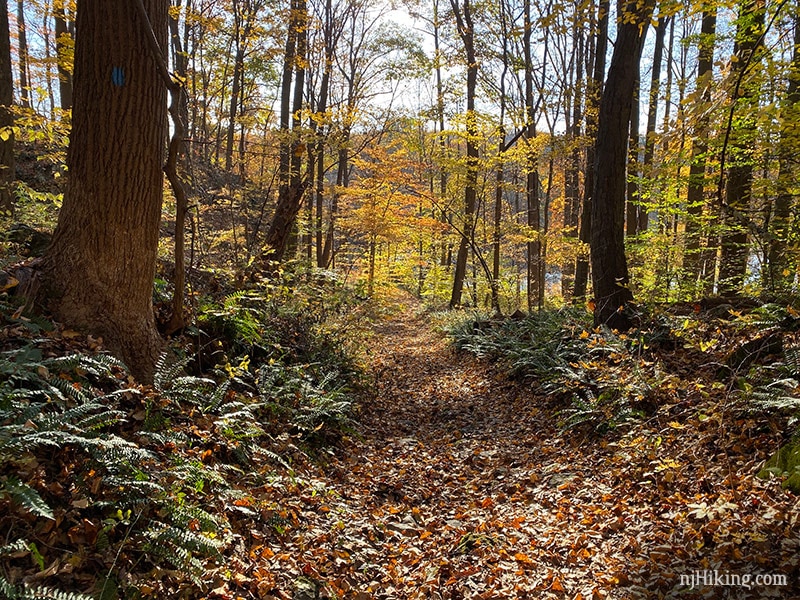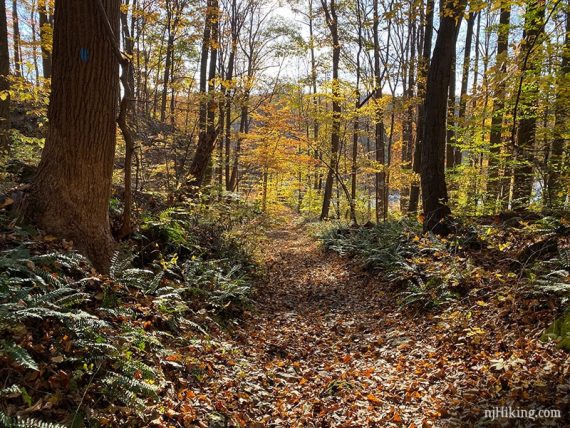 2.8 – Arrive at Ghost Lake. A grassy walkable causeway splits the lake in two.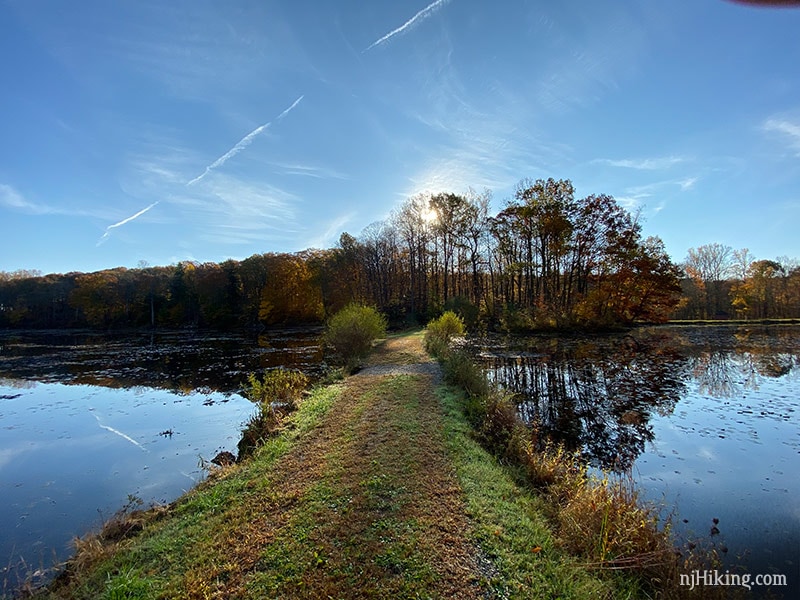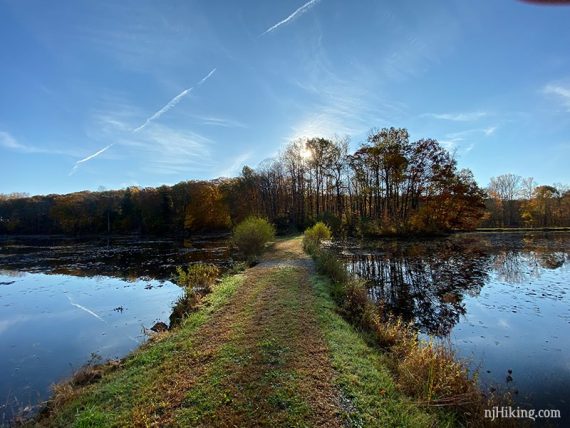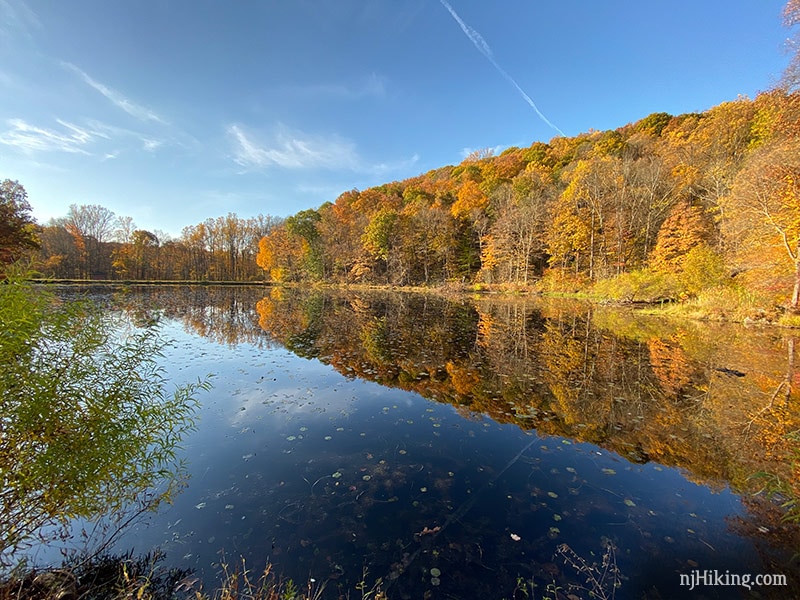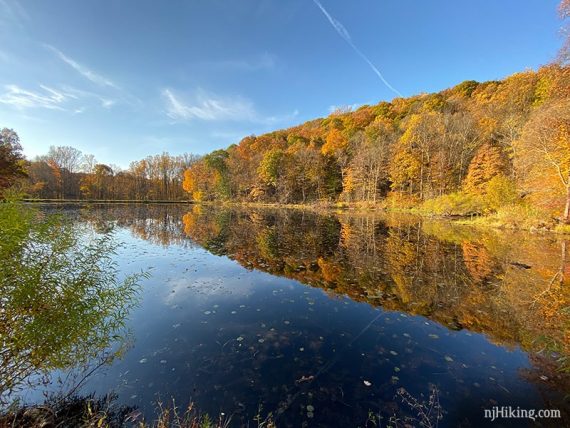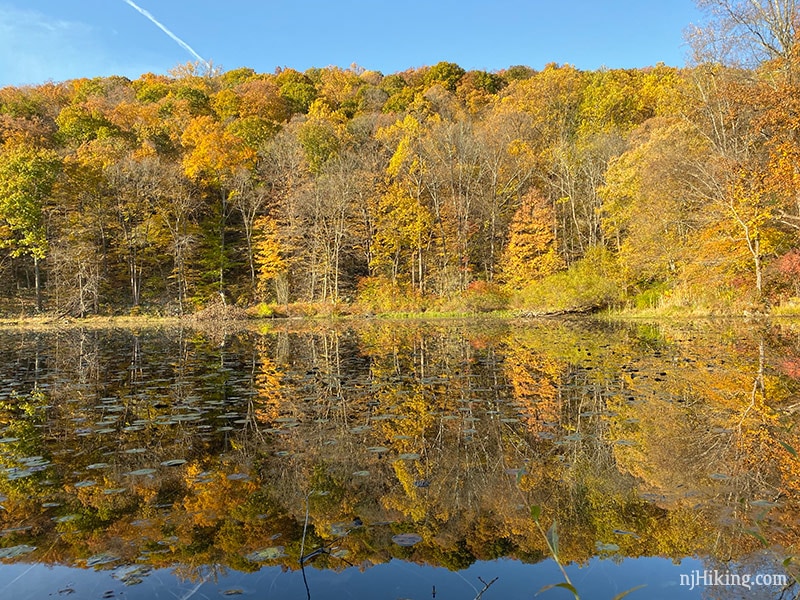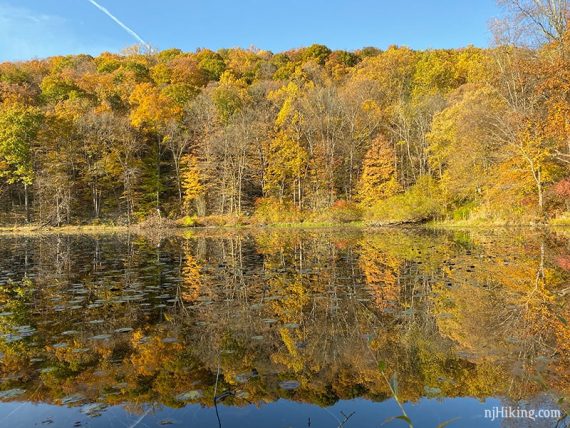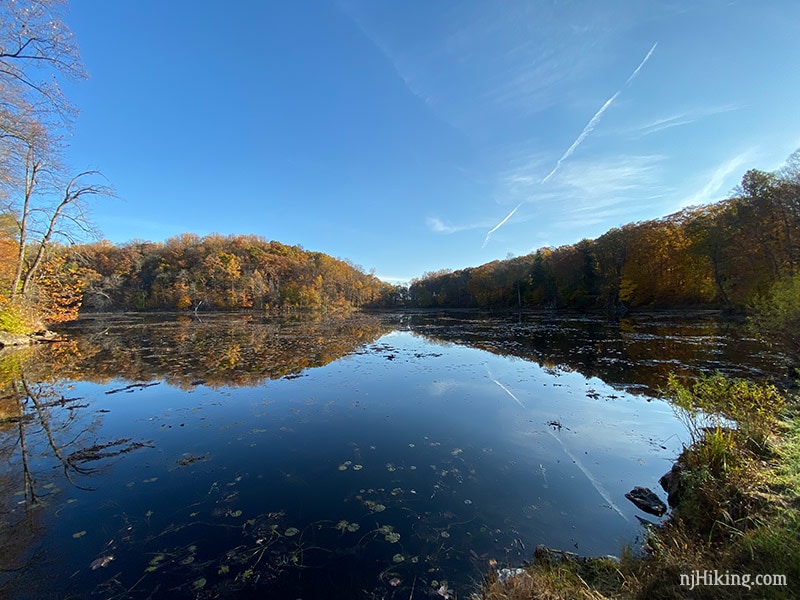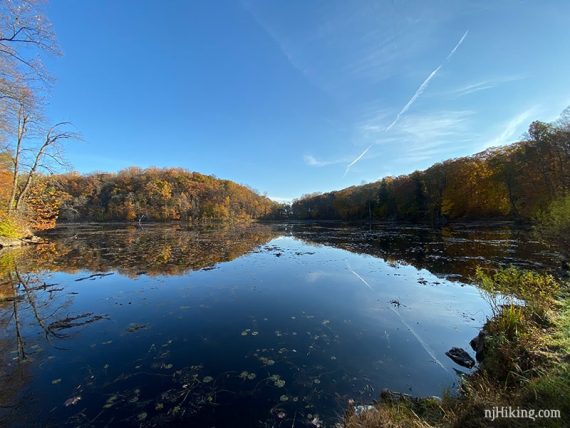 Ghost Lake may get clogged with lily pads in summer.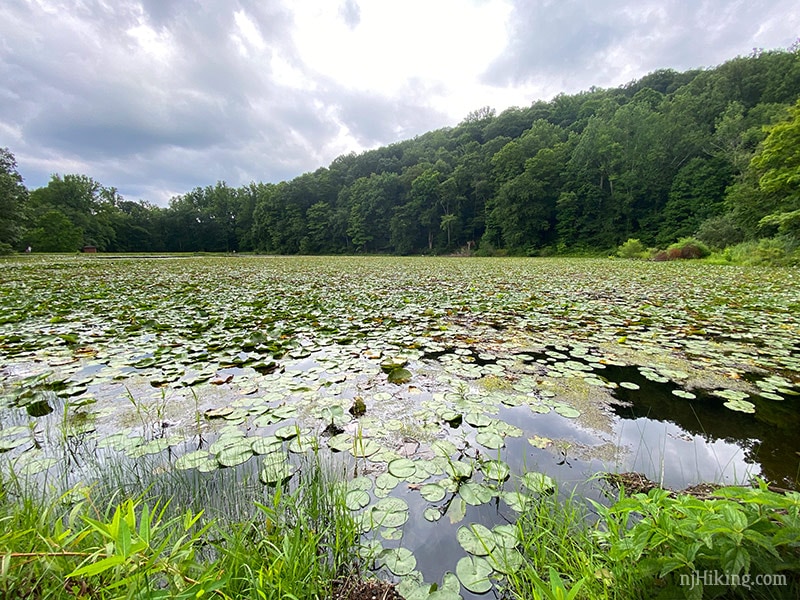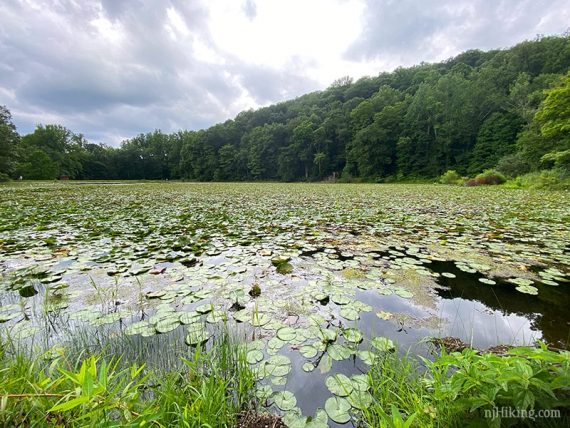 The hike ends here but you can continue around the lake a bit, or walk to the boat launch area (not included in the distance for this description).
Retrace the route back to the parking lot (and revisit all those views) – or use the notes for Shorter Options to take different trails back.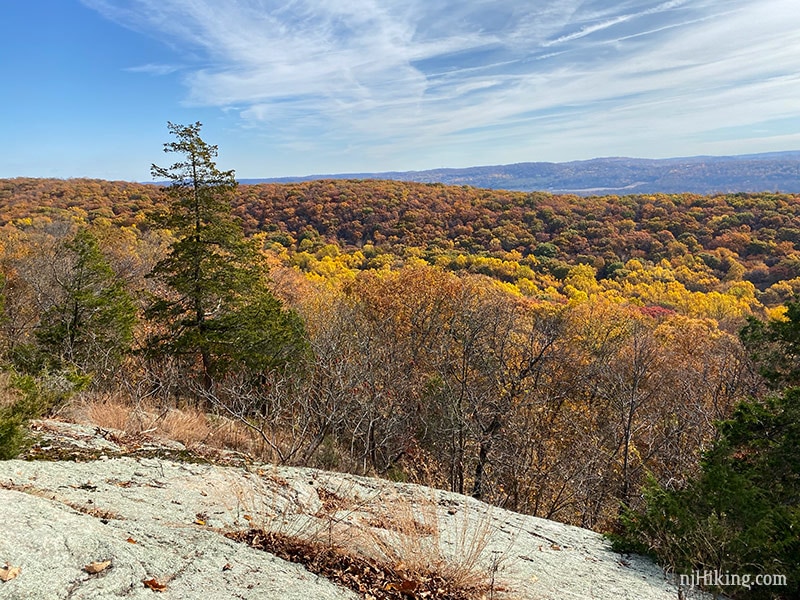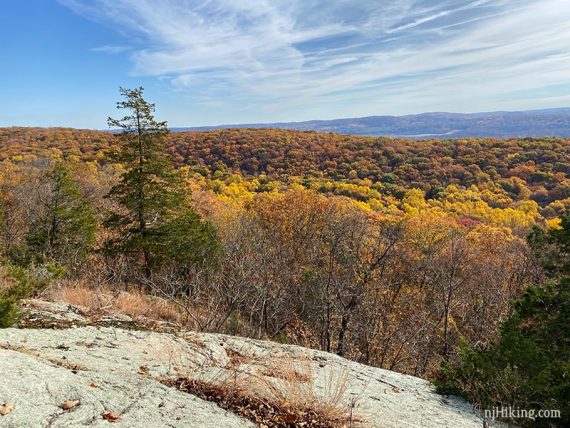 ——————————
Optional add-on: Add 0.8 miles total to continue around the lake to the "Fairy Cave", a small cave on the edge of Ghost Lake where some Native American artifacts were found long ago. It is also called, "Faery Cave", "Fairy Tube", or "Fairy Hole".
Continue across the causeway as BLUE (Ghost Lake) veers left towards a parking area. Turn LEFT on to Shades of Death Road and walk along the guardrail into the 2nd parking lot.
Follow a short casual path hugging the lake to the cave, which can be entered for a short distance. Retrace the hike from here.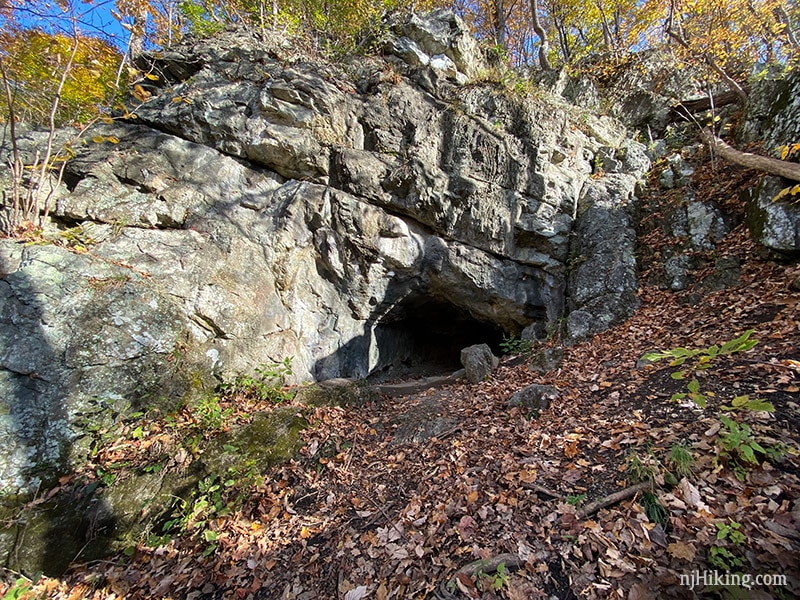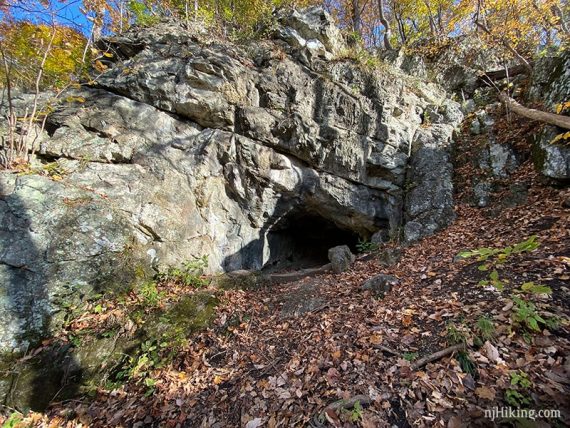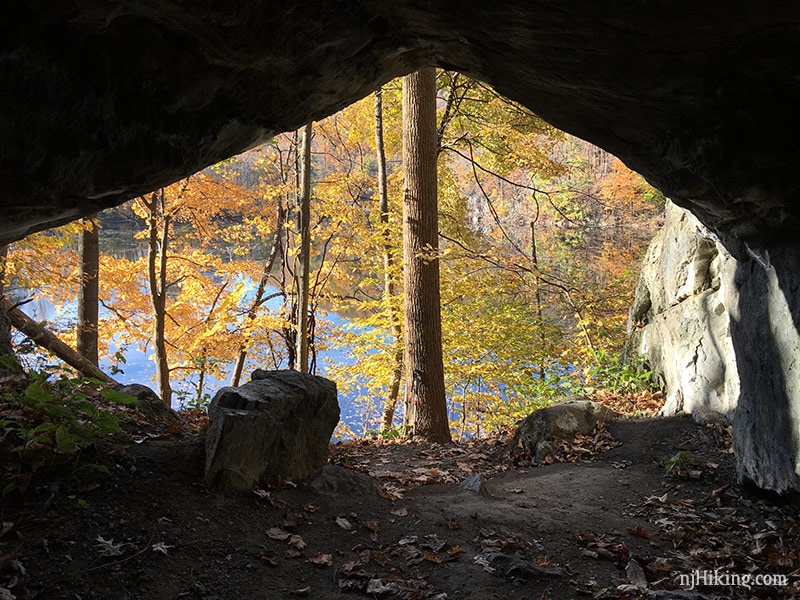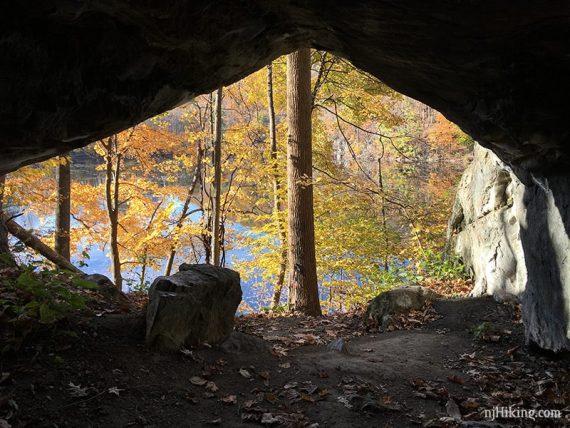 Alternately, park at one of the Ghost Lake lots listed above and it's a short walk from there.
—
Hiked: 8/7/20. with B.
Hiked: 10/26/19. plus Fairy Cave.
Hiked: 12/13/15. Trail Blog: "Jenny Jump in December"
Hiked: 5/21/11. with B&T. Trail Blog: "Jenny Jump in Spring"
Hiked: 5/17/09. Trail Blog: "Jenny Jump in May"
Hiked: 3/5/06. Trail Blog: "Jenny Jump in March"
Hiked 8/2000. Old cabin still standing.