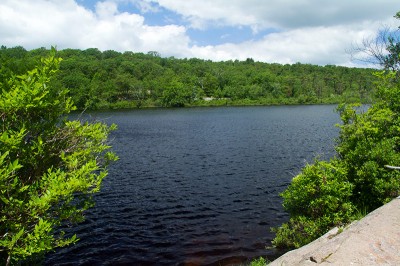 Rugged trail to Surprise Lake with plenty of views, mountain laurel, a rhododendron tunnel, some scrambling, and several wet areas/streams.
Mileage: 5.9 miles, moderately challenging. While this trail is not long, it is challenging due to the rapid up and down of the ridge trail and some rock scramble sections throughout. The return is easier on a woods road, but that is very wet in spots.
Other options:
Longer: 7 miles – Continue past West Pond by using the Ernest Walter, AT, and State line trails. Route described in 50 Hikes in New Jersey.
Longer: 6.5 miles – Continue past Surprise Lake to an expansive view over Greenwood Lake; noted in the description below.
Shorter: 4.1 miles – To Surprise Lake from a parking lot on 511 across from Greenwood Lake, using the State Line and Ernest Walter Trails.
Updated 6/18/14 – Re-hiked, description updated, new photos and GPX.

Our two cents:
This route is consistently awesome. While even some of the nicest trails can have sections that are a little bit of drudge or are kinda 'meh' – there just isn't a dull or sub-par section of this route. Beautiful hemlock forest, interesting trail, a bit of scrambling, views, and a pretty destination to work towards – all packed into less than 6 miles. The downside is the popularity of Surprise Lake.
Map: Best to purchase the North Jersey Trails map set. There is a very simple one on the park site, in the hike info box on the right. This park is managed by Wawayanda, so there should be maps at that park office.
Books: This hike appears in Hiking New Jersey, Hiking the Jersey Highlands and Hike of the Week. Longer variations can be found in 50 Hikes in New Jersey and 60 Hikes Within 60 Miles: New York City. Individual trail descriptions are found in The New Jersey Walk Book.
Parking: N41 09.343 W74 21.764
Rt 287 to exit 55, follow 511 North (Greenwood Lake Turnpike) through Wanaque. Bear left at the Y-intersection of Skyline Drive. Follow Greenwood Lake Turnpike as it becomes Union Valley at the intersection of Lakeside Rd. and then stay right at the fork, becoming Warwick Turnpike. Look for a pullout on the right side, just after the trail head and a concrete bridge – but before White Road. Easy to miss roadside pullouts, with space for a handful of cars.
Walk back down the road over the concrete bridge to the trail head – be very careful as there isn't much shoulder. There is new trail sign for the "Jeremy Glick" trail and "Bearfort Ridge Trail" with a large posted map and a bench.
There is another pullout a little farther up the road from the 1st – N41 09.388 W74 21.815. And another even further: N41 09.454 W74 22.045. From this, take the BLUE connector trail from the pullout which will meet up with this description as noted below.
Restrooms: None. Best bet are gas stations along 511, there is one nearest the trail head at the intersection of Lakeside Rd. Also: Porta-john at the Monksville reservoir on Rt 511. Look for the "Long Pond Ironworks" park sign on the left and follow the driveway down. Restrooms are at the visitor center for Long Pond Ironworks but usually open very limited hours (Usually 1-4).

Hike Directions: Overview: WHITE (Bearfort Ridge) to YELLOW (Ernest Walker) to ORANGE (Quail)
0.0 – Start following WHITE (Bearfort Ridge). The trail is immediately very pretty, but there is some road noise for a little bit (the downside of being in Jersey – never that far from a road). GPS: Bearfort Ridge trailhead
0.1 – Soon, follow WHITE (Bearfort Ridge) as it turns left, and then left again where it meets the ORANGE (Quail) trail. [ORANGE (Quail) is straight and will be the return route]. GPS: WHITE/ORANGE
The trail starts to climb up to the ridge.
0.7 – Continue following WHITE (Bearfort Ridge), heading uphill. [BLUE trail comes in from the left but we didn't even notice it this time. (if you parked at the 2nd pullout, this is where you join this route)] GPS:BLUE comes in
0.9 – Scramble up a large rock on the left, to a viewpoint looking to the west and south. Clamber back down and continue on WHITE (Bearfort Ridge) – watch for the blazes as the trail turns and heads up a small scramble across from the rock. GPS:Ridge Trail View
1.7 – Follow WHITE (Bearfort Ridge) is it makes a sharp right downhill, noted by a cairn (pile-o-rocks). right and down a steep scramble. GPS:WHITE turns right
2.0 – Arrive at a huge rock cleft – a large slab of rock has vertically sheered away from the larger rock face. It overlooks an overgrown swampy area. GPS:RockCleft
2.8 – An open area with views to the east. GPS:BearfortView
2.9 – Another viewpoint. Turn RIGHT, now following YELLOW (Ernest Walker). [WHITE (Bearfort Ridge) ends. YELLOW (Ernest Walker) also goes left, which can be used to make a longer hike.] GPS: WHT ends/YELLOW
The trail drops steeply down a little rock scramble, then goes through a wet area crossed by rock-hopping. On the approach to Surprise Lake, the trail goes through a long "tunnel" of rhododendron which is really nice.
3.3 – Almost to the lake, the trail YELLOW (Ernest Walker) up with ORANGE (Quail). GPS: QuailOrg. Follow YELLOW (Ernest Walker) to the left and arrive at…
3.3 – Surprise Lake. There are some rocks to sit on in a few areas. This is a popular spot, there will be people here. GPS:Surprise Lake
——
[Optional .6 mile add-on to a terrific view: With your back to the lake, turn LEFT and continue on YELLOW (Ernest Walker). Soon, arrive at a rocky outcrop with a view… but wait! keep going – it gets better… keep following YELLOW (Ernest Walker) for an expansive view over Greenwood Lake and into NY. Retrace back to the lake. GPS:ErnestWalkerView
——
From the lake, head back how you came on the YELLOW (Ernest Walker) trail. Veer LEFT and now follow ORANGE (Quail Trail)
——
[Variation: Instead of taking ORANGE (Quail Trail), veer right onto YELLOW (Ernest Walker) to return via the same route you came in on. It's a little longer plus it's more challenging than the ORANGE (Quail Trail).]
——
ORANGE (Quail Trail) is a wide woods road but is eroded and can be quite wet, requiring some rock hopping. The trail this way is easier and just as pretty, although it is lower so there aren't any views.
The trail starts a gradual descent.
5.1 – Pass a small water cascade on the right. GPS:Sml Water Cascade
Follow ORANGE (Quail Trail) as it turns RIGHT when an unmarked woods road is to the left.
5.8 – ORANGE (Quail Trail) ends where you picked up the WHITE (Bearfort Ridge) trail earlier. GPS: WHITE/ORANGE
Follow WHITE (Bearfort Ridge) straight and then as it veers to the RIGHT, downhill to the trail head. Turn right on the road and walk to the car pullout.
—
Hiked: 6/14/14.Trail Blog: "Bearfort Ridge to Surprise Lake – Hemlock Forest and Ridge Views"
Hiked: 6/28/09. Trail Blog: "Bearfort Ridge – Surprise Lake"