Impressive views over Stokes State Forest and the Kittatinny Ridge.
3.3 miles. Rocky surface; steep uphill at the beginning to Culver Gap, more gradual to the tower.
Hike Info:
Our two cents:
A rewarding view, manageable mileage, and easy navigation makes this a solid pick.
Combine with a post-hike drive to Sunrise Mountain Overlook (note that the road is one-way) and a short walk to a pavilion for views in another direction.
Avid hikers could hike to Sunrise Mountain Pavilion instead, by continuing past the fire tower. Waypoints for this are included on our Interactive Map linked above.
Fun Facts: Originally called the Normanook Fire Tower, it was installed in 1908, is 47 feet high, and sits at 1,509′ along the Kittatinny Ridge. [Wikipedia: New Jersey Forest Fire Service fire towers]
---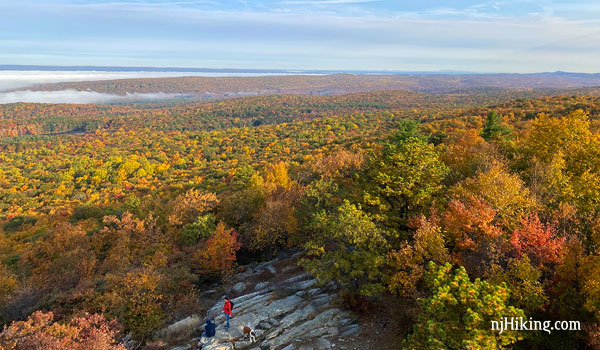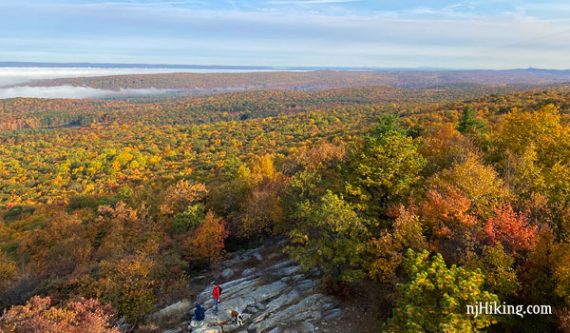 Map/Books:
Kittatinny Trails. In no books that we know of, other than the trail descriptions in The New Jersey Walk Book and Kittatinny Trails.
---
"Culver's Gap Parking Lot". Sunrise Mountain Rd, Sandyston, NJ 07826. Park road has no street number.
Rt 206 N into Stokes State Forest, R on Upper North Shore Rd/Rt 636. Turn left onto Sunrise Mountain Road. Quick left into the Culvers Gap parking lot (there is a big sign).
Note: Continuing past this parking lot, Sunrise Mountain Road turns into a one-way road and is closed in winter (December 15 through April 15).
---
Restrooms:
Portable toilet may be in the parking lot (possibly seasonal; there 7/2021). Option: Continue just a bit further on Rt. 206 for the Stokes State Forest visitor center. Convenience stores on the approach via Rt. 206 N.
---
Hike Directions:
Overview: This hike is an out-and-back entirely on the Appalachian Trail (WHITE).
0.0 – Start following the Appalachian Trail (WHITE) at the far end of the lot. In a few steps, turn RIGHT to head north on the Appalachian Trail.
Cross Sunrise Mountain Road.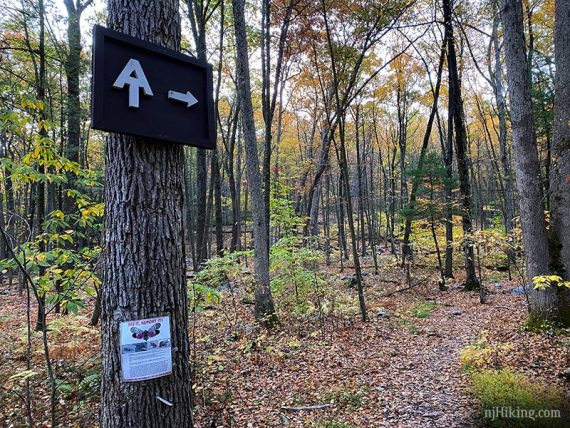 Continue following Appalachian Trail (WHITE) as it heads uphill.
0.6 – Arrive at a pretty but slightly limited view over Culvers Gap.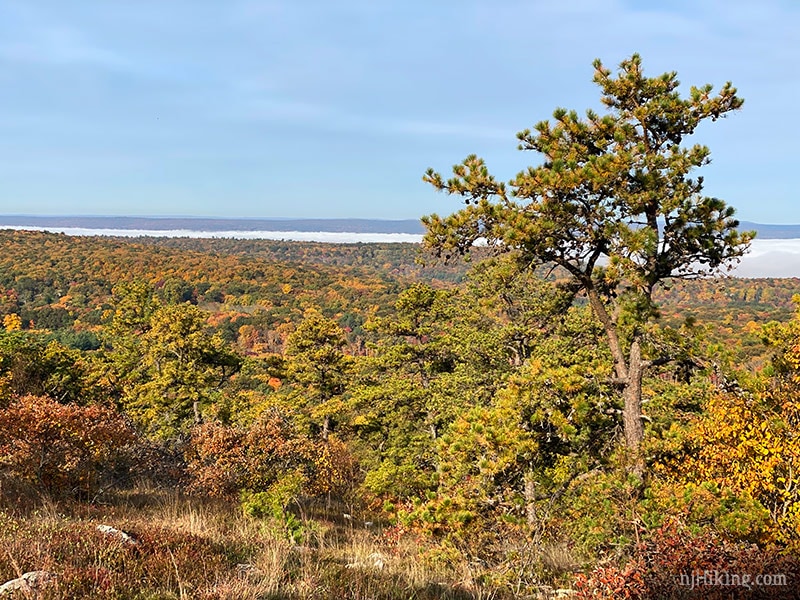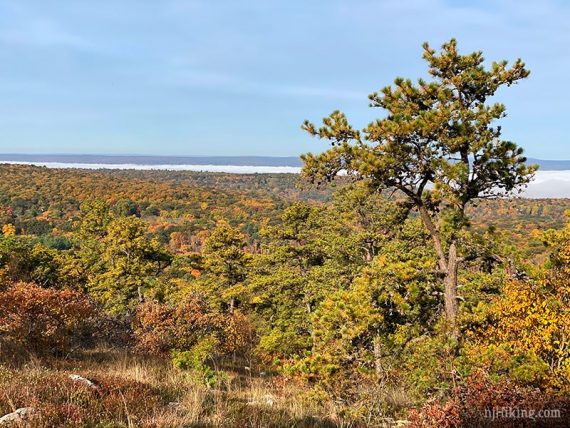 These Culvers Gap photos were taken on the way back as the view was shrouded in fog in the morning.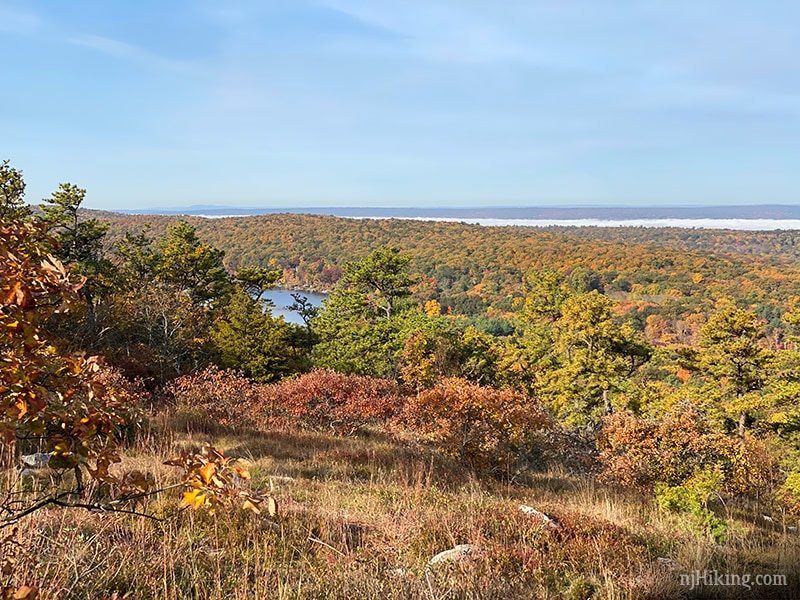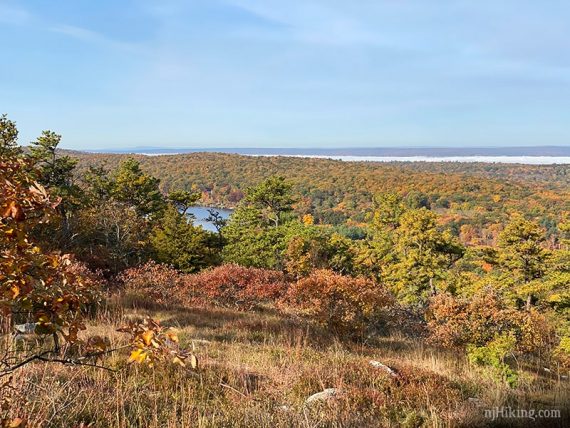 Continue following Appalachian Trail (WHITE). After Culvers Gap the trail becomes more gradual.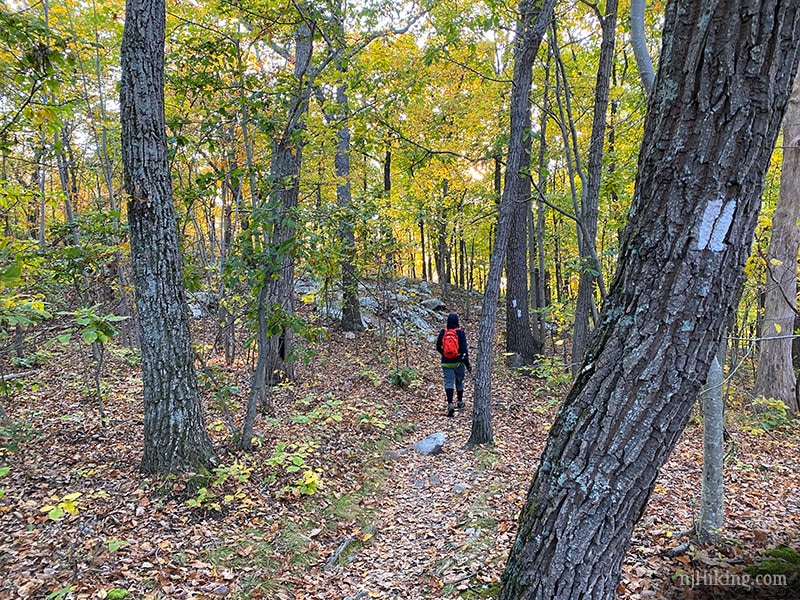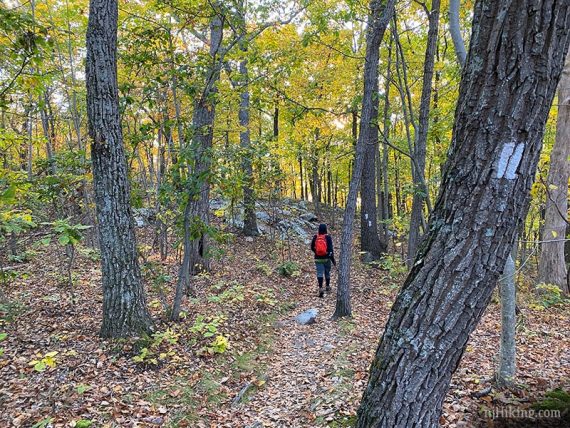 The trail is rocky but not as much as some areas of the Appalachian Trail are.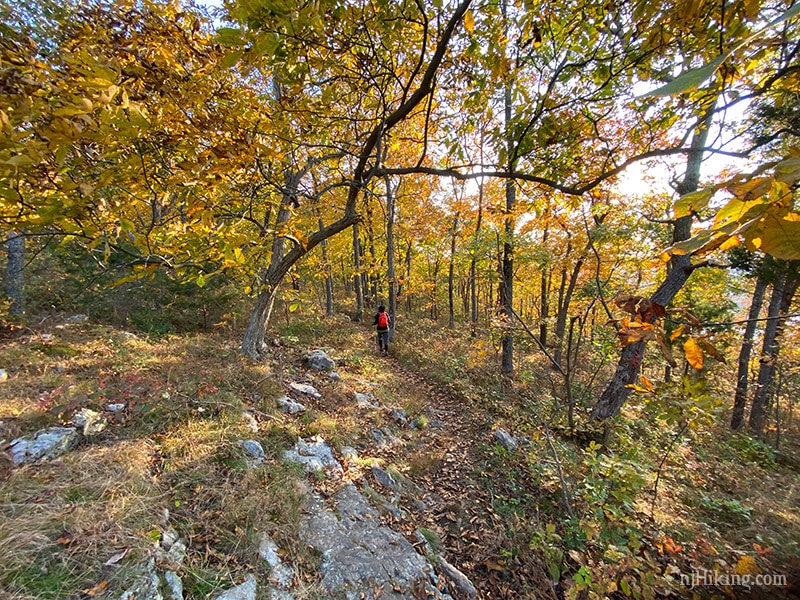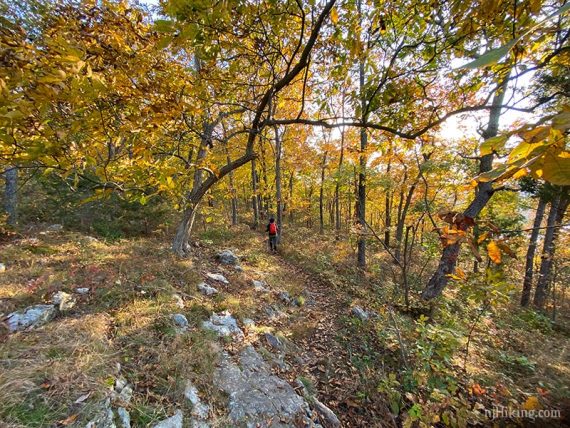 There is a casual side trail on the left to a viewpoint that is just before getting to the tower.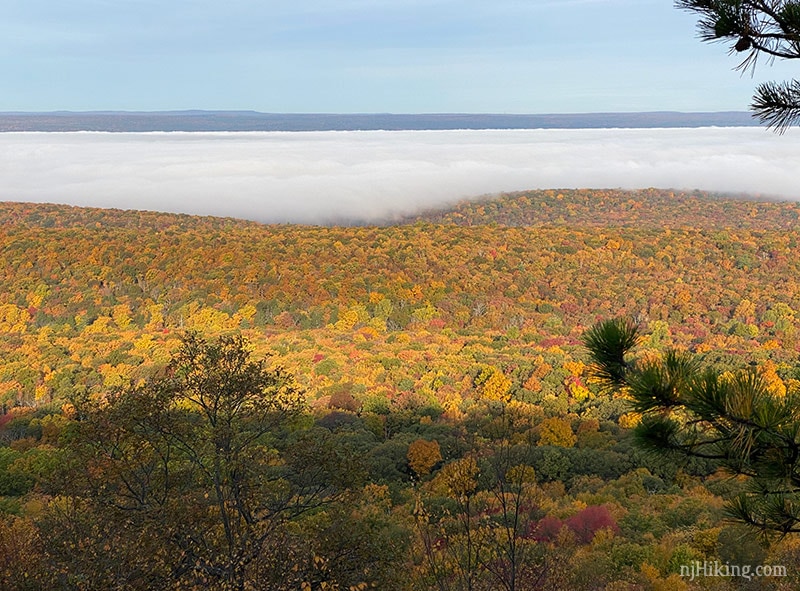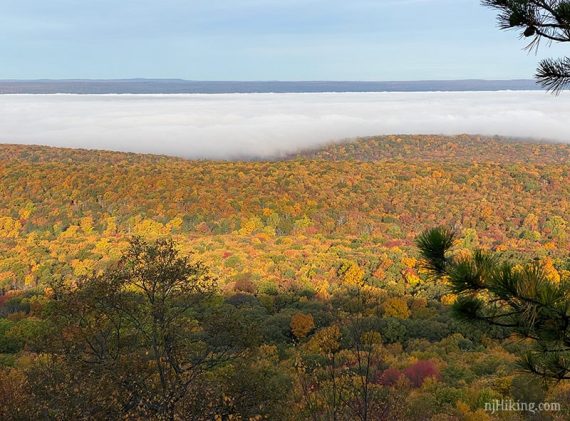 Fall Foliage was especially brilliant in 2020, and we managed to time it at peak color.
Approaching the fire tower.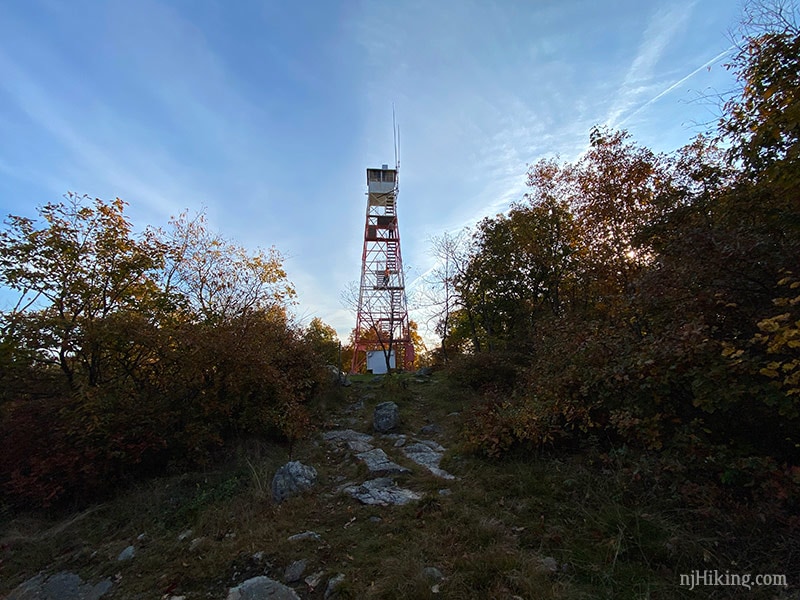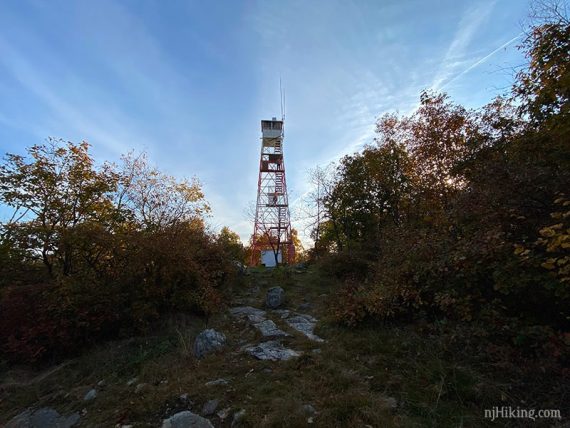 1.6 – Arrive at the Culver Fire Tower area. There's an open grassy area with a picnic table to take a break.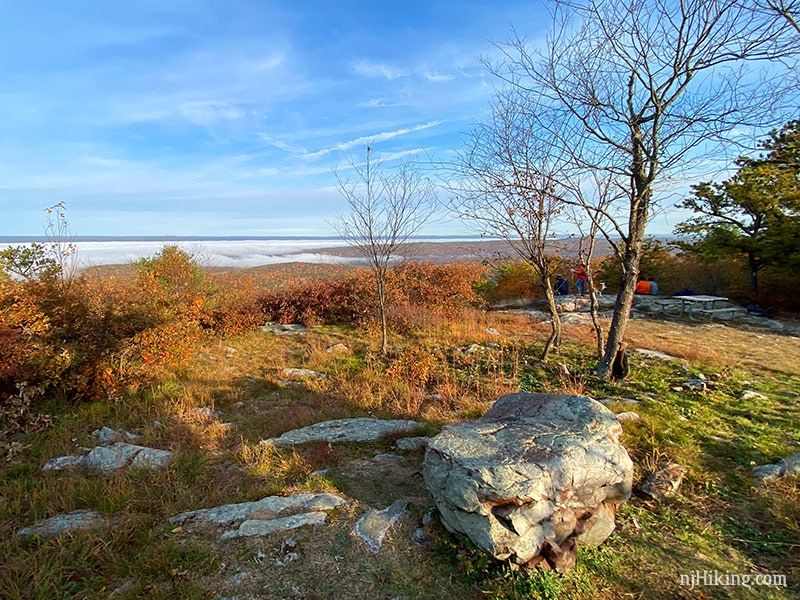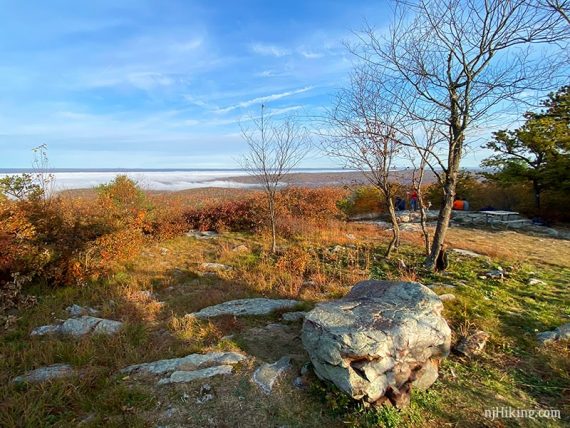 From this open area there are wonderful views in all directions across New Jersey, and into New York and Pennsylvania.
The Kittatinny Ridge that the Appalachian Trail runs along can be seen in both directions.
Looking southwest, back over the route just hiked, Kittatinny Lake can be seen below the "Acropolis" hill. This is a bit past the parking lot.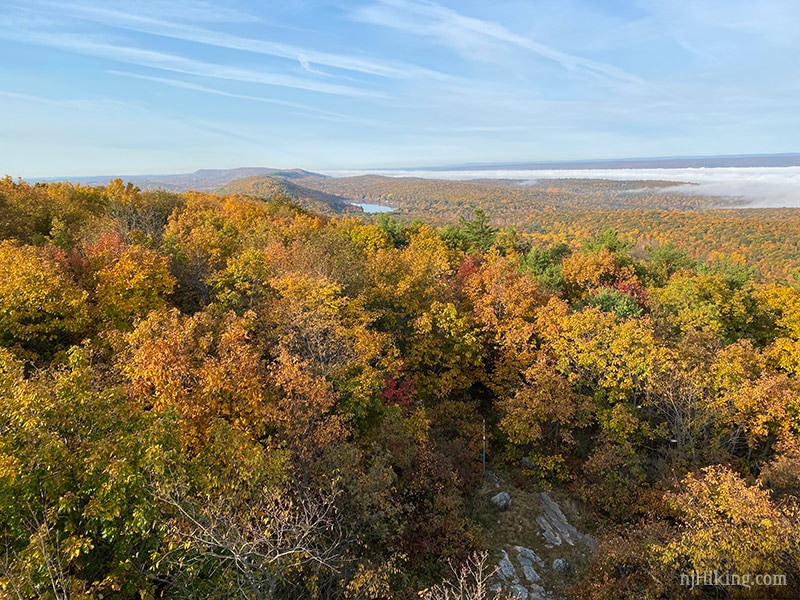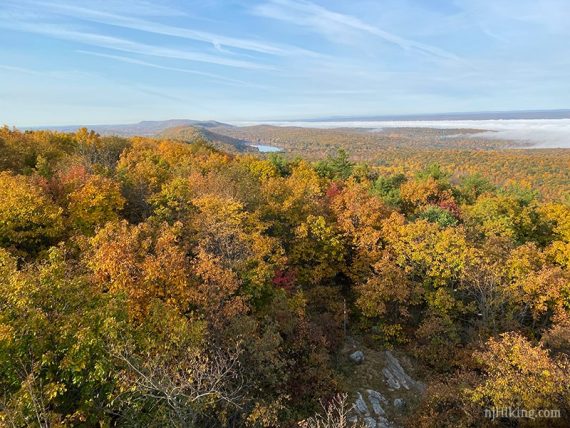 Looking ahead over Stokes State Forest into High Point State Park.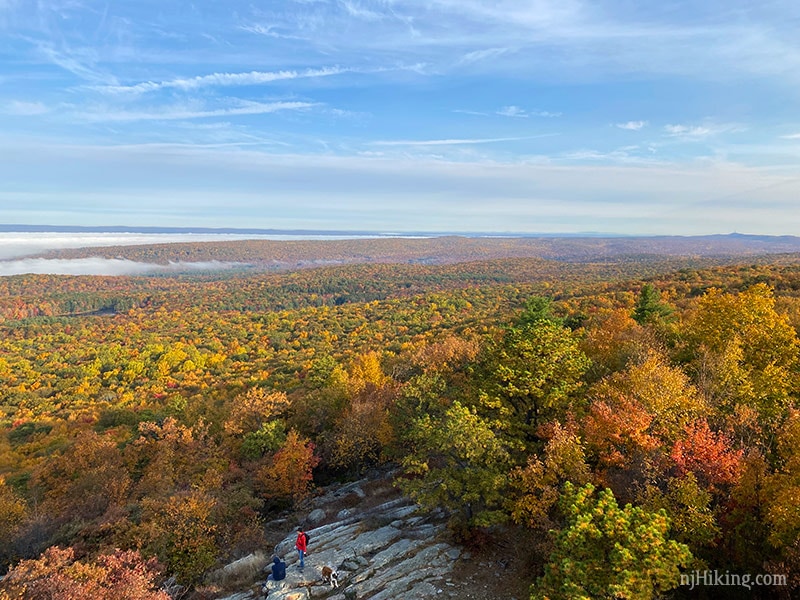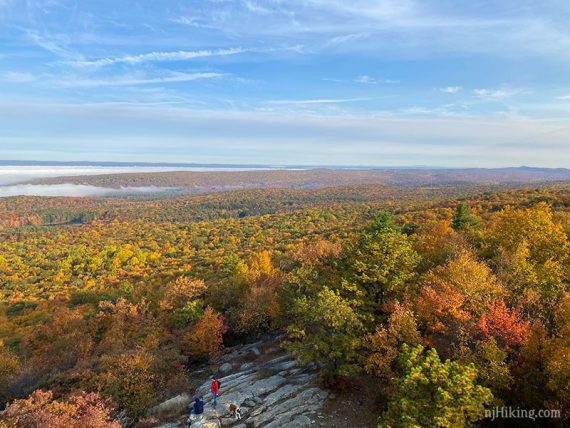 The High Point monument is just visible in the distance.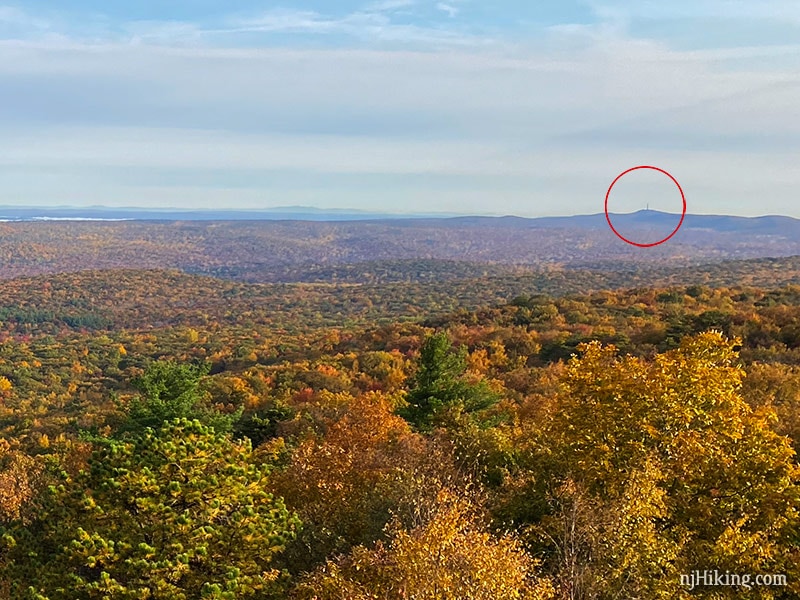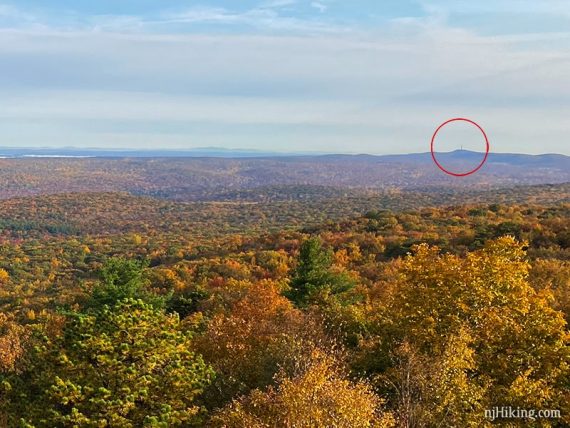 To return, retrace the route along the Appalachian Trail (WHITE) back to the parking lot.
// Longer option, 9.8 miles: The Sunrise Mountain Pavilion is 3.3 miles from here. Follow the Appalachian Trail (WHITE). //
—
Hiked 10/18/20.