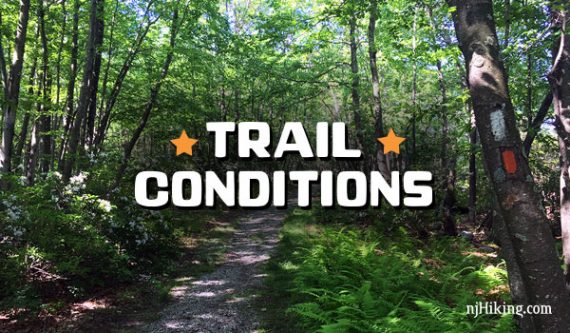 Trail conditions and closure resources for hiking trails in New Jersey and the surrounding area.
Hiking trails can change due to damage from storms or flooding or can be closed for other reasons. We've gathered some resources that list conditions as well as closures for major trails and parks.
This page is for reference only. Trail situations should be reported to the individual State/County/Local park office directly.
We've attempted to have the most current info here, but the best course is to check the park's site before heading out.
Current Situation:
Updated: 4/4/20.
Remain at home if sick. Check these Hike Safe guidelines before heading out.
Are New Jersey parks open?
OPEN: The trails in New Jersey State Parks & Forests are open for passive recreation (hiking etc) with social distancing.
CLOSED: Park facilities like visitor centers and restrooms are closed. With these closures you may encounter blocked off parking lots even if the park is open.
Some county parks are closed entirely.
Essex County: All parks and recreation areas closed.
Bergen County: All parks are closed.
Ocean County: All parks are closed.
Morris County: As of 4/3 Pyramid Mountain parking areas, grounds and trails are closed. The notice also lists the Great Swamp Outdoor Education Center as closed but it is unclear if that also includes the trails at Great Swamp NWR (we'd recommend avoiding boardwalk trails anyway as it's hard to keep a distance.)
Palisades Interstate Park: Parking changes/restrictions.
Pochuck Boardwalk: The 1.5 mile boardwalk section of the Appalachian Trail in Vernon is closed. Other areas open, see alert.
Dunnfield Parking Area in Worthington S.F.: This parking area on Rt. 80 is closed. Used for Mt. Tammany, Sunfish Pond, and Appalachian Trail. Other areas open, see alert.
Appalachian Trail (N.J. contains 72 miles): While it is not closed, the Appalachian Trail Conservancy is asking hikers to stay away even for day hikes. The increased use is making it difficult to practice social distancing.
Before heading out, it's a good idea to check the park's web site or social media for the most current info. Our hike pages have links to the park site and there are state and county sites listed below.
New Jersey State Parks
NY-NJ Trail Conference
Organization that builds and maintains trails across northern New Jersey and into New York.
New Jersey – Federal Parks
Delaware Water Gap National Recreation Area
This area is at the border of New Jersey and Pennsylvania, near Rt 80 W and continuing north along the Delaware River.
It includes areas such as Mt. Tammany, the Appalachian Trail, Buttermilk Falls, and Van Campens Glen as well as Dingmans Falls, Raymondskills Falls, and Childs Park on the Pennsylvania side.
Appalachian Trail
New Jersey contains 72 miles of this long distance trail, from the Delaware Water Gap at Rt 80, along the Kittatinny Ridge past Sunfish Pond to High Point, then along the Pochuck Boardwalk up Stairway to Heaven and on to Bearfort Ridge before heading into N.Y.
Morristown National Park
Palisades Interstate Park – New Jersey Section
New Jersey County Parks
Atlantic County Parks
Bergen County Parks
Burlington County Parks
Camden County Parks
Cape May County Parks
Essex County Parks
Gloucester County Parks
Hunterdon County Parks
Mercer County Parks
Middlesex County Parks
Monmouth County Parks
Morris County Parks
Ocean County Parks
Passaic County Parks
Somerset County Parks
Union County Parks
Warren County Parks