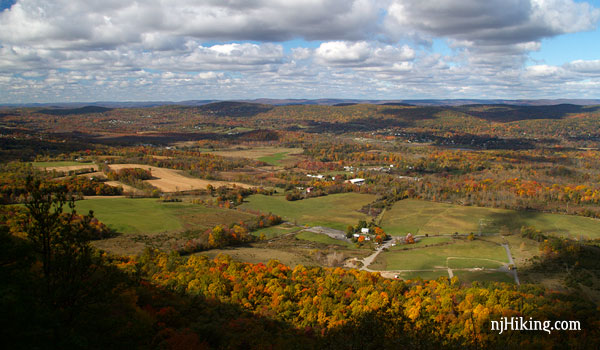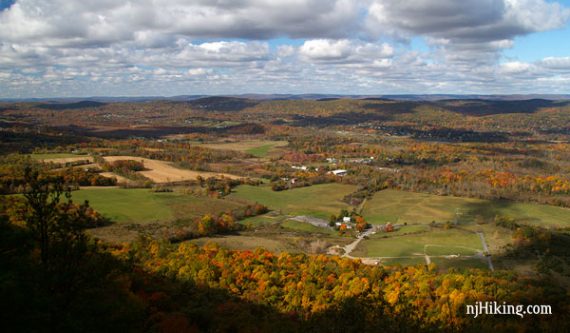 Hike the "Stairway to Heaven" up a series of steep rock slab steps to a panoramic view from Pinwheel's Vista.
2.6 miles. Trail surface is dirt and roots with rocky sections. Very steep.
Nearby Hikes: Cedar Swamp and Lake Lookout; Lake Loop and Twin Bridges; Hoeferlin, Cedar Swamp, Red Dot; Iron Mountain and Hoeferlin Loop; Wallkill River NWR; Wawayanda Lake via Kayak.
Hike Info:
Note: There are three popular hikes on the Appalachian Trail in this area:
Stairway to Heaven: Pochuck Valley to Pinwheel Vista – 7.3 miles.
Pochuck Boardwalk – Appalachian Trail – 2.0 miles.
Stairway to Heaven NJ – This hike.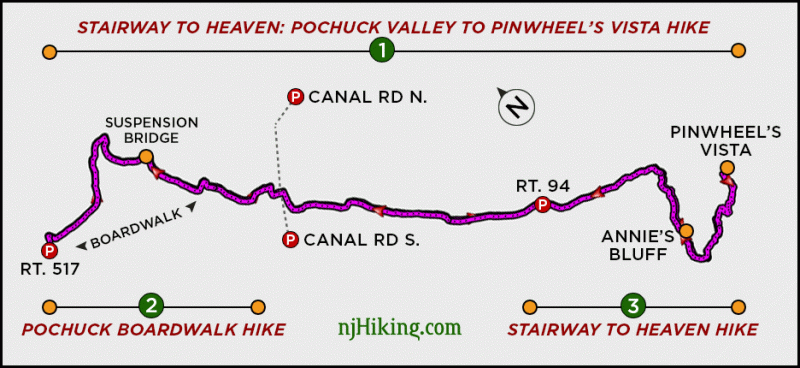 ---
Our two cents:
Short but steep rocky hike with a stunning view as a reward, but very popular. Excellent for fall foliage.
Map/Books:
#116 of the North Jersey Trails map set. 50 Hikes in New Jersey and Hiking the Jersey Highlands have this route. Hiking New Jersey has a detailed description and a diagram of the longer 7.4-mile route.
Restrooms:
None. Gas stations and fast food in Butler (more options), or in Vernon.
---
443 Vernon Warwick Rd, Vernon Township, NJ 07462.
Rt 287 to Rt. 23. Follow 23 to the exit for 515N. Continue Rt 515/Rt 94/Vernon Warwick Rd. Small dirt lot on right.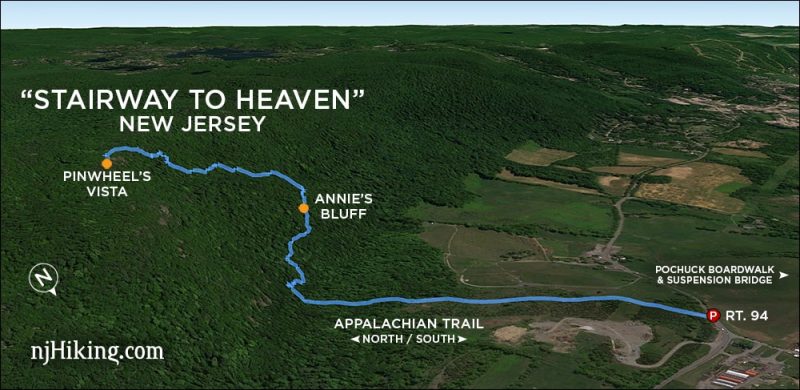 ---
Hike Directions:
Overview: Appalachian Trail (WHITE) – BLUE spur trail – Appalachian Trail (WHITE)
0.0 – From the parking lot, start following Appalachian Trail (WHITE).
The trail is easy until the woods. Shortly after that, pass through a large boulder field.
The trail becomes very rocky and starts to climb steeply.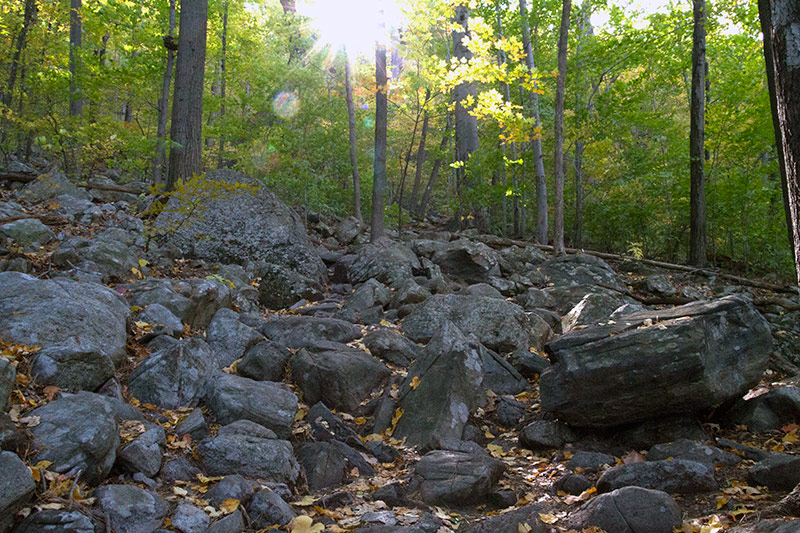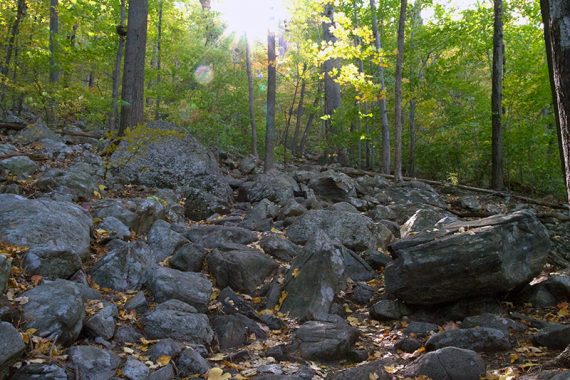 0.7 – "Annie's Bluff" – A limited viewpoint, near a large rock after a bit of a steep climb. Easy to miss.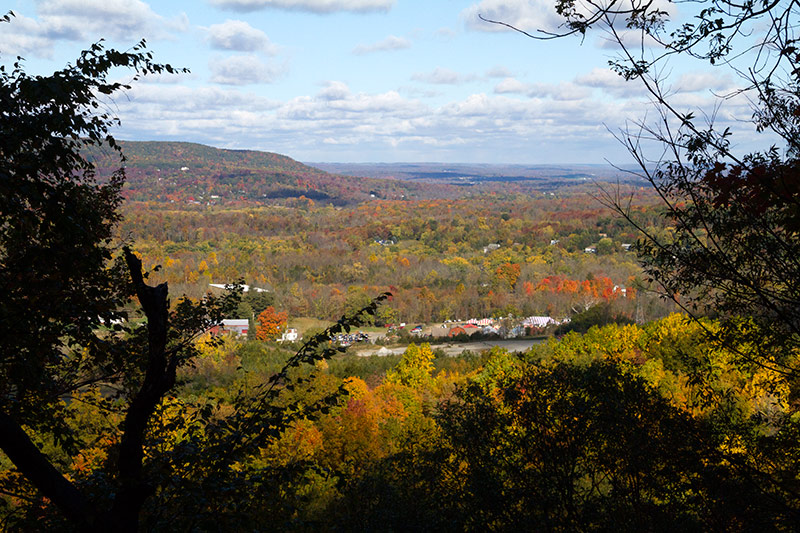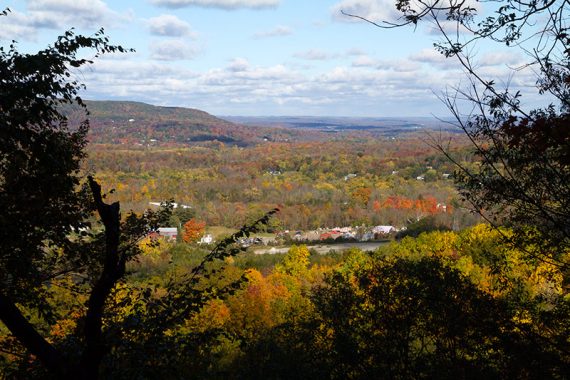 Notice that slabs of rock are placed as steps along the way – the "Stairway to Heaven".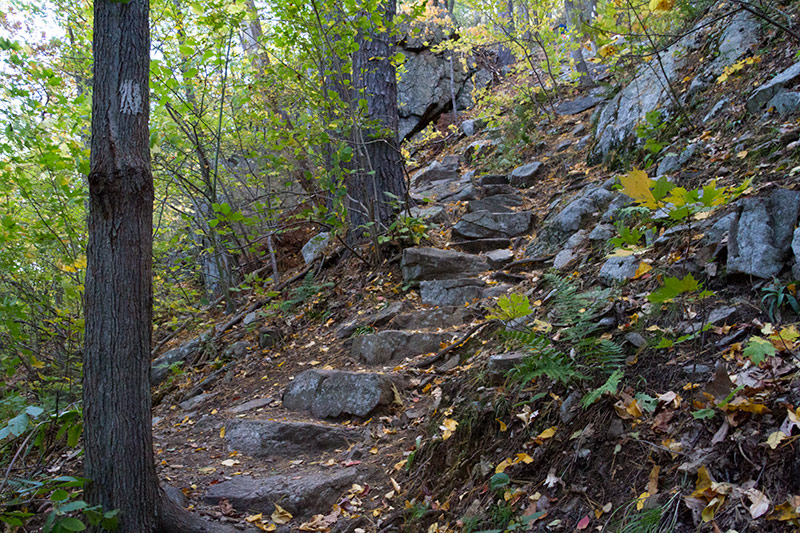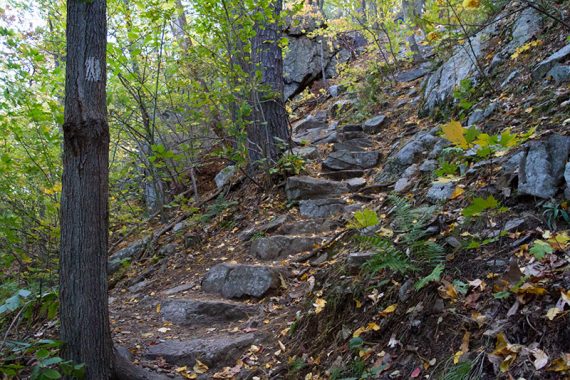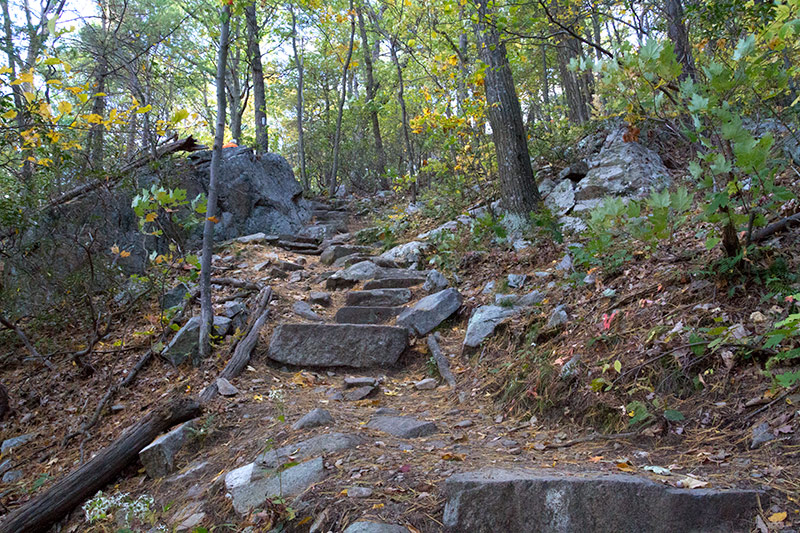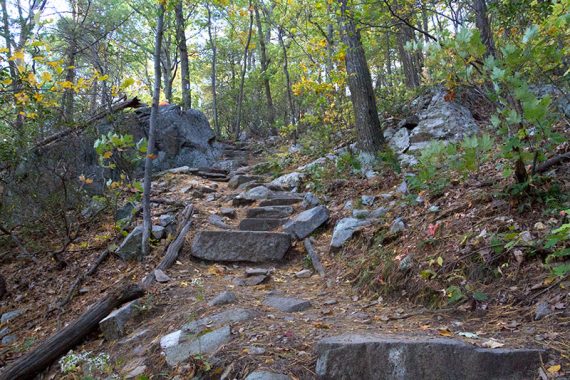 1.2 – Turn LEFT and follow the BLUE spur trail.
This is marked by BLUE blazes and a very large cairn (hiker's term for pile-o-rocks used as a trail marker).
Sometimes there is a sign for the vista. This side trail can be easy to miss, look for the rocks.
(If you arrive at a mailbox with an Appalachian Trail log book in it, you've missed the turn.)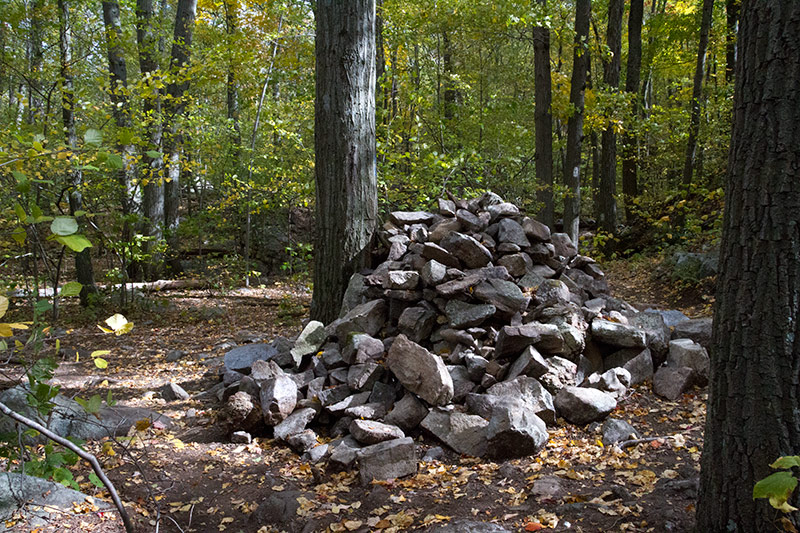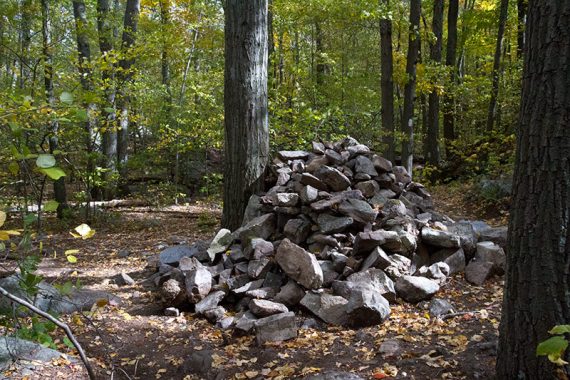 Follow BLUE to a rock outcrop called Pinwheel's Vista where there are several places to sit and enjoy the view.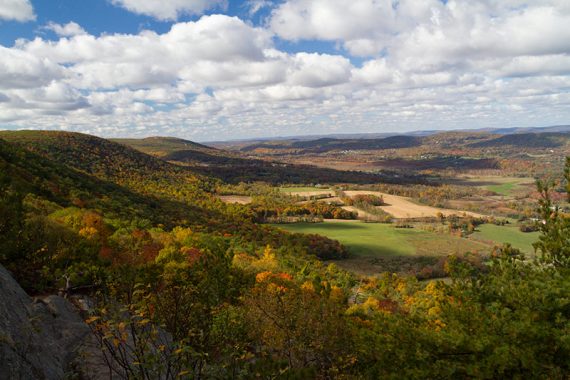 The Kittatinny Mountains are visible in the distance and farms in the valley below.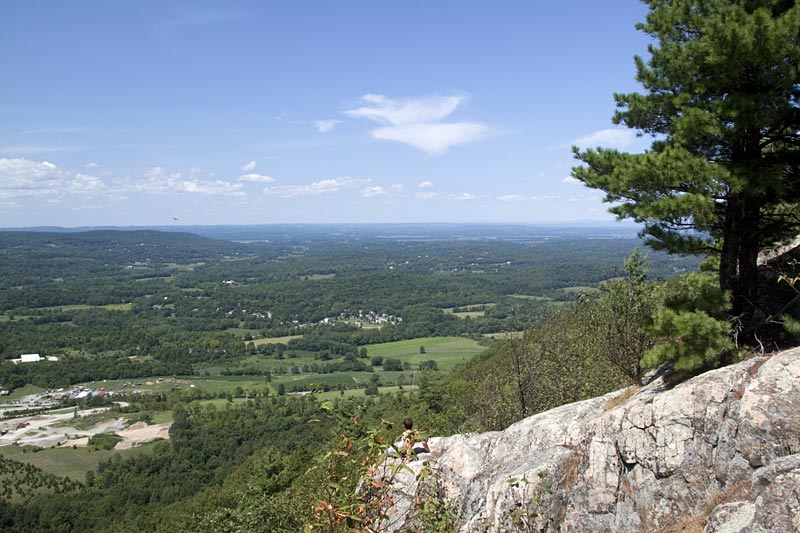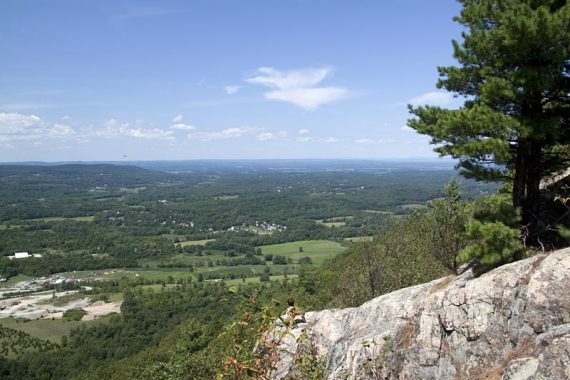 On a clear day High Point Monument can be seen.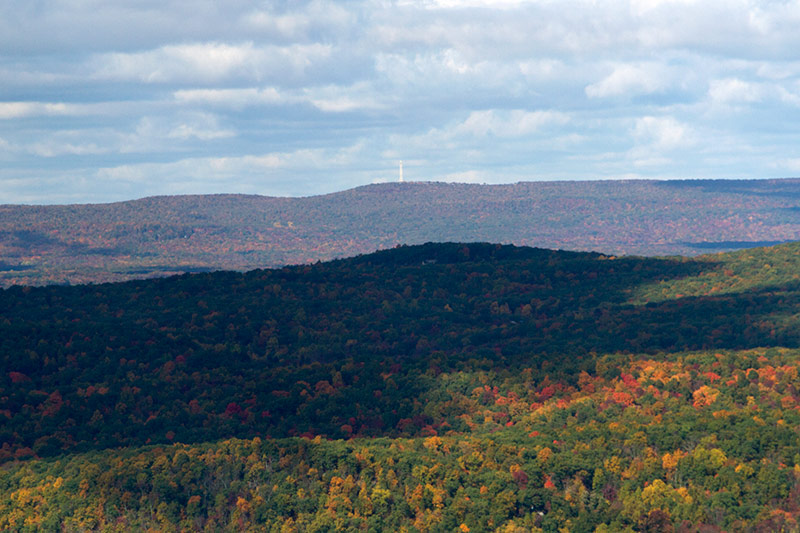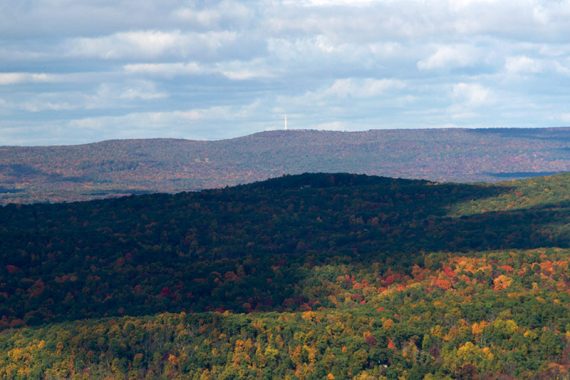 When done, retrace the route back to the parking lot.
—
Hiked 10/17/15.
Hiked: 7/31/10. Trail Blog: "Stairway to Heaven: Pochuck Valley to Pinwheel Vista"