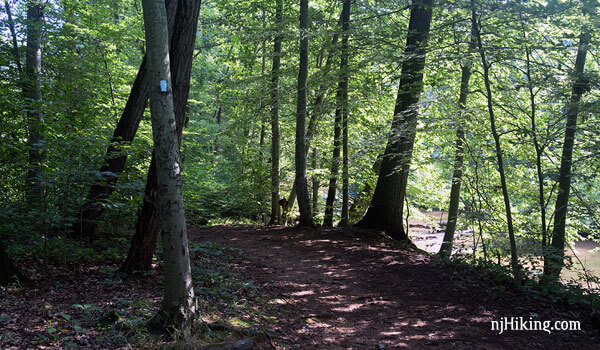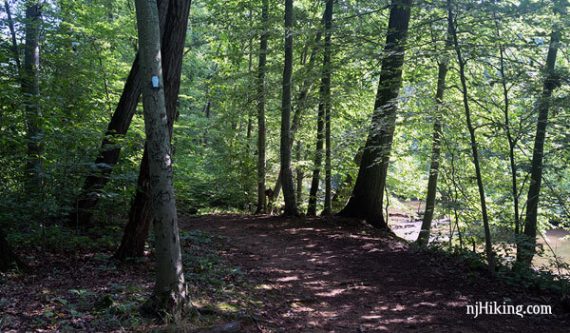 Easy wooded trails with rolling hills and a meandering stream.
2.4 miles. Easy, dirt with roots.
Shorter – Many interior trails can be used to cut this short.
Longer – 3.5 – add GREEN to WHITE and then follow the park road back to the lot (noted below).
Longer: About 8 miles – connect to Thompson Park Conservation Area for up to an additional ~4.6 there. Requires a short walk along Schoolhouse road.
Note: There are also trails south of this section, below Schoolhouse Road, called "Thompson Park Conservation Area" (…and the sections now all connect which allows for loops up to around 8-ish miles).
Not to be confused with the Thompson Park in Monmouth County.
Hike Info:
Our two cents:
Really nice short trail plus the option to continue on into the conservation area to up the mileage.
In addition to an off-leash dog park near the trailhead, the main area of Thompson Park contains a lake, a small zoo, playground, and picnic areas.
Updated: 7/2020 – minor updates, re-hiked 5/2020. 8/2016 – Video added. 7/2016 – Summer photos added; minor adjustments. 3/2016 – Updated page to reflect that a longer route is now possible and that the trails/blaze colors changed. (ORANGE used to be GREEN). Added photos, GPX, and a more detailed description. 1/2016 – Added link to updated trail map.
Map:
Usually nice large printed maps in the trail kiosk or print ahead in case.
Books:
None that we know of.
This trailhead is next to the dog run area (Perrineville Road to Fir Drive), near the trail kiosk.
Restroom:
A restroom building is near the dog run parking lot.
Hike Directions:
Overview: RED to almost to its end, where its meets BLUE for a 2nd time. BLUE to a right onto YELLOW. ORANGE back to the lot.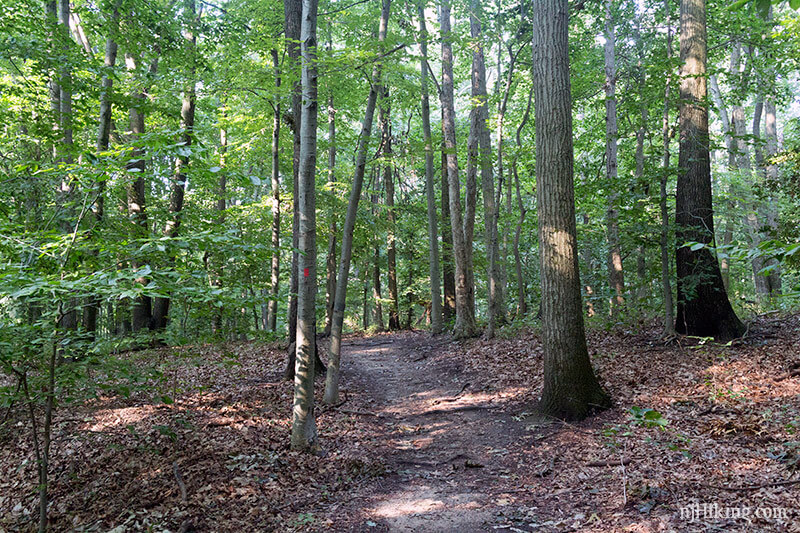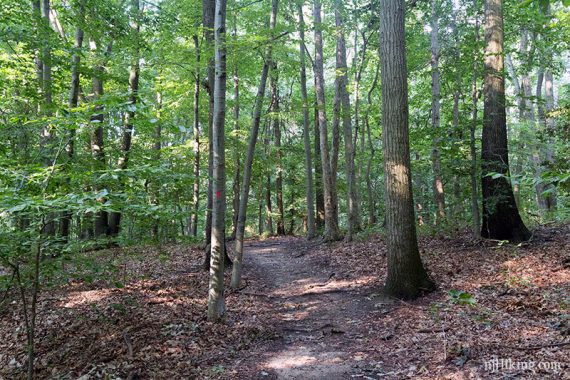 0.0 – At the trail kiosk, start following RED. Shortly, keep following RED as it turns RIGHT. [ORANGE starts, and continues straight]
0.5 – Continue on RED [YELLOW goes left]. Shortly, pass YELLOW on the left again.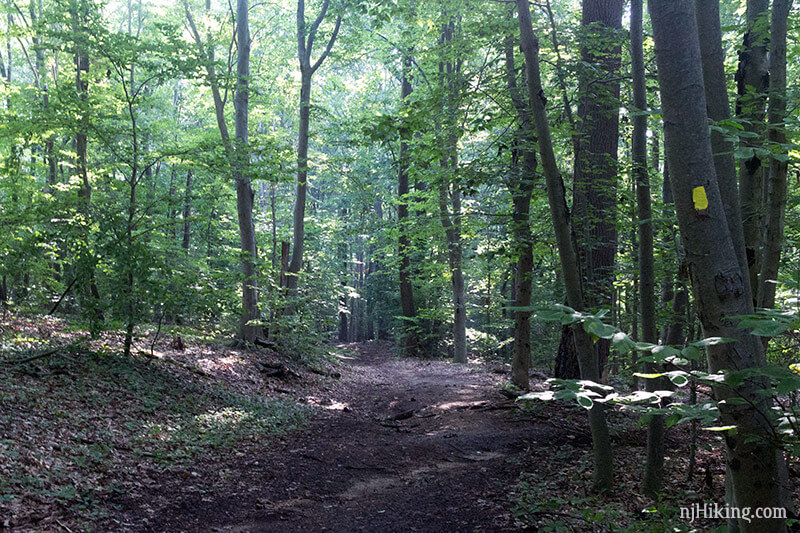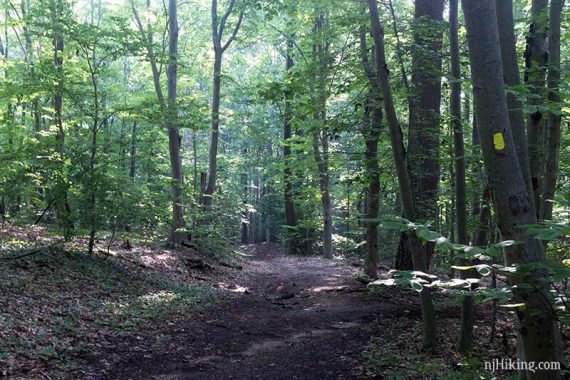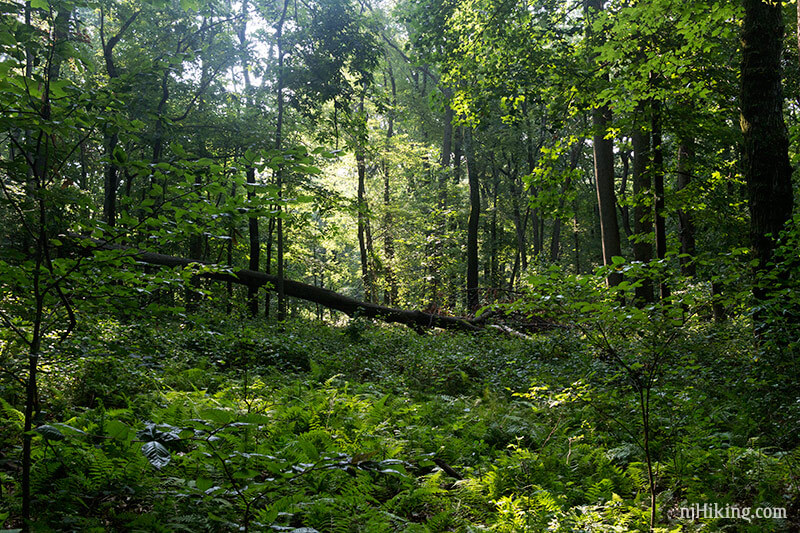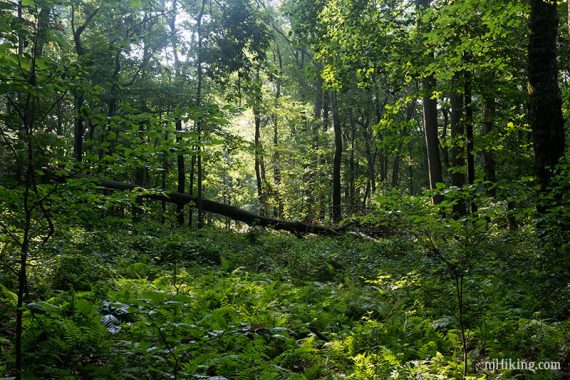 0.6 – Continue on RED [Pass BLUE].
0.8 – Pass connector trails on the right that lead to Thompson Park Conservation Area. These trails were marked blue, though they appear purple on the trail map.
1.4 – Manalapan Brook will start coming into view.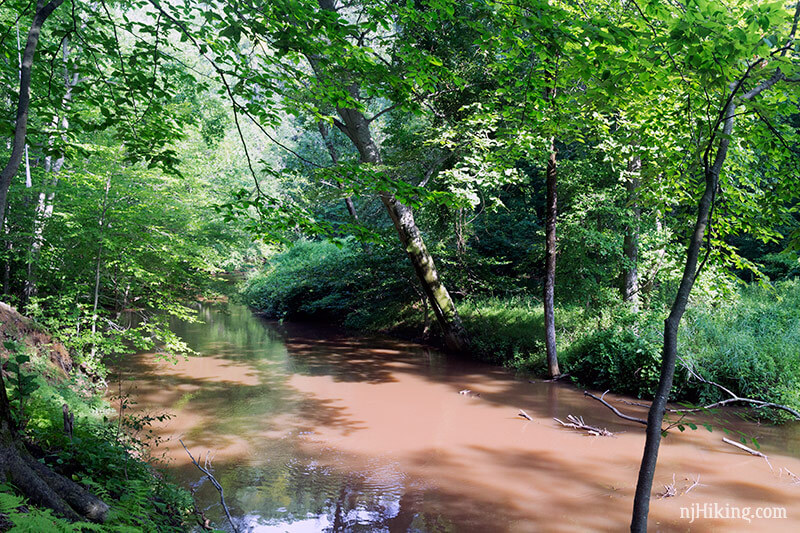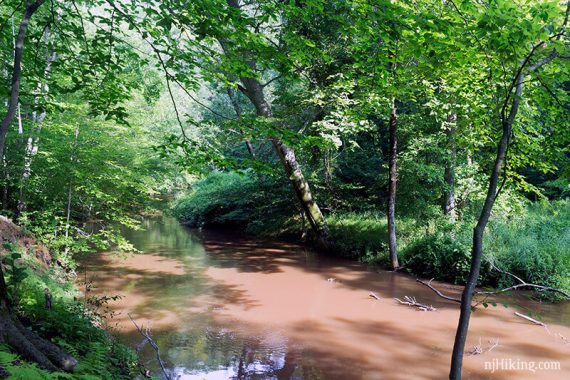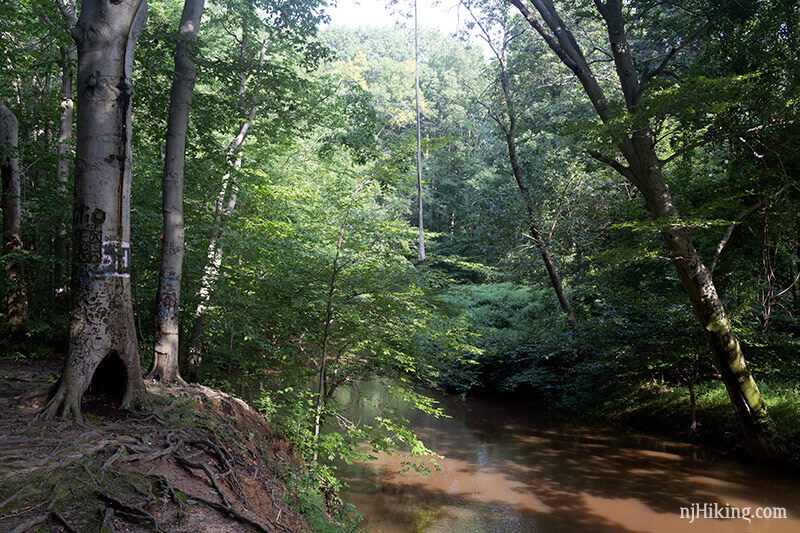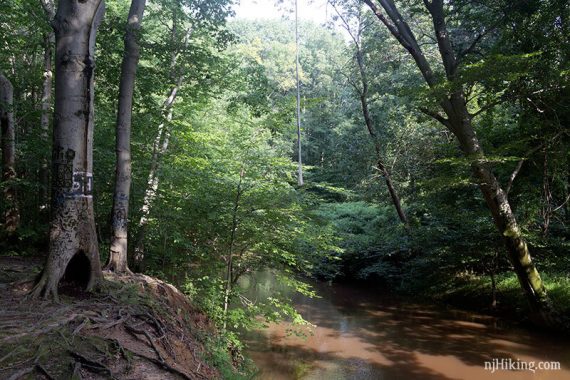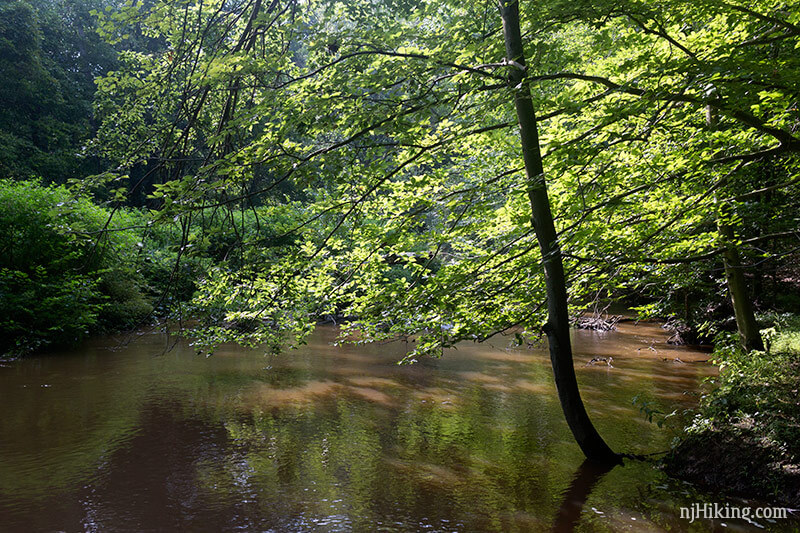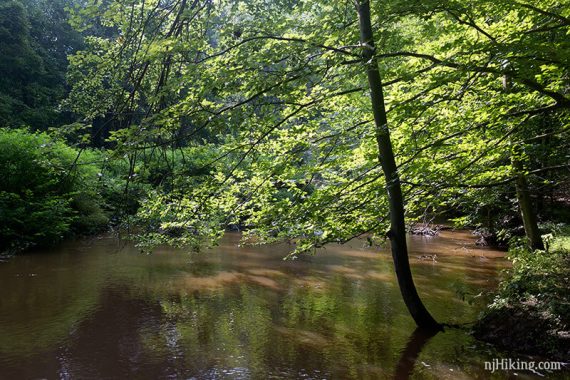 Continue on RED [BLUE comes in from the left and is co-joined briefly].
Soon, start following BLUE to the RIGHT [RED leaves to the left].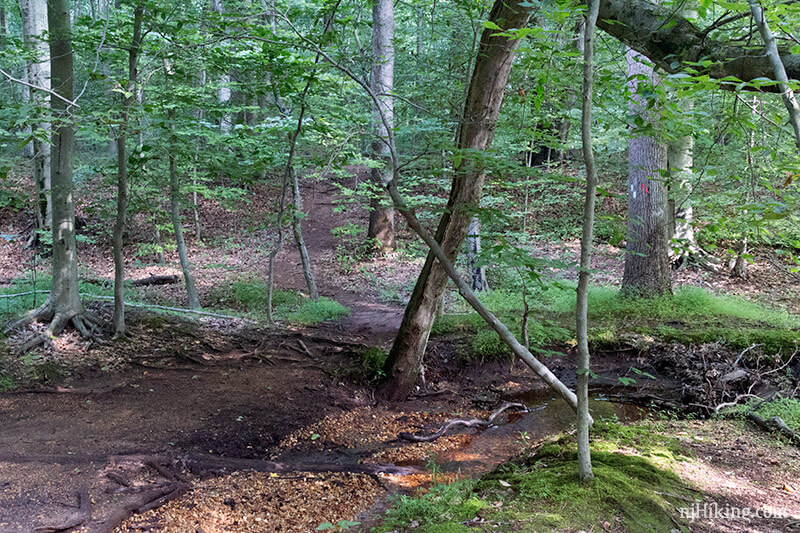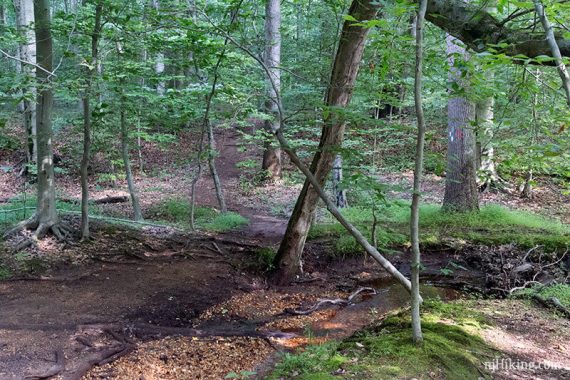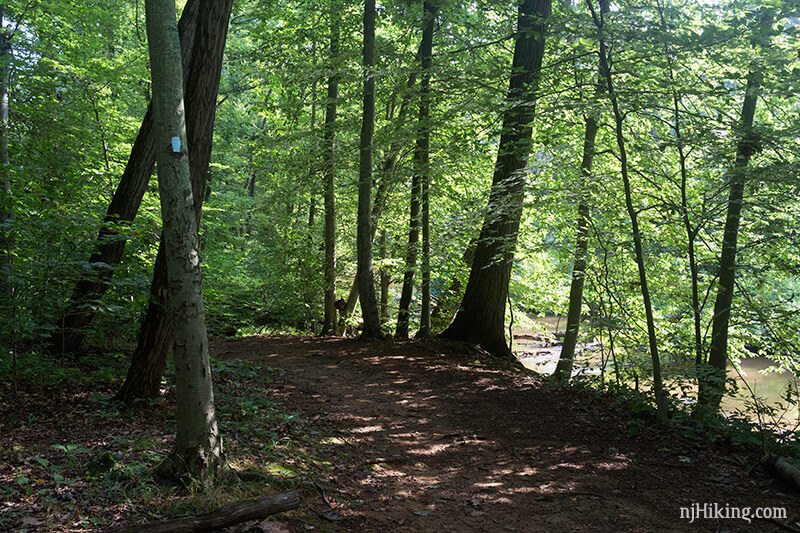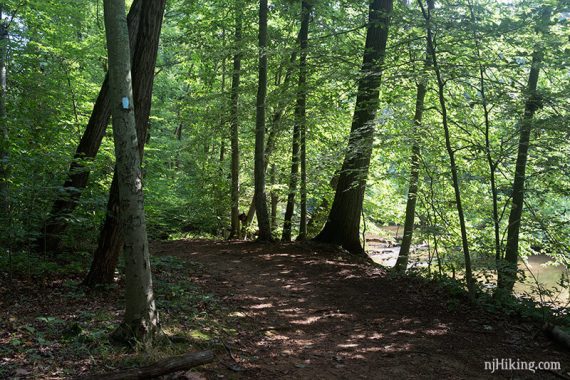 1.7 – Start following YELLOW, straight, at a slightly confusing intersection.  [BLUE continues to the left; YELLOW also goes sharp left].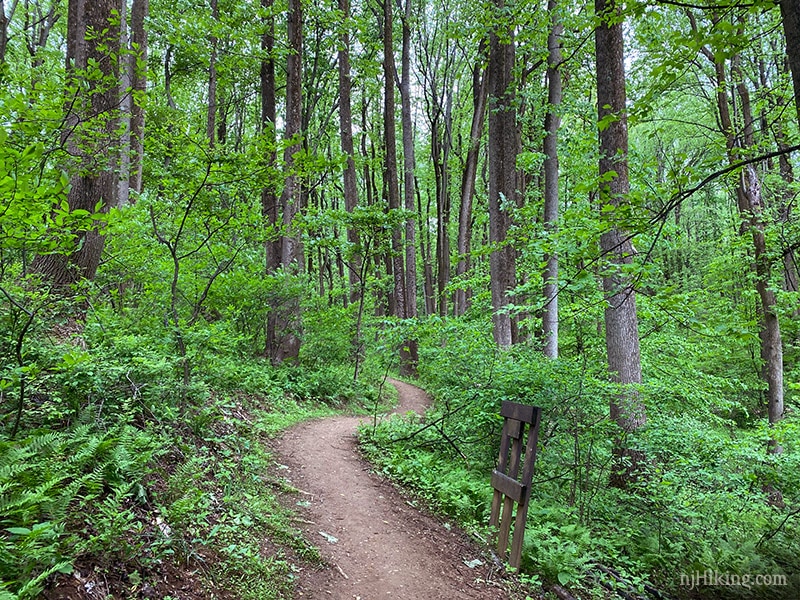 2.0 – Continue on YELLOW – don't go cross the bridge. [GREEN starts to the right, down wooden stairs.]
———————
Longer Variation: Turn right and start following GREEN instead, cross a wooden plank bridge.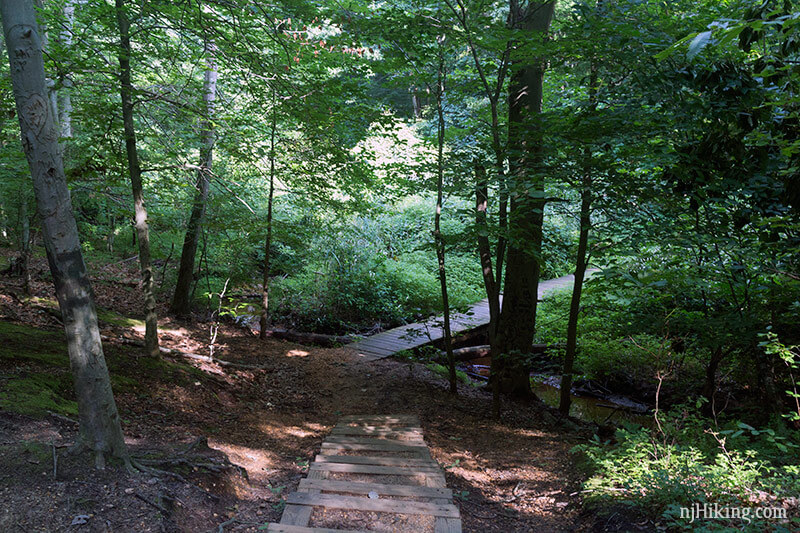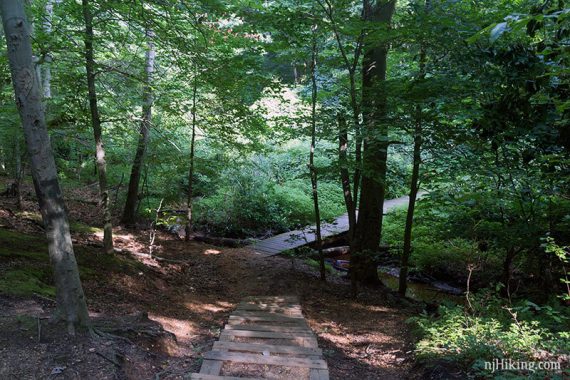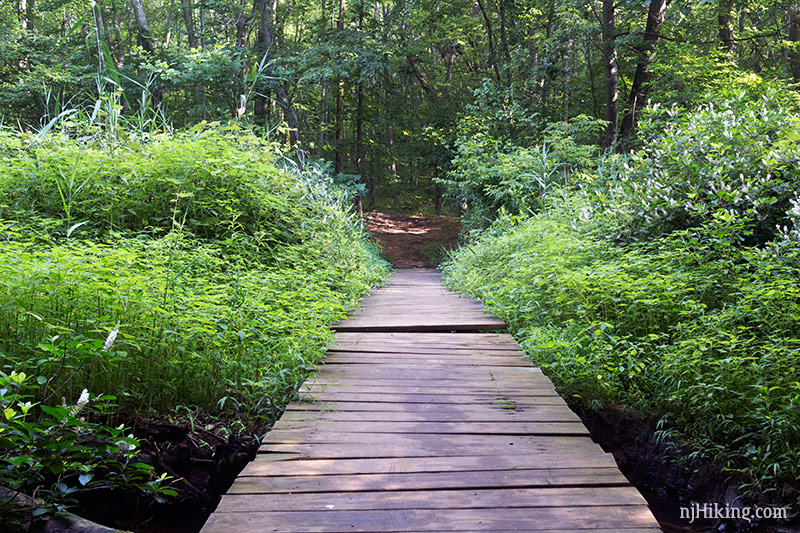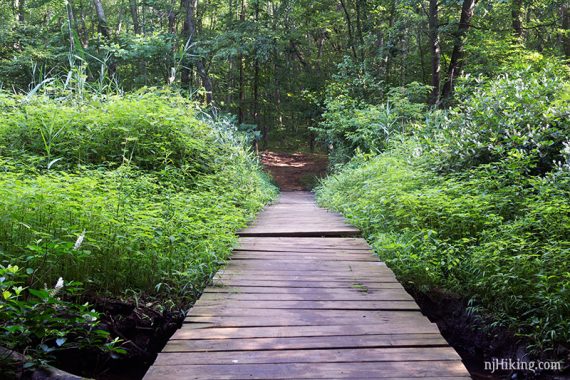 When we hiked this in summer, there were tons of butterflies in the bushes on either side of the plank boardwalk a few steps down on GREEN.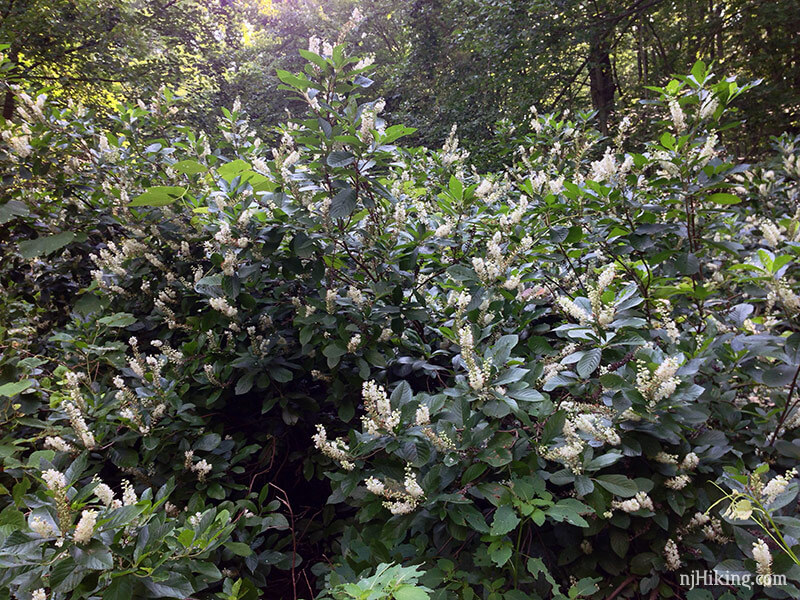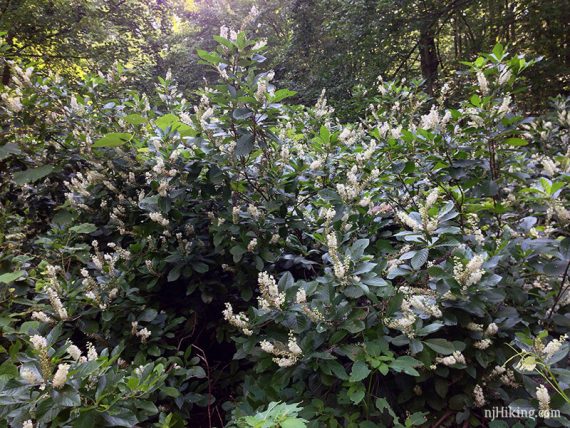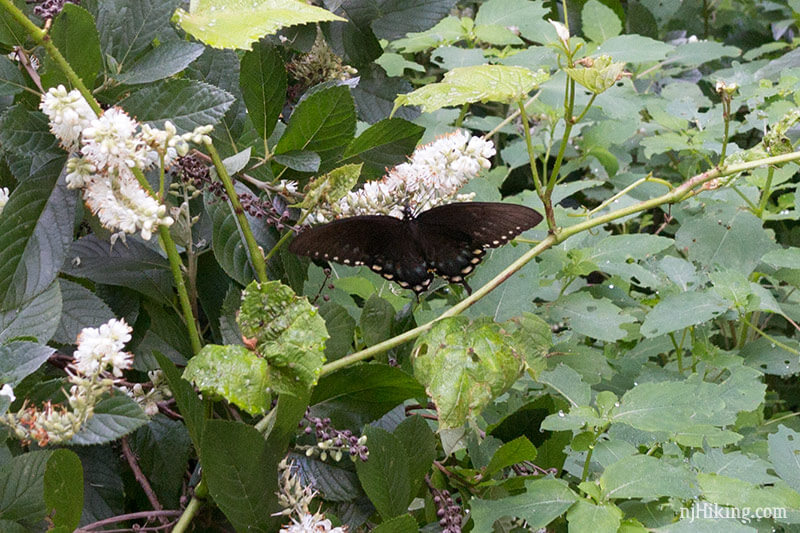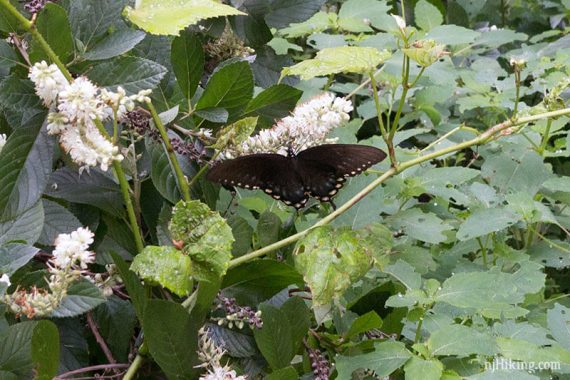 Turn right on GREEN, keep right at the split to start on WHITE, which ends at a parking lot by Manalapan Lake, and then take the dirt park road back to the lot]
———————
Continue on YELLOW. Soon, turn RIGHT to start following ORANGE over a small bridge [YELLOW continues left].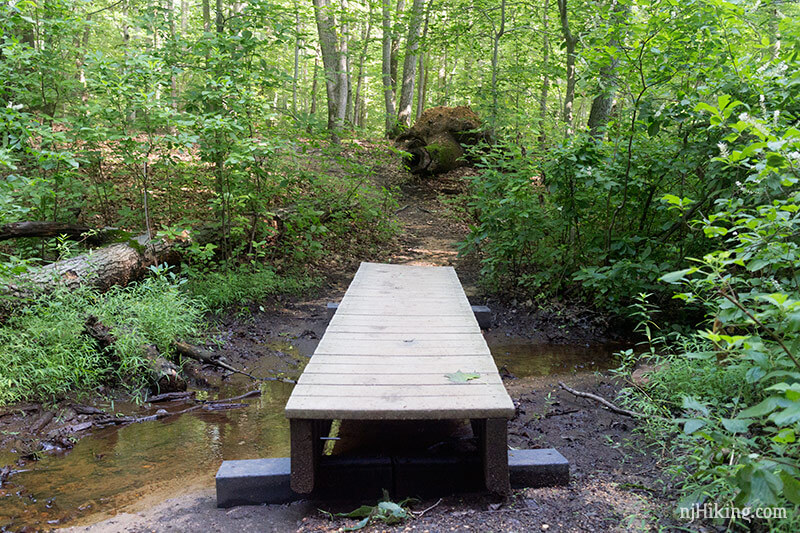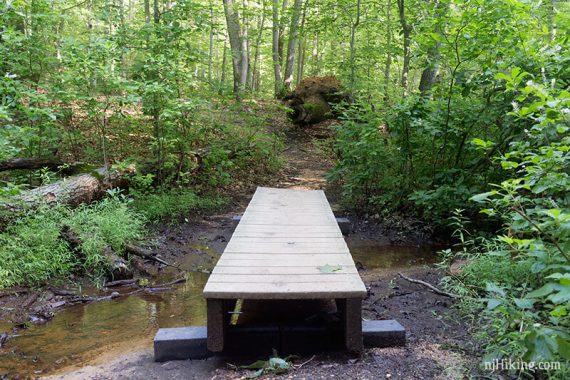 After the bridge, turn LEFT and continue on ORANGE [ORANGE also goes straight, and an unmarked trail goes right].
Pass RED on the left, continuing on ORANGE to return to the lot.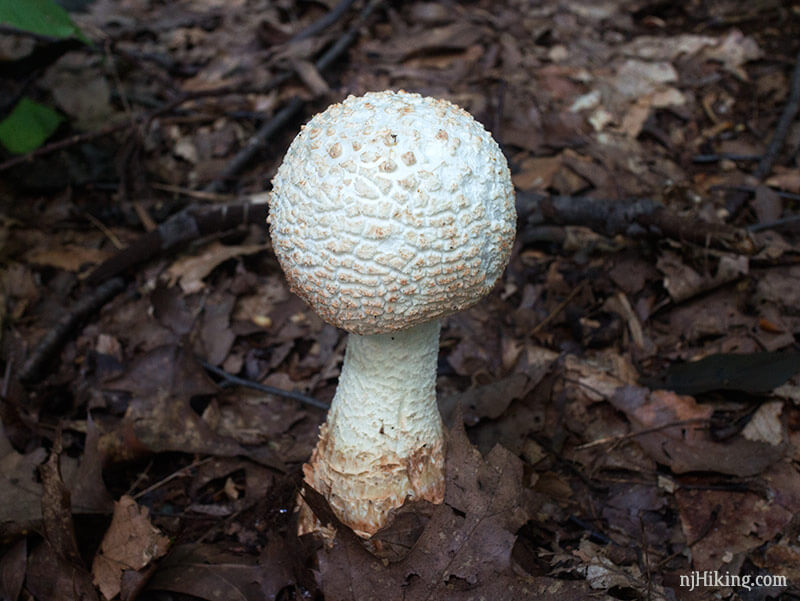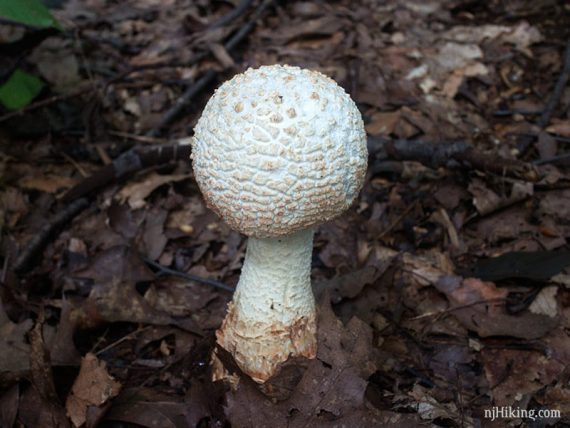 —
Hiked 5/24/20.
Hiked 7/13/19.
Hiked 1/19/19.
Hiked 7/30/16. Trail Blog: "Thompson Park in the Snow"
Hiked 1/31/16 – Snow; extended this route.
Hiked 2/26/11. Trail Blog: "Thompson Park in February"