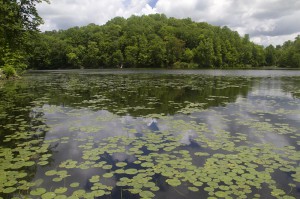 Park Summary: Small, very pretty park located in Warren County. Jenny Jump packs a lot of nice hiking in a compact route, and is a good intro for the beginning hiker. Trails offer views of the surrounding mountains and valleys, and end at Ghost Lake.
Mileage: 5.7 miles roundtrip (including walking to overlooks, and around Ghost Lake area). Moderate, rocky trail. Two rocky descents; and the route back is slightly uphill most of the way.
For another hike in this park, check out the Jenny Jump Trail.
Books: A 5.4 mile variation appears in 60 Hikes Within 60 Miles: New York City. Trail descriptions can be found in The New Jersey Walk Book.
Parking: N40 54.714 W74 55.287
Rt 80 to exit 12 (Hope/Blairstown). Rt 521 S. Turn left onto 519 at the blinking light. Take the third road on the right, Shiloh Road. Turn right in about a mile onto State Park Road. Park entrance is less than a mile on the left. There are several brown and white park signs marking the way.
Restrooms: comfort station in the parking lot.
Hike Directions:From the lot, follow the RED/YELLOW blazes and go up a woods road. (RED is Swamp Trail, YELLOW is Summit Trail)
.15 miles – the trail splits. Take YELLOW to the right. (RED continues to the left.)
Continue on YELLOW. At .4 miles is an overlook to your right, one of several along the route.
.7 miles -the BLUE (Spring) trail crosses the trail, left and right. Continue straight on YELLOW.
1.4 miles -junction with Ghost Lake Trail (Turquoise). Turn right onto Ghost  Lake trail. (YELLOW/Ghost continues to the left as well)
Continue on Ghost Lake Trail, the path is a rolling, rocky trail with two slightly steep rocky descents.
2 miles – on the right, is a short path to the ruins of an old cabin, and a nice view east of the surrounding area, and Allamuchy Mountain State Park.
Shortly after, the trail turns into more of a woods road and Rt 80 can be seen (and heard) briefly. The trail becomes exceptional pretty and lush here, with lots of ferns and some large rocks. A small gurgling stream leads into Ghost Lake.
2.8 miles – Arrive at Ghost Lake at about . A grassy causeway splits the lake in two that can be walked on. The trail ends here but you can continue around the lake a little bit, or walk to the boat launch area.
Retrace your route back to the parking lot.
Alternate: On the return, Ghost Lake trail ends at a camping area where you can pick up the park road or WHITE trail and take that back instead of YELLOW.
Alternate 2: Park at the boat launch area off of Shades of Death Road (have to love that road name) and do the trail in reverse. (You will go downhill at the end of the route instead of beginning). Parking: N40 55.327 W74 53.636
–
Hiked: 5/21/11. Trail Blog: "Jenny Jump State Forest – Ghost Lake"
Hiked: 5/17/09. Trail Blog: "Jenny Jump State Forest – Ghost Lake"