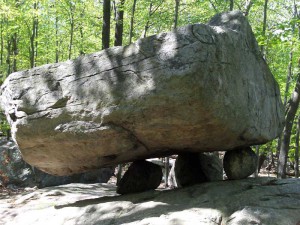 Summary: This pretty route has moderate elevation gains, rocky footpaths, several streams, interesting glacial erratics like Tripod Rock and Bear Rock, and two overlooks – one to the east where on a clear day you can see NYC, and Lucy's Overlook which faces west.
The trail system here is good for beginning hikers, but interesting enough for experienced ones. To create longer loops, connect the trails with Turkey Mountain, the two trailheads are across the street from the parking lot.
Mileage: 4.6 miles roundtrip, moderate trail surface and elevation gain; one slightly difficult rocky descent.
To create a short-but-sweet 3 mile loop, follow the directions below to Tripod Rock, then retrace your steps to the lot.
Map – Pyramid is now included on the  Jersey Highlands Trails map set. The park map is also online at morrisparks.net.
Books: Similar route found in Hiking New Jersey, and a 2.8 mile loop is in Hiking the Jersey Highlands. Detailed trail descriptions in The New Jersey Walk Book. 
Parking: N40 56.820 W74 23.268
Rt 287 to exit 45. 472 A Boonton Avenue, Montville Township, NJ. Detailed directions here. The parking lot fills up quickly.
Restrooms: In the visitor center when open. Porta-john in the parking lot is seasonal, sometimes not there in the winter
Hike Directions: Start at the trail kiosk and look for the BLUE markers. Follow the rocky trail, and over the wooden foot bridge.
Continue on BLUE. On your right, YELLOW heads off. Cross a power line cut area, with a large electrical tower on your left.
At the junction (there is a rock cairn as well as trail blazes), continue following BLUE to the right. WHITE goes to the left.
At the next junction (another rock cairn), at .5 miles, turn right and continue following BLUE. The RED trail starts here (3 red blazes) and goes left.
The trail heads uphill, look on the rightfor a small offshoot path to a scenic overlook at .7 miles. On a clear day the NYC skyline is visible.
At about 1 mile, YELLOW crosses with BLUE and goes left and right. Turn left and follow BLUE/YELLOW briefly until YELLOW heads off to the left. Continue straight on BLUE.
Shortly after that, look for 3 blue blazes and a trail going left. Follow this out to Lucy's Overlook for a view west. Retrace your steps back to the trail. Turn left back onto BLUE.
1.4 miles – start following WHITE straight ahead. BLUE/WHITE goes to the left.
1.5 miles –  arrive at Tripod Rock – an large boulder balanced on 3 smaller ones.
1.9 miles – the trail splits in a Y. The RED (with white stripes above and below it, this is a different trail than just the red blaze) trail starts here.
Turn left onto RED (white stripes). WHITE continues to the right.
The trail goes downhill through a wet area, rock hop a stream, there is some water on your right, rock hop another wet area. Then go up and around a rocky area to what is called Eagle Cliff (no views though).
2.4 miles – arrive at Whale Head Rock – a large boulder that does look like a whale head.
The trail descends steeply over rocks now, this is the one somewhat difficult section of this loop. Once it levels off, watch for the trail markers as the trail is all rocks and is not an obvious footpath.
At the next trail junction, RED(white stripes) ends. BLUE goes left and right. There is a sign for the visitor center pointing left.
Turn left onto the BLUE trail and immediately rock hop a small stream.
3.3 miles – Bear Rock – another very large glacial erratic.
Junction of WHITE/YELLOW/BLUE. Follow WHITE/YELLOW straight, don't turn left over the foot bridge.
Shortly after, the YELLOW trail goes off to the right. Continue following WHITE.
3.5 miles –  the RED trail starts, while WHITE continues straight, and leads to the same spot but follows the power line cut, and is in the direct sun.
Turn left onto RED and follow it over some water on a couple wooden planks. Continue through a wet area that is lush with plants, then up a slight rocky hill.
Arrive at the junction of RED and BLUE from the beginning of the hike and follow BLUE back to the parking lot.
–
Hiked: 5/10/09. Trail Blog: "Pyramid Mountain – Tripod Rock"